Yacht for Charter
ALEXIS 3
4298
45ft / 14M
| Builder: Robertson & Caine
| Year: 2008
---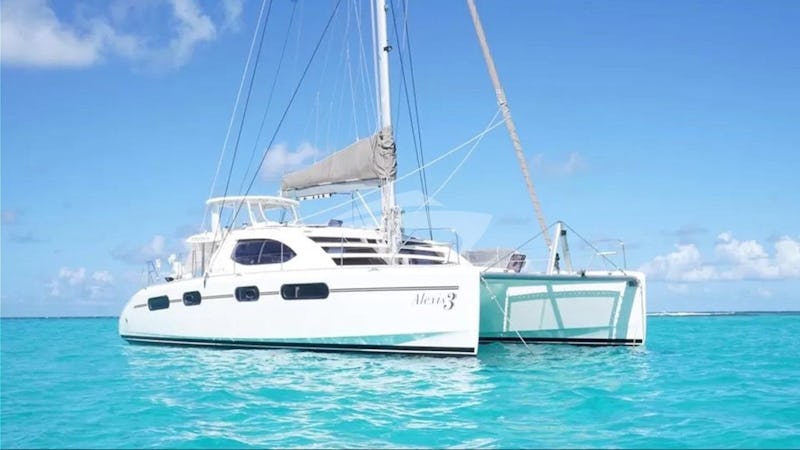 ---
Yacht Charter ALEXIS 3 By Robertson & Caine
Builder
Robertson & Caine
Cruising Speed
7kts (13kph)
From:
$13,000
plus expenses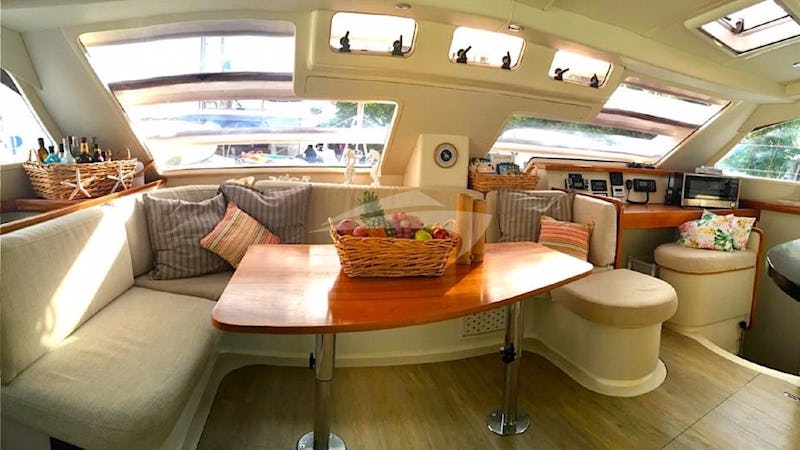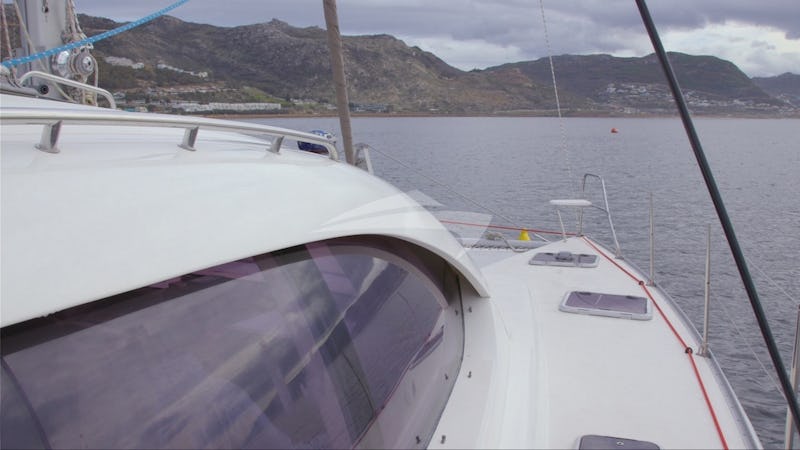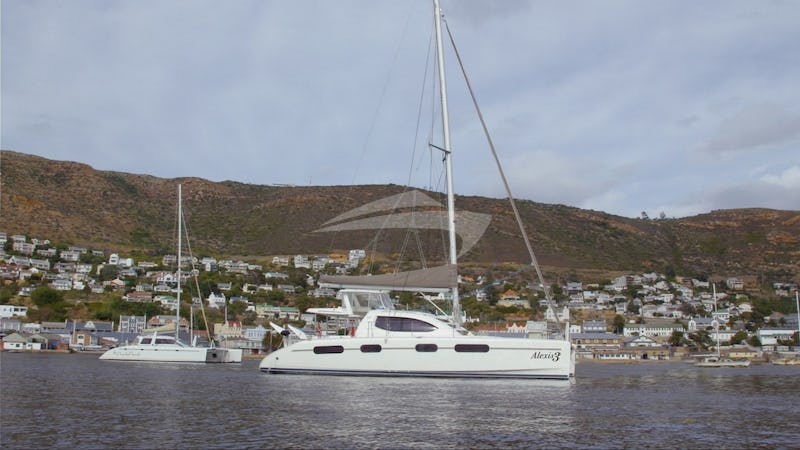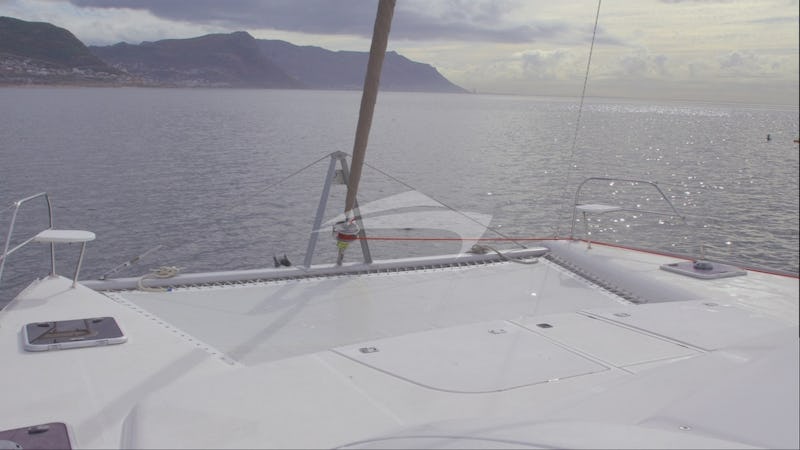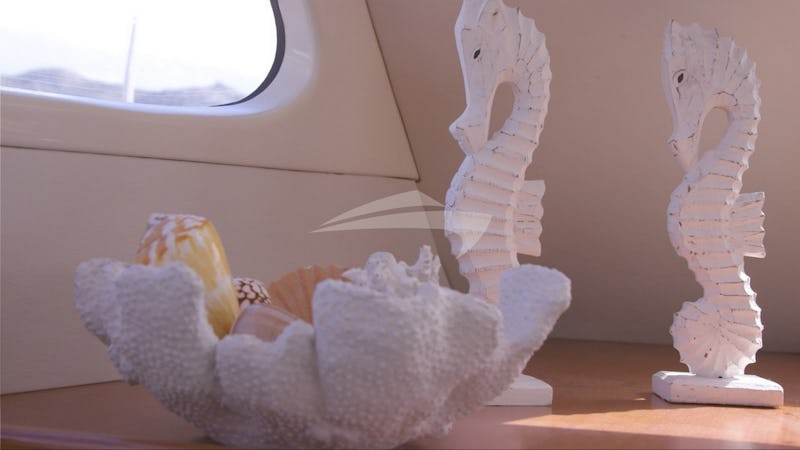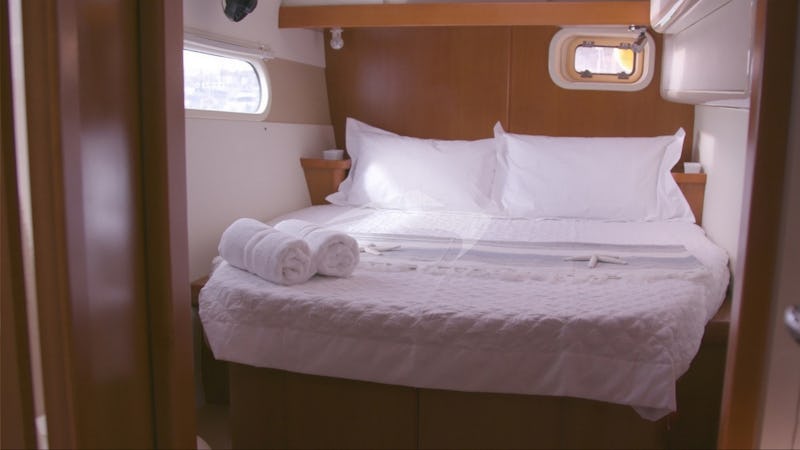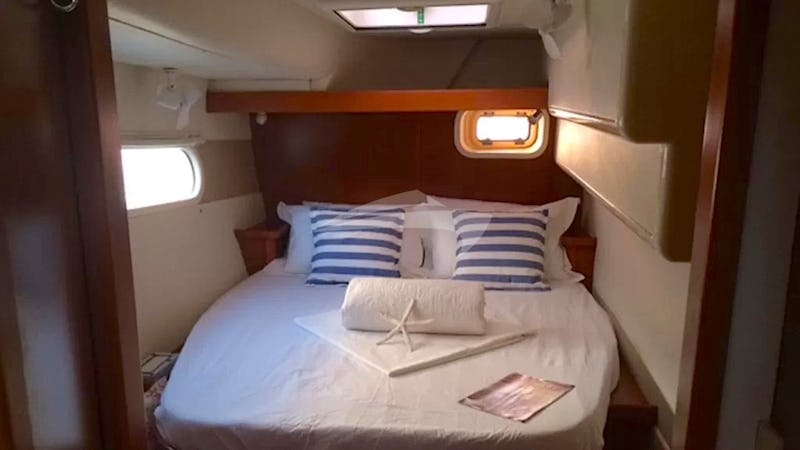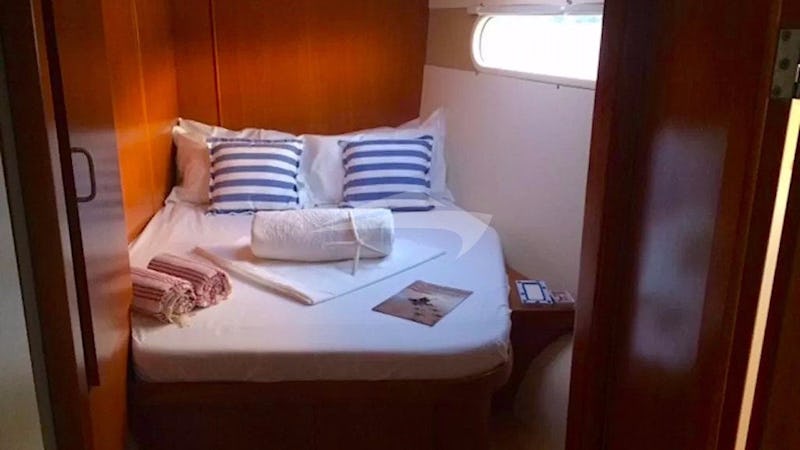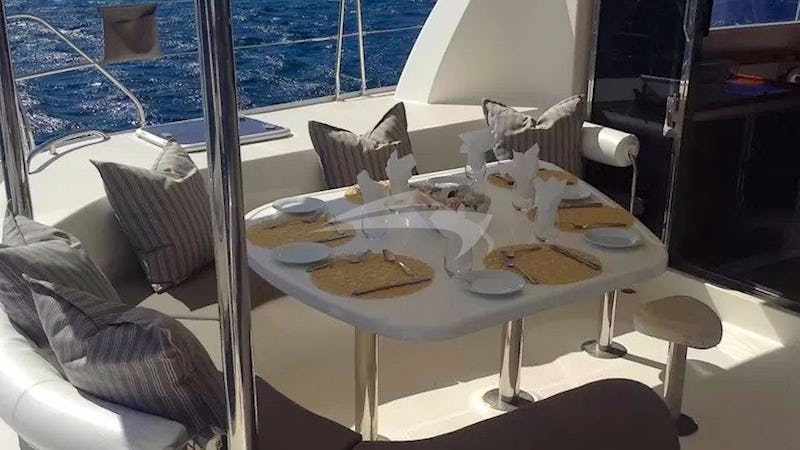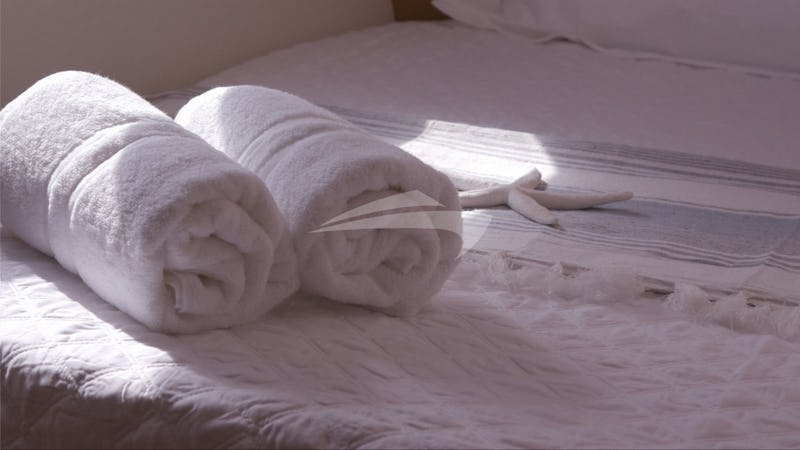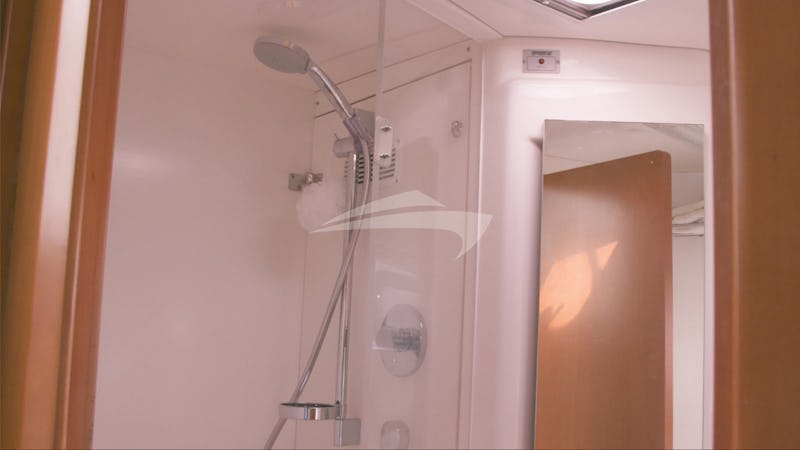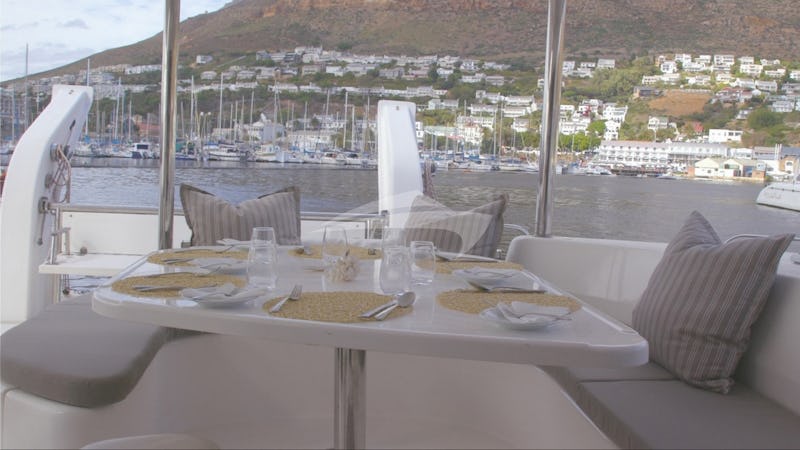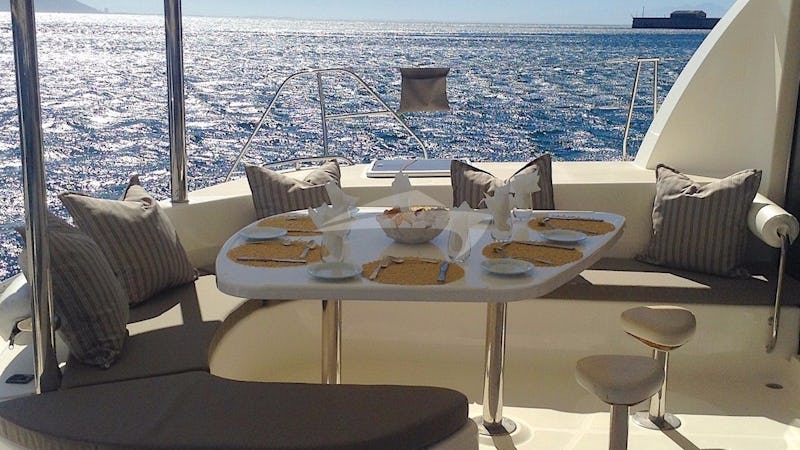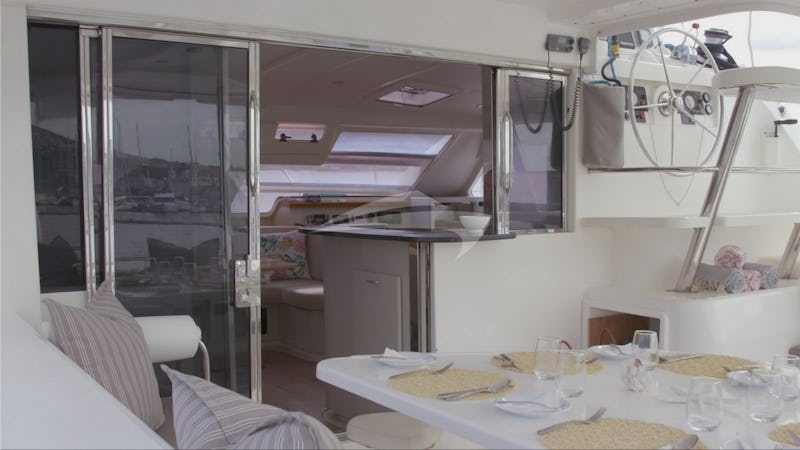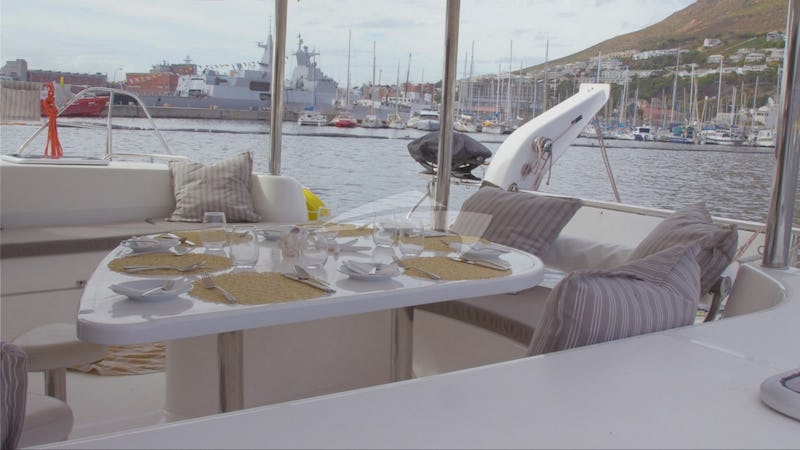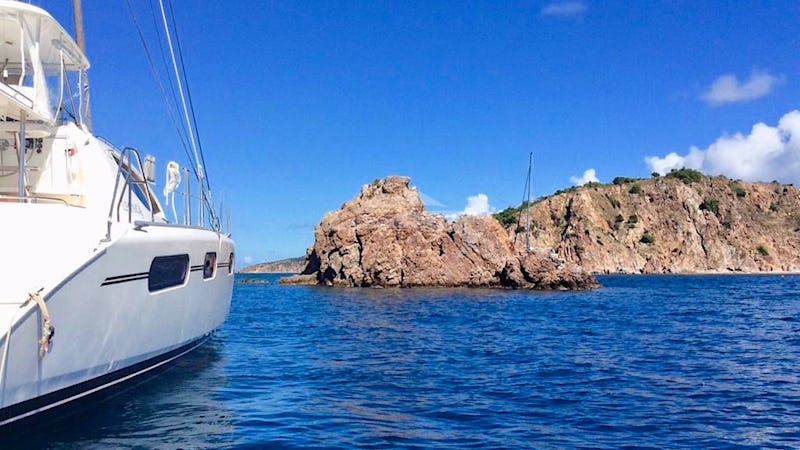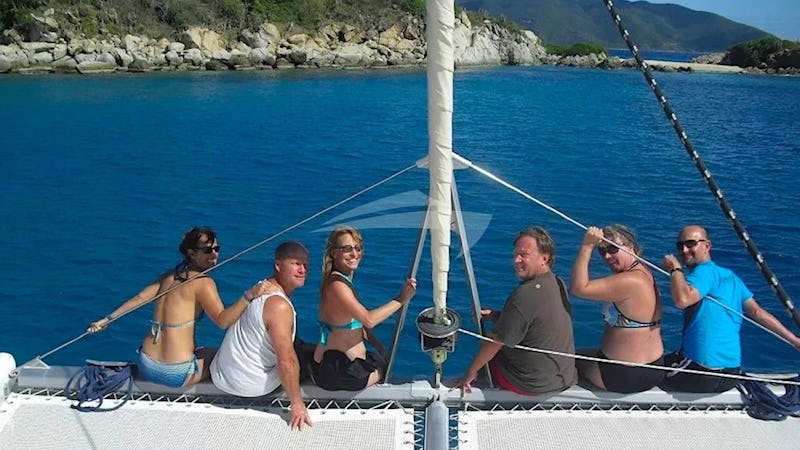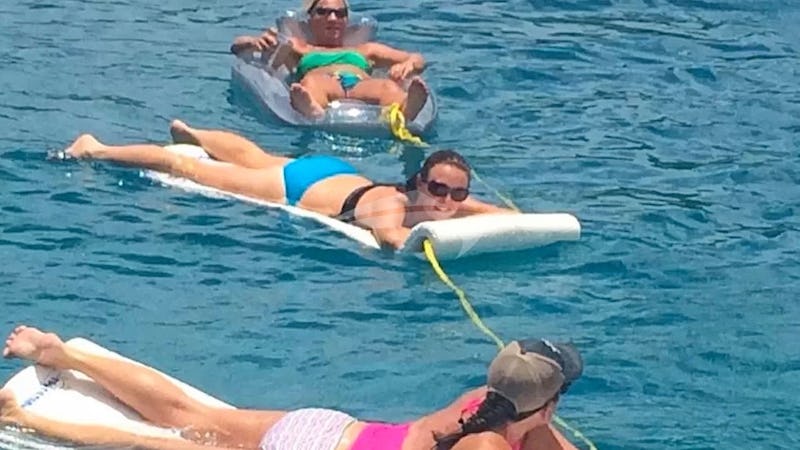 Contact Us For More Information
COOL RUNNINGS can accommodate 6 guests in 3 cabins. The Master cabin has a queen size bed, shower and toilet. 2 Guest cabins have a queen size bed, shower and electric heads. COOL RUNNINGS has air conditioning throughout. Crew has a separate heads and shower.
Cool Runnings features a 7Kw generator and just added AC in both the guest forward cabins for those who prefer it to fans, also new 12 inch 110 fans have been added to the guest cabins. Also just added new Electric Heads.  Cool Runnings ccarries 250 US gallons of fresh water and has a watermaker on board.
There is a DVD, book and music library, and WiFi internet
Captain: Geoff Alexander
Geoff and Bambi are back in the very beautiful Virgin Islands! After many many exciting adventures, (read more below), they have returned to the charter industry. ALEXIS 3, a 46 foot Robertson and Caine catamaran stole their hearts and before they knew it they were the proud new owners. This couple have had extensive experience, more than 12 years of sailing the oceans of the world covering in excess of 70 000 miles, in both mono hull and catamaran. From November 2003 to November 2008 they chartered their catamaran Alexis, hosting 70, one week charters, they got to know guests from all corners of the world, introducing them to the beauty and tranquility of this outstanding sailing ground.
In 1998 Geoff and Bambi first crossed the Atlantic in Alexis their 33 foot Dudley Dix steel sloop. They cruised sublimely, visiting St. Helena, Brazil and her many exotic ports including the Amazon. After a quick stop in French Guyana they sailed the magic pathway of the Caribbean island chain, up through the pristine British and American Virgin islands, then on to the beautiful Bahamas and finally a turbulent trip across the Gulf Stream to land on the East coast of America.
While cruising this incredible route, they encountered many many other vessels, many shapes and many sizes, one particular design seduced them completely, THE CATAMARAN, these specimens sailed flat! The 'Cat' attacked their imagination and they were entranced by the swift seemingly effortless gliding, spacious, upright sailing vessels. This seduction led to envy, watching the occupants draped in various attitudes of relaxation all over the decks in 15 knots of wind with glittering glasses of gin and tonic resting resplendent on the cockpit table, while they themselves were braced to windward, hanging on for dear life, dying of thirst and exhaustion!
Before they knew it, the madness took hold and they had sold Alexis 1 (for the record, there were many tears at parting) flown back to Cape Town, South Africa and taken delivery of the hull, deck and bulkheads of an Admiral 38 foot Catamaran which was to be Alexis 2. Ten months of slogging, with Geoff, the help of an electrician and a carpenter saw the boat finished and exquisite. The exhausted pair found their new Cat a thirsty beast that had lapped up what remained of their cruising kitty! (Forgive the pun) In no time at all their dream of a slow circumnavigation was receding as fast as the bank balance!
Chef & Mate: Bambi Alexander
The thought of drifting through the crystal waters of the Virgin Islands kept haunting them, along with this visitation came the answer to their problems. They would cross the Atlantic once again and go chartering! This time they chose to stop in Jamaica, Cuba and revisit the friends they made in America, sailing right up the east coast to Chesapeake Bay for a whole summer of fun before making passage for the British Virgin Islands and the challenge of chartering guests began. n their previous lives Geoff owned a Building company, and Bambi a partnership in a Catering company, food had always played an enormous roll in the well being of charter guests and her expertise in this field did not fail them.
This sojourn lasted five years, made up of 70, seven day charters, this was a period of growth, learning, making new friends and fun, until finally the cruising kitty was once again strong enough to take on the Pacific.
They headed down the Caribbean Sea to Trinidad where they could ready the boat for the major ocean passage. A wonderful stop in Cartagena, Columbia for Christmas and then down to the awesome Panama Canal, unforgettable memories were made never to be forgotten.
The Pacific proved to be enormous, the distances between the islands long and sometimes arduous, the weather patterns isolated and difficult to predict, storms and rain squalls would pop up out of nowhere to shake them out of lethargy, the longest leg being 20 days between the Galapagos Islands and the French Marquises. This is where the criticism ends, the rest was a dream, the islands exotic, stunning in their almost untouched beauty, above and below the ocean was all as god made it, beautiful!
With all their dreams fulfilled, the plan was to sail on to Australia and to sell Alexis 2 and then to fly to New Zealand for a bit of a 'walk about' and finally back to Cape Town to 'settle down', after all, they had been sailing for 12 years, surely that was enough?
All the above happened as predicted, and Alexis 2 was sold to great Australians, what a wonderful brave little boat she was, with so many happy nautical miles under her hull. Geoff and Bambi replete with memories and travels returned home to take up Grandparent status and 'settle'. (Mmmmmmmmm...)
One year later - they were once again excitedly relating news of their purchase of a 45 foot Robertson and Caine called Cool Runnings! It's back to the water, back to life aboard, and back to chartering in the British Virgin Islands!!
From April, 2015, until the summer of 2018, Geoff and Bambi were happy aboard Cool Runnings. Hurricane Irma flipped that happiness upside-down - literally. Cool Runnings was totalled out by her insurers. The happy news is, Geoff and Bambi immediately acquired a newer model Leopard 46 catamaran, and returned to their original naming scheme, thus ALEXIS 3!
Winter captain: Arno von Waltsleben (62)
Joining ALEXIS 2 for the Winter 2019/2020 season, Walt is a US Coast Guard-licensed captain with 40,000 sea miles under his belt. Walt is also an ASA "Outstanding" Sailing Instructor (courses 101 through 114). Other interests include hiking, travel, movies, and of course, snorkeling!
Arno started sailing in the 1970's.
He owned his first sail boat at age 32, and since then has never been without one again.
In '99, they took their family of 5 on a sabbatical cruise from Cape Town, to Ft Lauderdale. They sailed across the Atlantic to S. America and up the coast to Venezuela. Trinidad & Tobago, Grenada & Puerto Rico and more islands were visited along the way until they arrived in the US at the end of the year. In 2009, he started instructing and free-lances for the Blue Water Sailing School in Ft Lauderdale. In 2017 and 2018 ASA awarded him Outstanding Instructor.
Arno the chef, and Irene are ex-restauranteurs who owned several restaurants in South Africa and Florida before retiring from them to sail full time. Irene not only managed the restaurants, but also hosted Front of House position.
The couple has been married for 38 years. They have 3 grown children, who all love the ocean, and two are also in the food industry.
Winter season chef/mate: Irene von Waltsleben (61)
Joining Arno is his wife Irene as ALEXIS 3's chef and mate. Irene and Arno originally hail from South Africa, but now call Long Beach, Washington, home. Other interests include health & lifestyle, sewing and gardening... And of course snorkeling!
Irene has done extensive sailing with Arno, with about 20,000 sea miles to account for. She has done the Atlantic crossing, as well as all the international trips. She also accompanied him on many of his sailing school charters, both in the USA and Bahamas. She is his trusted first mate, is an excellent cook and hostess.
They are a warm and caring couple who we wholeheartedly welcome aboard Alexis3.
February, 2020, guests aboard ALEXIS 3 wrote:
What a wonderful week we had exploring the BVI,s, thanks to Geoff and Bambi!  They are amazing hosts who made us feel right at home on the Alexis 3.  From the time Geoff greeted us in Red Hook to take us to the boat to Bambi welcoming us with delicious snacks when we arrived on board, everything was perfect!  They certainly know all the highlights to see in the islands.  They are happy to accommodate and so fun to get to know.  
Bambi is the most excellent chef and served the most delicious meals.  Geoff was happy to share his expertise in sailing and was always willing to take us to the beach or suggest a fun hike.
The Alexis 3 is comfortable, relaxing and full of amenities!  We thoroughly enjoyed sitting around the table in the evening watching the beautiful sunsets. The front of the boat was our favorite spot in the mornings to drink our coffee and experience the sail to the next stop.
It truly was the trip of a lifetime and Geoff and Bambi made it that much more enjoyable!
Bonnie, Jay, Tami and Pat
Georgia.
A week of frolicking and fun on catamaran COOL RUNNINGS, as guests "themed" their way through the Vigin Islands the last week of May, 2017, with the Aloha Spirit and Gilligan's Island both aboard, and finally a Darker Shade of Black.
Guests with Theo and Augusta on COOL RUNNINGS for mid February, 2017, said:
Theo and Gussie, we want to thank you for the wonderful gift you gave to the six of us, the gift of showing us the places and the creatures that you know so well. The special touches, the "fairy" showing up in places we did'nt expect, like our beds being made and our cabins kept so beautifully clean each day! You spoiled us and we are all so grateful. We treasured the moments we had with each other and also the times we spent with the two of you. we had such fun we did things we never would have imagined doing. The culinary, sailing knowledge you shared , we will never be the same we will never forget. May you know in your hearts that you have been a wonderful blessing to each of us. We look forward to staying in touch!
Blessings to you both,Mark, Kim, Julie, Randy, John and Lori Ann.
Guests aboard catamaran COOL RUNNINGS with Theo and Augusta crewing in January wrote:
We have barboat chartered before and were very apprehensive about being on a crewed boat. How unfounded out fears!! What a joy it was to sail with Theo and Augusta, they planned and executed a trip we all loved, with Pizzazzz!
The variety of locations were ideal the food delicious, plus the catamaran was spotlessly clean and comfortable. We felt so well catered for, we started to call our hosts "Mom" and "Dad"! Sorry we missed you Bambi and Geoff, having said this your crew could not have done any better! 
Wendy, Vin, Alex and Lisa
More July, 2016 guests' comments on COOL RUNNINGS:
We had a really spectacular week on Cool Runnings. Gussie and Theo made a huge effort and really made our time aboard extra special. The boat is in great shape, they showed us awesome anchorages and beaches on he islands. The meals, drinks and attention to detail great! They were really patient with the kids our time was personal and nothing too much effort for them. A great couple a great holiday!
Mike, Jessie, Joe, Dan, Robbie and Hayley.
Guests with Theo and Gussie on COOL RUNNINGS in July, 2016, said:
Theo and Gussie, thanks for welcoming us to the amazing life of sailing! This week was our first time and you made us feel right at home at sea.We stayed in an hotel before boarding Cool Runnings this was WAY more comfortable, exciting and fun!We are already working on when we will be back.Until next year!
Mark, Conna, Elena, Janice Downing.
June guests aboard COOL RUNNINGS in June said:

An amazing holiday we had with you this week! From Theo's hello to Gussie's welcome aboard we felt comfortable and happy aboard Cool Runnings.The food was absolutely wonderful, John is going to wonder where his American Breakfast is every morning!Island hopping, sailing, snorkeling and rock jumping at the Baths, ( still can't believe we did that) and sunrises Alison's best time of day! All this truely made our vacation an experience of a lifetime.As we leave the boat today we will hear Gussie say once again " goodbye children" only this time it will a while before we see you again. We hope to be back aboard Cool Runnings soon so we can get " tummy stiff" again!
Thank you our new friends.
John, Alison Chandler
Gus and Amanda Trupiano
Ron and Christina Smith

Guests with Theo and Augusta on COOL RUNNINGS in April, 2016:
Gussie and Theo
What an amazing week sailing through the BVI 's we had with you and our friends Wendy and Doug. During the week you not only were the best host/hostess but truly became good friends.We enjoyed hearing about your travels and your insight about the islands was amazing.Gussie your cooking was first class and we will miss the "crunchies." We will definitely stay in touch and hope to bring our kids along next time. Thank you again for EVERYTHING!
Adam, Stacey, Doug and Wendy.
April 2016
Augusta & Theo's guests on COOL RUNNINGS in April, 2016 said:
Theo and Augusta,
I don't think I could have had a better 50 th birthday celebration anywhere else in the world! Thanks for:
Amazing meals.
Great restaurant recommendations.
Making us smile and laugh.
Taking care of our every need.
See you soon we want to do this all over again!!!
Nancy, April, Megan, Chris and Stephanie
Atlanta, Georgia

Guests aboard COOL RUNNINGS in early March, 2016, said:
We have had a really wonderful sailing trip aboard Cool Runnings. Geoff was a fabulous Captain always looked out for us and our safety. Both Geoff and Bambi were very warm welcoming and friendly. Bambi on a scale of 1 to 10 - was a 15 !! Every dish was gourmet. The boat is in excellent condition always spotless. We enjoyed every minute! Thank you for a wonderful trip to remember always!
Tom, Coleen, Doug , Deborah, Tim and Jean.
Maryland and Florida

Valentine's Family charter / February 2016
Our family of four including two active boys ages 12 and 10 stayed with Geoff and Bambi aboard Cool Runnings for a wonderful family Valentine charter which included visits to the bays and harbors of St. John, Tortola, Norman Island, Jost Van Dyke and St. Thomas.
This was the trip of a lifetime; a totally different experience for us "non-sailors" and it was truly amazing, all around. Geoff and Bambi are a great team who make staying with them completely comfortable in every way. Bambi is a gracious and warm hostess with incredible culinary skills. Seriously, the food and presentation were fantastic. She made delicious meals with all the foods we love. : ) Geoff is great both at the grill (yummy steaks!) and a fun captain who clearly is happiest when he's at the helm. Watch how he lights up when the sails unfurl.
When we'd moor or anchor for the afternoon, our boys had a blast jumping off the boat, swimming under it, tubing, kayaking and SUP paddle boarding. Geoff and Bambi took us to all the great snorkeling spots where we saw unbelievable coral reefs teeming with a variety of sea life. I loved looking them up afterward in Bambi's reference books. All in all, this was an unforgettable adventure for all four of us and we'd do it again with Geoff and Bambi in a heartbeat. 
Highly recommend!Jen, 
Colin Evan and Ben
Massachusetts, USA
January, 2016 guests aboard COOL RUNNINGS said:
Cool Runnings, Bambi & Geoff,
Thanks so much! We have had an amazing journey from beginning to end! Appreciate you opening your " home at sea" to us Georgians. We have not wanted for any little thing. The cooking has been fabulous! We checking into fat camp when we get back home. (that if course is minus TD). We hope to come back soon! Big thanks for making sure we were able to watch "the Game". Alabama all the way!!
Susan, Travis, Trip and Tracy (TD), Georgia.
The New Years week guests aboard COOL RUNNINGS said:
I think we summed it up this morning when we told you, " we wanna be you when we grow up or even in our next life!!"
Thanks for sharing so completely your New Year week with us. We truly enjoyed getting to know you, and appreciate your patience in dealing with teenagers. You have inspired us to add more adventure to our lives. Kip hopes to try all your recipes in his own kitchen!
Thanks for a week we will always cherish this memory.
Alison, Kip, Quinn, Sarah and Gigi
Cleveland
Guests aboard Cool Runnings 
"After a destination wedding, we spent our honeymoon chartering Cool Runnings for 4 nights. This type of vacation was a first for us even though we had been to the Caribbean many times. It was truly a wonderful trip from beginning to end. We first stopped at St John's USVI then headed to the BVIs with stops at Norman Island, Peter Island and Jost Van Dyke. All the islands were beautiful. We had time on the beach, relaxed on the boat, did some awesome snorkeling and tried some SUP. Bambi's food was fantastic! You'll read this over and over on other people's reviews and it's all true. We consider ourselves as amateur foodies and she prepared for us top notch 3 course dinners. Geoff was an excellent captain. He tended to all our needs and would taxi us to and from the islands with no hesitation. The service was excellent, we really felt that we were being well taken care of at all times. Their sailing stories were great...it's clear they are very experienced sailors which made us feel completely safe on the catamaran. Would we do a trip like this again? Yes. Would we choose to go with Geoff and Bambi again? Definitely!"Phil and Candice Alabama, USA
A June, 2015 multi-generational family of guests aboard COOL RUNNINGS said:

Laid back and relaxing to the extreme, your patience with the kids was great and even greater to get to know you two and share briefly in your wonderful world. As grandparents of two picky kids, we enjoyed your enthusiam and all the fun and good food you provided. You and Cool Runnings are definitely in our future plans! 
Thank you so much.
Grandma Judy and Grandpa Paul 
Grandsons : Michael and Sam
Catamaran COOL RUNNINGS's guests from Dallas, Texas say :
A perfect trip to the BVI's is spending 10 days with you aboard Cool Runnings! We were pampered beyond our wildest dreams and showered with attention each and every minute. The royal service, the laughter, the incredible food, while touring "the Islands" were all amazing and we would like to cruise with your forever!! Yet, we must go home, we leave with wonderful memories and two new friends.
All our best wishes,
Linda, "Uncle" Roy, Cathy and BearDallas Texas
23rd May to June 1st 2015
Guests aboard COOL RUNNINGS in mid-May, 2015:
Thanks so much for taking such awesome care of us. This was THE most relaxing, wonderful family vacation! Since I am cook I am especially appreciative and blessed by both your attentive catering and scrumptious meals!! We cannot say enough great things, we have loved it all.
Sally, Doug, Lauren and David
Houston, Texas 
From the so-called "Redfoot Tribe of Wyoming", guests aboard COOL RUNNINGS in April, 2015 
All Seniors, six of us, and we luxuriated on this yacht. The food was exquisite, presentation world-class, and the warmth and friendliness much appreciated. I don't think we have laughed as much for quite some time, taken as many pictures, and tried the patience of Bambi and Geoff with our snorkling "expertise" as we anticipated. They laughed with us. We very much recommend Bambi and Geoff to anyone looking for an outstanding vacation doing "it their way". We're lucky to have found them and most grateful for their fabulous hospitality. They are famous also. Ask them about their whaling experience. One in a million lifetime events....
Cynthea, Martin, Woody, Karen,Vern and Linda.
Wyoming. USA
---
From guests aboard COOL RUNNINGS for a tandem charter with another cat in late April, 2015 
On board, 11 doctors and one lonely business man, all friends, for this week we were equipt for medical emmercencies would you say !!
Comments from our 6 guests:
To the ultimate host and hostess, We have had 5 wonderful days of fun and relaxation very much due to your endless hospitality.
Each meal was created to perfection and exceeded our expectations!  Cool Runnings and all of its ammenities kept us super comfortable and entertained.
The excellent Rum Punches and Painkillers helped as well!!!
It was truely a pleasure to meet you both and we wish you happy sailings and hope our paths will cross again soon.
Gene and Julia,   Matt and Leslie,  Aaron and Kat
Charleston, SC
---
Six great guests from Saskatchewan, aboard COOL RUNNINGS in February, 2015  
Thank you, thank you, thank you for the BEST HOLIDAY we could ever have imagined!  Word fail, this trip was beyond all expectations. Curt and I loved sailing and sitting on the "trampoline", always afraid for missing out on your entertaining stories.  Bambi the cooking was amazing, works of art that tasted even better than they looked. Love your sweetness but also love the candor! Geoff Great sailor with hilarious stories! Love the sense of humour!
Thanks for an anniversary to remember!
Curt and Ali
It is difficult to follow Ali's glowing thanks for a fab vacation, but I'll give it a go....  It takes two very special people to allow perfect strangers from totally different walks of like to come into your "home" and treat us like family. You did everything right and insured that we all had the vacation of a lifetime!!  
Donn and Mae
Thank you so much for taking a "High Maintenance" flat-lander from the Prairies of Saskatchewan and giving us sea legs!!  Of course the food was incredible, the drinks were superior and your experience and wisdom was most enjoyable. You truly feel like family and we have already started planning our next visit to Cool Runnings!  
Deb and Jeff
---

Guests aboard COOL RUNNINGS for New Years week, 2014/2015

How do I start to say thank you?  Yes our trip number # 5 and this was the best of all of them, the cabins were nice, dining area was beautiful, and we loved the mats and pillows on the trampoline it seemed an extension of Geoff and Bambi. Bambi kept the cabins spotless! The rest of the boat was kept very clean as well. We fell in love with Geoff and Bambi! They became like family friends to us....absolutely lovely! 
This crews service is and was "Excellent! "  Can't say enough good about them. We felt very pampered all week! Perfect mix of professional and friendly. Geoff taught our boys how to sail, which they loved! We got history lessons, great recommendations for activities, and excellent service throughout our week. You were 100% correct Andrew these two are magnificent with children. Bambi's meals were a dream! She is unbelievable.  Every single meal was exceptional. She truly is a master chef, and created incredible tastes every day, in such a tiny space.  We couldn't say enough about the delicious breakfasts, lunches and dinners.  As you know we had planned for 2 evenings ashore, but that ended up as zero meals ashore.............. here is more on her meals, just Beautiful! There's nothing quite like taking a morning snorkel and coming aboard to find a beautiful table set for you! We were astounded by the number of different table settings she kept on that tiny boat! Meals were a dream!! And the crunchies.....best snack ever! We've made them several times since we arrived home. Delish!  We will sail with them no matter where they be.
Thank you again we will be in touch,
Drew and Elizabeth.
---

Guests aboard COOL RUNNINGS in early June, 2014
 
What a great way to explore the Virgin Islands!  Geoff and Bambi took us to amazing places unforgetable islands. Loved our time on the boat, swimming with the
turtles was one of the BEST experiences ever!

The Ringers - North Carolina
---
From guests aboard COOL RUNNINGS in May, 2014
Bambi and Geoff,
Thank you so very much for a wonderful charter. We
felt at home and comfortable from the moment we arrived on board. Cool
Runnings is just perfect for a week's sailing, snorkeling and just
spending time relaxing.
Our highlights were swimming with the turtles in Diamond Cay, Jost van
Dyke, Monkey Point snorkeling, dinner at Anegada, Mexican train, and
of course every meal we ate on board. Bambi you are a fab chef.
Nichole was right when she said "five star" restaurant! Everything
that somes out of your kitchen is delicious and full of flavor. Plus
all the little things that make each meal special, the place settings,
candles. One moment we are sitting playing Mexican train and the next
the area is transformed into a lovely candle lite dining room. It is
these small things that make sailing with you on Cool Runnings a
special treat. The night we came back from an evening ashore to a
table set up with wine, Grand Marnier and chocolate cake made our
night! As a family getting to spend time together Cool Runnings was
perfect. We were able to experience new things and create memories to
last a lifetime, afterall is this not what life is all about. We hope
that we will sail with you again in the future, until then take care
and happy sailing thank you for everything!
The Synder family.
New Jersey
---

From guests aboard COOL RUNNINGS in mid-April, 2014 -
 
Dearest Geoff and Bambi,
Once again, we thank you for your incredible hospitality aboard Cool Runnings  Our 6th adventure with you could'nt have been more lovely.  A few new stops, more creative and inventive top - notch cuisine, and the part we love most....  Your company and friendship.

You mean the world to us and we look forward to future adventures with you and Cool Runnings ....  wherever that may be!
Scott and Jeff, Crystal and Amy.

(Scott and Jeff have sailed the BVI's many times, St. Croix, The Grenadines and the San Blas in Panema with us.)
---

From Honeymooners aboard COOL RUNNINGS in early April, 2014 -
 
Bambi and Geoff,
Thanks for a wonderful week! EVERYTHING was really perfect, specially the food!!!  You are a great chef, we hope to come back soon.
Juan

Bambi and Geoff,
We have two new friends! Was an amazing honeymoon trip, you are very nice and wonderful people. Thank you very much, I hope to see you soon in another great experience.
Vale
Argentina
---

From guests aboard COOL RUNNINGS in late March, 2014

If you are looking for the perfect vacation, you have found it. From
the moment you arrive you will be treated like family. The vessel is
pristine, and extremely comfortable. There is plenty of room to move
about whether you are in or outside of the cabins.  Geoff and Bambi
cater to your every whim. Thank you Jeff for being a perfect sailor
and a wonderful bar tender!! Oh! and the food.... The food is like
none you have tasted before. You eat like royalty!! Thank you Bambi
for the outstanding meals!! Bring stretch pants to go home in. The
trip is yours. Geoff and Bambi are attentive to what you are looking
to do and see. They are experienced on the water and are full of ideas
about what to do on land. If you leave the itinerary to their care you
will not be disappointed. My advice for first timers.....take their
advice, they know what they are doing. There is so much to see and do.
They will make sure that you have a fantastic experience. This is my
husband and my second time in the BVI's, sailing on a catamaran yacht.
We went with six couples. Three couples on Cool Runnings and three
other couples on a second vessel. This has been by far our favorite
vacation. We were worried that it wouldn't live up to our expectations
because we loved our first trip so much. We were wrong. This, my
friends, is a week in paradise. I hope you enjoy yours!
Christine and John, Larry and Debbie,  Rob and Kim
Maine
---

From Guests aboard COOL RUNNINGS in mid March, 2014 
Geoff and Bambi are simply the best! Incredible meals. (Thanks for
fixing my Gluten free meals all week.) Great Sailing. Wonderful
Conversations. We loved finding new spots in the BVI and our grandson
loved us being 'pirates' on your boat. We can't wait to sail again
with you. We thank you for making our week so awesome.
We hope to bring the family for a sail!
From our family to yours
Ted and Janna Haynes
---

From Guests aboard COOL RUNNINGS in early March, 2014
Cool Runnings and her crew, Bambi and Geoff, are the best!!
Apparently, their mission in life is to make sure that you have the
best vacation ever and, boy, did they accomplish that!!! Bambi's
creations in the kitchen were absolutely delicious, and Geoff knew all
the best snorkeling places - taking us to spots we had never visited
before. They made excellent suggestions for things that we could do,
always giving us various alternatives from which to pick each day.
Probably the best thing about Bambi and Geoff is that they are fun -
they laugh easily and are truly delighted when we are enjoying
ourselves. I miss them, would never consider going with anyone else,
and cannot wait to go back!!!! Thank you so much, Bambi and Geoff -
until we see you again.....
XOXO
Anne, Ben, Weldon and Ben J.
---

Bambi and GeoffWords cannot express how great this trip has been for us both.  Youhave made Raj's birthday one to remember!  Your warm hospitality madeus able to switch off and you have shown us what a great sailingholiday ( so close to New York) can do.We will definitely be back, hopefully often and do hope to see you inNYC soon.  Thank you for being such great hosts!With much love and deepest gratitude.Raj and ShaliniNew York 
---

Guests aboard COOL RUNNINGS in late February, 2014

Dear Bambi and Capt Geoff,Wow !! Thank you thank you! You have made us feel special...... the food..... the presentation..... EVERYTHING! Never felt so comfortable on the water before, you guys were great! 
Kay and Jeff. 
You made us believers to spend our Caribbean vacations on the water, this was a first! Everything was perfect and can't wait to return to enjoy amazing cooking and hospitality!
Ed and Marlene
Cap'n Geoff and Bambi --- First, thank you for agreeing to do a "short" cruise with us none of us had done this before so it was great to "get our feet wet." I new I had hit a home run when Marlene said : "I don't know why we are messing with the house on St. John!" Thank you for everything... really.... you two are the BEST! 
Bet and Mike, Kansas City
Ammenities
CD library, Cell phone, DVD library, DVD player saloon, Indoor audio system, iPod dock, Wi-Fi, 12ft/3.7m Tender 15hp, Floating mats, Kayak, Paddleboards multiple, Tube - towable, BBQ, Deck shower, Fishing gear - light, Hammocks, Swim platform
Diving
Not Insured, Diving by arrangement, Snorkelling gear,