Yacht for Charter
ALIZE
9690
44ft / 13.4M
| Builder: Lagoon
| Year: 2005
---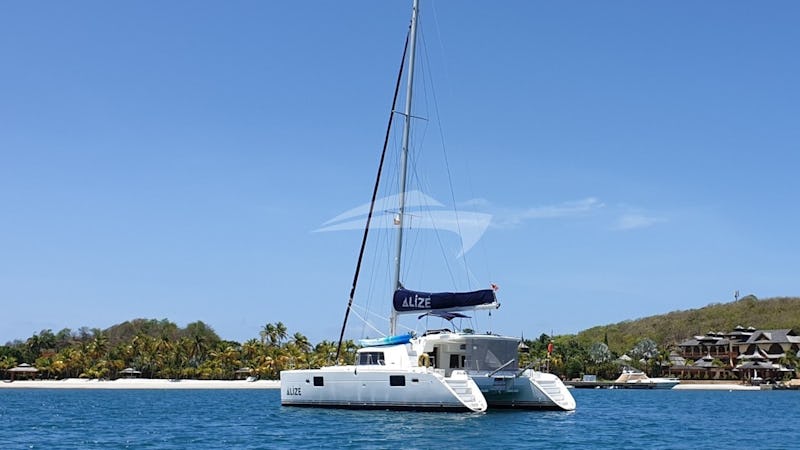 ---
Yacht Charter ALIZE By Lagoon
Cruising Speed
6kts (11kph)
Flag
British Virgin Islands
Engines
2x Yanmar at 50hp each
From:
$8,000
plus expenses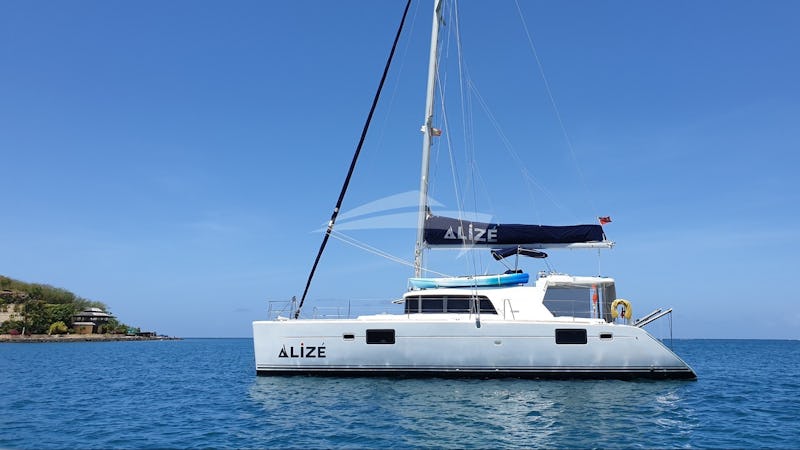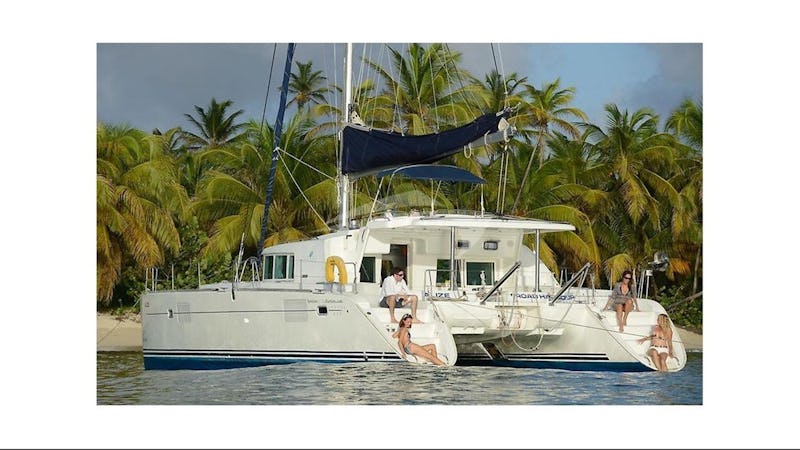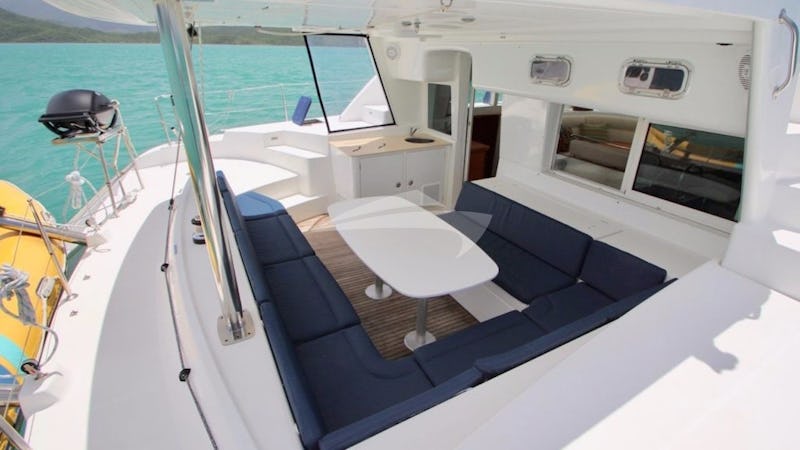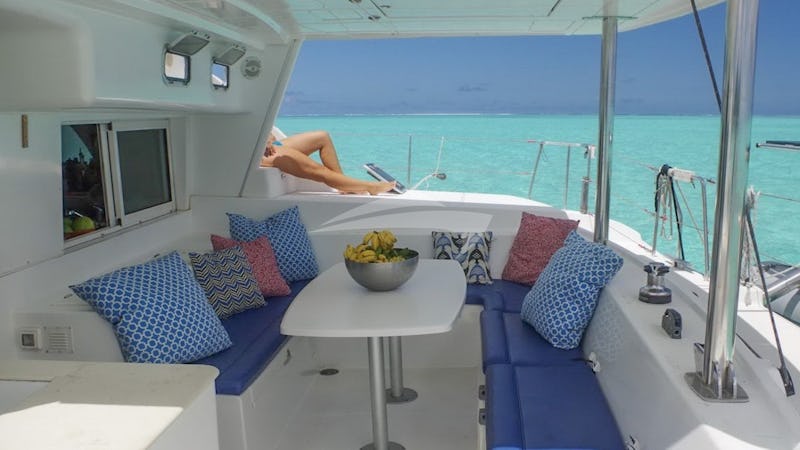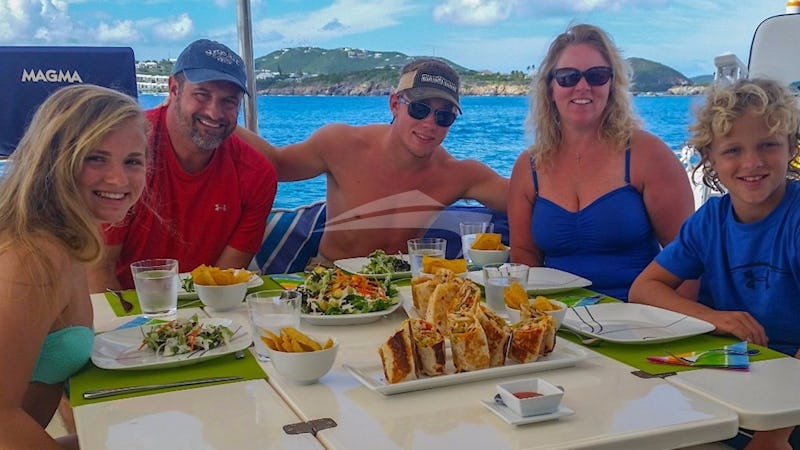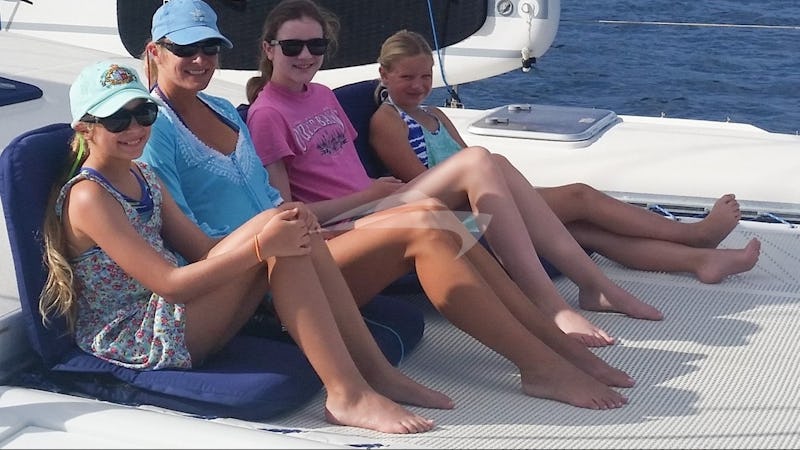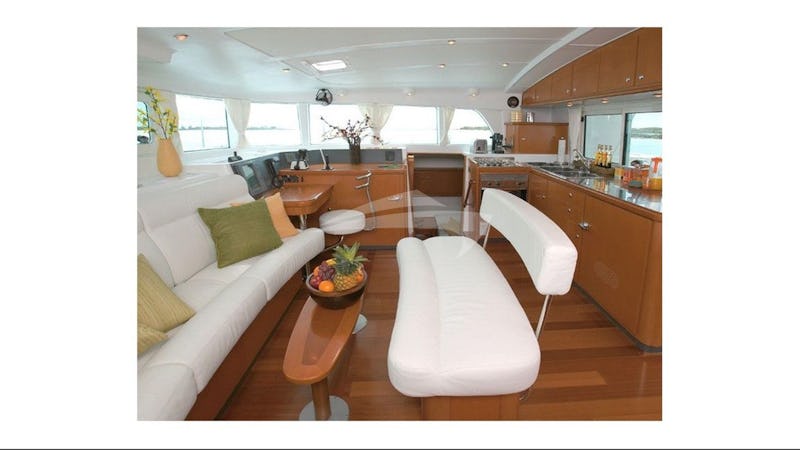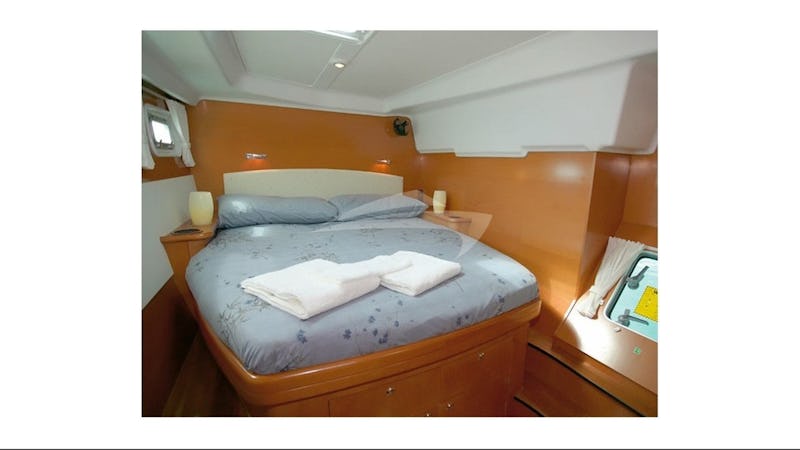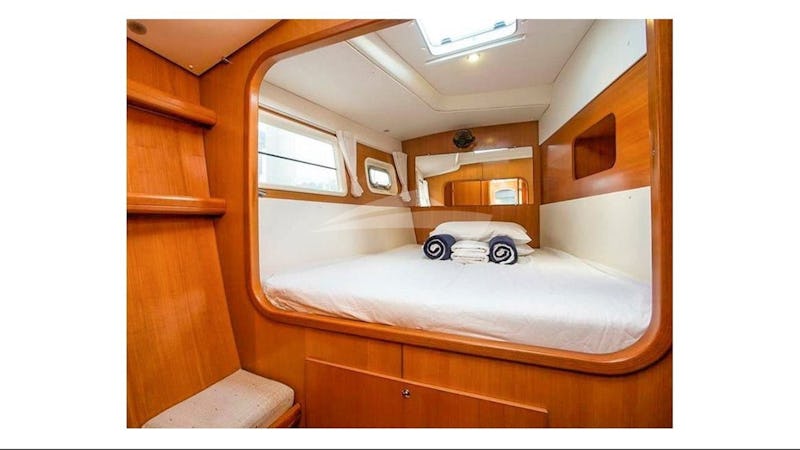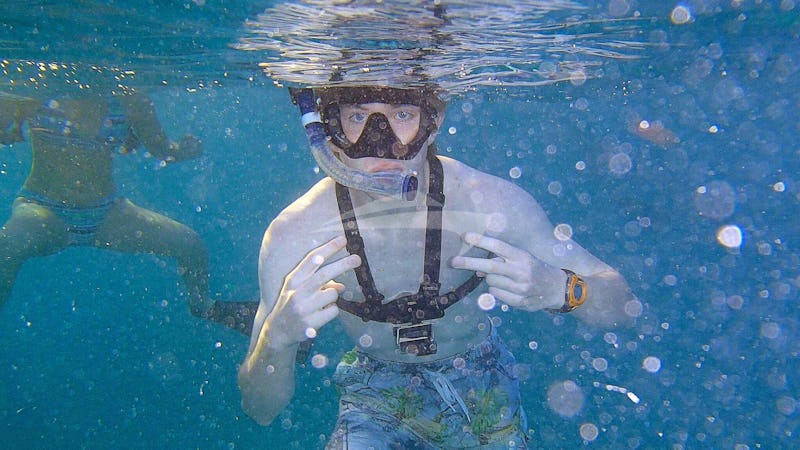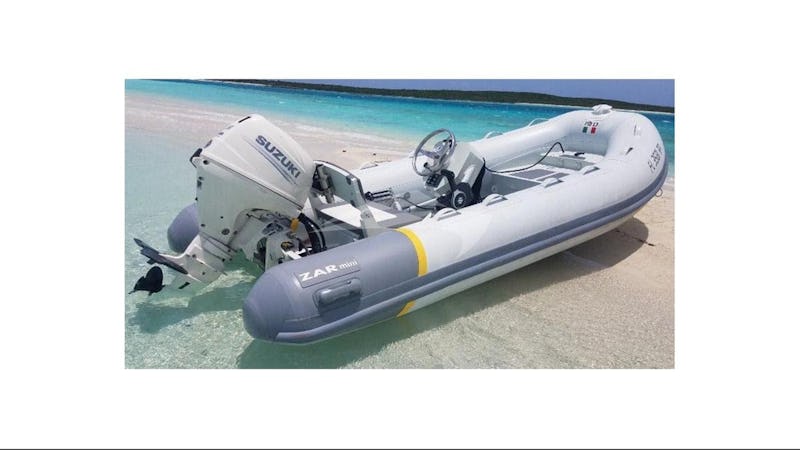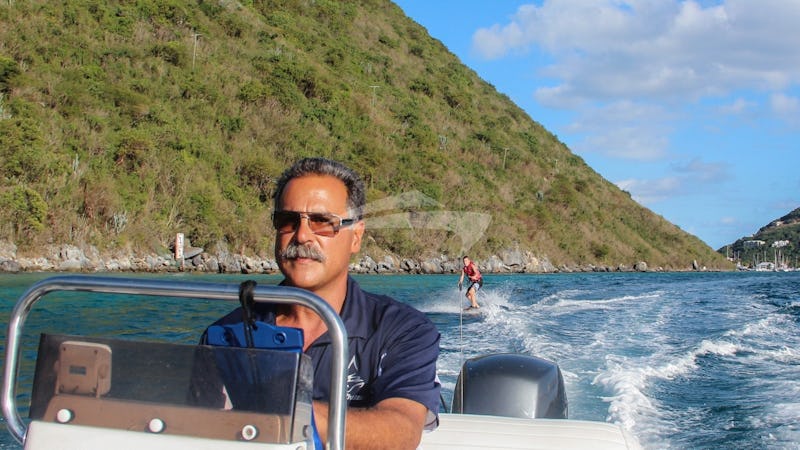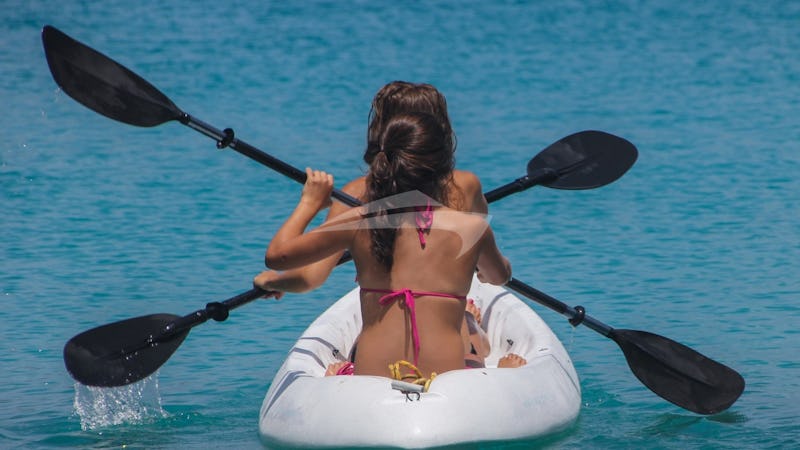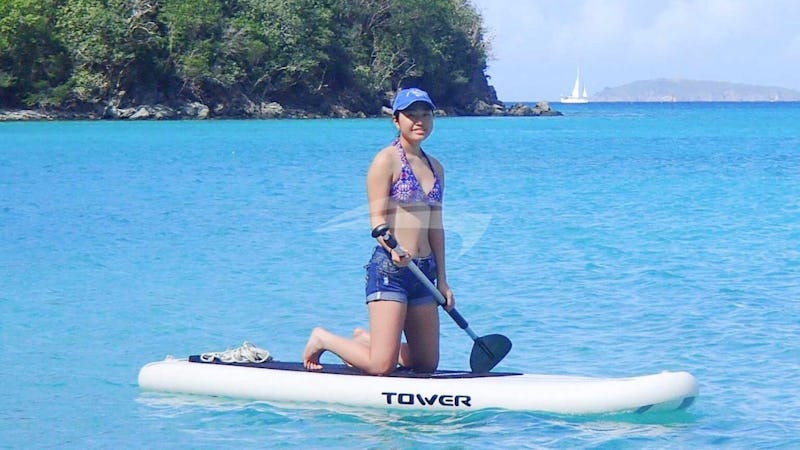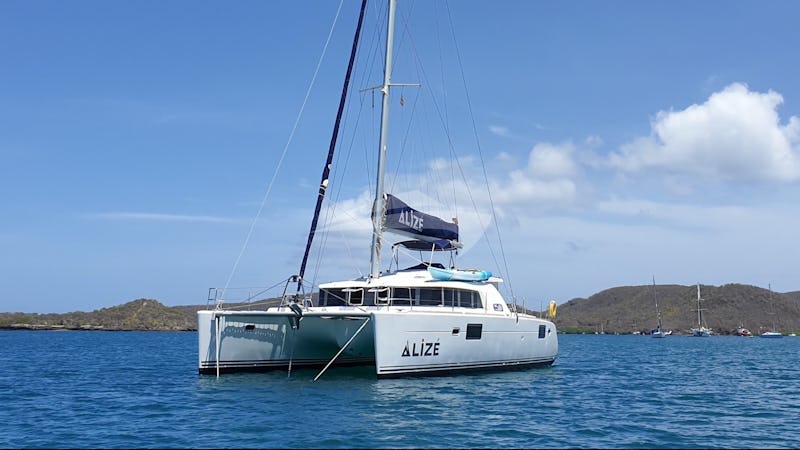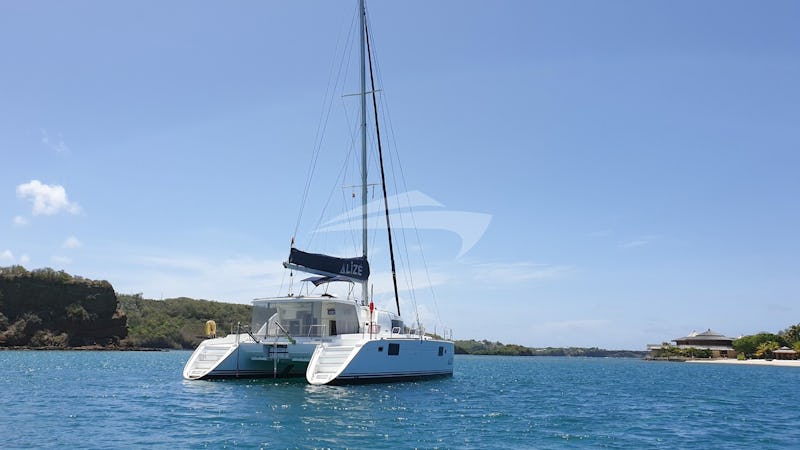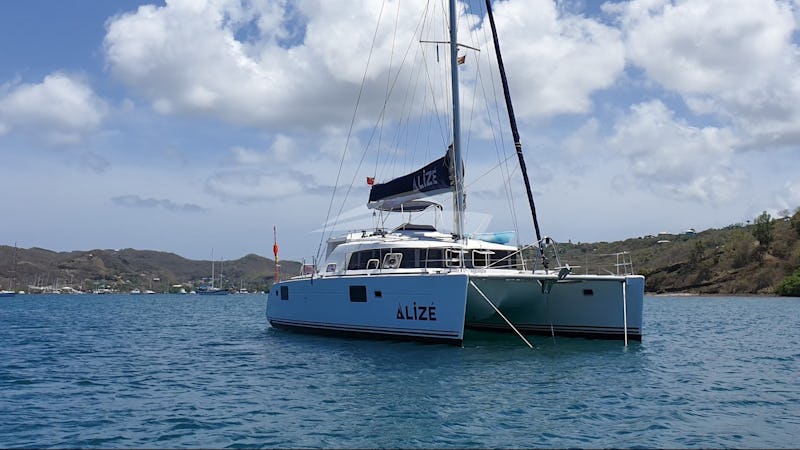 Contact Us For More Information
Catamaran ALIZE is equipped with three equally comfortable guest cabins. Two  with queen beds and one with a double bed.  En-suite bathrooms and ample closets. A large and luminous salon, aft cockpit, forward cockpit and flybridge, provide several options for chilling out during navigation or at anchor; in the shade or in the sun. Your preference. Always pampered by a professional crew Team comprised of Captain and Chef. Ideal for two couples or families with kids.
Captain: Carlos Andrade
Carlos and Maribel are a professional, multilingual Captain/Eng. and Chef/Mate team with many years of experience operating large power and sail yachts worldwide. From 2012 to 2017 they were the owners/operators of the very successful and highly rated BVI crewed charter catamaran: Sea Chateau. Now they are the proud owners/operators of another large and comfortable sailing catamaran: ALIZÉ. Carlos was born in Michigan and grew up in Maryland sailing and fishing the waters of the Chesapeake. He holds an International Master of Yachts 200 ton. Ocean license and is also trained in marine firefighting, diesel mechanics, radar, radio communications and first aid. He is very conscious about your safety and the safety and maintenance of his vessel. His hobbies include, from being an avid sport fisherman to a passionate photographer and classic rock and jazz music enthusiast. Some of his guests also affirm that his mojitos are the best in the islands. Try them!
Chef Mate: Maribel Ramirez
Besides being a professional Architect, Maribel is STCW certified, holds an RYA power boat level II license and is also a professionally trained Chef, graduated from the Gaga Culinary Institute under the guidance of French Master Chef Laureant Cantineaux and is also trained in Silver Service. Three years spent in Tuscany, Italy while supervising the construction of a Benetti 120 ft. mega yacht and her recent travels to Sicily, Sardinia and Croatia, have also given Maribel the opportunity of learning the traditional Mediterranean cooking techniques, native ingredients and well kept family secrets, all of which compliment her Spanish and Latin/Caribbean heritage to provide you with an exciting, delicious and beautifully presented culinary experience in every meal. With their experience, charm and passion for excellence; Carlos and Maribel will surely make your Caribbean sailing vacation the experience of a life time.
A mid-April, 2021, family chartering in the BVI aboard ALIZE wrote:
We loved every minute we spent on ALIZE.
Carlos is the most patient, calm and kind person. He showed the kids how to use all the water toys on board and they had so much fun!
Maribel is the best chef you can have on a charter. She treated us to some exquisite deserts, succulent steaks and the freshest salads. The bar on cooking was set very high.
Thank you so much Carlos and Maribel for an awesome week on board the ALIZE! We hope to be back soon!
Carlos and Maribel,
we had a great time on the ALIZE.
Maribel cooked amazing food and you guys made us feel right at home. This trip was probably the best one I ever had, thanks to both of you. I really hope that we will be able to go on this boat again with you.
Thanks!
[ Maribel with Ana and Niko, ages 10]
________________
Late March, '21, guests on ALIZÉ wrote:
Dear Maribel and Carlos,
As you found out, even though Carlos suspected it, I was hesitant to come to the BVI since I had never done anything like this before and was nervous about how I would fit in. Your gracious hospitality and reassuring calmness put me right at ease and truly this was a wonderful experience that I would like to do again. Probably my most fond memory will be getting to know the both of you, hearing of some of your grand adventures and traveling insights. 
Thank you for making our "mid-pandemic" charter the best it could be. The service was top notch, the food was five stars and outstanding and the company most enjoyable.
Con toda mi gratitud y deseo por las mejores bendiciones de Dios!! 
Holly W.
Dear Maribel and Carlos,
What a marvelous trip this has been! I really had no idea what to expect. This trip was planned as a celebration of my 50th birthday and I wasn't in the loop, so to speak. Add to that all the ever changing Covid regulations and I was not enthusiastic. 
That being said...
Once I was on the ALIZE, in your capable hands, I was at HOME. The anxiety and apprehension...GONE!!
I was completely relaxed and my attitude shifted immediately. Thank you both so much for allowing us to share your home for these eight days. I was not disappointed about not being able to go on land due to the late Covid test results. I really am happiest when I'm with my sister. She's my best friend. So I would have to say the whole trip was a SUCCESS!! We loved your cooking, Maribel. Every meal was a triumph! Carlos, your stories: so fabulous. Thank you for a safe and memorable experience. The BVI is beautiful but a trip with you two, even on swamp, would be worth it! I hope this is the first of several trips together.
Dezra and Joel H.
_________________
Spring Break guests for March, 2021, on ALIZE wrote:

Dear Maribel and Carlos,
This has been the most amazing, relaxing, beautiful vacation Winslow and I have done together. This was our first sailing trip and it is everything and way more than what we hoped for. You two are such precious, loving and wise people and I feel like I have a new favorite aunt and uncle in my life.
I have felt the happiest I have been in a long time and you two have such positive bright uplifting energy it's so contagious and so healing to be around. Thank you for following your dream and sharing your passion for living in the water, in the flow, with hearts open engaging the moment with us. I will be thinking about the gentle rocking of the ocean in my meditation and the joy and peace of this trip for so long. Highlights include Maribel's amazing food! Dancing on the bow, but most of all, feeling so safe and welcome, and free to be myself in a way I rarely feel with strangers. You two feel like family to me now. 
Love you both.
Brianna
March 24, 2021
Dear Carlos and Maribel,
It has been a joy being onboard these past five days! It's my first time spending a night on a ship like this and I've loved it. Your hospitality has made me feel cared for and at ease. It has been well beyond what I expected.
You two run a lovely and incredible boat and have made my experience out here very special and memorable. Thank you for your care!!
Love.
Winslow
P.S.: Maribel, your cooking was sooooooo yumi! 
March 24, 2021
________
Mid-March, 2021, charterers aboard ALIZÉ said:

Carlos and Maribel,
You made this trip possible. We didn't think it was going to happen. You made it happen. The ALIZE is beautiful. We had the most relaxing, fun and amazing time. The food was WOW!  So Yummy! Drinks were perfect and kept coming. Just how we like. You both are fantastic hosts. Listening and watching who we are and took us to the best places in the BVI. We do not want to leave!! Thank you so much for taking great care of us . We have the best memories to take with us and great shirts!!
Until we sail again...
Love
Brad and JoAnn
________
Reviews - What have Caros and Mirabel's past guests said -
Carlos and Maribel, thank you again for another wonderful week! Everything aboard was just wonderful and of course, both of you are the best. Great food, great adventures and best of all great memories.This is our second trip with you, but it won't be the last!. Until next time.Chad, Donna, Graham, Bryce, Brooks and Grace.__________________________________________________________________Carlos and Maribel, thanks again for another family vacation. The girls will be taking about Maribel's cooking none stop until we comeback! They also had a great time testing the new tube. The sea turtle in Christmas Cove was amazing! Another unforgettable family vacation!The Colmans: Gerard, Susan, Heather, Lizzie and Helena
__________________________________________________________________Carlos and Maribel, this was the perfect first experience in the BVI your knowledge of the islands hospitality and the amazing cuisine complemented the beautiful views and the amazing waters. We look forward to being able to share this experience again in the future with more friends and family. Cheers and many thanks.Michael and Jenny Corr__________________________________________________________________Carlos and Maribel, thank you so much for best vacation ever!! Love every minute (from the unbelievable meals, to all the perfect places to explore on land and see, and our attention to all our needs!. We loved stumbling into the Poker Rum!!. We will never forget our week onboard your beautiful boat touring this most beautiful spot on planet Earth!! Happy Sailing.Linda, Ann, Colleen, Nancy.__________________________________________________________________Captain Carlos and Chef Maribel, The ultimate family vacation! We never were board! The fishing, watersports, the sailing, the relaxation, the Caribbean Showers and the amazing food were a few of our highlights ! Your attention to detail from planning the perfect itinerary to the special touches and constant attention you gave us, was spectacular.Pelose family__________________________________________________________________Thank you for giving our family such great memories and a trip of a life time! You are both amazing people and we will miss you...until we're back again . Carlos, your expertise on where to go for our specific family, our safety, and always impeccable timing was amazing. Maribel, wow!... we can't say enough about all the wonderful meals. You are not only very talented but you are such a sweetheart as well.Having four teenagers, we really needed this family time together. Thank you for all the time and effort you both put in to making it so special for us. You both went above and beyond! ♥John, Andrea, Layton, Trevor, Brennen and Hollynn Schleich__________________________________________________________________
Ammenities
Cell phone, Indoor audio system, MP3 music server, Outdoor audio system, Streaming online media, TV saloon, Wi-Fi, 12ft/3.7m Zar 25hp, Beach games, Board games, Floating mats, Kayak, Kayaks multiple, Kneeboard, Paddleboard, Swimming noodles, Tube - towable, BBQ, Coffee machine, Deck shower, Fishing gear - light, Hammocks, Ice maker, Owner operator, Special diets, Sun cushions, Swim platform, Water maker
Diving
Not Insured, Diving by arrangement, Snorkelling gear