Yacht for Charter
ALTESSE
7117
56ft / 17.1M
| Builder: Lagoon
| Year: 2013
---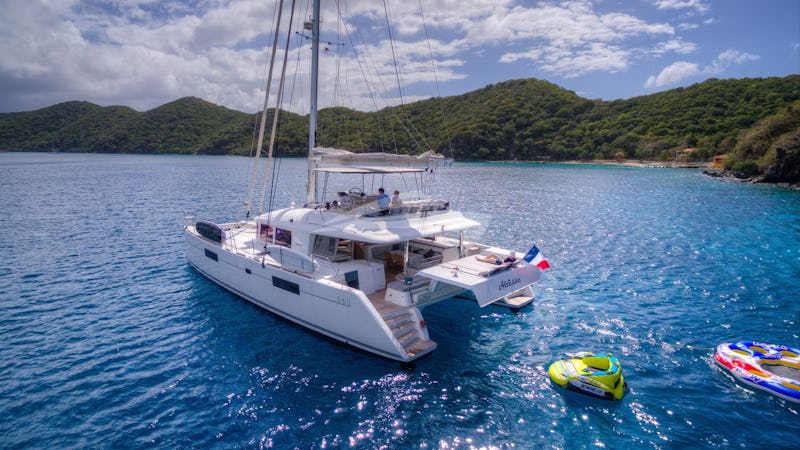 ---
Yacht Charter ALTESSE By Lagoon
Cruising Speed
9kts (17kph)
Flag
British Virgin Islands
From:
$23,000
plus expenses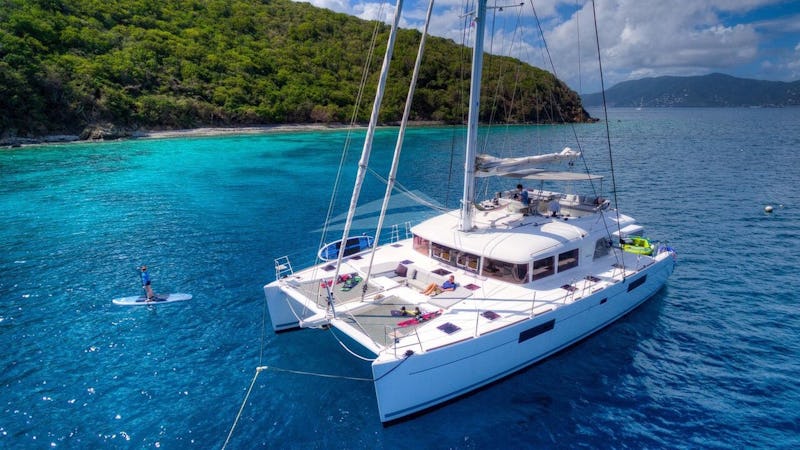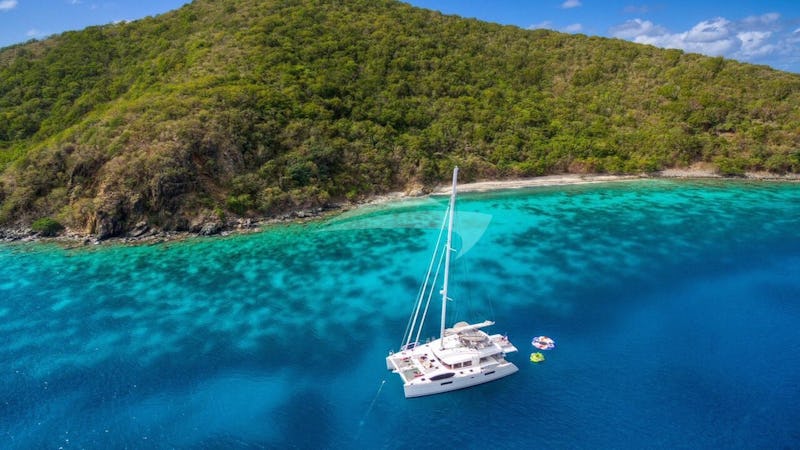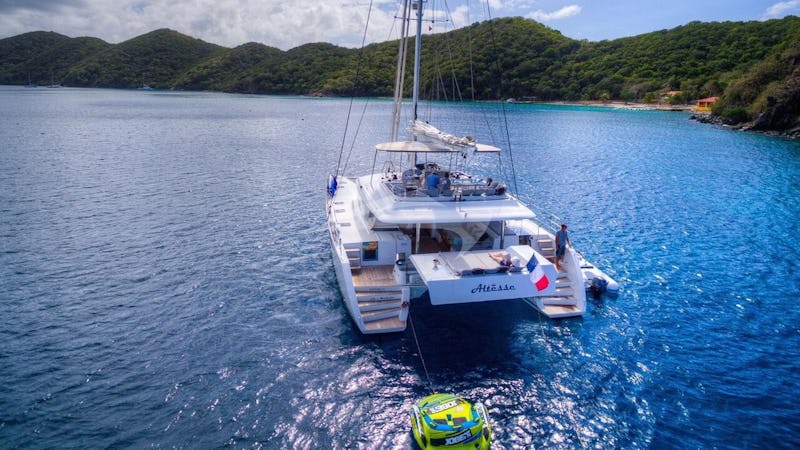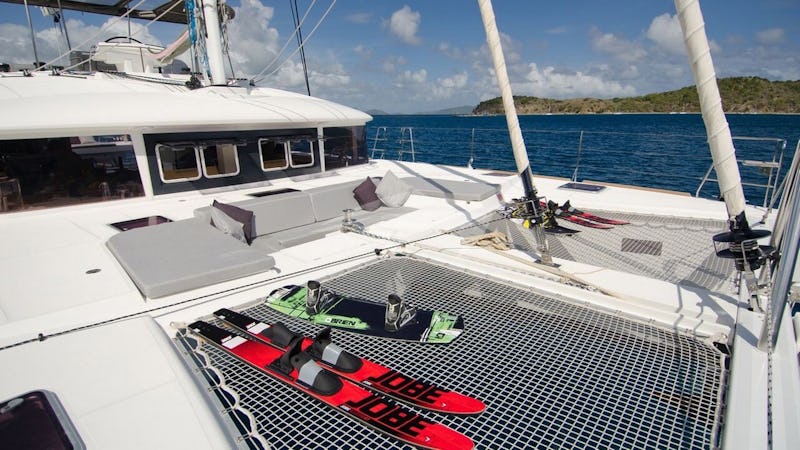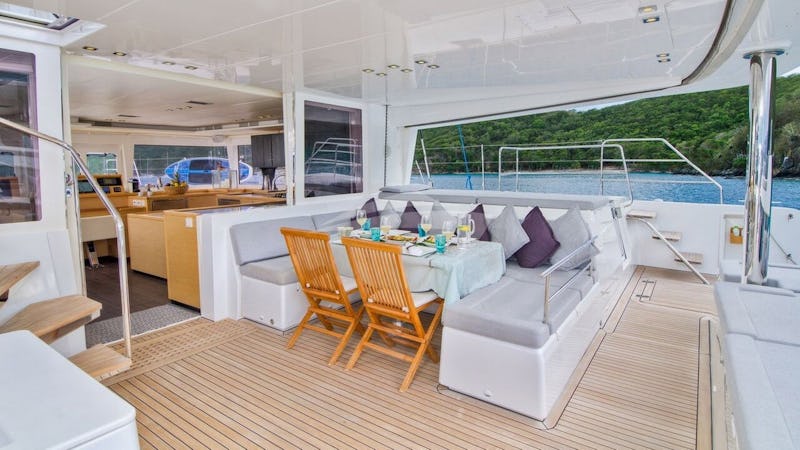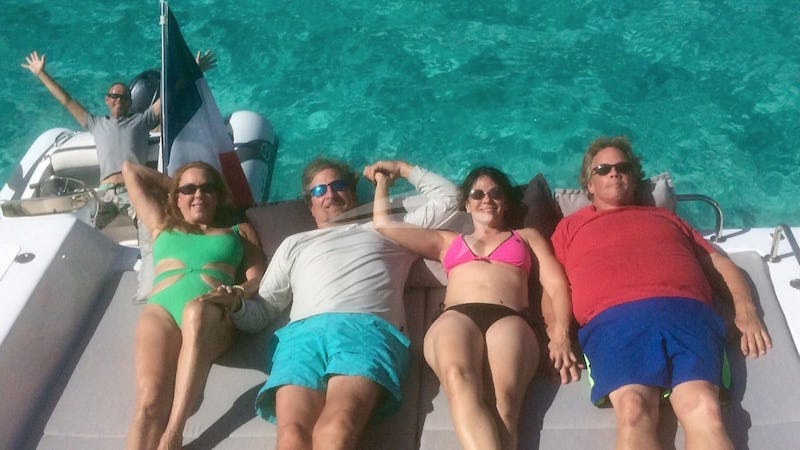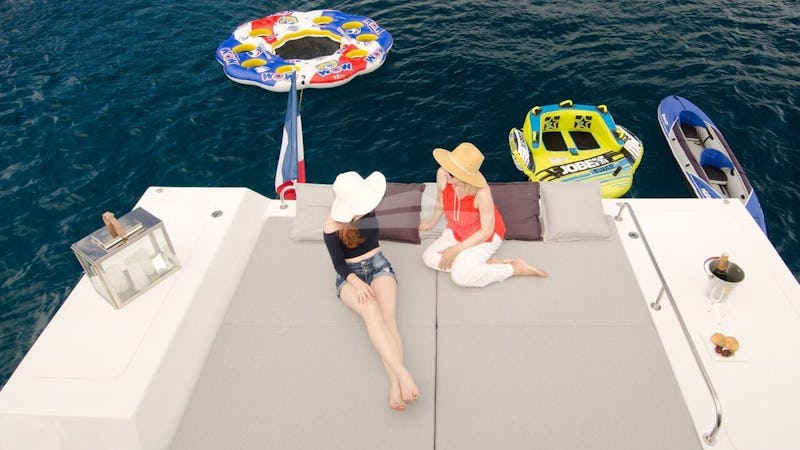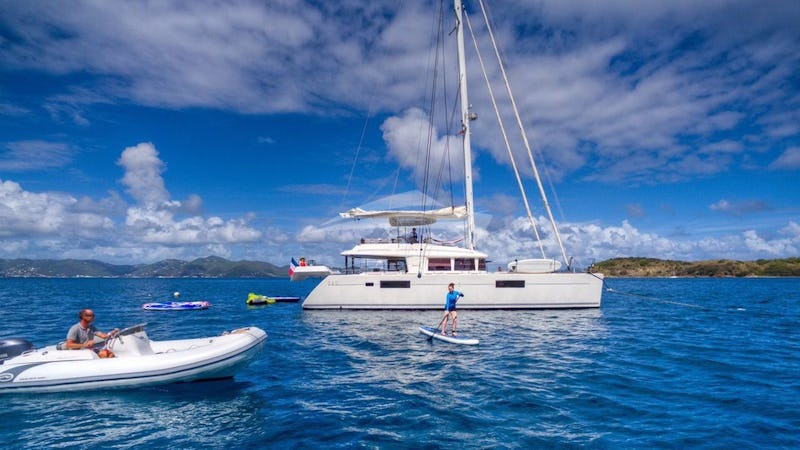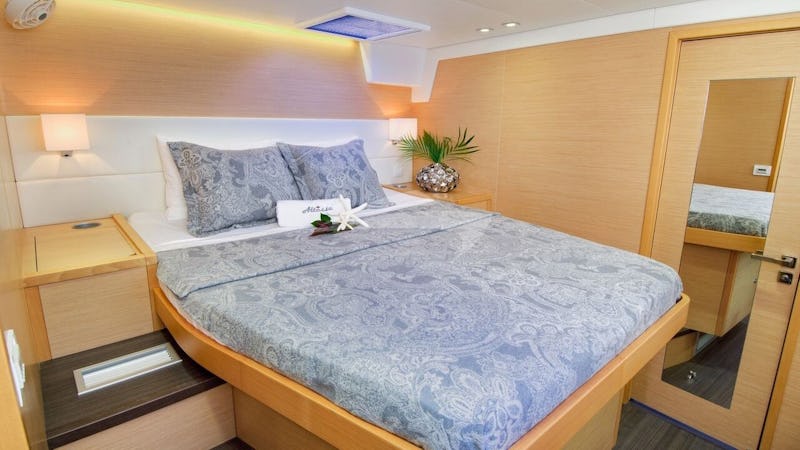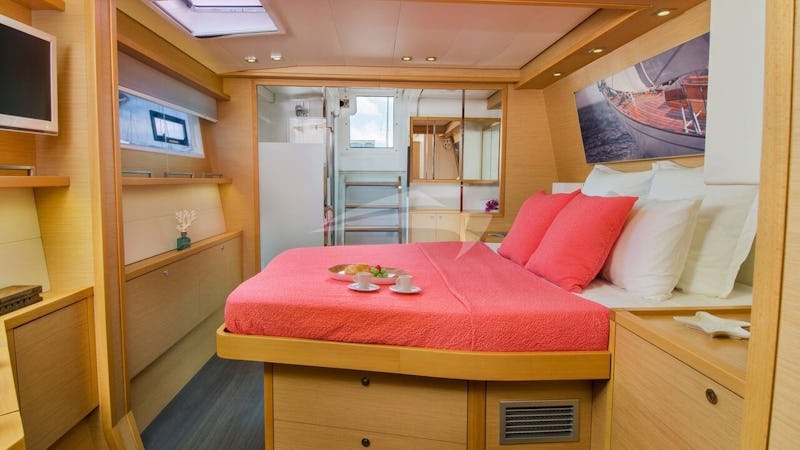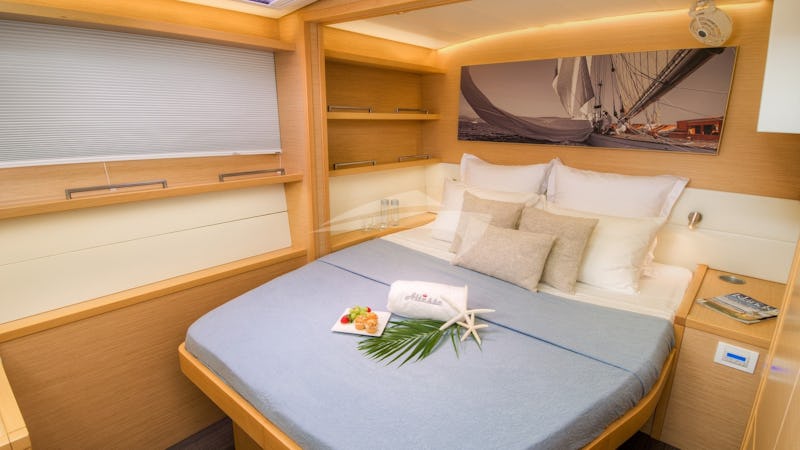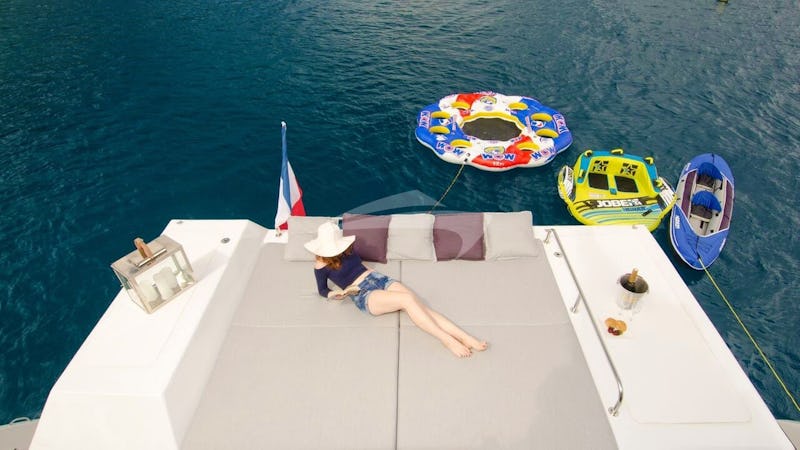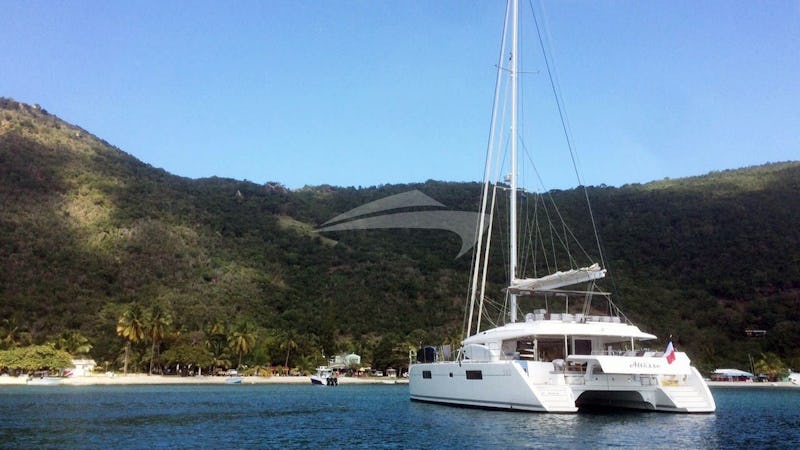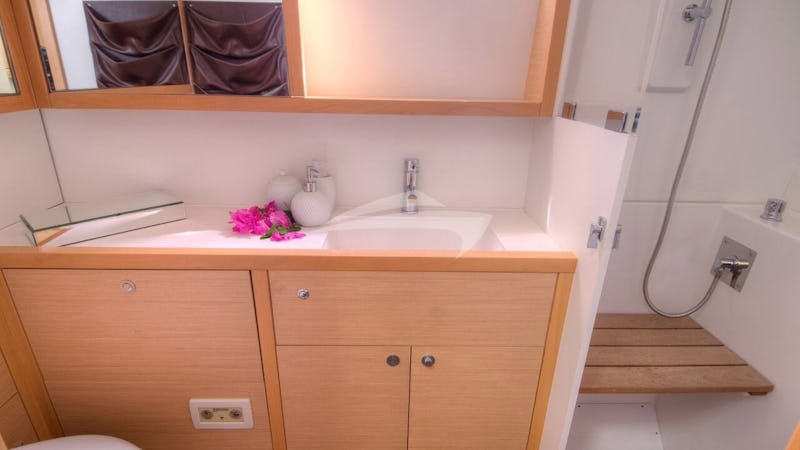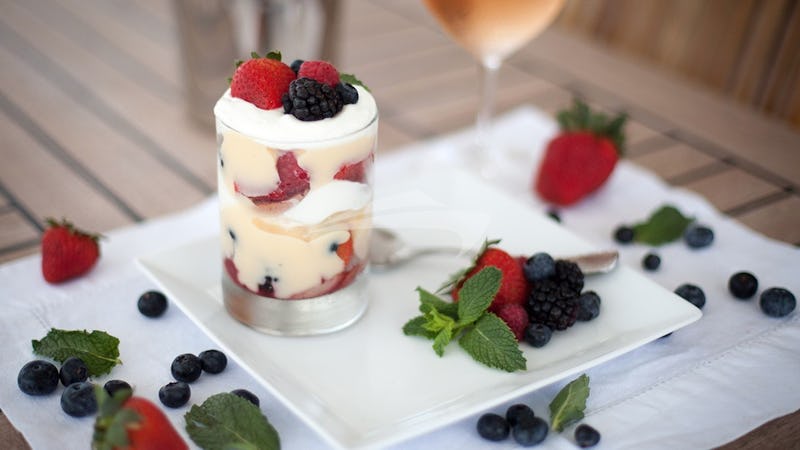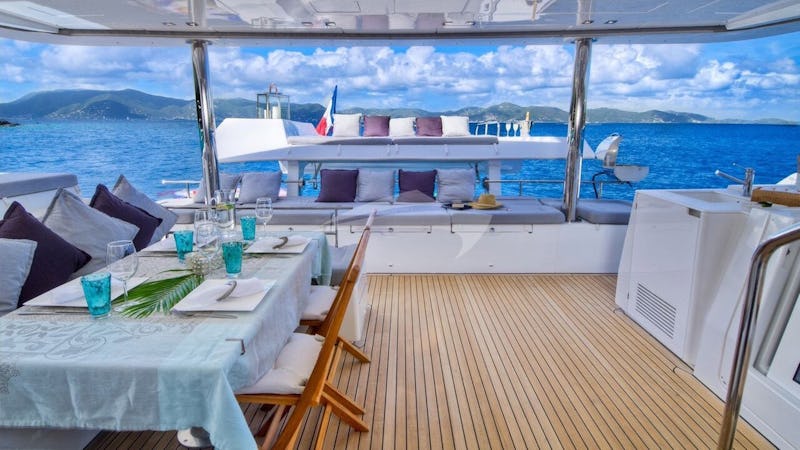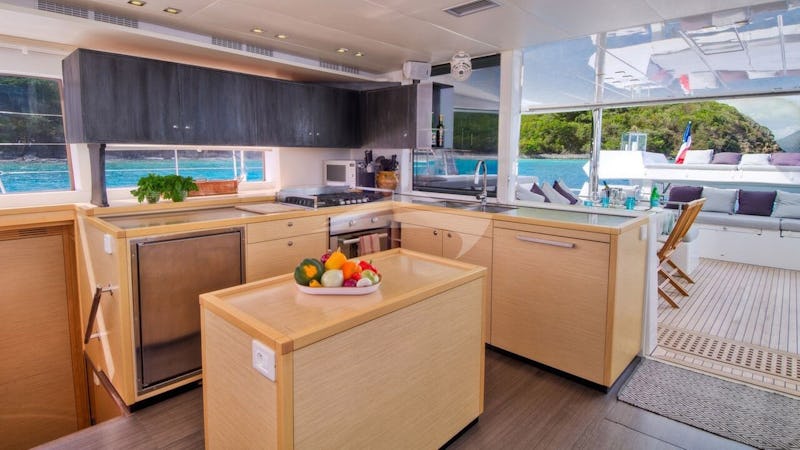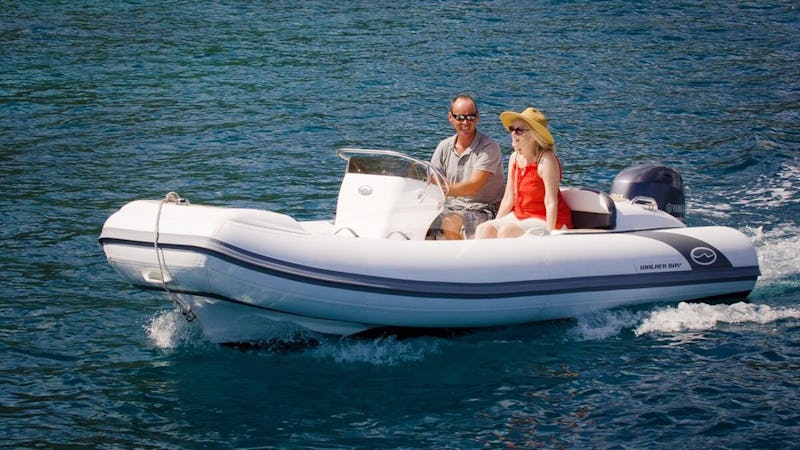 Contact Us For More Information
ALTESSE offers bespoke charters 3 queen guest suites and an amidships suite with upper & lower single berths.
Captain: Stefan Hübbe (47)
Stefan & Chloe: Sailing, working and loving together since 2007
Chloe and Stefan were liveaboard cruisers (sailing in the Pacific, Indian Ocean, Red Sea, Mediterranean and Caribbean) long before they started to run crewed charters in Latin America and the Caribbean in 2015.
Captain Stefan (MScEng, RYA Yachtmaster, PADI Dive Instructor) was born in Berlin, Germany, and developed a love of the wind and sea as a teenager, sailing his first dingy at age 16 and is a keen surfer, kitesurfer and freediver. He got his master's degree in Mechanical Engineering, which led him to a successful career managing specialist multimillion dollar engineering projects in Europa and Australia. However, his first love was always the ocean, so he decided to return to Europe the slow way; sailing solo on his own yacht, over the Pacific Ocean...and managed to get as far as Bali before meeting Chloe; which was to change his life's course forever. After sailing all over the world together (over 45,000nm) for several years, it was time for a new project, so Stefan started designing and building luxury houseboats in Europe. 13 houseboats later, they decided it was a sailor's life for them after all, and never looked back.
Chef & 1st Mate: Chloe Chand (40)
Chef Chloe Chand (BA Hons, RYT Yoga Teacher, PADI Rescue Diver) was born in London, England and had a professional career in project management before developing an aversion to chairs and retrained to become a yoga instructor and teacher, working for various charities and universities. Her passion for education, the environment, spirituality and anthropology has led her all over the world – living everywhere from Barcelona to Borneo. Chloe has trained at the prestigious Ashburton Chef's Academy in the UK and her cuisine favours fresh, locally-sourced ingredients to create healthy, rainbow-coloured and seriously flavourful recipes. European food is at the forefront of her culinary repertoire, as well as more exotic influences from her travels (including South East Asia, India and Morocco). Vegan menus are one of Chloe's specialities.
Chloe and Stefan have a soulful love of the ocean and sailing, which they enjoy sharing with guests. Their warm, upbeat personalities, exceptional hospitality and joie de vivre is all part of what will make your vacation unforgettably wonderful!
Relaxing in nature, yoga and watersports are at the forefront of what they offer. Unwind in a stunningly beautiful, carefree environment, leaving your 'everyday' behind you; sit back and soak up the sun with a Caribbean breeze in your hair; experience diving, free-diving, surfing, wake-boarding snorkelling and hiking – as well as other fun activities, such as scavenger hunts, murder mystery themed dinners, etc.
Chloe & Stefan share time and space with guests and enjoy being personable, making you feel comfortable and at home on your sailing vacation. Playing guitar and stargazing over a nice glass of wine and good conversation is part of what they provide to create a wonderful holiday atmosphere and memories which last a lifetime. Aboard Altesse, most guests arrive as clients but leave as friends.Ashtanga yoga. In her free time she can be found practicing yoga, playing the guitar, island-hopping on the SUP or freediving.
Stefan and Chloe are looking forward to welcoming your clients aboard the luxury, custom-built ALTESSE.
Early November, 2019, guests aboard ALTESSE wrote:
This trip was bound to be memorable; sunshine, white sandy beaches, crystal clear waters, amazing food and the perfect getaway.  What I wasn't expecting was that we would be walking away with two new friends, who somehow feel like family in only 6 short days.  All the late night chats and giggles, early morning greetings with smiles - we are going to miss your company the most!  I honestly could not have dreamed of a better couple to have shared this special 60th milestone with. What an incredible week on the water - not a single dull moment and we all felt so at ease from the moment we stepped onboard.  You are both such a treat to be around and we could not be more relaxed.  You managed to give us a truly magical experience, touching our souls with your dedicated work, authentic attention and inspiring stories.  This is one of the best experiences we have had - and you are the reason!
Full moon glowing, had us all beguiled.  
Connected forever as one solid dream team! 
Guests aboard Altesse with Capt Stefan & Mate Chloe said:
The Mittler party
When you are planning a big family event a year in advance - the danger is that you will "big it up" so much in your mind that when all reach the BVI, it doesn't quite match what you planned/hoped for.  Completely the opposite was our experience - with a fantastic crew, fabulous boat and great weather.
The itinerary was just what we wanted - and great anchorages - thanks to Stefan's planning.  Chloe's meals were superb - and we do all love our food in this family!!  Our preferences had carefully been taken account of, so it was just the sort of food we were looking for, and a real luxury being able to sit back and just wait for our next delicious appetiser/ cocktail or meal… added to all that the boat was immaculately clean and well cared for, there were so many activities on offer such as yoga, snorkelling, hiking – I even went tubing! Honestly I cannot rave enough!!!
So thank you - a great family experience - and a truly unforgettable 60th birthday for Steve 😀
The Forsyth party
Whether you're looking to experience life on a sailing yacht, trying new water sports in the caribbean sea, exploring beautiful islands, or simply relaxing on the open waters, Chloe & Stef have so much to offer. Not only did they provide a high-quality, tailored experience where my interests as the customer were always put first, but looking back on the time we had, I found myself engrossed in such comradery that only true friendships are founded upon. It was bittersweet to move onto the next part of our trip as I was instantly nostalgic of the times we shared and still long for our next encounter. I most certainly wish for anyone to have this uniquely amazing opportunity. Thank you, Chloe and Stefan! Fair winds and following seas!


The Nix party
Stefan and Chloe are such cheerful and thoughtful people. Chloe made awesome food, Stefan was a primo captain and divemaster. Hands down they were the best part of the trip. 
Chef was incredible - I would describe the food as first class - colorful, flavorful, delicious. She was very attentive to our individual idiosyncrasies (my daughter not eating anything, my son wanting jalapenos on everything, everyone wanting to eat at different times, etc). Stefan and Chloe read us perfectly, picked the places off the beaten path and were always conscious of how the weather would impact things like our comfort, having meals, etc. They were just wonderful, making the vacation extra-special with a treasure hunt, murder mystery dinner and games. They really spoiled the kids which I appreciated. So accommodating and thoughtful in so many unexpected ways. I would trust them with my family again without hesitation.
The Maddick party

My family and I left with 2 new friends and many wonderful memories to last a lifetime. Stefan and Chloe are the ultimate hosts and from the moment they met us we felt welcomed, safe and spoilt rotten! Our time consisted of seeing a band, exploring islands, sailing, diving, going on hikes, snorkelling, surfing, SUP, playing games, doing yoga…and lots of wonderful meals!!! We absolutely loved every minute of our trip and wouldn't hesitate to recommend this experience to anyone. Thank you so much el Capitans!!! (Both of you!) ❤

The Etherton party
This was an amazing experience for us, sailing under wind power and feeling so comfortable in and around the water.  You'll share the space with a beautiful couple who are passionate about sailing and who are very good at accommodating land lovers like us. We had no experience sailing, but we were interested in learning and they really taught us a lot about operating the boat. Chloe and Stephan are just as happy to leave you to relax and let them do the work though. Steph has been sailing all his life and Chloe for years with Steph - we felt extremely safe all the time onboard. The boat comes with an adventure of a lifetime and is well equipped with everything needed to have a great time. Loads of options - we love diving and got the chance to see some beautiful fish, reefs and wrecks. We are also foodies and Chloe's kitchen was another highlight for us - we shared restaurant quality food and excellent conversation. This has been the most memorable holiday and is undoubtedly the best way to see any destination where Chloe and Steph have a sailboat.

The Rim Party
The experience was extraordinary, Chloe and Stefan are the best hosts. They are cool, easy to "live" with, not boring or awkward at all, they'll do everything to make you feel comfortable on the boat. During the day, they took us to beautiful locations, we used the paddle boards and the kayak a lot and they took us to more remote anchorages which felt very VIP :D. We enjoyed watching the stars while singing and playing the guitar, drinks flowed - perfect holiday atmosphere. The communication with Chloe was fantastic and she cooks amazingly well –everything was so delicious! Stefan is the Captain, he has a LOT of experience sailing, and you'll feel very safe with him. I recommend this to everyone! Book it now, before somebody else does!

Ammenities
DVD player saloon, Indoor audio system, iPod dock, TV all cabins, TV saloon, Wi-Fi, 14ft/4.3m RIB 70hp, Inflatable floating island, Kayak, Kneeboard, Paddleboards multiple, Sailing dinghy, Tube - towable, Wakeboard, Water skis - adult, Water skis - child, BBQ, Deck shower, Exercise equipment, Fishing gear - light, Hammocks, Ice maker, Sun cushions, Swim platform, Water maker
Diving
Insured, Compressors, Crew can instruct, Crew certified, Diving if accompanied, Diving lights, Seabobs multiple, Snorkelling gear, Underwater video, 1 Compressor, 10 Tanks, 4 BCs, 4 Regulators, Instructor,
PADI Scuba instructor guiding all dives & courses
Up to 6 dives per week (max 2/day) for up to 4 certified divers (incl. a mandatory refresher dive for under 40 dives and/or have not dived within a year.
Discover Scuba Diving course for up to 4 non-certified divers.
PADI referral open water course dives & cert for up to 4 students (excluding the theoretical part)
Use of the dive equipment for 4. Any additonal gear, such as other sizes, to be rented at client's expense.
Add'l dives: $50/dive/diver.