Yacht for Charter
BONNIE LYNN
2341
72ft / 22M
| Builder: MacKenzie
| Year: 1998
---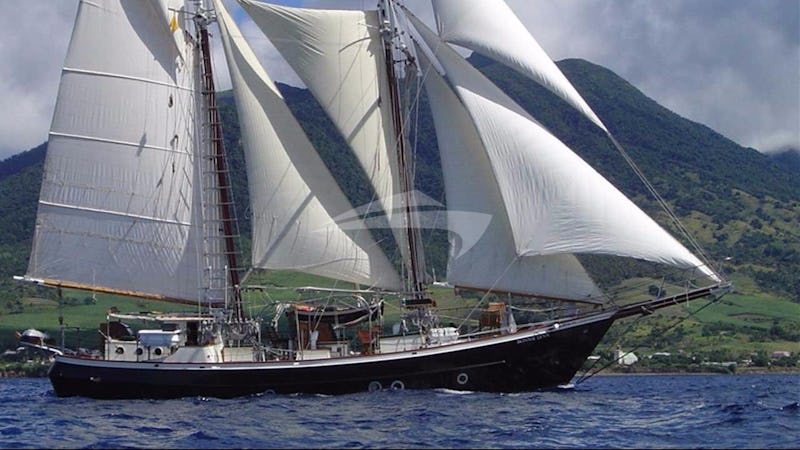 ---
Yacht Charter BONNIE LYNN By MacKenzie
Designer
MacKenzie Merritt Walter
Cruising Speed
8.6kts (16kph)
Locations
East Coast United States
From:
$10,000
plus expenses
Contact Us For More Information
Earl Mackenzie
Captain: Earl MacKenzie
Born and brought up on the coast of Maine, Earl has spent most of his life on the water. His earliest memory is being on his father's lobster boat in Friendship, Maine. Earl has skippered yachts and work-boats since his teen years and for 25 years he has held a Coast Guard Captain's license. He spent six years in the Coast Guard Reserves, concentrating on search and rescue. He was co-owner of a boatyard in Maine for 24 years and owned and operated a 28 passenger motor vessel year-round for six years. Earl has a keen interest in marine biology and maritime history, which is reflected in Bonnie Lynn's extensive library. His fields of expertise include boat maintenance and repair, scuba diving, navigation, boat handling and marine surveying. He enjoys sharing his love of the ocean with the guests aboard Bonnie Lynn. He encourages them to participate in all aspects of sailing the vessel and is able to make them feel very comfortable. STCW compliant
Chef and First mate: Bonnie
Bonnie grew up in Michigan, but shortly after graduating college joined the Peace Corps and headed to the South Pacific to Fiji, where she taught school on one of the outer islands for two years. From there she spent time traveling in Australia, and grew to love mountain climbing while living in Tasmania. While living in New Zealand, she taught school and spent her weekends mountain climbing. On her way back to the States she visited several South Pacific Islands and traveled extensively in South and Central America. She most recently worked in administration at an island school in Maine for 10 years, but prior to that she spent many years teaching, building houses, upholstering furniture, as well as fulfilling the role of homemaker and mother. She began sailing in the mid-80s and has been working as first mate and chef on their schooners since then. She works wonders in the galley, and also spends time on deck with the guests. She feels that each charter is special and she does everything possible to make each voyage a memorable one.
We had a great time aboard the Bonnie Lynn. Each day was fantastic. Earl and Bonnie could not have been more hospital, friendly and warm to all of us. We had delicious healthy food, fantastic weather, beautiful scenery, memorable conversations and best of all lots of laughs as we sailed together.
We must start to plan our next sailing trip. I would like to sail from mid coast up along Mt. Desert Island.
Thank you for organizing this great experience and introducing us to Earl and Bonnie. They are so lovely and we look forward to another adventure with them.
Nina, August 2013
Hello Bonnie & Earl,
We just want you both to know that we are still 'glowing' after our incredible vacation with you.
THANK YOU! Perfect host and hostess, beautiful boat, indescribable food, and the list goes on....
It has been so much fun to show friends the photos and map. Definitely a 'bucket list' trip!
Edgar tried duplicating your cornbread for Bill & Joyce yesterday Bonnie, but regretfully it was nowhere near as good. If you can pass on a recipe he would love it.
Keep in touch - Edgar & Audrey September 2011
Everything was great. The sailing dinghy is great and provided for some special moments with my 9 year old son. Bonnie Lynn is comfortable with a very kindly sea motion.
Earl is a great charter captain and his seamanship is at the highest level. Bonnie is the consummate chef. Meals were served al fresco when feasible. We were three different people with three very different appetites and she always went out of her way to make sure everyone got what they wanted. They were very accommodating in addition to having local knowledge that can only be possessed by a native. The crew quarters are completely separate from the galley, salon and guest quarters. This means that after they tuck you in for the night, it's like you are alone on your own boat.
- Family of three, August 12 to 16, 2007 - Maine
"Bonnie and Earl are the best! Friendly and thoroughly professional. The food as delicious, beautifully presente and just what we requested. Our vacation was better than we expected and we want to book two more weeks in 2006.
- February 2005
"Boat and crew could not be any better! Our holiday was exceptional. We could not be more pleased and would not consider any other boat, skipper or mate. We are planning to book another week in April 2006."
-March 2005

"Earl was so experienced and very professional. Bonnie was equally capable on deck as in the galley. Both made us feel very welcome and made a huge effort with the children."

- Lade party, August 2004
"We were impressed with the skill and knowledge of the captain and his professionalism." "The quality and presentation of the food was very high. Breakfasts were exactly what I requested and more. Lunches were just right with homemade soups, chili or chowder and great sandwiches or bakery items. Dinners were yummy as were the freshly made deserts at lunch and dinner".
- Shaffer party, September 2003
"Probably the highest compliment I can give the boat and its crew relates to their suitability for family charters. The schooner's deck was ideal for our 4 and 7 year old sons. Furthermore, Earl and Bonnie enjoy children and our boys picked up on this as all young kids do. This was our first charter and we had the chance to see other boats as we traveled. From the perspective of a family with young kids, there is no other boat my wife and I would rather been on. As inexperienced clients, we feel we not only got the right boat, but the right people."
- Christie party, April 2003
"We thoroughly enjoyed Earl's boating and expertise and story telling. Awelcome companion and new friend. Bonny is a supurb cook - something new every day - picked up on our preferences quickly - had memorized our likes/dislikes. Food was plentiful and delicious. Many fresh ingredients and local produce. We caught fish and had sashimi 15 minutes later."
- Lydon party, April 2003
"The boat was beyond our expectations. An amazing experience. Great, great people. We cannot say enough good things and would sail with them again in a heartbeat."
– Sullivan party, January 2003

"We loved the freedom to walk around and absolutely loved eating on deck."
– Grimshaw party, January 2003
Ammenities
CD library, Cell phone, Indoor audio system, Local TV, Wi-Fi, 11ft/3m AB 15hp, Beach games, Board games, Floating mats, Kayaks multiple, Windsurfer - Adult, BBQ, Book library, Deck shower, Fishing gear - light, Hammocks, Owner operator, Special diets, Swim platform
Diving
Not Insured, Crew certified, Diving by arrangement, Snorkelling gear