Yacht for Charter
BREANKER
144
55ft / 16.8M
| Builder: ETA Yachts
| Year: 1991
---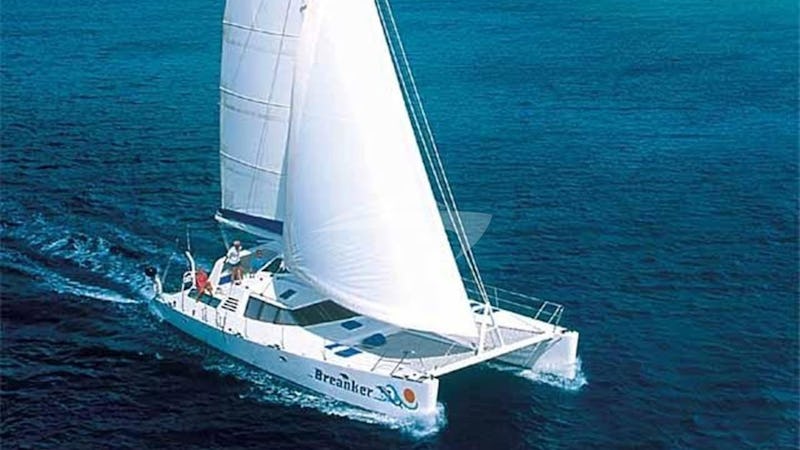 ---
Yacht Charter BREANKER By ETA Yachts
Cruising Speed
9.7kts (18kph)
Flag
British Virgin Islands
From:
$17,900
plus expenses
Contact Us For More Information
BREANKER can accommodate 8 guests in 4 cabins. The Master cabin has a queen size bed, shower and toilet. 2 Guest cabins have a queen size bed, bath/tub, shower and toilet. A Guest cabin has a queen size bed, shower and toilet. BREANKER is fully air conditioned through out (there is a small additional fee for A/C all-night). Crew has a separate companionway, heads and shower.
Captain: Kristian Soendergaard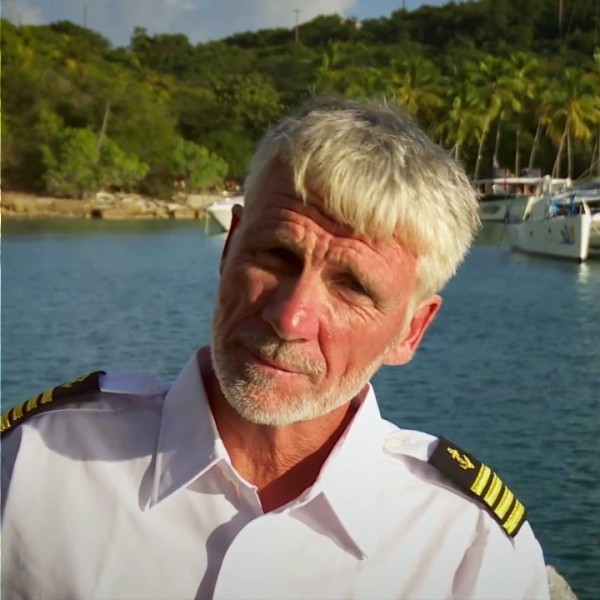 Kristian is by all rights a master shipwright, having operated his own yacht repair and wood working shop for years, though his education led him to fine arts, especially in art weaving. Kristian also has a passion for water sports, especially diving, and he is happy to share the fascinating marine life of the Caribbean with guests. Marianne and Kristian look forward to making your cruise aboard Breanker the most relaxing and enjoyable vacation ever.
Chef / First mate: Marianne Rasmussen
Marianne holds an International Yacht Master 3rd Degree license, and Kristian holds an International Yacht Master 1st degree license. Marianne also has a university degree in education, and is a master of the art of canvas work and upholstery, having owned her own canvas and sail loft for a number of years. Her father was a chef, and Marianne was brought up close at hand and instilled with a love of cooking and a keen interest in fine cuisine. Their extensive travels have only served to broaden Marianne's culinary horizons and gourmet options, creating mouth-watering delights for the many guests she has welcomed aboard for the past many years.
Six-time repeat guests on catamaran BREANKER said:

Marianne and Kristian, after sailing with you for six times, I (we) feel like you are part of our "extended" family. We always love being with you and exploring new places each time! You are both fabulous host and hostess – Captain and Admiral! Hopefully you will come and visit us in New Orleans!
Love Julie and Harold

WOW…. These last eight days were amazing. Guy and I are so lucky to have spend this time with yall! Thank you so much for the meals, the fun and the awesome info you taught us. I would love for you all to come visit us in New Orleans!
Love Michelle and Guy

Elizabeth had so much fun. Every meal, excursion, just hanging out was amazing. Marianne and Kristian, your meals were to die for and the presentation was second to none. I felt like we were family from the beginning of the week. Look forward to seeing ya'll again, either on your boat or ya'll coming to New Orleans.
Elizabeth and Robert

Late March 2022 guests aboard BREANKER wrote:
WOW! What can we say except for thank you for an amazing time. The views were breathtaking and your service is unmatched. The meals were all so special and definitely all 5 star. Kristian was so attentive and fulfilled every one of our requests. Your service is very "VIP"! Thank you for a truly unforgettable week. We will hold our time here in our hearts forever!
Colleen and Randy
 Thank you so much for being so gracious hosts! Your catamaran is wonderful, your hospitality the best. Marianne your cooking and presentation were above and beyond, just wonderful. Thank you for being such good sports and going out with us. Loved getting to know you both and hearing your story of Denmark and starting your life in the sailing world. You both went above and beyond, the trip this past week was absolutely amazing! Thank you again and please stay in touch.
Lori
 Thank you for an unbelievable week. I so enjoyed getting to know the two of you and appreciate your hospitality. I really had a great time relaxing and enjoying the beaty of the islands. Thank you again for a memorable vacation.
Kelly
 Kristian and Marianne, you are the super duper "very VIP" hosts. We had such a wonderful week with you. Thank you for everything and I look forward to coming back soon.
Love, Barbara

Your attention to detail is amazing. You provide a wonderful and relaxing vacation. Thank you for all your hard work so we can unwind for a week. Hope to see you in Denmark this summer!
Warmest regards Barb and Andy
Thank you for such a wonderful week you two provide a beautiful and comfortable place to relax and experience BVI. You provided for all our needs and wants. The food was delicious! This was my first sailing trip and you set a high bar. Hoping to come back!
Dani
Thank you for such an amazing week sailing in the BVI! The food was wonderful and we had a great time exploring all of the islands and reefs. We hope you have a great rest of the season chartering and safe travel back to Denmark. We hope to see you again soon!
Love Hannah and Ethan
Thank you for another amazing time in the BVI! I couldn't ask for a better way to relax and creating amazing memories!  Your food was amazing and I'am sad that I will have to go back home and cook for myself! I hope we get to return for your final year of chartering! Wishing you all the best!!
Marisa
Repeat guests aboard catamaran BREANKER in late February 2022:
Just the four Dells and 2 delightful Danes! Marianne and Kristian, what a wonderful week. 14 years ago we sailed with only Alison. Bringing Sammy onboard this time has added to joy we experienced when on the Breanker. Your delicious meals, drinks with or without the rum were enjoyed by all. Thank you for providing us with the opportunity to sit, relax and break bread as a family. If you ever need a song in your head….just remember our singing Sammy. Your home on Water Island or floating in Honeymoon Bay are an oasis in our busy lives. Until the next time…be well and enjoy your bare feet 
Thanks for making Alison's birthday so special – lobster at Sidney's and chocolate cake on Breanker – just WONDERFUL!
Just the four Dells, Sam and Shawn, Alison and Sammy
Some 2-time repeats on BREANKER for February, 2022, said...
What a wonderful way to bring in 2022 – after 2 years of postponed trips! This cruise was well worth the wait! The food was absolutely delicious – and our meat and potatoes gal even, ventured out for new food adventures! The weateher cooperated and we were able to swim and snorkel most days! Michelle had a lucky encounter with a octopus at Cistern point oa Cooper! Everyone totally enjoyed the experience and Kristian and Marianne were absolutely wonderful hosts!
John and Beth – repeat cruisers, Miles and Anne, Jim and Rene, and Doug and Michelle
Their trip number 30 with Kristian and Marianne!  Guests aboard BREANKER in January, 2022...

WOW! What can we say? Trip # 30!!
Another  amazing week with trip # 31 all ready in the booking! The food, as always has been delicious! The care concern and attention given by Kristian and Marianne to us and all details are never unwavering. Even after 30 trrips we still experience "firsts"! This year one of our firsts was the Leinster trail hikeup to ruins – Murphy house – where the view was beautiful across Water Lemon Cay! We did spend some nights in the BVI on Norman and Jost Van Dyke. I was a little wary of the new Covid protocols, but as it turned out, it was very easy! Again Kristian and Marianne got us through the proses without any problems!
Currently on a beautiful, peaceful sail back to Cruz Bay taking with us great new memories and looking forward to sailing again with them next year!!
We love you guys! Thank you for another great week
Martin and Jodi
Catamaran BREANKER - What the guests said, from an early February, 2020, charter group in the BVI
We had the most amazing time with you two on the Breanker! The food was DELICIOUS and the places we visited were beautiful! We loved the Scuba diving sites we visited and enjoyed all the swimming and relaxing. You two were a joy to spend the week with!

Love, Randy and Krissy
It was an amazing and super fun trip! We loved spending the week and sharing our life stories with both of you. You are beautiful happy people and it is a joy to get to know you! Thank you so much for your love and hospitality! Loved the diving and the sailing and the goats and the views and the swimming! Most of all we loved the food! Thank you so much and all our love,
Mark and Kim
We loved our week with you sailing the islands. I can't thank you enough for the wonderful food. It was such a treat to be catered too so nicely. We hope to see you again on a future adventure. Love, Tad and Kim
Five-time repeat guests aboard BREANKER in January, 2020, said of their return trip:
The Steppe family...

I look forward to seeing you all year! I can count on you both to guide our family to beautiful spots and let us relax worry free. We love you very much and look forward to coming down again.
Love, Espanta

As always the time I spend in BVI and USVI with you and on the Breanker is perfect. We have been with you 5 or 6 times already and I still want to come back and do more. Can't wait to see you guys again!
Kamran

I have been waiting and today saw my future room in Marianne and Kristian's compound is one step to reality. I want my room to be sun filled and light color and purple. I am not concerned about food because Marianne is the best chef and very humble about it. At the meantime we travel on Breanker with our most favorite persons in the Caribbean. We just can't have enough of them and have been back with them for 7 or 8 times – (I lost count) They know, observe and help my grandchildren going from middle school to today that one has his girlfriend added to the group. We love Marianne and Kristian and will be back anytime with them in this part of the world. They are seasoned, nice, considered and fun. They are the best! I have been chartering in the Caribbean for over 30 years and for the past 10 years we have not dared charter with anyone else and will be with them in the future. We always feel we are leaving our family when we head back. We just love them.
H.Seradge M.D. 
I have never been disappointed a single time on one of our charters and this time was no different. Your boat is a second home to my family and I and a nice breath of fresh air whenever we come down to the Virgin Islands on vacation. You both do an amazing job to make a welcoming, comfortable and secure environment for your passengers and I am privileged to have people like you in my life. Thank you for everything and I hope we get to spend more breaks with you in the future.
Kian

Very nice way to kick off the new decade! The warm, comfortable familiarity of Breanker meets expectations every time. All ages can have fun and explore the wonders of the Virgins. You guys are like the family that we have in the islands that we don't visit enough. Every one in the crew loves to come and relax and have fun. We already can't wait to come and see you guys again. So till then!!
Richard

Loveeee you guys too much. Please keep chartering a few more years and have us over for a house warming party on Water Island when you are all done. Super relaxed time and couldn't have made the newest member of our crew happier J I wanna come to Møn!
Cyrus

This was the first time on the Breanker and I had a wonderful and fun time. The views and adventures we went on as well as the kindness, great food and hospitality was unforgettable. Marianne and Kristian are the sweetest and loving people I have meet and they made me feel safe and happy the entire time.
Thank you, x10000, Mar

New Years 2019-2020 guests aboard catamaran BREANKER wrote:
Dear Marianne and Kristian,
Everyone told me it was "the best trip ever" and sure enough, it exceeded my expectations! Thank you for your hospitality – around the clock – your patience and grace and for feeding us like kings and Queens. It takes special people to open their homes and hearts to strangers and we are deeply grateful we are some of the lucky ones to experience it and to witness the undeniable love and commitment you share with one another – a gift in and of itself. Your adopted home country is beautiful and we can't wait to return! Thanks for letting us be part of your clan. It was fun ringing in the New Year – and decade – with you! All the best to you in the coming year. Cheers and love,
Nancy
Dear Marianne and Kristian, Thank you for feeding us. For taking us to the most breath taking snorkeling spots. For pulling out our soaking wet carpets because we didn't know how to properly close the portholes. Thank you for going behind the bar at Sidney's Lobster to pour us dark and stormies. For taking the dinghy to pick up dad at the beach because he couldn't swim to the boat like he thought he could (no dark and stormies involved – just an over calculation of swimming abilities on Dad's part) Thank you for ringing bin the new decade with us. For sharing all the stories and understanding of this place that you've accumulated from decades past. Thank you for helping us make some new stories of our own, too.
Ralph, Nancy, Lucy, Mary Katherine and Sally
The last guests of the season! Mid-May, 2019, guests wrote:
18thMay, 2019
Dear Marianne and Kristian. I am not sure how to put into words our experience with you. Thank you for sharing your home, life experiences, knowledge and passion for the islands. The trip was so much more than I expected. Not only did you show us coves and beaches that because of your knowledge we would not have found on our own, and you showed us friendship! How lucky we are to have spend our 30thanniversary with two people who has been together "forever" and love each other so much as you do. I admire your passion for each other. So rare today and such an inspiration for us all.
Kelly and Tim
Kristian and Marianne, Thank you! Thank you for opening up your beautiful home to us for our seven (7) day weekend. You two are an amazing couple, which simply made our stay on the high seas better than imagined. My favorite moments were listening as you shared your lifetime of experiences and adventures with us. You have a beautiful history together and amazing stories to tell, from high school sweethearts to senior adults you have consistently taken small things in life and made them bigger. The VW Beetle is a perfect example- to the average person the bug wasn't road worthy, however you two saw it differently. Working hand in hand with limited resources you made her worthy and traveled throughout Europe sporting her nine colors and even allowed hith hikers to share the experience. Thank you for sharing your passion for life and living. The past week has been nothing short of amazing.
Kyle
Dear Kristian and Marianne,
Kyle describes how I feel about being on the boat with you for seven days. You treat us like family. We have been so comfortable on your boat. You gave us tips to where to go and what to see. We loved the quiet snorkeling spots. I loved that I didn't have to lift a finger. A true vacation. I feel very spoiled. Thank you!
Dagmar
Thank you for an awesome vacation Marianne and Kristian. We have enjoyed our time with you and "the Islands". The food was excellent! The drinks were excellent! 
Cheers, Teresa and Graham


Repeat guests aboard BREANKER for late April, 2019, said:
Marianne and Kristian. Thank you very much for a wonderful second trip on the Breanker. We loved our first trip with you in May 2010 and didn't think that could ever be topped. But top it you did and exceeded our expectations bar far. We loved all the sailing time we had this week as the weather cooperated for sailing. We loved Marianne's Denmark lesson. I know I learned a lot about an area I knew nothing about. But the thing we loved most was being able to spend time with you during our fabulous meals. You both have so much to share about your life stories. We loved hearing all about them. We feel like you have been part of our lives for a long time. Hopefully our paths will cross again some time! Thank you, Chris and Greg
Dear Marianne and Kristian
Don't know how but our second trip was as spectacular as our first. Just a wonderful week and I am sorry to see it end and want to send all the same sentiments as Chris on the previous page. It is hard to find the words to express gratitude for your hospitality, food, - amazing – and most of all friendship! We feel very honored that you chose to spend time with us each night. We hope you have many more years sharing your gifts with others lucky enough to find you. Please know we consider you part of our family and I am sure our paths will cross yet again. Stay in touch, be safe, good luck building your new house. With much love and gratitude,
Scott and Marianne
Dear Marianne and Kristian. We have been looking forward to this trip since we booked it in 2017. We had a fabulous trip the first time in 2010 and hoped the second trip would be just as good. You did not disappoint us!  We so both enjoyed the knowledge you shared about the islands we passed and visited. The devastation from the 2017 hurricanes became so real to us we did not realize how many people are still suffering. The food you served us was spectacular. We wanted doggie bags for next week! You made us feel welcome in your home away from your house in Denmark. Breanker is a beautiful place. May there always be a breeze to fill your sails!
Love, Gary and Susan
Early April Guests just aboard catamaran BREANKER wrote:
We have done this chartering 4 times and Breanker crew have been the best for our eclectic guests. They took us to places we never saw in the past they are magnificent, for any of your future guests.
Guests aboard BREANKER in late March, 2019, wrote:
Such a wonderful, wonderful week for a couple of water novices. Beautiful part of the world and I can't say enough about how much we enjoyed our time with Kristian and Marianne. We felt so comfortable with them sailing their "home" with us. Lovely, capable and easygoing couple. Food was fabulous. Can't wait to do it again with the kids. Thanks so much.
Leslie and Dan.
Maryellen and I had a great time not water people in general, we learned about sailing and navigation. Never knew anything about a catamaran either. Food was outstanding, snorkeling, SUP boarding and shore trips were great. We went with three other couples and have had a lot of laughs. Kristian and Marianne were very hospitable and we were treated like family. Thank you for an experience of a lifetime.
Bill and Maryellen.
Kristian and Marianne, thank you, thank you, thank you for a trip of a lifetime.
Shane and I cannot thank you enough for such a great week on the water. You both are so warm and great travel storytellers. We will never forget this trip. Shane will tell stories of his time at the helm and I am sure the stories will grow as the years go by. I hope that our path will cross again someday – somewhere – we have grown to love you both. 
Always, Shane and Gigi
Marianne and Kristian, Thank you for making us look like heroes – we planned this trip for us and three other couples – who have never cruised – and I know that a great trip was had by all. This is our fourth charter of the BVI's and it was everything and even more than we expected! Itinerary was fabulous and we saw some new places – food was out of this world delicious and plentiful – and our hosts made us feel like family. Many laughs were shared and memories were made – as well as new and old friendships – thank you till we meet again
Joyce and Alan
Guests aboard BREANKER in mid-March, 2019, wrote:

It is tough to imagine a better way to spend a week; unless of course you hate gorgeous sunrises and sunsets, beautiful islands, crystal clear Caribbean waters, terrific snorkeling and out of this world food! There is also the perfect sea breeze in the front of the boat, time to read in the sunshine and Kristian's drinks to contend with…. Tough duty.

Thank you Marianne and Kristian for your delightful hosting and an absolutely perfect week
Mary Pat

Thank you, Thank you, Thank you!!! A week on Breanker with good friends was exactly what this Iowa group needed! Marianne and Kristian were the perfect hosts. The food was fabulous, the accommodations were excellent, and the daily experiences couldn't be beaten. We promise to spread the word that Breanker is a bucket list trip!
Brad and Anne

Thanks you so much for a great trip! The islands were beautiful, the boat was delightful and Marianne and Kristian were amazing! Muskmelon cove, the Beeline bar and Foxy were amazing. Marianne's cooking and Kristian's bartending were superb. Hopefully we are back soon!
Will

We are so honored to get to join this group of friends and crew on this sojourn around the islands of the Caribbean. Det bedste er "danks Mad" - (the best is Danish food)! Nothing better! We will have wonderful memories and pictures to remind us.
Siv

What a trip! Great food, great views, great booze and great hosts. The waking up to a delicious breakfast every day was always a delight. Great fun and would love a return trip!
Otto

Valentine's week, 2019, guests aboard catamaran BREANKER wrote:
WOW! What a wonderful trip! Such great hosts: The sights were perfect, the food and thoughtful service were perfect! Hate to leave – we will be back! Thank you so much Marianne and Kristian.
Paige and Rob
Thank you for sharing your wonderful boat with us! An idyllic way to experience the Islands we wont forget. See you again!
Kyle
Thanks for making each day a wonderful combination of fun, excitement, relaxation and luxury!
Clarissa
Thank you for a fabulous trip! The waters always perfect and we always found the best harbors thanks to you!
Thomas
What a fabulous week we've had cruising the BVI on Breanker with you, Kristian and Marianne! So many new beautiful new spots, exciting outings and always your relaxed and experience and guidance on what to do each day. We felt truly spoiled by the delicious and beautiful meals and service too! So great meeting you both – thank you!
Diana and Dave
Charter guests from the week before Christmas, 2018, wrote:
Well…what can I say… This trip has been absolutely amazing! The food, fantastic. This boat…. Amazing and the company have been incredible! Ask for a painkiller and you get the best we had on this trip! We can't wait to come back. Thank you for everything! This trip has been more that we could have imagined!
Alex and Ginny
What a fabulous trip! A fantastic boat, crew, and the best food I have had in a long time and Kristian makes better painkillers than any bar in the BVI.
Becky and Curry
Your patience is matched only by your hospitality. Thank you for making us feel like more than family. We cannot possibly thank you enough.
David and Margaret
A wonderful trip all the way around. Marianne and Kristian are welcoming and helpful. The food is great and the anchorages are gorgeous. We will definitely be back with others.
Beth
November, 2018 - A 60th Birthday Celebration week aboard catamaran BREANKER
A week of pampering on Breanker with amazing friends, old and new.
Many thanks to Kristian and Marianne for new memories. Your attention to detail and our every need was seamless. Your hospitality is second to none.
The food – always made with an extra special touch of love – delicious and tasteful and beautifully presented. The expert guidance and knowledge of the area meant we experienced the common and uncommon.
The comfortable staterooms and appointments carefully attended with decretive ease. I understand how they are respected as seasoned charter hosts – experience matters!
Thank you till next time,
Cheers Joan

What an awesome week! You spoiled us! We had it all, wind, rain, sunshine and lots of fun and relaxation! The food was amazing and the drinks superb!
You do a fantastic job on Breanker! Thank you!
"Well behaved women rarely make history"
Jacquelyne

Many memories created aboard Breanker. Thank you for making my 60th Birthday a success.
Always remember:
Love many
Trust few
Always paddle your own canoe!
Tina

For my first time in the Caribbean I am totally spoiled. This has been one of the best vacations I have ever had. Your hosting is awesome – the food – the staterooms – Breanker and all your wonderful stories have been delightful. I can only hope that I will be back again before too long.
Thank you for everything.
Galen

Late April, 2018, guests on catamaran BREANKER wrote:
Marianne and Kristian. 
Thank you for a fabulous week. We enjoyed being with you both on your lovely boat, and loved the beautiful destinations you took us too. The food was spectacular, and thank you for attending to our every whim in such a gracious manner. We greatly appreciate the dolphin show you put on for us! We hope to see you again soon.
Rachel, May, Paul and Andree. 
Mid-April, 2018, guests aboard BREANKER, wrote:
Marianne and Kristian, 
Thank you for an amazing week with you! We loved every destination and experience, especially with your special insights! The only way to experience these islands! And thank you for making us all feel very much at home with you. Thank you for all the delicious meals – and new ones for the kids! LOVED THE SAILING! We loved our lesson on the Danish culture and our conversations on world travel! The destinations were fabulous – swimming with a 6' nurse shark today was new for our family Jthank you for spoiling us in every way!!!
Kevin and Laura
Thank you for a great trip! I appreciate that you took us tubing frequently. The food was great (especially the pancakes). I had a lot of fun sailing and exploring the islands!
Nicolas, 15 years
Thank you for a great trip and thank you for taking us tubing. The food was great especially the pancakes, tuna, salmon and Key lime pie. I had a fun time sailing and exploring the island and water. Please visit us in NC.
Mange tak, Ana, 12 years

Easter week 2018 guests on BREANKER said:
Kristian and Marianne – What a delightful surprise to encounter the two of you! From day one, you welcomed us in to your life, treated us with the outmost care, tolerated all our fobies and idiosyncrasies with patience and kindness, and made us all feel like family.  
You showed us how the islands have changed from the hurricanes and at the same time and at the same time showed us the human side of a natural disaster, as well as economic, botanical, geographical and oceanographic effects. What an education! More people needs to come down here, not to exploit, but to understand how we can all do our part as human beings helping human beings.
All I can say about the food is YUM!! The garlic dipping sauce, pancakes the size of your head, beautiful salads and mysterious smoothies – WOW! Every meal was a treat! Most of all you feel like family to me, and I thank you so much for that.
Much love and we will all be seeing you soon.
Tusind tak! Calli
This trip was amazing I loved everything about it. I loved seeing the sea turtles and dolphins. I especially want to thank Kristian and Marianne for making this trip what it is. Without you I would not know what to do. You brought this trip to life.
Tusind tak, Gage 12 years old.
AHH this trip was nothing short of AMAZING! Yup and I meant it. Fucking amazing! And it feels good to say the "A" word! Thank you both for being you! So genuine, so sweet, so real so comfortable and easy to love. You made this trip feel like home…But better, HA! I know we will keep in touch, Marianne, I will be in contact on Face Book with pictures and smiley faces! You guys are such special people. I won't forget you and hold a very special spot in my heart and memory. (Kristian, you make fantastic drinks!)
Xoxo! I will miss you. Hope to see you in person again!
Love Ya! Leslie
Kristian and Marianne, Thank you for allowing us in to your home. What an incredible trip with the best hosts. I loved all the stops and the islands in between lively and remote – it was so much fun to spend the week with such seasoned professionals. I really appreciated the food, thank you for preparing such melting delicious meals. I hope we can cross paths again someday.
Much love Amy
Marianne and Kristian – I knew that spending time island hopping would be an incredible experience. But I did not even consider what a difference the crew would make. I had planned surrendering myself to the rhythm of the water, the tempo and the island life, but you two made the experience of fully letting go transformational. Because you know the area so well and are tapped into the energy, every place you took us and every time we arrived, were perfect. I absolutely trusted having your directions and guidance. You have the ocean, the wind and boat in your bones and that makes you the perfect hosts – not just of your home but also of the entire experience. I was truly taken to another place – I can't thank you enough for inviting us in and taking us there.
Your good friend, Neil
March, 2018 guests on catamaran BREANKER, 4 time repeats, said:
Well…Another voyage another great time with family and our extended Danish family. So difficult to express all the reasons that we come back, just happy that we do!
Be well with favorable seas till we cast off again.
Cheers! 
Richard
Thank you so much for another vacation on the Breanker. As always the sites were beautiful, the food was delicious and the hosts were wonderful. Life on the Breanker is always perfect.
Thank you again, 
Kamran
Another time and still the same charm. Can't wait to hear how Kia likes Copenhagen and Møn. Always a pleasure talking to you and Kristian.
Love, 
Cyrus
#4 but we have so much fun each time it seams like#50 J Our time with you guys is always incredible – we will keep coming back year after year! And hopefully we will see you in Denmark too!!
Carrie
I could not figure these guys and had to come back to check them out. Well; they are nice, hospitable, caring and in summery as good as mama's milk. Full enlightment came after fourth trip. Don't miss an exceptional time in paradise with angels Marianne and Kristian.
Houshang
We love you both and the Breanker! Always thankful for you kindness and attention. Always in our best memories.
Espanta
I love talking to and spending time with both of you and you always know the best places to go. You guys make every trip special, thank you!
Kian
A February, 2018, family group aboard BREANKER said:
Marianne and Kristian. 
Thank you for being so kind to my children and teaching them so much. We felt like we were onboard with our own family. We couldn't ask for anything more. This was the most perfect kind of holidays. You are both so kind and considerate… If we had to do it over we wouldn't change a thing. I might come back for a few lessons in the galley – unless of course we can talk you in to a visit to Canada J
Until next time, we wish you smooth sailing. Mange tak!! Tusind tak!!
Love, The Kenney's
Kristian and Marianne,
Making the complexities of sailing the USVI and BVI look absolutely effortless and simple. Your sailing skills and experience kept our families safe and well taken care off. The travel, locations and the total experience were made only more amazing by your wonderful personalities. All week we felt like we were sailing with our family. We can't wait to find you in Denmark!! 
With outmost appreciation…
Fair winds and following seas, The Gallagher's – Gene, Amy and David
David's toast:
Everyone! I have something to say; To Kristian and Marianne, Thank you for everything you do to us. Thank you for changing my mind about food!!
David Gallagher, 6 years.
This was one of my best VKs (vacations) I have ever had. If I could do it again I would. "Tak" you very much for an amazing holiday.
Love Mac, 11 years
Mid-February, 2018, guests aboard BREANKER said:
Marianne and Kristian. 
Thank you for another wonderful week of beautiful sites, laughter, catching up and wonderful food. Your hospitality and attention to detail to create an outstanding experience. Although the islands are damaged there is resilience and welcoming at all the places we visited. The water is beautiful and beaches are still paradise. This is still our happy place J. We already look forward to seeing you again. Thanks so much for an outstanding trip.
Much love and hugs, Jenny and Mary-Jo
Kristian and Marianne. Thank you for a truly amazing week in paradise. You were the perfect hosts and always making sure our bellies were full and our drinks cold. Marianne, your meals were all incredible, I don't know if I can pick a favorite but the ahi tuna was up there! Everyone on the islands was so welcoming. Jost Van Dyke and Norman island was my favorites - I can't wait to come back and visit again.
Love, Tawnya
Marianne and Kristian. This is our second time on Breanker and we had a blast! We were so glad that Breanker survived the 2017 hurricanes. The ocean is still blue and the people are so welcoming. Thank you both for a wonderful stay aboard Breanker. You are both amazing and made our stay so comfortable. Thanks for the fabulous food and great sailing. We WILL be back!
Karlyn and Mary
P.S. We hope that you will do a Breanker cookbook!!
Marianne and Kristian. Thank you, thank you, thank you!!! I have been hearing about your charters from friends for a few years and was so exited to be able to finally experience sailing with you for myself. I had high expectations for a fun time, great views, amazing food and the best company…. You exceeded ALL of my expectations! It is obvious you both work very hard and have a large amount of passion for everything you do. The attention to details, organization and planning is amazing. Full bellies, yummy drinks and the most fun I've ever had on a trip, are all thanks to you two. Thank you for sharing this part of your life with us and just know I will be back again!!!
Stephanie
Thank you so much for an awesome week!! We were so impressed with how you found beautiful bays to snorkel even though we came post hurricanes! We were happy to place our trust in the experience with Kristian and Marianne! The food, the sailing, the scenery and conversation were all outstanding! Can't wait to come back!
BREANKER ROCKS!!!
Sharon and Renee
Wow!  Is that a record? 25-times (!!!) charter guests on catamaran BREANKER with Kristian and Marianne in January, 2018, said:
Dear Kristian and Marianne. 
These past two weeks has flown by. It is hard to believe that we have been on 25 charters with you guys since January 2000 aboard Casador. Keith Berger really summed up well why we keep coming back – Breanker is a great boat, you guys do a great job with such ease. It is a privilege to call you "friends". Thank you for being our home base since our home in St. John was severely damaged by hurricane Irma. We have been able to get a lot accomplice in a short time.
We are thankful that Breanker survived both Irma and Maria and is in such a good shape. We really enjoyed our time onboard and look forward to # 26! 
May the rest of your season be blessed!!
Much love 
Martin and Jodie
AND...
Marianne and Kristian. 
Thank you for such a beautiful week. To be with you on Mart and Jodie's 25th trip with you was special. As I look back on the week a few things come to mind…. There is a way to know someone by simply watching what they do. In this past week it has been a work of art to watch you both. You are amazing craftsmen in all the parts in your work and service: Economy of motion and grace with the boat, exquisite dishes on the table, attentiveness to the smallest of details in every way. That kind of pride in your craft is beautiful to see and a real part of the joy in the trip. But then there is the ease of friendship and laughter with you that makes the trip unforgettable!
Thank you so much for letting us into the stories of your life on boats and the glimpses into your home in Denmark. We have rarely felt more "at home" with people we just met. But thank you for a beautiful week. Breanker is a beautiful boat and you both are a grace to the islands.
Thanks again,
Keith and Page
25 times on charter with Kristian and Marianne - This calls for champagne!
23rd Charter! WOW! Guests aboard catamaran BREANKER for their 23rd charter with Marianne and Kristian said...
Dear Kristian and Marianne, 
Well, on our 23rd trip now you are still introducing us to "firsts". The overnight in Honeymoon Bay with the world-class musicians on Water Island was fantastic. It's very rare (unheard off) to go to Carnegie Hall in shorts and flip-plops! And then to Maho Bay on St. John to Marina Cay to Leverick. Thank you for joining us at Hog Heaven – what a view! Then to Anegada – thank you for spending the afternoon at Loblolly Beach, gorgeous, especially watching the breakers on the reef. Back on Breanker for snacks and adult beverages – I still can't believe that sunset – incredible!! Have you ever seen the ocean that still? 30 feet of water and we could see the starfish on the ocean floor. Long smooth ride to Green spit Friday, another first with the wind mostly from the northwest. Then our last night on board anchored in front of the Bee Line. Okay, so I've written too much. It was a great trip! Oh, and the food, as always, was gourmet. Hope to be with you guys again soon!
Love 
Martin and Jodie
P.S. I forgot to mention the lobster dinner with you guys at Anegada Reef Hotel – It was wonderful! Thanks again.
6-time repeat guests aboard catamaran BREANKER wrote:
Kristian and Marianne, spending a week on Breanker is like coming home for us! I don't even remember how many times we have been here but you just can't get rid of us. As always, this week was fantastic – even though we got in troubles for leaving our portholes open – (on the sail back from Anegada). Next time we promise to keep ALL our stars!
Bill and Dee 
2-time repeats -
Dearest Kristian and Marianne. 
Thank you again for your wonderful hospitality. We enjoyed our second time around even more than the first – and we weren't sure that was even possible – food was incredible – and thank you for introducing us to Little harbor – a new favorite! We hope to be back sooner than later…
Dean and Terrie – the only ones left with 5 stars – xxo! 
Kristian and Marianne thank you for giving us a wonderful vacation. The food was the best ever!! We loved all the places we saw, the ones we saw before and all the new ones. This was a trip of a lifetime for us. Good luck and we hope to see you again.
Jack and Patti 
3rd timers -Kristian and Marianne – Boarding Breanker and seeing you two again was like arriving at my "home away from home". Your gracious hospitality, cooking and sailing skills are unsurpassed! Loved the sail to Anegada and snorkeling at little harbor. Many thanks to you for a wonderful vacation!
Sheryl and Don
Multiple repeat guests aboard BREANKER - January 28,2016 – 16 YEARS!!!! – 20 TRIPS?
Well, Kris and Marianne, we made it back!! One of these times we actually have to count the number of trips we have made with ya'll. It's been 16 years now since our first and quiet a few times we have been lucky enough to be with you more than once a season!As always, the time this year was amazing! Laid back for us this time – no snorkel or swim trips which was just what we needed!Getting us to our favorite anchorages in time for cocktails, lobster dinner at Anegada Reef, special time with you both on Cow Wreck beach, Anegada, Marina Cay, Peter Island, lunch at The Top Of The Bath – all new wonderful memories to add to our own list.Time on Breanker is always so special – the hospitality, the food – amazing – always SO GOOD, comforts of home and we are always still so pampered and cared for!We truly love you guys and hope to add to our memory and many more times on Breanker!! If not once more this season, hopefully next!!Thank you again for ALL you do and for always making us feel so special!!
Much love Martin and Jodie
Repeat guests aboard BREANKER, after a 12 year hiatus!
Back again after 12 years!
Thank you for another perfect sail in BVI. You out did yourselves again!! Thank You.
Donna and Phil

Thank you for one of the best adventures we have taken. This trip was more than we ever expected. You two are beautiful people. Thank you!
Rebecca

WOW what a great week! Perfect weather, perfect p[laces to explore and most of all perfect company with Marianne and Kristian – What a wonderful journey!!
Earl

What a great week – Breanker is beautiful and a wonderful boat and introduced us to the BVI sailing so comfortably. But the "big win" Was Marianne and Kristian's hospitality and friendship. Looking forward to the next trip!
Laurie 
Ammenities
CD library, Cell phone, DVD library, DVD player all cabins, DVD player saloon, Indoor audio system, TV all cabins, Wi-Fi, 14ft/4.2m RIB 40hp, Board games, Floating mats, Kayaks multiple, Mono ski, Swimming noodles, Tube - towable, Wakeboard, Water skis - adult, BBQ, Deck shower, Light fishing gear, Special diets, Sun cushions, Swim platform
Diving
Not Insured, Crew certified, Diving if certified, Snorkelling gear, 12 Tanks, 8 BCs, 8 Regulators, Diving for up to 6 guests is included. Gear rental is $150/diver/week.