Yacht for Charter
CLAIRE
5509
149ft / 45.7M
| Builder: Trinity Yachts
| Year: 2003
---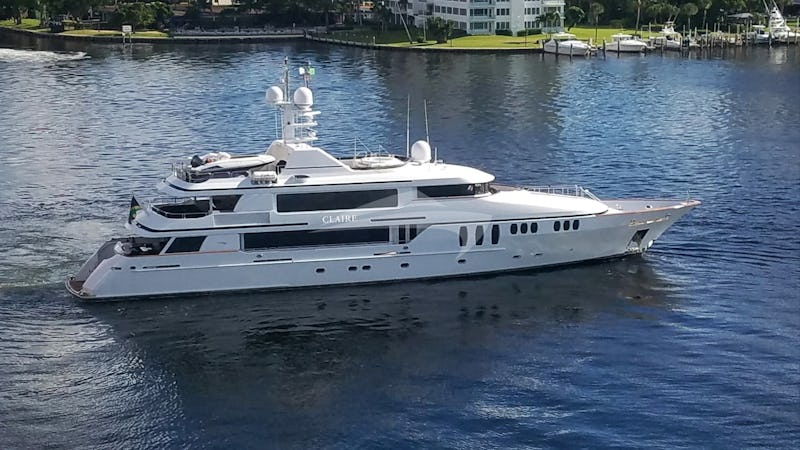 ---
Yacht Charter CLAIRE By Trinity Yachts
Designer
Claudette Bonville
Cruising Speed
18kts (33kph)
Engines
2x Caterpillar 3512B diesels
Locations
Bahamas, North America
From:
$129,500
plus expenses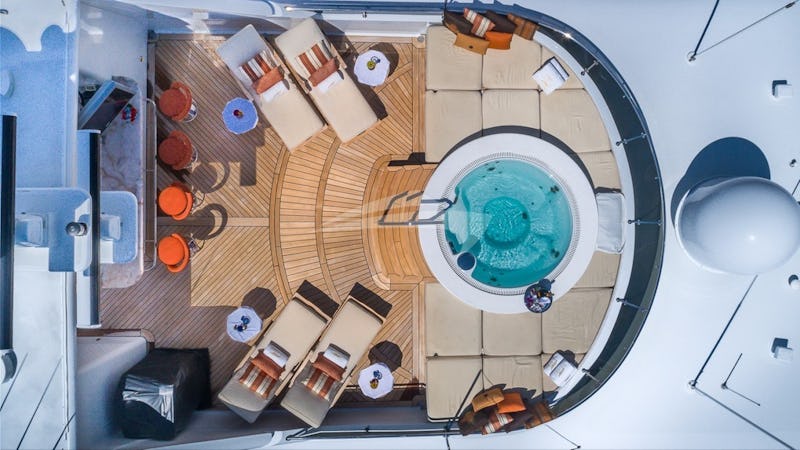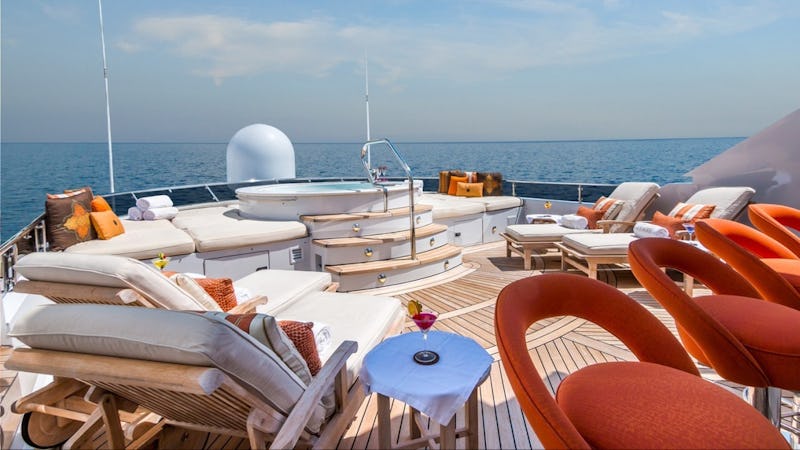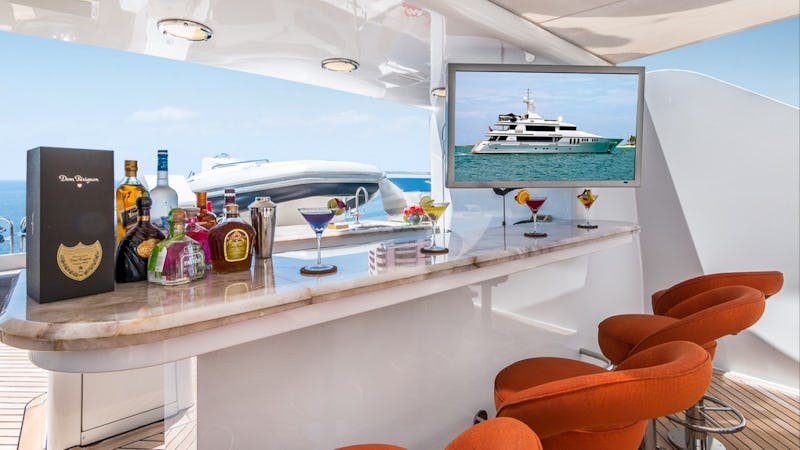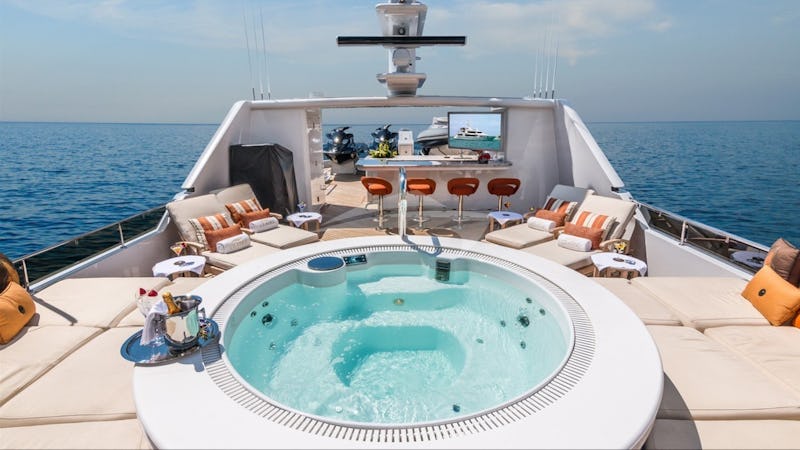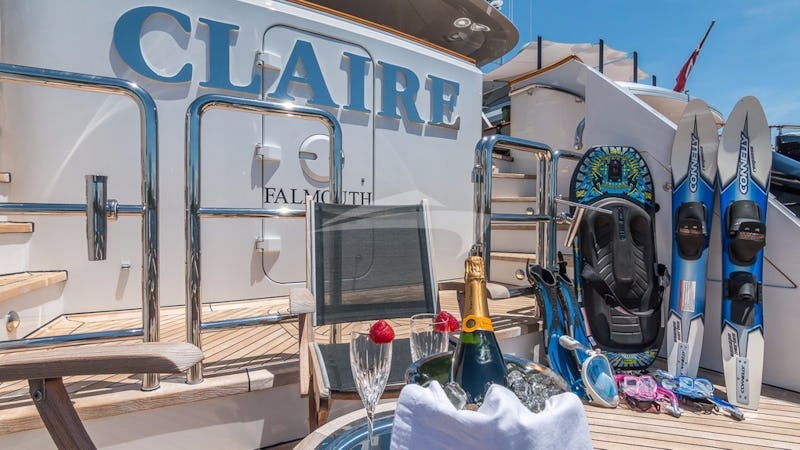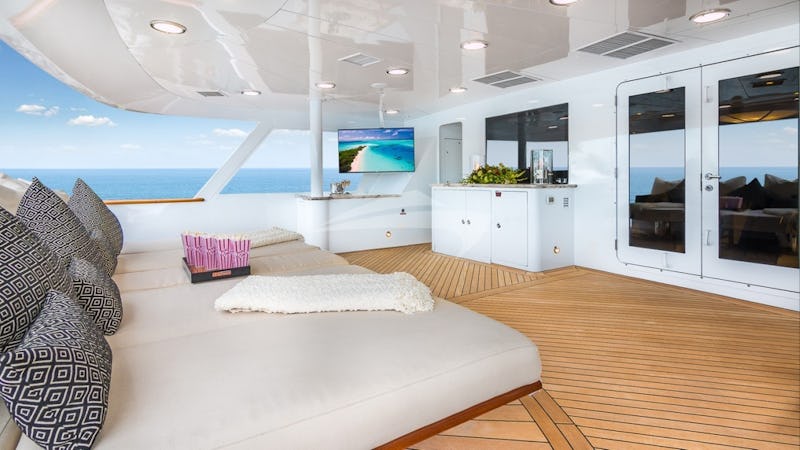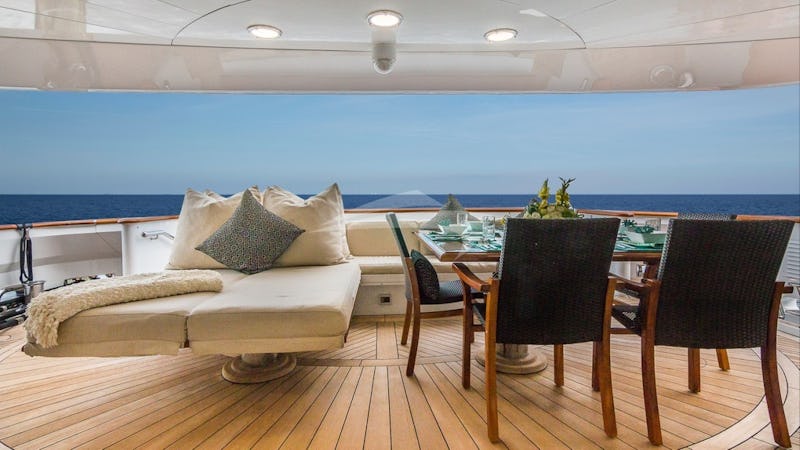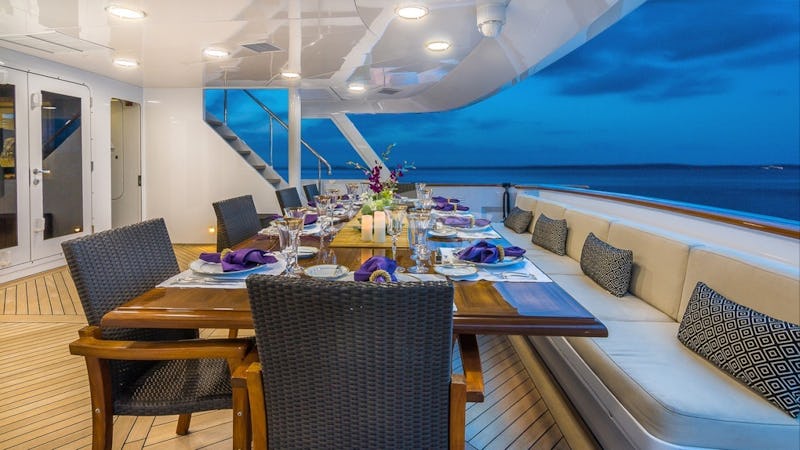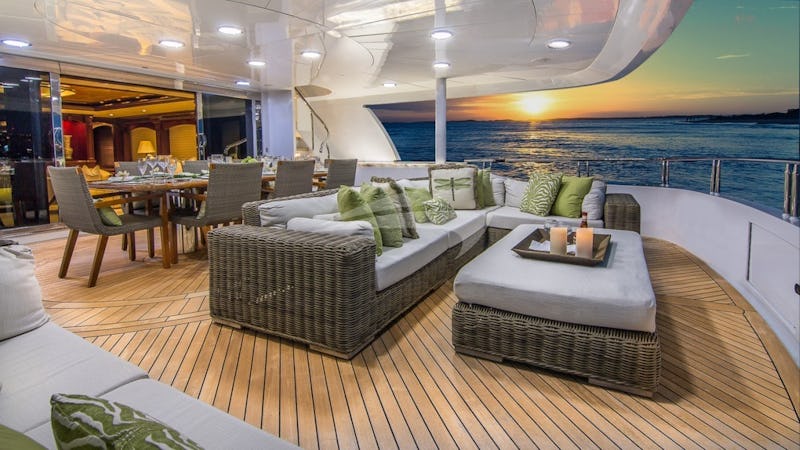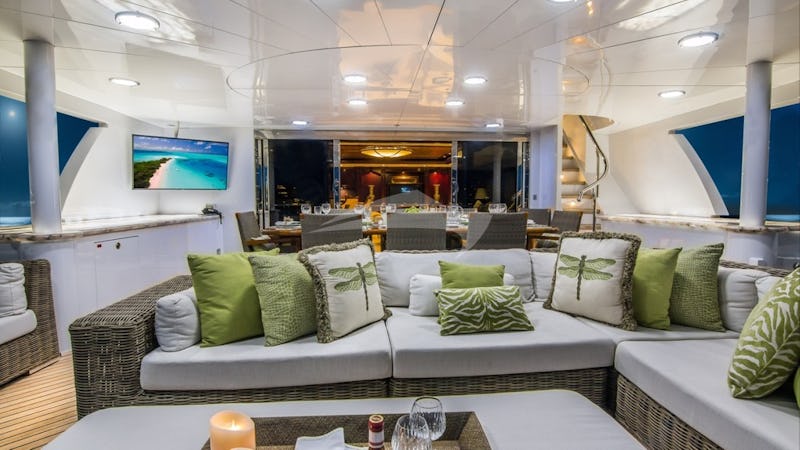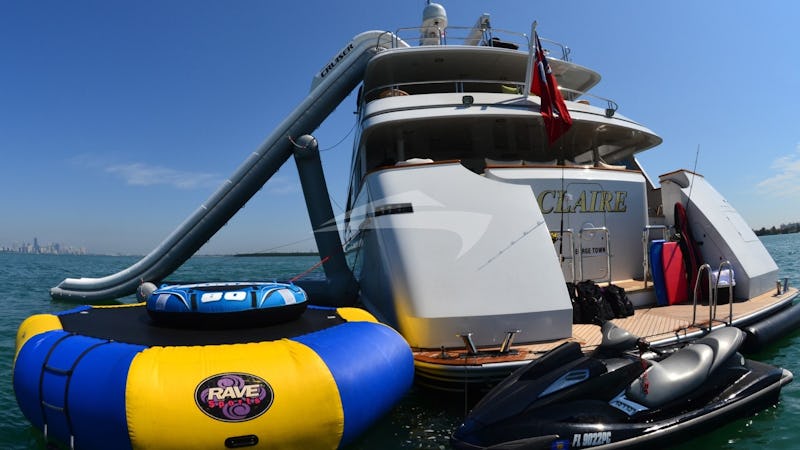 Contact Us For More Information
CLAIRE maintains all the comforts of a five-star resort—perfect for families and romantic getaways. Her outdoor main aft deck dining tables convert to one or two daybeds, allowing four different aft deck layouts, maximizing the lounging and dining options on this deck. A large-screen TV makes this area perfect for movie nights. Her sun deck is superior, and features a bar, BBQ grill, day head, huge Jacuzzi, huge sunpad, treadmill, and a large-screen TV.CLAIRE sleeps 11 guests in 5 staterooms. The owner's cabin is located forward (full width) on the main deck. There are 4 extra large guest staterooms. 3 are King cabins and the fourth guest cabin is a twin bedded cabin with a pullman best suited for a small adult or a child.

Captain: Eric Olejniczak
Eric has been an avid sailor since he was very young and captivated by stories of his Great-Grandfather - a Merchant Mariner. While growing up in Poland, he explored the waters around Europe and the Mediterranean. Later he sailed in Australia and Canada.
After university, he opened a sailing school & charter company in Vancouver offering classes and charters throughout The Caribbean. Early on, he obtained his MCA 3,000 ton Class IV Unlimited License and has been running large yachts ever since. Eric is very safety-conscious and has engine room knowledge. He has previously worked on 150' Benetti LADY S, 145' Christensen MISSING LINK, 135' Tamsen NAMASTE, 135' Amels MONTE CARLO, 135' Trident M4, and 112' Westport SYMPHONY II. Over the last 25 years, he has shown countless guests the wonders of many enchanting areas including the Bahamas, Puerto Rico, México and United States. Eric has a very pleasant, approachable, and flexible demeanor with a can-do attitude. When not at sea, he loves playing tennis, hiking, mountain biking, rollerblading and fitness training of all kinds. Eric is looking forward to sharing his love of the sea and land activities with CLAIRE's guests.
Chief Officer: Dario Ferguson
Dario comes from the chain of islands known for its sun, sand, and sea... yes, the Bahamas! That's where he grew up spending all his summers snorkeling, spear fishing, or exploring on a dingy. He always had a passion for the water and as a child would fantasize about the superyachts as they passed by. He said to himself that one day he would be the Captain of a superyacht and is now on that journey. That's how he became a part of the yachting world and loves it! With 4 years' experience at a five-star luxury resort and a friendly personality, he ensures premium service aboard M/Y CLAIRE.
Chief Stewardess: Kelly Olejniczak
Kelly is a natural born hostess who loves to spoil her guests & make them feel welcome. She grew up in Alberta, Canada graduating with an Honors Degree in Germanic Linguistics. Kelly went on to organize many high-profile special events in Canada & Germany during her subsequent public relations career. Her love of sailing began early on aboard her uncle's boat & was rekindled through her husband, Eric. She became a Certified Sailing Instructor & opened a sailing school/charter company with him. Kelly holds her equivalent 200-ton Captain's License and has been yachting professionally for more than 25 years. She takes delight in showing her guests the beauty & magic of sailing grounds in Canada, Australia, the Bahamas, Puerto Rico, Caribbean, Bermuda, United States, México and beyond. Outside of yachting, she enjoys fitness, health & wellness, animals, nature, hiking, and mountain biking. Kelly is looking forward to treating you to a delightful vacation you'll remember for a lifetime.
Chef: Adrian Gonzalez
Adrian grew up in the holiday tourist town of Cabo San Lucas, Mexico. After taking third place in a cooking contest as an adolescent, he became captivated by the joys of cooking. One of Adrian's many thrills as Yacht Chef is exploring marketplaces in foreign lands inspiring him to create fascinating new recipes. He was trained at the Swiss Institute of Culinary Arts and Hospitality (ISU) in Puebla, Mexico. Adrian obtained a position in La Clusaz, France as a Food Operation Manager and added to his knowledge of French
Cuisine. Adrian makes Mexican, European, American fusion into an art. After working in several high-end restaurants in Fort Collins, Colorado, Los Cabos, Mexico and Miami, Florida, Adrian discovered the sailing world and became certified as a private yacht chef. He has been in the yachting industry for over 4 years and is looking forward to providing you with a taste sensation to remember. Adrian has a beautiful wife, two teen-age stepchildren and an energetic five-year-old son who fill his time when he is not sailing. He is an avid biker and participates in marathons with his niece and nephew whenever possible. Adrian also has a love of traveling, which makes yachting the ideal career for him.
Engineer: Albert Galychanivsky
Albert grew up in a land-locked part of the Ukraine, but always loved the water. As a young man, he competed all over Eastern Europe in the Olympic sport of canoe/kayak sprint racing. Though he dreamed of joining the Marines, he started his career aboard 600-foot Fishing Vessels instead. Albert became a Junior Engineer and went on to study at the Nakhimov Naval Marine Academy. He worked as engineer aboard cargo and container vessels where he traveled most of the world's bodies of water including The Pacific, Indian and Atlantic Oceans, the Mediterranean, and North, Baltic, Black Sea and the Red Sea. He extensively cruised Antarctica while working aboard a passenger ferry boat. Later Albert became Engineer aboard the Discovery Channel's Research Vessel, "The Odyssey Explorer". He transitioned over to Superyachts 8 years ago after obtaining his Chief Engineer Unlimited/Y1certificate. Albert has over 22 years hands-on experience as an engineer. When not tending to yachts, Albert spends time with his wife and dogs, enjoys playing tennis, solving mechanical problems and dabbling in computer software analytics. He has a very welcoming personality and is looking forward to having you aboard.
2nd Stewardess: Lymne Dahl
Lymne was born and raised by the seaside in Carles, Iloilo, Phillippines. She graduated from the Maritime University with a Bachelor of Science in Cruise Ship Management. After college, Lymne completed her on-the-job training in the field of hospitality at various hotels before landing her first role on a superyacht for the King of Saudi Arabia in 2008. Lymne has a wealth of knowledge in the interior of large and small yachts. She is proficient in looking after interior duties with ease and is looking forward to treating you to a wonderful time aboard. Lymne is a mother of two, fluent in Hiligaynon, Tagalog and English. In her spare time, she enjoys cooking, dancing, singing and spending time with her beautiful children and family.
Bosun: Joel Albury
Joel was born and raised in Exuma, Bahamas and has a passion for boating like his forefathers. He later moved to Nassau in high school where he played water polo internationally while furthering his interest in yachting. He has a special love for the ocean and also loves fishing. Joel has been yachting for two years. He is a naturally friendly and fun person who loves to make his guests smile.
Deckhand: Greg Walsh
Greg hails from the sun-kissed African shores of Durban, South Africa where the ocean is always nearby. While working behind the bar during his University Studies (both Psychology and Commerce), he developed a passion for the hospitality industry. Greg involved himself with all aspects of food & beverage eventually owning & operating a chic 200-seat Italian restaurant. He then transferred these skills to the megayacht industry. When not yachting, you can find Greg doing a variety of adrenaline-inducing activities such as paragliding, skydiving, shark diving or mountain climbing. He's eager to show you exciting water adventures during your stay.
Mayra Bello: 3rd Stewardess
Mayra was born and raised in Morelos, south of Mexico City. She spent 4 years in the U.S. learning English and finishing her studies in travel and tourism. Before joining the yachting industry in 2013 Mayra worked aboard cruise lines for three years as a waitress. Mayra enjoyed going around the world to different countries and exciting destinations. She found her real passion in yachting as a perfect field to combine travel and her hospitality skills. Mayra has taken different courses to work aboard superyachts and considers education a very important tool for all aspects of life. Mayra is very active, happy person, enthusiastic about life, and enjoys sharing her knowledge with others. During her free time, she enjoys fitness, salsa dancing and spending time with her friends and family. She has always been interested in working with different cultures and was drawn early into the hospitality field.
Testimonials:
Thank you again sincerely for all your hard work and dedication – to you and all your team, my huge appreciation and gratitude. The charter was a great success and my clients had a wonderful time. I know they were thrilled with the Chef and even though it was so windy the whole way through, I know that Eric was amazing at creating the best daily program in spite of that. Thank you all again - amazing job and I hope very much to have the pleasure of booking CLAIRE again.
Broker
*****
To say that the group had a truly amazing time would be an understatement.  They were thrilled and overjoyed! They loved every minute onboard CLAIRE.  The service from the crew was top notch. They want to steal Dario. The food was loved by all. The chef passed a difficult test be greatly pleasing my wife.  She has her own food blog, wins numerous cooking competitions, and has qualified & competed in the Wood Food Championships for the last three years.  The watersports were also great. Congratulations Kevin and to your amazing crew.
Charterer
*****
Best birthday EVER! The charter exceeded our expectations and the crew were amazing. They decorated the yacht and everything was perfect. Captain Colin was awesome and every crew member went above and beyond. All of the food and the birthday cake were excellent. On our way to Palm Beach, Captain Colin took us to a shipwreck off Boynton Beach. Out came the Seabobs for our family to have one more dip in the ocean. We experienced wildlife and many laughs as an added bonus. Thanks to Captain Colin and crew for going above and beyond.​
Charterer
*****
I would like to personally thank Pila Pexton for being an absolute pleasure to work with getting this last minute charter together without a hitch. We worked in tandem with Captain Colin to not miss a beat. Pila, you were very responsive and I really appreciate you and your team's hard work from start to finish. Captain Colin, what great foresight to book dockage at Miami Beach Marina during one of the biggest yacht shows. Thank you for taking my calls all weekend prior to the charter, allowing me to preview CLAIRE, and plan the charter with the principle via conference call. Your attention and suggestions for this 24 hour charter was as if it were a term charter. Finally, I asked the client if they will charter CLAIRE again and the response was "absolutely". Pila, feel free to send any brokers my way for reference for charters on Claire, Captain Colin and crew.
Broker

*****
My client expressed that despite the weather not being perfect, they had a great time aboard CLAIRE in the Exumas! The guests loved the layout of the yacht, crew, and amenities aboard; enjoying everything it had to offer. Should also mention that being heavily involved in the food industry (and having unique dietary requirements), they loved the Chef and only had excellent remarks, enjoying every meal aboard. They would consider chartering her again, and I can certainly recommend the boat to others!
Broker
*****
Wonderful! Service, food, everything is outstanding. Great boat crew and weather! I want to charter this boat again in the Bahamas in the Fall. 
Charterer
*****
Charter going very well and the clients are very happy. The captain and his crew are doing an excellent job. The charterer is an experienced Feadship owner and is very happy. They want to charter CLAIRE more in the Bahamas. They really like the Pullman berth for their grandchild. 
Broker


Ammenities
Cell phone, DVD library, DVD player saloon, Indoor audio system, iPod dock, Local TV, Satellite phone, TV all cabins, TV outdoor, Wi-Fi, 32ft / 10.00m 0hp Boston Whaler, 19ft / 5.80m 0hp Tender, Assorted water toys, Beach games, Floating mats, Inflatable floating island, Kayaks multiple, Kneeboard, Paddleboards multiple, Tube - towable, Wakeboard, Water skis - adult, Water skis - child, Water slide, Water trampoline, Wave runners multiple (sitdown), Fishing gear - light, Jacuzzi on deck, Swim platform
Diving
Not Insured, Snorkelling gear