Yacht for Charter
DADDY'S HOBBY
7694
56ft / 17.1M
| Builder: Lagoon
| Year: 2014
---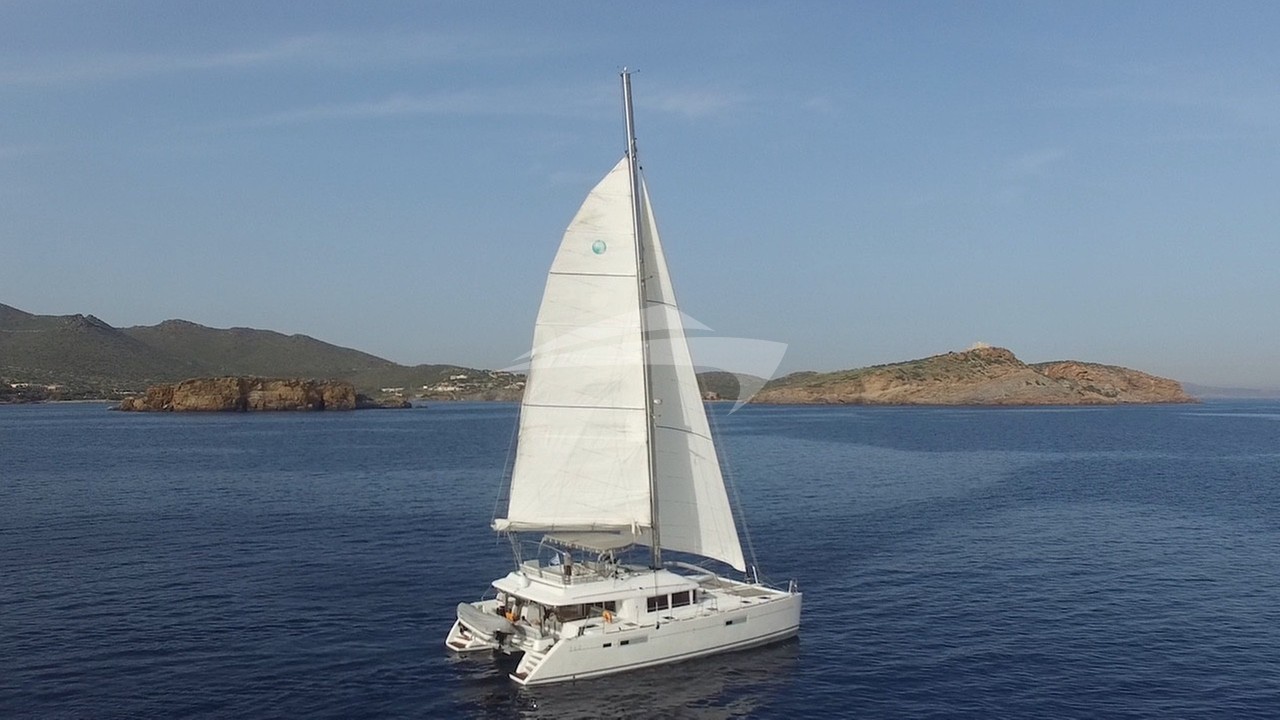 ---
Yacht Charter DADDY'S HOBBY By Lagoon
Designer
Marc Van Peteghem
Cruising Speed
9kts (17kph)
Engines
2x Yanmar at 110hp
Locations
East Mediterranean
From:
$17,338
plus expenses
Contact Us For More Information
Captain: Yiannis Tentis (33)
Yiannis was born into the yachting world, with his family owning a boat-maintenance company, where Yiannis had worked since very young.
He has attended the Merchand Marine Maritime Academy, and later took sailing classes which led to racing and a carrer as a captain on motoryachts and sailing yachts.
He is a very experienced seaman, with a positive attitude towards life, managing effeciently his crew. He is energetic, loves diving and climbing and enjoys spear-gun fishing, often bringing onboard fresh sea-food for his guests.
We are thrilled that Captain Yiannis will be onboard DADDY'S HOBBY and we are confident that he will take good care of his guests along with his team of Chef Yiorgos and Stewardess Olia.
Chef: Yiorgos Fysekis (28)
Yiorgos was born in Athens 28 years ago.
He has been preparing for his path into the cooking industry by studying Restaurant Management at the Athens University and attending classes in the Art of Cooking, Mixing Drinks, Meat Cutting and more, all designed to give him a cutting edge in this very competitive field.
Already he has had time to acquire significant experience in the culinary field, working his way up from Junior Chef, to Menu Planner to Head Chef in hotels and restaurants around Greece. The last years, his love for the sea won and after taking sailing courses, he decided to try working on yachts. His dishes honor local products and he aspires to waste-free cooking.
We are happy that this season Yiorgos will be preparing the menu and taking care of the guests on DADDY'S HOBBY, being a team with Captain Yiannis and Stewardess Olia.
Stewardess: Olga Tarasenko (35)
Olia was born in Russia in 1987. After studiying at the University of Thessaloniki in the field of Psychology, she realised her orientation was in customer service and hospitality, and so moved on to aquire a degree in Hotel Quality and Sustainability. Working in the sailing industry was the next step.
She has extensive experience as a stewardess and a sailor, taking care of provisioning and housekeeping, all the time aiming to cater for her guests.
Together with Captain Yiannis and Chef Yiorgos, they make a dynamic trio onboard Daddy's Hobby, eager to welcome their guests and offer them a dream holiday.
We have trusted Multihull Yachting for the last 5 years both for holidays as well as for business visitors. They have always organised everything very well. The new addition, Daddy's Hobby was better than expected, the crew was very polite and the food amazing.The captain suggested some not so well-known areas, even to us that have sailed repeatedly, which were definitely worth visiting. Our friends, who visited Greece for the first time, they just fell in love with the place. We will certainly be back.

Orestis T., Daddy's Hobby 20/08 to 27/08/2016 Mykonos to Lavrio
We sailed on DH from Santorini to Lavrion in July 2016. The yacht is superb, very well equipped and maintained perfectly. Harry planned the trip in the most comfortable way and even the 3 days that were really windy passed by without us fighting the seas at all. My only complain is about the chef who is responsible for the extra weight we put on. Thank you guys for the memorable vacation.
Jørgen O., Daddy's Hobby 14/07 to 25/07/2016 Santorini to Lavrio

Charter 24/6/2017-1/7/2017 - Charterer Alex L.


My friend was gracious enough to invite my wife and meon a Greek Island cruise last summer aboard Daddy's Hobby. We came in with high expectations and those expectations were not only met, but greatly exceeded! Below is my review:

The Boat: Daddy's Hobby is a large Catamaran that comfortably sleeps 8 (we were seven), not including the crew. First of all, the crew keeps this boat immaculately clean. The boat has multiple living/lounging spaces, so you can always find a place to hang out by yourself and read or take in the beautiful scenery. There is a nice sitting areas "indoors" and multiple sitting areas outside. Each bedroom has its own bathroom and the most efficient storage systems I've seen. Literally every little nook and cranny can be used for storage. They have paddle boards, kayaks, snorkeling gear, and other accessories to help you enjoy your various stops.

The Crew: The crew was amazing, A+ all around. The boat has a skipper, a first mate/hostess, and a chef.

Andreas was our skipper. He is a very cool, calm and collected skipper. A man of few words, he takes great pride in knowing the Mediterranean like the back of his hand. Once he got to know us, he was great in tailoring our itinerary to what we would like, rather than just going through a one-size-fits-all agenda. He always knew the best (and secluded) swimming areas, the most scenic beaches, and the best times to travel. He is a top notch skipper. One of my favorite things to do on this trip was to go up to the flying bridge while in transit with a nice glass of whiskey and chat with Andreas about our route, boating, the islands, or life in general. Like I said, he is a top notch skipper.

Lina is the boat's first mate/hostess. She maintains order on the boat and makes sure everyone is having a great time. She speaks many different languages, and makes sure everyone knows the safety protocols and rules of the boat. She also has a knack for knowing when you need your next cocktail or when it's time for a snack. She makes sure the boat is always in the best condition, yet you will never notice her doing it. She also has great recommendations for when the boat docks at a new island.
     
The chef on the boat was fantastic. He was trained in London, I believe, working in fine dining restaurants. Each meal was a fantastic one, with various themes. Each time we would go to a port that had a market, he would get fresh ingredients and we would eat amazing Greek foods. All-in-all, I think we had one or two meals off the boat because his food was just that good. And do not ever worry about there being not enough food!
Overall the crew as an A+ and made the vacation feel like we were amongst friends. I can't stress the importance of this enough.

Itinerary: We did a seven day cruise along the Cyclades Islands. Our highlights included Syros (unique amongst the Cyclades with its beautiful marble streets), Kythnos (with its vibrant nightlife), Milos (its most breathtaking views), and Kea (with it's great swimming and where we had an amazing Greek seafood dinner at one of Andreas's good friend's restaurant). My suggestion is to listen to the skipper, as he knows what you want to see and knows where to take you. Trust in him and you will have a blast, especially if the sea is not agreeing with your plans.

Overall, if you are thinking about doing this trip do it! It was a trip of a lifetime, and a lot of it had to do with Daddy's Hobby and its crew. They are very professional, yet make you feel like you are at home.



Ammenities
CD library, Games console, Indoor audio system, iPod dock, Local TV, Media movie server, Outdoor audio system, Printer, Satellite TV, TV master cabin, TV saloon, Wi-Fi, 15ft/4.6m Hypalon 50hp, Beach games, Floating mats, Kayak, Paddleboards multiple, Swimming noodles, Tube - towable, Wakeboard, Water skis - adult, BBQ, Coffee machine, Deck shower, Big game fishing gear, Sun cushions, Swim platform, Water maker
Diving
Not Insured, Diving by arrangement, Snorkelling gear