Yacht for Charter
ELISE WHISPER
8954
78ft / 23.8M
| Builder: Southern Wind
| Year: 2001
---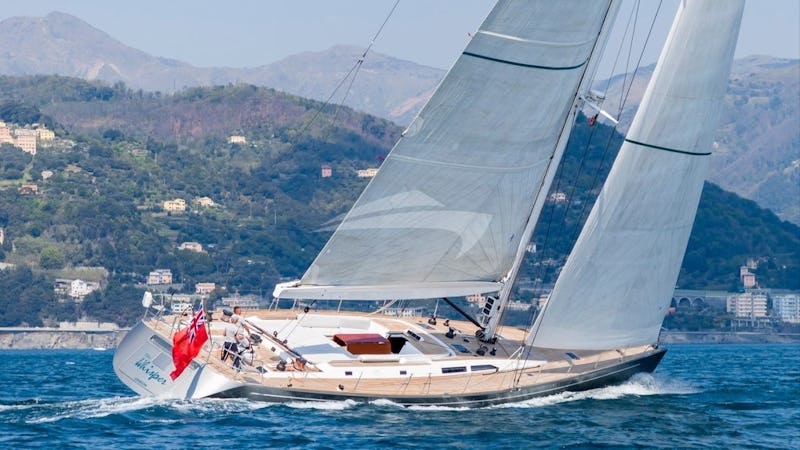 ---
Yacht Charter ELISE WHISPER By Southern Wind
Designer
Reichel/Pugh Yacht Design
Cruising Speed
12kts (22kph)
Engines
1x Yanmar 4LHASTP 240 hp 3,300 rpm
Locations
West Mediterranean
From:
$29,300
plus expenses
Contact Us For More Information
Fabrizio Ricciardi
Captain: Fernando Gauthier (46)
Sail and work experience
S/Y Blues, 30m Overall responsibility for engine room, chief of watch, navigator
Captain of S/Y Turconeri, 24m Baltic yachts
Captain of S/Y Bradamante, 20 m Nauta
Captain of S/Y Kind of Blues, 20m Comet
First mate of S/Y Ilusion of the isles, 30 m Southern Wind Shipyard Ltd
Captain of S/Y Bradamante, 20m Nauta
First Mate of M/Y Praslim, 19m Baglieto
Cantieri Cayman. Boat building and maintenance. GRP works.
Quality Painting Service Co. Inc. Lawrenceville Georgia. USA
F1 Alineacione. Mechanical and technical alignment services. Paysandu, Uruguay
Personal Profile
From a young age, Fernando has been a sailing enthusiast, spending the last fifteen
years working professionally on board various sailing yachts. He is an experienced
sailor and has an extensive knowledge of the West, Central and East Mediterranean.
He has crossed the Atlantic several times and has navigated the Caribbean during
winter seasons. Fernando has an extensive knowledge of maintaining boats,
thanks to his training and previous work experience, which also gives him extensive
and in-depth knowledge of the day to day running of a large yacht.
Born in Uruguay, Fernando is second generation Italian, with empathy for his Latin
origins. He is polite, extremely discreet and quietly welcoming. He is able to give
off an aura of calm, even in the most challenging situations on board. He loves
his work and his aim is to make every cruise on board of ELISE WHISPER a great
success for everyone involved, both guests and crew.
Job description
Fernando is responsible for navigation and safety on board, as well as the overall
running and financial management of the vessel, crew and guests. He is always
there for safe and efficient operation of the yacht, including compliance with
all safety procedures and regulations. He manages flag state regulations and
compliance, ports and their local by-laws and regulations, along with managing
the crew in conjunction with the vessel's policies. He provides daily leadership
for the crew and encourages teamwork at all times, providing individual growth
and continuous professional development, by delegating duties and quietly
supervising all tasks that the crew undertake.
Education , Licenses & Certificates
• Industrial Engineering. Engineering Republica University- Montevideo,
Uruguay. Degree: Mechanical Technologists. Graduate on March 22nd, 2016
• Mechanical Technician. Job University – Montevideo, Uruguay.
Upper School - Ing. Luis Balparda. Graduate on March 22nd, 1996.
Languages
Native Italian speaker, English and Spanish
1st Mate: Guilherme Marques (22)
Sail and work experience
Guilherme is a World Championship windsurfer, first representing Portugal in 2006, so
he has spent plenty of time in the water. He went straight from there into the yachting
industry working as a tender driver and a deckhand aboard a number of yachts. He
has completed a huge number of miles on a variety of different yachts, including a
year and a half spent aboard S/Y BORKUMRIFF IV during which he gained extensive
knowledge in yacht maintenance and even filled in for the chef aboard. He also has
plenty of customer service experience from being a windsurfing instructor, he speaks
Portuguese, English and Spanish
Job description
Guilherme has the ability to stand in for Captain in his absence, acting as a second in
command. He assist captain in navigation. He participates in deck operations, respecting
guest's activities. He has extensive maintenance knowledge and he is responsible for the
running and maintenance of deck equipment and all the machinery. When guests are
on board, he ensures that they are properly cared for and that all requirements are met.
Guilherme offers a particular attention to details and a polite and entertaining spirit.
Licenses & Certificates
• RYA/MCA Yachtmaster Ocean (Sail) CE / RYA/MCA Yachtmaster Offshore (Sail)
• MCA Approved Engine Course / MCA STCW Basic Training
• RYA Powerboat Level 2 / RYA Short Range Radio
• RYA Diesel Engine Maintenance / RYA PWC Proficiency
• RYA Small Craft Radar course
• Carta de Patrao Local (Portuguese qualification to skipper vessels up to 24m)
• Proficiency in Security Awareness
Chef & Stewardess: Juliana Jensen Cechinel
Personal Profile
Juliana began her career in the events industry, where she organised weddings,
conferences and events for thousands of people. She soon took these skills into
the yachting world, working as a deckhand aboard S/Y CORTA VENTO. Over the
next 11 years she worked on a number of yachts including 42ft S/Y MOLEQUE and
more recently 115ft M/Y BRUNELLO. She now finds herself aboard ELISE WHISPER
with a wealth of sailing and charter experience.
Job Description
Juliana is responsible for all guest and crew meals, providing a wide variety of
nutritional food. She plans all the meals and reviews on board stores to ensure
that adequate supplies of fresh food are always available. She manages all the food
preparation in order to have meals prepared for particular times, often packaging
and freezing samples of all the served food in compliance with health regulations.
She oversees the galley and the interior, always maintaining very high standards
of cleanliness and order on board with a meticulous eye for detail.
Juliana helps with all deck operations including sailing, navigation, mooring and
anchoring. Her eye for detail makes sure the deck is always tidy and safe.
Education, Licenses & Certificates:
• 2018 STCW Ship Basic Safety Course, Brazil.
• 2018 STCW Ship´s Security Familiarization Course, Brazil.
• 2017 STCW Security of Passenger Vessels Special Course, Brazil.
Languages
Native Portuguese speaker, good Spanish, good English and good Italian.
Ammenities
CD library, Indoor audio system, iPod dock, Satellite phone, Satellite radio, TV saloon, Wi-Fi, RIB 25hp, Kayak, Paddleboard, Wakeboard, Fishing gear - light, Sun cushions
Diving
Not Insured, Snorkelling gear