Yacht for Charter
IDEA!
6242
48ft / 14.9M
| Builder: Lagoon
| Year: 2009
---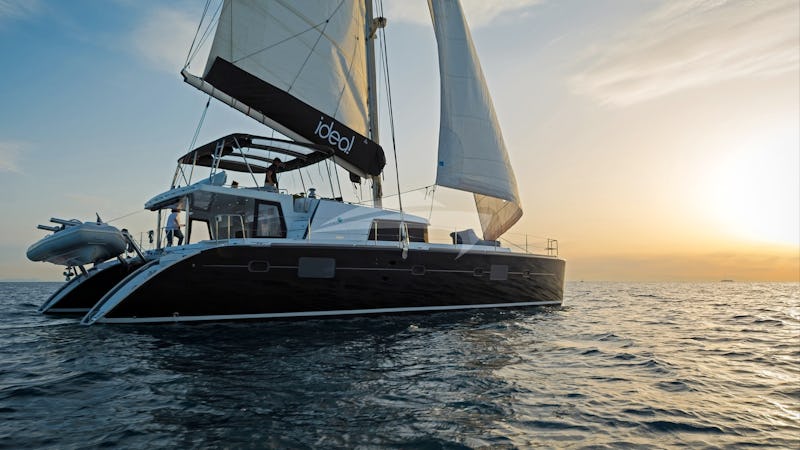 ---
Yacht Charter IDEA! By Lagoon
Designer
Marc Van Peteghem
Cruising Speed
8kts (15kph)
Engines
2x 75hp Yanmar Engines
Locations
East Mediterranean
From:
$12,783
plus expenses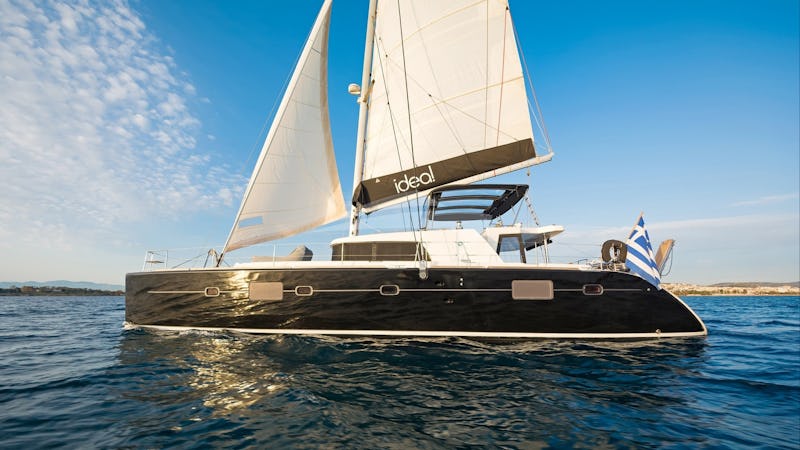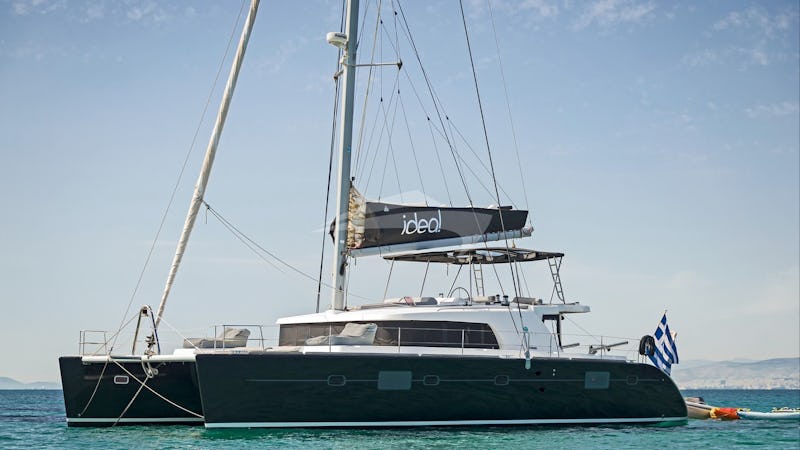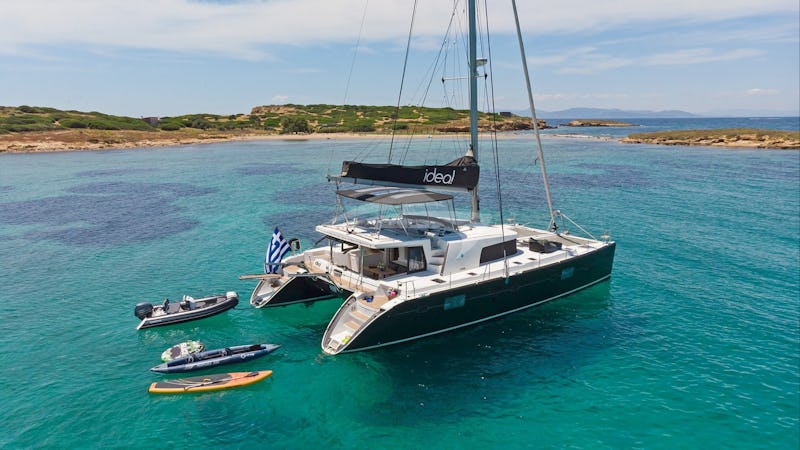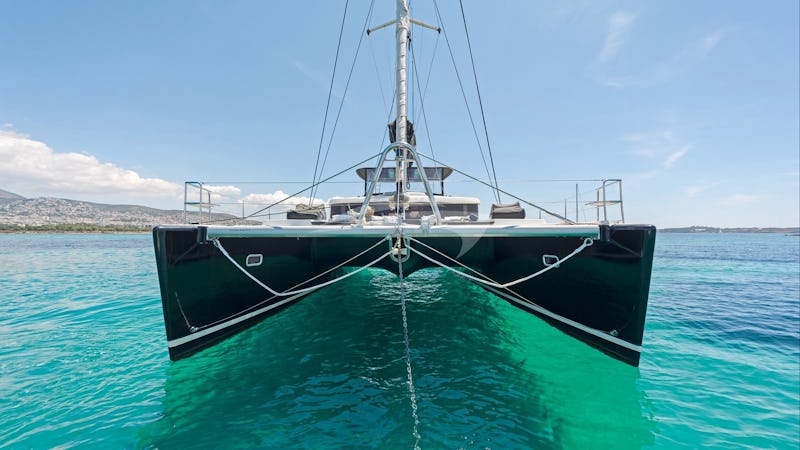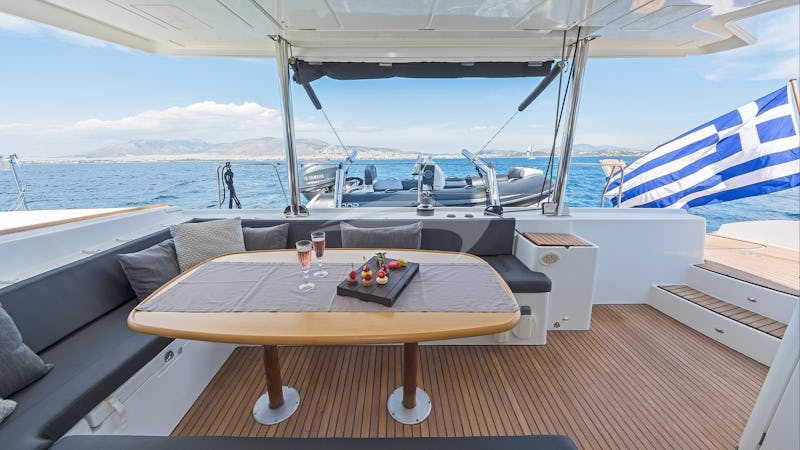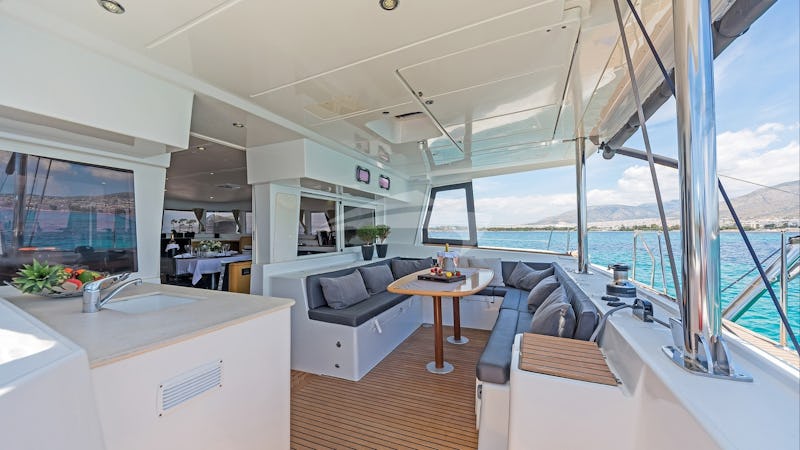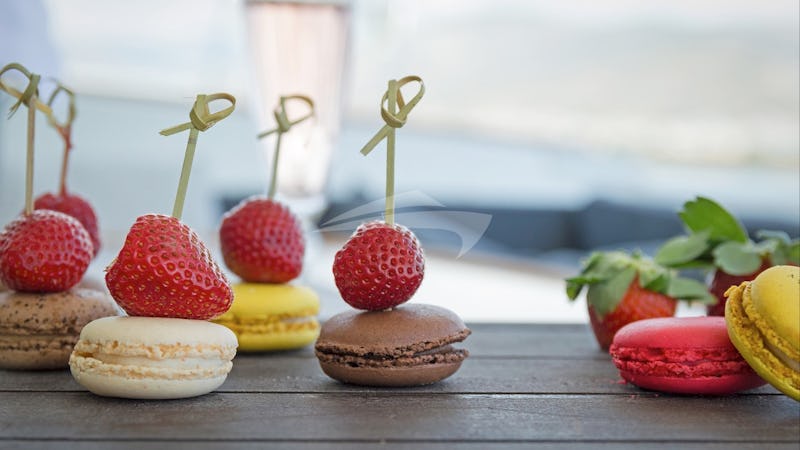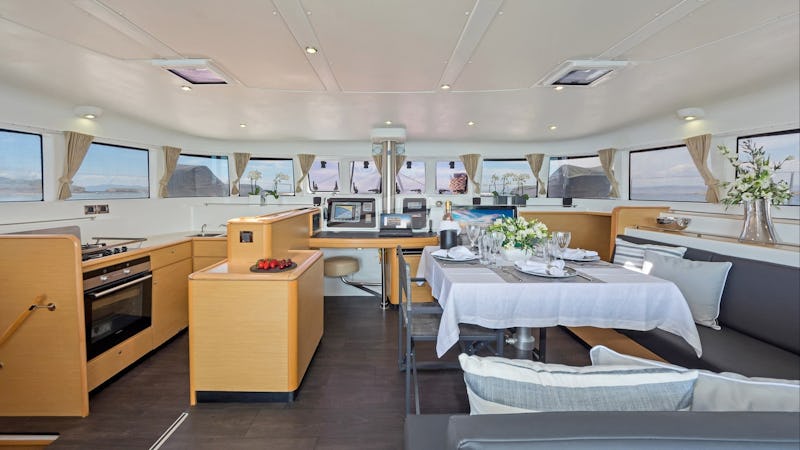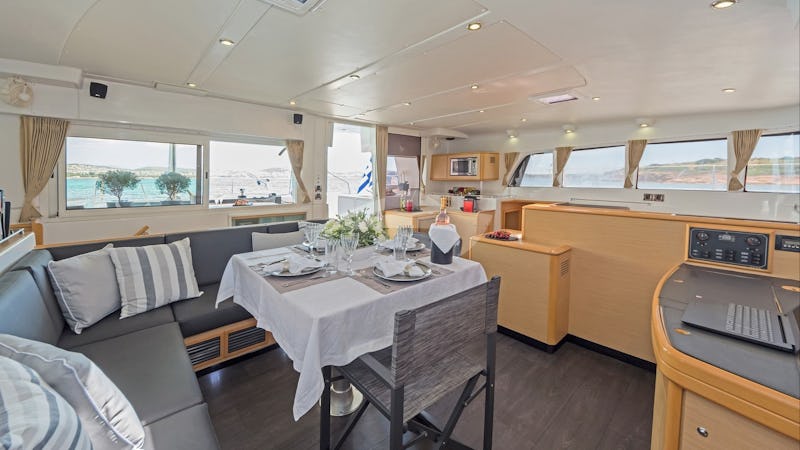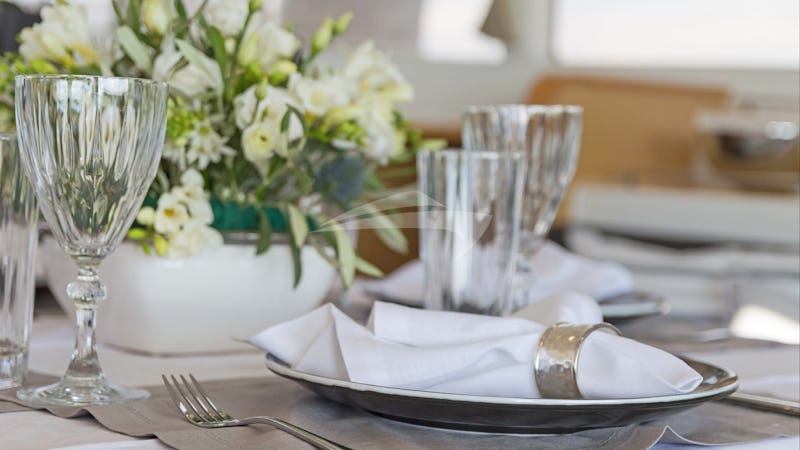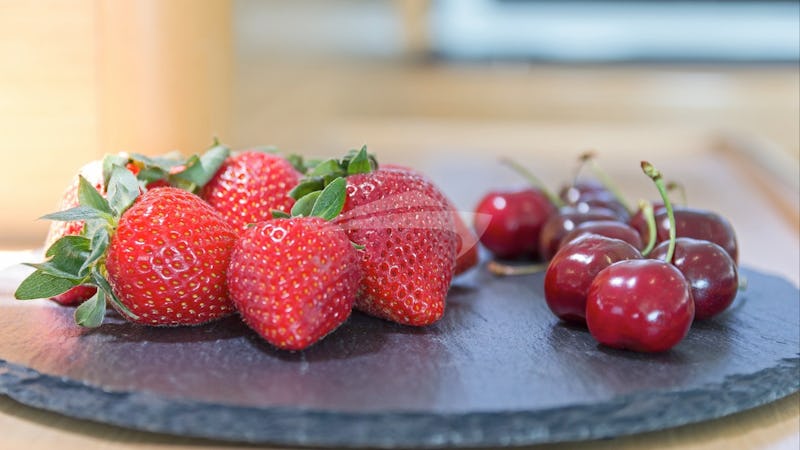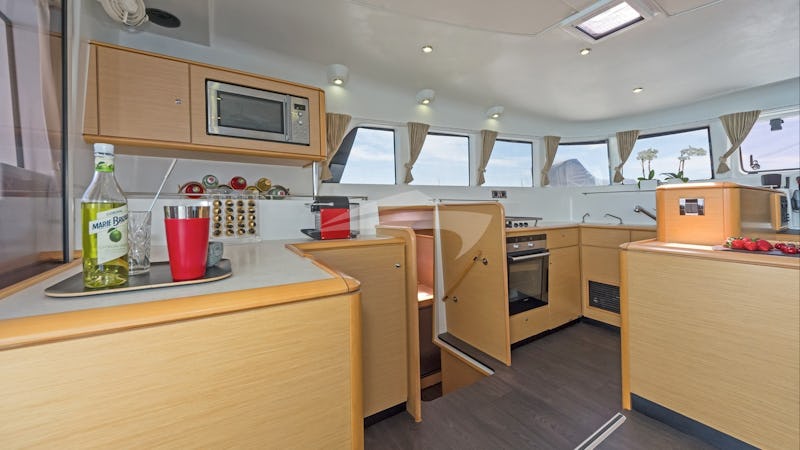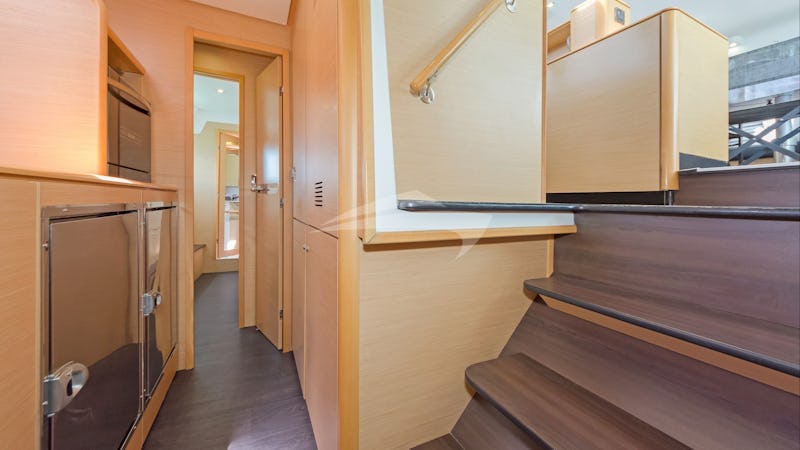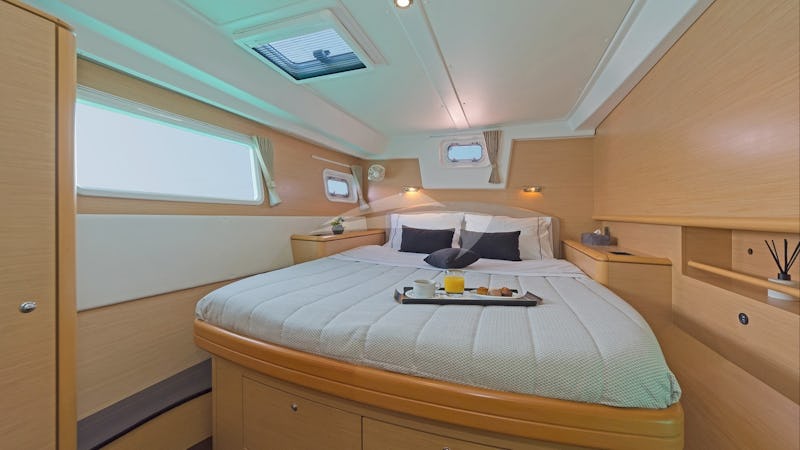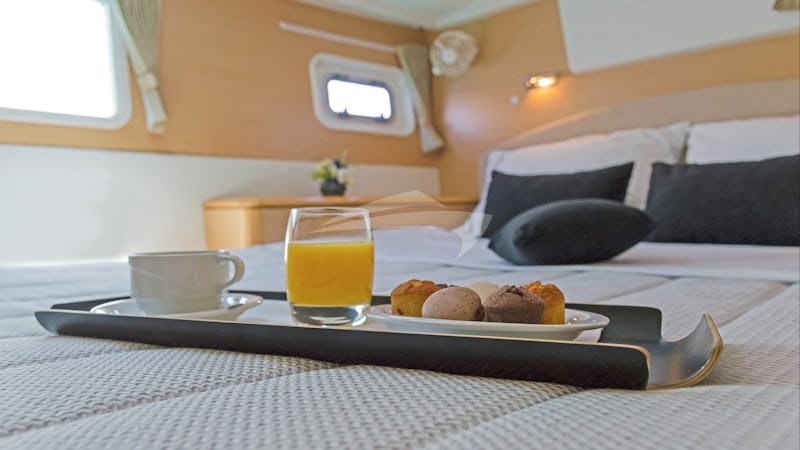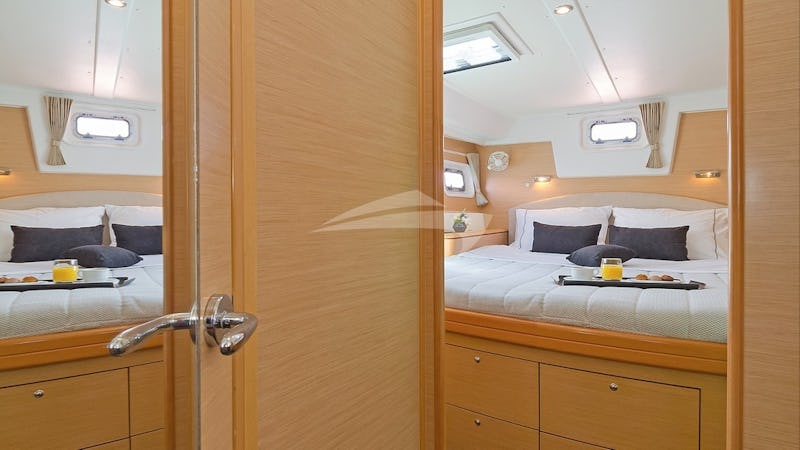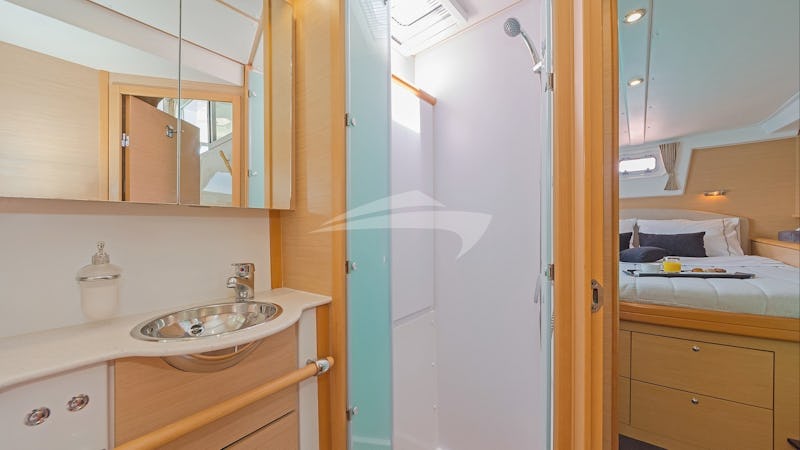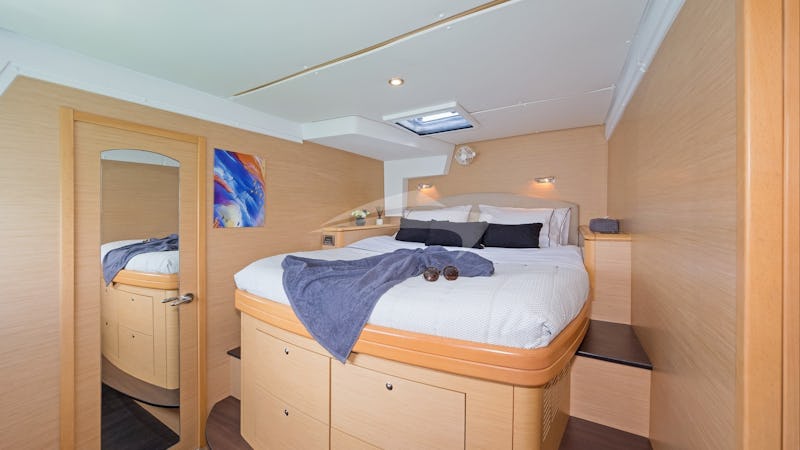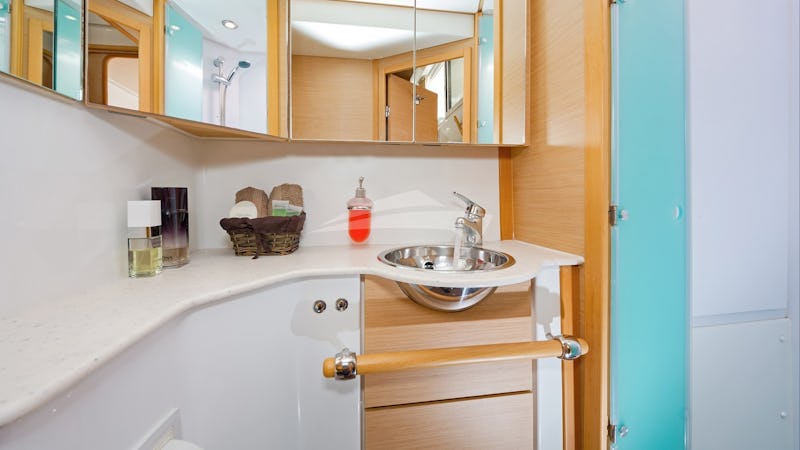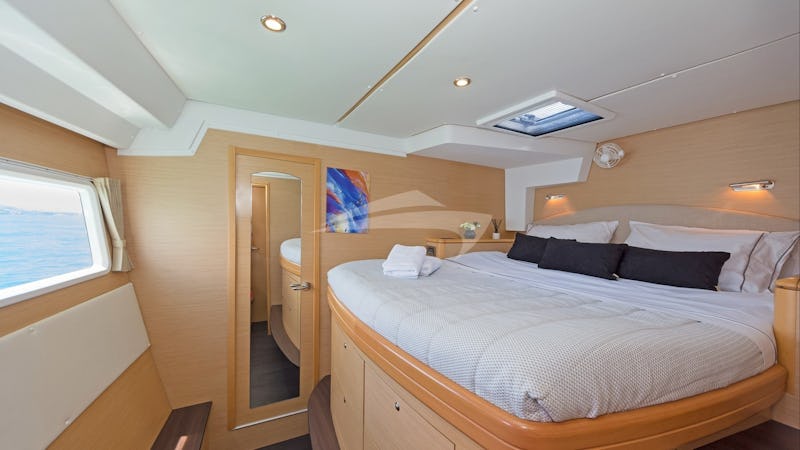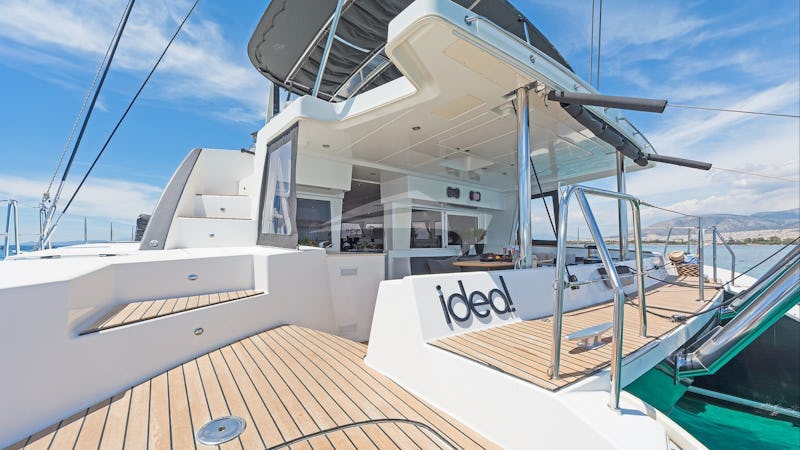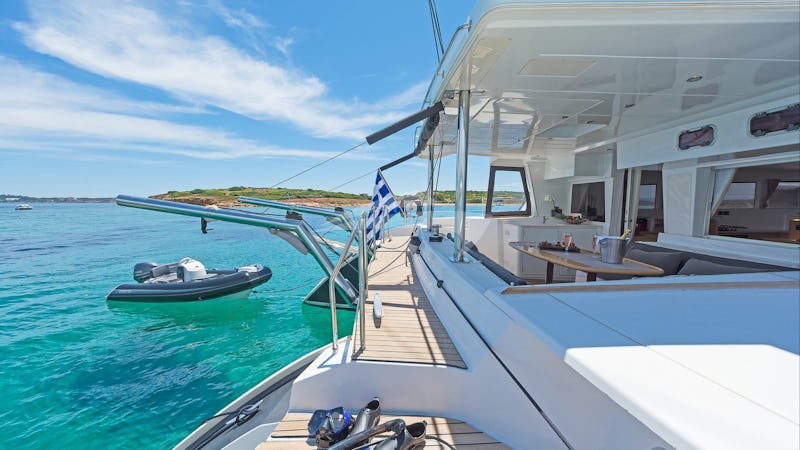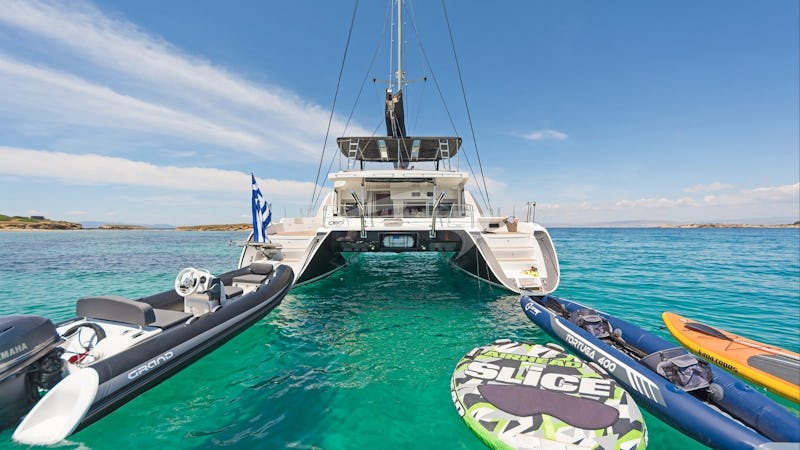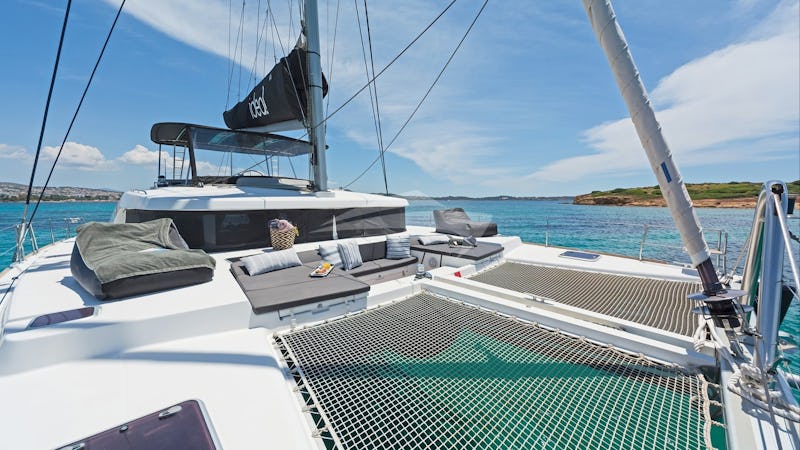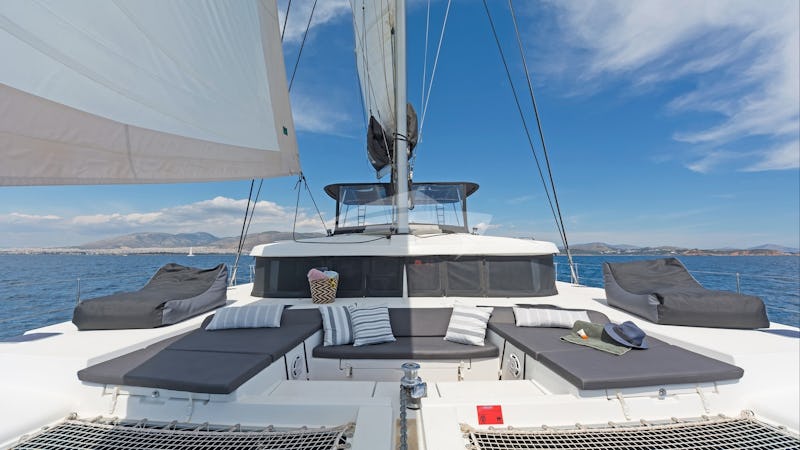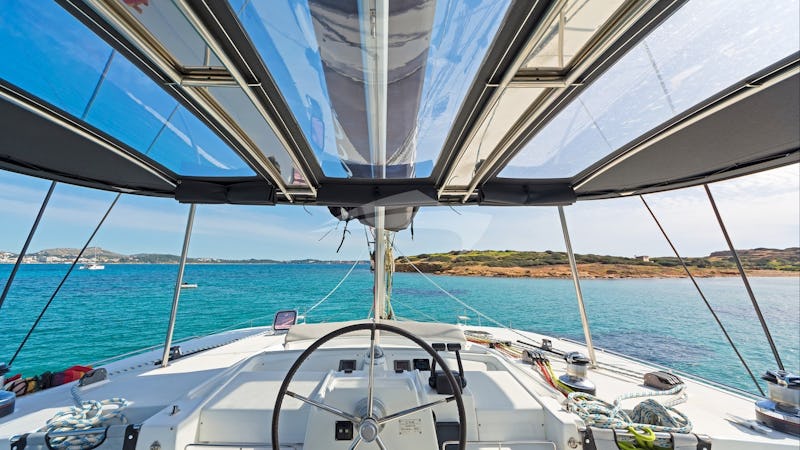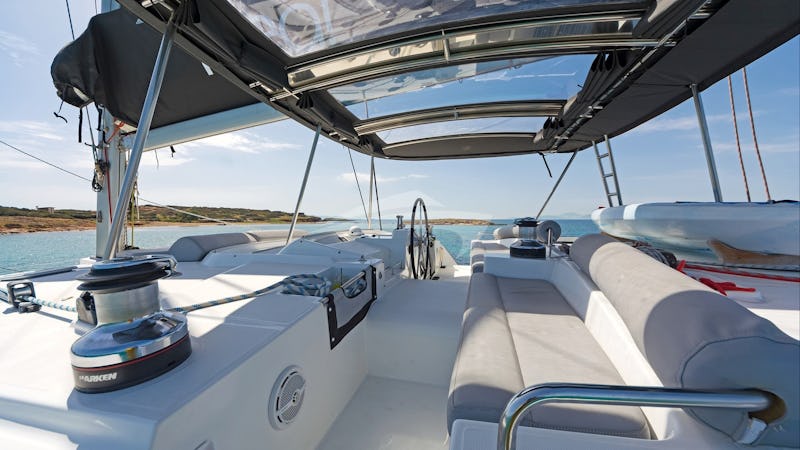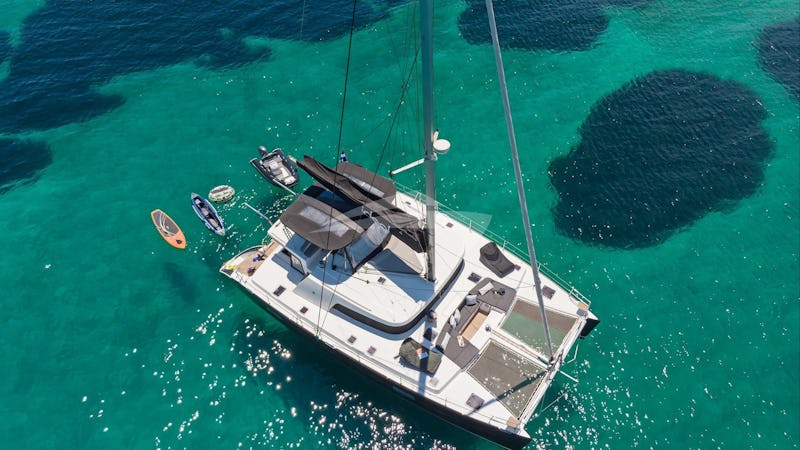 Contact Us For More Information
Captain: Ilias Stamatelos
Ilias is a relatively low profile but efficient and decisive person, capable of keeping his composure in difficult situations. He has good communication skills, able to get on with a wide range of personalities, but also able to be quietly assertive when the situation demands. His acquaintance with the sea started when he was young and he acquired his first sailing certificate at the age of 24; but once introduced, he was quickly hooked. Since then he has been looking for opportunities to get more skill and experience as a professional skipper. He has been skippering sailing boats, including monohull and catamaran, around the Aegean and the Ionian Sea during the last 5 years and has also participated in sailing races. Ηe has mostly worked with motor yachts of various types and sizes. He is currently holding an RYA/MCA Yachtmaster Offshore, sail and motor, both commercially. Ilias is a well organized and easy going person with a meticulous eye for safety. Languages: English, Greek Previous Yachts: "Freedom", "Mamilo", "Pathos", "Jenny Z", "Escape", "Enjoy" Interests: Travelling, water sports, apiculture
Cook & Steward: Vasilis Marinopoulos
Vasilis is a qualified chef and a culinary expert with a passion for creative dishes. She has graduated from the cooking & hospitality institute of Chicago 2003 and his objects of study were Art cooking technique with specialization in cutting and preparation of meat and fish. He is also a cooking professor at Iek Akmi in Athens and holding certificates of Gastronomy essentials and Healthy cuisine. He has worked in various restaurants and joined yachting in 2014 on crewed sailing catamarans and motor yachts. Vasilis valuable experience in serving and his polite personality along with his positive attitude will make all his guests feel like home! He speaks Greek and English.
Guest Comments 2016
23-28/05/2016
Dear Konstantina and Alex,
It was a pleasure to spent time with you, we had a greattime and excellent hospitality! For me it was one of my best journeys and Iwill never forget it.
Thank you both for everything, and see you again on the nexttrip!
Respectfully yours!
Dear Alex and Konstantina,
Thanks for a great time together. You and Alex is acombination of love and kindness. All of us will remember this trip for a longtime, with a lot of memories!
With love,
Rubis team from Israel
11-18/06/2016
Dear Alex and Konstantina,
Thank you for allowing me and my family have such wonderfulmemories. Your kindness and friendship will be with us the best of ourlives.  I will for sure never forget thetrip. I hope we see each other again! Always remember that you have friends inMiami and Harvard!
All the best!
Thanks for the amazing trip, great food and fun tubing!
Thank you for everything! You are awesome at driving Alex!
You are awesome Konstantina, you have awesome cookingskills!
18-25/06/2016
Thank you so much! Had a wonderful trip! You guys areawesome!
25/06-01/07/2016
Thanks so much for such a great time! We loved Greece andloved seeing it through idea!
Thank you for teaching me how to wind surf! I had so muchfun!
Best week ever! Eyxaristo! Great vacation!
01-08/07/2016
Thank you for such a wonderful and amazing trip! Greece isone of my favorite places ever!
Thank you for being so kind and hospitable! I had an amazingtime and the food was great!
My best holiday ever! Thanks so much we had an amazing time!Yammas!
16-23/07/2016
Dear Alex and Konstantina,
Thank you for such an amazing week! You made our first tripto the Greek islands a very special experience.
Amazing food, for visits to the islands and great swimmingand snorkeling!
Thank you!
23/07-06/08/2016
Dear Konstantina, Dear Alex,
It has been our 5th cruise and probably the lastever yet. You both are a great crew. Understanding all our needs, things andplaces that we like, and sharing our laughs.
Thanks to you we discover very special places, fantasticcoves and beaches, and Konstantina has delighted us  with her excellent cuisine.
Sailing has been great, Alex is a remarkable and very experiencedskipper. In shot, we loved it!
And certainly look forward to another cruise in idea! withyou too.
Dear Konstantina, Dear Alex,
A big thank you for everything!
The sailing, the food and the atmosphere were amazing!
Just one objection! Please buy a lot of lighters for thenext trip!
A beautiful journey with a wonderful crew in the Greekislands. Thanks to both for your attention, to make our trip a wonderful one.An a super boat. We hope to sail with you next summer and discover new islands,new coves with shallow waters and spend again lovely moments with you!
06-13/08/2016
Dear Konstantina and Alex,
Thank you both for such an incredible time here sailing theGreek islands.  Our family had such a funtime exploring the caves, jumping of the rocks and snorkeling near remotebeaches.
Alex-''si capitan''-you did an amazing job of finding thebeautiful islands and the best places to swim. You have been a great captain,also an understanding person that caterers to everyone's needs. Thank you!
Konstantina what can we say? But, thank you for the mostdelicious meals and looking after us. We have enjoyed our time here and youhave made it very special for all of us. A million thanks!
Kennedy family!
13-20/08/2016
Dear Alex and Konstantina,
MUCHAS GRACIAS! MERCI BEAUCOUP! THANK YOU!
We enjoyed very much the trip and life on board!
We loved : The places where Alex took us.
The delicious meals Konstantina cooked for us(and the chipsbefore lunch).
The crazy rides with the rally.
The fancy dinner at the village.
And we would love to come back next year and see you again.
Muchos besos, nos ha encantado conocer vuestras islas ydisfrutar de vuestra compania.
From Spain!
20-27/08/2016
Dear Alex & Konstantina!
What a wonderful week we had with you both! Alex you kept ussafe and entertained on windy days back to Mykonos and white water skiing inSchinousa. We really appreciated how you always wanted to make sure each daywas exactly what we wanted to do. Your constant answer ''It's no problem''insured that we had a great vacation! Your perch up top is the BEST place to beon a windy trip! We also feel like we learned so much about travel in theislands since you are so experienced. Konstantina the food you prepared for useach day was spectacular! Best Goat, Best Octopus, Best Meatballs, Best GreekOmelet! Every day, every meal was unbelievable delicious and beautiful! Fromthe simplest to the most complex everything you prepared has amazing flavor andbalance. You are truly talented! And your cheerful disposition and great senseof humor added wonderfully to our trip!We will miss you both and hope we cansail together again next year but this time Paros to Paros!
With affection!
03-10/09/2016
Alex and Konstantina,
Thank you for a wonderful week and also thank you for thetasty food! It was a pleasure meeting you! This was our first experience on a boat trip and looks like we willsurely do it again someday!
Alex and Konstantina,
Thank you, Thank you for a fantastic week in the Greekislands! John and I could not think of a better way to start off our new livesas fiancées! From the sailing talks with Alex and getting cooking ideas fromKonstantina, we think of you now as friends! Can't wait to do it again in theBVI's it's not the end we will see you both soon!
19-26/09/2016
Dear Konstantina and Alex,
Thank you so much for making this amazing trip so special!It was so much fun and I will never forget it. The food was so good, theislands we visited were incredible and everyday was a new adventure.
Thank you from Ruby
Dear A+K!
What a special trip, only made possible because both of youare amazing. We 've seen part of the islands we would never have seen on ourown. You have prepared meals that we have loved & want to take home withus. Most of all we all felt very relaxed and at home on idea! A special thankyou for you both for entertaining the kids especially Jasper!
A big thank you!
Dear Konstantina & Alex,
Thank you sooooo much for making our holiday so AMAZING! Iloved having gourmet meals every time we eat! I enjoyed going to beautiful baysand pretty ports where we could get off and walk into the town! I can't wait tocome back!
Thanks from Jade!
Dear Konstantina and Alex,
What an amazing experience & pure delight it was to sailthe Cyclades with you! You have both made our trip so special with your warmth& humor and yummy food! We wish we could stay another week!!!
A huge thank you!
 September-October 2015
Dear Alex and Konstantina,

 


Thank you both so much for taking on the care of the "Command Vessel" for our fleet of 5 catamarans causing a bunch of crazy swimmers from the US. Although the winds kicked up during our final 3 days, securing in a long, bumpy ride home, we appreciated your flexibility in getting us down to Santorini, with refreshing swim stops and visits to other beautiful islands and villages along the way. It was particularly enjoyable experiencing Konstantina's Greek cuisine which really rounded out our entire experience. I am also walking away armed with the knowledge and input you provided to plan a return visit –there is so much to see!!! All the best and wishing you plenty of smooth sailing ahead! –Paula, San Diego, CA, USA


September 2015
Alex and Konstantina,

 


What a wonderful week we have had with you! You made everything special. Out meals were so delicious and unique to Greece. We loved that. And all your great advise of where to go and what to do. And helping us get transportation. And for maneuvering this boat in and out of every port, slip and pier. We felt safe at all time! Thank you so much and God bless you both! –Kim and Randy
PS. Alex thank you for letting me drive the boat especially through the narrow channels. Konstantina your ouzo milkshakes are the best –Randy

 


Thank you for making our vacation so wonderful. Great food and travel. First time in the islands and loved every minute. You two made our trip! –Chris and Kelly
Alex and Konstantina,

 


Efharisto –everything was wonderful!!! –Merry
Alex and Konstantina,

 


You both have made our trip especially nice. Thank you for showing us the island, preparing wonderful meals and most importantly putting up with our Crew! This has been a trip we'll always remember. Thanks so much! –Heidi and Brian, Denver, Colorado


 August - September 2015
Dear Alex and Konstantina,

 


It was all too perfect. In fact our only complaint was that it was just too perfect. The full moon over Poros too bright, too beautiful. The sunset drinks in Hydra too perfectly timed. The streets of Spetses and Sifnos too charming. The meltemi winds as we crossed over to the Cyclades too wild and wonderful. Each little cove and bay you found for us around Polyaigos and Kimolos too utterly sublime –each more beautiful than the next. The food –far far too delicious! And now we must go back. But our lives are fuller and more complete for this wonderful week we have spent in your gracious company. Thank you, thank you, thank you! –Patricia and David Vos


August 2015
Dear Alex and Konstantina,

 


Thank you for a wonderful week. We really enjoyed our time in the Cyclades and the Peloponnese. The food was fabulous and we loved the many great family moments along the way. –Jane, Jenna, James, Fergal, Hugo, Jack


 August 2015
Dear Konstantina and Alex,

 


We had a wonderful week aboard Idea! We started in Paros where we has to stay for a while waiting for the missing luggage. Alex showed us the most beautiful spots to swim and sailed us to the western Cyclades and then to the Saronic Islands. The children enjoyed the watersports very much. And every day we ate like Queens and Kings. Konstantina cooked all the delicious Greek dishes for us and really spoiled us. The dakos, pasticcio, fish, mussels, prawns, different salads and and and…! Not to forget the Mojito! Thank you to the both of you for an unforgettable week! You are great hostess and captain! We felt very much like home. –Bignia, Laurin, Lavinia, Norina


 August 2015
Thank you for such a spectacular week at sea! The kindness and knowledge you showed was simply amazing and we felt like Kings and Queens! I especially want to thank you both for your patience and love toward Sophia –a very excited 4 year old. You have helped us make memories of a lifetime and we can't thank you enough! With sincere appreciation, Jennifer, Alexander and Sophia

 



Alexandros & Konstantina,

 


Early in April of this year my brother Alec sail "Let's go sailing in Greece". He and his wife Jennifer and daughter Sophia invited us to go with them and I excitedly agreed. We has many missteps in the planning, at times it felt it was not to be. Finally, our two families met at the boat and the adventure ensued. We swam, we sailed, we ate and drank and laughed. None of us had ever had a trip like this before, where we were pampered and catered to so well. Konstantina when you set the table the first night, we began to understand what we were in for –some amazing food and an exceptional dining experience. Alex, from the first day when you made adjustments and arrangements to meet our luggage, we knew we were in capable hands. Highlights: Massive servings of pastitsio, watching Liam eat fish eyes, watching Sophia drive the boats, watching Alex be sweet with Sophia, fire dancers in Naoussa, sleeping on deck during the Perseid meteor shower, boating into a cave… Efxaristo poli for a fantastic week! –Amy, Mark, Liam and Brenna


 August 2015
We had an amazing time of Idea! Wonderful food, sites and company! Loved Greece, can't wait to return! Love, Jennaro Family


 July 2015
Konstantina (Cony), Alex, we have spent a fantastic week, we enjoy very much this fantastic country, so thank you very much for all your kind attentions. We will never forget these fantastic, amazing moments. From Chile and Spain with love, Urruticoechea Family


 July 2015
Thank you Konstantina & Alex for a great 2 weeks. The seamanship and cuisine were superb. Highlights for us were the mooring in Hydra, the rescue of the anchor, infact of many onlookers, the amazing cuisine and Konstantina's eternal smile. Other great successes enjoyed by the children were the doughnut, kayak, clear waters and the never ending sunsets. Recommended visits the Hot Springs in Oia, Little Venice in Mykonos and my favorite plane wreck at Iraklia. –Edward, Lizzy, Harry, Alice & William

 


Speedy skipper Alex smiled and charmed us through choppy and quiet waters (perhaps controlled by Zeus and his Gods whose huge, long deep breaths blew in gusts of range –screeching and screaming when at rest). The Dustan Family felt totally secure with Alex's very experiences skills of a young sea dog. In addition, Konstantina smiled 99.95% of the time and did ALL that was asked of her and more with very useful on shore advice. We loved the Greek food –a wonderful introduction to Greece and the Cyclades. A very balanced trip, tasting the culture and offerings of many islands –everlasting memories of diversity (the steep narrow streets and steps, sheltered by freshly painted white walls, blue painted wood and decorative red geraniums and vines. A HUGE THANK YOU to the crew/team of Idea! BRAVO! Impressed with the team spirit and comradeship of Alex and countless friends everywhere helped us squeeze into unexpected places. Total Distance: 430 Nautical Miles –perhaps OTT!!! Top Speed: 12.3 Knots.


 July 2015
Amazing Days –great skipper and hostess
Alex & Konstantina, superb cooking and navigation –two professionals with a great future. We liked very much Greece in this historic period with a great boat, great days and we hope to come back soon to Istion Yachts with Alex and Konstantina. –Joaquim
Thank you Konstantina and Alex, we really enjoyed this week! -Rita


 June 2015
Dear Alex and Maria,

 


We cannot thank you enough for this amazing trip. We felt very safe and protected by Alex's leadership. Maria, you spoiled us rotten, you kept everything shipshape and every meal delicious. Thank to both of you for James special night. Our favorite memory is when we inhaled helium and laugh totally at our voices. Finally, a huge thanks for making our Greek adventure the best it could possibly be!.

 


With love

 


Bob, Ann, Alex, Caroline, James


 June 2015
Alex and Maria,

 


Thank you for making out trip so much more wonderful that we could have imagined. Even though we were quite substantial, Maria managed to had us with her gourmet style!! The Great food and service was absolutely " Amazing …we are moving to Greece"!
Our confident captain Alex made us feel safe and we are grateful to have been in such good hands with his sailing expertise! He turned the high winds and the large seas into a fun adventure rather than a cause for concernce.

 


Alex and Maria were such perfect crew and we felt so at home on this boat. It was truly like vacationing with family! We never felt like we were imposing with our requests or our many questions about sailing in general!

 


We will miss our frappes but we will never eat another piece of "bread"!

 


We will never forget this one of a kind trip with Alex and Maria!

 


We don¢t want to leave but we must return home of … course! 

 


Thanks for all the laughs, beautiful sights and wonderful food.
Broberg Family


 September 2014
We want to thank you both for the amazing trip. It surpassed all of our expectations, you both made us feel at home, and that it is of great value.
We got to view the part of Greece from both of your amazing recommendations and navigation expertise.
Amazing food! (Unfortunately we gained 10 pounds jaja).Alex great way to navigate while sailing through those tough times.
Even though the weather was not on our side, it was an unforgettable week! For that we thank you so much.
You are both great hosts and Nico loves you, which for us is the most important part!!
We hope to travel again with you guys very soon! See you in Mexico or Miami :).
Keep up all the amazing work, congratulations!!
Cardenas family


 September 2014
We had a fantastic time on Idea. The food was amazing. The navigation of the boat was perfect. We stayed in wonderful places.You were always there to help us with anything we needed. Thanks for an unforgettable adventure in one of the most beautiful places in the world.
Thanks for everything
Michael, Pat and Peter


 September 2014
What an outstanding trip you have given us-you two are an amazing team-nothing is too much and you cater to all our needs with such case making us all so comfortable. Cook meals have been "Michelin" quality – always interesting and made with the same case as you do everything.
Captain with his beautiful smile and twinkle in his always happy to plan interesting trips.
Selwyn and I thank you both and look forward to future cruises with you!
Barbara and Selwyn 


 September 2014

At the conclusion of our cruise with you on IDEA in June 2012 we were convinced that no catamaran holidays could ever surpass the magnificence of that one. How wrong we were! Thankfully we realized that we could not resist repeating the experience and how very happy we are that we did. As we come to the end of another 7 splendiferous days in your company on Idea we are once again so grateful for Your caring, friendly, professional hospitality and expert seamanship and ability to impact his knowledge in such an effortless and interesting manner.
We cannot thank you enough for your warm friendship and we look forward very much to another idyllic week on Idea!

 



Lots of love,
Hilary and Michael 


 September 2014
We have been here before and we'll be here again!!
YAMMAS
The Cyclades was an awesome journey. Now the Dodecanese, every bit as fabulous, where to next? Thank you for everything from Istion to the crew. Arriving to the IDEA was like coming home.
We love you and we love how you respect each other it makes for a perfect boat ride.

Hilton and Jill


 September 2014
We are the newcomers and Jill has told us how amazing the crew is. Well you have exceeded our expectations – you are both talented, kind, attentive and competent.

 


The food has been delicious and plentiful so thank you.
Alex you have handled the catamaran with professional skill beyond your years.
We will be back!!

Love Adrianne & Ed


 August 2014
Thank you so much for this incredible week in Cyclades. Everything was amazing!
Hope to see you again 
From Moscow with love!


 August 2014
We traveled from the Mid West California and were delighted to be led by Alex. What a lovely trip.We will never forget their hospitality a and great fun! Thank you for everything we will never forget out trip!
Xoxoxo
Fisher and Goetterman Family


 August 2014
Thank for the wonderful week, the excellent food the good mood, the nice places you advised. My first time on a boat a real success.
Enjoy the rest of the summer!


 August 2014
This was a wonderful cruise!!
Everything was great! We loved the places where we stopped, the food and especially your kindness and professionalism.
Thanks again the crew!!!
Marc et Nathalie


 August 2014
Our trip through the islands of Mykonos, Paros, Ios, Folegandros, Serifos and Athens was one of the most incredible experience of our lives. The caves were magnificent the swimming, hiking, eating and game playing were so much joy. Our family will remember this forever. I hope we get to try more islands next year with you guys.
Cooking was beyond explanation ...delicious and creative.
We will see you soon...
Kelly, Mark, Caroline and Matt Bradley (Hank – too!)

San Francisco, CA, USA.








 COCHRANE & WILLIAMS, July 2009
Thank you so much for giving us the most fantastic and amazing holiday experience ever! We have enjoyed every single moment. You have taken us to such special places and shown us a very different Greece. Simply perfect hospitality. Greece was great, the crew was even better!







 Guy A. August 2009
It has been an amazing week, the memories we have shared with friends promised not to be forgotten soon! Your attention to detail, advice, service and cuisine have passed all my expectations. I am sad that this trip has ended, but I hope that it will be repeated in the future.

Thank you for everything!!!








 V. Family/June 2009
Thank you for one of the best experiences of my life! This charter has been absolutely amazing! You are wonderful people and I thank you for making my time in Greece so memorable. Efgaristo to a great skipper and the best hostess… I cannot tell you how amazing you both are… professional, courteous, charming and just phenomenal people!
Thank you for the best holiday ever! You two have made all the difference by being friends and great hosts!

 











 Marcea I, July 2009
Thank you for showing us the beauty and warmth of Greece. We have been inspired by the deep blue of the Aegean Sea and the many wonderful places we have seen and experienced together.







 Gazpacho's team, August 2009
We don't have words to describe this week. Everything was just perfect. We don't know how to say which was the best part: the yacht, the skipper, Stella or the company! Everything was amazing! Alex and Stella were the best. We hope to live that dream again. It was unforgettable.
There are no words, only sentiments.

Thanks for everything, for making us so happy!

The Gazpacho's team










Ammenities
Cinema, DVD player saloon, Games console, Local TV, Wi-Fi, 12ft/3.8m RIB 40hp, Kayak, Tube - towable, Water skis - adult, Fishing gear - light
Diving
Not Insured, Snorkelling gear