Yacht for Charter
JOY
8972
77ft / 23.5M
| Builder: Lagoon
| Year: 2018
---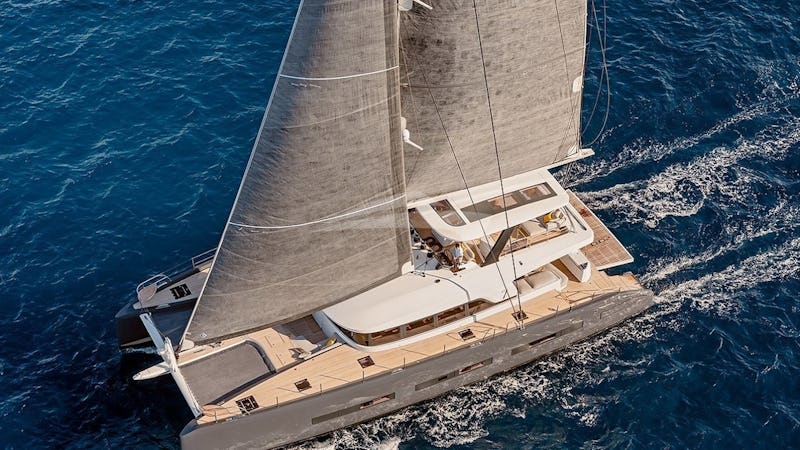 ---
Yacht Charter JOY By Lagoon
Cruising Speed
9kts (17kph)
Engines
2 x Volvo Penta D4-180 Engines / Generators 2 x Onan (19Kva) one upgrade to 27Kw
From:
$47,863
plus expenses
Contact Us For More Information
Carl Cj Coetzee
Captain: Carl CJ COETZEE (34)
Captain Carl CJ COETZEE
RYA Yacht Master Offshore & Coastal
STCW 95
Emergency First Response Instructor
PADI Master Scuba Diver Trainer - AIDA Level 2 Freediver
CJ's passion for the ocean stretches back further than he can remember. Born out of a
childhood of summers spent visiting his grandfather's house on the beach in Cape Town, he always knew he wanted a life by the sea.
Starting his career as a dive instructor and professional underwater photographer and
videographer, CJ spent many years working with thousands of clients, not only training them how to dive, but sharing his love for the ocean and guiding them to some of the most spectacular underwater locations and majestic marine life.
After many years under the sea, CJ decided to make the move into yachting to expand his
experience and build his career.
Taking his experiences from large superyachts to smaller award winning charter catamarans, CJ now has 8 years of working experience around the the Caribbean, Mediterranean , South East Asia and French Polynesia to make him the perfect captain for any yacht charter.
With experience of transatlantic crossings on spectacular sail yachts, finding Manta rays in the Benguela current off of Mozambique, discovering overhead barrels on never heard of islands lost in the Indian ocean or swimming with Tiger sharks in the Bahamas CJ has a knack of finding the most spectacular treasures that mother nature has to offer.
With a laid back and very friendly disposition, he leads a team of dedicated and professional crew to ensure that all of his guests have the opportunity to enjoy an once in a lifetime experience.
"I am very fortunate to be able to live a life that most could only dream of, however there is no greater joy than sharing that with others, either in, or out of the water."
Stewardess: Lexi Fletcher
Lexi Fletcher
STCW 95
Lexi is upbeat and charismatic, with a calm disposition and can do approach that makes her a welcome team member in any situation and a great asset on board JOY.
With experience early in her career serving cocktails and later moving on to client servicing in the marketing industry, Lexi has extensive practice delivering to the highest standards with flourish and flair over almost 15 years.
She understands the importance of the smallest finishing touches and prides herself on providing a truly personalised service for guests.
Working closely with Captain CJ and Chef Nikki, Lexi will make sure that every aspect of
your trip is taken care of so that you can sit back, relax and enjoy a once in a lifetime holiday on board JOY.
Having lived on three continents, Lexi has developed a deep passion for travel and has been lucky enough to visit some of the most beautiful places in the world.
A keen diver and hiker, she delights in exploring everything that the natural world has to offer, both above and below sea level.
MATE-ENGINEER: Tim JOHNSON
MATE-ENGINEER: Tim JOHNSON
Bristish
STCW 95 - RYA Yachtmaster Offshore
Languages: English
Tim's life has always been connected to the sea, growing up on the beautiful east coast of England, sailing and kayaking at every opportunity. After finishing university, he left for Corfu to work for a busy charter company, where he met his wife, Chef Nikki.
Together, over the last 9 years Tim & Nikki have had an exciting and varied life at sea.
From cold Northern Europe, across the Mediterranean to up and down the Caribbean and The Bahamas, East Coast USA and now beautiful Polynesia, their combined love of the ocean, diving, nature and wildlife has embedded a passion that they love to share with their guests.
As mate/engineer on board Joy, Tim keeps Joy running smoothly below deck. With an easy-going nature, he will also be there on hand to make sure you have the best vacation possible; whether it is to help you find that secret snorkelling spot, show you how to get up on the wakeboard, or to make sure your glass is always full for that perfect sunset.
CHEF: Nikki CAMP
CHEF: Nikki CAMP
STCW 95
Certificate of professional cookery
Certificate of specialist dietary nutrition
Introduction to Vietnamese cuisine
Nikki's love for food and cooking was developed at a very young age and today she thrives by experimenting with new dishes and creating personalized menus to ensure that every meal on board is an event in itself.
After studying at the Ashburton Culinary School, and with 5 years of experience as a chef on board busy charter yachts between Greece, the Mediterranean and Caribbean, Nikki has been exposed to (and fallen in love with) a multitude of cuisines and cultures.
With her kind-hearted and gentle nature, she endeavours to pour her passion into her cuisine. She delights in mixing healthy fresh local produce with international dishes learnt from a life well-travelled to create delicious yet health conscious menus on board.
Nikki is also a seasoned seafarer and has truly spent a life at sea.
From her earliest memories on her dad's boat on the English coast, to counting whales off the Turks & Caicos, exploring the mangroves of Barbuda, and the bays of Greece, she has loved it all.
She has worked as hostess in Greece. Also as Chef aboard a private sailing yacht in the Caribbean, Bahamas.
Charter on August 9-18, 2021 / Tahiti - Bora / American group of 4
Thank you for the check up.  All is fabulous!  
We are very much enjoying the trip.  The crew and food have been fabulous.  It's exactly what we needed!! 
We can't thank you enough for helping us put this trip together..oh and we were able to swim above a male whale ... 
It was amazing!
Broker's report, W Family Hawaii / May 31 – June 10, 2021, Hunahine – Bora Bora
"Sailing vessel JOY is very aptly named...she is a beautiful, comfortable, unforgettable, modern, catamaran.
The fantastic experience we were lucky enough to have in French Polynesia for 10 days was something our family will never forget. 
JOY is well appointed with every amenity and all the ocean toys you could need.
The captain C.J. and crew Lexi & Jorge were exceptionally pleasant, engaging and very accommodating. They seemed to anticipate all of our needs and requests. 
Chef Jen exceeded our expectations! Every meal was creative and delicious. We were constantly telling each other what a treat it was to have this level of proficiency in our young chef! (and we are a family of restaurants and wine producers...not an easy bunch to surprise.)
Overall, we whole heartedly recommend this trip and this boat and crew to everyone!!

The W. Family, Maui, Hawaii"
Thank you both for all your assistance with the last two charters on JOY. Both clients had excellent experiences and we look forward to sending many more charters to CJ and his crew on JOY.
Charter November 5 - 14, 2020 Rangiroa - Tikehau / 2 Americans 
Wow, what a magical adventure the last 9 days have been. The deepest gratitude to every human on this special boat, JOY, for ensuring that our trip was one of the most amazing and tranformative trips of our lives. We leave today feeling as if we not only made 6  new beautiful friends but life long adventure buddies. 
Thank you for making us free the family keeping us safe, showing us the beauty of French Polynesia and keeping us in fits of laughter.
Lexy you may be one of the funniest humans i've ever met. Your jou of life, lightearted attitude and witty humor were a big highlight of my trip.
Thank you provideed me with so much safty, knowledge and some deep belty laughs.
Thank you!
There's so much more I would like to share but words weren't created to express my deep gratitude for the trip you are made possible. from dancing with daolphins encounters, delicious food and incredible company. This the best trip I have ever been on and will forever live in my heart.
We see how hard you worked to make this happen and we look forward to the many adventures we will share together.
So much love and beams of lights.
M.
Charter November 27 - December 4, 2019 / Fakara - Fakara / US family of 6
This trip has been a wonderful gift to all of us. Your hospitality, fun loving spirit, incredible food and drink - plus all the fun activities we enjoyed throughout the week! Thank you for making our every desire come true and for all the unending service always with a smile and brightness. 
We loved having the "puppies" [blacktip reef sharks] visit us each day and night and all that you taught us. You are a marvellous team! 
So JOY-ous! Thankyou! 
Every activity was superb! The perfect family trip!
G B
Charter Septembre 28, 2019 - October 5, 2019 / Bora Bora - Raiatea
Dear crew,
Thank you so much for this amazing cruise, on a beautiful catamaran.
JOY is on the top of all the perfect word for an unforgettable holiday, with a perfect crew, very professionel, however being very friendly, and also with amazing food, very healthy and tasty.
Thanks again for everything and hope to be onboard very soon.
A & S W
Charter on August 28 - September 25, 2019 / Rangiroa - Bora Bora / one American couple

This has been the most remarkable vacation - a month on a boat with an unknown crew - and for the crew unknown guests, was a step in the dark - it has proved to be one of the best decisions of our lives. 
Four weeks on a very special boat, crewed by four very special people has been a JOY and a privilege. CJ's sailing skills took us to perfect locations at every stage - avoiding "bombies" all the way. Every member of the crew has contributed significantly to our enJOYment - never an empty glass and such quality and variety of meals that deserve Michelin stars. 
CJ's knowledge of the likely locations of the different areas to view, from tiny fish to 4 metre manta rays is uncanny! We have had the most memorable sightings of whales, manta, sting and eagle rays as well as dolphins off the bow and sharks swimming around us. 
I don't possess adequate superlatives in wishing to say a huge thanks to CJ, Lexi, Fabiana and Pablo - you have all been stars and made our dream a reality. From our hearts, thank you all. 
B & H
Ammenities
Indoor audio system, iPod dock, Outdoor audio system, TV master cabin, TV saloon, Wi-Fi, 16ft/5m Ocean Master 100hp, Banana boat - towable, Beach games, Kayak, Kayaks multiple, Kneeboard, Paddleboard, Paddleboards multiple, Surf board, Wakeboard, BBQ, Deck shower, Fishing gear - light, Ice maker, Sun cushions, Sun loungers, Swim platform, Water maker
Diving
Not Insured, Snorkelling gear