Yacht for Charter
LADY S
8967
150ft / 46M
| Builder: Benetti
| Year: 1989
---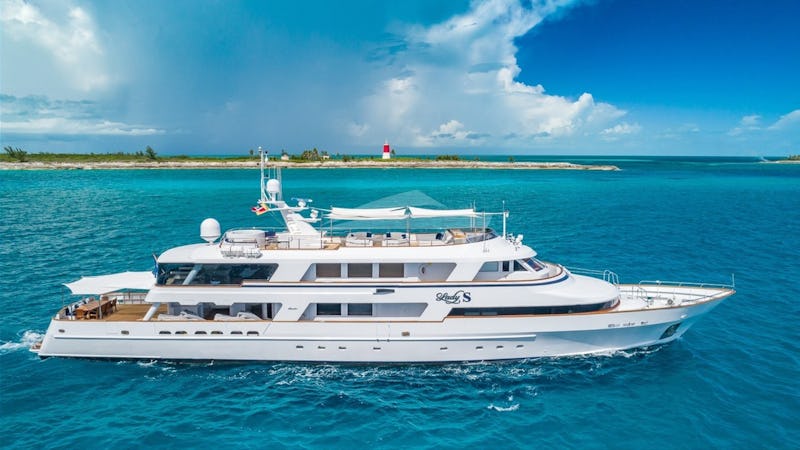 ---
Yacht Charter LADY S By Benetti
Designer
Fratelli Benetti / Tom Fexas
Cruising Speed
14kts (26kph)
Engines
2 x Caterpillar 3512B 1937HP 1145KW
Locations
Caribbean, East Coast United States
From:
$120,000
plus expenses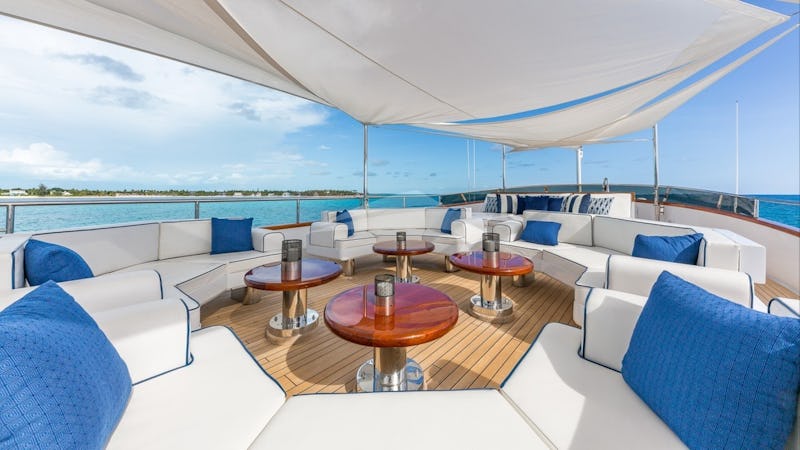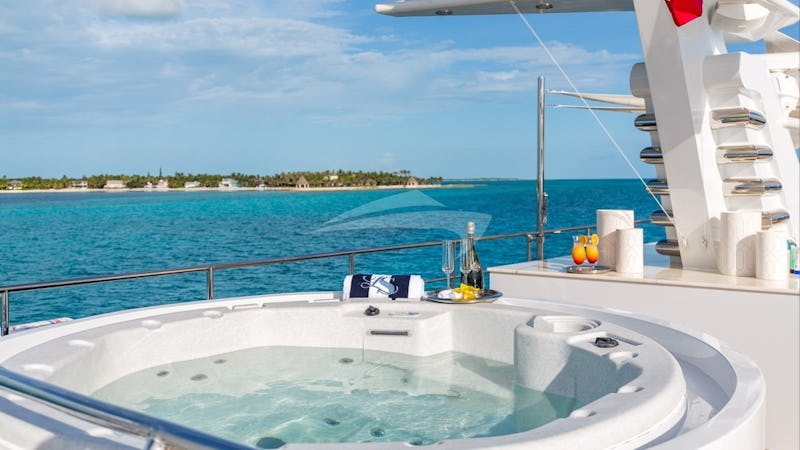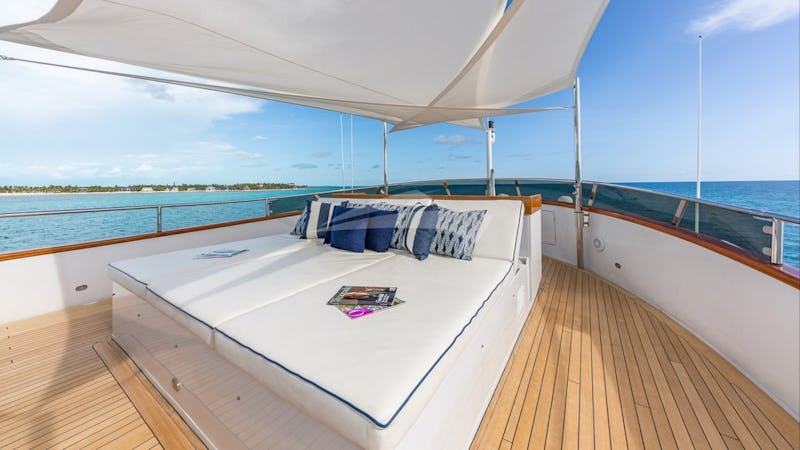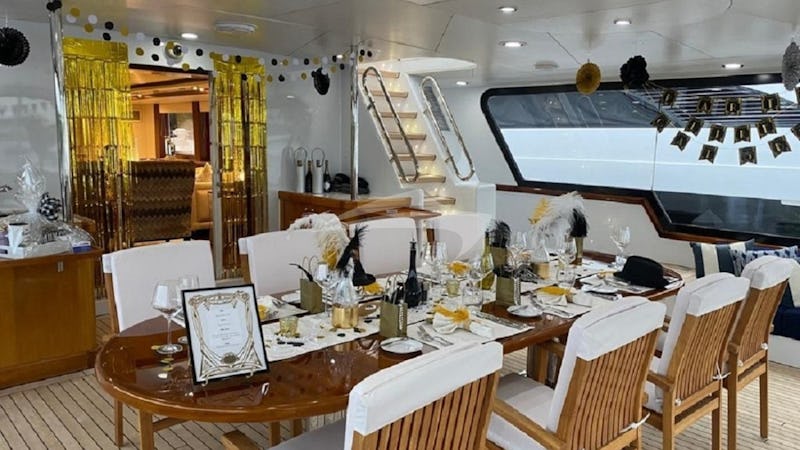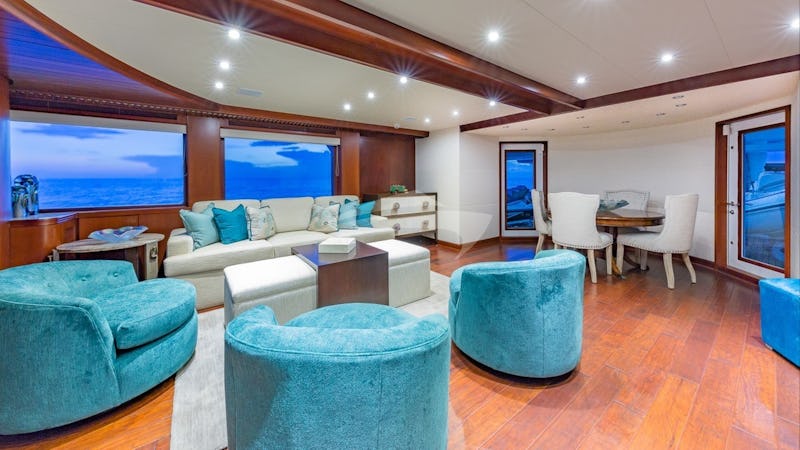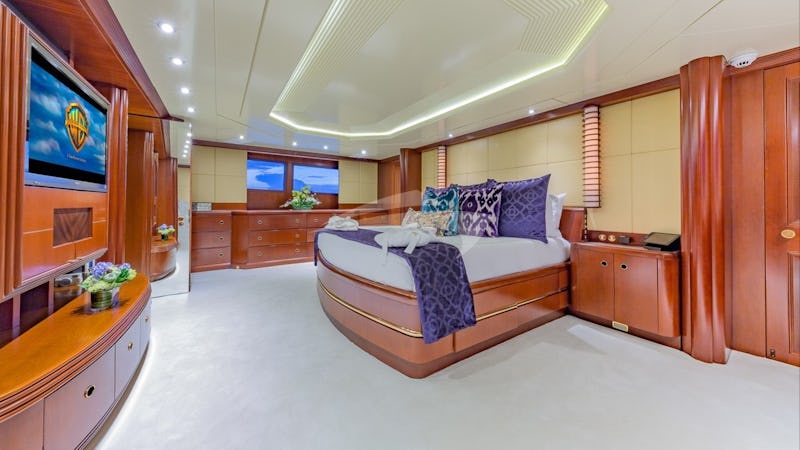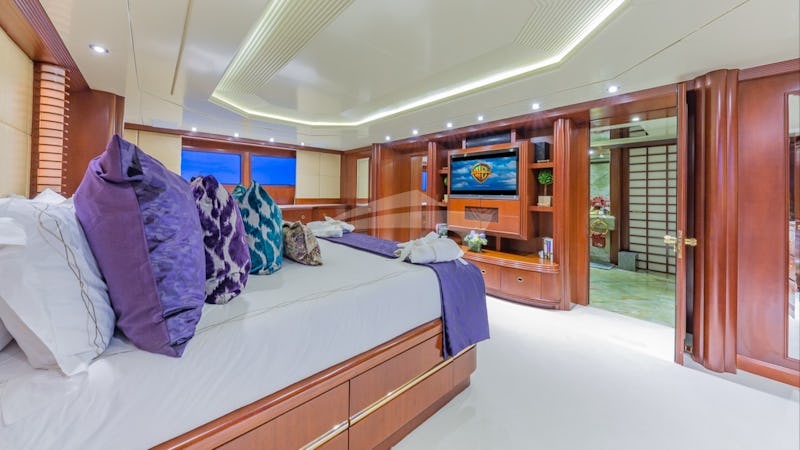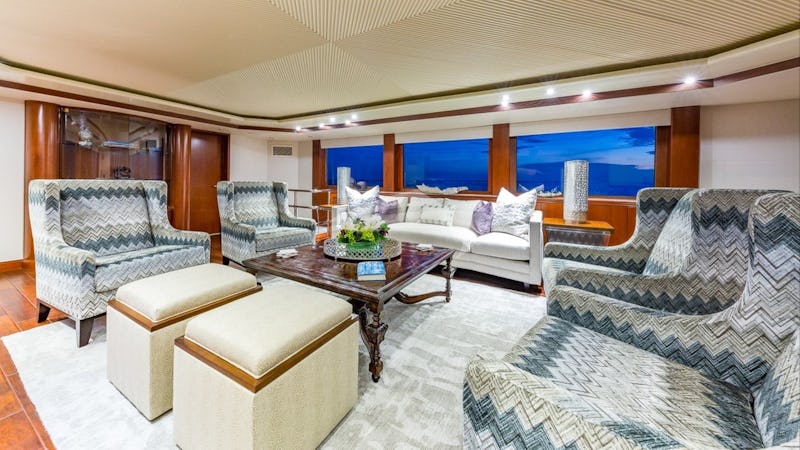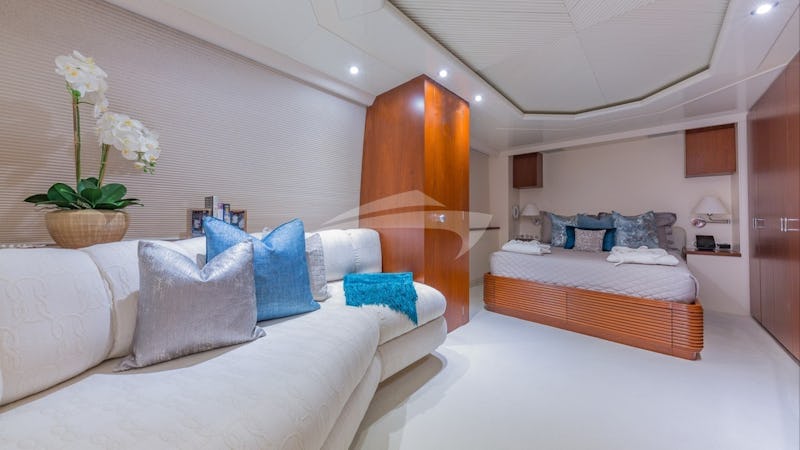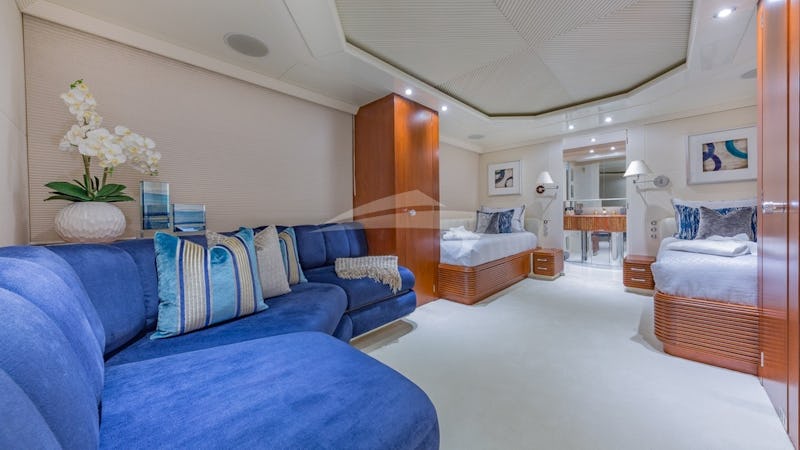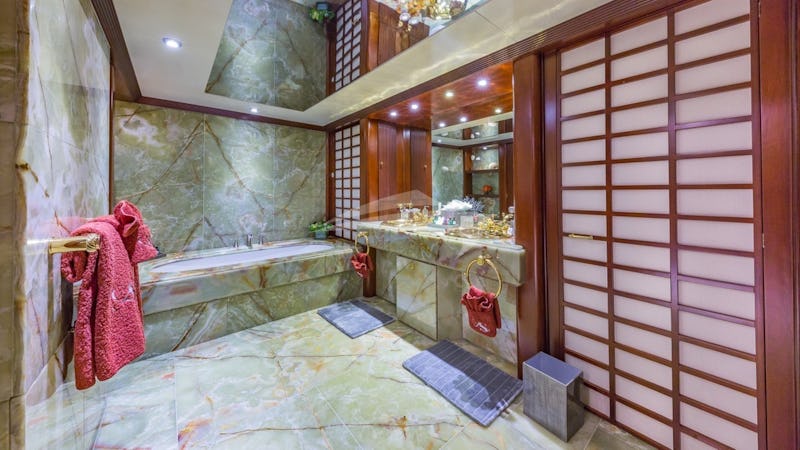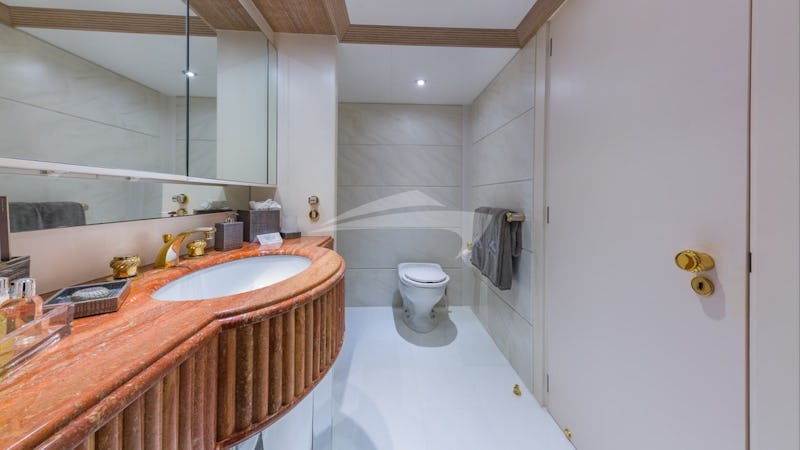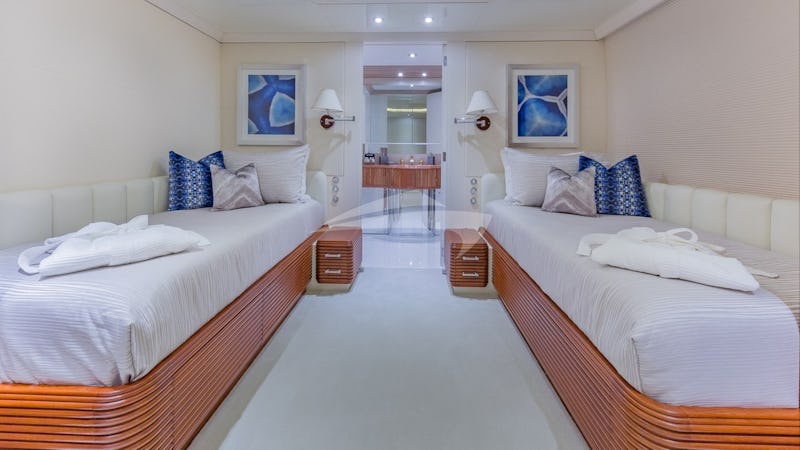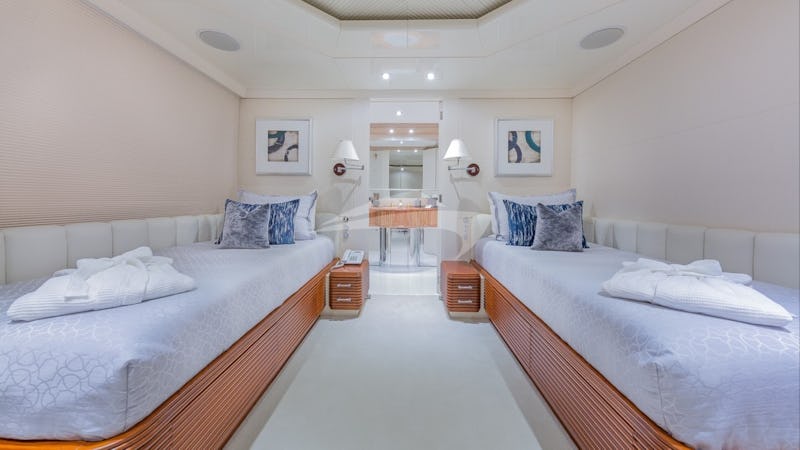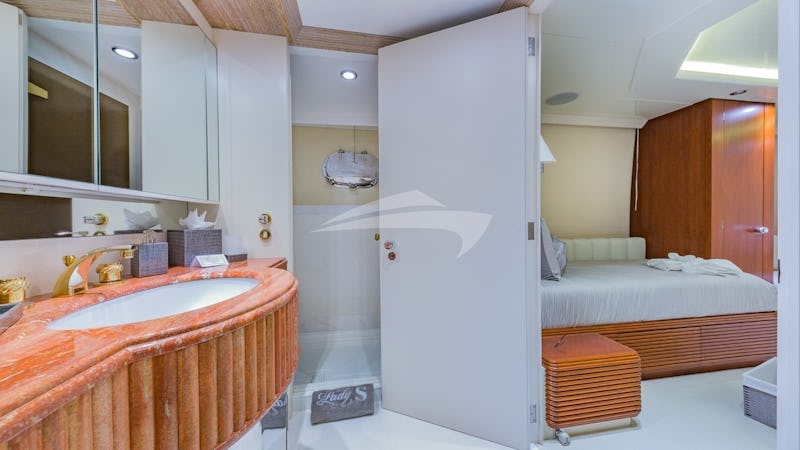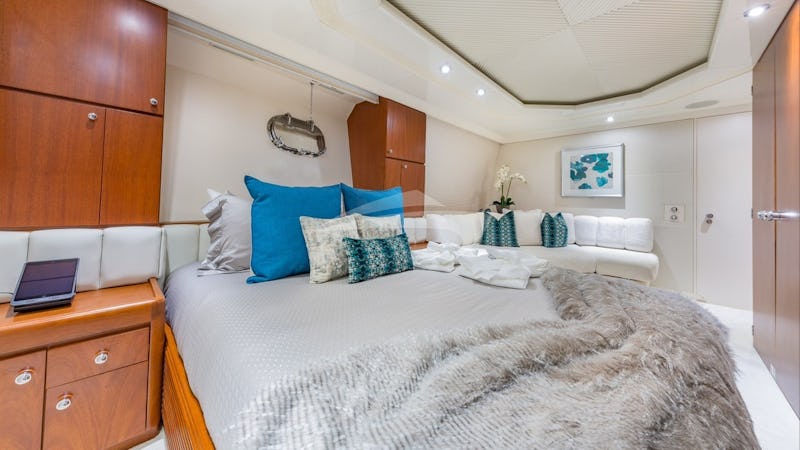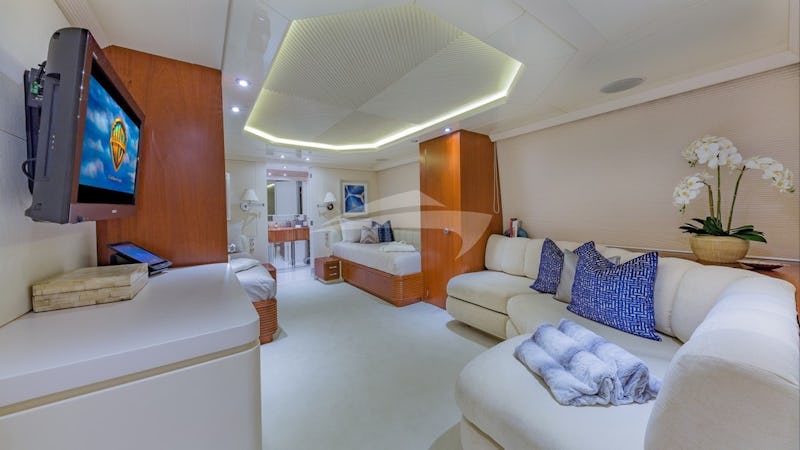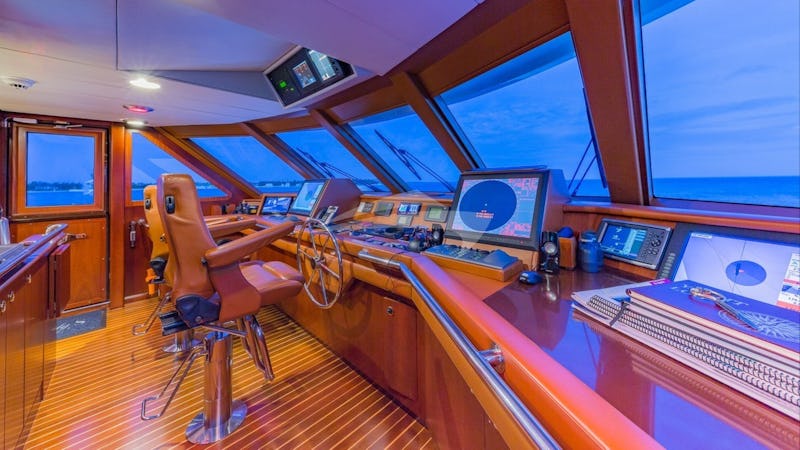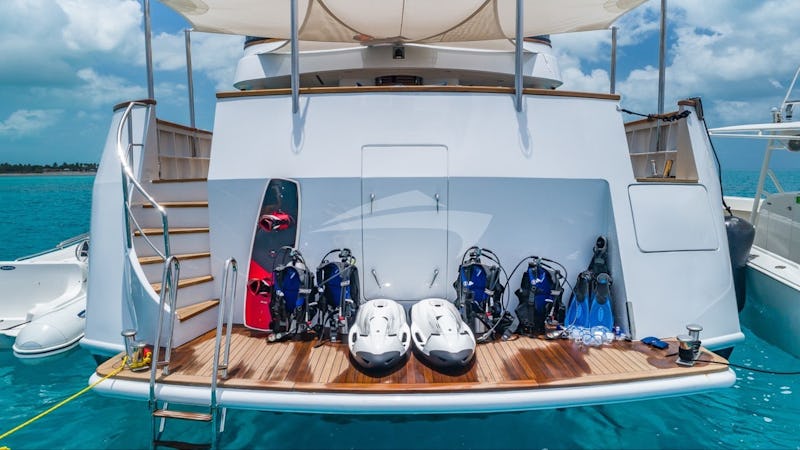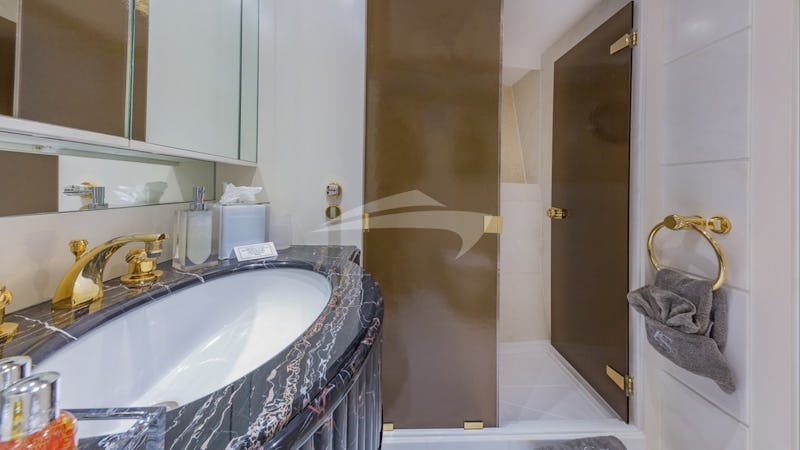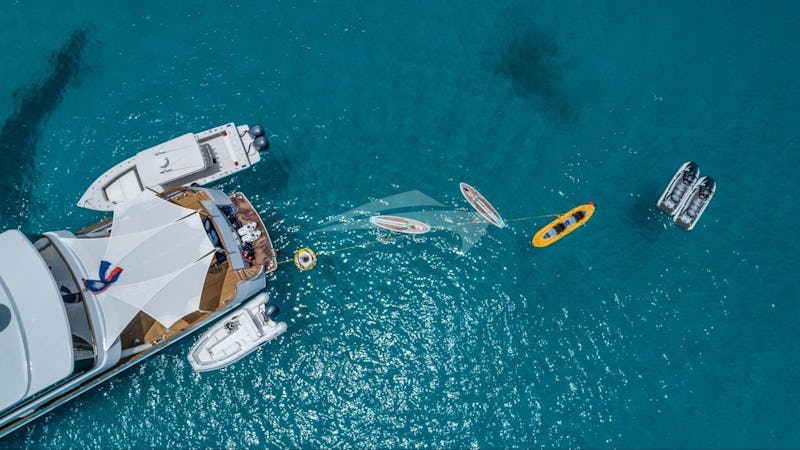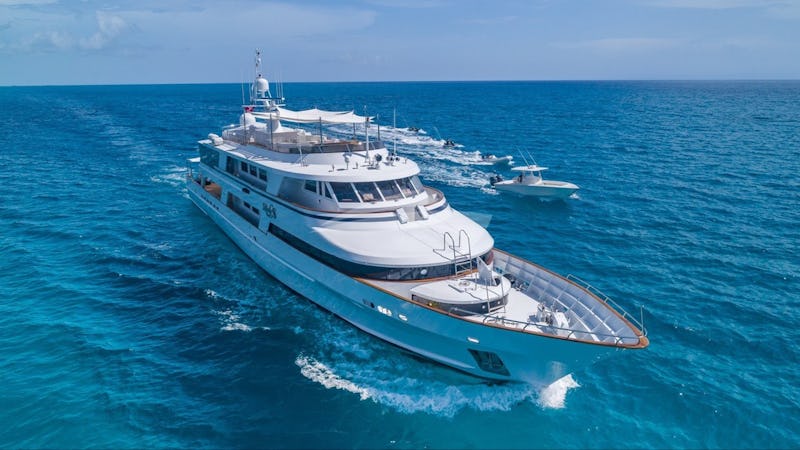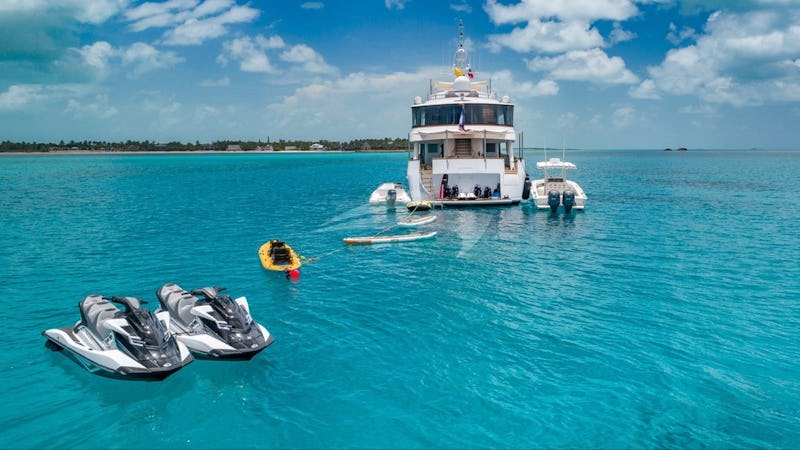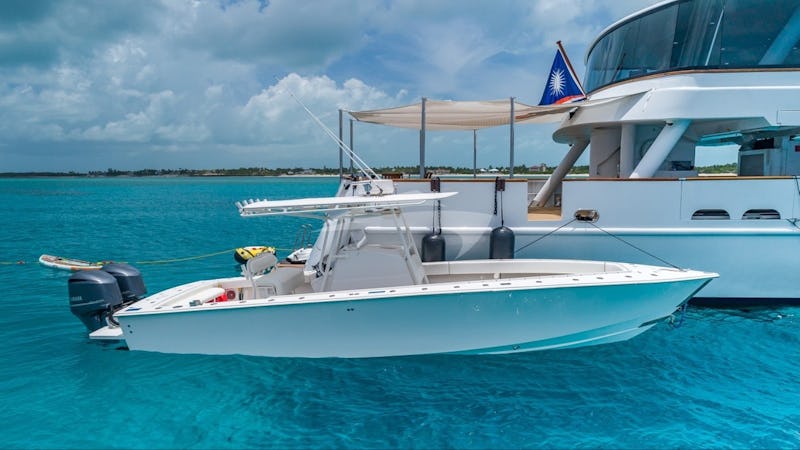 Contact Us For More Information
ON DECK MASTER STATEROOM: Forward. Upon entering, there is a library with settee and 45" TV. The master stateroom is full beam with walk-around king-size bed facing forward. There is a walk-in closet to port and entrance to the en-suite bathroom on the starboard side. Luxurious bathtub, with separate stall shower, his-and-hers sinks. Private head locker with toilet and bidet. Entertainment system featuring 43" Sony Smart TV with individual satellite receiver. Large windows create abundant natural light in the Master Stateroom. 
LOWER DECK GUEST STATEROOMS:
AFT TO STARBOARD: Situated midship: Twin beds with bed side lamps, side tables and a generous sofa lounge area. En-suite features stall shower, sink, and head. Entertainment system featuring 37" Sony Smart TV with individual satellite receiver.
FORWARD TO PORT: VIP Stateroom with walkaround queen-size bed, bed side lamps, side tables and a generous sofa lounge area. Entertainment system features 37" Sony Smart TV with individual satellite receiver. En-suite features a stall shower, sink, and head.
FORWARD TO STARBOARD: VIP Stateroom with walkaround queen-size bed, bed side lamps, side tables and a generous sofa lounge area. Entertainment system features 37" Sony Smart TV with individual satellite receiver. En-suite features a stall shower, sink, and head.
All staterooms include individual satellite receivers, individual climate control, port holes allowing natural light (with blackout for evenings), robes, hairdryers, laundry hampers, and luxurious Molton Brown bath products.
Bed sizes and bedding:
Port VIP: 80" x 60" – Feather 
Port Twin: Bed sizes: 77" x 33" – Feather 
Captain: Sally-Ann Konigkramer (32)
Sally-Ann grew up on the coast of KZN in a small suburb outside Durban in South Africa. When she finished school, she studied Arts and Music at the Univeristy of Kwazulu Natal where she even gave Mozart a run for his money when she took 3rd place in her province for Competitive Classical Performance. After a couple of piano solos Sally decided to pursue her passion for the ocean and obtained her Master 3000 Gross Ton certificate, issued by the Maritime Coast Guard in the United Kingdom. Sally's interests and hobbies include any water sports, running, extreme workouts, gardening and outdoor activities. She was even the Power lifting Age group Winner at Nova University for dead lifting in 2017. Something funny about Sally is that she cannot go to bed before she's made her 'To-do-list' for the following day, and she likes to beat the sun rising in the mornings. The most important things for her onboard Lady S is having a good crew that delivers the whole package to clients, and ensuring Lady S is running smoothly at all times, in all aspects.
1st Mate: Grayson Mcmullen (27)
Grayson grew up on the sunny coast of Durban in South Africa, and in the greatest garden of lions and leopards of the Kruger National Park. Grayson studied Sports Management and Development before he decided to take a leap and finished his Standards of Training, Certification and Watchkeeping (STCW) certificates to join the yachting industry. Not only does Grayson's interests lay with the ocean but he used to be a professional cricket player, he did provincial deep sea angling, and loves shooting, sports, fishing and movies…especially if it involves cuddles with his soon to be wife. Grayson is a happy, helpful and patient person. His biggest challenge in life has been having to duck everywhere he goes (6ft4) and one day when he grows up he would like to drive a F1, be retired and win the lottery. Even though Grayson is always ready for a good laugh it's important for him to run a successful charter program for the owner, captain and crew.
Chief Engineer: Richardo Anderson (28)
Rich was born on one of the most beautiful islands in the Caribbean, Jamaica. At the age of 22 Rich successfully completed and graduated with honors a four-year Bachelor's Degree in Maritime Heat Engineering at the Caribbean Maritime University. He further went on to receiving his Certificate for Competency (for engineering). For the last 6 years Rich has been in the yachting industry, enjoying travelling, meeting new people and experiencing different cultures. He is a very friendly person and has a wonderful laugh. Rich is mature and sensible yet has a dry sense of humor which is very humorous when one gets to know him. He likes little nibbles such as tea time muffins, coffee cakes etc. Even though Rich is very fair, he will most probably grab the last muffin at tea break. At the end of the day the most important thing for Rich is to have a clean/drama free work environment where personal growth is encouraged. It is also important for him to fulfill his role as chief engineer to ensure that all machinery and equipment is operational and safety is maintained for everyone onboard, that guests remain relaxed and comfortable while enjoying all the amenities we have to offer.
Deckhand & Dive Instructor: Garrett Mcquiston (22)
Garrett was born in a 'middle of nowhere' farming community in Northern Michigan, USA. After high school Garrett studied engineering at the University of Michigan where he was also a member of the Michigan sailing team. (One day when Garrett grows up he would love to run a teen sailing / diving adventure summer camp). Once finished with University he spent a year in Michigan working to become a PADI scuba instructor. Even though Garrett seems like the ordinary deckhand with hobbies such as diving, fishing and sailing you would never say that he was an All-state wrestler and has a strange likening for mustard on anything. Garrett has a good sense of humor (up to interpretation) and is hard working, that's why it's so important for him to have a close, fun, but also hardworking crew.
Chief Stewardess: Sonika Swart (30)
Sonika was born and raised in Cape Town South Africa. When she finished school, she spent a year doing missionary work in Africa where she taught less privileged children and helped building homes for them. Sonika's love for children, teaching and her passion for people led her to obtain a bachelor's degree in education. After studying and a couple of boring land-based jobs, Sonika joined the yachting industry. She's always loved traveling and interacting with people, with yachting she can do both, experience different cultures and different destinations. Something funny about her is definitely her very strong South African accent, something to get use to but still entertaining. For Sonika the most important thing onboard is that everyone pulls their own weight, there is no "I" in Team and teamwork makes the dream work.
2nd Stewardess: Samantha Capper (26)
Sam grew up in Johannesburg, South Africa. After finishing high school she studied Law at the University of Pretoria. Sam also obtained a certificate in Culinary Arts and she makes use of these skills by cooking for the crew and making sure everyone is well fed and happy. Sam is a happy and bubbly person, you would never put it past her that she's not a morning person, but that's probably where the lawyer kicks in. Other than keeping the crew happy it's important for Sam to be part of a well-functioning team and have a great summer with lots of memories.
Deck & Steward: Matthew Patrick Burgess (29)
Matt is the live wire on the boat that keeps the crew moral high. He grew up on the dusty streets of Durban South Africa, opposite from where Captain Sally grew up. After school Matt studied BCom Marketing and Business Administration and then majored in Economics. He also has a big passion for sports and played WOB Rugby for eight years. Something funny about Matt as he would describe it would be his charming whit, the twinkle in his eye, his cheeky smile and don't forget about the devilish sense of humor. He is also convinced that people like Jennifer Anniston, Stephen Hawking and Obama would be attracted to his type of personality…typical Matt, always making sure everyone has a good laugh and a smile on their faces. Even though a light, happy and positive morale is important for Matt he also emphasizes the importance of teamwork, respect, cleanliness and honesty onboard the boat, and of course good food.
Chef: Emmanuel Vasquez
Growing up in a multi-cultural Los Angeles California, Chef Vasquez was born to a large Mexican Family who would cook traditional Mexican food and also traditional North American cuisine. At a very young age Chef Vasquez would help his mother make tamales to sell at church on Sundays for extra cash and would marvel at the intense labor that went into them and the attention to detail and discipline his mother had. Eventually, he made his way to San Francisco and settled in the Mission district, experiencing foods he never knew existed and quickly sought out cooking jobs to gain much culinary knowledge.
After several years he moved to London in England. After a short stay, he decided mainland Europe was where he should go and learn and expand his culinary hunger.
Chef Vasquez ended up in Berlin Germany and studied German Language and European Cuisine. After several years he opened a small Mexican restaurant with a few friends and then passed it on as he moved on to bigger things.
Next stop was Montreal and he fell absolutely in love. Chef Vasquez went for 2 weeks and stayed for 3 and a half years. where he refined his French training and learned French. He encountered the most severe winters he had ever seen and decided to explore Asian food and tropical ingredients in sunny Australia.
Chef Vasquez has honed his craft and acquired world-class knowledge of multiple cuisines diets and gastronomic delights and his work passion and life are exemplified in his craft.
Ammenities
Cell phone, Indoor audio system, Media movie server, Outdoor audio system, Printer, Satellite phone, Satellite radio, Satellite TV, Streaming online media, TV all cabins, TV outdoor, TV saloon, Wi-Fi, 34' Intrepid Nomad SE 2020 with twin 350hp Mercury engines, comfortable seating and a hard top to provide shade, a depthsounder, plotter, electric head and ample storage, ideal for fishing., Assorted water toys, Kayaks multiple, Paddleboards multiple, Surf board, Wakeboard, Wave runners multiple, BBQ, Beach umbrella, Coffee machine, Fishing gear - heavy, Fishing gear - light, Ice maker, Jacuzzi on deck, Special diets, Sun cushions, Swim platform, Water maker
Diving
Insured, Compressors, Crew can instruct, Crew certified, Diving if certified, Seabobs multiple, Snorkelling gear, Wetsuits, 1 Compressor, 12 Tanks, 12 BCs, 12 Regulators, Instructor