Yacht for Charter
LAYSAN
8128
71ft / 21.9M
| Builder: Custom Line
| Year: 2017
---
---
Yacht Charter LAYSAN By Custom Line
Cruising Speed
10kts (18kph)
Flag
British Virgin Islands
Engines
2 x Yanmar 4LHA-DTP 200HP Diesel
From:
$44,258
plus expenses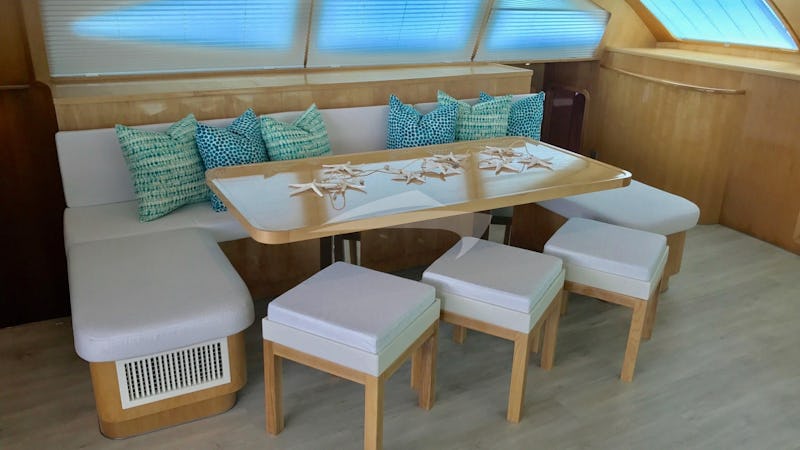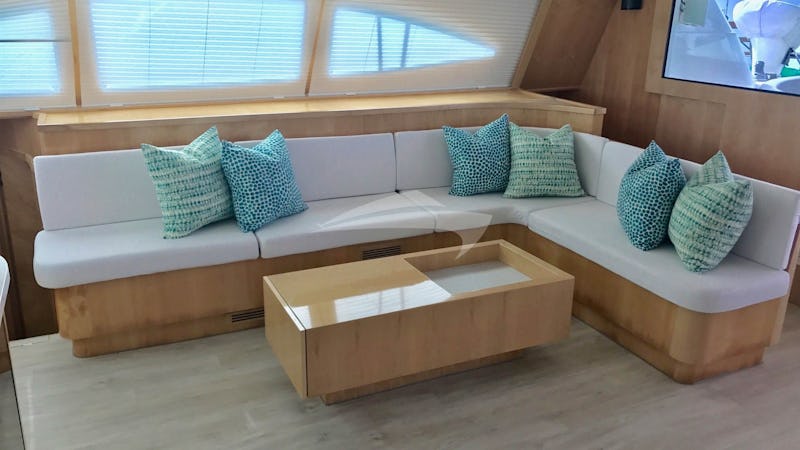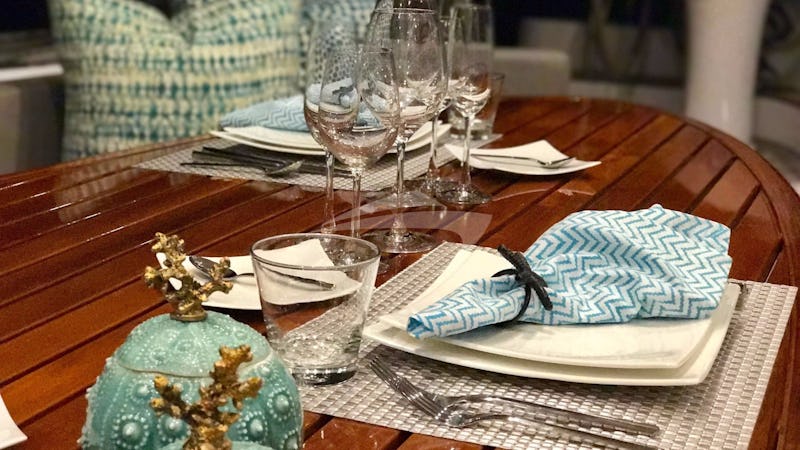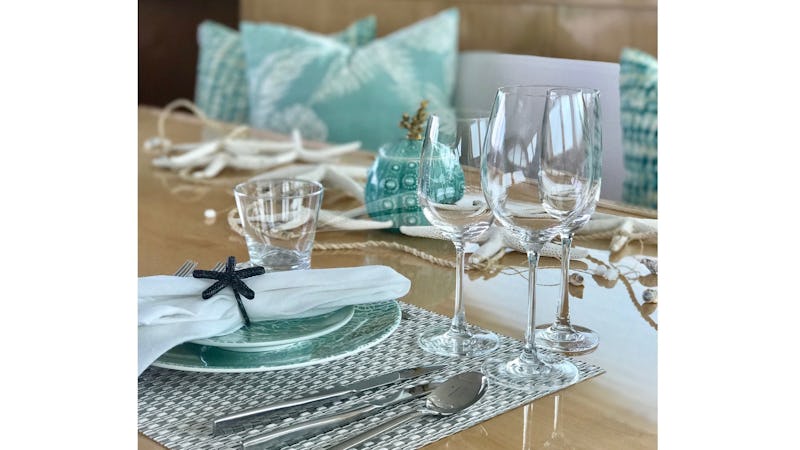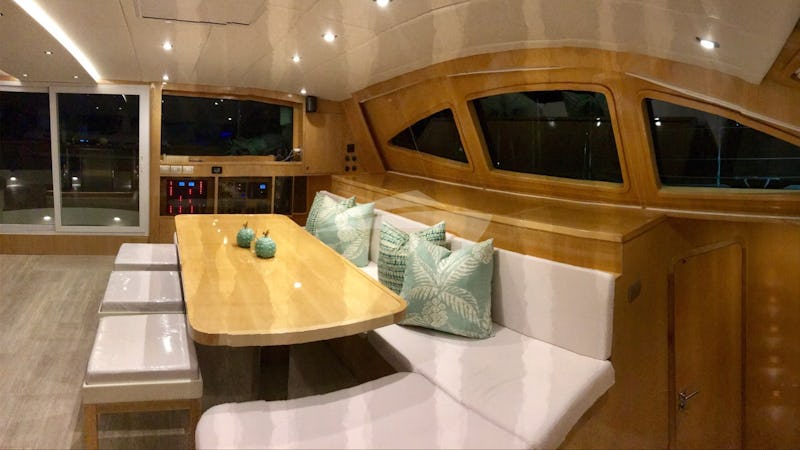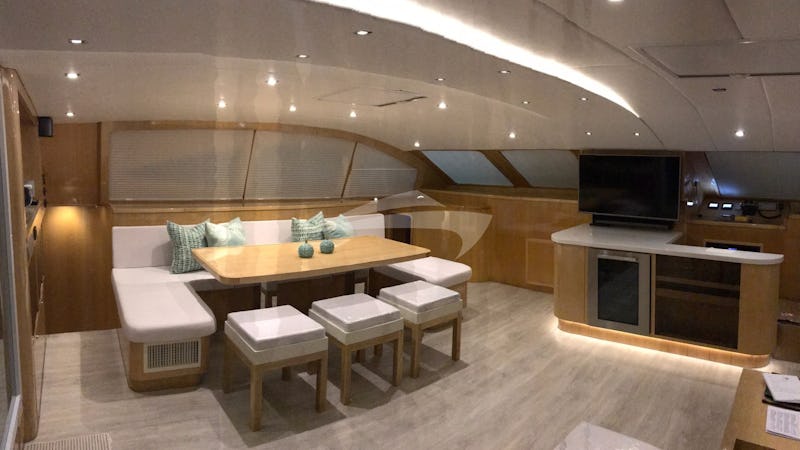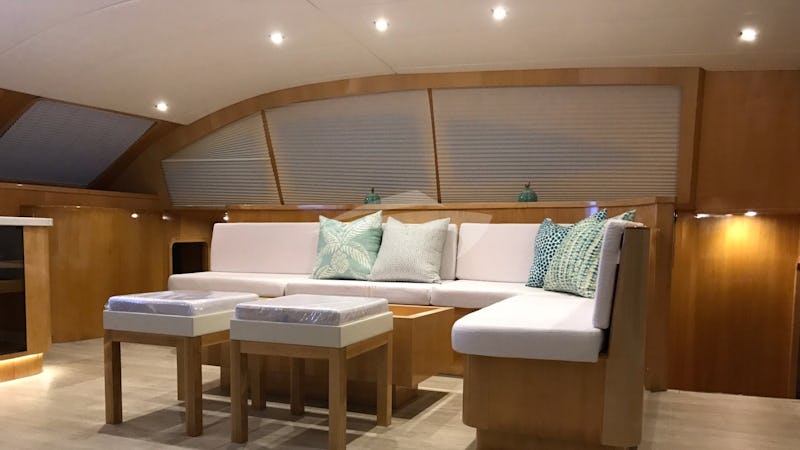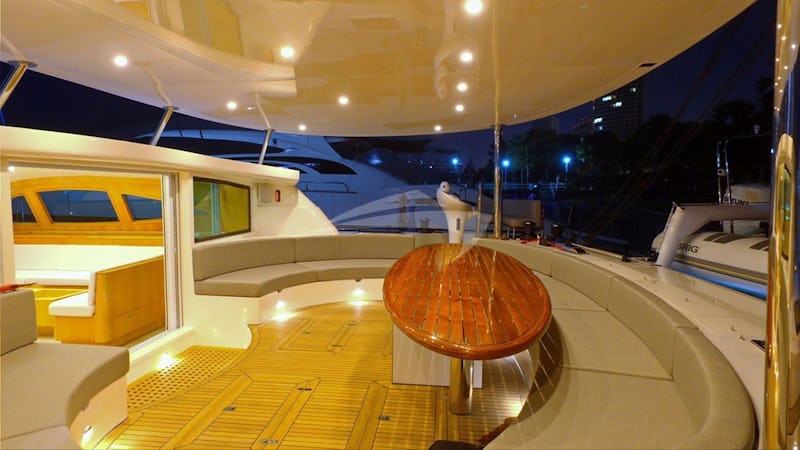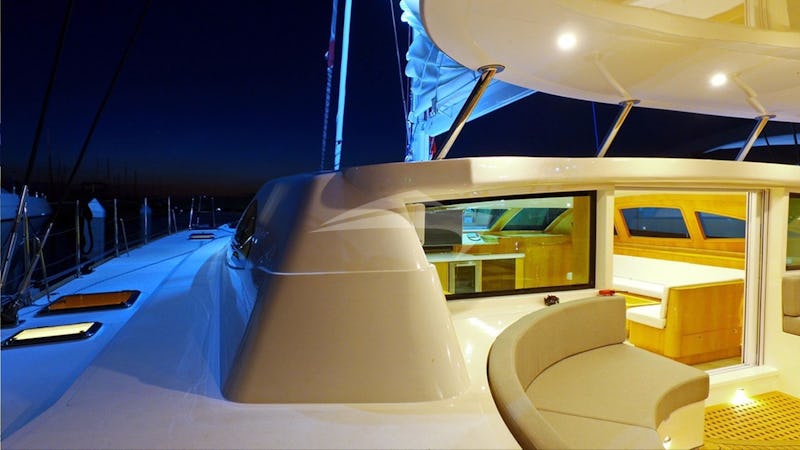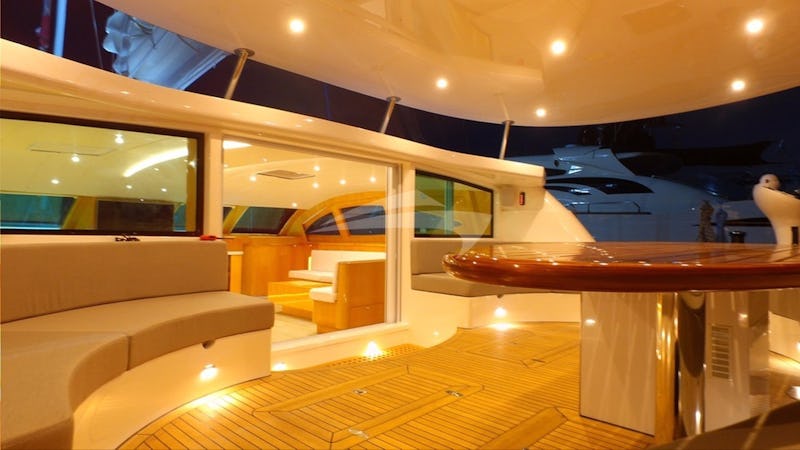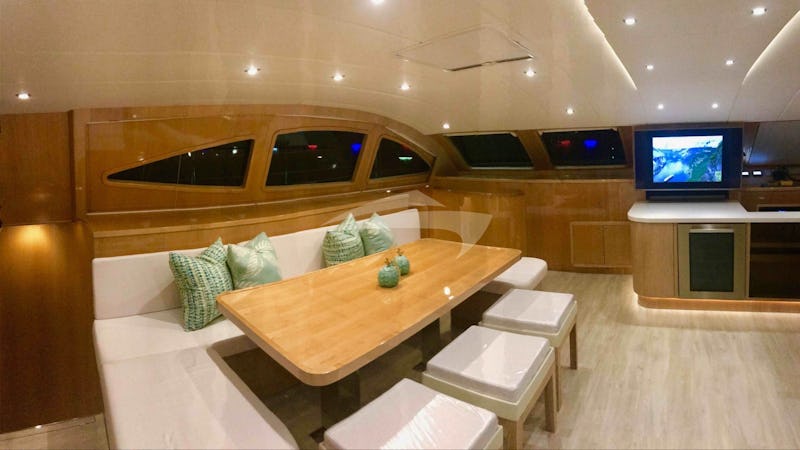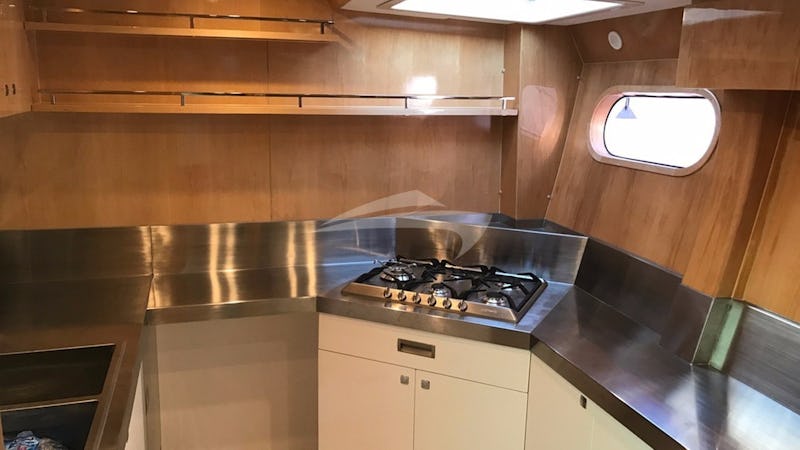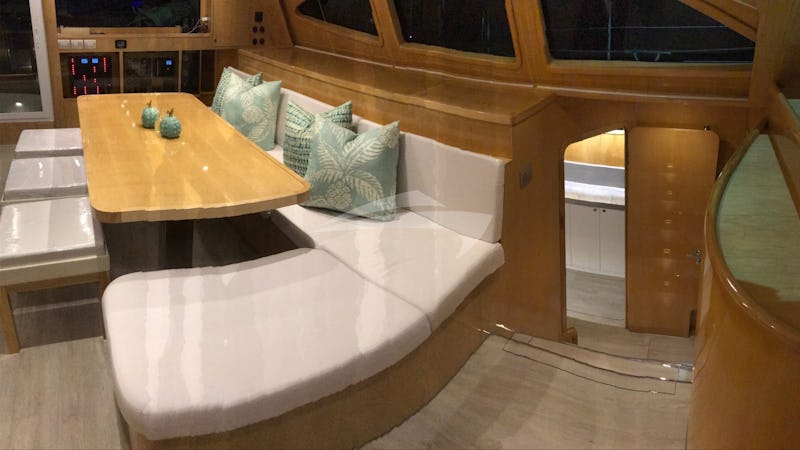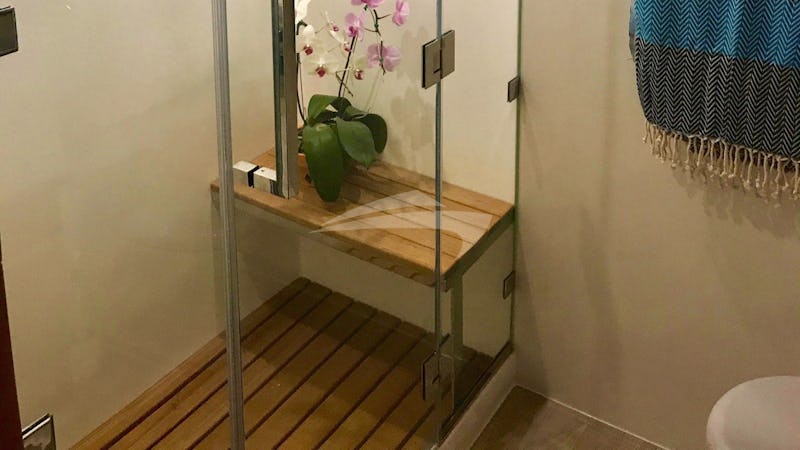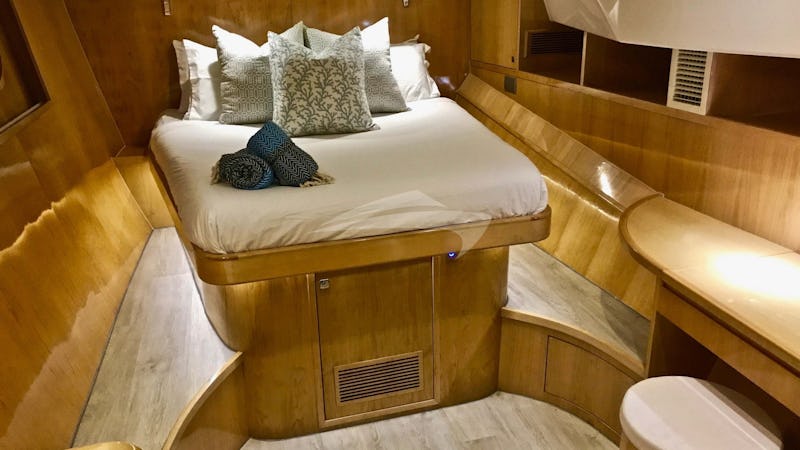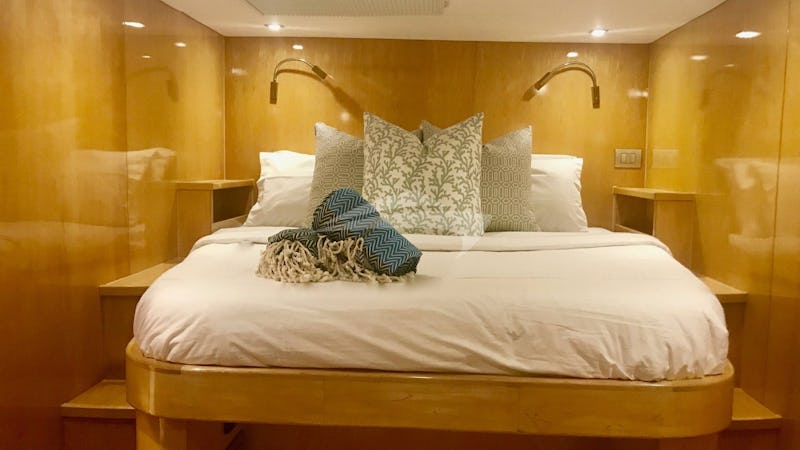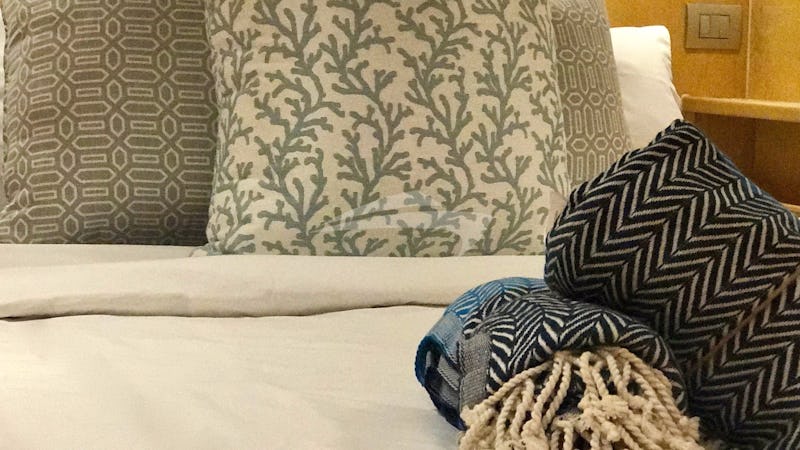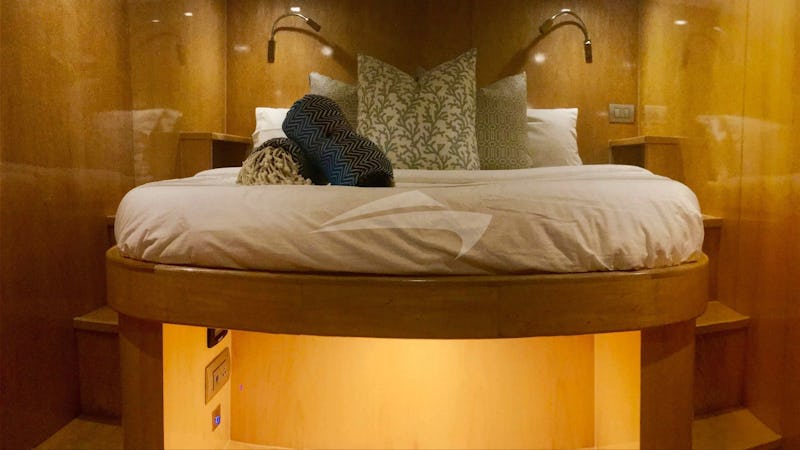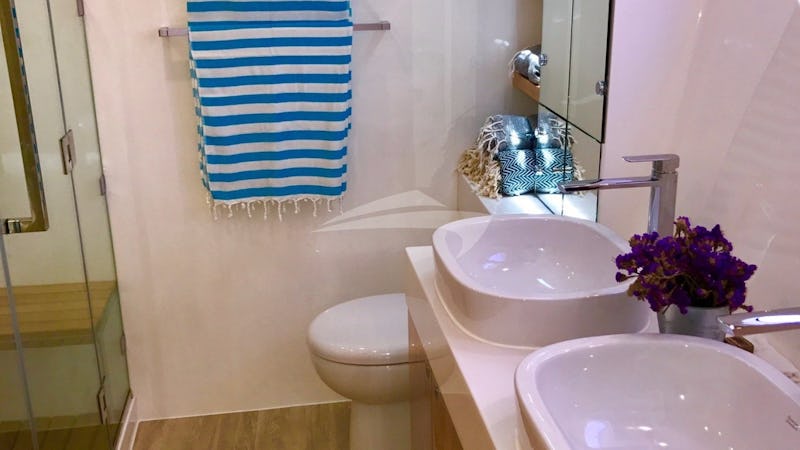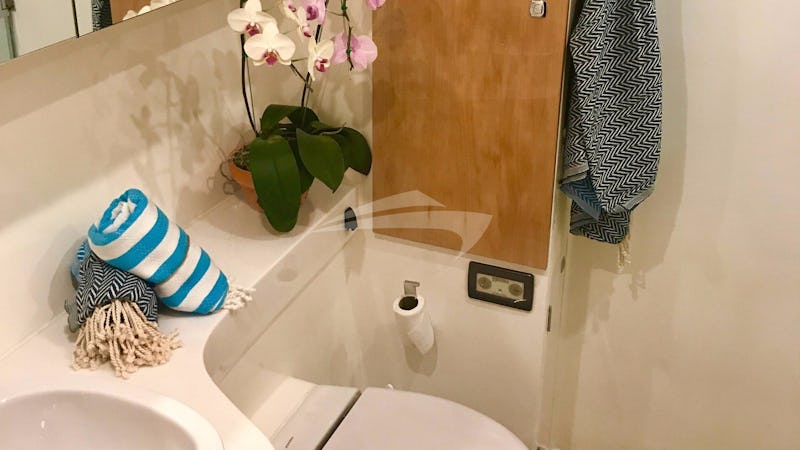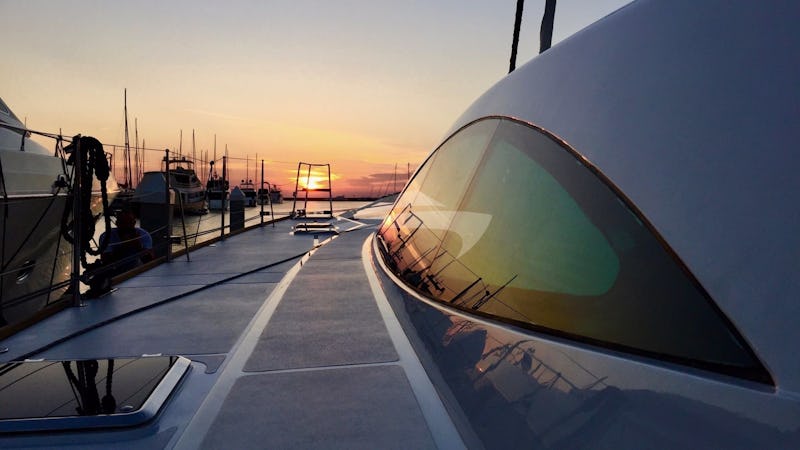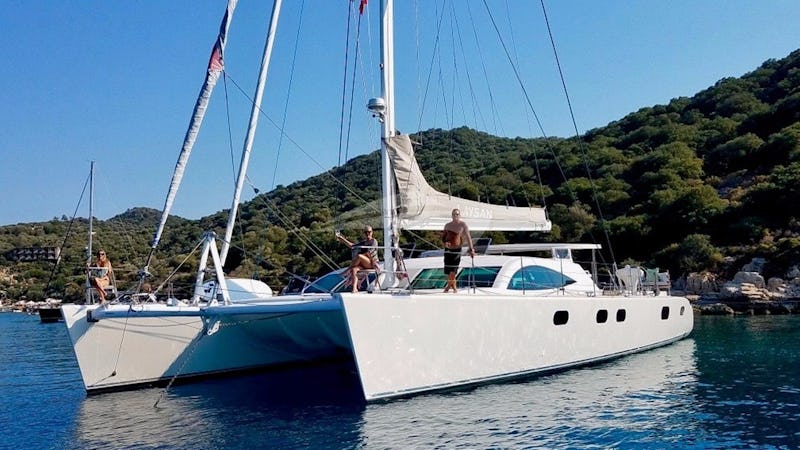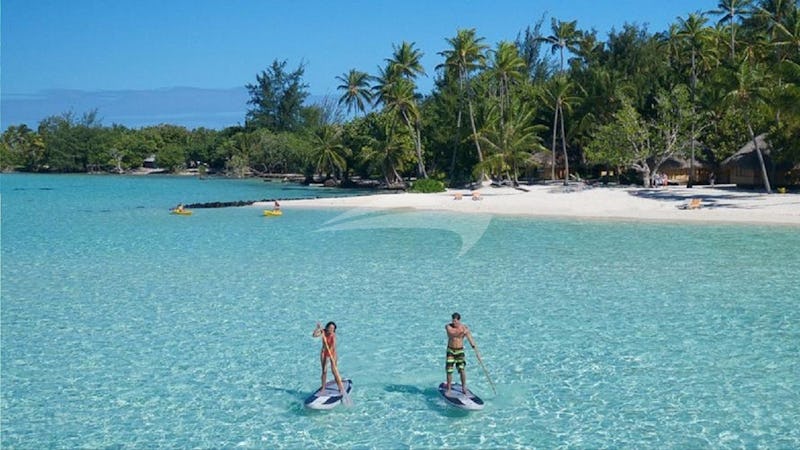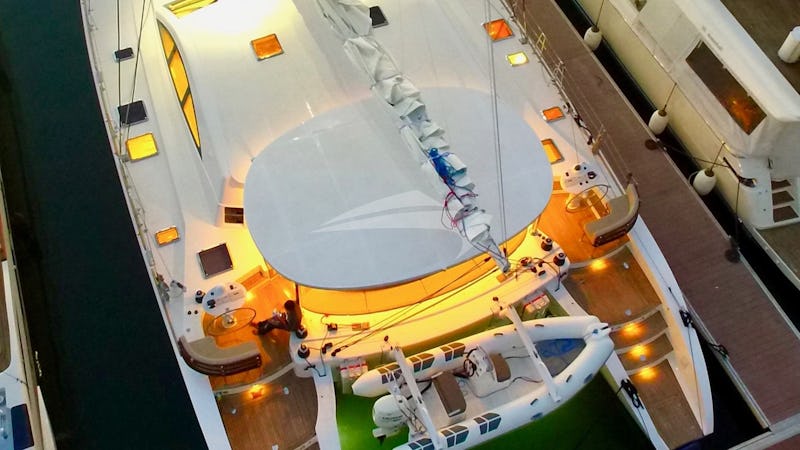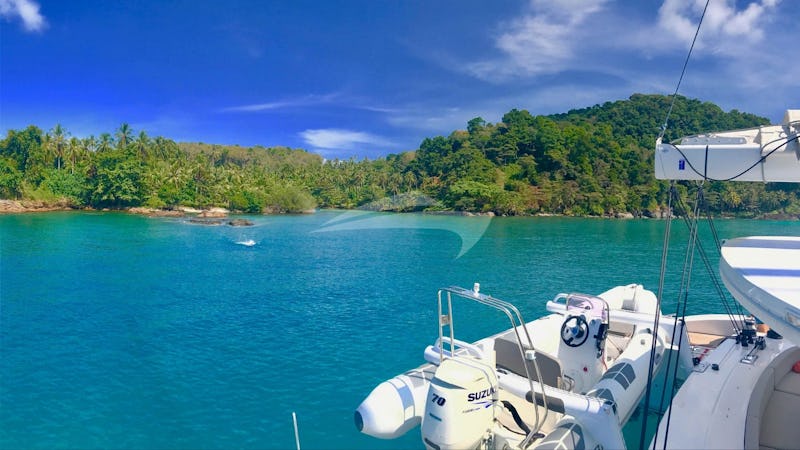 Contact Us For More Information
2 Kings and 2 Queens and 1 Twin cabin. The two aft cabins have the King beds. The twin has upper and lower bunks that kids love, but this is not suitable for grown ups as climbing into the top bunk requires lithe agility. Rain Shower heads with glass door in port aft /fwd and starboard fwd bathrooms. Midship bunk cabin has enclosed shower head with glass door. All cabins have dimmable and reading lights as well as blackout shades, USB ports and independent A/C controls.
Salon Headroom - 7ft
Cabin Headroom - 6ft 5in
Laysan has a special UV water treatment system. This is attached to the bar and ice maker to further ensure pure drinking water. 
Laysan is best suited for 8 pax charters.
9 and 10 pax only available to children under the age of 16 
with accommodation in the Twin cabin. Not suitable for adults.

Captain: Scott Nunnery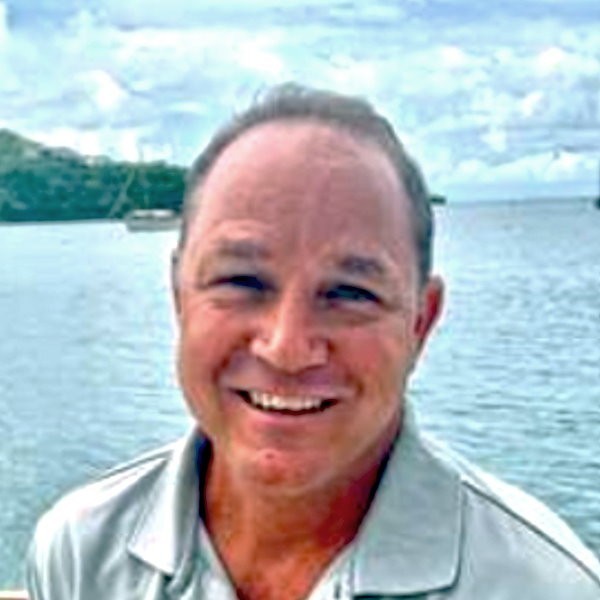 SCOTT NUNNERY STARTED HIS MARITIME CAREER AT 17. GOING TO SEA AS A STUDENT OF OCEANOGRAPHY HE WENT ON TO ACHIEVE HIS MASTERS IN OCEANOGRAPHY AND SPENT 10 YEARS STUDYING CLIMATE CHANGE. SPENDING LONG PERIODS AT SEA IN SOME OF THE MOST REMOTE CORNERS OF THE WORLD COLLECTING DATA. IN 2000 SCOTT DECIDED TO TAKE HIS OWN ADVENTURE AND WENT TO SEA ABOARD HIS OWN 53' ROBERTS SLOOP AND CIRCUMNAVIGATED THE GLOBE. SPENDING LONG PERIODS OF TIME IN THE PACIFIC AND INDIAN OCEANS IN SOME OF THE MOST REMOTE ARCHIPELAGOS. DURING THIS TIME AT SEA SCOTT BECAME A MASTER NAVIGATOR AND STARTED RUNNING PRIVATE AND CHARTER YACHTS ALL THE WAY UP TO 180'. AFTER SURVIVING THE TRAGIC TSUNAMI OF 2004 IN THAILAND, SCOTT MOVED ON TO THE MEDITERRANEAN AND RAN LARGE CHARTER YACHTS BETWEEN SPAIN AND TURKEY AND EVERYWHERE IN BETWEEN. DURING HIS PROFESSIONAL TENURE AS A YACHT CAPTAIN, SCOTT CIRCUMNAVIGATED THE GLOBE FOR A SECOND TIME RACKING UP OVER 200,000 NM AT SEA. OVER THE NUMEROUS CHARTER SEASONS, SCOTT HAS BECOME FAMILIAR WITH JUST ABOUT EVERY ISLAND IN THE EASTERN CARIBBEAN AND THE SPECIAL LITTLE PLACES ONLY A CATAMARAN CAN GET TO. WITH OVER 12 YEARS EXPERIENCE SCOTT CAN ENSURE YOUR TRIP WILL BE SAFE AND ADVENTUROUS AND FULL OF SEA STORIES INTO THE NIGHT.

Guest Comments from Neil & Karen's Previous Yacht Charter                                                                    

Thank you & your crew for a wonderful week on Zingara. Jim & I thoroughly enjoyed ourselves. Where do we begin with the praise?
The British Virgin Islands are such a beautiful backdrop for a holiday. You, your crew & Zingara make it a perfect holiday. Although we
had been to the Virgin Islands before it was great to see some new places with terrific sailing mixed in. The snorkeling was also fabulous
with beautiful fish to see. Your itinerary packed in lots of good fun. There were water sports for the active crowd & peaceful relaxation
& reading for us lazy folk.
Now for the food & service… we were so well taken care of. The meals were all delicious. The variety & flavors were fabulous & we were convinced we were eating healthier than we ever do at home.
Karen is an excellent chef! The whole crew made us feel so welcome
& pampered.
As I said, it was a perfect holiday. My only regret is that I can't visit you every month. Thank you, again & again.
Lisa Chase B.
-----------------------------

I just wanted to take a moment and thank you, Karen and your staff for
providing us with an absolutely unforgettable experience. Your attention
 to detail, your care for us, your pride in Zingara and your gentle way
of communicating, all combined to make our week together one of the most
 memorable of my life.

As I think back on the week I remember your calm command of the boat at
all times. I saw the dedication to safety as your number one priority
but you did it without impacting our experience or sacrificing our
enjoyment. You knew what experiences we would enjoy and you communicated
 that with a quiet professionalism that left us united in our desire to
follow your direction.

Karen's meals were simply over the top. Each one was different and
special. We remarked over and over that the meal planning was balanced
yet just wonderful. Karen handled my special dietary need with
professionalism and an understatement that allowed me to enjoy the trip
without having undue attention focused on it.

Both Darren and Frankie were there for us at every turn without being
intrusive. Both showed genuine concern for us and made us feel welcome
and at home throughout the entire trip. I told you at the beginning of
the week, this trip was the first of its kind for me. You and your staff
 made it truly a "trip of a lifetime". Thank you.

Dana and Debbi D

--------------------------

Glad to hear from you: We have all had a very hectic time since we
returned from Zingara . The gratuity was all of our pleasure, yourself
Karen, Reita & Gys made the whole trip wonderful.

The boat "Zingara" was itself a dream as were the other facilities, the
diving, the"hobie cat" etc, and of course the wonderful scenery and
location. Not to mention great food and copious wines.

The thing that made the trip for Judith & I, was the huge effort
that you all made to make us welcome and happy on board. Nothing was too
 much trouble for you, you were all so professional, smiling and willing
 to help with the slightest whim. Never a sharp word, just a lovely calm
 happy and ultra helpful smiling approach. You were brilliant with
Mike`s boys.. We all had a great time.

So what more can I say except…hope to see you again soon and, most sincerely, very many thanks to you all for a superb trip.

Kind Regards

Mervyn C

--------------------------

Though we travel a lot, this was our first charter, and the headline
cost of Zingara was originally a little daunting. Now however, with the
benefit of hindsight, it seems tremendously good value for what we did
and the enjoyment had. The boat was stunning, the attention to detail
and "shipshape" presentation extraordinary, and you and your crew were
tirelessly welcoming and attentive. The "Grenadines Trip" was the
highlight of our year; we are sold, and I cannot count the number of
people to whom we have recommended the experience. We are going to try
and charter something in the Ionian this summer, but hope to be back
with you to cruise the BVI in 2014.

Thank you again for a brilliant holiday.

Have a happy Christmas and a plain sailing year ahead

Mike, Susan and the H. Boys.

---------------------------

Gail and I are just packing to return home today from little Dix. Thank
you for a wonderful adventure aboard Zingara. She was wonderful as were
you and the crew. You all made sure our every need was met and truly
know how to treat your guests. We will remember this trip forever. Again
 thanks from us both for a wonderful excursion.

Rick Swisher

-----------------------------

Julie and I had a great time with you, Karen, David, and Thryn. We have
been talking about the trip ever since we left, it was fantastic. We
have been to the BVI's several times now and are looking forward to
catching up with you and crew in Grenada either next year with just our
family or in a couple of years with the Bs, Ss, Ss, and Ds. Thanks
again for a great trip!

Brice and Julie

Ps. The dolphins on the second to last sail were spectacular, thanks for organizing that show!

-------------------------------

Thank you for making our week aboard Zingara a relaxing and memorable
experience. Please pass on our compliments to your terrific crew as
well. They all worked hard to make our vacation special. till we meet
again,

Geoff and Sandie

---------------------------------

First let me apologize for being so slow in writing to say thank you for
 the superb job that you did as captain and mate on our November British
 Virgin Islands yacht charter . My wife and I, and our friends, could
not have been more pleased.

You and Karen have the ability to work together so seamlessly to make
the vacation relaxing and free of stress and responsibility. Your
seamanship was outstanding. Having done some boating and sailing in the
past, I was impressed with your attention to detail and safety. Your
planning of the daily itinerary and activities made our trip most
enjoyable—we saw all the "sights" but avoided all the crowds; never
before on six trips to the BVI had I been able to visit Virgin Gorda and
 the caves of Norman island and have the sites essentially to ourselves.
 The special snorkeling sites were great.

The mechanical skills you demonstrated in maintaining an uninterrupted
schedule while dealing with bad generators, frozen control cables, etc.
and never letting the guests have any interruption to their vacation was
 amazing. You and Karen always appeared relaxed, never showing the
stress of the day—or the stress from the guests!

Karen's galley skills were amazing—each meal was a culinary delight,
excellently prepared and skillfully presented—and always done with the
appearance of ease.

The pleasant and engaging demeanor that you both demonstrated was a key
element in making our vacation so memorable. Even rainy days were
enjoyable. Thank you both again for an excellent vacation!!

Sincerely,

Allan B. H., MD


---------------------------------

Mr B. who was just aboard the catamaran is the CEO of one of the most
popular hotels in Boston and owns a few restaurants in the city. He is a
 huge person in the hospitality industry and is fairly picky about food,
 accommodations etc.

I was blown away by his comment to me quoting "this was hands down the
best trip ever. It beat out all of the five star hotels I have stayed in
 over the past 40 years."

He was thrilled with Karen's cooking and thought Neil's personality and
knowledge were a prefect fit for a captain. He is already wants to book
again for next winter.

Thank you Neil and Karen ! (Broker)

------------------------------------

Our most sincere thanks for creating a wonderful "getaway form it all" which was much needed and appreciated by us both.

The weather, sailing, snorkeling, swimming, beautiful anchorages,
laughter and of course, THE FOOD, THE FOOD, THE FOOD! Way beyond
expectation! Thank you Karen!

It is so relaxing being able to turn ourselves over to the yacht and you
 both. Your quiet confidence just knew where to take us and what to feed
 us.

Walking a few hundred feet from the airport and climbing aboard for a week was a joy we will remember forever.

We truly hope to see you both in Newport this summer! Please!

I will try to send you some pictures next week. There are some good ones in my camera.

Happy sailing,

Chris

-----------------------------------

Thank you for being the most consummate hosts, skipper and cook! The
yacht was beautifully maintained! The quiet, thoughtful way you planned
our day, our wonderfully presented and superb meals, the great sailing,
and your most enjoyable company was like sharing a sailing trip with
good friends! Time went by so quickly, yet it seemed like a much longer,
 happier time together than it was!

Bernard had some travel delays (flight cancelled in San Juan) and lost
luggage (now found and delivered), but we made it back to our respective
 destinations safely. He truly enjoyed your recommendation for a
hotel—El San Juan Hotel Waldorf-Astoria! Beautiful setting and wonderful
 sushi!

Our invitation to come and visit or use our homes was sincere. We hope
you will find time to do so. We usually return to New Brunswick in
August or September to visit family. Do let us know your travel plans
and hopefully we may get to see you there!

Thank you again for a marvelous voyage!!

Warmest regards,

Terry and Bernard

-----------------------------------

Thanks again, Neil and Karen, for a great. This was Lora and my second
sailing vacation to the BVI. This is also our seventh crewed charter in
multiple locations. After talking with Lora, we believe this trip to the
 BVI was our best experience. We saw more on this trip than last time in
 the BVI, and we appreciated both the variety of stops during the sail,
and the arrangement of time. We were kept busy, but not overly so.

The meals were exquisite. Both Lora and I noted that each breakfast had
some protein (meat or eggs), which was a first for our experience. The
lunches and dinners were marvelous, and Karen did an outstanding job of
the variety of the meals, the presentation of the food, and taste was
amazing. She also did a great job with one guest who was
vegetarian/vegan.

There was also extra care given to our cabin, with daily checks on the
restroom facility and the bedding. This was in addition to the customary
 Wednesday changing of bed linens.

All in all, the "little extras" were a notch above our previous
experiences, and a very pleasant experience. Thanks again so much for
making our sailing vacation a wonderful time in the British Virgin
Islands. Thanks,

Mike T.

------------------------------------

My husband Sam and I had the pleasure of a sailing excursion in the BVI,
 Captain by Neil and Karen Rock. We would highly recommend this
experience to anyone who enjoys adventure, boating and fine dining.

Neil's extensive experience and knowledge of the sea and surrounding
area is second to none, from the sailing through all the various
islands, to finding small coves and caves in spectacular reefs for
snorkelling, to the quaint beaches and bars ,not to mention his endless
knowledge of the history of the area both on land and sea.

Karen's culinary abilities far surpassed any of our expectations. Her
perfect presentation and balanced meals were enthusiastically awaited
everyday from three meals daily, to snacks, and the much awaited deadly
desserts served after every dinner. Hard to believe that anyone could
prepare such 5 star cuisine while using a small galley on a boat.

Neil and Karen made us feel very secure and at home at sea, and were
always very attentive in taking care of us and insuring we saw
everything we wanted and more. No detail was left undone. They are an
amazing couple who work very well as a team together. Always very
positive, happy and excited to share each days adventure.

We would not hesitate in recommending Neil and Karen as host on any boating adventure that anyone wants or cares to experience.

Sam and Sandie D.

-------------------------------------

Neil and Karen,

I hope you enjoyed a relaxing week off after your week with us. We keep
singing the praises of our trip to our friends and neighbors.

 I have written a few paragraphs about the trip as follows:

"I recently enjoyed a fun filled week sailing the islands of the BVI ".

Our party of five boarded in Tortola where we were graciously greeted by
 our Captain, Neil Rock and Karen, his wife and crew. After Neil's
orientation about the boat and his experience, it was very apparent we
were in good hands.

Karen served us a scrumptious gourmet dinner the first night and
continued to do so at every meal, including appetizers. We couldn't
believe the magic she performed in a galley kitchen. She readily
accommodated one of our group who has an aversion to fish. All this
while handily performing her many other crew duties.

Each evening Neil would discuss the plan/destinations for the next day,
ever flexible to our wishes. He knew all the great snorkel spots and
ferried us by tender to beaches, island bars and shopping. He tutored
those of us wishing to sail with a turn at the helm.

I believe the trip was memorable because of Neil and Karen. They were
very professional and genuinely caring of their guests. I highly
recommend this catamaran sailing vacation."

Wishing you fair winds and following seas.

Bev.

---------------------------------------

Thank you for the note. Michelle is making dinner while I draft our
response. We really enjoyed the entire week spent on the yacht. There
are so many things we enjoyed about the experience it's hard to put it
all in words, but I'll try to note some of the best parts.

We enjoyed the variety of attractions to which you brought us. The tempo
 of the itinerary was perfect for our group. The stops also allowed the
group to split up and do independent activities whether on shore, in the
 water or on the boat. We never felt confined with the other guests or
that there wasn't enough space.

The food was perfect. Karen did an amazing job with the menu variety and
 flavors. We anticipated every meal and left the table happy.

I enjoyed the British humor that Karen downloaded on her IPod and that you played for us.

I enjoyed your sailing and seamanship instruction. I hope to learn more
in the years to come. It was nice to wake up in the morning, emerge
topside and see where the boat was headed each morning. Your experience
and foresight was obvious in how we beat the other boats and tourists to
 the attractions.

We enjoyed getting to know the other guests and we all got along so well. It was a great pairing.

The best part was you and Karen. You guys made the week a success and we
 appreciate your hospitality, thoughtfulness and professionalism.
Michelle and I are kicking ourselves for not getting a photo with you
guys. We returned home smiling and reminiscing about the previous week
on the yacht. We'd do another charter in the future and can only hope
it's as great of an experience as a charter by Capt Rocky and Karen.

Please feel free to use any of our comments as you see fit. Also, We
live in a navigable harbor on the ICW a couple miles south of the
Beaufort, NC inlet and we'll be here until about June. If you are ever
passing through the area and need anything including a place to stay or
wheels please let us know. All the best to you and Karen.
                               

Regards, Bill and Michelle B.

------------------------------------------

We just returned from an amazing vacation sailing in the BVIs. We were
onboard a sailing catamaran for a week with Neil and Karen as our crew.
We could not have planned for a better time. This was our first sailing
experience so we did not know what to expect. We knew the two other
couples on the boat, which happen to be our good friends; and that added
 to our great time there. But what we didn't expect was how wonderful
our captain and chef turned out to be. From the first night's dinner to
the very last breakfast, the menus and food that Karen prepared was
impressive, especially considering the small galley she had to work in.
From steaks to fresh fish with delicious salsa at dinnertime to seared
tuna for lunch, each gourmet meal had spectacular flavor and was
delivered in such a way to look and feel like we were dining in a 5 star
 restaurant. The only hard part was watching Karen in the kitchen
prepping and cleaning all of the time and not helping her (we offered
but she insisted it was our vacation….we did get used to it pretty
quickly, however) We appreciated that the menu, including the
appetizers, were not only tasty, but healthy too. We also were grateful
for the mid week linen change and the daily cleaning of our bathrooms;
which kept our rooms smelling great, something that our friends had not
experienced in the previous sailing vacations they had been on.

Our captain, Neil, was a spectacular seaman whose many years of
experience showed by the way he handled the yacht. He would always get
close to shore or where we wanted to go so we did not have far to swim
or cruise with the dinghy. We also could people watch then too, which
was interesting considering it was difficult for vacationers who
attempted to keep themselves dry by taking a dinghy into shore with
large waves.

Neil would make sure we got to the popular destinations, like the Baths,
 early enough when there was nobody else there. By time the crowds came
we had done our exploring and were ready to leave. Our captain would get
 our input and then share his plan with us each day. We only had one bad
 weather day and our captain planned our journey so we still were able
to get to the destinations that he knew we would enjoy. We really loved
all of the beautiful places that Neil took us to snorkel. He was always
looking for ways to make our vacation more exciting. Even when our
friends left us on the boat while they went scuba diving, Neil planned
for us to have a delightful walk about on an Island and a snorkel. Our
captain would always make sure our boat was meticulously clean, taking
garbage off it whenever he could. We had every imaginable liquor on
board but Neil, halfway through our trip and much to our delight, went
ashore and bought the beer that he heard we liked. He was always going
ashore for ice to make sure our drinks and beer in the coolers were ice
cold also.

We always felt safe and spoiled in Neil and Karen's hands. We would
highly recommend sailing anywhere with these two anytime. Big thank you,
 Neil and Karen, for making our vacation one of the most memorable ones
that we have ever done!!!

Dan and Bonita H.

----------------------------------------

Neil and Karen,

We hope that this finds you well, afloat and enjoying fair winds. We
have experienced a snow storm and cold temperatures. Rose says Hi.

Our sailing vacation was a fantastic time. We had planned it for several
 months and our expectations were high. We were so pleased that the
vacation not only met our expectations it exceeded them. The combination
 of gorgeous weather, breath taking scenery and our own private space to
 tour the islands was fantastic. Neil and Karen were excellent hosts for
 our adventure.

Each day Neil would go over the plan for the day and each evening he
would tell us the next day would be better-and it actually was. Karen
was able to make wonderful meals within the confines of the kitchen she
had at hand.

They were genuine, real and friendly. When, not if, we go again we plan on requesting them for our journey.

Scott and Rose S.

-------------------------------------------

We recently returned from a delightful seven day sailing vacation in the
 British Virgin Islands. Our Captain Neil Rock and First Mate Karen
Rock were first rate!

It was always apparent that Captain Neil Rock made safety a top
priority. This did not deter him from scheduling fun filled days and
evenings. Numerous daily stops were made for snorkeling, swimming,
beachcombing, sightseeing, cocktails and meals ashore. Neil was
masterful at scheduling our stops to popular attractions at less crowded
 times. Captain Neil has a wealth of information about the Islands and
was enthusiastic about each stop along the journey.

In addition to her duties assisting the Captain, Karen found time to
keep our cabins and bathrooms sparkling! She prepared delicious and
nutritious meals that were beautifully presented. One of us adheres to a
 medically restricted diet and Karen graciously prepared separate meals
that met these guidelines and were also delicious, creative, and
nutritious. Karen was always helpful, positive and made every task seem
effortless.

This was our first sailing vacation and the positive experience we had
makes us eager to plan future trips. Neil and Karen Rock have certainly
set the standards high for future crews! We will always have wonderful
memories of a special week.

Bill and Janet R.

--------------------------------------------

John and I went on our BVI cruise with my three children, aged 19, 21
and 22. It was, without a doubt, the trip of a lifetime. This trip was
John's idea—he had gone before. Personally, I was a little nervous
about the family spending six days living on a boat together. But after
 only a few hours, my worries were eased.

Neil and Karen Rock, our captain and first mate, along with five yummy
alcoholic drinks greeted my family when we arrived in Tortola on our
first night. Neil and Karen gave us a run down of some important rules
and some equally important plans for the week, which included
snorkeling, hiking, and sailing around one of the most beautiful places I
 had ever seen.

We did all of this and more. I must admit that we did our share of
imbibing at beach-front bars. There is nothing like having a cold beer
or an island rum drink with your bare feet resting in the sand. Neil
and Karen were the best of hosts—they took care of everything. Found us
 wonderful entertainment, guided us through underwater caves, and cooked
 fabulous 5 star meals three times a day. Not to mention preparing
delicious appetizers accompanied by exotic drinks every afternoon when
we returned from our ever-changing adventures.

In addition to a change to see all the beauty in the BVI, the vacation
was an amazing bonding experience for the family. My kids always
snorkeled ahead and find wonderful fish- sting rays, squid, even
barracuda- and took great delight in pointing them out to us all. We
spent the whole week living together on the boat—just us—and never had
one disagreement or fight.

The key to this great trip was without a doubt, our captain and first
mate, who soon became friends. Neil and Karen could not have been more
fun or welcoming. We were definitely spoiled and we would all love to
have the opportunity to do this trip again – but only with Neil and
Karen Rock!

Yours truly

Judge Lisa L.

-------------------------------------------

We had such a fantastic time sailing with you - thank you both for all
you did to make it an awesome experience! Truly the best vacation. Neil,
 your expertise made the snorkeling, sailing, and on-shore activities
very special. I loved the fact that you knew when to be in a given place
 when others wouldn't be there, which really gave us a unique
opportunity to explore without crowds and see the true beauty of the
BVI.

Karen, your meals were outstanding. You made us feel like royalty! I am
amazed at what you can do in that limited kitchen and you do it so
gracefully and with wonderful presentation.

The two of you make a great crew and if ever we have the opportunity, we hope to sail with you again.

I still feel like I am on the catamaran, my mind and body have not fully
 adjusted to being on land. Sure is an odd sensation! It is also a
challenge to jump back into reality after a week like that. I keep
thinking about what we were doing last week at this time. Certainly way
more fun than grad school, house cleaning, laundry, and running the kids
 around!

Again, thank you and I hope you are enjoying your break! Take care.

Kris

-------------------------------------------

Now that we are back home we have had a chance to reflect on our recent
vacation. We cannot say enough about our trip with you. You both went
beyond our expectations to ensure that this holiday was even more
memorable and special than we had ever expected and we feel very
fortunate that you were chosen to be our Captain and crew. I think that
 we saw twice as many beautiful anchorages than the average boat, thus
we did not miss a thing on this trip.

Neil, your knowledge of the geography and history of the islands teamed
with your knowledge and experience of sailing made our trip even more
enjoyable as at no time did we feel unsafe or insecure. Your confidence
 in everything that you did made it very relaxing for us.

Karen, you performed all of your tasks with enthusiasm and knowledge.
Your skills in the kitchen were admired by all. You had the ability to
make us all feel special and we know that your cooking abilities were
only a part of the job that you had to perform.

This was our "bucket list trip" for the past 45 years and so we want to
sincerely thank you both for making it "the best trip ever".

Michael and Linda K. (Mikie and Mumsie)

-----------------------------------------

Like a kid in Disney Land, we were little kids being led around to see all the wonders of the BVIs.

Karen spoiled us w all our favorite foods and even a few surprises that
became our new favorites. Karen's cooking was fine dining quality w
fantastic presentation. Our beverage of choice was always ready, even
before we realized we wanted it -from morning coffee to after dinner
whiskeys. Happy hour hors d'oeuvres & drinks were waiting our return
 after afternoon outings.

Captain Neil considered the weather, the area & our preferences and
with perfect intuition, took us to all the best beaches, aligning our
dives and snorkels as well as our sailing. We saw fantastic things we
didn't know we wanted to see and then he took us ashore for the most
amusing entertainment. We really felt like we only got the best of the
best and, therefore, made the most of our precious vacation time. Above
that, they were caring professionals of us, as well as the boat, caring
for it as if it was their own. Such fun sitting next to them at the
helm, with Neil explaining why they do what they do, and watching them
sail!

Our vacation was all about us and what we liked to do at our pace. Neil
& Karen were the perfect guides that already knew the area to make
that happen. Everything was just 'taken care of'. What an amazing
vacation. Thank you!!

~Marsha

----------------------------------------

Our trip to the British Virgin Islands is hands down the best vacation
that myself or anyone in my group said they had ever taken. We could not
 have asked for a more professional, knowledgeable and friendly crew in
Neil and Karen Rock. None of us had any idea of what to expect with this
 trip and our captain and host did a wonderful job of creating an
itinerary that allowed us to see more of the BVI than any of us ever
could of on our own. It was quite obvious after a few conversations with
 Neil what an experienced captain he is, so we knew we were in safe
hands the whole trip. We enjoyed learning about their sailing
experiences together, about the BVI's and sailing in general. They
always kept us informed of our upcoming stops, so we knew what to expect
 and Neil had our schedule down perfectly. For the popular snorkeling
spots, Neil made sure we arrived at the best times as to avoid the
crowds. Every stop we made was great, whether it featured great
snorkeling, shopping, happy hour at a beach bar or just a view so
beautiful it felt like we'd stepped into a post card, I am confident we
saw the best of the BVI.

None of us had any huge expectations of food, after all, the kitchen on
the boat was small, what kind of huge productions could possibly be
made? But with every meal, Karen never ceased to amaze us with her
culinary genius. Not only was the food delicious, but the plating and
presentation was also beautiful as well. The running joke amongst our
group was that each dinner was "our favorite meal yet." Breakfast, lunch
 and dinner were always perfectly timed with our various stops of the
day and in between, just as we were starting to think it might be time
for a snack, as if she read our minds, Karen would produce trays of
goodies for us. It sure was hard going back to the real world without
Karen and Neil taking care of us. :)

We had already decided after the first full day that we would be making a
 return trip and began talking about what we would do "the next time." I
 think my entire group is confident in saying that our first sailing
vacations would not have been the same without Neil and Karen.

Meg
---------------------------------------------
It is with great pleasure we write this to sincerely thank you both for providing us with what was possibly the best travel experience we could
have imagined. The time we spent sailing with you could not have been more amazing. From the moment we shook hands with you and boarded the catamaran, we knew we were lucky to have you two as our crew. You did not disappoint at any point during the vacation
We appreciated the care you took to really listen to what our expectations were, the way you planned out each day according to our
wishes, the knowledge of sailing you shared with all of us - it was more than apparent how passionate you are about what you do. Your team work was brilliant. And Karen, can we possible say enough about your fabulous meal preparation? We have never dined so deliciously in our lives! Your amazing menu, preparation, and presentation sent us home weighing several more pounds than when we left.
We always felt attended to, we felt very safe, we could relax and enjoy ourselves with ease during the entire trip. We simply cannot speak with anything but absolute praise for your outstanding customer service. You provided us with a dream vacation and we will always treasure the memories we gained from traveling with you both. Thank you so very much.
Butch A. & Misty S.
-----------------------------------------
I just wanted to write this letter to express how wonderful you made our experience on our vacation. I have been on a couple of crewed sailing vacations, and you both are hands down the best captain/chef we have ever had.
It is very comforting to know that Neil has had many years experience in chartering boats, and he demonstrated his expertise throughout the week that we sailed with you. You took us out of the storms and into calmer seas, and you had a great knack for getting us to our destinations before the crowds arrived. We never had to fight any crowds at any of the favourite destinations that people like to go to.
Karen the food that you prepared for us morning, noon, and night was without a doubt to die for. It was simply amazing, and you catered to
everyone's food like and dislikes. The only down side to your delicious cooking was that I put on about ten pounds. You accomplished this is
such a small galley, and had limited storage for all your food. You always had our rooms tidied, and bathrooms cleaned on a daily basis.
I'm not sure how you found the time to get all this done for us. My hat goes off to you.
You both were there for us no matter what the need may be. It was a pleasure having both of you as our captain /chef. I would highly
recommend you both, and would love to sail with you again one day.
Penny & Rob Mc.
----------------------------------------
When Ryan and I returned home from our trip to the British Virgin Islands we both realized that it was the best trip that we had ever been
on. We have traveled quite extensively so that is really saying a lot!
The beauty of the islands is undeniable and somewhat expected. However what certainly exceeded our expectations was what Neil and Karen were able to add to the enjoyment of our trip.
Neil is the consummate captains He is utterly competent with his knowledge of sailing, the local as well as international waters but also
knows where and even more importantly WHEN to get the most out of the BVI's. He took us to the best hiking, snorkeling, diving spots,
restaurants and beach bars the islands had to offer.
Karen is the consummate chef! She never ceased to amaze us with what she could produce out of such compact kitchen. There was just one gourmet meal after the next! All 6 of us on the charter agreed that the dining could not have been any better.
Aside from Neil and Karen's talents they are an absolute pleasure to be with. It was a joy to be around them each and every day and we cannot imagine the trip without them. Thank you for making our trip the best it could possibly be, we will enjoy our memories of that week for the rest of our lives.
Rhonda B.
----------------------------------------
My husband and I are still talking about what a wonderful time we had sailing the BVI's with Neil and Karen. We could not have asked for a
better captain than Neil. He listened to our requests and set the mood of our week absolutely perfect. Both Karen and Neil were a wealth of
information and we all enjoyed hearing about their past experiences in the BVI. My husband and I had taken a sail trip in 2007 to the BVI and
were amazed how much more we saw and learned on this trip. Neil and Karen truly go overboard and work very hard to make your week
delightful. They reminded us that this was "OUR" vacation.
The food was some of the best I have ever had. What Karen can whip up in that small kitchen galley is incredible. She catered to our dietary
needs very kindly and served us quite a variety of food, one delicious meal after another. This woman can really cook and her presentation is gorgeous.
We thank Neil and Karen for a perfect week but, more importantly for their kindness, grace and hospitality.
Scott and Amy M
------------------------------------------

Below are the guest comments for the previous crew Will & Nicole

July 2018 - A Fantastic Experience!

The captain was kind, warm hearted, an expert in his field, safety first, a great sense of humor. The food was absolutely amazing! Nicole exceeded all expectations of cooking for all of us! Remi is kind and on top of things. He's also smart and what a great swimmer! The crew became our friends and we had a magnificent time! Everything was fantastic! Immaculate and clean, spacious, great decor. We had so much fun planning each day with our team. Our kids had a ball and my husband really enjoyed the diving! What a fantastic chef!

This was an absolutely unforgettable trip! Not only was the boat amazing, the food out of this world, the team amazing, and the views breathtaking; we learned so much about the BVIs, different cultures and the team we were with.
Laysan is simply a fantastic experience that we will do again with the most fantastic crew ever! Thank you so much Will, Nicole, and Remi!!  The G Family

12-19 July, 2018 ~ Exceptional Virgins

We had the most amazing time on Laysan with Captain Will, the most amazing Chef Nicole and the Remigator.  Thank you for always showing us te "better side" of the islands, secret snorkel spots, catching lobsters, fun on the paddle boards, dancing all night on the Anegada, amazing dinners, etc.  This was a trip of a lifetime!  And the crew made it even better.  It was really something special.My favorite beach was White Ba and my favorite island was Anegada. 
Thank you!  Until we meet again.
The best trip of my life!!  In my 18 years I have never had so much fun with such exceptional people.  The cooking is to die for!
The "G" Family
Ammenities
Bluray player saloon, CD library, DVD library, DVD player saloon, Indoor audio system, iPod dock, Outdoor audio system, Satellite phone, Satellite radio, TV saloon, Wi-Fi, 17ft/5.2m Brig 70hp, Beach games, Board games, Floating mats, Kneeboard, Paddleboards multiple, Surf board, Swimming noodles, Tube - towable, Volley ball, Wakeboard, Water skis - adult, Water skis - child, BBQ, Coffee machine, Deck shower, Fishing gear - light, Ice maker, Kosher, Sun cushions, Swim platform, Water maker
Diving
Not Insured, Diving by arrangement, Snorkelling gear, Underwater lighting