Yacht for Charter
MYTHOS
6248
59ft / 18M
| Builder: Ocean Star
| Year: 2008
---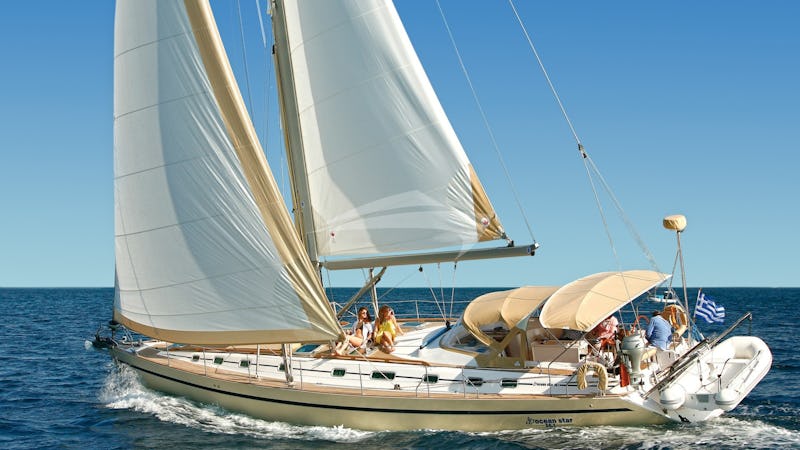 ---
Yacht Charter MYTHOS By Ocean Star
Cruising Speed
8kts (15kph)
Locations
East Mediterranean
From:
$8,540
plus expenses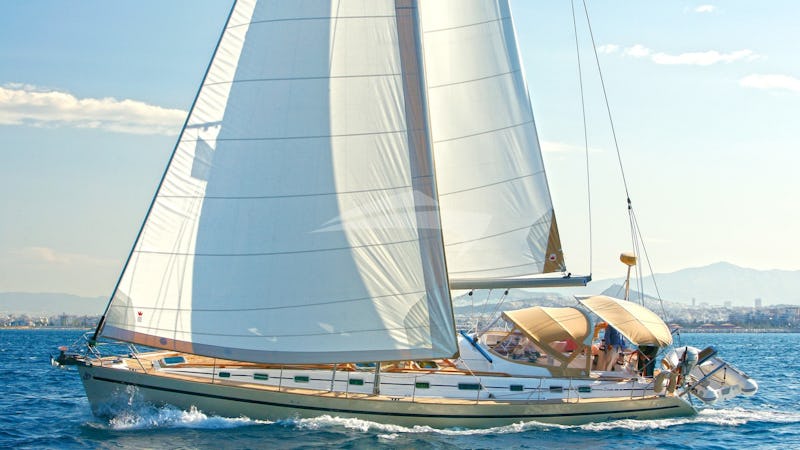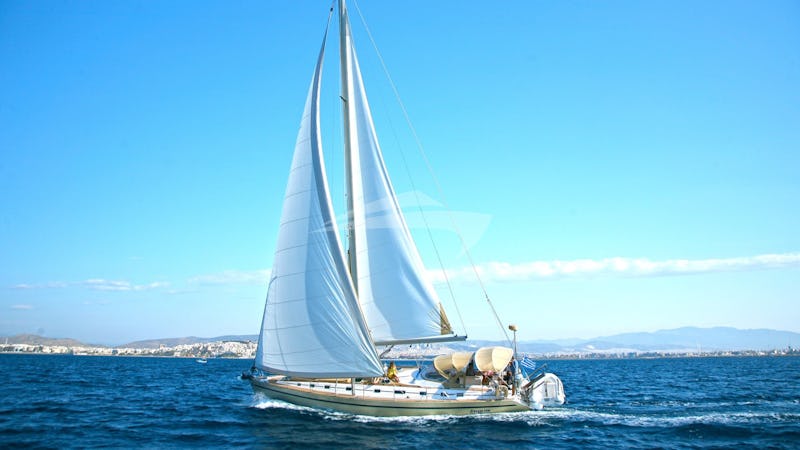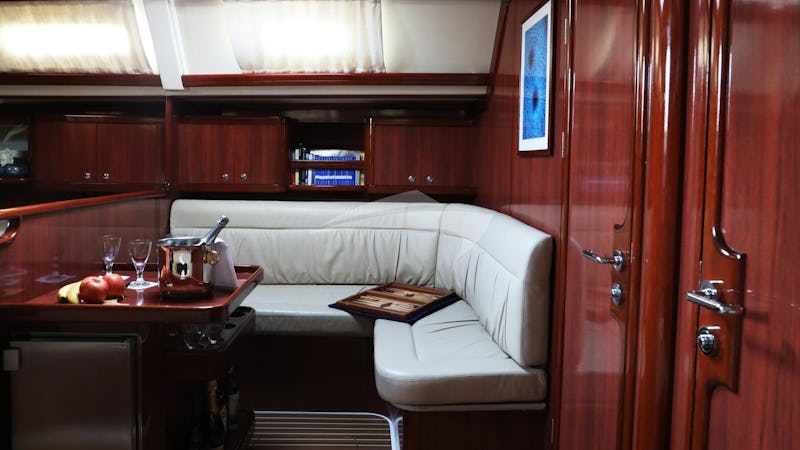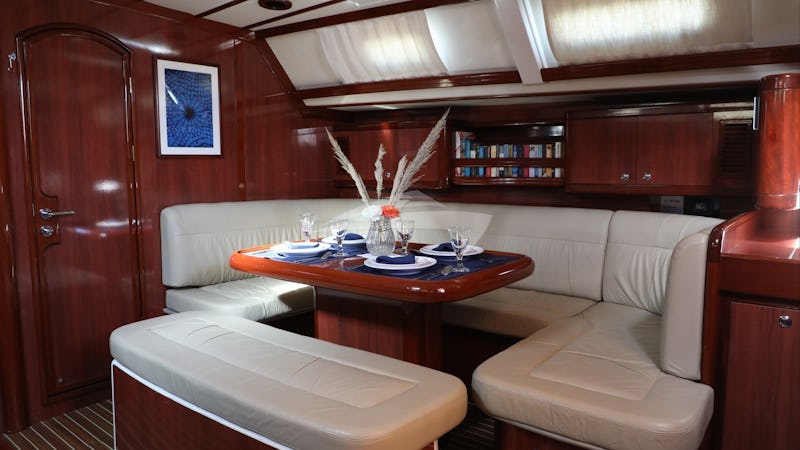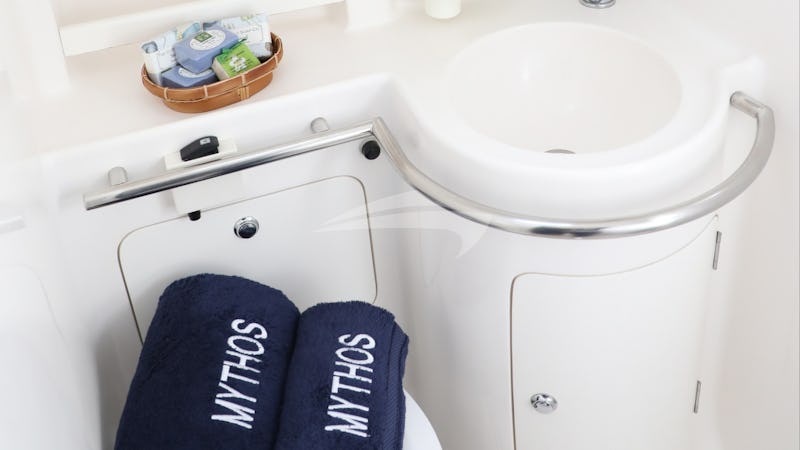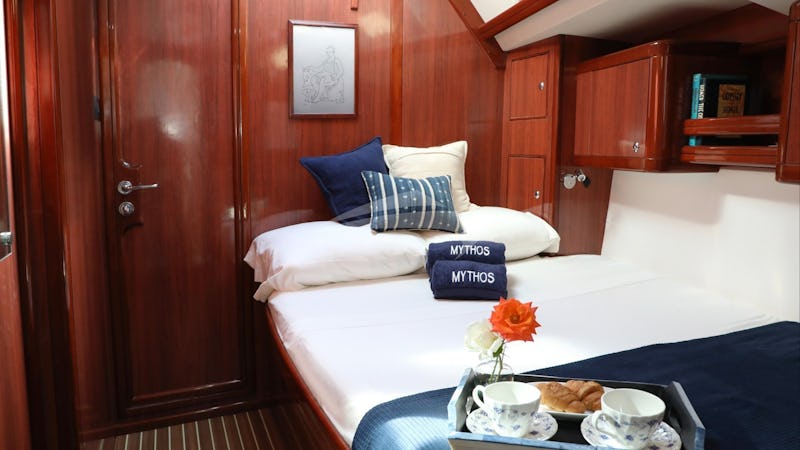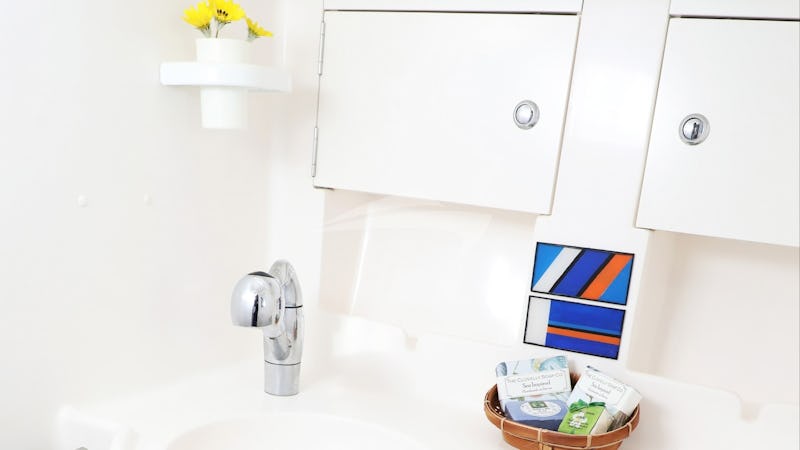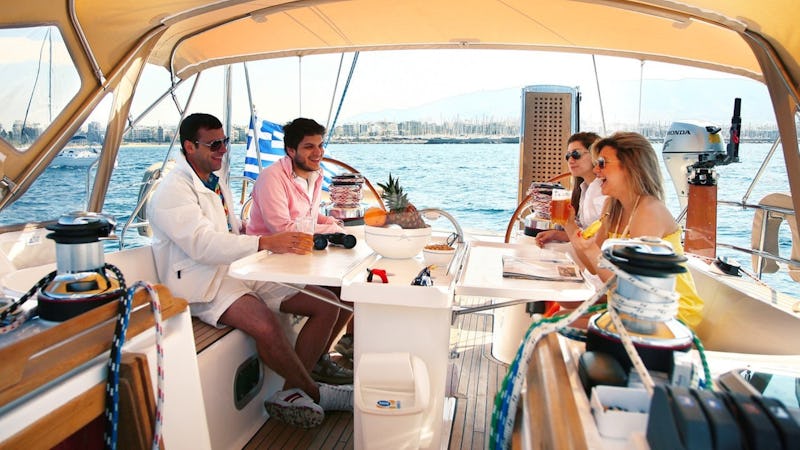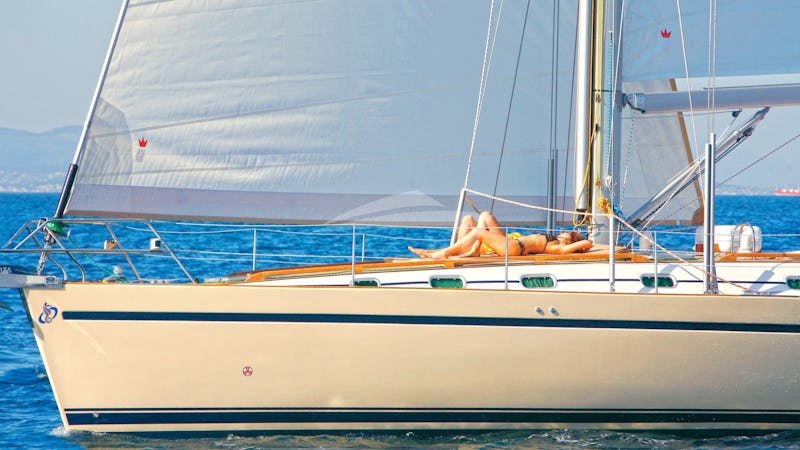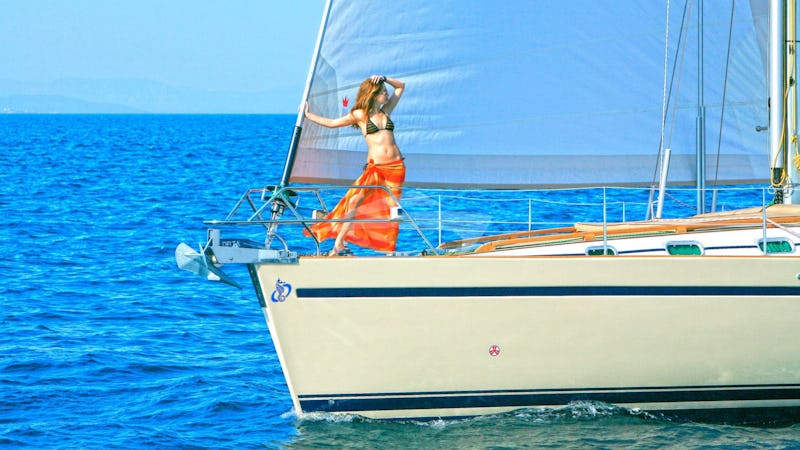 Contact Us For More Information
Captain: Konstantinos Agoros (39)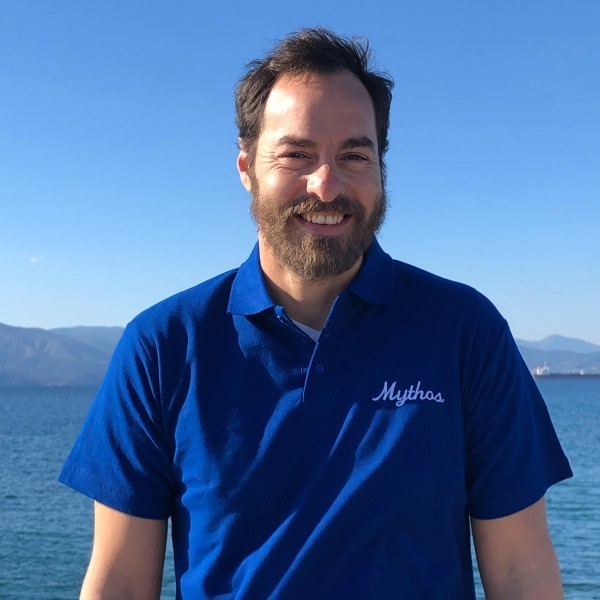 Konstantinos, born in 1982, is a native of Athens and holds a civil engineering degree. His lifelong passion for the sea and nature led him to learn to sail at a young age and that passion eventually grew into a profession first as a yacht technician and then as a professional captain. Kostas holds an Offshore Sailing License from the Yacht Club of Greece and sailed professionally around the Aegean and the Ionian seas before becoming full time captain on Mythos, a limited production exquisitely built classic yacht.
Kostas is fun and personable and enjoys meeting people from all walks of life. His goal is for his guests to have the trip of a lifetime with exhilarating sails, lunch and swimming stops at stunning anchorages and experiencing the many beautiful and varied destinations of his native Greece. Kostas delights in sharing local history, culture and traditions with his guests while ensuring they are made safe while having lots of fun.
Whilst Greek is his mother tongue, Kostas speaks English fluently. On his holidays, he loves to travel the world and in his spare time, he enjoys sports, hiking, photography, reading and playing his guitar.
Guest Comments 2016
06-11/06/2016
Dear Andy & Jessika,
We are truly grateful for this sailing experience. You were both so pleasant to spend a week with…the meals were great and sailing were awesome. Please know you have a special places in our hearts and our home if you are ever in California. We wish you all the best!
A & J,
I 've been on many sailing trips. This one has been by far the best. I wish we would have stayed a couple of weeks. You guys are great hosts.
Thanks for everything!
Hey Andy & Jessica,
Thanks for the great food and sailing! I loved all your stories & advice…hope you have a wonderful wedding and a fantastic life together! (With your cat too) Hope to see you again!
160902 02-09/07/2016
Thanks a lot for the awesome time and the nice stream sailing! I t was really nice to meet you! Big Kisses!
Best Sunbathing Ever! Dolphins, Good Food, Great Captain,Perfect Couple!
Thank you a lot for this perfect week on board!
160331 16-23/07/2016
Dear Jessica & Andy,
When we set sail we desperately wanted to get to Mykonos and we got what we asked for : winds getting at 40 knots with Beauffort 8 for almost 3 days. In spite of  some tense moments and some interesting boat leans we always felt safe in views of Andy an expert sailor ship and Jessica super calm demeanor which was lopped off by same''cooking artistry'' in  any conditions.Beginning our journey under the temple of Poseidon was getting although Poseidon was not to kind to us! All we have an unforgettable experience, makes to you Andy & Jessica. We hope to repeat the experience. We wish you calm seas and many safe waters!
Dear Andy and Jessica,
We can't thank you enough for the absolutely incredible experience we had this week we didn't really know what we were in for, but this surpassed any and all expectations. Thank you for opening us up to new parts of the world. Your jokes, food, kindness, and knowledge of the sea will fill our stories  for months to come! Even though the winds were 40 knots and it looked like we were going to drown, all of that excitement was still fun.
Thank you for your wonderful hospitality. We wish you safe travels for years to come.
All the best!
160826 23/07-06/08/2016
Dear Jessica & Andy,
Many thanks for caring for us so well! We enjoyed in the Ionianand will have so many memories for years to come. Wishing you much success,gentle seas and strong winds!
XO
160167 06-13/08/2016
Jessica & Andy,
We had such a fantastic week aboard Mythos! The boat was amazing, the water was amazing and the food was amazing! Jessica was an exceptional cook host. Thank you for making our trip so memorable &enjoyable!
Thank you for a wonderful week! Thank you for your hospitality and making a wonderful vacation summer!
Thank you for an incredible relaxing week!
PS. At last I didn't drink all the rum on the first day this time!
160935 30/08-07/09/2016
Dear Andy & Jessica,
Thank you both for making these past 8 days a memorable experience. We had a wonderful time sailing, swimming, doing yoga, singing(''in the navy''). Learning Greek history (the Spartans) and of course celebrating both George's of birthdays! We are all sad to be leaving but are taking some wonderful memories with us. We will be back and hope to see you again when we return so we can enjoy more wonderful meals, high winds and dingy driving lessons. Hope you enjoy the wine and what's left of your summer. Thanks again for everything! All the best!
161286 19-27/09/2016
Andy & Jessica,
When we booked Mythos I can honestly say I had a moment of trepidation. We have never traveled by sailboat before. Would it be windy?Would myself or my husband, Robert, become sea sick? What would the accommodation really like? From the moment we stepped on board we felt welcomed like family. Your warmth and Andy's calm in handling the boat put our fears to rest! From the beautiful Greece and flavours to our cabin bed, Andy's humor and Jessica's delightful culinary we all felt just perfect! Even when the seas grew rough and I accidentally felt a bit sick, we had the trip of a lifetime!
160628 01-08/10/2016
Captain Andy & Jessica,
Such a wonderful voyage! Great food, drinks, conversation and questionable cool games! Your love for the sea and sails was contagious!Thank you for your exceptional hospitality and generosity. Hope to see you again!
One of my favorites moments of the past week's cruise arrest delicious stuffed mushrooms with a very, very pleasant sailing with not wind on Wednesday, the night time when we were anchored at Rinia, the fun and laughs we had and the very pleasant atmosphere Jessica and Andy created!
Actually wonderful and memorable week! Greek holiday reassuring us of how beautiful and calming the Greek islands can be! Mythos a lovely boat. Andy and Jessica are wonderful hosts, make us feel at home right from the ''get go''!
Thank you for a wonderful week!
 October 2015
Andy and Jessica,

 


Thank you for one of the most incredible experiences of a lifetime. The places you took us were truly amazing. You guys are a perfect team and excellent at what you do. So many unique memories have been shared including sunset bar, pioneering the rough seas and the legend known as Byron. The sincerity and gentleness were obvious from the beginning of the charter. We enjoyed many great laughs and wonderful conversations. I can honestly say this is a trip I will never forget and will one day share with our kids. I truly do consider both of you friends and know that you are always welcome in our hometown. Good luck with everything and I wish you two nothing but the best. Take Care, Steffen

 



To my dearest Andy and Jessica,

 


From beginning to end there was no experience that was better than this.

 


Andy, your stories and personality were top notch. There was no task that was too complicated for you to undertake. You made the sailor life look so easy. I've never met a person with such a diverse background yet relatable on every level. Your confidence and love for life is extraordinary.

 


Jessica, at first it was impossible to figure out your age. Your poise and grace made this trip unimaginable in comfort. Your cuisine was like a European Bistro in one. You are so humble and beyond your years on many different levels. Thank you both again for the light-hearted jokes and showing us the life as it is lived on the Aegean Sea. Cheers! Yamas! And much love! Until next time, Mel

Andy and Jessica,

 


I truly appreciate everything you've done for us on this amazing vacation! We've has a great time and are completely satisfied with the food, ambiance, company and warm spirits. If you ever come to the States, please look us up. Please consider me as family! Much love from your brother from another mother! –Casey

 



Andy and Jessica,

 


You two are amazing at what you do and complement each other so well. We felt safe, taken care of, and honored to be in your company. From the moment we met in the marina, you greeted us with such a warm welcome. Not only did you bring professionalism, but sincerity in everything you did. Thank you for showing us some places dear to you, and introducing us to Greece with such love. We've created memories of a lifetime, and have every intention of coming back. What a special trip. I will think of you when I see a rare rainbow, play the card game you taught us, make your French mayonnaise, or have a quiet moment by the sea. Thank you very much for your hospitality and friendship. We'd love it if you could make it to our wedding, but regardless, let's touch base from time to time. Love, Alicia 


 September 2015
Jessica and Andy,

 


We can't express how thankful we are to have spent our days in Greece with you wishing you all the best in what's to come, with the construction of your Catamaran and maybe adventures in Asia. Remember that if your red wine spoils add chocolate tequila and break out the cards! Lots of love, Nick & Ashton Bridges, Santa Monica, CA, USA 


 September 2015
Jessica and Andy,

 


Thank you so much for a perfect week, your company and expertise has been amazing and the food fantastic –couldn't have been better. Thanks again –Neil, Emma, Karen & Andy xxx


 August-September 2015
Andy & Jessica,

 


Thanks for a wonderful week! You did a great job dealing with 4 New York women –we all had a blast and you helped create some lasting memories –sunset yoga on a moving sailboat, Austrian skinny dippers, Serbian pirates, Greek wedding crashers, beach to boat delivery for conference calls… to name but a few. Thanks for being so flexible and rolling with it. We had some amazing sailing and a brilliant trip. All the best for your next adventure!! –Kristine

 



Jessica & Andy,

 


Thank you for such a fantastic week of sailing. You were wonderful hosts and made us feel right at home. The daily snacks and drinks were lovely and the recommendations for where we should go each day were stellar! Closing it all by crashing a Greek rehearsal dinner and watching Austrian skinny dip was amazing. Wishing you all the best on the rest of your sails! –Lisa

 



Thank you Jessica and Andy! I had a wonderful week of sailing and island hopping. You made it both relaxing and fun and it was perfect for us. Thank you for being such great hosts and the food was great, the sailing was great and the cocktails were great! Enjoy the rest of your sails and take care. Thank you! –Lyn


 August 2015
Dear Andy and Jessica,

 


I want to thank you for this wonderful week that we have spent here in Greece. All the places we had visited and the experiences that we had felt were wonderful. I hope you finish your wonderful project (the boat and lovely relationship). Wish you luck and happiness. –Luis


 August 2015
Dear Andy and Jessica,

 


What a great and wonderful experience! The locations we visited, swimming in the deep blue, being hoisted up the mast (what a view!), the little bays, all fantastic. But besides all this, your flexibility in accommodating our wishes, teaching us how to sail, teaching our kids to "sail the dingy", generally your hospitality, it was epic! Thanks a million! –Robin

 



This was nothing short of a perfect trip. Great bays, fantastic Cycladic villages, excellent food etc etc etc. We all had a fantastic time and this would not have happened without Andy and Jessica… Besides the perfect professional organization, they were great fun. Part of the team! Thanks and we'll be back! –Patrick

My first week on a sailing boat after my skipper's license was by far one of my nicest summer trips thanks to you guys! Really cool of you to show us around the Cyclades, swim at 250m depth, go up the sail, hold on a rope at the back of the ship while sailing with our bathing suits about to fall off, driving the dingy after a few beers and steering the boat taking on the rest of the sailing boats around. The night at Kythnos with all the jokes of one egged Dave and jail stories were a good laugh. Jessica & Andy thank you very much. It was a great experience! Efxaristo and see you next year! –Alex


 August 2015
The week spent with Andy and Jessica was beautiful and was a new experience that we enjoyed really much. Jessica's cuisine was good and healthy and has been able to prepare also complicated dishes in a small kitchen. Andy was friendly and professional. See you soon! –Stefano, Elena, Lorenzo, Gianluca


 August 2015
We just spent 1 week in this beautiful boat, Mythos II. We just want to thank you for taking care of us. Jessica was so kind and good at doing braids! Andy was a very good Captain and took us to a lot of beautiful places, beaches and villages. It was so funny sailing with you. We will keep in out memory the beautiful time spent with you. We hope that our destiny will give us a chance to meet each other again. Do not forget us –Edoardo, Daniela, Ludovico, Sofia, Caterina, Carolina


 July 2015
I see this book and I have to write/express in few words how this holiday went… what I would really want to write is what this trip meant to me. Unfortunately I am running out of time and paper… This was, most probably, the best and most interesting trip of my life. Mykonos, Ios, Paros, Santorini…in 1 week! Anybody who really wants to visit these places can, but is how you visit a place that helps the memory stay there. And if you want to achieve this, you have to sail. Sailing overnight and sleeping under the stars, travel with dolphins and even having breakfast with a big sea turtle smiling at you. Now, yes, you can probably say that we got lucky, very lucky actually, but I forgot to mention (left it intentionally for the end) who guided us, served us, treated us like princes and helped us to find really ourselves… Andy and Jessica. Yes, I think we are going back to London with 2 more important people in our hearts. Me and my girlfriend spent days and almost every night with them, we spoke about any topic, we drunk together, we laughed even more together, we explored new places, but what we (me and my girlfriend) really did, we listened to their stores, to their adventures and we learned and got inspired…! We got lucky, very lucky yes… we found 2 really good MATES, NICE LADS, and we think we love them… so we will be back next year. –Giampaolo

 



We just want to say thank you from all our hearts, we'll remember you as the kindest, coolest people we've ever met. Every time we'll go abroad, every time we'll do something we'll be thinking about you, especially when we see boats, sea and beautiful landscape. We can't forget Mythos II. We'll take part of you in Rome in our hearts, we wish we'll see you soon and we wish whenever you want to spend some time together and we hope that you can realize your dreams. Thank you for all. –Edoardo, Vincenco


 July 2015
What an adventure on the high seas! We experienced the full range of weather that the Aegean had to offer! We started with calm seas, on which we were able to pull the kids (age 8 –Ulysses and age 11 –Beatrix) behind the boat in a dingy. We saw dolphins in Hydra, there is still a debate whether a dolphin pack is a "pod" or a "show". We were treated to a day of luxury at Meandros. The the "storm". We were on Poseidon's bad side that day but thanks to the courage, skill and calm demeanor of our expert Captain and First Mate we came out with an enviable survival tale. Thank you for making our family voyage such a memorable one. With Love, the Lascaris and Blackman Families


 June 2015
"At least" we arrived in Greece on board Mythos II –we are a party of 8 people, four couples not properly "just married". All fond of holidays in Greece we found. Andy and Jessica welcoming us with champagne and some snacks. In Italy we say "… il buougiorno si veote dal mattino" Everything was perfect, we had a wonderful trip. We enjoyed our stay in Mykonos, Patmos, Paros and we gad nice swimming. Andy is a skillful captain, he is very calm and self-confident. That's why we all feel at ease when he sails. Jessica is kind and witty. She is a good cook as well. She can do everything including yoga lessons and hair styling. In other words a prefect ideal holiday! Many thanks to Andy and Jessica, Ciao and Arrivederci all'ammo prossimo. Luciana & Ciro


 June 2015
Lucky us, we get to be the first to write in the book. Our family 4 including two teen girls has a fantastic 5 days aboard the Mythos II. Andy was a masterful captain and Jessica, our charming and witty can do it all first mate, made out home on the water comfortable and fun. We were treated to great champagne and sweet treat surprise for our anniversary which was wonderful! Andy has great suggestions where to sail and once there the sites to visit and history. We rented mopeds to see more of the authentic Greek life and when there was a mishap we got bandaged up by nurse Jessica. We could not have asked for a more memorable trip and will tell our fabulous stories back home, play our new card game and recommend this fine yacht to anyone who will listen! Many thanks to Andy and Jessica! We hope to meet you in San Francisco! Love, Janet, Mark, Blaire and Grace
Ammenities
10ft/3.2m RIB 5hp, Beach games, Floating mats, Fishing gear - light, Ice maker
Diving
Not Insured, Snorkelling gear