Yacht for Charter
OMBRE BLU 3
7354
67ft / 20.7M
| Builder: Sunreef Yachts
| Year: 2010
---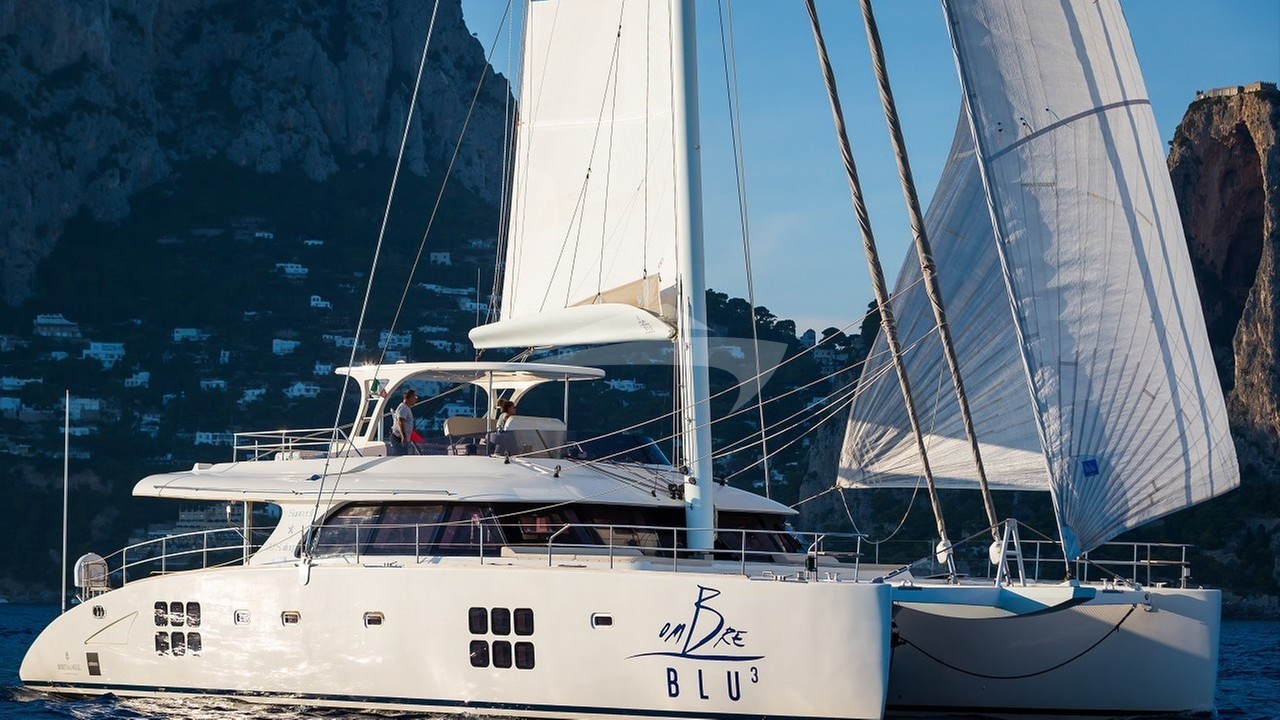 ---
Yacht Charter OMBRE BLU 3 By Sunreef Yachts
Cruising Speed
8kts (15kph)
Engines
2 x Yanmar 4LHA-STP, 4 cy at 75hp
Locations
East Mediterranean, West Mediterranean
From:
$33,646
plus expenses
Contact Us For More Information
The yacht is accommodating up to 8 guests maximum as follows only :
6 adults and 2 children up to 15 years in 3 double and 1 twin bed cabin.
Starboard side aft: the MASTER CABIN with a double bed (165x200cm), desk/beauty table, armchair, a huge cupboard space and bathroom with double sink, separate shower and toilet.
On the forward starboard side: the GUEST CABIN is equipped with a bed 165 x 200 cm and an huge open rain shower on teak flooring.
Portside: 2 adjoining cabins where the bathroom is accessible via the main DOUBLE CABIN (bed size 165x185cm).
The connected TWIN BED CABIN solution entails a sofa and beauty table (as a suite when used by a couple) and a single fold-up bed which forms a bunk bed (each single bed size 77x197cm) , ideal for children up to 15 years old maximum also 50kg maximum for the upper bed bunk.
The 3 double cabins are equipped with Dyson hairdryer, Dyson fan and private A/C control.
The master cabin is also equipped with a safe.

Captain: Francesco Candiani
- OMBRE BLU ³ CREW FULLY VACCINATED -
Captain / Chef: Franceso CANDIANI
MCA Master of Yachts Captain 200gt/00W 500 gt
RYA Ocean Yachtmaster - Sail
Master 5 Skipper - Power (marine & Safety Tasmania, Australia)
Unlimited Italian sail/motor to 24 m
PADI MSDT Master Scuba Diver Trainer
Degree Law, University of Milan
Masters IT Law, University of Bologna Maritime
Francesco is from Venice. After practicing Law in Milano for many years, he took to the Ocean. He is your Head Chef on board and will ensure you enjoy the finest of regional dishes, matched with his selection of local wines.
Francesco is from a family passionate about cooking, in fact, all of his three siblings are currently running their own Italian restaurants. He is the ultimate creator of new and beautiful dishes and will ensure that your dining experience is number one.
He also enjoys explaining the various types of food from the different regions and treating you to tastings, such as olive oils and cheeses. Francesco is a PADI Master Dive Instructor and courses are available on board.
Melissa and Francesco are a husband and wife team of experienced sailors and international commercial ship Captains and are the managers of your crewed Yacht Charter in Italy. After 10 years of running their previous catamaran OMBRE BLU (a 50 footer), they decided to accept an offer to manage a new and much larger catamaran, which her owners appropriately named OMBRE BLU ³.
Co-Captain & Stewardess & Chef: Melissa Candiani
- OMBRE BLU ³ CREW FULLY VACCINATED -
Stewardess/Chef Melissa CANDIANI
-MCA Master of Yachts 200gt/OOW 500gt
-Yachtmaster Ocean
-Massage Therapist
-Dip. Business Management
-Dip. Human Resource Management
-Dip. Remedial / Sport Massage
Melissa was born in Tasmania, a location famous for sailing. She eventually moved to Sydney, where she studied business and human resources management.
During her corporate career she managed the start-up of a professional football team. After four years of handling player contracts, sponsorships, publicity and special events, she decided on a change of pace and accepted an offer to crew on an ex-Sydney-to-Hobart racing yacht. The experience led to a permanent career decision.
A fully qualified massage therapist, Melissa combined her massage expertise with her love of the sea and secured contracts on board 'Superyachts', working as a private therapist for clients such as Rupert Murdoch & Cherie Blair.
She earned her first international skipper's ticket in Cape Town, South Africa in 2006.
After meeting and marrying Francesco Melissa moved to Italy, where she has become fluent in the language and has developed a deeper understanding of its culture and people.
Steward & Deckhand: Marlowe Unso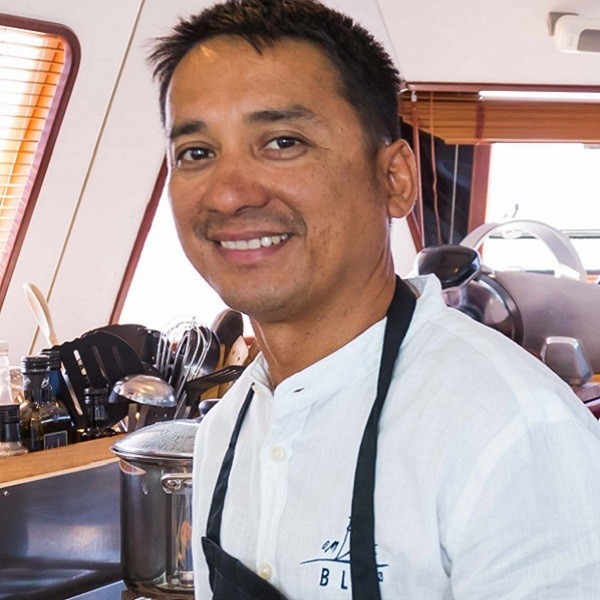 - OMBRE BLU ³ CREW FULLY VACCINATED -
Deckhand/Steward Marlowe UNSO
Languages: English, Basic Arabic and Tagalog
- Powerboat Certificate Level 2
- STCW '95 Certificate
- Diver Level 2 - PADI
- Steward/Mess man – Certificate of Competency
Marlowe looks back on more than 17 years of maritime experience of which he spent 14 in the Yachting industry.
His experience extends from charter to private yachts, working his way up through different positions before in 2018 he joined S/Y OMBRE BLU ³ as deckhand/Steward.
Marlow is enthusiastic about his job and a man of integrity.
STEWARDESS: Arfel CUMAN
STEWARDESS: Arfel CUMAN
Philippino
Languages: English,
Arfel was born and raised in the Philippines. Since completing her higher education, she has worked at 5 Star Hotels where, she was responsible for Housekeeping. She has also worked as a Stewardess on a luxury Catamaran in Greece.
Arfel, in her role as Stewardess, adds an additional energy to the OMBRE BLU ³ family… and she really is family, as she is Marlowe's Sister-in-law!!
Arfel has a wonderful, bright and happy nature and will assist to ensure your vacation is perfect.
She is also a fully-qualified Massage Therapist, which means that we now have two therapists on board. Arfel, looks forward to meeting you soon!!
September 2020 - Aeolian Islands, Sicily - Italian Guests

Dear Melissa, Francesco & Marlowe
We are a numerous group, but with you, all of our needs were satisfied. The tour was perfect and every island and every night at anchor couldn't have offered better sensations. Guaranteed fun! And top food! Thank you for having given us such a splendid vacation. Ps. More compliments, we forgot to say that the boat is so well looked after and maintained! GR
August 2020 – Aeolian Islands, Sicily – Swedish Guests (second trip on OMBRE BLU ³)
Dear Melissa & Francesco, Thank you for yet another absolutely unforgettable week in the mesmerizingly beautiful archipelago of the Eolian Islands. However, I must fault you. For one thing my waste line. Francesco's cooking (and Mel's Muffins! Darn those Muffins!) which we thought could not possibly get better. Was just simply divine. We would rather eat your cooking than in a 5-Star Restaurant ashore. But these trips are truly made special by you two. We are grateful to have been introduced to you and this lovely way of exploring beautiful places.  You are very special, incredible even. The service, hospitality and atmosphere are honestly fantastic. Can't wait for new adventures with you next year. xoxo D++++ Ps. Covid felt like a distant place with you all.  On this amazing boat. We felt so safe and you were all so conscientious. Meanwhile, the pandemic rages in other places OMBRE BLU ³ was truly the sanctuary we all savely needed. D.C  
July 2020 - Amalfi Coast - UK Guests
"Dear Melissa, Francesco and Marlowe,
We had an unforgettable journey on your beautiful boat.  You have thought about every detail, from the elegant fabrics and timeless decor to lounging and seating for every occasion a sea and ashore.  The food is delicious, perhaps too yummy, as we are all bursting out of our clothes.  We loved exploring the coastline, swimming in the magical inviting waters, catching jellyfish, sailing, tasting new wines and local delicacies. You have given us a truly unique family holiday.  Whether relaxing or active, we have loved our time aboard OMBRE BLU ³.  From our hearts we thank you.  Until our next excursion!"
July 2020 - Naples to Pontine Islands - Italian Guests
"We thank you for this splendid week during which, with your care and attention to every detail, you have made us feel at home. We have seen the most splendid places and eaten amazing food. Your beautiful "home" equipped and ready to provide fun always, together with your kindness and hospitality have made our vacation unforgettable "home is where the heart is" and we leave a piece of our heart behind.
With affection, see you soon!
Paolo, Tatiana, Andrea, Silvia, Nicola & Marta
September 2019 - Sardinia - Two couples, repeat guests from the USA, have their first experience on the new and larger OMBRE BLU ³.  They also invited another couple along, who were first-time charterers.
Dear Francesco, Melissa & Marlowe
Too good! 70ft Seriously!! Boat is Awesome. Food as always was beyond exceptional. Ya'll are the most gracious hosts.  Thanks for all your effort and expertise. Marlowe was amazing. Rooms always perfect. Too good. We shall return! Spencer & Amizzetta
Francesco, Melissa & Marlowe
We love the new boat! Great time, great food, great Crew. Than you for being so attentive and fun. See you for our 4th charter in 2021. Paul & Barb
Melissa, Francesco & Marlowe
Our hearts are full - thank you for making our first experience a perfect dream. You have set the bar high for any comparison... ever! Laughter every night. Until next time. Leslie & Bill
August 2019 - Sardinia/Corsica - Repeat Guests from New Zealand
Dear Marlowe
Thank you soooo much for everything you have done for us. Your eye for detail is awesome. Your happy face is wonderful to see every day. Again thanks heaps. Cheers Tory & Harry
Melissa & Francesco
What can I say?? Amazing again.  Food booze and fun. Again only one hangover from one of us!! Ouch :) So cool to catch up with our awesome friends. See you hopefully in NZ in the not too distant future. Love you loads. Us 2 Crazies, Tory & Harry xoxoxoxo
August 2019 - Sardinia/Corsica - UK Guests
Dear Francesco, Melissa & Marlowe
Thank you for having us on board OMBRE BLU ³. The kids and I had a trip of a lifetime and saw parts of Itlay through new lenses. I know you both put so much thought and care in everything you do - it really does show! We hope to see you next year.
With Best Wishes Wendi
August 2019 - Sardinia - Comments from kids from the UK

Dear Melissa, Francesco & Marlowe
Thank you for making our holiday so memorable and amazing! I'll never forget all the cool things I've done this week, such as Pizza making and Scuba Diving for the first time, as well as the amazing places and the yummiest food ever! All of the extra care you put into every little thing has made this trip extra special. Hope to see you in the near future! Much love Shaan
Dear Melissa, Francesco & Marlowe
Thank you for such a fun holiday on the boat! I really enjoyed the delicious meals :) The chicken was seriously amazing. Thank you for a super fun Pizza night too :) I will always remember this trip and its extremely good peach juice. I thinks its impossible to forget Mario the gay and psychotic chicken!! Best wishes Ayla  
July 2019 - Sardinia/Corsica - Repeat Guests from Australia
To Dear Melissa & Francesco & Marlowe,
Allora!! Thank you so much for a perfect 10 days! Such a special time spent together and wonderful to share with our family. Food and Wine exceptional - again! Loved exploring beautiful Sardinia & Corsica - stunning!! Really appreciate all your hard work, We were totally spoilt & loved every minute of our trip xoxo Sue & Bruno
To Melissa & Francesco & Marlowe
Thank you for 10 days of blissful sailing around Sardinia & Corsica. Everything was amazing! Thank you for introducing us to Hugo Cocktails, Phi Beach Club and skillet apple/pear Pancakes. :) Tash & Cameron
July 2019 - Sardinia/Corsica - Repeat Guests from the USA (first time on the new and larger OMBRE BLU ³)
Dear Melissa, Francesco and Marlowe
Thank you for an amazing trip... the boat is amazing, the food magnificent and all your attentions were the best xo
Thanks for a really fun Summer. We all love the new boat!! JP
Dear Melissa - Francesco - Marlowe
Thank you for the amazing week. I love the new boat :) Love you guys!
July 2019 - Sardinia/Corsica - Repeat Guests from the USA - first time on the new and larger OMBRE BLU ³
Melissa, Francesco & Marlowe
Two words... perfect Trifecta!!! Three different locations, three different sets of friends and family on each charter but the one consistent item is the amazing, friendly, knowledgeable experience you provide every time! Your in-depth knowledge of each location enables us to experience all of the beauty of Italy (with no planning on our part :)) The Ombre Blu culinary experience is on par (or better than) many Michelin Star restaurants! We look forward to seeing that Cookbook someday! Thank you for helping us create more memories that will last a lifetime! Until the next time... With love Rosanne & Chris
 June 2019 - Amalfi Coast & Gulf of Napes - Guest from the USA
Thank you, Francesco, Melissa & Marlowe, for a fantastic week aboard your beautiful boat! We have so appreciated your suggestions and getting to know this part of the world, but most of all how you've taken care of us while we've been here. 
OMBRE BLU ³ makes a beautiful home base, and we've loved every minute aboard. Thank you also for the fantastic food! Truly we are going home 'fat and happy'! Much love Brit & Phil 
*** We hereby award Francesco 3 Michelin Stars - The Kids
Ammenities
Cell phone, Cinema, DVD library, DVD player saloon, Indoor audio system, Media movie server, Satellite TV, TV saloon, Wi-Fi, RIB, Castodi 125 Turbo Diesel Jet tender - 5 m - 7 pax, Assorted water toys, Floating mats, Kayaks multiple, Paddleboards multiple, Tube - towable, Wakeboard, Water skis - adult, Water skis - child, Coffee machine, Deck shower, Light fishing gear, Ice maker, Sun cushions, Sun loungers, Swim platform, Water maker
Diving
Insured, Snorkelling gear, Wetsuits, 8 Tanks, 8 BCs, 8 Regulators, Master Scuba Diver Trainer,
PADI registered diving center. It is possible to organize diving courses and issue diving certificates on board.