Yacht for Charter
PROJECT STEEL
6250
110ft / 33.8M
| Builder: Bugari
| Year: 1993
---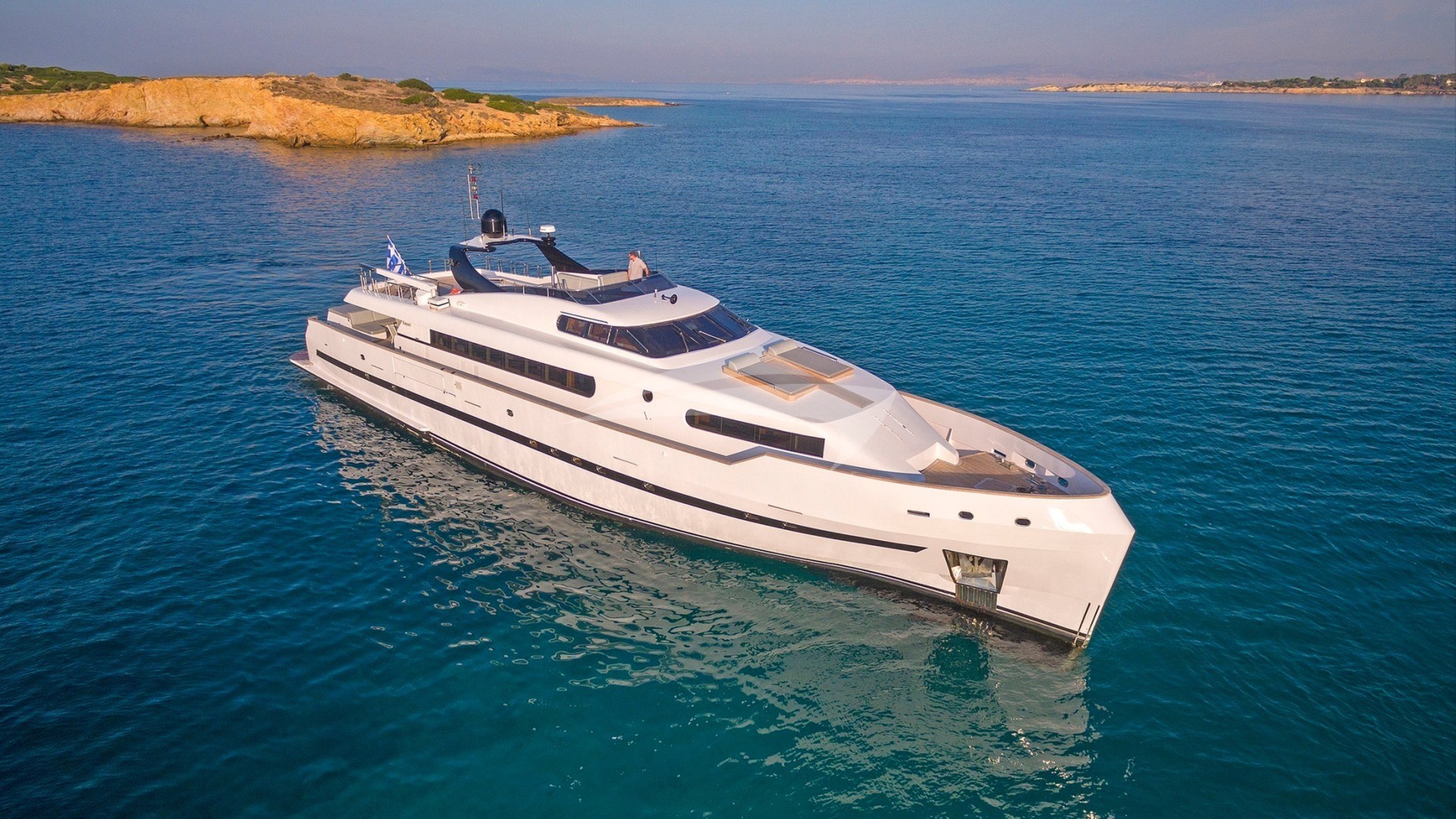 ---
Yacht Charter PROJECT STEEL By Bugari
Designer
Vincenzo Ruggiero
Cruising Speed
11.5kts (21kph)
Engines
2x 630hp Caterpillar
Locations
East Mediterranean
From:
$39,058 - $58,587
plus expenses
Contact Us For More Information
Number of cabins: 5
Cabin configuration: 3 Double, 2 Twin
Bed configuration: 2 Pullman, 1 King, 1 VIP, 1 Double 4 Single
The double cabin is on the main deck and it is actually a playroom converted to double cabin.
12 guests in 1 Master Suite (King), 1 VIP (Queen),
1 Double convertible to playroom & 2 twin cabins each with an additional single upper pullman, all with en-suite facilities and individual A/C control

-Main Deck Cabin : 220 X 220 cm
-Master Cabin : 200 X 200 cm
-VIP Cabin : 190 X 200 cm
- 2 Twin Cabins (single beds) 100 X 190 cm

Captain: John (Giannis) Georgas (41)
John was born 1980, in the USA. He came to Greece at the age of 7 and has lived in Athens ever since.
He started sailing in small dinghies at the age of 8 and in the following years participated in various sailing races and regattas of national and international level with excellent results. He has been a member of the Greek national Sailing team for more than 5 years. John has also worked as a Professional Skipper on offshore Racing Sailboats, International Delivery skipper for Princess Yachts (2005-2011), a Sailing instructor (1998-2008), Captain on the Motor yachts "Touchdown", "Tools" and "Blue My Mind". During the winter seasons John has worked in the Merchant Marine Industry as a Marine Superintendent onboard Oil and Chemical tankers for Elmira Tankers and Blue Sea Shipping Monaco. John has graduated from Nautical high school for the proficiency of Merchant Marine deck officer and is holder of Yacht Master Offshore commercially endorsed licenses for both Sailing and Motor driven vessels. He also holds Certificates for First Aid, Passenger Safety, Security officer, Life Saving and Fire fighting, public responsibilities as per STCW. requirements and speaks fluent English and Greek. John is single and his hobby is sailing.
Chef: Antonios Zafiriou (34)
Antonis was born 1987 in Athens Greece. He has studied at the well-reputed "LE MONDE" Institute in Athens. After working his way up from third chef to head chef in many highly recognized restaurants in Athens he moved to Paris in order to continue his studies in Cuisine and Patisserie at the << Cordon Blue>> institute.
Antonis has also completed seminars for Espresso-Cappuccino and has good knowledge of Bar-tending and Cocktails. After returning from Paris he successfully stated to work as head Chef onboard the "M/Y NITTA V" , "M/Y DRAGON" and many years on board "PROJECT STEEL". He speaks fluent English and basic French.
Deckhand & Steward: Thomas Belsis
He has Joined yachting in 2013 of full time professional experience working on board private and charter yachts.
He holds a license as a skipper and his big love is sailing.He has many technical skills, and is a hardworking, energetic and enthusiastic member of the team.
Thomas speaks English, he is single and his favorite hobby is fishing.
STEWARDESS: Olga Kothi
Olga has started her work life in the service department of various restaurants, aiming to uplift her service skills and customer service techniques. Her love for sea made her jump in the sailing and yachting sector working as a cook/hostess and chief stewardess of various Motor and sailing yachts. Olga's quiet and gentle personality ensures that every guests' needs are met with a genuinely warm smile. Her goal is that every guest of PROJECT STEEL leaves the yacht with memories for a lifetime!
STEWARDESS: Katerina Kalogiri
Katerina was born in the beautiful Island of Zakinthos. She has worked as a waitress in many high end restaurants since 2015, first in her hometown of Zakinthos and later in Athens and Mykonos. Her love for the sea helped her take the decision to join the challenging industry of luxury yachting. After completing her first season in 2019 she has started her journey to continuously evolve and improve her skills providing exceptional service and care to her guests, always with a smile. Her kind and caring character will make all guests feel at home. Katerina also holds a degree in Maritime economics and management and speaks Greek, English and German. She has been an active athlete in the past competing in volleyball and gymnastics. She also enjoys dancing and swimming in her spare time.
ENGINEER: Konstantinos Thermos (37)
Konstantinos was born 1984 in Athens Greece. He started his professional carrier on Ferry boats and he joined yachting industry in 2009. Konstantinos has graduated Merchant Marine Academy of Hydra. He also has valid certificates for Life Saving and Fire Fighting, Ship security, safe navigation and speaks fluent English and Greek. Konstantinos is single and his Hobbies except for sailing are, fishing, music and travelling.
Guest Comments 2016
11-18/05/2016
For the best chef and the best crew. They do the best job for us. They treat me and all the group in a messing way. The trip is excellent in everything. This memory is going to stay in our heart forever. Thank you soooo much for what you did for us.
Best wishes for you all. God bless you!
Saudi Arabic
22-27/06/2016
Thank you for a trip of lifetime. An amazing experience and priceless memories. Thank you for the wonderful service where nothing was too much trouble and for spoiling our very lucky children. We will remember you all forever and will hopefully get to travel with you again one day.
Melbourne, Australia
06-13/07/2016
We are two families from Atlanta, Georgia on our first trip to Greece. This is what we did NOT like about our voyage on Project Steel…
Much Love!
This is what we LOVED :
1)Captain John : If you look up ''captain'' in the dictionary, John's name is listed. We always felt safe in his capable hands.Best Captain ever!
2)Peter(Takis) : Such a caring Indiradual who was always there to help (and secure wakeboard and paddle boarders).
3)Anthony(Adonis) : He perpetuates beauty externally and though hs preparation of food. Everyday was a culinary adventure.
4)Nick(Spiderman) : He made sucks we all had a fabulous time with him on water sports, especially Dominico!
5)Maria. Maria embodies everything that is beautiful about Greece! We begged her to go home with us.
6)Roger : the first person you see when you wake up and the last you see when you go to bed. Always smiling!
Project Steel was a great boat but without this crew it would not have been as wonderful. Because at the end of the day, it's about thepeople along the journey with you!
05-12/08/2016
Over and over again the crew of Project Steel exceeded our expectation! Many thanks for every thing we look forward to be with you next August!
160185 25/08-01/09/2016
A perfect holiday on board Project Steel. Hoe relaxed it made us all feel.
The staff so professional, friendly and kind doing all the toy cars they didn't seem to mind! Exciting water sports especially the jetski. Brave little Max out in the deep sea! Antony, Maria, Roger, Peter, Nick and Captain John will all of the children his biggest fans. Amazing lunches,dinners and chocolate cakes, sorry for all the requests for milkshakes!
Salads, grocery, but we still asked for more getting our appetite swimming back from shore! Max as a Captain in sunglasses and hat and Teddy reading the tides currents and maps! Maria and Leo new best matters going not to be tripped up carrying the plates! Always looking to be on the biggest boat but we know this is the best ship afloat!
From ages 2 to 72 we have had the best holiday it's all to sad we want to stay!
Thank you for absolutely everything you are ALL AMAZING and we wish Nick a speedy recovery!
XXXXXXXXXXXX
02-06/09/2016
Project Steel!
The week was a dream. Thanks for showing us a little bit of Greek-magic-from your azure waters to your unparalleled flavors to your cliffallotted towers and overall wanting and the Greek people. This will go down asone of the best vacations of lifetime, and it was all due to your incredible kindness, hard work and perfect planning. Thank you we will be back!
The Wyatt Family!
07-14/09/2016
Thank you so much for the most amazing week! Everything about the holiday was superb with excellent food, lovely staff and muchbeautiful boat!
Thanks again,XXXXXXX
A wonderful trip, thank you all!!!
17-24/09/2016
Project Steel,
Words can't express what wonderful week we had. Absolutely perfect. Thank you for everything. Keeping us safe, feeding us amazing food,sailing though storms, filling the hot tub, staying up too late, and teaching us Greek and so much more. We will miss all of you!
 September 2015
Thank you for an amazing experience. Everyone was fantastic. Especially Angelina who was always jolly! Xxx Deb & Paul

 



Yiannis, Peter, Angelina, Antony and Roger, thank you for such a fabulous trip, beautiful ports, coves and towns. All made so much more fantastic because of your attention to detail and uncompromised service. We will miss our little floating palace! You have made my 49th year celebration unforgettable. –Tony S, David M, Perry & Paula G, Paul W, Deborah G, Cameron & Tania T. xoxox

Amazing time, many memories to cherish. Great service. Hopefully one day we will all return. Thanks for all the fun times. Bon voyage. Xxxx
August-September 2015
We cannot thank you enough for the best week ever, amazing food, beautiful islands and perfect service. We will miss all of you, thanks for priceless memories. –The Gerard Family (Jack, Claudette, Jack Jr., Lauren, David, John, Sarah, Celeste, Elizabeth, Christian, Samuel, Ben and baby Elle)


 August 2015
Once again the crew of Project Steel has made our trip more than wonderful. We look forward for more wonderful trips with the same crew in the future. –Mohamad


 July-August 2015
For all the Crew of Project Steel,

 


We had the best moment in our lives!!! Thanks to everyone in special way, thanks for also a good humor and to be so kind with my kids, all of them love all of you!!! We expect to have another trip with this fantastic crew! Thanks again, we hope to see all of you soon. Gracias –Rodolfo & kids


 July 2015
Dear Crew of Project Steel:

 


Thank you so much for the amazing trip. My first trip in Greece was spectacular, because of you guys. I had so much fun with you all. Angelina thank you for getting me my photo with Antonio, that was beautiful! You all have to come back to New York and visit. We will all miss you guys so much. PLEASE come to New York and visit us. I love you all. xoxo Alissa Eleni

Dear Project Steel crew:
This has been the best vacation ever! We are so glad we met all of you. The food was so amazing and Angelina is a bae. We are going to miss you all so much! Can't wait for Angelina to come visit us in New York! We love you all (especially Angelina and Antonio). Hope you miss us all because we will miss all of you! Love, the real Crew (Cola, Jojo and Marie Sue)

To the Crew,

 


Thank you for making this the most enjoyable trip of a lifetime! –The Mestousis Family

To the amazing Project Steel Crew!

 


Thank you for treating us like family!! You all made our trip to Greece simply spectacular. Antonio makes the BEST food! Angelina took care of us with love! The Captain, Takis, Niko and Roger –thank you! You are the best! A great trip, many great memories! Xoxo the Manos Family


 July 2015
Dear Angelina, Niko, Takis, Roger and Captain John!!

 


Thank you for making our trip to the Greek Islands (Kea, Kythnos, Delos, Mykonos, Poros) so incredibly memorable… you are the nicest people and make us feel so special. We will not forget these last 5 days or you! Hope we can go yachting with you again… Thank you Project Steel!

 


Best family vacation ever!!! The islands, the water sports, the food and all the iced coffers!!! Love, Whitney & Tohir Families


 July 2015
Thank you to the best chef I have ever encountered, simple bean and cheese toastie and he will be in Kos as a Windsurf champion and can teach you surf within two tries. Takis is the friendliest, always help you out, always will to go to you. Roger is everywhere at all times, need him and he will be there. Angelina is also helpful, she will make sure you are happy at every moment of the day. Now listen to his advice and let him do his thing, he is the best Captain in Greece! Love to the entire Project Steel Crew, Eleonore, Crepy D'Orleans Family


 June 2015
Thank you so much to the crew of Project Steel for helping to make this such a fantastic, unforgettable holiday. The food has been amazing, we have seen some beautiful places and we have had so much fun. I will really miss everyone.! Sophie xxx
Thank you so much for the best holiday ever – I have had so much fun trying all the water sports and thank you so much for your patience while we ( attempted to ) wakeboard / bananaboard /jet ski etc! The food has been amazing and the crew truly fab ! Thanks ! Charlie x

 


To the Crew of Project Steel!

 


I hope this is the first of many holidays we have in board – needless to say we have all fallen in love with the boat, but what has really made this trip so special is the crew! Thank you for a truly memorable holiday.

 


Fantastic food, awesome crew, stunning scenery & the best amaretto sours cocktails I have ever had. I never thought I'd actually wait to extend a family holiday but I would stay on here indefinitely. Many thanks all, see you next year! 


 April 2015
One of our best family trips….
Thank you very much for all of your attentions. The crew is the BEST, and the most valuable piece if this company.

 


From the bottom of our hearts THANKS.

 


P.S we will come back in the summer. Hugs,

 


Beyruti Family

 


Mexico

It was a very interesting travel. . We are a big family, congratulation for all the people work there.

 


I take all of you in my heart.
Best my friends,

 


Marlena

 


From Mexico


 September 2014
Περάσαμε 10 θαυμάσιες μέρες πάνω στο Project Steel με ένα αρμονικό πλήρωμα κι ένα καπετάνιο που μας άραζε στα πιο ειδυλλιακά και όμορφα σημεία. Φεύγουμε με τις καλύτερες εντυπώσεις απ' όλα και όλους, σκοπεύοντας να το επαναλάβουμε και του χρόνου.
Ευχαριστούμε θερμά.


 August 2014
It was a great trip! Beautiful Greek Islands, blue sky and amazing view. Clear water, and great mood. You were unbelievable crew. Always there for us. We had a great time, enjoying the best vacation.
Thank you all, hope to come back soon!
Rotem


 August 2014
We will not talk about the beauty of the Greek Islands because that is a fact, rather we will talk about the wonderful crew that made our voyage more than a yacht experience.
If you are even in the company of such a crew then you are as lucky as a King!
Best regards to all and keep up the good work!
Mohannad, Adel, Haytham, Alaa, Mohammad


 July 2014
We are a family of five coming from Switzerland and a friend coming from Bruxelles.
We just spent a fabulous week travelling from Faliro to Serifos via Amorgos and its fabulous monastery, Koufonisi and its wonderful beaches, Schoinousa, Irakleia ...Paros...
Coming to Greece we were looking for authenticity, peace, quietness beauty.
And that is just what we found!
The captain was excellent at finding beautiful unspoilt spots to swim and do all sorts of water sports.
The team was great, nothing to say! Professional helpful enthusiastic kind and last but not least they all seemed to get along together. The food on board was very good, homemade and fresh and the comfort of the beds was excellent. Thank you to team who made our trip a real success.

PS.We even show two dolphins

Nathalie, Francois, Antoine, Laure.
Ammenities
Games console, Indoor audio system, iPod dock, Printer, Satellite phone, TV master cabin, TV saloon, Wi-Fi, 14ft/4.3m AB 70hp, Banana boat - towable, Beach games, Board games, Floating mats, Kayak, Kneeboard, Mono ski, Paddleboard, Tube - towable, Wakeboard, Water skis - adult, Wave runner, Book library, Coffee machine, Deck shower, Exercise equipment, Ice maker, Jacuzzi on deck, Sun cushions, Sun loungers, Swim platform, Water maker
Diving
Not Insured