Yacht for Charter
RESPITE AT SEA
9869
56ft / 17.1M
| Builder: Lagoon
| Year: 2018
---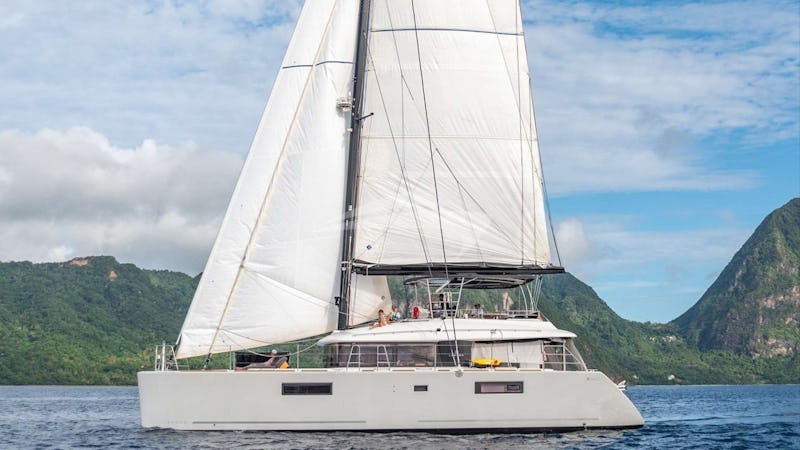 ---
Yacht Charter RESPITE AT SEA By Lagoon
Cruising Speed
8kts (15kph)
From:
$23,500
plus expenses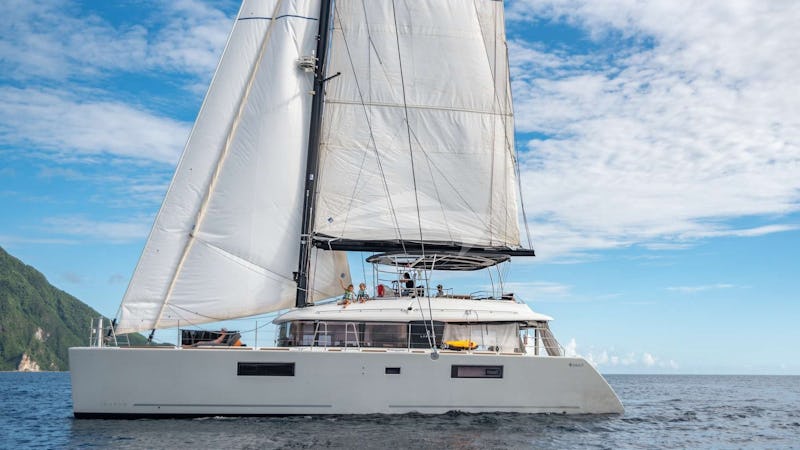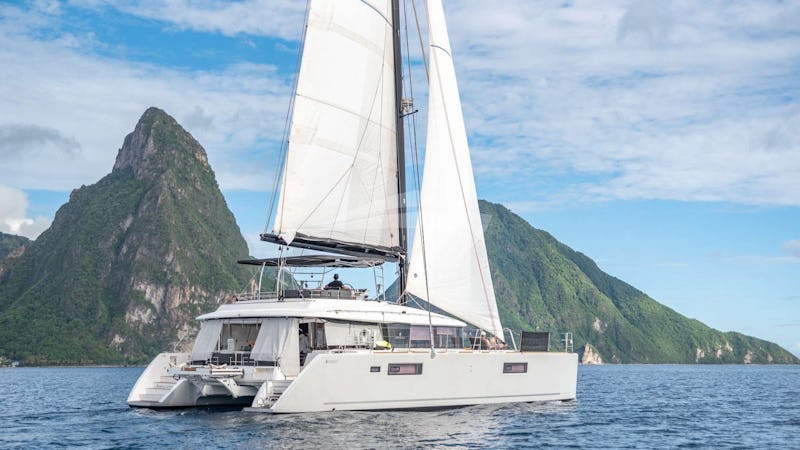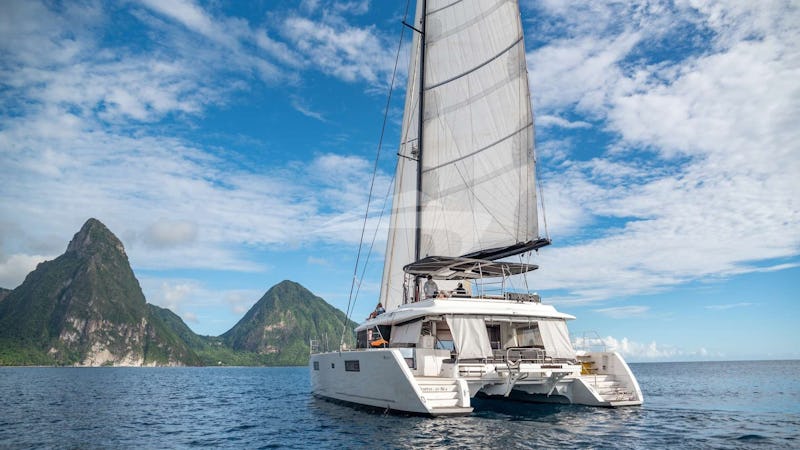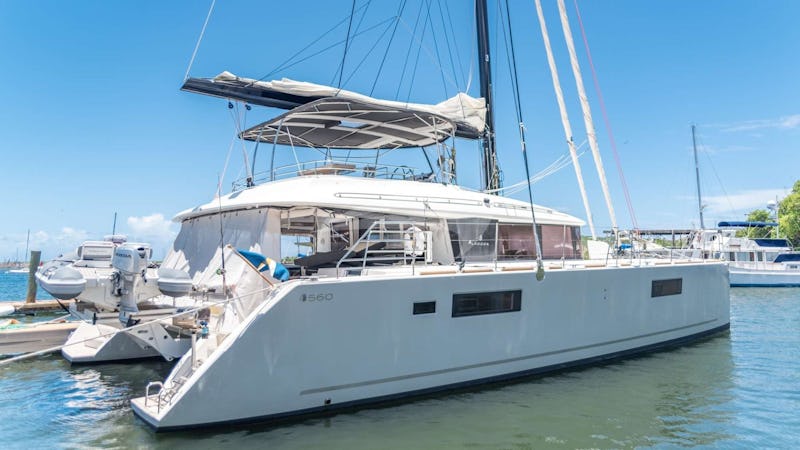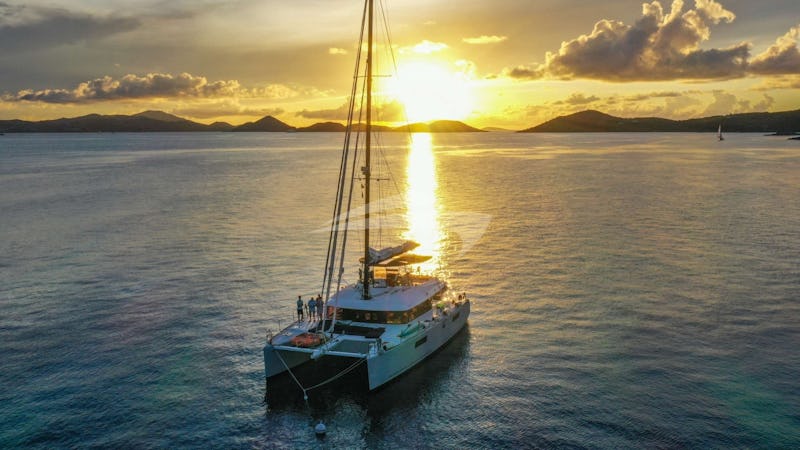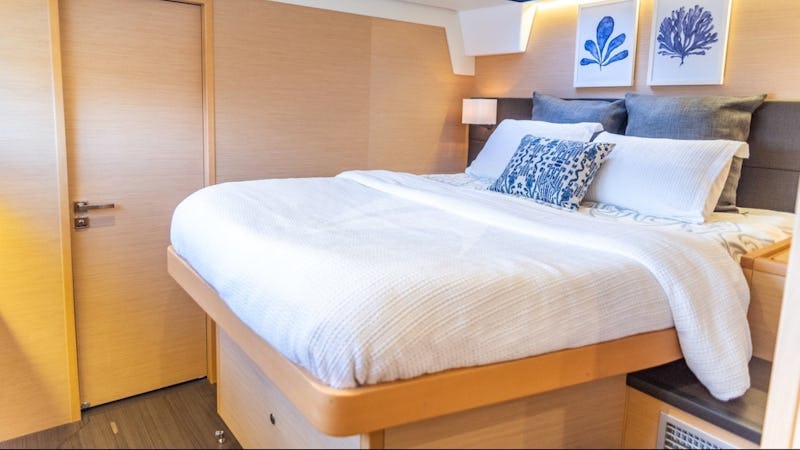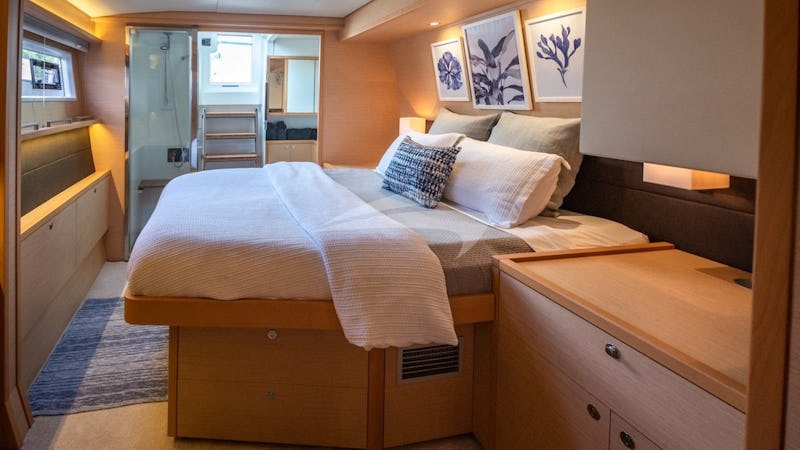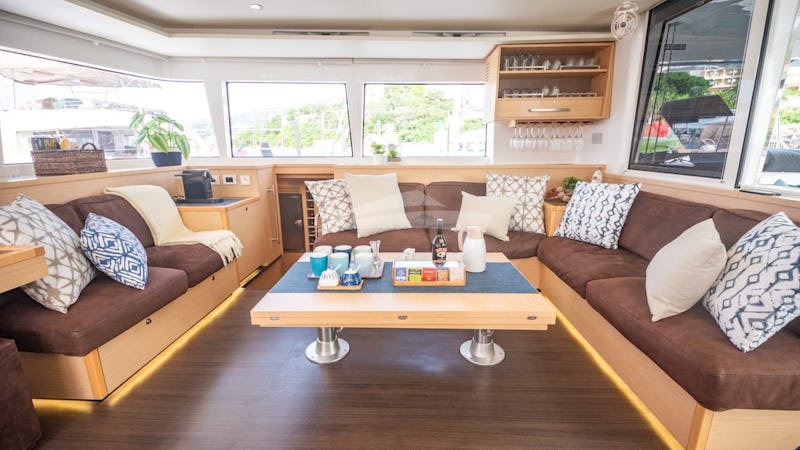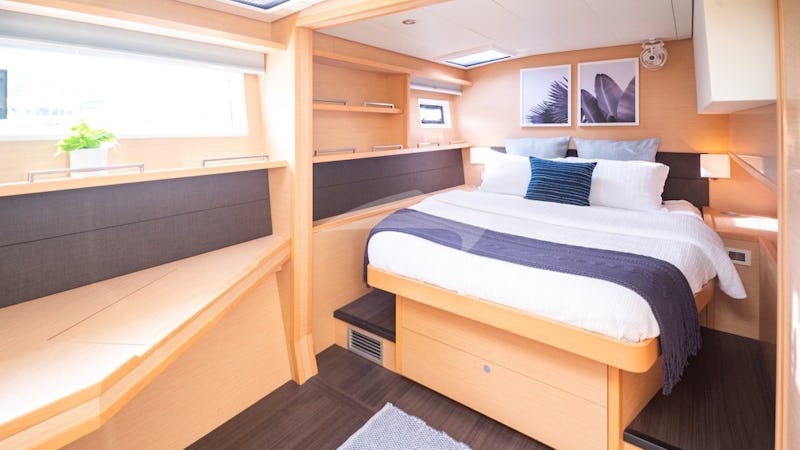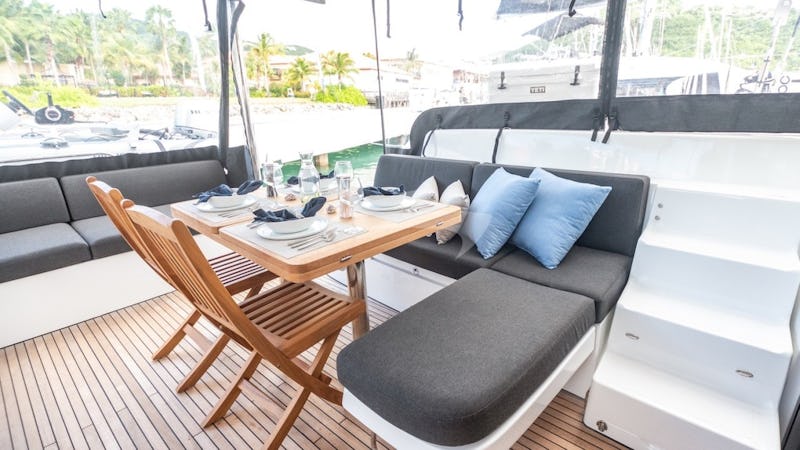 Contact Us For More Information
Captain: Ross Mathews (31)
Originally from South Africa, has always had an unwavering passion for sport, travel and the ocean. His first time on a boat was with his grandfather at age 3, and he can´t help but wonder if this is where his sense for adventure and exploration stems from. They do say ´the apple doesn´t fall far from the tree´. Ross moved to the UK at the age of 18 to travel Europe, go to school and start a more conventional career as a physical therapist, although this all changed while on a short road-trip in Australia. It was here that not only did he find his love for sailing, he also met Daniella and together they made it their mission to make a life out of doing what they really loved.
Ross and Dee met in the small town of Airlie Beach on the Great Barrier Reef, Australia. Their passion for travel, which brought them together over 5 years ago, continues to fuel their love for the tourism industry, sailing and exploring the world.
It all began at an award-winning adventure tourism company in the Whitsunday Islands (Australia). They have since chartered together in the Mediterranean and most recently the British Virgin Islands. After five years in the industry they have seen some of the most beautiful places in the world and couldn´t be happier with their lifestyle choice.
Ross and Dee create a relaxed environment onboard and facilitate the fun had by all in a natural way. They always aim to make the charter personalised to each guests needs, and this shows as no two charters are the same. They love finding beautiful new bays to explore around the islands and a little bit of spontaneity. Ross and Dee also love to entertain, whether that be with friends at home or guests on the boat. Dee´s passion for cooking paired with Ross´ story telling and personable nature makes them a strong team and great company for any occasion.
As a couple they share an interest in snorkeling, diving and marine conservation stemming from their time spent working on the Great Barrier Reef. When traveling, Ross and Dee believe a true way to appreciate a countries culture is through its food, thus are always intrigued to try new dishes. They share a love for food and although on charter Dee takes charge in the galley, Ross proves pretty handy on weeks off.
Together this enthusiastic and vibrant couple are excited to continue their journey in the charter industry and can´t wait to see what else it holds in store for them.
Certifications:
•RYA Yachtmaster Offshore (com endorsement)
•MCA Approved Engine Course 1 (Sept 2020)
•STCW Basic Training
•PADI Dive Instructor
•AMSA Master <24 (Australian com qualification)
•CPR/First Aid
•Certificate IV in Travel and Tourism
•OCR SPS Diploma in Sports Massage (LEVEL 5) Full Drivers License
Chef / Mate: Daniella ´Dee´ Cox
Originally from the UK, Dee was brought up in the city of Bristol. Her parents had a passion for the outdoors and most summer weekends were spent at her family caravan. She fondly remembers swimming in the lake, fishing with ´paps´ and cooking outdoors around the fire, all memories that have strongly shaped her lifestyle choice today. Dee, like many of her friends, began pursuing a more traditional path of University, to study Psychology, followed by a career as a Child Psychologist. However, a one year working holiday in Australia opened her eyes to a completely different lifestyle, one which reminded her of her fondness for the water and the outdoors. Ross introduced Dee to the boating industry and she hasn't looked back since.
Certifications:
•Ashburton Culinary Institute Yacht Chef Certificate
•STCW95
•ENG1
•PADI Senior First Aid and Oxygen Administration
•PADI Advanced Open Water Diver
•Level 2 Food Safety & Hygiene
•Recreational boat license inc. PWC
•Full Clean UK Drivers License
•Bachelor of Science in Psychology (2014)
Thank you for taking such great care of our family.
Dee and Ross, Thank you for taking such great care of our family. This trip will forever more be remembered as our "favourite vacation" of all time. There wasn't a detail missed and we noticed all of them. We can't wait to see you again, this will not be our last. We appreciate you more than you know, Mr Greminger. 
Dee and Ross,
The cure for anything is salt water.... OR a superb meal from chef Daniella OR a perfectly chartered cruise to the most beautiful bay by Captain Ross. Thank you for the trip of a lifetime. You are now friends and mates, until next time. Bon voyage, Mrs Greminger. 
This experience exceeded very high expectations! 
Dee and Ross,
My favourite moment was arriving on this gorgeous boat to such a warm welcome full of so much promise. Your hard work, attention to detail, easy laughter and clear knowledge were all very much appreciated. You won't be rid of us so easily - we will be back. Thank you for a week full of incredible memories, new family games and a relaxed husband! With Gratitude, Mrs Miller. 
To our new friends, Dee and Ross,
This experience exceeded very high expectations! Thank you for the celebrating my 50th with me and introducing sailing to my children. Your hard work and good cheer is exemplary, as is your patience, attention to detail and fine cuisine! I am so confident we will meet again soon, with immense gratitude, Mr Miller.
We loved every minute of our week from morning to night.
Dee & Ross, what an amazing week! Thank you so much for a great 50th birthday celebration - it was perfect. It was really hard to pick a "rose" and even think of a "thorn" for the week, everything was unforgettable. Captain Ross, thanks for finding all the wildlife, starting our Instagram careers and boating lessons. Dee, always with a beautiful, warm smile and delicious meals. If only we had a "defuse card" to stop the exploding kitten/end of the vacation. We loved every minute of our week from morning to night. We wish you all the best and hope to sail with you again some day! 
Respite at Sea is a wonderful craft and we look forward to more equally splendid excursions aboard her.
Respite at Sea is a wonderful craft and we look forward to more equally splendid excursions aboard her. But only the crew could of Respite could actually overshadow the boat itself.

Captain Rosco and Dee were just simply the best hosts that we could have possibly imagined and Tyler as first mate – he typically being a captain himself, only made the situation even more incredible! Rosco made us all feel at ease immediately with his affable nature but we knew when it came to on-board safety and sailing particulars he was serious and in total control and there would be nothing for us to concern. At the same time Dee was just nothing but wonderful in spirit and magnificent at preparing the trip's meals! Meals, snacks, drinks, coffee, teas – everything was phenomenal! And Tyler was just an all-around everything whether assisting in sailing, food preparation, handling bags and gear, diving – he was right on point and a pleasure to be around. The entire trip was there immediately if we needed them and seemingly invisible if we didn't.

Wherever and whenever we sail in the future we will hope that this crew is available on Respite at Sea!
We had an amazing vacation! 
We had an amazing vacation! 
Dee and Ross could not have done one more thing for us to make it any more amazing. It was simply perfect! We all feel as though we made friends for a lifetime. They are fabulous and we loved them. 
The boat is beautiful and spacious. Clean as can be. You could eat off the floors and you can tell they put so much effort into taking care of it. 
The food was incredible. Dee made Gourmet meals every minute. JP (my 18 year old) actually tried new things every day and ate everything. He usually eats like a 10 year old!

Ross made delicious new cocktails every night like you get at a trendy bar. 
We spent 99% of our time on the boat. We went to lovango. It was fine. We had a nice day and it was pretty, but I'm not sure it was worth the price to go and I dont think I would go back. Especially when you love the boat and crew as much as we did, you just want to spend every minute on the boat. We also went to lime out. The floating taco place. That was great. We all loved it. And the final place we went was dinghys. Fun cool beach bar. I guess they are trying to compete with soggy dollar type of bar. That was fun too. We just went for a short time for drinks. 
They catered to us on every level, From meals, drinks, appetizers, water sports,(water skiing, seabobs wakeboarding, snorkeling), not to mention relaxing... my kids loved them as well. We didn't sit still much...we actually cried when we said goodbye to our new friends. For us...the boat is important...but, the crew makes the trip. They certainly did not disappoint. We had a blast on every level. 
Susan
My name is Jennifer Blotti and I live with my family in Switzerland. I enjoy traveling a lot and I work as a family travel blogger since many years. After several sailing vacation experiences, in August 2019 we were lucky to meet Daniella and Ross who took us on a catamaran to the Cyclades Islands in Greece. We did not hesitate to contact them again this year for our trip to Croatia because they are able to give us wonderful vacations. Daniella is not only an excellent cook, she is extremely careful to make everything perfect. Her skills in the kitchen are incredible, she can transform everything into excellent dishes, from presentation to the variety of what she offers. She is very attentive to the preferences and needs of the customer. She has delighted us with always different dishes, she has managed to enhance the local raw materials, she has always satisfied our requests.
In addition, she always knows how to involve children (our 10 year old twins) in fun activities. It's nice to see her always with a smile. We have always felt very safe in skipper Ross' hands, even in the most difficult weather situations. Ross is very precise, responsible and skilful in finding solutions to every problem in order to make the customer feel at ease and will not let you miss anything. The unique places he has made us discover have been chosen with care, he informs about everything and these are the best qualities that a skipper can have. Ross has always organised fun activities for us, so as to involve the whole family. Ross is also a sunny person who always welcomed us with a smile. Last but not least, he knows how to prepare excellent cocktails! I believe that Daniella and Ross are a winning couple, of the highest level, able to turn your holiday into a dream. And we hope to spend our holidays with them next year too. 
We have just returned from our wonderful sailing holiday through the Cyclades Islands in Greece with our Family. Our holidays were unforgettable also thanks to the fact that the crew on board was exceptional. For this reason we would like to inform you that both the hostess Daniella Cox and the captain Ross Matthews, both assigned by your agency, have worked with extreme professionalism and enthusiasm, taking care to fulfill all our requests. Daniella has a particular talent for cooking, her dishes have proved beyond our expectations, always presented and served with care and love. Ross has always been careful not only to drive the boat but to make children participate and active, always demonstrating excellent professionalism and availability. Thank you very much.
I wished I could put 11/10 for these two. Dee and Ross went beyond expectations. Dee always had a beautiful smile on her face and cooked amazing food. She was always paying attention to details and was really caring with us. Rosco did a fantastic job at making sure we were always comfortable and informed on what was going on. From the moment we stepped foot on the yacht he made us feel comfortable and at ease. He has a super friendly and relaxed manner and really made the week for us.
I've had the pleasure of having some outstanding Captains and First Mates in the past, but Ross and Dee completely step changed any experience we ever had. Ross was phenomenal, from being an excellent, hospitable host to his ability to park his yacht in the smallest of spaces! He was a fantastic captain, always in control and always had a smile on his face. Nothing was too much trouble and Ross would jump at the opportunity to please the guests! Dee impressed us all, her breakfast spreads were outstanding, her lunches even more impressive and her dinners absolutely delicious. I have no idea how she made such elaborate feasts and so many items (all perfectly hot) in such a small kitchen. Her skill is truly impressive! Dee also ensured that each person's tastes were met, tailoring our portions to our personal preferences. She also kept the yacht communal areas immaculate and provided great advice for each of the ports. These two did an outstanding job and we will be requesting them again next year without a doubt. 
July 2020
What a week, these two make an incredible team and I can't thank them enough. Let's start with Dee. She is an adorable bundle of energy with an uncanny ability to make her whole crew feel better about themselves just by bouncing around the yacht. A "Michelin-starred chef" projected to have more insta followers than Kylie Jenner by 2021, this girl could whip a King's banquet using only a billycan and a bunsen burner. I am already so jealous of her future children's lunch boxes. Now Rosco, what an absolute 11/10 legend- great banter, made everyone feel at ease on the boat very quickly, ensured everyone had a turn at helping out- whether it was tying fenders or lowering the anchor, whilst making everyone feel at ease doing so. Super chill guy with positive energy over absolutely everything. Would recommend Rosco and Dee to friends for any future trips and would 100% request them on any future trips of mine.
June 2020
Rosco the salty sea dog was an absolute legend! Great wind awareness and sailing skills, he took the time to teach us a lot throughout the week. We had so much fun with him and Dee, both always smiling with an amazing ability to make you all feel like one big family. They make an awesome couple and a great team on the boat. Daniella went over and above with her hosting and made an incredible variety of fresh and delicious food - I was very impressed by the quality and variety and felt very lucky to have our own chef onboard, could not recommend them both enough.
Ammenities
Camcorder, CD library, DVD library, DVD player saloon, Indoor audio system, iPod dock, Satellite TV, TV saloon, Wi-Fi, 15ft RIB at 50hp, Beach games, Board games, Floating mats, Kayak, Paddleboard, Tube - towable, Wakeboard, Water skis - adult, Water skis - child, BBQ, Book library, Deck shower, Fishing gear - light, Hammocks, Kosher, Special diets, Swim platform, Water maker
Diving
Not Insured, Seabobs multiple, Snorkelling gear, Underwater still camera, Underwater video, 6 Tanks, 6 BCs, 6 Regulators, Dive Master,
3 dives per week included for certified divers - charters 6 nights or more.

Additional dives $25 per dive per person.