Yacht for Charter
SASHA
6127
50ft / 15.5M
| Builder: Lagoon
| Year: 2009
---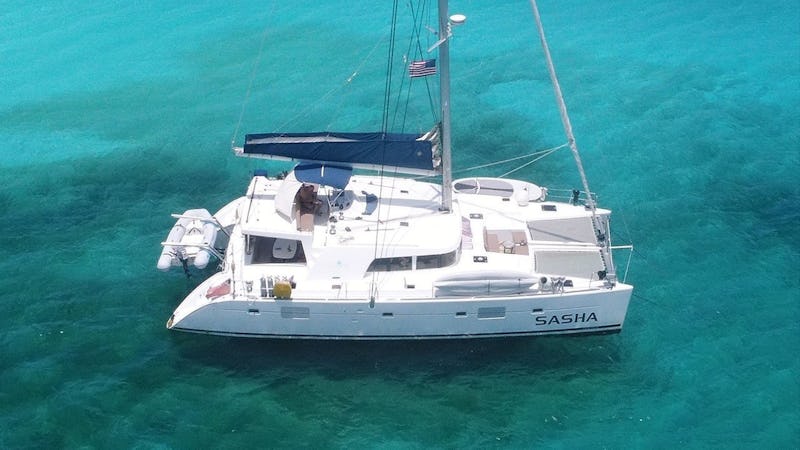 ---
Yacht Charter SASHA By Lagoon
Cruising Speed
10kts (18kph)
Flag
British Virgin Islands
From:
$15,500
plus expenses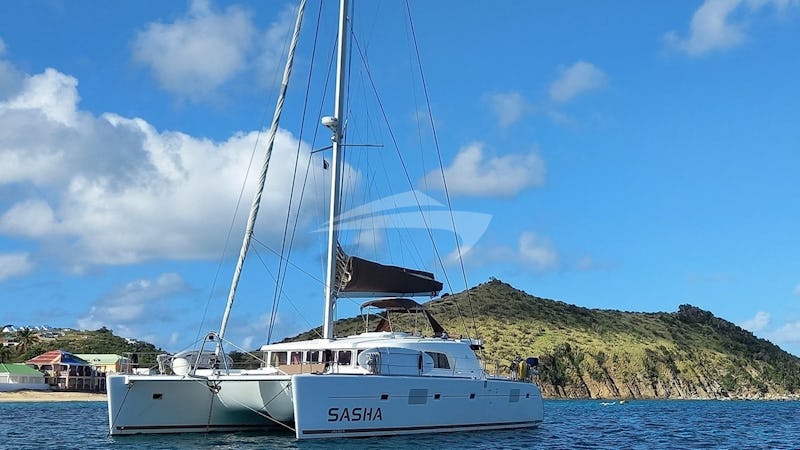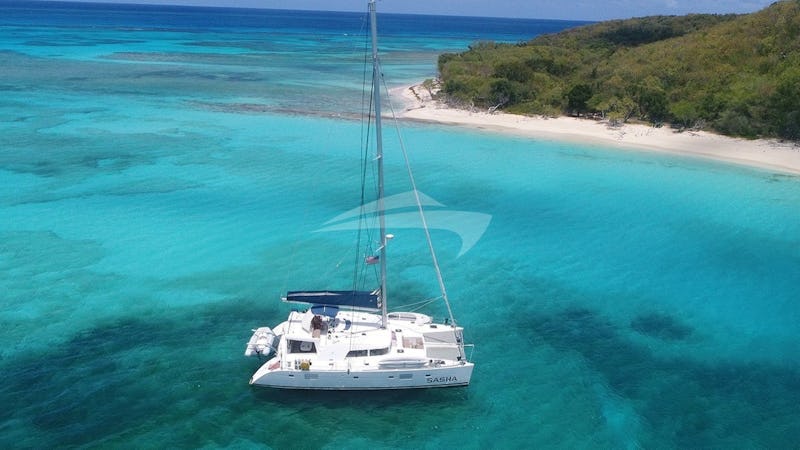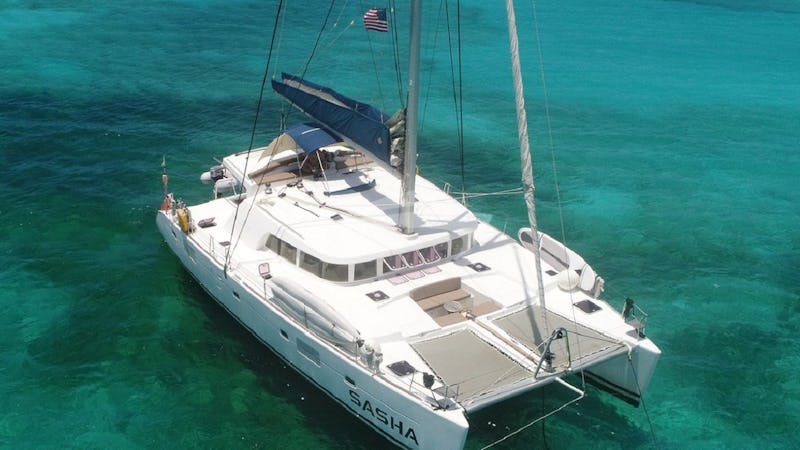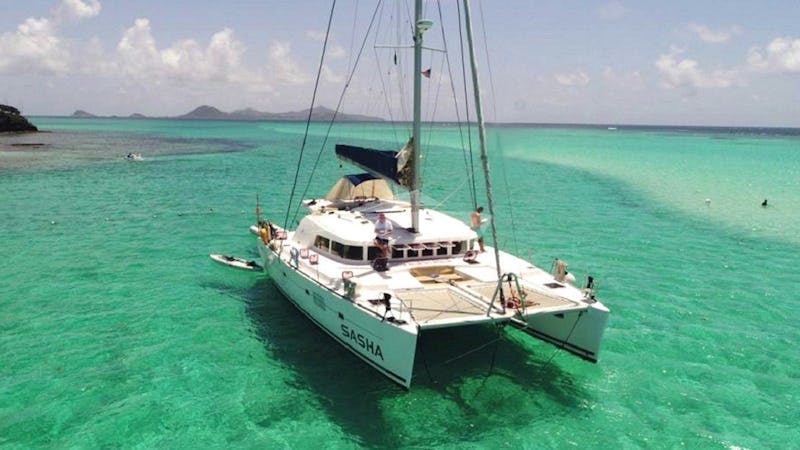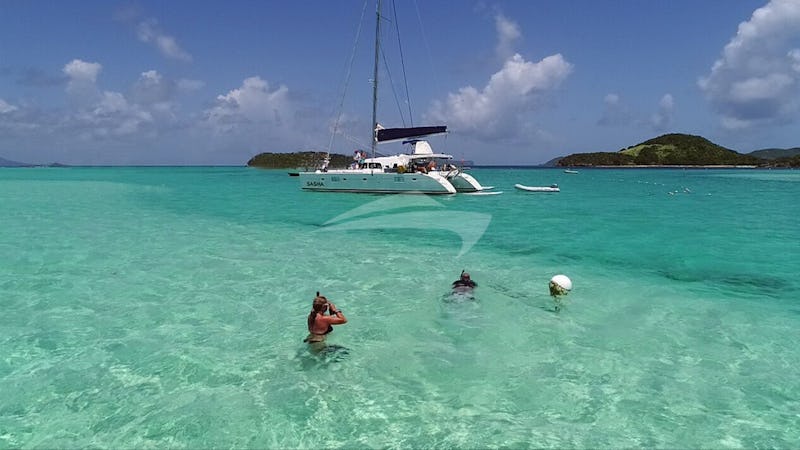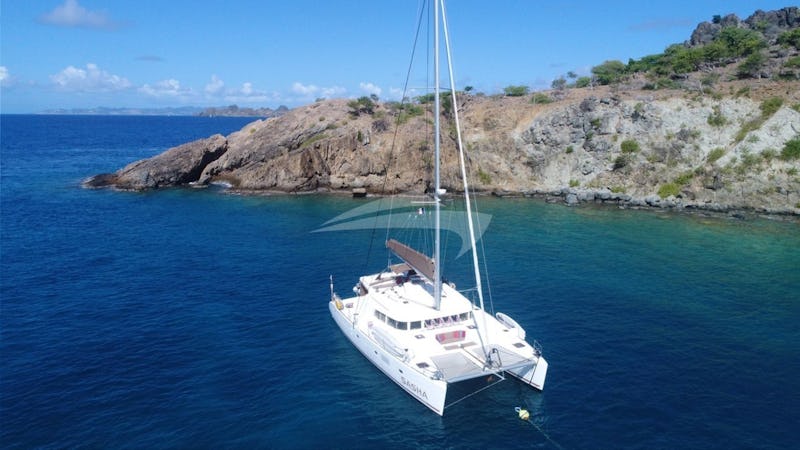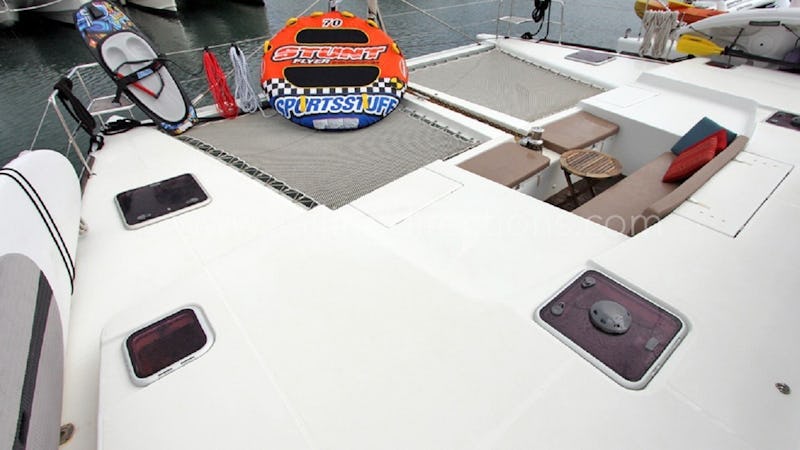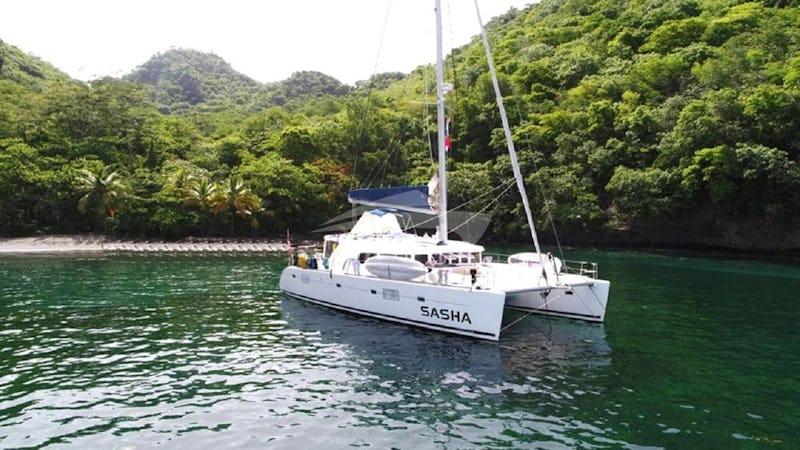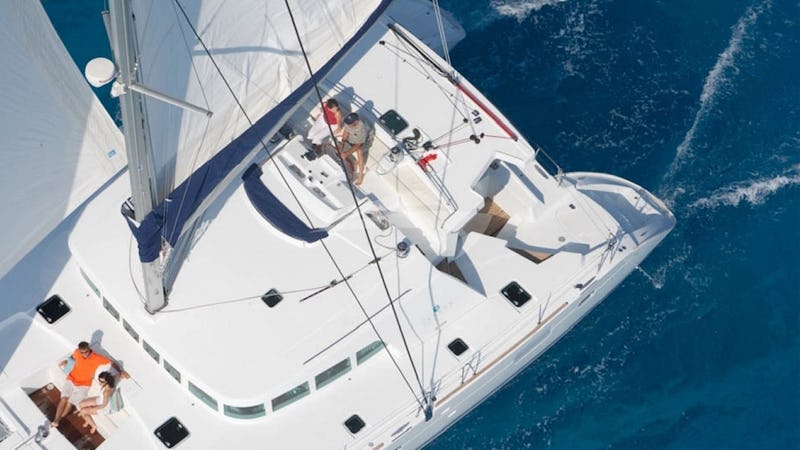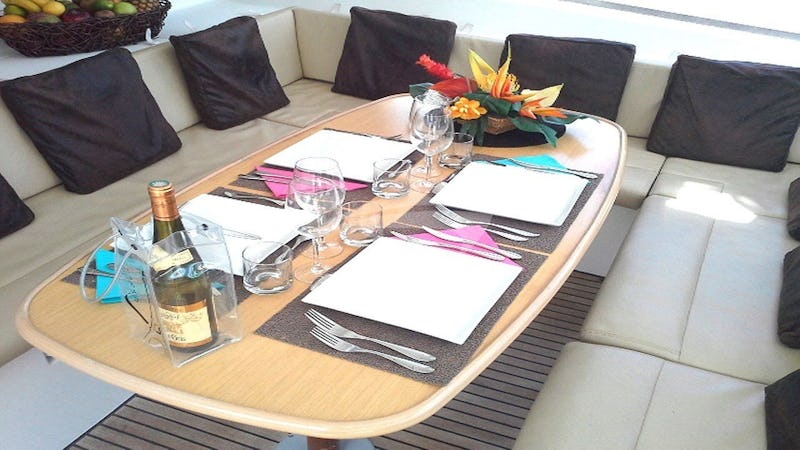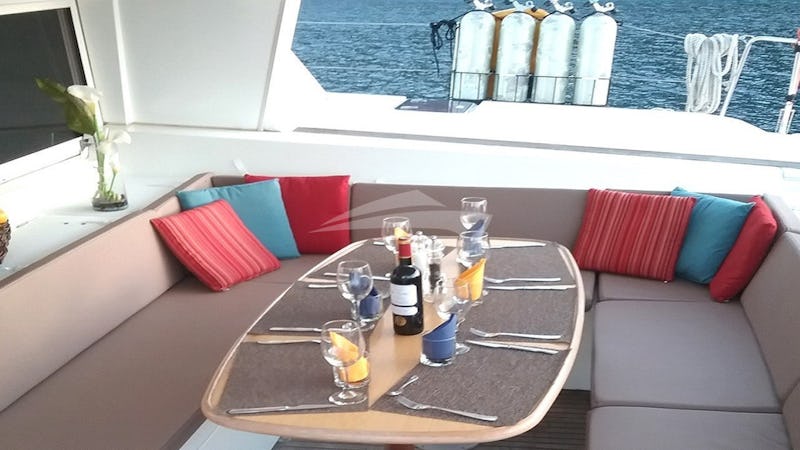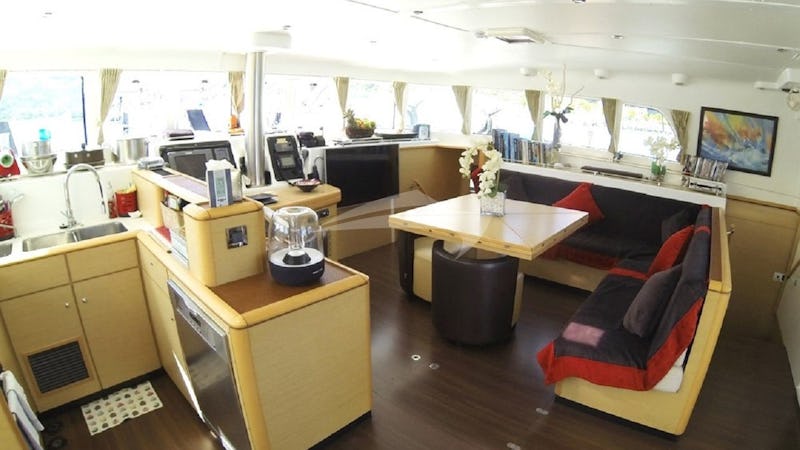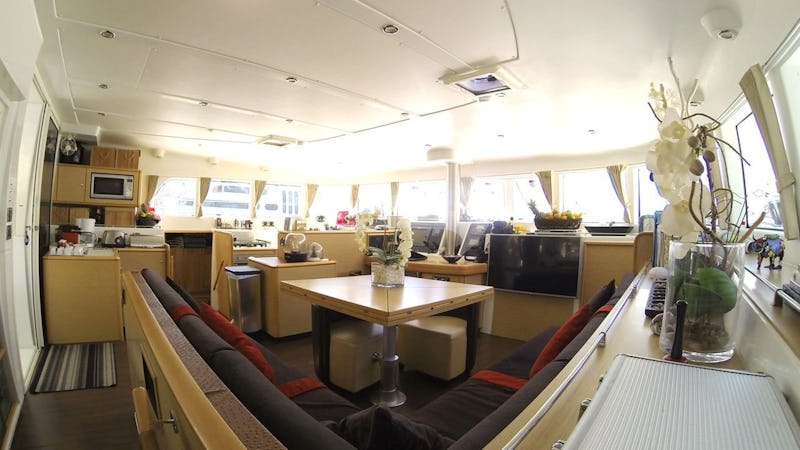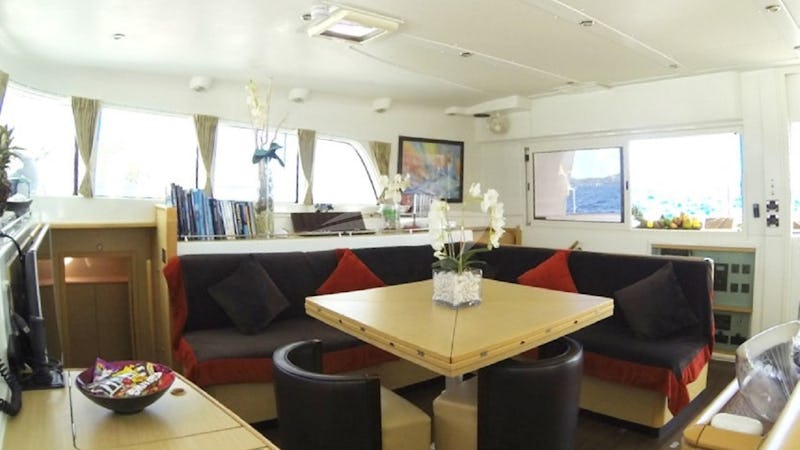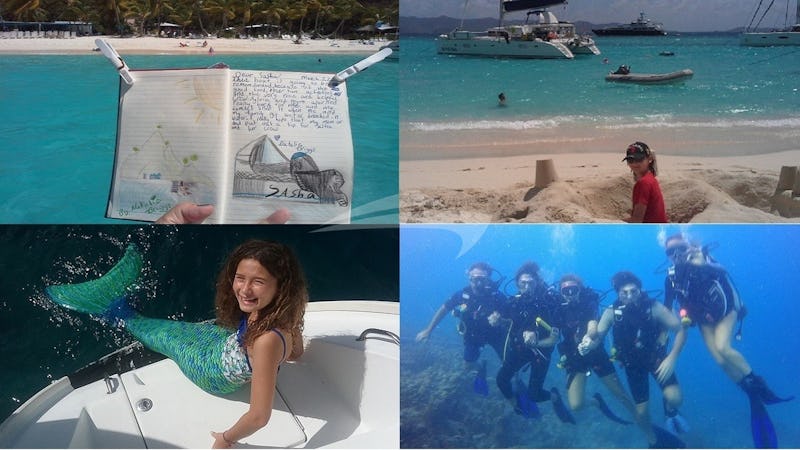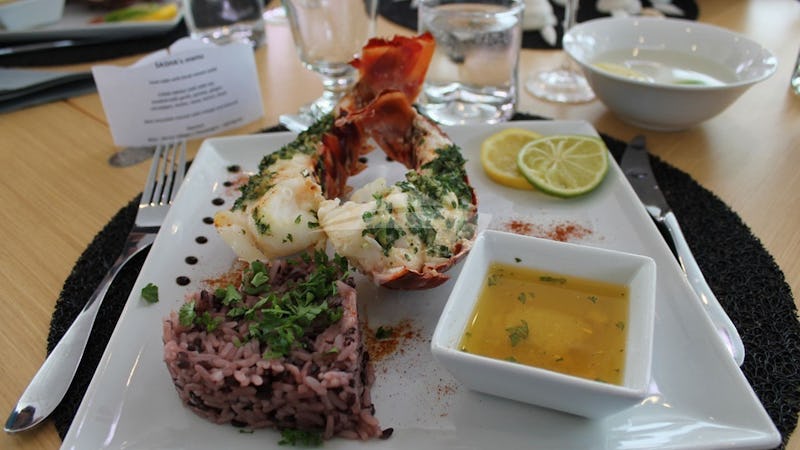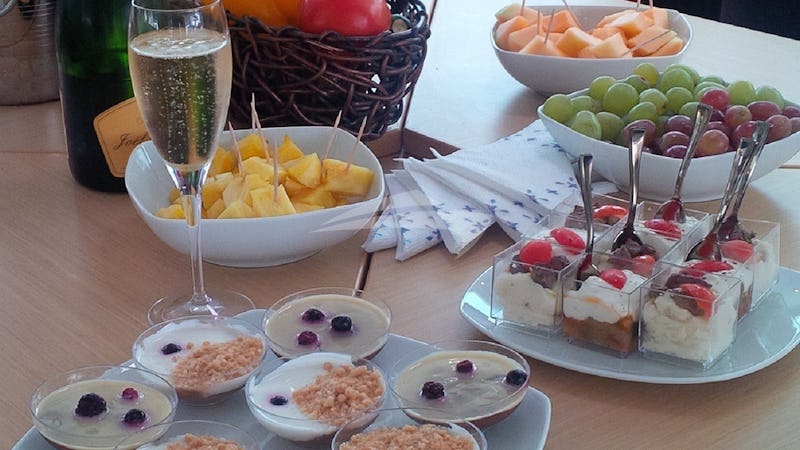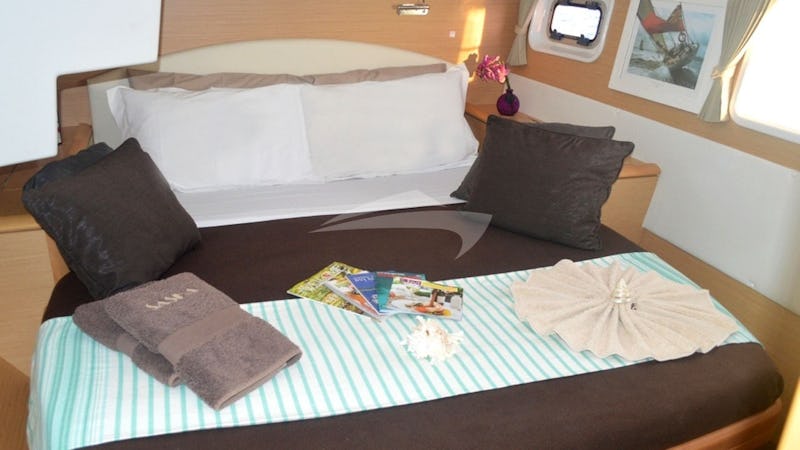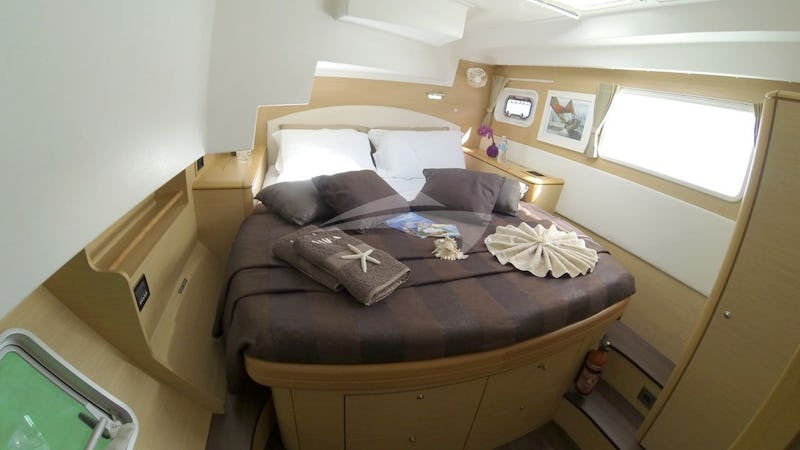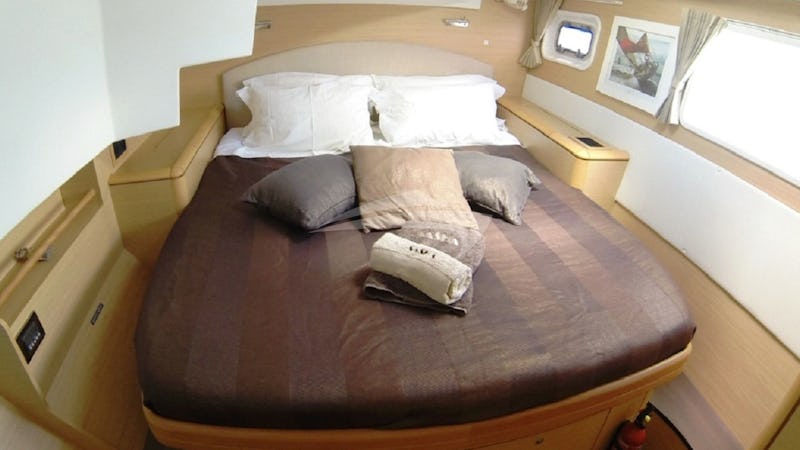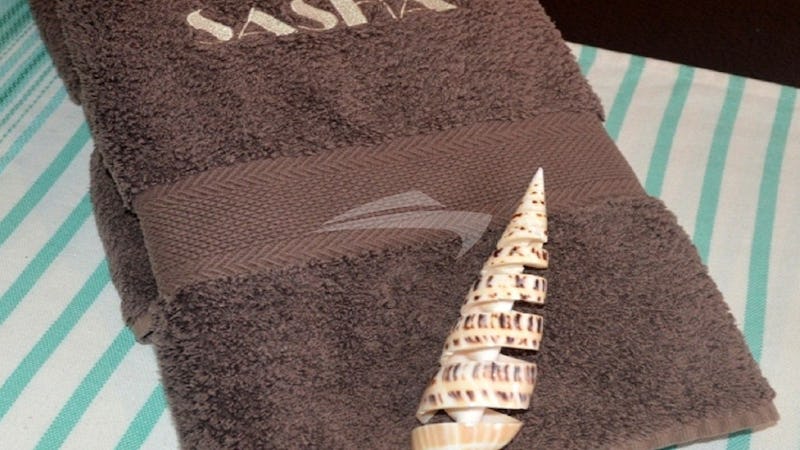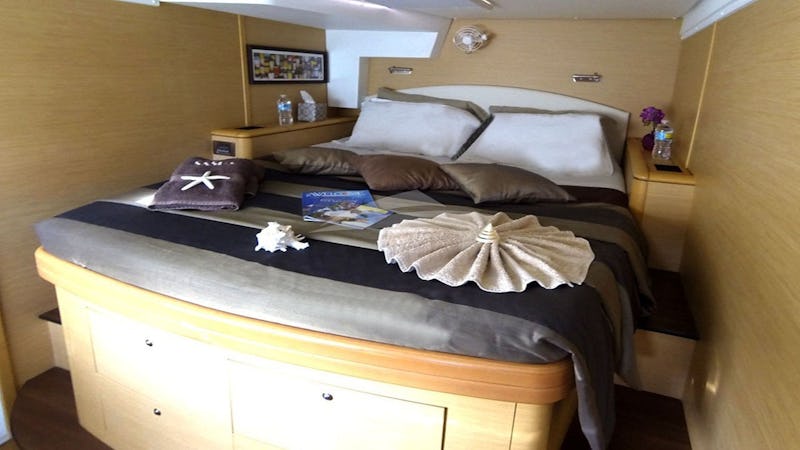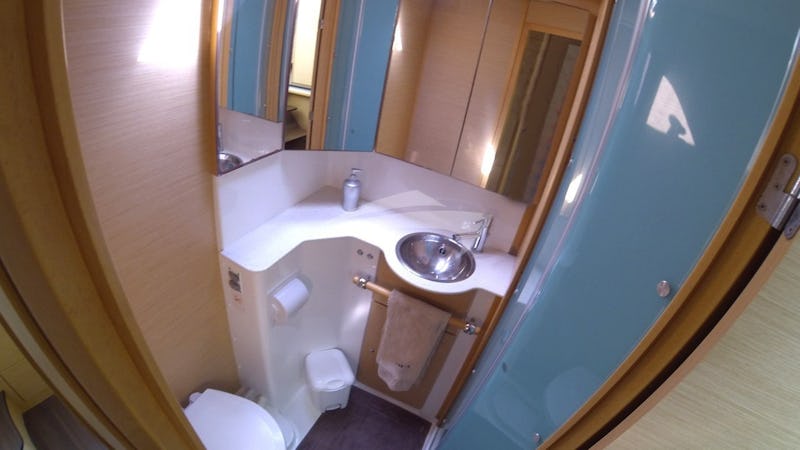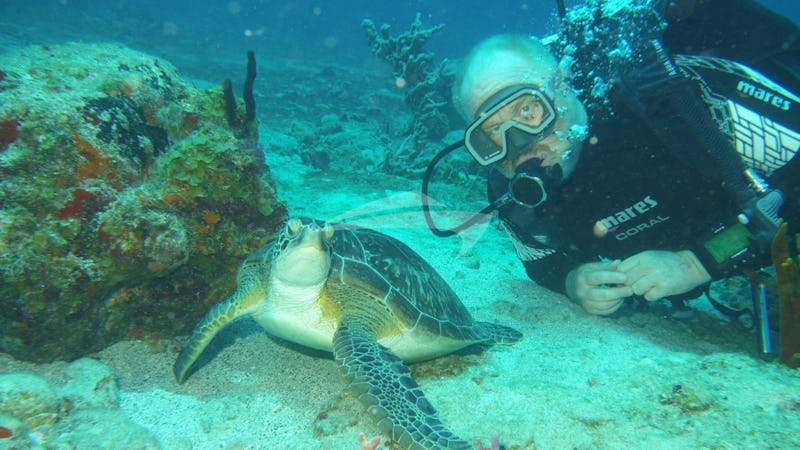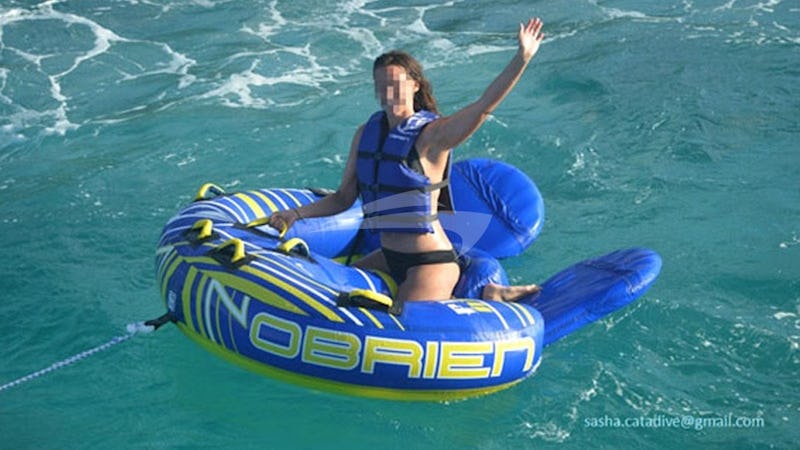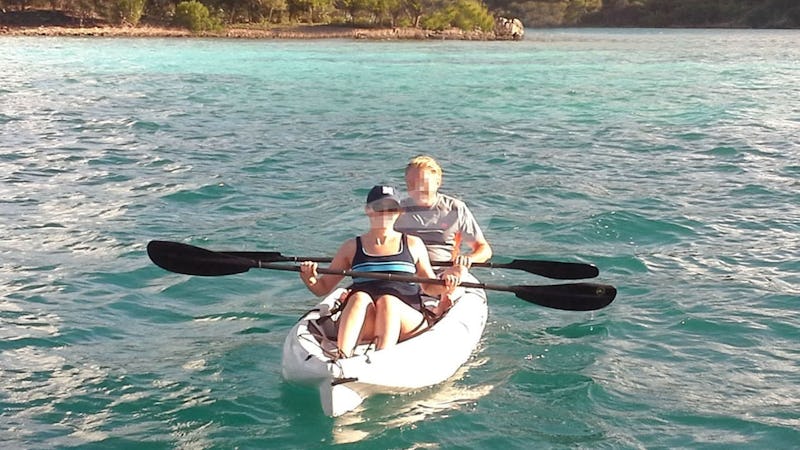 Contact Us For More Information
Jean Yves Meunier "Jym"
Captain: Jean Yves MEUNIER "Jym"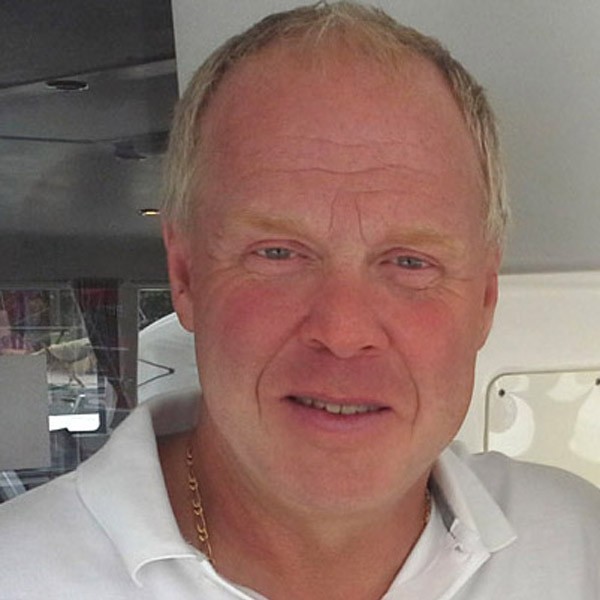 Jim is a mechanical engineer and worked for a long time in medical robotics. He has travelled a lot and even lived in the U.S. for two years.
He started to take an interest in sailing when he was twelve. At the age of eighteen, he had a sailing Federal Monitor degree. Since then, he has been sailing recreationally and has always had a passion for the sea and diving. Jim has his STCW95 Sailing 200 tons Captain's Licence (Sailing Yacht Master). He also has his PADI Dive Master with more than two hundreds dives. His two kids are divers and sailing lovers too.
Jim knows the beauties of the Caribbean sea, especially in the BVI, St Martin, St Vincent, Grenadines, Martinique and Guadeloupe areas.
Chef-Hostess: Sylvia MEUNIER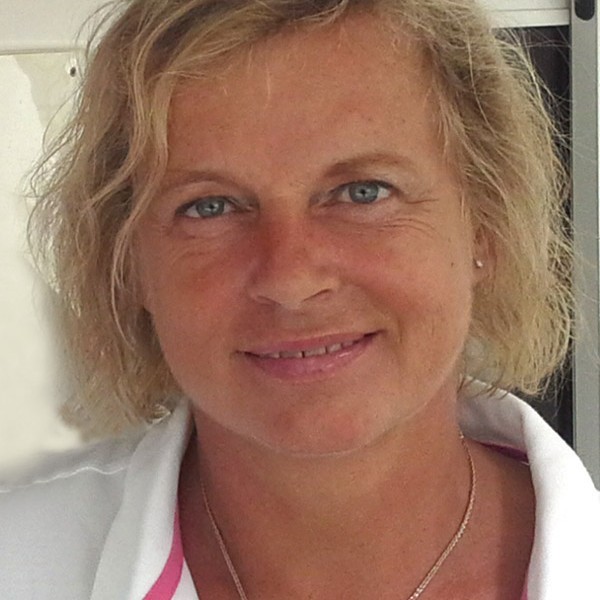 Sylvia was originally a qualified nurse and has also worked as a pharmacist for more than twenty five years. She is a first aid instructor.
Sylvia is a sea and nature lover ; she has been diving for the last twenty years in oceans and seas all over the world. She has seen almost every underwater creature and will be happy to share her knowledge of fauna and flora with you.
In order to teach her three children how to dive, she decided to pass her FFESSM "Federal Monitor" degree in 2000. She upgraded it to PADI Open Water Scuba Instructor in 2009. She has done over two thousand dives.
Charter on mai 28 - June 5, 2021 in St Martin area / American family of 6
When we booked our trip March 2020 we were looking forward to celebrate B and S graduates.
When Covid and all that came and endured. We rescheduled our trip twice and were lucky enough to get to enjoy you both and a week aboard SASHA.
You navigated the Covid restriction as well as you navigated Sasha.
The food, the fun joles card tricks and the desserts were so much fun we could not have asked for two better host's nor a better boat for our first vacation at sea.
Thank you again for welcoming us !
Thank you for a wonderful week of memories, especially the scuba diving!!
The food, the company and the yacht were all fantastic.
Truly a week we will never be forgotten.
Charter on March 14-20, 2021 in St Martin /  American group of 6
How did you enjoy your cruising vacation? Definitely! the food & drinks were top notch amazing!! The men loved all the scuba diving! The magic tricks every night from Captain Jim were unbelievable! He taught us how to do the tricks the last night & we are all supposed to do one for him on our next future Charter with them!! All I can say is if you have a chance to charter Sasha with Jim & Sylvia it will be a vacation of a lifetime!  
How is the yacht? Is she clean and well-maintained? Were your cabins comfortable?  Yes absolutely, it you get a boat like Sasha & have the most amazing Captain & Firstmate. Jim & Sylvia are amazing. The boat was very clean and in great shape. Cabins were spacious & comfy! Definitely plenty of shade & sun!! Every part of the boat was great! Bathrooms were cleaned every day & rooms were vacuumed, but b/c of Covid we took care of our own beds while we were on the boat. Which was no problem at all & completely understandable. 
Did you use all the water toys? If you were diving, how did you like the area?  We used paddle boards, kayak & all the men did 4 dives and said they were amazing. Sylvia who is the master diver even got one of the guys to dive for the 1st time ever!! 
Did the menus and meals meet your expectations?  The food was amazing, every meal was plated so beautifully & all of our preferences were takin into consideration!! Had Indian curry, Italian, steak, lobster risotto, prime rib, salads, desserts after every lunch & dinner meal!! I could go on and on. Also got a homemade carrot cake make for my husband's birthday!! Had appetizers every day & had some of the best French cheeses!! Jim & Sylvia went above & beyond for everything!  
How would you describe your Captain and crew? Were they Courteous? Helpful? Friendly? Attentive? Knowledgeable?  Captain Jim & Sylvia were amazing! They really know how to make you feel comfortable & relaxed! They are very knowledgeable about fish, the islands, diving, etc.. Captain Jim is very entertaining with is magic tricks every night & his daily joke is always funny! Sylvia never stops, always prepping, cleaning, anchoring, you name it she does it! 
How do you feel now after your vacation? How did you find the pace and the itinerary of your vacation?  Could have stayed for another week! The itinerary was perfect for our group! Very relaxing no set plans but every day was amazing!  
Additional thoughts?   Captain Jim & Sylvia went above & beyond for our group! Having to rearrange our trip a few times due to Covid restrictions was not easy but we appreciate all the work that went into making the trip happen! 
Charter on March 15 - 22, 2020 in the Virgin Islands / American family of 5

Jim and Sylvia,
I can't thank you enough for an absolutely incredible week on "Sasha."  While I deeply regret the extreme circumstances (once in a lifetime) that caused me to have to disembark prematurely, I can't say enough great things about the incredible hospitality and expertise you provided.  I was so comfortable with not only your expertise on the water but with the way you interacted with my family.  To leave my wife and children with you on a boat shows the amount of trust and confidence I developed in a very short time.
You helped pass on your passion and expertise for scuba diving to our family (well, with me being the only exception) and I can't explain what an accomplishment it was to get Ellie Rose to go down.  Sylvia's cooking (and I guess Jim also deserves partial credit for this) was absolutely amazing, true gourmet cooking that our family thoroughly enjoyed.  Last, I can't wait to see the drone footage of some of the islands we visited, areas we snorkeled, and of the boat.  The USVI & BVI's are absolutely beautiful and based on the sneak peek to the video I got before disembarking, the aerial footage is ABSOLUTELY AMAZING !!!!
We would highly recommend you and "Sasha" to anyone and will be sure to post appropriate comments that can be shared with other perspective guests. 
I'm not sure how these charters get paired with guests but I would highly recommend travel agents, brokers, agents, and whomever else may be in the middle get on board with getting SASHA all booked up (maybe after COVID-19 passes). 
Again, I can't say thank you enough and look forward to seeing my family when they return home tomorrow night. 
Sincerely, D.
Charter on March 7-14, 2020 in the Virgin Islands / American family of 4
Jim & Sylvia,
Thank you so much for being such amazing hosts on our cruise this Spring break! 
We appreciated everything you did to make this vacation absolutely unforgettable.
You are both so sweet and generous.
Thank you for taking us tubing.
Thank youfor making this trip feel like a home away from home.
You both always make sure everything was perfect and put in so much time for us to have fun. 
Thank you captain and Sylvia!
Love,! H family
Charter on February 29 to March 6 in the Virgin Islands / American group of 6
Dearest Jim & Sylvia,
Thank you so much for a wonderful, wonderful week !
We came to the Sasha nervous, pale, hungry and tired. Now we are happy, divers, tanned, well-fed and rested.
And most important, we are nearly magicians !
The two of you are the whole package : delightful hosts, chefs and entertainers.
We loved spending one week with you and on your beautifull Sasha !
C & L
Jim and Sylvia,
Loved every minute aboard the Sasha.
You are both so fortunate to have dicovered one another life at sea. You were excellent hosts, cooks, dive instructors and entertainers.
We loved Jim's card tricks and jokles and are gladclearly knows one joke.
M was very nervous about diving but your instruction put me at ease and made it possible and love the experience.
Merci and bonne chance !
C & M
Thank you for being such amazing hosts.
This vacation has been such a treat for all of us as couples and as friends.
We have had a magical experience on the Sasha.
The food, the whole has been breathtaking.
A & K
Charter on December 27 to January 5, 2020 in the Virgin Islands / American family of 4 
Thank you for putting up with us !
Thank you sooo…. Much for the wonderful stay on your beautiful SASH. I had the most amazing time and so many times as such as scuba diving, sleeping on a boat, snorekling, seeing a turtle, dolphin and having fish close up, and kayaking.
You both are absolutely wonderful people and I am so happy to have met you.
Best of luck and safe sails to your new adventures !!!
Xoxo C.
Sylviane et Jean
We are all enjoyed too marvellous time ; Your incredible cuisine were so amazing. We are devastated that we have to leave and all want to retourn ASAP.
A learned to scuba, snorkel and kayak !
We all learned to relax and are in awe of your hard work, incredible humour and how much.
We will miss you, XXX
P, C, C, A
Charter on December 8-14, 2019 in Antigua / a couple from Lebanon
Jim, Sylvia,
There is so much things to tell. Thank you, thank you, thank you.
You are great, don't change anything! All was perfect and full of surprises.
We look forward to seeing you again to explore the BVI'S and the Grenadines.
I wish you the best!
See you very soon!
L.
You offered us an unforgetable and amazing week. Your hospitality and your experience make us loving those beautiful islands.
We felt like in paradise and I only think to come back quickly.
Thank you for all and I wish to see you very soon. 
P.
Charter on June 11 - 23, 2019 in St Martin / American family of 4
Comment on the comfort onboard SASHA:
This was by far the best.  The berths were very comfortable and the heads were really great.
Comment on the condition of SASHA:
In excellent condition everything worked.  Also had many amenities that we have not seen on other charters
Comment on the cleanliness of SASHA:
Very clean.
Comment on the congeniality of the Captain and crew:
Can't say enough about the captain and crew—They were fabulous.
Comment on the service of the Captain and crew:
Fabulous
Comment on the fun aspect of the Captain and crew:
We enjoyed every minute of our time with them
Comment on the expertise of the Captain and crew:
We were especially pleased that both Jim and Sylvia were certified divers and saw to it that we were taken to areas where that was a possibility.
Comment on the quality of your meals:
Every meal was well prepared and there was a wide variety of meals—I would put them up against most restaurants on any of the islands.
Comment on the presentation of your meals:
Beautiful.  The pictures they have on their site are actually  what we were served

Would you charter this yacht again? (Circle one)    ---YES     NO
Absolutely
Charter on June 2-9, 2019 / St-Marteen - St-Marteen / American family of 6
Thank you Sylvian & Jean for your extraordinary hospitality for our week aboard Sasha.
You made us feel immediatly at home. The food was outstanding. You went to great lenghts to accomodate our requests and tolerated with good grace the tremendous amount of coffee and cream we consumed as well as our very American tendancy to request the wrong condiments for breakfast.
We loved diving with you both and felt very well taken care of and safe !
Thank you for going to such great lenghts to secure an additional paddle board ! We hope we proved it was worth it by using them every day in every beautiful bay you took us to.
We didn't expect but were delighted by the entertainment (Magic and music and light shows !) as well as.
The dune cinematography of our adventures !

We appreciated your willingness to accomodate our hikes and tolerate us practicing our very rudimentary French.
Our week was excellent - equal parts relaxing and adventurous - and exceeded our expectations.
Merci bien !
Adieu (A bien-tôt ?)
L. Family
Charter on March 10-15, 2019 in the Virgin Islands / American party of 4
Dear Jim and Sylvia,
We can't begin to thank you enough for the amazing time we had this past week. Everything was perfect! The food was absolutely delicious, the scenery was beautiful and the company was fantastic. We really enjoyed the entertainment (Magic shows) too! We made the best memories that will last a lifetime! You wer both so attentive and hospitable and made each day special!
Thank you for everything! It was an amazing trip!
Come to visit us anytime in Houston.
Cheers to SASHA!
R. party!
Charter on January 8 - 18, 2019 in the Virgin Islands / American couple
To Jim and Sylvia,
Thank you for a magical trip! We are nos an accomplished diver and an accomplished snorkeler... thanks to you!
When you spend your time looking after family, it is such a treat to be looked after and you have made us feel very special. Thank you!
Food, service and magic evening are all 5 stars! *****
D & N
Charter on December 21 - 29, 2018  in the Virgin Islands / American group of 5

Overall Rating: 5 (5 being the highest 0 being the lowest


1. Was the crew friendly and accommodating? 
Unbelievably friendly and accommodating. I felt like we left with them being our friends. They are great people and did whatever they could to make us happy.
2. Was the yacht comfortable and clean? 
Very clean and very comfortable.
3. Was the yacht well ventilated? 
Yes. We slept extremely comfortably
4. Was the food good and well presented? 
Oh My Gosh!!! The food was amazing! Better than anything we could have expected. Three great meals a day. Fantastic.
5. Did you like the area you sailed? 
It was perfect. They customized the trip just for what would work for us and our kids. They nailed it. It was perfect.
6. Could we at Virgin Island Sailing, Ltd. have helped you further in any way? 
no
7. May we post this review on our website? 
Yes
8. Additional comments on your charter? 
Jim and Silvia are amazing people. They worked endlessly to make this the perfect vacation for us and our kids. 
Every time we though there was nothing more they could do for us, they surprised us with a new and interesting thing. 
Three delicious meals a day. Every day the food was different, delicious and incredibly presented. 
Magic tricks and jokes at night that the kids thought were amazing. 
Fantasttic Scuba teachers. 
They were patient and extremely good with teaching us how to scuba. Incredible sailors. We never once felt in danger. They always had everything under control. 
Anchoring was a piece of cake to them. They are extremely comfortable with their vessel. 
they chose great wines every night. The bar was always open and the beer was always cold. 
They know the BVI and the USVI like the back of their hands and took us to many really interesting places. 
Most importantly, at the core, they are truly nice people. They are kind, hard working, very considerate and always trying to make our experience the best that it could be. 
They are well beyond perfect. I can not give a higher recommendation to anyone.
Charter on November 11-18, 2018 in/out of St Thomas / American party of 6
Dear Captain Jim and Sylvia,
Thank you for sharing your home with the 6 of us!
Perfect week started with a hime cooked meal, disco dancing lights and joke telling.
The BVI's are gorgeous and your hospitality was outstanding.
We hope to see youa gin!
God bless
S & J

Jim and Sylvia,
Thank you from the bottom of our hearts. What a very special and lovely trip around the Islands.
Each meal was better than the next... Lasagna, ribs, pancakes and omeletts... painkillers!!
Thank you for setting up the best dance parties around! Your light show is the best! Most importantly we loved getting to know you and Sylvia so well.
You are kind friendly and the hardest working couple I know.
Merci beaucoup, xo
C & S

Jim and Sylvia
Thank you for a very special week in BVI. We appreciated the great food and service. We loved Jim's stories and magicy and Sylviia's smiles and sense of humour. were great.
We felt very much at home all week.
You are a very competent and patient crew with no challenge or adventure deterry us from having a great trip.
We feel we have met friends.
Merci , S & C

Charter on May 19-26, 2018 / Virgin Islands / American family of 5

Dear Jym and Sylvia,
Thank you so much for sharing your beautiful Sasha and your hospitality for the last week.
As you know we came to celebrate a special event Dales birthday and were blessed by ANOTHER event... the engagement of Ashley and Shane on FJ Beach.
You made BOTH celebration as well as every other days spectacular!
Can't leave without mentioning the food... just terrific all week!
Thank you again for everything. Hope to see you soon again.
D & K.
Where the accommodations and general condition of SASHA satisfactory for your charter party?
Absolutely lovely and perfect in every way!
Was the crew cordial, accommodating and professional?
All of the above and more! Jim & Sylvia worked constantly to ensure everything exceeded our expectations to the smallest detail!
How would you describe the quality of the meals prepared and served on board?
Five stars food with five stars service! A great variety ALL DELICIOUS !
Did your charter experience meet or exceed your expectations?
It really exceeding our expectations! Jim & Sylvia were the main reason for that!
We wanted to take them home with us ! 😊
Please share any additional comments or suggestions you may have here.
Thank you all for a stellar experience! We celebrated a milestone birthday, a surprise engagement on this trip. What a beautiful experience for our family! We appreciate you helping us make it happen!
Charter on May 11 - 18, 2018 / Virgin Islands / American couple

Dear Jym and Sylvia,
Thank you for creating the perfect atmosphere for us to celebrate our 42 weeding anniversary.
This was a wonderfully romantic voyage. Lovely company, comfortable boat. delightfull waters to swim, snorkele.
Delicious food, creative meals. The sailing has been wonderful.
Thank you for creating such memories.
Fondly.
M & H
Charter on March 24-31, 2018 / Virgin Islands / American party  of 4

Thank you so much for our wonderful week aboard Sasha;
Everything was even better than we had hoped for. We so apporeciate everything you did to make our week so special.
The food was delicious, you found great beaches for the children and lots of great snorekling spots for all of us.
You were always willing to accommodate the kids requests and your flexibility made our vacation so relaxing. I think Nicholas will always remember being allowed to sail the boat (and I will always remember your bravery in allowing him to do so!).
Thank you so much again.
We hope to be back again soon.
C. Z. N & A
Charter on February 25 - March 4, 2018 / Virgin Islands / American party  of 4

We had a fabulous trip. Both the captain and Carol were excellent. 
We covered a lot of ground - I think we snorkeled about 15 times along with man opportunities to swim, kayak and paddle board. We also did some nice sailing and went ashore a couple of times. 
The captain had a great itinerary planned and was very efficient with the timing of activities and sailing. 
Carol'scooking was excellent. They both made the trip just wonderful. 
The captain downloaded all of his underwater Go Pro footage and his drone footage to memory sticks before we left - a very nice touch. 
I would totally recommend Sasha for a charter. 
Charter on February 17-24, 2018 / Virgin Islands / Family of 4
Dear Jim & Angie,
Thank you both for a wonderful and unforgettable week.
You were both so very kind and friendly and we all had an outstanding time on board.
Thank you Jim for your patience with our children during the scuba diving introduction.
Thank you Angie for your super tasty and wonderful meals. We definitely enjoyed every bite.
We loved to be on board of sasha. Thhaks again so much for helping to create many unforgettable memories.
We definitely will be back the kids giving another shot of scuba diving and the entire family enjoying another outstanding trip with you all.
All the best,  lots of love until our paths will cross again.

xoxoxox  M. family


Charter on February 3-10, 2018 / St Thomas / American Family of 4
Carol and Jean Yves Thank you for a lovely cruise. Tis week has been one highlight after another. from the  field to the islands we visited, tot he great service you gave us! We saw amazing crabs, star fish and  being salvaged!
We loved the jokes with dinner.
Once again thank you for the memories
Merci beaucoup!


Charter on January 20-27, 2018 in the Virgins / Family of 6 from Argentina

We had an absolutely fantastic week onboard Sasha with Kate and you.
We would love to be back in some years.
Please let's keep in touch, and cross our fingers that it may come true.
All the best!!
J, E, M, L, P and R
Charter on December 29 - January 5, 2018 / BVI'S / English family of 5
Jim and Aurora,
Thank you so much for the most fabulous week on board Sasha. The meals have been delicious. Aurora you are a very good cook! Jim thank you for diving and snoreling. Nothing has been too much to ask. The children have loved the endless watersports. Them and I feel rested.
Thank you both! J
Thank you Aurora for introducing me to my favorite drink the BBC!
And thank you Jim for entertaining us with those interesting jokes!
Glad to be back in the BVI'S even after Irma. Well done to captain Jim and first mate Aurora for welcoming us so well. 
SP Family
Charter on December 21-28, 2017 / STT - STT / American family of 6
Hello Jim,
Happy New Year!!
Flight back home was good. We've been busy with our family. So excuse me for answering this late to your email. 
Once again we are super happy we did this trip with you. As I mentioned in the book, you are an exceptionally professional captain and atthe same time a caring and polite person taking care of every little details during our journey. You and Aurora are very good hearted people and that made our trip a pleasant adventure. We were very comfortable and enjoyed every minute of it. It was too short !!!! We had lots of fun. To me it was very special spending the holidays with my son and the fact that I could resume again scuba diving after all of these years has been the high light of my trip. Thanks to you I felt very secure and truly enjoyed each immersion.  
Next time St. Vincent and Grenadines !!! 
Wishing you and Aurora a blessed 2018. 
Hope to see you soon :)
Kindest regards, Carolina and the whole family ! 
Charter on May 6-13, 2017 / 2 American guests / BVIS
Our second charter on the Sasha means that you're in good hands on this boat.
The accommodations are the best we've seen.
Jim & sylviane have complete knowledge on the BVI and can take you to the best sites for diving and snorkeling.
The food and drinks are spelndid.
The excellence in seamanship and navigation create great peace of mind at all times.
Jim & Sylviane are very attentive and accomodations are first class.
We don't hesitate to recommend the Sasha to any level of diving ability.
MANY THANKS !
J & M
Charter on March 12-18, 2017 / American family of 4 / Virgin Islands
Putting this week in to words is difficult except to say perfect in every way !
Sasha being our first charter none of us knew what to expect, but Jim and Sylvian mad sure this week was beyond anything we could have imagined.
It will be very emotional leaving this day because we truly feel as though we will beleaving part of us on board Sasha and leaving two very good friends as well. We will be back to do this again and it will be with Jim and Sylvian!
Jim and Sylvian thank you for the greatest week of our lives!
Good sailing to you, my friends!
J, J, T, N
This week was truly amazing, but wouldn't have been the same without  Jim & Sylvian!
You guys really made this a special week for us.
I due mynew love for scuba diving all to you.
I hope Iget to see you guys and Sasha again.
Love L
If there isa heaven on earth, it has to be Sasha.
We have had perfect meals, have seen beautiful beaches and so much incredible sealife.
Also, Jim and Sylvia are two angels. They are so kind and can't do enough for you. Our kids want to be adopted by them.
We will beforever grateful to them for giving us the best vacation full of memories!
Lots of good jokes too !
J & K
Thank you so much for letting us stay! We had an amazing time! I will remember this tripthe 2 of you, and Sasha forever.
J
Charter on February 25 - March 4, 2017 / Virgin Islands / Family of 6
You' ve spoiled us all week. We' ve had a wonderfully, relaxing and fun vacation.
You' ve set a high bar for all future sailing get aways.
Thank you for taking such great care of us - from wonderful meals to spectacular swims.
Look forward to sailing with you again!
P, C & co

Charter on February 14-21, 2017 / USVI'S / 2 guests
We could not have asked for a better Valentine day. Thank you Jim & Sylvia
The food was over the top!
We swam with the turtles and fulfilled one of our long time dreams.
Happy sailing !
E. N
Charter on February 5-12, 2017 / Virgin Islands / American party of 6 / 
What a wonderful trip ! The crew food and services are spectacular! We could have found a more memorable trip. Thank you so much !!  S C

Thank you so much, you guys are the best. Fabulous food (over the top), great boaat. Glad of have met you both. We will leave with lots of wonderful memories! Thank you happy sculing! JP. D
Thank you so very much. It was an amazing wonderful week! You guys are so wonderful and fun. The food was amazing. The week went too fast. Looking forward to future trips!!! C O
Charter on January 7-14, 2017 / Family of 6 / Virgin Islands

Food was spectacular (and I am not easily impressed!). Your warm hospitality manner let me at ease all week. You always knew what we needed before we needed it.
Next time... longer!
Thank you. Fair winds
S and D
Jim and Sylvia,
Thanks so much for a fantastic week on Sasha. We had a great trip enjoying the beautiful BVI'S with our friends. 
Thank you ! R & C

Jim & Sylvia
What an amazing week! Sasha is beautiful- so clean & enough space for the 6 of us to not drive each other craszy. The meals were healthy and fabulous beyond what we make at home ! and most of all you were so fun and accommodating to one every need. We hope to come back again soon !
L & D
Jim and Sylvia-
Thanks kindly forthe updates and sharing the guest comments.  
I have had thechance to speak with both Laura and Rob this week.  Dana and I have onlyhad a brief e-mail since he was continuing on to Trinidad.  Everyone seemsextremely happy with their charter onboard S/V SASHA.  
They wereimpressed with the condition of the vessel and your ability to meet the dietaryneeds of all guests with such fabulous food and smoothly run logistics for theentire trip.  They were very impressed with the hand rolled sushi, lobsterdinner and fruit plates in the morning.  Most importantly they all lovedyou as crew and were impressed at the operation you run and the comfortableenvironment you provide.  Most were slightly intimidated by Sylvia'sminimal English upon arrival but were very pleasantly surprised at how easily andenjoyably the trip went.  This just goes to show what a strong team bothof you are.  Should you want a recommendation at any point either myselfor one of the charter guests would be more than happy to provide upon yourbehalf.  
Thank you for allof your efforts and showing my clients a fabulous time in the Virgin Islands. I hope to work with you again in the near future.  Keep up the greatwork!
Charter on December 25 January 1, 2017 / Family of 4 / BVI'S
Très belle semaine sur ce magnifique bateau. Un grand merci !!
V.
Cher Sylviane, Cher Jean Yves,
Un grand merci pour cette merveilleuse semaine un peu courte, où vous nous avez fait découvrir les BVI'S!! Votre gentillesse, votre discrétion ont contribué à faire de ce séjour, un moment inoubliable!!! 
Merci aussi d'avoir initié les enfants à la plongée même s'ils n'ont pas croisé de requins!!!
Enfin, merci à notre "chef étoilé" grâce à qui je vais prendre de bonnes résolutions pour ce début d'année!!!
Bref a Big Thank You !
C family
Charter on December 4 - 11, 2016 in Antigua / Family of 4

Recipe for the perfect week:
Ingredients: Fabulous scenery, wonderful food, tremendous weather, marvellous company, superb vessel and most importantly the nicest and most professionnal hosts we could have hoped for!! Et voilà = le perfect week!
M M
Jim & Sylvia, 
We have so enjoyed our relaxing week with you and feel so rejuvanated. We wish you containing success and have no hesitation in recommending you any your business to our friends, any colleguess in the U.K.
With our sincere best wishes,
J. T. B.
A boat called SASHA and crew, Jean Yves, Sylvian are two, with sails and a breeze around the Caribbean Seas, the days we had ware too few!
C M


Charter on November 25 - December 2, 2016 SXM - Antigua / Family of 5

Merci à tous les deux pour ce super séjour! Plein de découvertes en tous genres, c'était vraiment génial!
J'ai adoré la plongée, la naviagation et surtout les rhum tings!!! 
Merci beaucoup, j'espère vous revoir très prochainement.
B
Thank you so much for that wonderful and awesome first experience on a sail boat! Even if the first "Nav" was some shaken but trully funny, everething else was just incredible (the atmosphere, food, activities on board and the rhum ting!!!)
I hope you will stay like this with the smile, jokles and minds.
Thank you so much again for that trip and take care with maybe a second round next year.
Cheers, bisous!
Q.
Un grand merci à vous deux!!
Ca aurait été difficile de faire mieux! Une superbe découverte avec la plongée, la nav de nuit, les îles, la voile et un super service à tous les niveaux!
On s'est vraiment éclatés, on a appris plein de trucs, on a eut énormément de plaisir avec vous et en famille. J'ai vraiment été impressionné à quel point vous fonctionnez bien tous les deux. On a été super à l'aise et ça donne envie de le refaire. J'espère peut-être l'année prochaine!!
Merci encore, keep it up!!!
A.

Une super semaine à bord du SASHA, des images plein la tête. Des repas fameux, des plongées extraordinaires.
J'espère que l'année prochaine on se fera un trajet exceptionnel.
Un grand merci!
V.
C'était super cool!!! D.

Tout a été dit! Encore merci pour tous ces fabuleux moments et ces merveilleuses vacances. On revient l'an prochain, c'est sûr! E.
Charter on November 2-9, 2016 in the Virgins / American party of 6
A wonderful yacht Sasha, fully found stable, comfortable, safe, reliable with no restrictions on her use enjoyment;
Mastered by two real professionals, with all the expertise, talent, skill and experience needed to take her and all her guests wherever in the Virgin Islands.
With that special grace possessed by the best and most cultural and sensitive of people, quick to anticipate the needs and preferences of their guests.
We anticipated every meal on board with great joy and the secure feeling that we would be surprised, delighted and very well fed. The quality abundance, flavor and presentation of every offering by Chef Jim a Sylvia surpassed.
Our gustatory expectations were always exceeded… We have never eaten so well; we have never been served so kindly; we have never been so thoroughly satisfied with every aspect of a cruising adventure.
Destinations were carefully chosen; mooring and anchoring were done very quiet.
There was never anything of uncertain or disagreement by or between the crew.
It was as every executed maneuver had been done 10 000 times.
Everything is perfect working. Plenty of water, etc…
The cruising facet happened when a guest became ill with multiple bacterial infections of the ear-throat-tong regions.
Co capt Sylvia is a registred pharmacist and keeps certain essential drugs on board. Voila !
This guest unable to control his Houston Physician, without any access to local physicians was saved in a full course of Amoxicillin under the care of Sasha. He did not have to abandon the cruise. He suffered minimally, and no other cruise participants (5) were affected.
So, happy? YES!
So repeat ? YES!
June 7-14, 2016 / GRENADINES / family of 5
Wow!! I'am afraid will be unable to express the level of service we were given because 1st class is not even close.
Jim, Sylvia work together like clockwork, anticipationg every need before it is even thought about. Exceptionaly knowledgeable about the Grenadines.
And the food was outstanding !
One of the best dives we ever been a part of.
Thank you to you both and we hope to sail with you again!
All the best !
P familly
April 1-8, 2016 / BVI'S / family of 4
The girls are really sad to be home and several times yesterday they told me how much they miss you.  Thanks for such a memorable family vacation.  Look forward to keeping in touch and to our next one with you.  I am already sending info to friends on you and your boat.
You can use some of our photos. .
Thanks again for the good time we had together.
Best...ss
March  5 - 11, 2016 / BVI'S / 6 guests
Jim & Sylvia,
Thank you for your wonderful hospitality onboard the Sasha.We all had a wonderful time and enjoyed your beautiful dishes, snorekeling and fun in the water !See you soon !A. L KMerci, gracias, thank you from all six. We ate great meals, had lot of laughs and lifelong memories.
S. W. A. L. A. G.

February 13 - 30, 2016 / BVI'S / 6 guests

We had a fabulous week withSylvia and Jim.
They are very special people and are actually missing themright now. 
Our grown kids and my husband had 3 fantastic dives with Sylvia and Jim,both are very professional divers and they all felt very safe with them.
Their cooking (especially Jim's) was awesome, they both made deliciousmeals and with my hungry crew every plate was cleaned.
Can't say enough good about the week. We would certainly love to sail withthem again in the future. Only downside was the Tortola pickup, would ratherhave Redhook or Charlotte Amalie.

J - C
What an amazing adventure this week has been. Thank you for all your kindness and hospitality. Sasha is beautiful and you take such good care of her. You both exceeded our expectations. We wish you all the best and hope to sail with you again ! Merci !

M-C
January 23-30, 2016 / Saint Martin / 6 guests

We have such a GREAT time on Sasha with great foof & company. We enjoyed our diner and busy advertising. You have been excellent hosts.
Merci beaucoup !! S H
Jim, Sylvia,
What a great time ! You are a wonderful team. Sasha is a great boat and you handle it well. The food was great and diving could not been better. Most of all your hospitality exceeds all! Congratulations. S B
Jym & Sylvia,
Merci, merci, merci! C'est très bon ! You have been awesome hosts! What a wonderful trip, the food, the wine, the desserts, all perfect ! We also loved the diving. Thanks for letting me hold your hand. Remeber to me + visit we will try to do the same for you ! Merci ! P + R H
November 13-17, 2015 / Tortola - Tortola / 2 guests

Our few days together was filled withsuperlatives – amazing, awesome, wonderful! My thanks to both of you for makingsure we went everywhere on our 'list' as well as diving, kayaking andsnorkeling every day. You and Sasha are the best ! K.
Charter June 27 - July 4, 2015 / Sxm - St Barths / 4 guests
Thanks to you for an amazing week. We loved your hospitality, your uncredible cuisine, the amazing locations to moor and the most beautiful boat.
We appreciate this precious time being able to spend all together and you both made this happen with so much fun.
All our wishes granted.
We were all looking forward to a great vacation but Jim, Sylvia and Sasha exceed all of our expectations !
Before this trip, we liked diving but now we love it! Thanks to you !
Charter April 1-8, 2015 / BVI'S / 6 guests
" To our dear friends Sylviane and Jean Yves, We have had incredible vacations, we will remember forever our week on SASHA. Thank you for everything you have done in order to provide us an exceptionnel experience. A lot of laughs, some good meals, good wines and don't forget Captain Jim's famous "painkillers". We had a lot of fun.
Thanks for your patience training us how to scuba dive. We promise that next time, we will stay very close to each other, mostly you know who !!!
Thanks, thanks for everything. Joan & Dean Jane & Dick Mark & Becky OTTAWA, CANADA "
Charter March 14-21, 2015 / BVI'S / 2 guests
When you arrived, your first impression of the yacht was:
All directions given before were very precise as we met in Village Cay Marina and on time.
What did you think about your accommodation?
Cabins, beds, bathrooms: There was only 2 of us on a 50' cat, therefore we had plenty of space.
Salon, cockpit, deck  space:
Extremely spacious and comfortable.
Was the boat kept clean during your charter (your cabins, the bathrooms/heads, your towels, bedding, the cockpit, the galley)? Simply spotless ..!!!!
Did you miss anything on board?
We would love to have lot more available time – like another week or so – but we had to fly back home.
What did you enjoy the most on board?
Everything – equal – for 24 hours, even sleeping there was wonderfully relaxing….
Please describe your Captain (professional/outgoing/friendly etc.)
Wow, Jean-Yves was like brother I never had. It was like being with your best friend ever….!!! Tracy had very wet eyes when it came to departure time….
What do you think about your itinerary, the places and bays you visited and the activities you have done?
Just perfect. Very relaxing, never rushing – lust like being in a paradise, doing whatever your heart desires…
Please describe your chef (professional/outgoing/friendly etc.)
We couldn't stop him from feeding us. Seriously – JV was just too much – always surprising us with different menus and desserts were just out of this world.
Please describe your meals (presentation, quality, quantity) ;
I can't..! You need to experience it yourself but it would be very hard for any chefs of the greatest hotels to compete with JV.
And for certain – he would be a winner, specially on his boat.
Do you feel the meals and drinks reflected the requests you made in your preference sheet?
Yes and much more.
If you had children in your party, what did the crew do to make their vacation special (food, games, toys, etc)?  
No kids anymore in my life, as now is the time to truly enjoy our vacation time.
Did you receive enough information from us before your trip, was the description of the yacht and crew accurate? Yes.
Would you sail with us again?  Yes.
Any other notes or special remarks you have:
Thanks to our Captain - Jean-Yves – we were able to get introduced to underwater diving, which was something I had never thought I'll be able to do. JV was very professional, patient and overall great teacher.Tracy and I are very thankful to him for this incredible adventure.
Charter 21st February-02nd March, 2015 - BVI's
« Sylvia, Jim,
Notre séjour sur le « Sasha » s'achève. Vous nous avez fait vivre un joli rêve à nous quatre. La plongée en bouteille a été un moment fort… Vous êtes disponibles, joyeux, patients et avenants. Restez comme vous êtes ! Merci pour tout.
On pense déjà à une nouvelle aventure avec vous vers les Grenadines. Alors à bientôt…
Bon vent… »
Charter February 15th-20th, 2015 - BVI's
« Jim, Sylvia,
Our first trip on Sasha and for me to BVI was magnificient ! You both make each island stop an adventure, full of fun ! We enjoyed some of the beautiful spots you could share. Sailing was one of our favorite parts, especially the night sail. Oh, and every meal better than the one before. Thanks so much for making this a special trip ! »
Charter February 7th-14th, 2015 - BVI's
Crewed Charter Boat Review
Yacht : SASHA with Jim and Sylvia
Charter Dates : February 7-14, 2015
Area Cruised : Virgin Islands
Overall Rating : 5
5 being the highest, 0 being the lowest
 
1. Was the crew friendly and accommodating ?
Excellent – Very friendly and accommodating – noticably more than previous charter (which was good).
 
2. Was the yacht comfortable and clean ?
Yes- sleeps 6 in comfort and rooms & bath were cleaned, beds remade throughout trip.
 
3. Was the yacht well ventilated ?
Yes – We had no need for A/C throughout.
 
4. Was the food good and well presented ?
Excellent – They are skilled French chefs, with variety to content, sizable portions and attentive to individual tastes – presentation was restaurant quality.
 
5. Did you like the area you sailed ?
Very much – good variety in harbors and locales with plenty of activity, especially with diving & snorkeling.
6. Additional comments on your charter ?
Jim and Sylvia provided a 5-star service in all facets of the charter – food, accommodations and activities. Their expertise in sailing and diving made the trip comfortable and rewarding for everyone. Their willingness to accommodate varying preferences, nedds and changes was refreshing. I would heartily recommend Jim and Sylvia to anyone wanting to charter. If your needs include diving and snorkeling, they should be your first choice. Because they are fairly new to BVI, Sasha with Jim and Sylvia may not be that well known… that will soon change, they are truly a hidden gem. 
Ammenities
Cell phone, Defibrillator, DVD library, DVD player saloon, Indoor audio system, iPod dock, Local TV, Wi-Fi, 11ft/3.5m Honda 30hp, Beach games, Kayaks multiple, Paddleboard, Swimming noodles, BBQ, Coffee machine, Deck shower, Ice maker, Owner operator, Sun cushions, Swim platform, Water maker
Diving
Insured, Diving if certified, Snorkelling gear, 2 Compressors, 8 Tanks, 8 BCs, 8 Regulators,
Diving equipment (tanks, masks, fins, bcds, regulators, wetsuits S to XL, wheights...). 2 air compressors onboard.FOR CERTIFIED DIVERS ONLY2 dives (with equipement) /diver included in the charter fee.
Additional dive (equipment included) priced US$ 50 / diver / dive
Any other certifications on request.