Yacht for Charter
SHE'S A PEACH
8005
107ft / 32.9M
| Builder: Johnson Yachts
| Year: 2016
---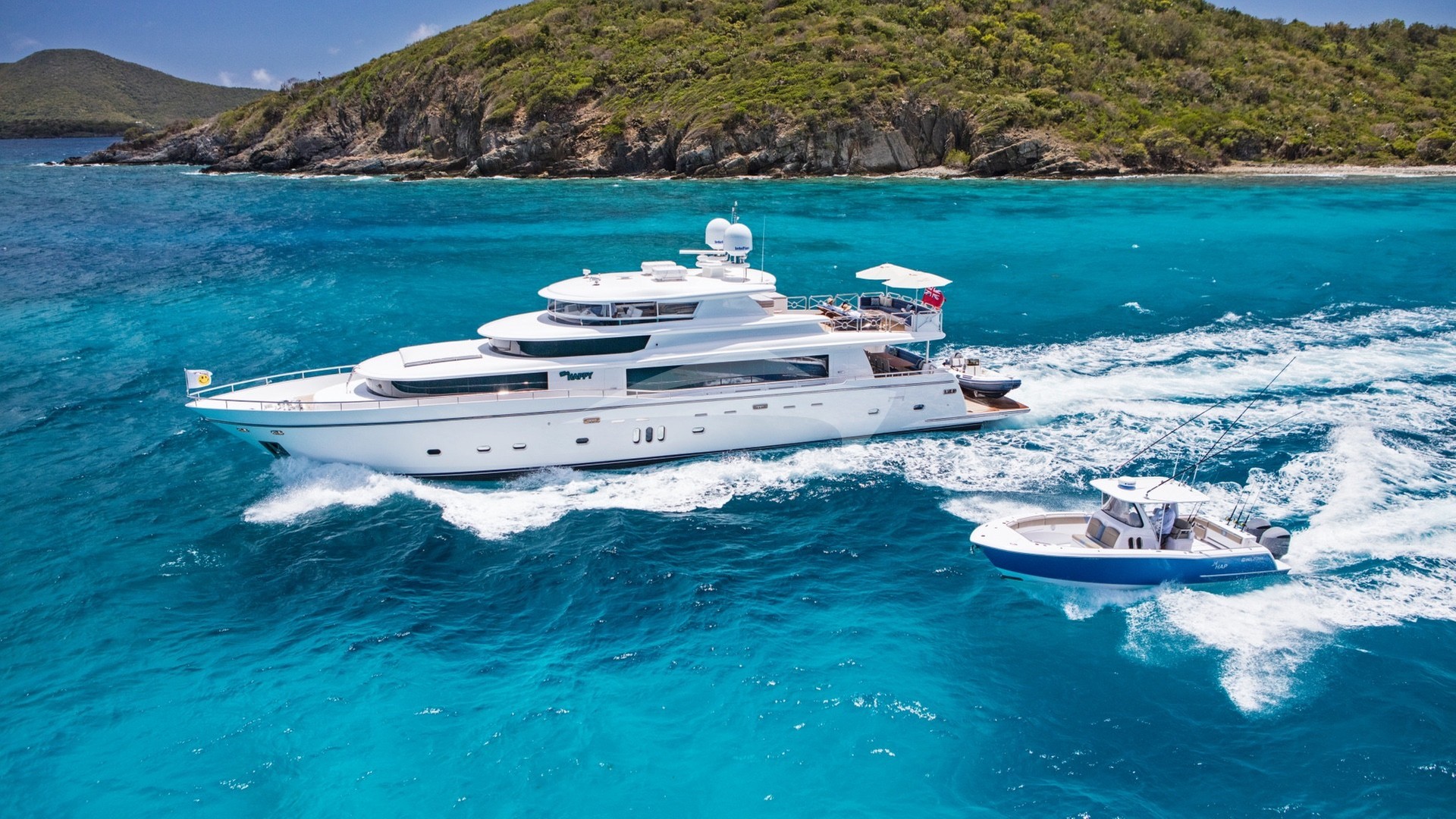 ---
Yacht Charter SHE'S A PEACH By Johnson Yachts
Cruising Speed
18kts (33kph)
Stabilisers
At anchor (0 speed)
From:
$65,000
plus expenses
Contact Us For More Information
Captain: Steve Klerk
Steve was born in Cape Town and left his home country of South Africa in 1998 to circumnavigate the globe on a 47-foot sailboat and race in different international regattas. Once Steve reached Hawaii by way of the Panama Canal the plans for the vessel changed and he made his way to Newport Rhode Island. This is where he fell in love with the world of motor yachts and sailing vessels and thus began his professional career in the marine industry. Steve eventually settled in Wrightsville Beach, North Carolina, and became a US Citizen in 2006. He owned a local Awning company and later worked as a traveling Maintenance Specialist Consultant in Canada, Wales, Australia, and the Philippines, but his heart always yearned to be back on the ocean. In 2010 he returned to the nautical industry and has been Captaining a variety of vessels. His experience has taken him throughout the East Coast of the US from Northern Maine to Southern Florida and the Keys. Steve has thoroughly enjoyed exploring the islands in The Bahamas, British, and US Virgin Islands as well as the Caribbean as far south as Trinidad. When Steve isn't sailing the high seas you can find him partaking in all water sports including but not limited to freediving, scuba diving, surfing, and flight-boarding.
Chief Stewardess: Adrienne Van Tongerloo
Adrienne was born and raised in a small town outside the capital city of Canada called Manotick. She has a Bachelors degree in Psychology with a minor in English literature. Adrienne has been traveling internationally from a young age and relocated to Australia after high school and lived there for four years. She gravitated to the hospitality industry at 18 and has since been managing high end bistros and wine bars all over the world. Adrienne moved to Honduras in 2016 to complete her Divemasters in scuba diving training and from there met a man who convinced her to move to Florida to begin her yachting career. She has worked as a chief stewardess and deckhand on a number of different boats. Her favourite places to cruise in the world are the Glacier National Parks of Alaska and anywhere in the South Pacific. What she loves most about her job is the versatility in her positions as well as the potential for knowledge expansion and education. When Adrienne isn't working as crew on board yachts, she can be found skydiving, swimming, hiking, surfing, scuba diving, reading and traveling around the world. She can speak French and is a lover of all animals.
Bosun/First Mate: John Tobler
John was born in Boulder, Colorado and he spent his formative years in the mountains of Breckenridge, Colorado. He has an associates degree in computer networking. He has trained as an EMT and is a certified PADI Divemaster. John started working on small cruise ships and then moved to Honduras to complete his Divemaster training. He discovered yachting through a friend in Honduras & quickly realized his love for driving boats of all sizes. He has been working towards his captains license so that he can run large vessels. John has extensive experience working in the Caribbean, Bahamas, Florida as well as the North Eastern United States. His favourite port of call and cruising area is the British Virgin Islands. John loves yachting because it offers many challenges as well as rewards. He loves being outside, working hard and traveling to new places. John is an avid landscape photographer so you will always find him with his camera and drone in tow. He is passionate about being active and healthy so mountain biking, snowboarding and scuba diving are his go-to sports. He would rather be outside than anywhere else.
Chef: Bryan Bobinchuck
Bryan Bobinchuck was born in Fort Lauderdale, Fl, and raised on Hilton Head Island, SC. During high school, he worked under a prominent chef on Hilton Head. In 1999, Chef Bryan opened a restaurant. Catch 22 was consistently voted in the top 3 restaurants on Hilton Head Island.
When Chef Bryan is not inventing his own scratch recipes, you will find him on his bike or on the water.
He enjoys road and mountain biking as well as fishing, snorkeling, and free diving. You will find him looking for locally-grown ingredients at farmers markets or growing his own if he can find some space. You'll watch and listen to him teaching adults and children about nature and indigenous flora, fauna, and animals. Chef Bryan has recently made a name for himself in the yachting community. His diverse skills and adaptability make it easy for him to work with all food preferences, tastes, and potential allergies.
Chef B has a positive demeanor, a happy smile and broad scope of knowledge.
"I can't even begin to tell you how wonderful a time I had. The Captain was first class from the start. His knowledge and professionalism along with his politeness and willingness to accommodate every question about the islands, boat, snorkeling places to go hike and even put up with our getting lost a couple of times was over the top. He probably wonders how we made it to the islands in the first place. HA! He was the best. And now for Mrs. Happy. WOW. I knew we were on a nice boat, but that was the highlight."  
--Charter Guest 2017
"The trip blew our expectations out of the water. The staff and Mrs. Happy's accommodations  were completely over the top.  Please pass on our thanks to everybody for making sure that our trip was absolutely the best vacation that we have ever been on.  Thanks again!"  
--Charter Guest 2017
"Finally getting a chance to email you after returning from our amazing trip on Mrs.Happy touring the beautiful Virgin Islands! Wow! Never in my wildest dreams did I ever think I would get to experience such an amazing vacation! It was perfect. The crew went above and beyond to ensure every minute was special. Tearful goodbyes is an understatement. Each and everyone of you will hold a special place in our hearts."
--Charter Guest 2017
Ammenities
Wi-Fi, 1x RIB, Assorted water toys, Board games, Floating mats, Paddleboards multiple, BBQ, Light fishing gear, Jacuzzi on deck, Sun cushions, Sun loungers, Swim platform
Diving
Not Insured, Diving by arrangement, Snorkelling gear, Spearfishing gear, Underwater lighting