Yacht for Charter
XENIA 62
6074
62ft / 18.9M
| Builder: Privilege Yard
| Year: 2007
---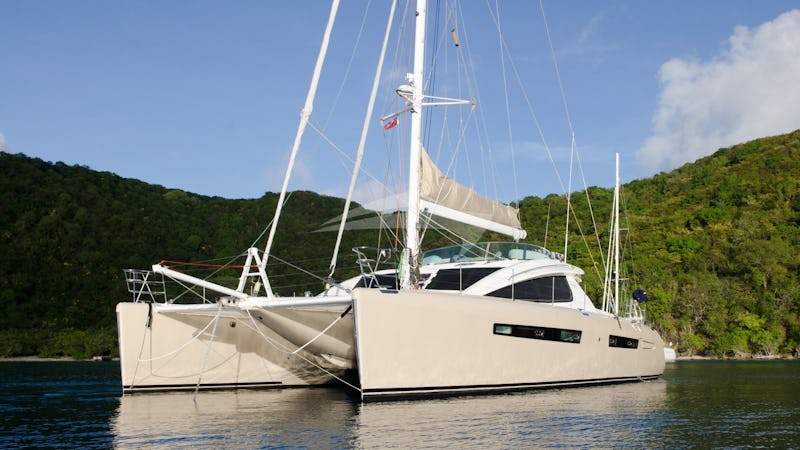 ---
Yacht Charter XENIA 62 By Privilege Yard
Cruising Speed
6kts (11kph)
From:
$22,950
plus expenses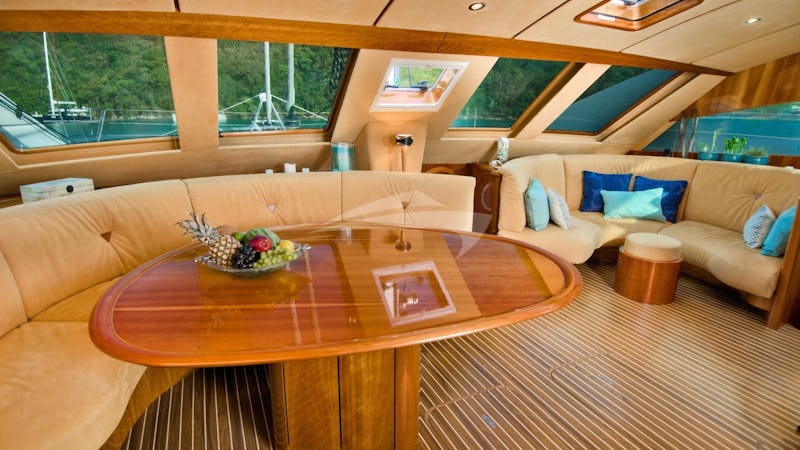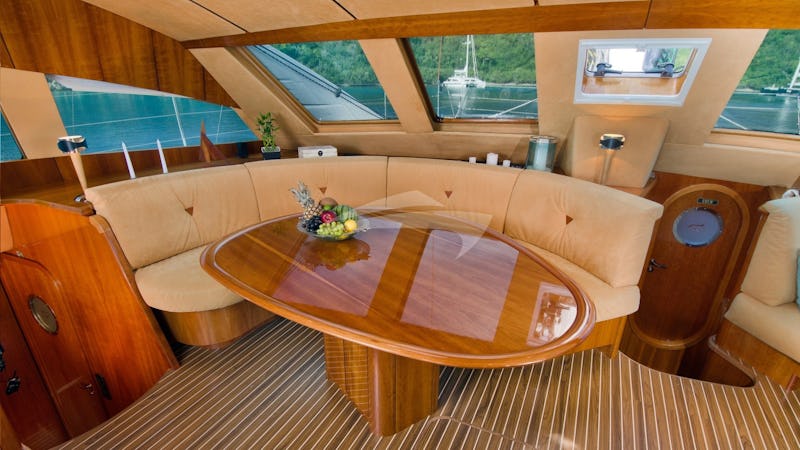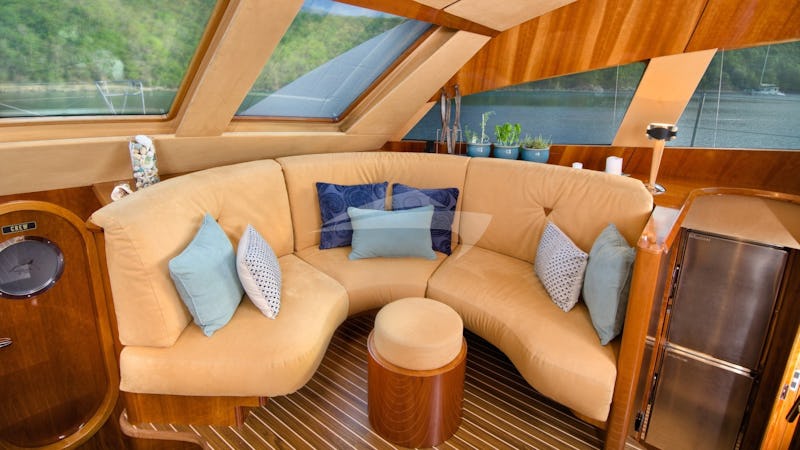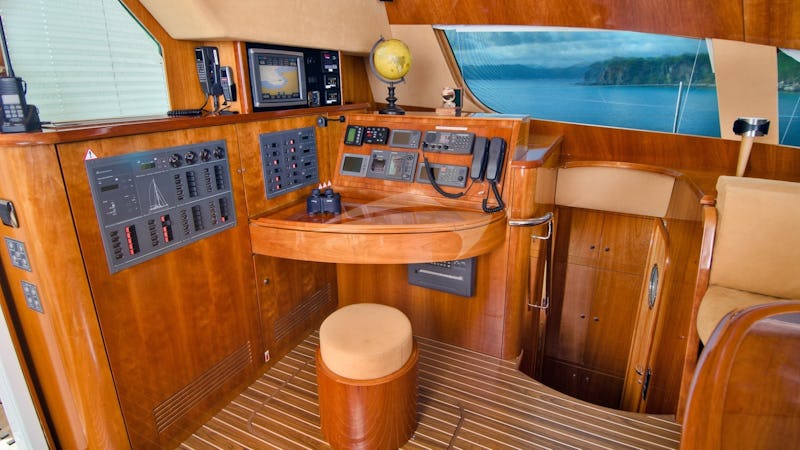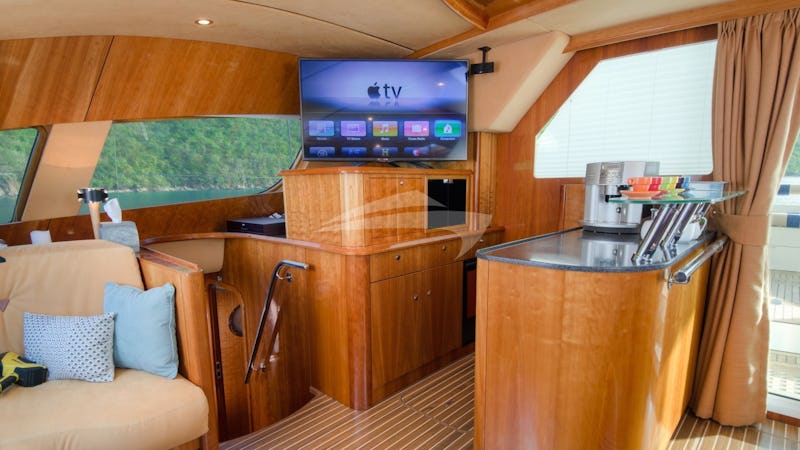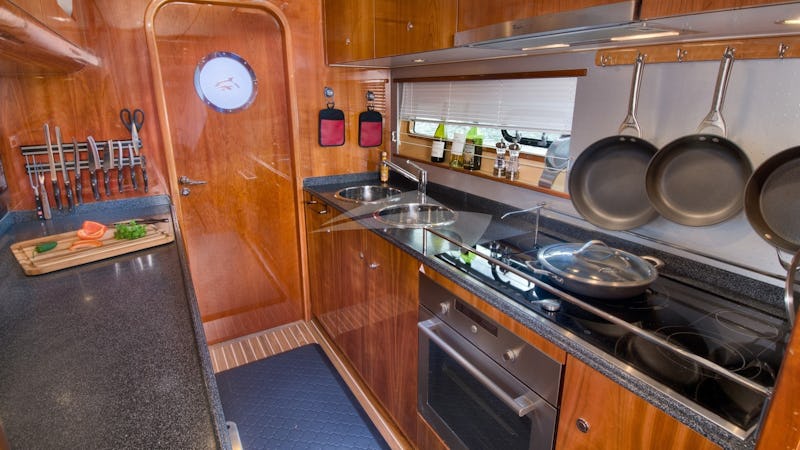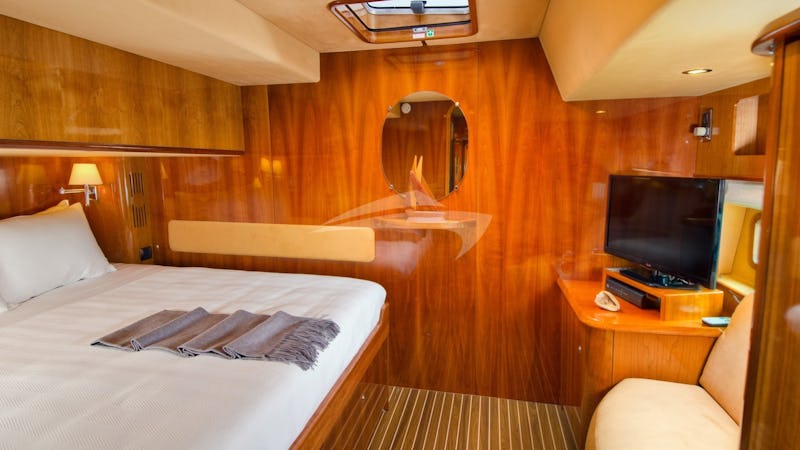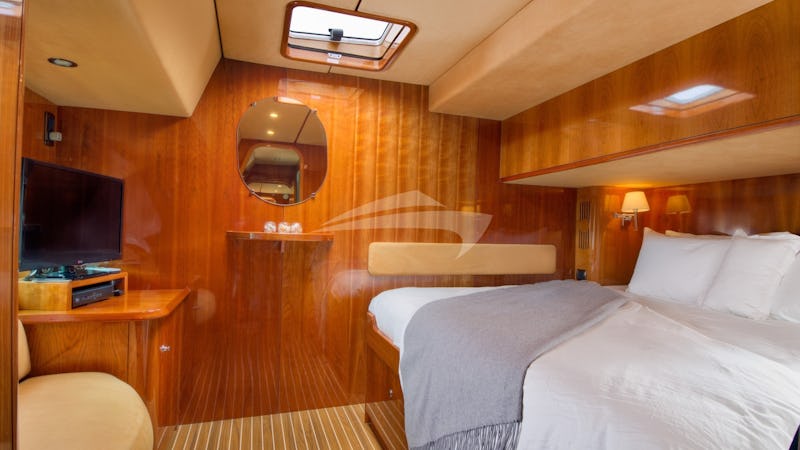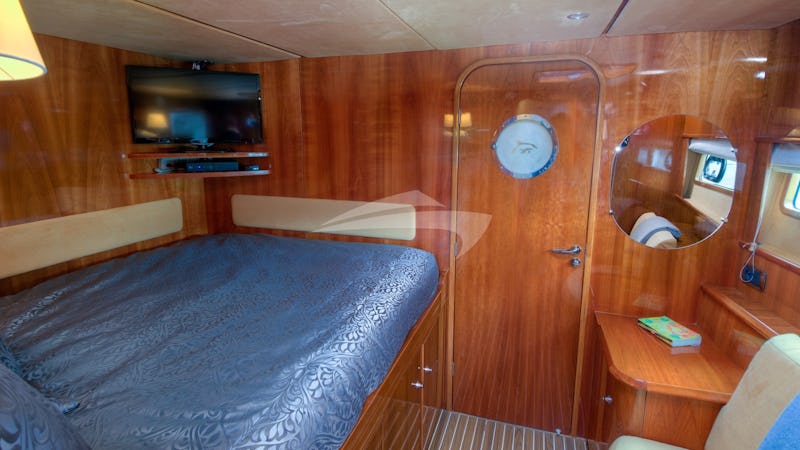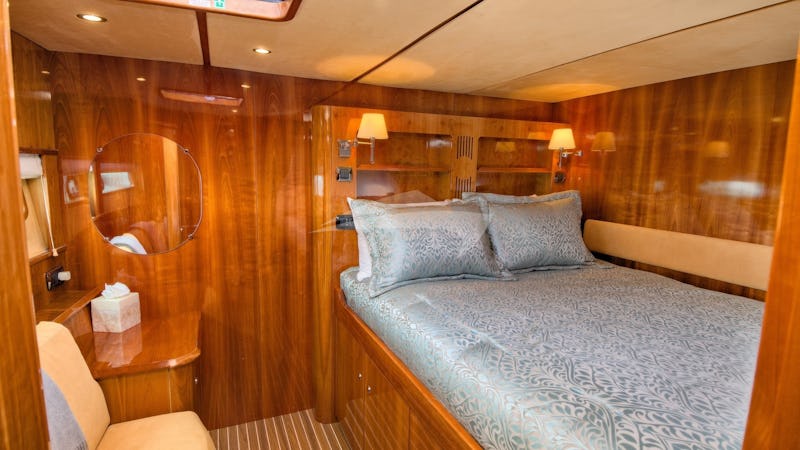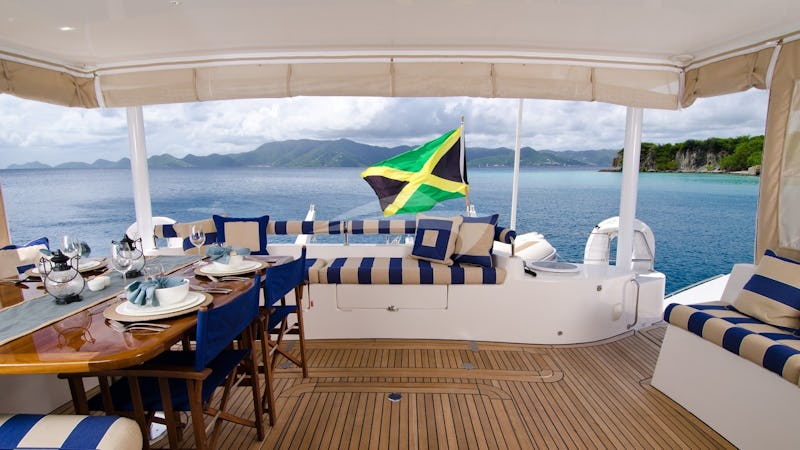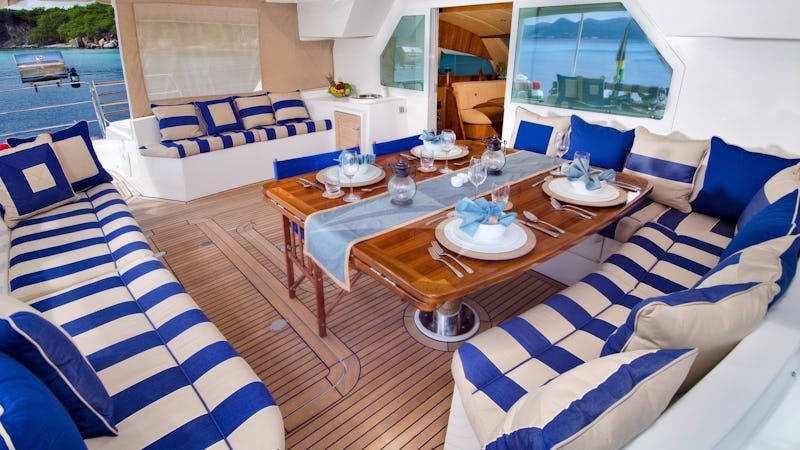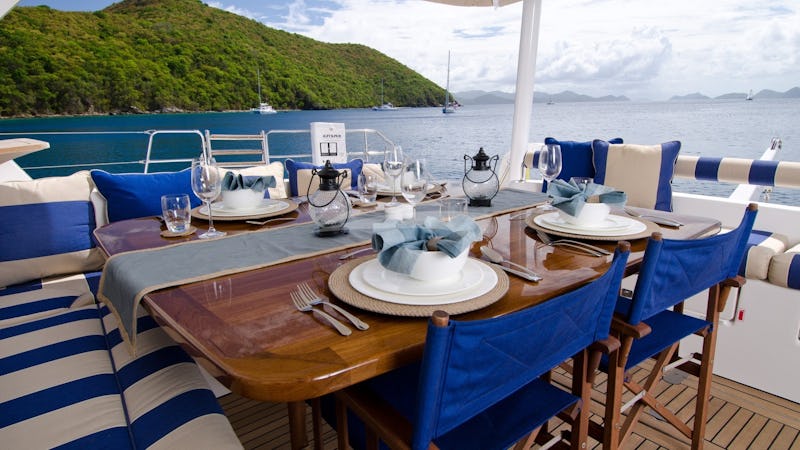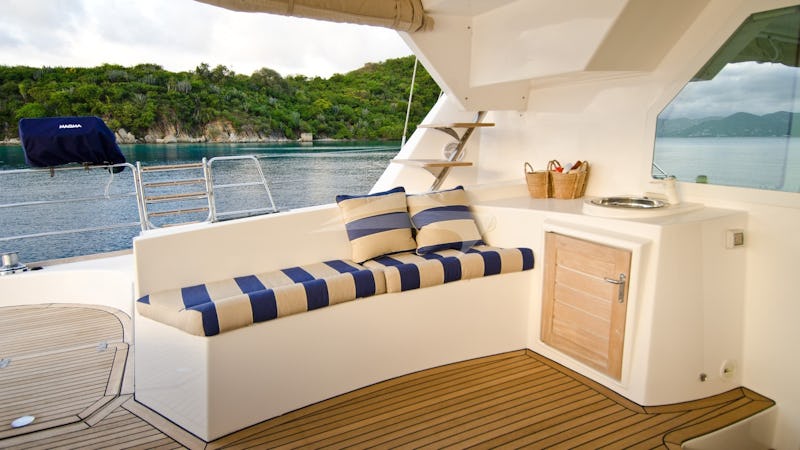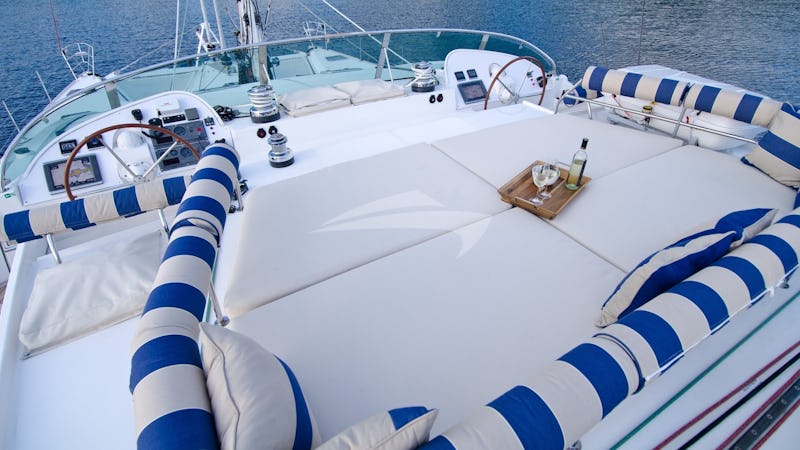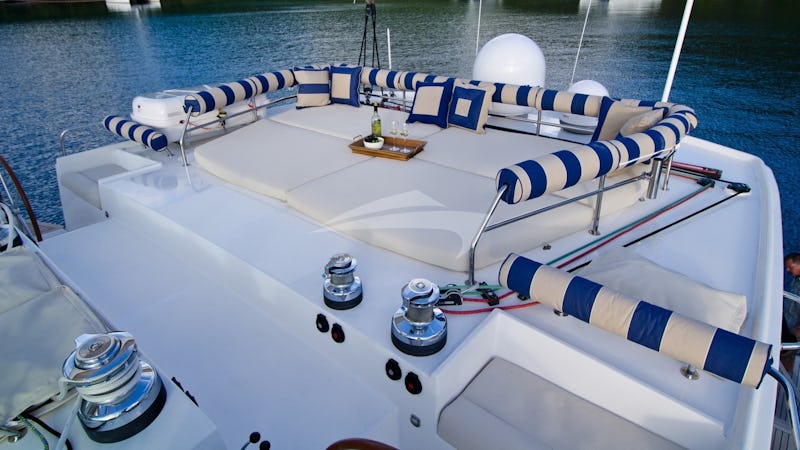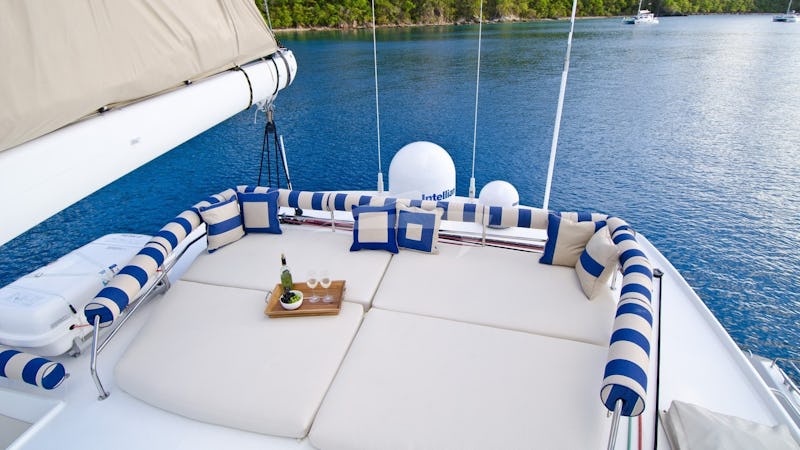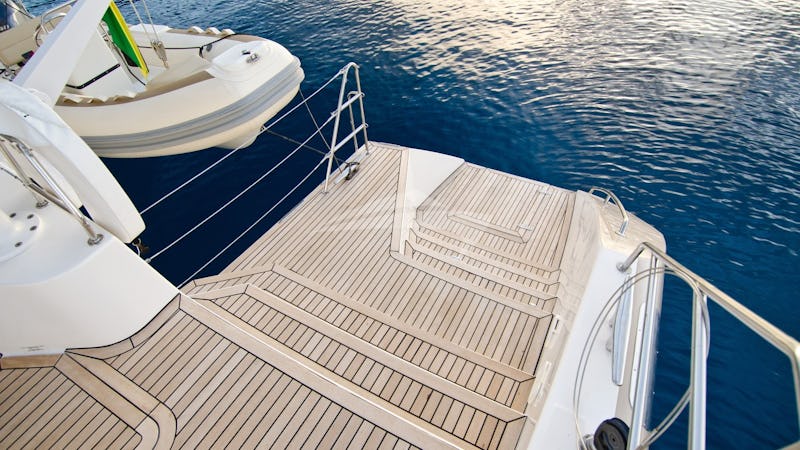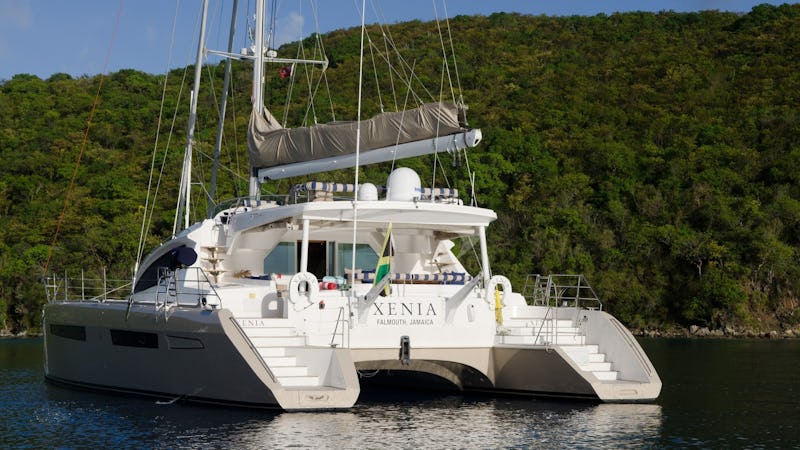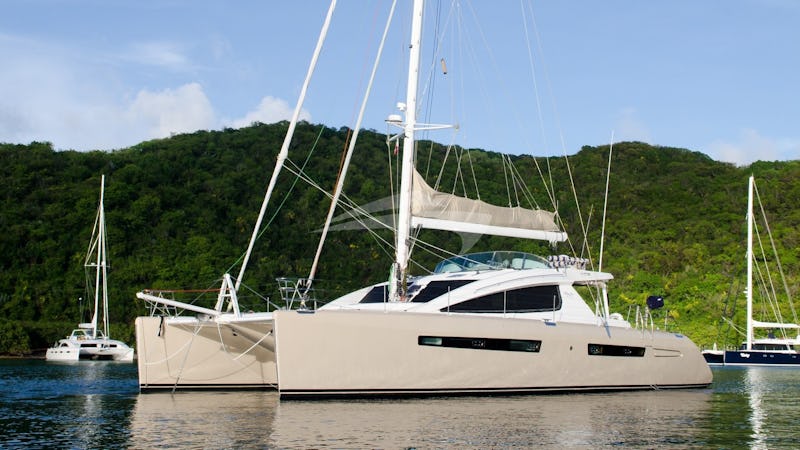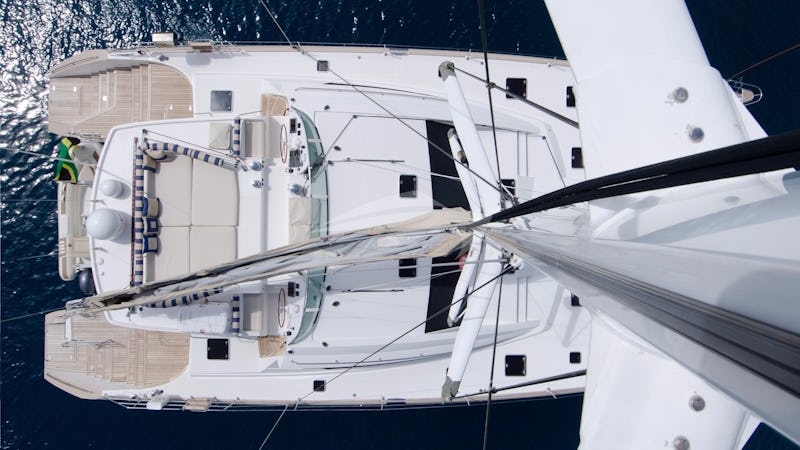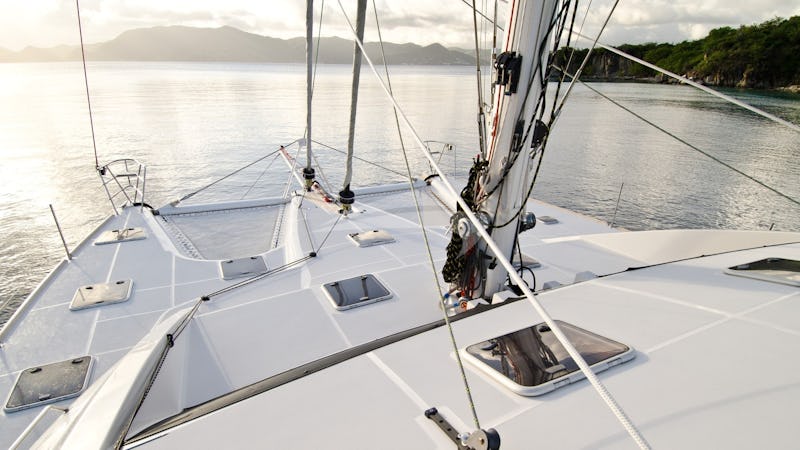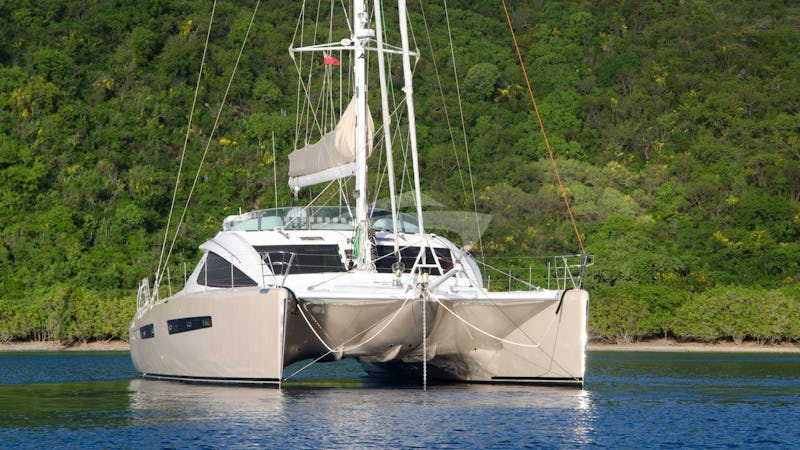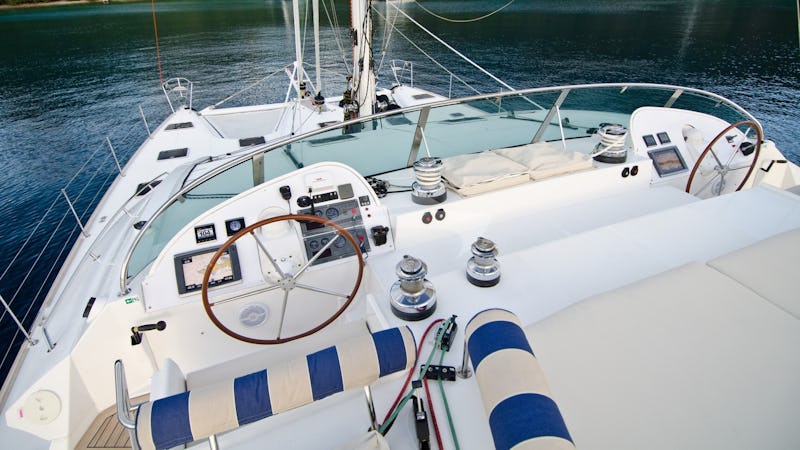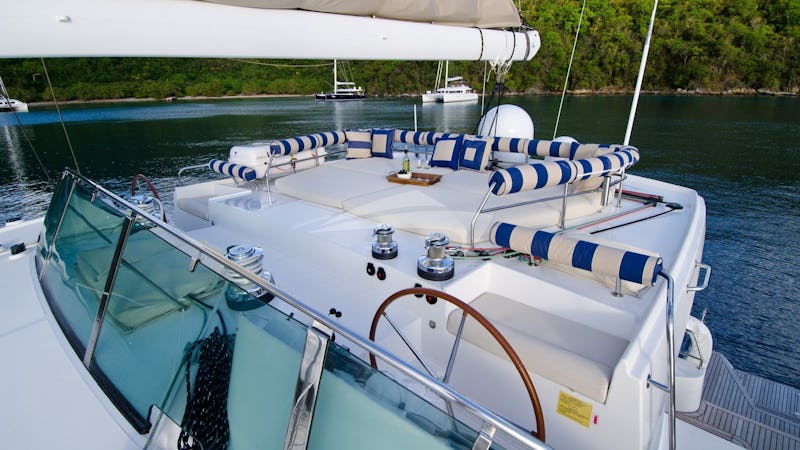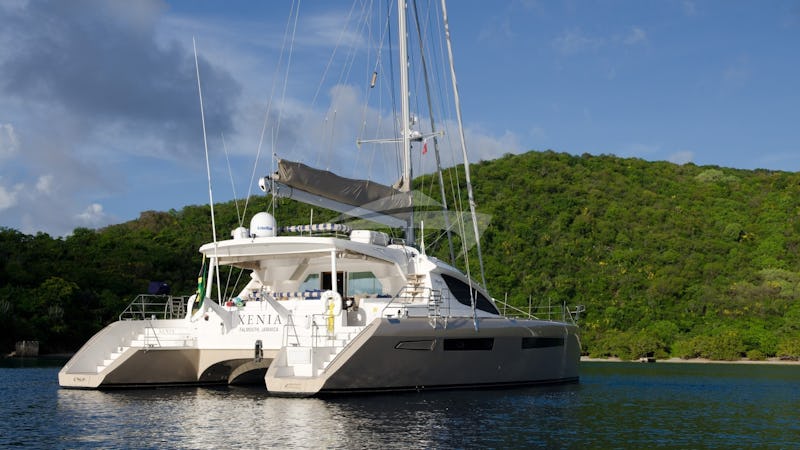 Contact Us For More Information
Captain: Matthew Mullins (38)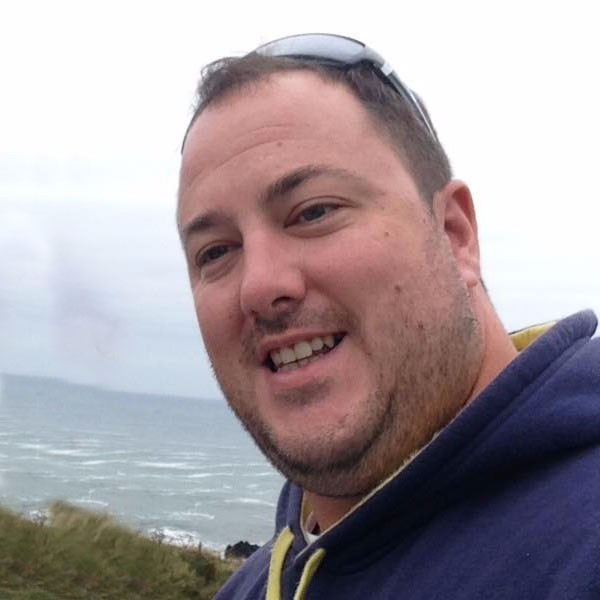 Matt and Tara are an experienced and energetic couple, with a diverse range of skills both above and below the water. They are a highly motivated, self-organised couple with an eye for detail and the desire to ensure their guests have the vacation of a lifetime.
They love helping guests discover the amazing waters of the British Virgin Islands through snorkeling and diving; Tara has been a diving instructor since 2001, and she really enthuses about the local fish and their habitats, sharing her knowledge with guests.
Matt is an RYA/MCA Yachtmaster with over ten years professional experience sailing the waters of Australia, BVI, Italy and the UK. He enjoys meeting new guests and dealing with any interesting challenges over the years. He loves being involved on deck and in the water, as well as exploring new places and cultures.
Chef/Hostess: Tara Phelan (47)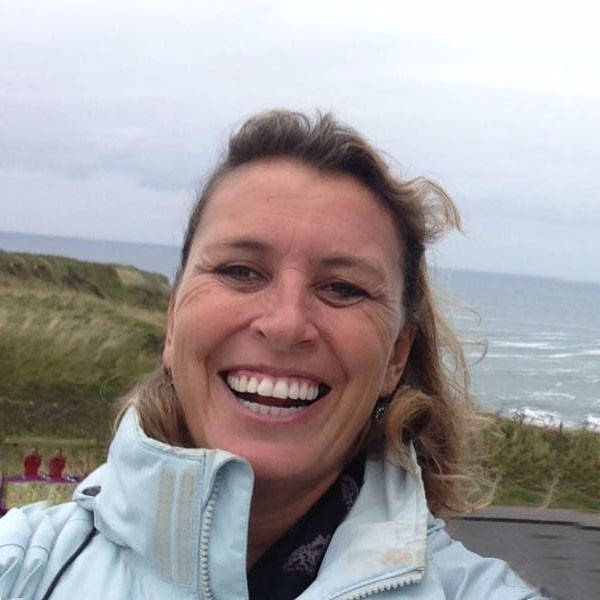 Tara is a highly qualified chef, having spent two years in one of London's top catering colleges, followed by 10 years working in some of the top restaurants and hotels in London. Wanting to travel she became a diving instructor and started exploring the world. Tara has now have found a way to combine her two passions: cooking and the ocean. As a result of her training, when faced with issues like food intolerance or allergies, she can quickly produce suitable alternatives without inconveniencing the customer. Tara really enjoys creating new menus and experimenting with new dishes, in order to provide her guests with a fantastic culinary experience.
New Years 2019/20

Dear Matt and Tara,
What an incredible week!
The Xenia is such a beautiful boat, and her beauty is enhanced by her fabulous crew.
Chef Tara your expertise in the galley is exceptional.
The food was not only delicious, but the presentation was always lovely.
Your love of what you do is evident in your daily joyful activities.
We appreciate your attention to detail and our special likes and dislikes.
We are greatful for all that you did to insure we were not only full, but happy at any given moment.
You made New Years extra special, I hope your energy is contagious as I plan to take some of your energizer bunny spirit home with me.
Captain Matt, you are wonderful.
Not only are you an extremely knowledgeable Captain, but your ability to make us all comfortable during each part of our charter is spectacular.
Your quite, yet hilarious sense of humor kept us laughing and entertained.
The fact that you seemed to know our individual personalities made it even more fun.
Your digs at Cameron we're great!
We appreciate your willingness to adjust your plans when we wanted to,go,and,do specific activities - even at the last minute.
You and Tara make a great pair on Xenia and in life.
Mac and I also thank you for the map of our trip and our points of travel.
We will always treasure it and the memorizes of our time with you.
We wish you many years of happinesses and constant calm waters.
We are very blessed to now call you our friends.
Love
Mac, Susan, lauren, Tatum, Cameron & Erin



Christmas 2019
Dear Matt & Tara (Xenia62)
On behalf of the entire Kadkhodaian and Ward Family, I want to thank you both for an Amazing week!
It is not often Pooria and I can get all 5 of our children together to have fun and celebrate Christmas in a bathing suit and adopt our crew into our family.
The Island hopping was amazing even on our rainy day!
We appreciate you both and the beautiful Xenia62.
We hope to see you shortly in the BVI, Grenada or Colorado or Italy?
You made our trip wonderful and we wish you both all the happiness , Love you both Anne Marie, Pooria, Ryan, Natahsa, Layton, Aiyana, Alex (Bagel Boy..



June 2019
"Dear Tara and Matt
Thank You!
For a beautiful week  we spent on Xenia 62 We will always remember this trip, thanks to the magic of Matt and his Drone!!
And Tara with her friendly smile and her expert hands in the kitchen, Everything was amazing, and always ready with warmth and honey.
We hope to return soon and visit our new friends in the paradise The BVi Claudia & Leon from Argentina❤️
May 2019
"Tara and Matt
Thank you for a wonderful week on the beautiful Xenia 62!
We had an unbelievable time
The best food we have ever ate, the most incredible sailing imaginable, Beautiful islands and an amazing time around the dining room table!
And who could forget the Liverpool Championship game!
Thank you for keeping the paparazzi off our tails😉
You two are the BEST thank you for giving us our best vacation as a family ❤️❤️❤️ The Gilbert Family
May 2019
THANK YOU SO MUCH FOR YOUR WONDERFUL HOSPITALITY.
THE ACCOMMODATIONS WHERE AMAZING,
THE FOOD EXCEPTIONAL.
AND THE PLANNING THOUGHTFUL.
WHAT A RELAXING WEEK
THE PERFECT GETAWAY
THANKS CATIE & JAYSON"
January 2019
Tara & Matt,
Here's to the small ships,
Here's to the tall ships
But especially here's to the Friendships Made at sea.
 Love, Andree & Bobby
Matt & Tara
To the Best Chef in the Virgins, To  great Captain and Bar Tender, You both created a great vacation!!
Love, Don & Peggy
You are a fabulous Team!  Thank you for an amazing adventure
Love, Murray and Ellen
Tara & Matt,
Thank you for making our trip extra special We had a wonderful time.
Kindest Paula and John
New Years 2018/19

We loved spending New Years with you!
Beautiful scenery wonderful family memories, Never went hungry- haha The Boyd tartan pasta was unbelievable We never lacked for anything!
We even had a new boy friend for Wiley!
She absolutely loved ❤️ captain Matt
She'll certainly miss him.
We'll looking forward to being back to the beautiful BVI's Best of luck to you and Matt in the New Year and for the Years to come!

November 2018

Guest comments to the broker
WOW!  Absolutely the best I have ever chartered.  Spectacular boat, accommodation, details reminiscent of Mandarin hotel in Singapore (my best ever.)  But total trip was created beyond this world by Mat and Tara. REAL PEOPLE!!!  The best personalities I have ever lived with for 7 days!!!  Perfect for my crew, perfect for any crew.  Safely, knowledge, superior meals, great listeners, and most of all, dedicated to the wishes and dreams of our crew.  Wish I could take  them home.  Dream 70th birthday sail beyond compare!!!  Want to sail in Grenada with them in 2019.  Let me know available dates.  Tight lines and thank you.  Rich
November 2018
The "old man" Rich
"I must go down to the seas again, to the lonely sea and the sky, And all I ask is a tall ship and a star to steer her by; Found the beat tall ship in the BVI Xenia 62, the best crew - Family and the stars (rock stars) Matt and Tara what a great birthday trip Destinations, adventures, food, the best.
Thank you Rich"
The "old Mans 70th Birthday Crew"
We came seeking open air, adventure and magic moments And we found them all on Xenia 62 Thank you Tara and Matt for sharing your "back Yard"
So warm and willingly with us!  You are doing Xenia 62 such honor with your hospitality From service to sweets- you two made an already amazing trip even better than imagined!  Here's to smooth seas and tight lines as you adventures continue ❤️ from All
November 2018
"Where to begin!?!
An Absolutely Fabulous experience made seamless by Matt and Tara!
Tara's skills in the kitchen are world class - each meal out doing the prior one.
Matt's temperament is perfect for the job - easy going and safety conscious.
You guys worked your tails off and did it with a smile.
We hope to be back in the near future, in the meantime come visit us in California
#snorkieteam6
#tanktoptodd
Cheers
Todd and Jeanne"

"Wow!
This was more than a vacation it was an experience to remember forever!
Matt and Tara are authentic and were born to host,
It felt like visiting old friends in paradise.
They take ownership of the yacht and go above and beyond to make the experience more memorable.
Every meal was ever more amazing than the one before.
We look forward to coming back with our little girl.
We would love for you to come visit so we can have the opportunity to take care of you.
Jaco and Rebecca"

"Yeah....so...pretty much what everyone else said..
If the saying of "if you love what you do, you will never work a day in your life is true,
Then it certainly applies to you both.
We all know that you both work hard, but make it all seemed so EFFORTLESS and ELEGANT..
Thank you both so much for showing and being a shining example of true HOSPITALITY
#RIPSNORKIE
#XOXO

Mick and Dina
AKA Snorkie
April 2018
Dear Tara & Matt
Thank you for the incredible trip on the Xenia 62!! We had the most unbelievable time, the food was divine and the sailing as smooth and beautiful.  Thank you for showing our family the incredible islands and sights.  Thank you for accommodating to our dietary restrictions this week- the food was the best we have had!  We had such a lovely time getting to know you both and we hope we get to see you again real soon!  Thank you a million times for the best vacation!
Rebecca, Ben, Syd and Belly
February 2018
Matt & Tara
Thank you so much for your gracious hospitality onboard Xenia 62.
It was so nice to connect with you both again!
You are both AWESOME!!

Matt & Tara
Many thanks for an awesome week lots of laughs throughout the week with your amazing meals!
Hope to see you again someday for another adventure XXX

Love Kathy, Tom, Shawn, Dave, Mary & Lou

February 2018
Dear Matt & Tara
We had such a great time! Best trip EVER! From the food, snorkeling and Scuba etc it was the best.  Come to Maryland anytime we will show you our life on the water :) Leigh & Steve
Dear Matt & Tara
Thank you so much for a wonderful week!  Bless you for taking care of Steve whilst recovering from his surgery, Your thoughtfulness was appreciated!
Hope to see you both again very soon, We will miss you tomorrow!! XxX
Steve & Mary
Hi Guys the trip was Fantastic!!
We can not imagine ever doing another without ya'll.. From Matts answering the endless questions to Tara's tremendous meals You were both GREAT!
Thank you we hope to be able to charter with you again.
Micheal & Karen
Tara & Matt
Thanks so much for showing us the Virgin IslandsBeautiful Boat, Great Food and wonderful hospitality.
A wonderful week of memories.
Lindsey & Billy Bob Denton
January 2018
The time of a lives! Thank you so much for the amazing week aboard, Great advice on the mountain beach bar...lol Y'all are the best.
Jason & Amy

This trip has exceeded our expectations beyond belief!
The food was amazing Tara,
Thanks Matt for taking us to some beautiful places and keeping us all safe, Y'all are an amazing crew! Much Love!
David & Amber

Matt and Tara thank you for the best vacation ever!
From amazing food to gorgeous day sails to our next stunning location, Every bit of this trip has exceeded our expectations!
Thank you for putting up with our shenanigans this week!
We Love Y'all Laine & Drew

The best trip of our lives!
Thank you the incredible service, memories and FUN!
Tara's food was some of the best we've ever had.
Can couldn't have asked for better tour guides Much love to you both we'll certainly miss our time on Xenia 62❤️
Brian & Courtney

New Years 2017/18
Matt and Tara,
Thank you so much for a fabulous Christmas Vacation, your boat is beautiful And food was amazing, we loved it could not ask for betterweather. We had a great time thank you Tara and Matt for the amazing family tandem charter Wonderful weather, over the top food.
The 3 generations of Rodziks all 16 of us had a fabulous time.
Christmas 2017
Dear Matt and Tara
Thank you for such a wonderful Christmas Vacation.
Everything was perfect, the weather, the locations and the food!
Tara kept our bellies full and one of us gained 10 lbs..
Matt kept us safe and our Dilly Dilly's cold.
Matt thanks for sharing your private reserve "Matt'sStash" of Bud Lite Beers with us..
So glad you finally acknowledged the king of beers as your preferred swill..
Merry Christmas
The Noonans
October 2017
Dear Matt & Tara,
Thank you for a wonderful and memorable week -Sol's magic fudge cure for sea urchin stings as well as the Rum Punch of course -Ted catching a bar jack with spare ribs -George buying the not so tasteful Caribbean shirts
- Charlie finding the ants nest on Petit Nevis
- Arnie in bed by 7.30
- Natalie snorkeling with a spotted eagle ray Tara the food was great, 3 amazing meals a day Matt thank you for making our virgin cruising holiday so much fun.
Until next time
The Arnolds
July 2016
What an amazing trip with 2 of the most gracious crew and now friends. From our initial greeting i knew that we will be well cared for. From seeing all the sights to gaining at least 10lbs from all the fabulous meals. What a gift you two are to the Xenia. The passion you two have for making sure that each person on the trip had a memorable experience will stay with me for ever. 

We look forward to another trip next year. Im hoping for many years of happiness to you both. It is very deserving for a couple who works very hard at pleasing others. Thank you for an amazing holiday with friends. 

Stay well,
Diane

June 2016
The trip was wonderful.   The boat and crew fully met and exceeded our expectations.  Jos and Chrizaal were wonderful.  The food was fantastic.  None of us had any complaints whatsoever.   Thanks for all your help in rescheduling.  The weather was perfect!  HD
April 2016
After a week like this the hardest part is to say goodbye. Our big dream about sailing the Caribbean with all our parents and kids came true. 
You made this week spectacular. Every minute of our time was infused with your loving care and endless effort to come up with the most brilliant itinerary to visit the most amazing spots. Chrizaan every dish you served was a master piece. Every drink had a special touch. Jos your artistic video and photos will be the best memory of this unforgettable week. We all want to thank you from the bottom of our hearts.

March 2016
Have to tell you, you knocked it out of the park on this one! Everything is what we hoped it would be and more. Jos and Chrizaan are lovely, and food and hospitality and professionalism ideal. We are having a wonderful time and this boat and its quality are over the top. Thank you so very much for the recommendation. We are already talking about doing it again when the kids are in school so we would have more flexibility on timing and prices.
Thank you again for checking, it has been spectacular so far!
All the best
March 2016
Thank you for your kind follow-up note.  I know I can speak for every member of our group in saying that our trip was perfect in every respect.  A few thoughts and observations:
 Xenia 62 was in immaculate condition, hospital clean, well organized, well stocked and everything running as designed in excellent order.  It was spacious, most comfortable and luxurious.  The owner can take great comfort in knowing his yacht is being well run and well maintained by Jos and Chrizaan.
 Most importantly we must compliment Jos and Chrizaan for their role.  If one were looking for the perfect couple to represent the yacht's owner, to serve as a duet of ambassadors for perfection in every respect, that would be Jos and Chrizaan.
 Jos and Chrizaan made the trip a memory of a lifetime. In some order of chronology, let me begin by saying they made great contact with us prior to our arrivals, gave excellent directions, were waiting for us upon our arrival and welcomed us aboard Xenia 62 with snacks and drinks. It just kept getting better each day.
 Jos is a gentle giant, kind, professional, in-command, attentive, proficient and polite.  He works extremely well as a team with Chrizaan.  Often that is not always the case and especially in close quarters over extended periods of time it can be difficult to be on top of your game each day and manage the work with each other.  They are clearly a great team together and it showed.
 Jos is clearly well respected in each location we stopped at and was excellent in handling and guiding us through Customs clearings. Some would have merely dropped us off and pointed to the Customs office and left.  Jos did not.  He guided us through the process and clearly was well respected by the Customs officers.  This too speaks very well of Xenia 62 and its owner.  The ramifications of that can't be underestimated.
Chrizaan was simply over the top!  Kind, gracious and fun.  Each meal she prepared was a 6 star presentation and culinary delight.  Not one menu was repeated!!
 Her servings were ample, the quality outstanding, presentations were a work of art (so much so we started taking pictures of each meal as she and Jos served them to us).  We were amazed at how skilled Chrizaan was to prepare essentially 30 meal servings per day (the eight of us and the two of them) at a 6 star level, each meal served on-time and prepared in a relatively small galley.  That takes considerable planning, skill, coordination and timing to have everyone's meal so perfect each and every time.
They also were kind enough to have some birthday decorations and a special meal for two in our group who had birthdays during our trip. It's that kind of extra-mile attention to detail and kindness that separates our experience from the competition. She serviced our rooms and kept them spotless in a way that if you were not focused on her, she completed those tasks before you even noticed.Suffice to say both Jos and Chrizaan were up well before any of us and went to bed after we did. We are the all members of the Jos and Chrizaan Fan Club. They breed loyalty, dedication and repeat business.
It is clear that Jos and Chrizaan take great pride and pleasure in their work and that benefited each of us on our trip.We simply can't say enough good things about our entire experience. We were so impressed and got along so well with Jos and Chrizaan that we invited them to stay with us should they ever find themselves in the Los Angeles area. That sums up our experience and respect for them. The owner of Xenia 62 is very lucky to have them as his representatives.
New Year 2015/16
Sorry for the slow response. We're back to reality.
Our holiday on Xenia 62 was fantastic! It exceeded every one of our expectations. The boat is beautiful. The accommodations were perfect for our family. Jos and Chrizaan are wonderful hosts and very nice people. They are very professional, knowledgeable, personable, and friendly. They took great care of us.
Jos and Chrizaan know the BVIs like the back of their hands. We planned a route every day, sailing to a beautiful spot for lunch and snorkeling, and then on to a perfect anchorage for the evening.
Jos skippers the boat effortlessly, as if he's done it all his life. He put Xenia 62 in the best part of the anchorages for whatever activity we intended to do. Chrizaan is a wonderful chef. Meals were five star. We couldn't figure out how such delicious food could come from such a small galley! She modified the meal plan to accommodate one of our children's eating preferences without skipping a beat. Our eldest son paid Chrizaan the highest complement by asking if my wife could get the recipes and cook like this at home.
The whole experience was so wonderful that we didn't want to leave when our week was over. Surely we'll be back at some point.
Thanks for helping us put it together.
Take care,Steve
February 2015
Being boaters and loving the water, we dreamed of a Caribbean adventure in the British Virgin Islands to celebrate our beloved husband and fathers 70th Birthday. Our dreams came true on the sleek, elegant, relaxed and secure Xenia catamaran.The Yacht, salon and staterooms far exceeded our expectations and were more like you would find on a boutique cruise ship, linens and amenities superior. the lustrous teak wood thorough out glowed with a honey hue, rich and warm, as were the crew.

Gareth the perfect host and admirable and steadfast captain, keeping us in calm and silky azure waters and picturesque beaches and ports, no cruise ships in sight.

Kristine, the consummate hostess and chef, created epicurean delights from scratch with just the right fusion of sweet and savoury, perfect medley of nutrition and flavor. The table was set elegantly each night with an array of colours and designs.We expected a great trip but they both went above and beyond even taking underwater pictures of the family with colourful sea life making our experience a Magical Trip of a Lifetime.Thank you, Champ, Peggy Sue, Casey, Christine, Gary, Juliet, and Emily
---
New Year 2014/15
Me and my family are one day back from the best family vacation of my life and want to thank you for your help in arranging a fantastic trip and connecting me & my family with Gareth and Kristine.  Having never chartered a boat before, I wasn't sure what to expect but what I do know is that Xenia is a tremendous yacht and much more importantly, Gareth and Kristine are tremendous. They are true professionals who struck an incredible balance of knowledgeable boat captains, safety marshals, incredible chef (Kristine in particular) sailing instructors, friendly yet firm when needed with kids, and generally very conscientious about all of our needs from drinks, to scuba, to water skiing, etc.  We all would want them to join us in any game or event as they were so fun and interesting to be with.  While always flexible, they also always had a good plan in place with several options depending upon our prevailing desires and energy level. Additionally, I had a personal goal of learning some sailing details and Gareth would continue to ask me to participate and show me aspects of sailing this beautiful boat when I'm sure it would have been easier to do it all himself.
While I haven't chartered before, I am also in the service business and I know they delivered tremendous, world class service and as such I hope I have the opportunity to work again with you and your company and will hope to have the good fortune of seeing Gareth & Kristine again in the future.
Many thanks,
Topher Callahan
---
Christmas 2014
We are out of words to express what a wonderful charter you put us in. First Gareth and Kristine are extremely fun and professional. Never before have we had 17 exquisite meals in a row. What an accomplishment!
The boat has a beautiful teak interior and is kept in mint condition.
Activities were numerous and fun for both generations in our family.
Each of us has voted for their individual preference:
Flexibility in schedule (Vanessa)
The anchoring locations (Maria)
The views (Ana)
The sailing part and helping with the sails and anchor (Nick)
The Soggy Dollar (Olivier)
Water skiing and hiking in Salt Point (Helena)
Kit surfing and the Bitter End (Phil)
Seeing the entire family so very happy (Jose)
We could go and on but we don't want Gareth to get too much of a big head, ha.
Thanks for creating these memorable moments for all of us
We wish you the very best
From all of us
The Cortes family
---
December 2014
We loved everything about Xenia: The boat design, the comfortable cabins, the sailing, the lovely beaches, and above all, Garreth & Kristine attention and friendliness. Every moment was perfect, the food was wonderful, words cannot describe this magical week.
We will be there again next May and it is our intention to repeat the cruise on December 2015.
This was the best of our eight catamaran trips.
Best Regards,
Fernando, Marcia, Antonio, Irma, Marcio, Claudia, Luiz & Lucia.
 
---
January 2014
Gareth and Kristine,
Each time we come back to the BVIs we think, how could this trip top the last one. Well you succeeded. The food stood out as the best EVER! The sailing on perfect winds was the best ever! Because everything was seen to by you guys we were truly able to relax, play games, and enjoy our family vacation. It is so difficult to disembark, but know that a little piece of each of us will remain with you.
Thank you for helping me make this our best trip yet. Hopefully we will see you again soon. Until then, our prayers and best wishes for safe travels and a wonderful life
Your friends,
The Texas C's.
---
November 2013
Gareth and Kristine,
I found myself wondering how I could make all this wonderful adventure continue! You both are consummate professionals with great poise and style to boot. Karen and I will remember your great care an attention for many years to come! It is rare to not have any complaints about a vacation…everything was perfection. Kristine, your culinary creations could stand with the best restaurants and your attention to individual preferences was superb. Gareth, it was very clear early on our voyage that you love sailing and are an expert in all aspects of seamanship. You guys are a great team and we felt like royalty under your care. We love you guys
Bill and Karen
(and what a cute couple you are!)
 
---
November 2013
Gareth and Kristine,
Thank you so much for an amazing trip! Gareth's love of sailing was wonderful to see and made this a true "sailing" adventure. Kristine's contribution to the trip was unbelievable- the meals coming from the galley-everyone- was beyond wonderful! Especially considering she had to deal with two children (that eat nothing), a vegetarian, and a gluten free in the group- truly an amazing feat!
Thanks both of you have made this wedding trip for my son the best we have ever had.
Ric and Sue
---
Wedding Charter
NOTE: Guest comments from last boat Gareth and Kristin were on by the name of BLISS.

Thank you so much for such an amazing trip!!!It was so much better than we could ever have hoped for, and not just because it was Marc and Mel's wedding, but in large part because of your expertise in matching each group with the right boat and crew. All the yachts were spectacular and everyone really praised their crews all week. However, I need to put in a special plug for Gareth and Kristine on Bliss.

Ric and I have done several charters in the past, from bare boating to crewed and NONE came close to this trip. From the moment we stepped on board all our expectations were surpassed.

Though Bliss is a gorgeous and extremely comfortable catamaran, my biggest praise for the success of the trip goes to the crew themselves.

Gareth takes great pride in Bliss and keeps her in pristine condition. He really went out of his way to make everyone feel safe especially while trying new activities….my young grandchildren and a close friend learned to snorkel on this trip and he was always right alongside with the dingy to ease their fears. His love of sailing and knowledge of the area made for a great trip. We routinely sailed more than the other boats in our group and he brought us to a few different spots he knew we would enjoy when the itinerary with the others allowed. One night we moored at Monkey Point….we were the only ones there, the stars were spectacular and snorkeling was the best of the trip.

Poor Kristine had her hands full with our group (2 children that eat nothing, 1 vegetarian, and 1 no flour and sugar).Somehow she came up with the most amazing meals that fit our restrictions and that EVERYONE loved, even the kids ate better than I have ever seen. Ric was particularly impressed with all the desserts and sweet extras she made… like greeting us with fresh chocolate chip cookies when we came back from a swim. Kristine is truly a top notch chef and her meals were better than most high end restaurants. I really wanted to take her home with me.

But most of all EVERYTHING they did for us they did so willingly and with a smile….like it was no problem at all. They were both great with the kids and us oldies too.They just made us all feel special and pampered all week. Gareth and Kristine are an exceptional team and are a great asset to Bliss.
Ammenities
Cell phone, Indoor audio system, iPod dock, Local TV, Media movie server, Satellite phone, Wi-Fi, 12ft/3.6m Novurania 40hp, Board games, Floating mats, Inflatable floating island, Kayak, Kayaks multiple, Kneeboard, Paddleboards multiple, Tube - towable, Wakeboard, Water skis - adult, Water skis - child, BBQ, Coffee machine, Deck shower, Fishing gear - light, Ice maker, Special diets, Swim platform, Water maker
Diving
Not Insured, Seabobs multiple, Snorkelling gear, Underwater lighting, Rendezvous Only