Yacht for Charter
YERSIN
10986
251ft / 76.6M
| Builder: Custom
| Year: 2015
---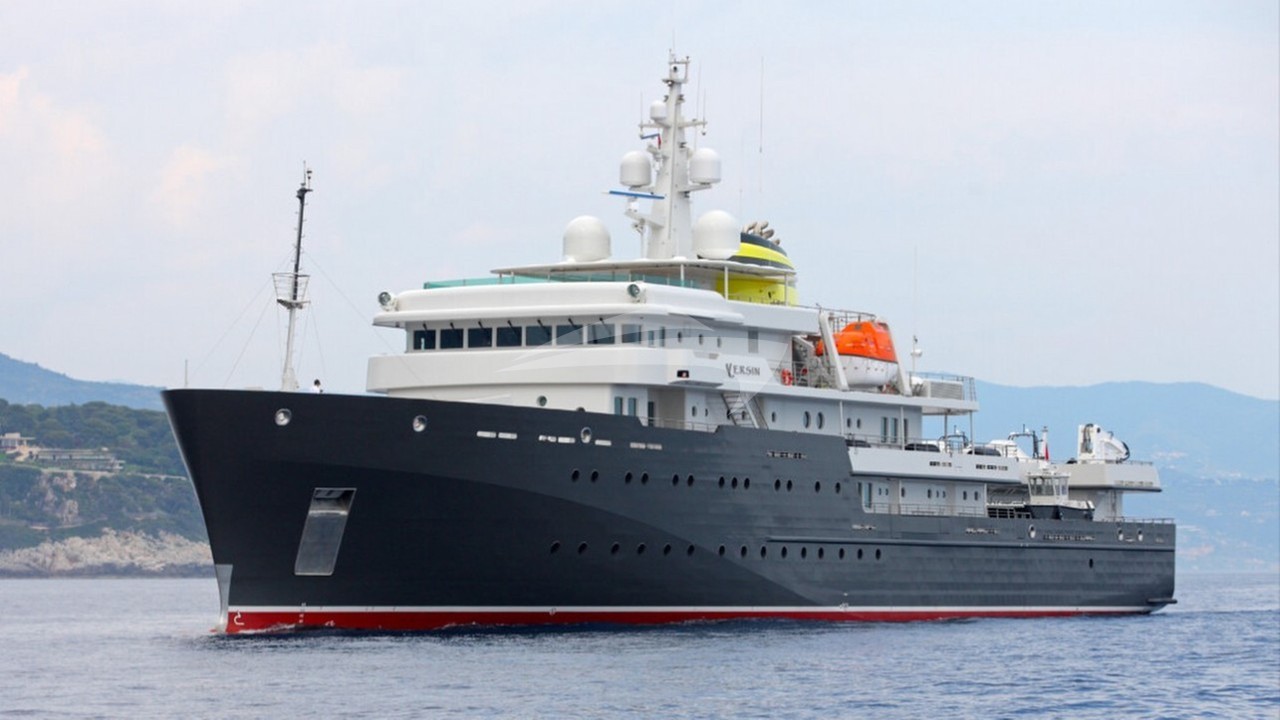 ---
Yacht Charter YERSIN By Custom
Designer
Pierre Jacques Kubis Naval Design
Cruising Speed
12kts (22kph)
Stabilisers
At anchor (0 speed)
Engines
4 x Cat C32 2 x Cat C18
Locations
Caribbean, Central America, Northern Europe
From:
$504,112
plus expenses
Contact Us For More Information
Captain: Jean Dumarais
Jean, who has worked for the owner for over 12 years, helped lead the Yersin dream from the beginning. He was a figure head in the design and technical concept of the vessel and followed her meticulously during the 3-year construction. He has been in the industry for 25 years having sailed to many unique destinations and he looks forward to exploring even more of the ocean and remote islands. Captain Jean is a keen fisherman and has a strong interest in the astronomy, history and geography of the earth.
Relief Captain / Chief Officer: Thomas Bunodiere
Thomas grew up on the seaside and as had a strong passion for sailing from a young age racing dinghies and continues to enjoying regattas and cruising on free time. He has been in the industry since over 20 years, firstly on cargo ship and passenger ferries then transitioned into yachting to explore new places. He is graduated as Unlimited Master Mariner after 5 years at the French Merchant Marine Academy. Thomas is a talented free skier and enjoys being in the mountains, especially the French Alps where he spends time with his family. He is also an enthusiastic outdoor photographer always ready for capturing those perfect moments. On board, Capt. Thomas always makes the best out of any situation.
Relief Captain / Chief Officer: Yannick Berdellou
Yannick has always been sailing starting from young age with his parents, being a multi- support instructor and competitor, and has now transformed his passion into a living becoming Unlimited Master and having extensive maneuvering experience from Offshore Support vessels. Having the horizon as sole limit, he loves mountain as well, by skiing, off-road cycling, hiking but also from eagle-eye view as a glider pilot! He's always willing to offer the best experience to others, having with his wife and children a B&B by the seaside allowing great visits of the bay on his motorboat.
2nd Officer: Ievgen Samshyn
Ievgen trained at the Odessa Marine Academy and graduated after 5 years of studying. He has a passion for diving and being on his jet ski whilst exploring sea life. Ievgen has been in the yacht industry for 6 years and is focused on progressing further in the future. He enjoys travelling and spending time with his family who inspire him as they are seamen as well.
2nd Officer: Romina Maccio
Romina studied to become an officer in the Uruguayan Naval Academy for 5 years and has since been working onboard commercial vessels for 4 years before transitioning into the yacht industry. Travel is a great passion of hers (specifically places "off the beaten track") as well as her love for animals and nature, especially her cats. Romina empathizes that if you have a dream and work hard, anything is possible.
Engineer: Petar Petrov
Following his grand-father engineering path, Petar has been sailing as an engineer for more than 25 years on various cargo, ro-ro, cruise and offshore ships, sometimes with 40 nationalities on board. After having salvaged 400+ passengers of the "Costa Concordia" as a lifeboat commander in 2013, he received an award from European Parliament. He his passionate since early ages about expeditions explorations, foreign cultures and languages. Back home, he has an active lifestyle playing soccer, swimming at sea, mountain hiking and do expeditions in the forest. He also runs a small ecological farm with fruit trees and grapes with his family.
Chief Engineer: Sylvain Hily
Sylvain found a natural progression from working onboard cruise ships to transitioning into yachting and constantly trained in all aspects of the engine department. On a more personal aspect, Sylvain is also passionate about developing his manual skills and applying the principles of urban agro-ecology for his own needs.
2nd Engineer: Aksel Kerne
Aksel has been working on board cargo and passenger ships since 2004 gaining among these years an extensive experience. You can find him always smiling around the engine room reflecting how much he enjoys working as an engineer. But his abilities do not finish just there as he loves to spend his free time under the water practicing scuba-diving or onshore playing American football as much as playing tennis.
2nd Engineer: Matthew Oates
Mat joined the team in 2019 and since then he has instilled to the crew the importance of keeping safety at first place of any activity onboard. With more than 8 years at sea and having extensive experience onboard passenger ships Mat moved to the yacht industry two years ago where he continues to widen his field of experience always studying and sharing knowledge with the rest.
In his free time Mat enjoys doing mountain bike, walking and cooking but sharing time with his lovely daughter and wife is the most important.
3rd Engineer: Sheldon Holloway
Shelly has been onboard for five years, he has an excellent knowledge of the vessel and her operations. Before his yachting career, Shelly was a competitive motocross rider having won multiple championships in various countries. In his free time Sheldon loves to travel (he has visited more than 40 countries) and partake in adrenalin fueled actives such as sky-diving, snowboarding and scuba diving.
3rd Engineer: Eric Charmasson
Eric studied at the merchant navy academy for 3 years to become an engineer during which he did many voyages as a cadet including onboard the 2nd biggest (by length) cadet sailing boat in the world "Krusenstern". He enjoys playing music (guitar and piano) along with doing skateboarding, free diving and spearfishing.
ETO: Adrian Petcu
Adrian's passion from a young age has been sailing, he has been competing since he was 7 attaining the 'national champion' title multiple times. As well as this he is a keen free diver holding a personal best of 28m. His happiness comes from spending time on and in the water and will take any opportunity to do so. Onboard, Adrian manages all of the electrical and media systems and has been with us for 4 years.
ETO: Paskal Kirov
Paskal was born and grew up in Varna, Bulgaria next to the sea, his childhood and young age was always connected to the water activities such as sailing, surfing, diving and swimming. He started to work in shipyards and renewable energies as an electrical engineer, then he decided to combine his love for the sea and electricity by starting his seaman career as an ETO, and then finally found in Yersin his perfect combination between sea, reduced environmental footprint and most modern equipment he's passionate to work with.
Bosun / Purser: Flavio Baldi
Flavio has been in the industry for 20 years and working with Captain for 16 of them. Anything 'deck' related, Flavio has an extensive knowledge and experience. This shines through in his leadership of the deck team where he guides the boys whom he works hard to train to be the best they can. Flavio is also our purser. He has a true passion for Nike sneakers, house music and riding his bicycle. Flavio adds a touch of humor wherever he goes and enjoys spending time with his family and passing on his skills and knowledge to his son Fabio.
Bosun: Raphael Canaud
Raphaël has been working with the owner and captain for 12 years therefore was part of Yersin during her build and delivery. Raph lived next to the seaside growing up and has always had a passion for being on the water. He likes to lead a healthy lifestyle and is regularly in the gym and is also a fan of football. Raphaël has an expert knowledge of all aspects of our deck department and looks forward to assisting you with any exterior activities you pursue.
Deckhand: Harry Ellard
Harry decided to enter the world of yachting in 2017 as he always had a keen interest in traveling and being at sea. He was previously a qualified landscaper, has trained and practiced for seven years this profession in the South of France, landscaping various places with different terrains. In his free time Harry enjoys activities such as fishing, running, watching documentaries and increasing his knowledge in botanics. He is kind and friendly and always willing to help in all the departments. He looks forward to progressing in his career as seaman and sharing his knowledge.
Deckhand: Alexander Juan
Alex grew up in the Philippines and was a deck cadet on a cargo vessel before joining yachting. He was also a gym attendant and he continues to enjoy staying active and working out. Alex is a big NBA fan and enjoys keeping up to date with the world of basketball. He also likes to partake in adrenaline fueled activities such as Jet Skiing and motorcycling.
Head Chef: Marc Lara
Marc has been a Chef for over 23 years. Once he finished his gastronomy studies, he performed his practices in two Michelin stars Hotel: "Le Centenaire" (by Roland Mazere as head chef) located in Dordogne, France, and "La Table du Baltimore" (one Michelin star, now called "Carte Blanche") located in Paris. He has a vast experience in high standards restaurants and hotels in addition of having some amazing opportunities: have catered for bespoke parties of private clients including the Queen of England and prince Philip, a true honor on his career. At home he shares his passion with his wife who is Chef too and together, they are delighting their two young sons with creative dishes. Marc is embracing each new challenge with positivism.
Chief Steward: Titus-Vlad Mihai
Titus is spirited , cheerful and positive with more than 5 years experience in the industry . Titus spent 7 years studying and developing his mixology skills and he loves encouraging new challenges so he is always ready to create unique cocktails which will surely fascinate you . Along with other crew his aim is to make your stay on board an unforgettable experience
During his free time , he adores snowboarding as much as he decided to be an instructor to encourage both young people and adults to practice the sport.
Stewardess: Gabriella Voicu
She started hospitality industry 10 year ago, and has gained plenty of experience on cruise ships as well. She is the person that you want to have around to serve you best. The professionalism, the good vibes and the big smile are some of her aces. She likes photography, dancing, singing, and nature. You can always rely on her! Her largest dream is to see the whole world surrounded by the right people, and will be pleased to share her hospitality motivation and dedication. Ready to go with you around the world through all the adventures Yersin will live.
Stewardess: Kaye Ann Barlan
You will surely have a chance to hear her beautiful and enchanting voice around as she loves singing. She has been a stage-performing singer on cruise ships for 3 years. Amongst her competencies and attention to details, you'll find her living a healthy life by practicing sports and always sharing her contagious positive attitude.
Stewardess: Clarehz Orijola
Clarehz has got an extensive experience as attendant onboard Ro-Pax vessels for 2 years and stewardess on Yachts for 9 years, always details and guest-oriented. She's very sensible about all-time classical music and also loves to read for learning new skills and competences. You will be pleased to see how friendly and available she is, always willing to learn.
Ammenities
Bluray player all cabins, Cinema, Indoor audio system, Media movie server, Satellite TV, TV saloon, Wi-Fi, 2x Zodiac Mil-pro tenders, 2x AKA F53 Ribs, 1x Osprey 37 Tender, Assorted water toys, Canoes multiple, Kayaks multiple, Paddleboards multiple, Sailing dinghy, Wakeboard, Water skis - adult, BBQ, Book library, Conference room, Elevator, Exercise equipment, Gym, Jacuzzi on deck, Spa, Steam room, Sun cushions, Sun loungers, Swimming pool
Diving
Not Insured, Snorkelling gear