Yacht Charter Itinerary Turkey
---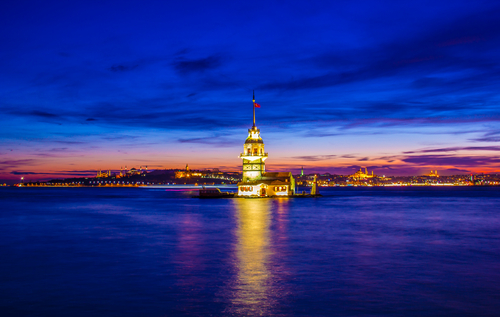 Turkey has recently become one of the world's most popular destinations. Due to Turkey's diverse geography, one can experience four different climates in any one day. A Turkey yacht charter has much to offer, such as breathtaking natural beauties, unique historical and archaeological sites. Its shores are laced with beaches, bays, coves, ports, islands and peninsulas. Turkey is also blessed with majestic mountains and valleys, lakes, rivers, waterfalls and grottos perfect for winter and summer exploration. 
A Suggested Itinerary for Marmaris – Gocek in 7-days
Day 1: Marmaris – Kumlu Buku
Board the yacht in Marmaris at midday and sail for Kumlu Buku. Lunch beneath the ruins of ancient Amos is picturesque. Walk ashore and stroll around the site of ancient Amos or stay in the bay to enjoy the exceptionally clear waters and long pebble beach. Move on to one of the small jetties in the bay for dinner ashore under the stars.
Day 2: Kumlu Buku – Bozukkale – Bozburun
Cruise south to Bozukkale and anchor beneath the Hellenistic citadel of ancient Loryma, where trade ships heading north and south along the coast once took refuge. Journey ashore to visit the ruins of this once-great city, including the acropolis, which affords spectacular views of the Aegean. Bozburun, a former sponge fishing village situated at the head of a bay surrounded by low rocky hills is the charming port of our destination this evening.
Day 3: Bozburun – Selimiye 
A day of leisurely cruising on the scenic Gulf of Hisaronu takes us to some delightful anchorages for snorkelling and swimming — and then on to Selimiye in the afternoon. Selimiye was formerly Greek but is now home to the descendants of Turkish nomads, friendly folk renowned for the warmth of their hospitality. Anchor alongside one of the small jetties in the bay and enjoy a dinner of fresh fish and other seafood delicacies.
Day 4: Selimiye – Ekincik Bay/Dalyan
Spend the early morning crossing to Ekincik Bay. In the afternoon, board a small riverboat for a tour to ancient Caunos and the town of Dalyan. The boat slowly makes its way inland along the reed-lined channels of the Dalyan River delta. At Caunos visit the remains of a theatre, a Byzantine church, a Roman bathhouse and an Agora. Heading up-river, you will be greeted by a most spectacular sight: a set of 400 BC Lycian rock tombs carved into the cliffs above. Arriving at the town of Dalyan, enjoy a stroll around and some souvenir shopping before returning to the yacht in Ekincik. Overnight tonight in Ekincik Harbour, with dinner ashore at My Marina restaurant.
Day 5: Ekincik Bay – Aga Limani
Cruise straight across the Fethiye Gulf where we find an anchorage in a small bay for breakfast. Enjoy this time to go for swim and snorkel around the ruin bay. After lunch cruise to Aga Limani where you will find a chance for trekking. If you wish, you can take a short half-hour hike to see an ancient church ruin. Tonight enjoy a traditional Turkish meal at the restaurant in this small bay.
Day 6: Aga Limani – Gemiler Island
An early morning departure for Gemiler Island, stopping along the way for lunch and the opportunity to swim and snorkel in clear blue waters. Arriving at Gemiler in the afternoon, go ashore and explore fascinating ruins dating from Byzantine times – including a covered walkway leading to the water's edge and a church with partially excavated mosaic floors. Just before sunset, make your way to the summit and enjoy the magnificent spectacle of the sun disappearing below the horizon. Overnight at Gemiler Island.
Day 7: Gemiler Island – Gulf of Fethiye – Cleopatra's Bay – Gocek
A day for exploring the many pristine bays and anchorages in the Gulf of Fethiye. Perhaps go ashore on Tersane island and view the Byzantine ruins of a shipyard, or examine up close the partly-submerged ruins in Cleopatra's Bay, rumoured to be the remnants of the bathhouse in which Cleopatra is said to have bathed.
Day 8: Gocek
After breakfast, sail cross to Gocek harbour and disembark at 10:00