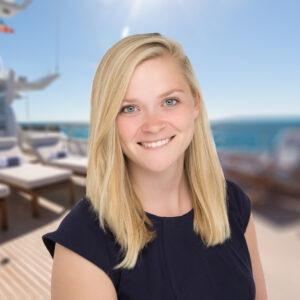 ---
Adriann Sparre
---
Adriann Sparre is a graphic designer and photographer specializing in layout design, editorial photography, advertising, branding and digital publishing. Adriann attended the university of North Carolina in Wilmington where she studied the arts and earned her bachelor's degree in Graphic Design.
From Wilmington, Adriann found her way south to West Palm Beach, Florida. While here she led discussions on the art direction of ReLocate Magazine and Brillance.com where she produced photography and design for the publications. Her diverse skillset has made her a valuable asset to Worth Avenue Yachts design department.
Like many of her colleagues at Worth Avenue Yachts, Adriann also has a passion for the water. She learned how to drive a boat at a very young age and would spend her summers at the lake wakeboarding or waterskiing. Her love for scuba diving has led her to dive in a variety of places, such as, Costa Rica, Belize, Mexico and Florida. She loves spending her time either wakeboarding, freediving, or paddle boarding with her dog.