Visit Us At The 44th Annual Stuart Boat Show | January 12-14, 2018
---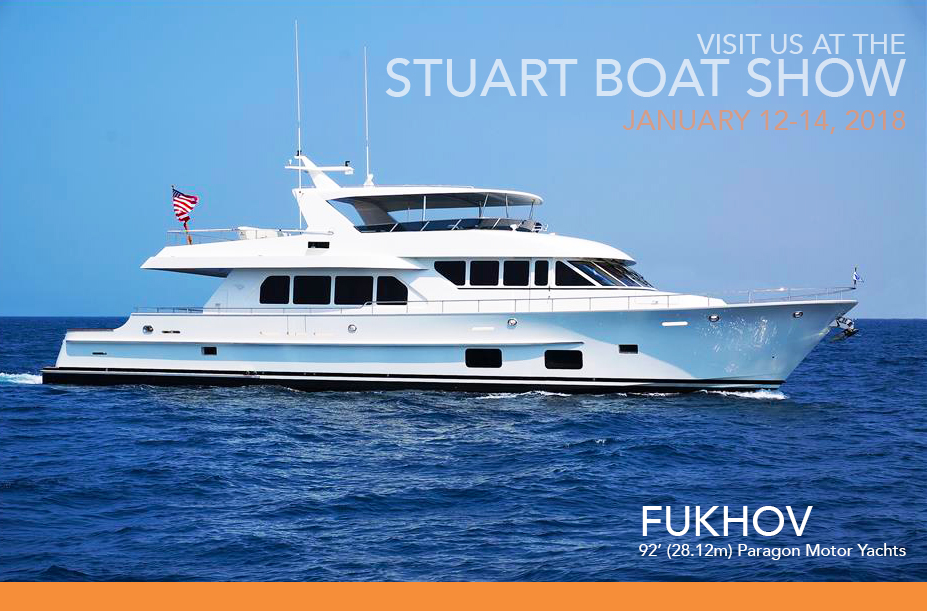 Come visit us this Friday, January 12th through Sunday, January 14th, 2018 at the 44th Annual Stuart Boat Show!
The Stuart Boat Show is the largest boat show on Florida's Treasure Coast. This year, it will feature over 200 local, national and international exhibitors hundreds of boats on display, both in-water and on land. The show will include the latest models of many boat brands including motor yachts, cruisers, center consoles, speedboats, sport fishing boats, and pontoons ranging in size from 12 feet to over 80 feet in length.
Exhibits will include the latest in personal watercraft, marine electronics, outboard and inboard engines, safety equipment, accessories, boat lifts, fishing gear, nautical clothing and jewelry, even financing and insurance companies. 
The show will be lively with music, delicious food and drinks to add to the festivities. While visiting the show, you may want to attend one of the following seminars:
Boating Electronics, Navigation and Destinations, Hook the Future, Engine and Prop
See the full seminar schedule here:  SEMINAR SCHEDULE
Featured Boat in Show:

Motor Yacht FUKHOV, with her 4 stateroom layout which sleeps up to 9 guests, has been very lightly used as a successful promotional platform for the FUKHOV Vodka brand with her exceptional layout for entertaining. She is completely up to date and on trend with both styling and design.

 
Find FUKHOV at slip C-5: MAP
Don't miss out on the Stuart Boat Show, which has been named as one of the top 20 events in the SouthEast by the SouthEast Tourism Society.
Hours: Friday: 10a-6p | Saturday: 10a-6p | Sunday: 10a-5p
See the official website here:  STUART BOAT SHOW
Ticket Prices are as follows:
$13  Adults, $11  Veterans, $6  Children 12 & Under, Infants Free