A Visit to The Shipyard: Christensen
---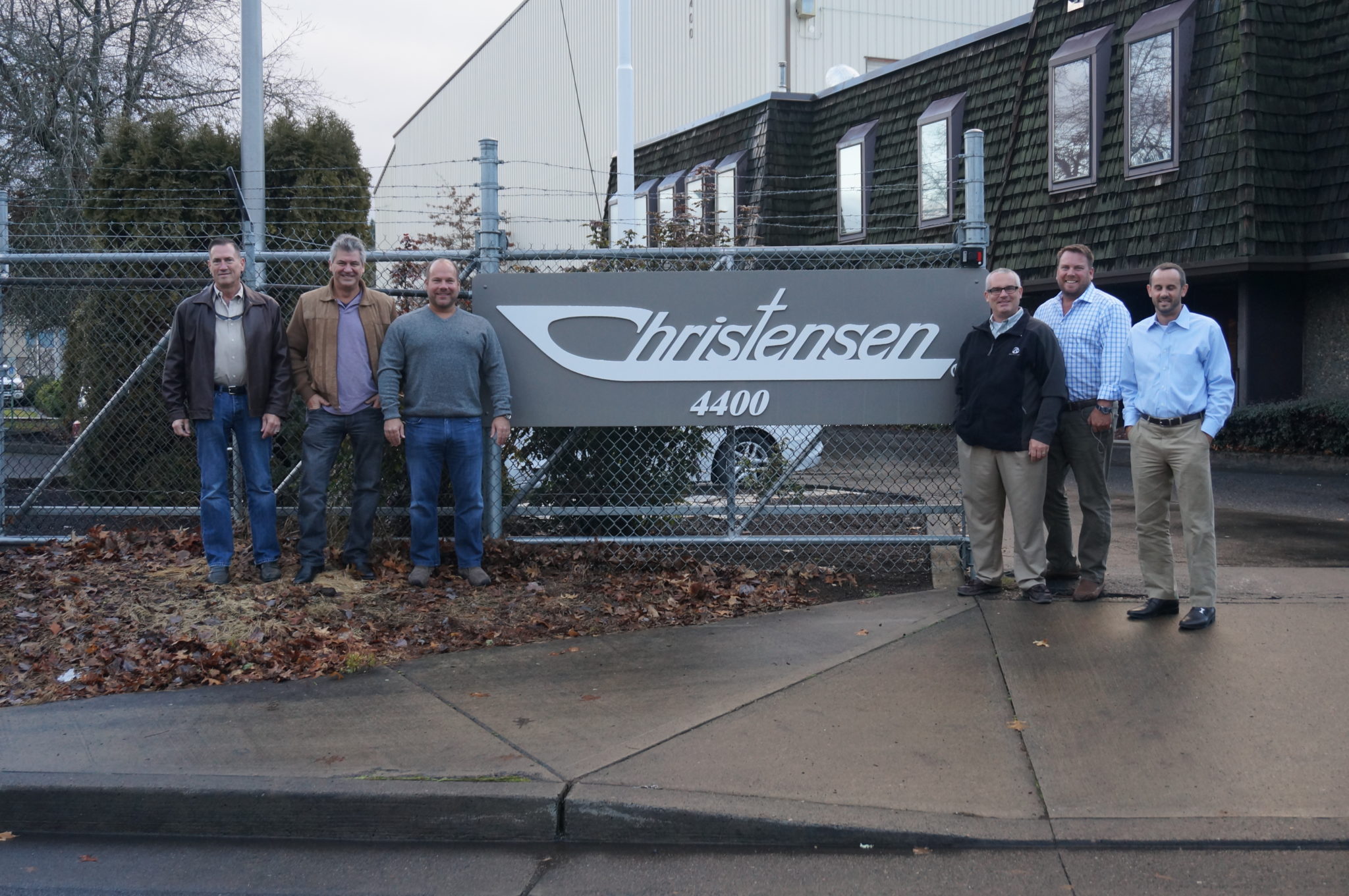 Worth Avenue Yachts is pleased to present a report on the newly re-opened Christensen Shipyard with an outlined scope of work for several vessels nearing completion. In January of 2016, Worth Avenue Yachts received an invitation to tour the yard based in Vancouver, WA.  During inspection, the facilities showed as still very active with all aspects of the operation up and running, including the dedicated stonework shop, stainless fabrication, and interior fit-out. Christensen Shipyard produces virtually all of their work and skill sets in house.
The current ownership of Christensen Shipyard comprises of the original investor and primary stakeholder, Henry Luken, who was invited to join the company by founder Dave Christensen, some 17 years ago. Luken is joined by another partner who also has a vessel under construction at the yard – his third Christensen. Although the company is still reorganizing and looking for some key management personnel, the current ownership hired back over 115 veteran workers with more than 1000 man-years of experience building boats at Christensen. In addition, Jim Gilbert, previously of Showboats Magazine and president of Aquos Yachts, which was overseeing the construction and marketing on the 148' explorer yacht "Big Fish" has been hired as the interim President of the company.
At the time of the original shipyard's closing, the company had five vessels in various stages of construction, including the 164' "Silver Lining" and the 160' "Chasseur." As of January 2016, these vessels are well on their way to being completed, with the shipyard working diligently for completion of both within the next 7 months.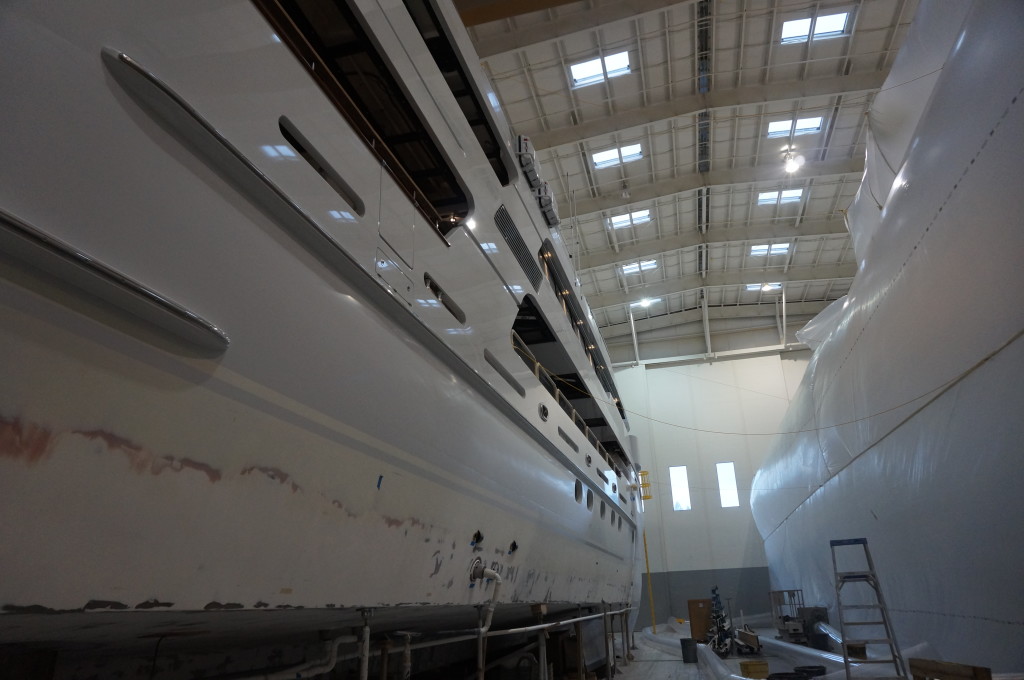 The 164' "Silver Lining" is slated for completion prior to the summer cruising season and is currently for sale by the owner (contact Worth Avenue Yachts for full details and pricing). She features a massive full beam skylounge with enlarged covered upper aft deck and lower aft deck, both of which are air-conditioned. The lower aft deck features a sunken, formal wet bar, in addition to the typical dining area, while the upper aft deck features a large covered dining area, flanked by two granite topped buffet areas. The flybridge, in typical Christensen fashion, boasts another large bar, hot-tub with sun-pads, seating, day-head and ample tender storage. This can be accessed via an elevator, which services all 4 decks.  It should also be noted that this deck is rated for helicopter operations (touch and go) and even has a dedicated fueling station for tenders or helicopter from a 5,000usg tank.
While "Silver Lining" is built to ABS, she is not MCA compliant, due to her increased volume, which takes her beyond the 500GRT threshold, at 546GRT. This would necessitate more complex back-up systems and extensive compliance paperwork, which the current owner has wisely decided to avoid.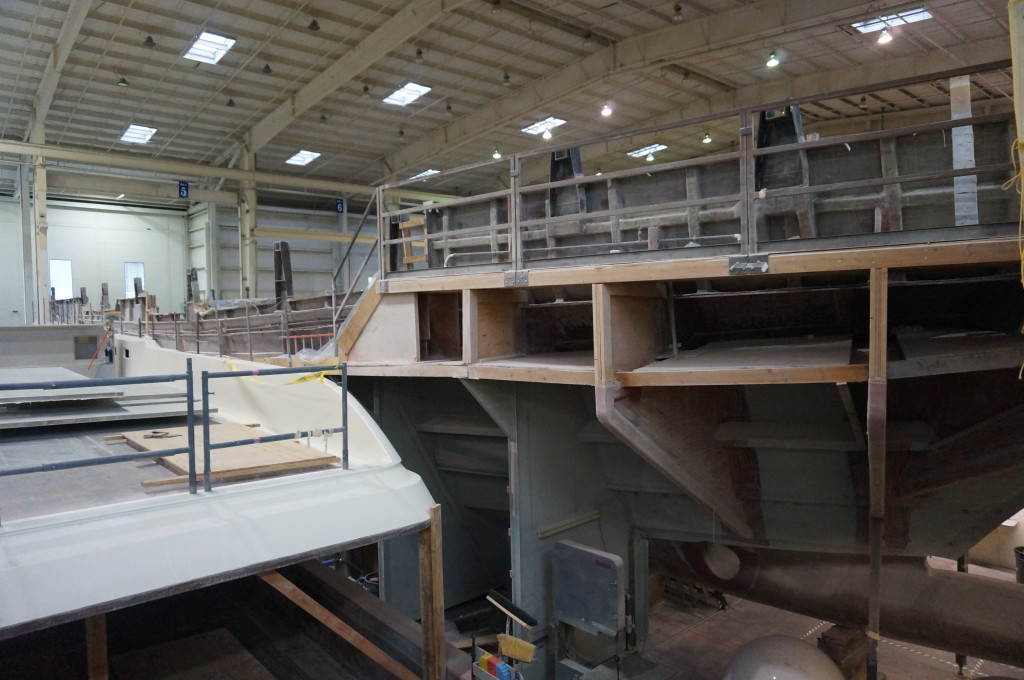 The slightly smaller 160' "Chasseur" will be open for charters this incoming fall in the Bahamas and Florida – available for inquiry through Worth Avenue Yachts –Charter Division. "Chasseur" is an ABS Class, MCA approved 499GRT vessel, with a light contemporary interior, which is a departure from Christensen's more traditional high gloss American Walnut raised panel interior, which is found on the other vessel, "Silver Lining."
Following the delivery of these fine vessels, "Silver Lining" and "Chasseur," Christensen Shipyard's new management intends to expand the employee base and continue production on two other vessels that have been moulded and are ready for custom interior choices. The shipyard plans to uphold the tradition of building great quality American yachts, packed full of space and features not found on many other vessels of this size and price range. Christensen plans on launching their new website in the beginning of February. After completion of their January 2016 inspection of Christensen Shipyard, it is Worth Avenue Yachts' intention to support this American, custom yacht builder and wish them much success to come – we believe they represent a good value in the marketplace!