Cannes Film Festival Yacht Charter 2016
---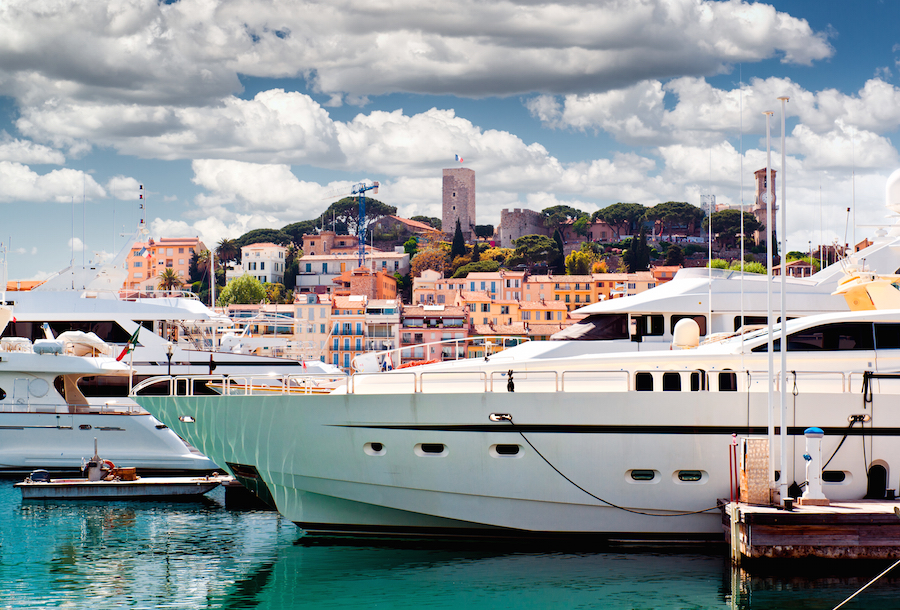 The Cannes Film Festival has begun on the French Riviera, and is undeniably one of the most glittering events on the luxury yachting calendar. A Cannes Film Festival yacht charter puts you right in the center of the action, as the silver screen stars walk the red carpet and the Riviera night lights up with glamorous parties and fireworks.
From your yacht you can entertain guests at cocktail parties on the sundeck, or step off your yacht to wander along the palm-lined boulevard to attend viewings of upcoming art house and blockbuster films. Mingle with the stars at black-tie cocktail events, enjoy the red-carpet fashion and dine at Cannes' Michelin-star restaurants among a crowd of directors and celebrities.
On your Cannes Film Festival yacht charter you may wish to lounge about drinking champagne in one of Cannes' exclusive beach clubs, wander through the cobbled streets of the Old Town, or spend an afternoon shopping in the famous boutiques along the Croisette. When the sun falls behind the Alps, it's time to head to the grand casinos or plush hotel piano bars, or dance under the palms in one of Cannes' super-clubs until dawn.
For companies, a Cannes Film Festival corporate yacht charter provides simply extraordinary brand visibility, as well as a glamorous entertaining venue, a private meeting space, and luxurious accommodation right in the center of the action.
A Cannes Film Festival yacht charter is also the perfect opportunity to take a leisurely cruise along the Cote d'Azur, perhaps down to the beach clubs and boutiques of Saint Tropez, or up to the towering cliffs and casinos of Monaco. The Monaco Grand Prix normally corresponds with one weekend of the Cannes Film Festival, meaning that you can often enjoy these two extraordinary events during one yacht charter. If you ever feel like a break from the camera flashes and crowds of the festival, you could anchor off the rocky Cap d'Antibes and lunch at the famous Eden Roc Hotel, or head to the nearby Cannes Islands for a tranquil walk under the pines. Before long, however, you'll find yourself irresistibly drawn back to the buzz of Cannes- perhaps to attend the award ceremony to find out who has taken out the coveted Palme d'Or.
On a Cannes Film Festival charter, the prime real estate to dock your yacht is along the Jetee Albert Edouard right by the Palais des Festivals, although Cannes also offers many other excellent berths for over its four marinas. Your yacht broker will use their industry contacts to get you the best berth available.
This year, enjoy the electric atmosphere and high glamour of this world-class event with a Cannes Film Festival yacht charter. Worth Avenue Yachts has a wealth of experience organizing Cannes Film Festival yacht charters, so get in touch to secure one of the attending charter yachts and witness cinematic history with your film festival yacht charter.