The New 165 Wider Yacht CECILIA
---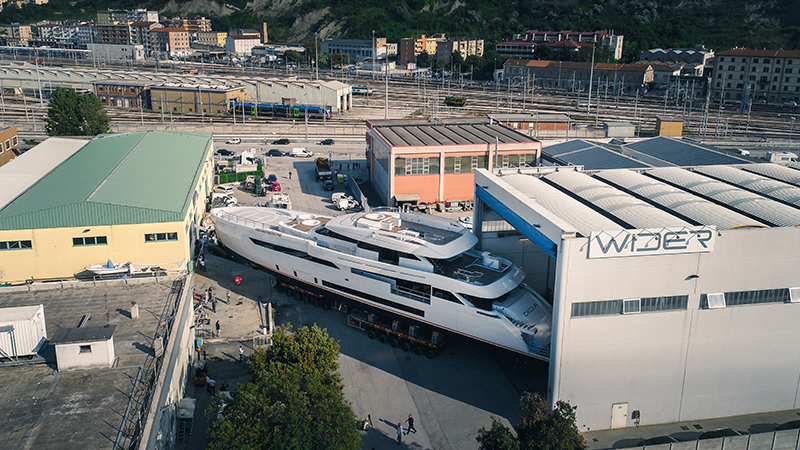 On May 14th, 2018 Wider Yachts announced the launch of the new 165 Wider Yacht CECILIA. The WIDER 165 is a luxury yacht that features advanced multi-functional systems, user-friendly technology, diesel-electric propulsion, and an enhanced relationship with the sea via the Wider Yachts beach club area, side platforms, balcony, and an interior seawater swimming pool.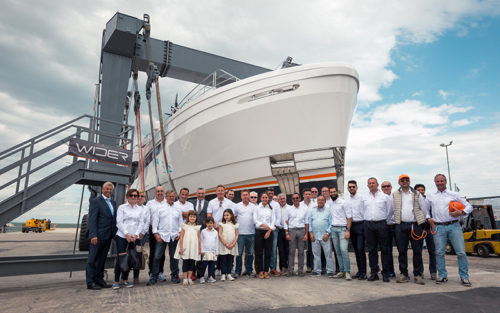 Constructed entirely in aluminum, the elegant silhouette of the 165 Wider Yacht CECILIA was created by Fulvio De Simoni in collaboration with the in-house Wider Yachts design team. The 165 Wider Yacht CECILIA has been designed to enhance the owner's contact with the sea, while significantly increasing interior volumes compared to other 165′ motor yachts.
The private launch event was held at the Ancona Shipyard and marked another important milestone for the Wider brand. Project CECILIA will be closely monitored in the next few weeks to ensure every aspect of the vessel meets the wider standards for excellence. The 165 Wider Yacht CECILIA is available for sale at 30m euro and will be ready for delivery this Summer.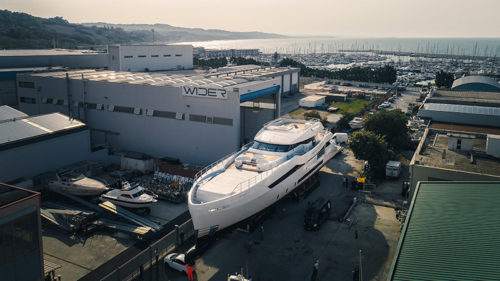 Following the Build
Worth Avenue Yachts has closely monitored the build of the 165 Wider Yacht CECILIA. In July of 2016, Kevin Ralph of Worth Avenue Yachts visited the shipyard on Ancona, Italy. Kevin's 2016 review of the 150 Wider can be found here. The 130 Wider is currently on the market and full specifications are available here.
For more information, full specifications, hi-resolution photos or any other inquiry, please email us at Inquiries@WorthAvenueYachts.com or call +1 (561) 833-4462.