Two New Launches From Christensen
---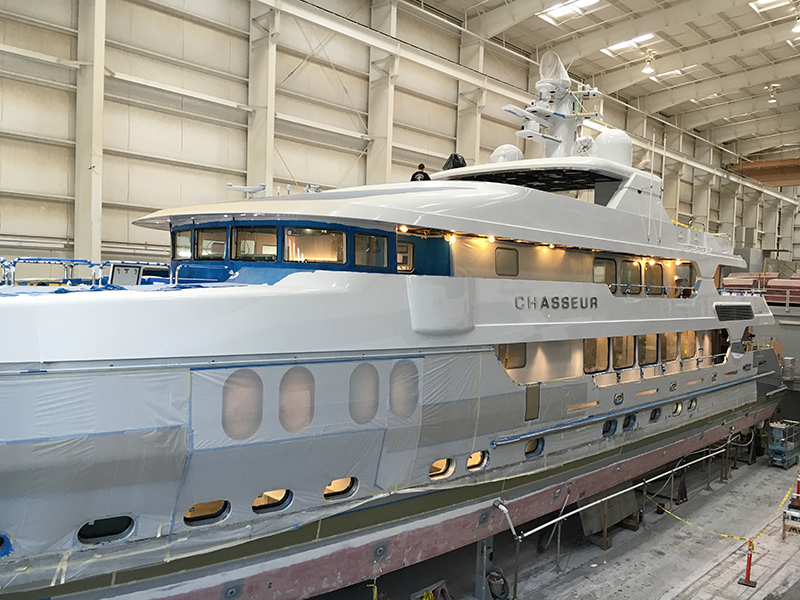 CHRISTENSENS REVOLUTIONARY NEW LAUNCH SYSTEM
After a turbulent last few years, Christensen Shipyards has been successfully rebuilding itself and pushing out an extraordinary volume of work.
Jim Gilbert, President of Christensen says the yard has reinvented itself and is focusing on a "get-it-done-whatever-it-takes" culture focusing on cultivating broker connections and overcoming obstacles.
The yard has launched two 50m builds within the span of one week using their revolutionary and unique launching system that overcomes low-water challenges they have faced in the past. The new attitude, new creativity and abundance of new energy within the yard have successfully given Christensen a true re-birth.
Amazing Feat at Christensen
Christensen Shipyards broke all of its previous records by launching two new 50M yachts in less than a week. Making the launches even more of an achievement was our successful deployment of an entirely unique in-house system that turns a 130,000-pound yard-built steel cradle into a safe and reliable mini-dry dock launcher.
The yachts, M/Y Silver Lining (Hull 36) and M/Y Chasseur (Hull 40) were splashed using large air-filled FRP boxes and several salvage bags that were attached to the custom cradle. The entire assembly was placed under the hulls and carried 400 yards down from the shipyard to the company's private lagoon off the Columbia River.
With the help of two massive prime movers, the hulls were lowered down the company ramp. When the hulls were submerged sufficiently to permit the launch, the FRP boxes were filled with water and sunk to permit the yachts to swim free without damaging stabilizer fins.
The system is nicknamed, "The Luken Launcher," by the Christensen staff in honor of Henry Luken, chairman, who fathered the idea of designing, engineering and building the mini-dry dock which vastly increases the safety and security of the company's launch practices. In addition, the Luken Launcher allows launches even at low river water levels.
Both yachts—available for sale (contact us for more information)—are undergoing river and sea trials in the coming weeks with delivery this summer. The yachts will depart the Pacific Northwest in early September for the long shakedown voyage through the Panama Canal for display at the 2016 Fort Lauderdale International Boat Show. The yachts will be berthed at Sunrise Harbor prior to and just after the show. Brokers-only showings will be announced for the week prior to the start of the Show.
FOR MORE INFORMATION CONTACT TEAM@WORTHAVENUEYACHTS.COM