Two Bills Launched in South Florida Aimed at Marine Industry Job Creation
---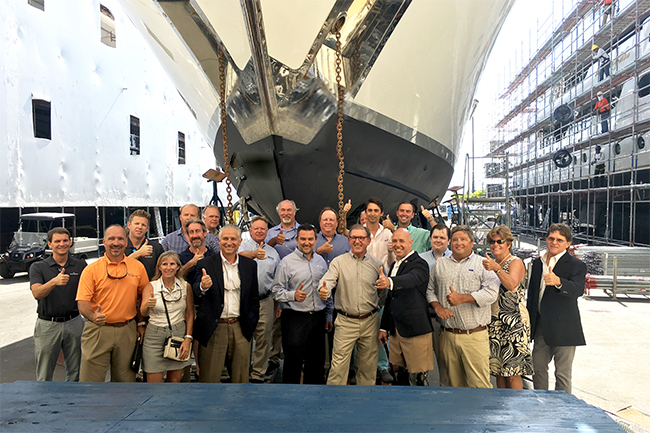 In a press conference held by the International Yacht Brokers Association (IYBA), U.S. Congressman, Representative Brian Mast announced two bills to change current legislation. The event was held at Rybovich Superyacht Marina in West Palm Beach, where Worth Avenue Yachts brokers attended.
IYBA has long supported the Deferred Importation initiative to reform the outdated Tariff Act of 1930. The two bills, in support of this initiative will be included in the package presented to the U.S. Congress this fall.  The first bill plans to eliminate duty on brokerage foreign-flagged vessels for sale and charter to U.S. residents in U.S. waters. The second bill calls for deferment of the duty until after the vessel is sold. The bills encourage job creation by opening up U.S. brokerages to market and sell foreign flagged yachts within the U.S. Additionally, encouraging foreign flagged vessels to visit Florida's yachting scene.
"Representative Mast has proven to be a huge supporter of the South Florida marine industry and the jobs this legislation will bring to not only South Florida, but to the industry nationwide. This, coupled with Rep. Lois Frankel's (D-FL 22nd District) sponsorship of bill HR 2369, helps to further our cause and provide our legislators multiple options for including Deferred Importation in the current Tax Reform Bill package," says Staley Weidman, chairman of the IYBA Public Affairs Committee. "We believe this multi-pronged approach will give Congress several choices to consider for adopting this important legislation that ultimately will allow foreign-flagged and -built, pre-owned yachts to freely market and sell to U.S. residents while in U.S. waters. Ultimately, passage of any of these bills means those vessels will rely on service and support in U.S. ports by U.S.-based companies and workers. It's a win-win for everyone."
Rybovich is a 32-arce super yacht marina and yacht repair facility located at 4200 Flagler Drive in West Palm Beach. The Marina has been the hub for marine industry job creation in the area. Plans for a massive 19-acre expansion next door for crew and owners called Marina Village is in the works in anticipation of future legislation allowing the sale of foreign flagged vessels to U.S. residents.