Support Vessel / Shadow Yacht / Escort Vessel… This New Trend is Only for the Few
---
Support Vessels, Shadow Yachts and Escort Vessels are not new terminology nor a new idea in the maritime industry. They have been around either as a diving, platform supply, subsea, offshore or navy support vessels. The new trend, however, is the luxury yacht support vessel…and it has a challenging job to do: To function as support vessel and also look very good doing it! It will be the shadow of it's luxury yacht mothership, so the aesthetics of the classic support vessel have been bumped up to another level.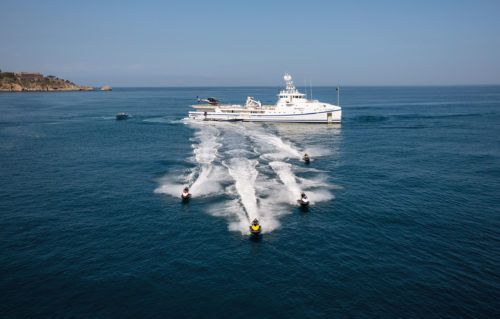 Having a support vessel means not sacrificing any space on the luxury yacht. Today's support vessels can have a wide range of functionalities:
carry every conceivable water toy a superyacht owner could want, including a
mini submarine
Safe helideck (instead of helipad) for larger helicopters and even a fully enclosed helicopter hanger
carry larger and faster tenders
carry a vehicle
carry provisions
carry spare parts and extra sail gear
act as a work site for wood, composite or metal repairs
carry extra staff and crew
act as a security patrol with specialized personnel, security equipment and advanced communications systems.
All of the above make for a win – win situation: The owner does not have to compromise the spaces of the luxury yacht to be a storage vessel, the guests do not have to wait for the crews to deploy or retrieve gear and water toys, and the ever-working crew can appreciate their breaks away from the owners and guests.
The ideal yacht support vessel has to carry everything, move fast (ideally ahead of the mothership) with economic fuel consumption, and look good while doing it. As Rob Luijendijk, CEO of Amels, says "Why not sail away and leave the Yacht Support to do the hard work, and then watch it cruise past at high speed to prepare your next destination? No compromise – no toys left behind!"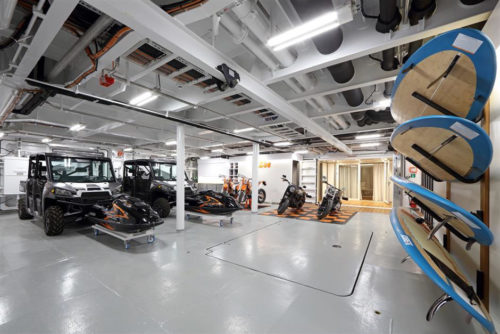 Credit for the original idea lies with the Saudi prince, HRH Prince Khaled, who purchased a 67meter / 220foot custom built by Campbell Shipyards in 1995, to follow his previous super yacht, Golden Odyssey (80.15m/262.97"). The Prince is a keen oceanographer and built the Golden Shadow, as he calls it, to follow Golden Odyssey (263foot / 80meter Blohm+Voss) on her journeys, carrying the Golden Eye seaplane, used for provisioning, as well as a myriad of tenders and watersports equipment. HRH Prince Khaled makes the vessel available for scientific purposes worldwide in support of the Living Oceans Foundation, of which he is chairman.
The first shadow boats commissioned to fulfill the task of the super yacht support were usually unpolished and unattractive conversions, prized only for their volume and load carrying qualities. Today, the new pedigree coming out has elevated the support vessel into a stylish new super yacht category.
Damen and Amels are now at the forefront of the superyacht support vessel market, offering a range of different options from 131feet / 40meters to 279feet / 85meters (YS4008, YS5009, YS6911 and YS 8517). The 226foot / 69meter Sea Axe 6911 is the flagship of the Damen Sea Axe, and the the fifth purpose-built Yacht Support vessel to be delivered since DAMEN and AMELS introduced the revolutionary new concept to the superyacht market in 2009. The 168foot / 51meter Umbra was the second Sea Axe vessel built by Damen Shipyards Group in 2010. Umbra has been used worldwide from New Zealand to Vanuatu to Ecuador and many places in between on humanitarian aid and disaster relief missions for earthquake and typhoon victims. Garçon (220 feet / 67meters) was the first Damen YS6711 to be launched and caused quite a stir when she was delivered in 2012.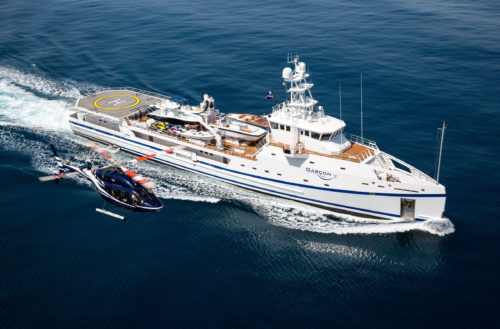 In 2014, Lynx Yachts launched their first YXT One (Yacht-X-Tender) support vessel. Today the series ranges from 66feet / 20meters to 118feet / 36meters and the first YXT 20m will debut at the 2016 Monaco Yacht Show.
The 58foot / 18meter Sherpa, by Arcadia yachts was launched at the 2016 Cannes Yachting Festival. Sherpa is the first hull in a new range of support vessels from Arcadia Yachts.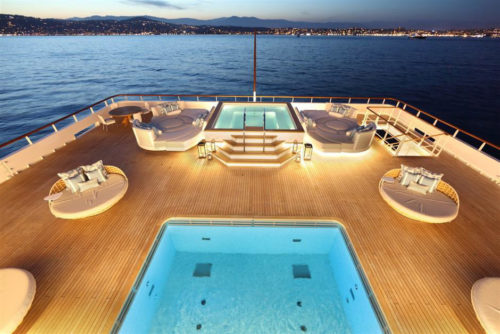 For a list of support vessels on sale, such as Global (220feet / 67meters, Global Yacht), Ghost (117.6feet / 35.81meters, Damen), Ulysses (352.6feet / 107.42meters, Kleven Verft), the 168foot Damen Umbra, and many opportunities available for conversions from the oil service industry or for a new build, contact your team at Worth Avenue Yachts.