Yacht for Charter
GYPSY PRINCESS
5714
44ft / 13.7M
| Builder: Lagoon
| Year: 2012
---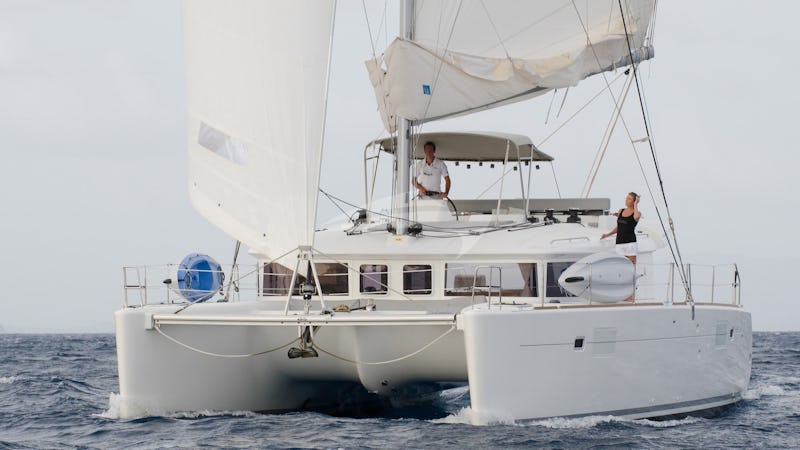 ---
Yacht Charter GYPSY PRINCESS By Lagoon
Cruising Speed
8kts (15kph)
Flag
British Virgin Islands
From:
$24,000
plus expenses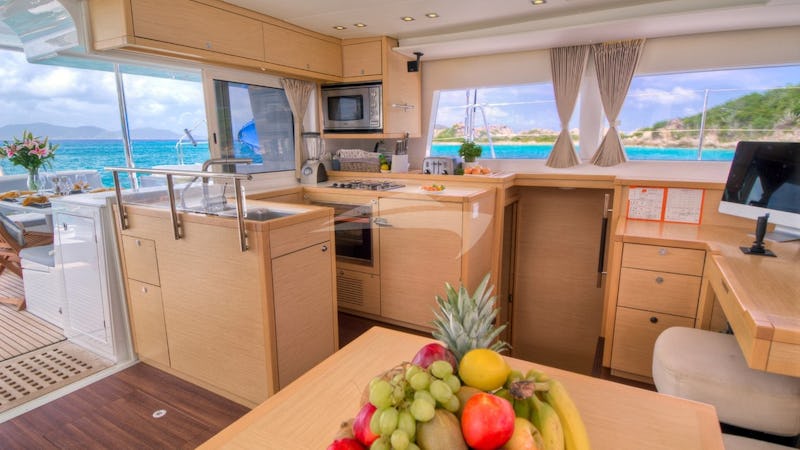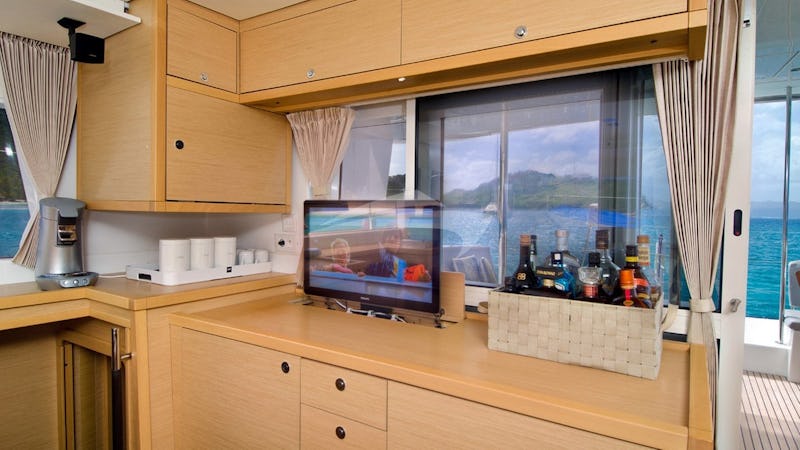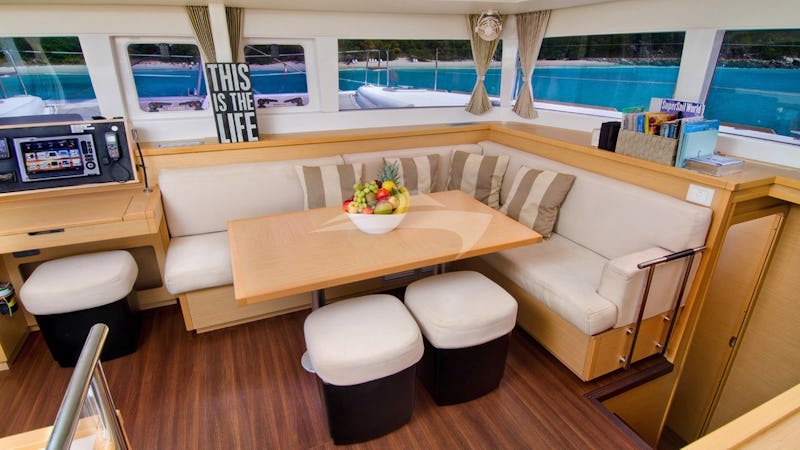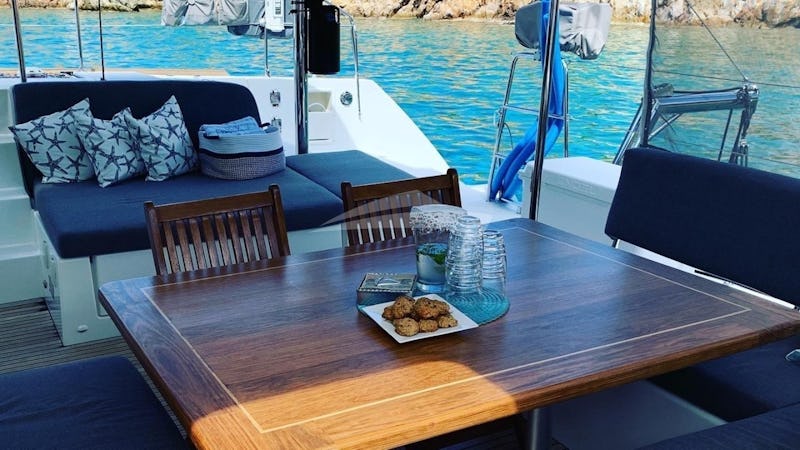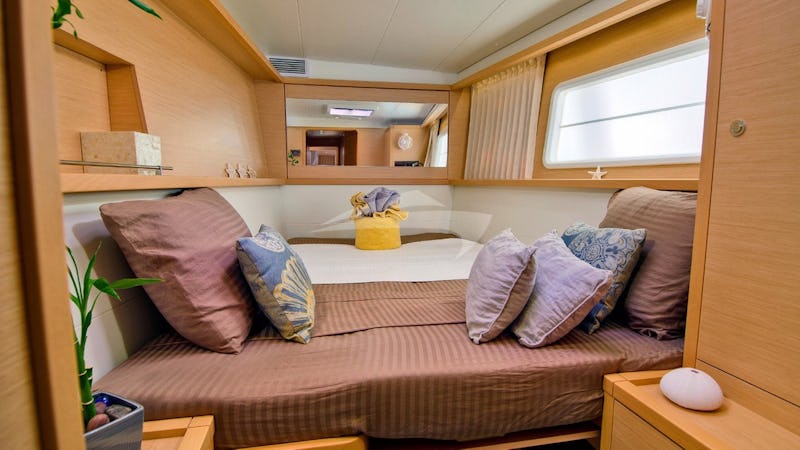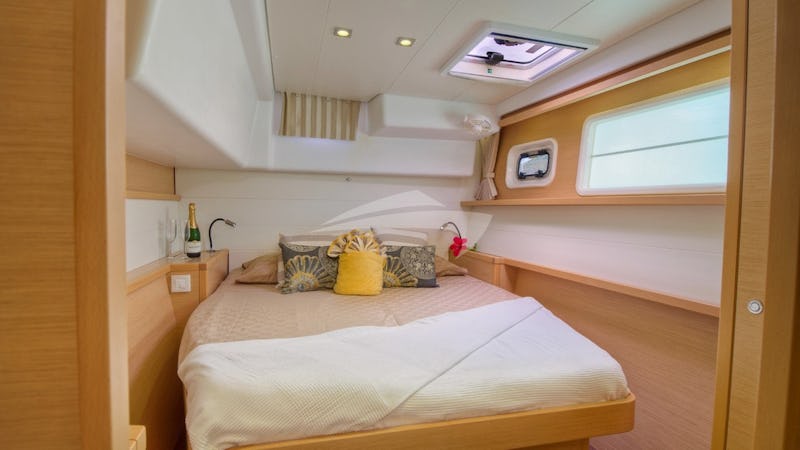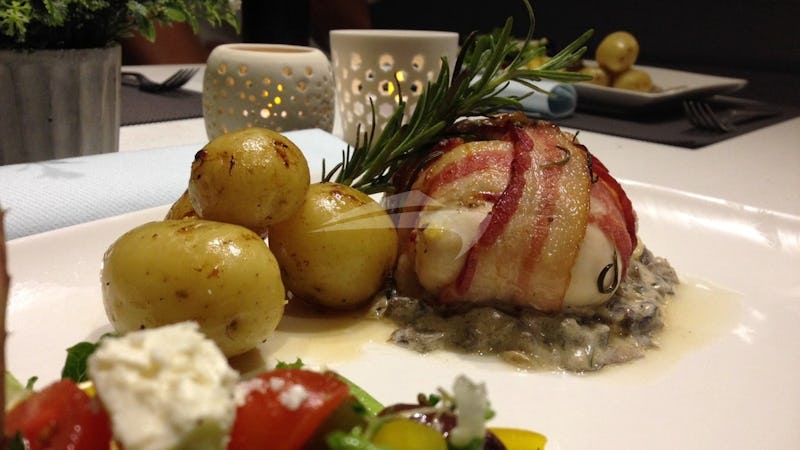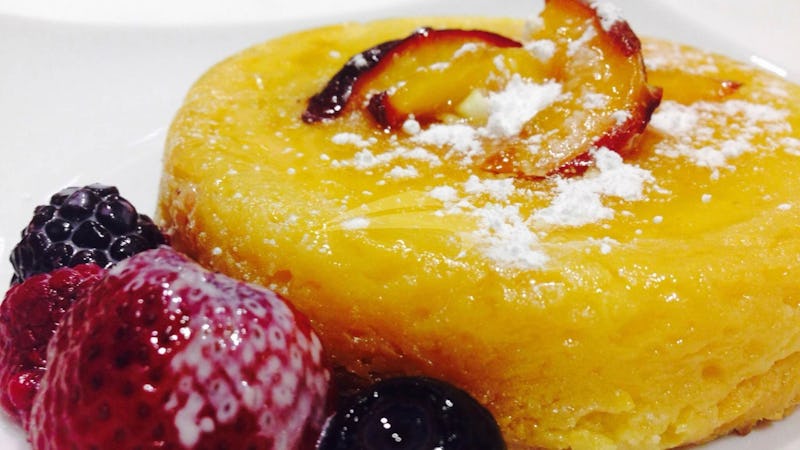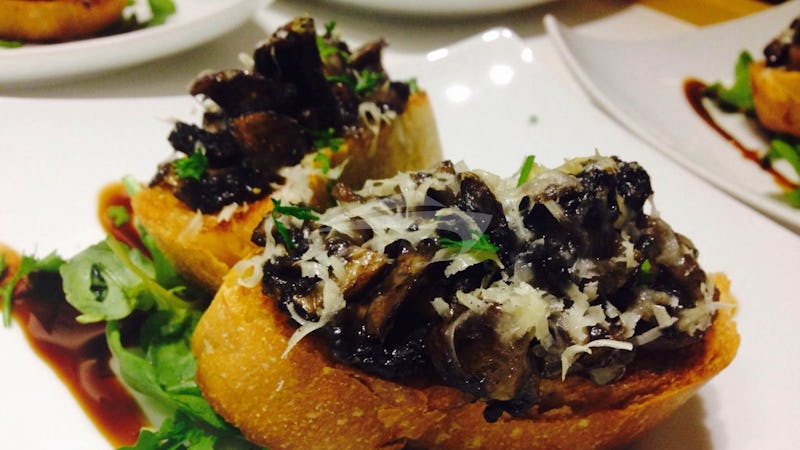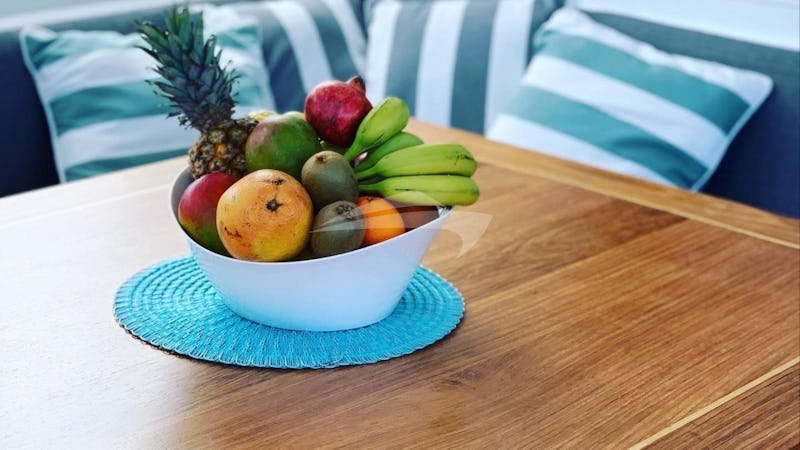 Contact Us For More Information
GYPSY PRINCESS can accommodate 6 guests in 3 cabins. The Master cabin has a queen size bed, shower and toilet.  2 Guest cabins have a queen size bed, shower and toilet. GYPSY PRINCESS is fully air conditioned through out. Crew has a separate heads and shower.
Captain: Chris (Biff) Smith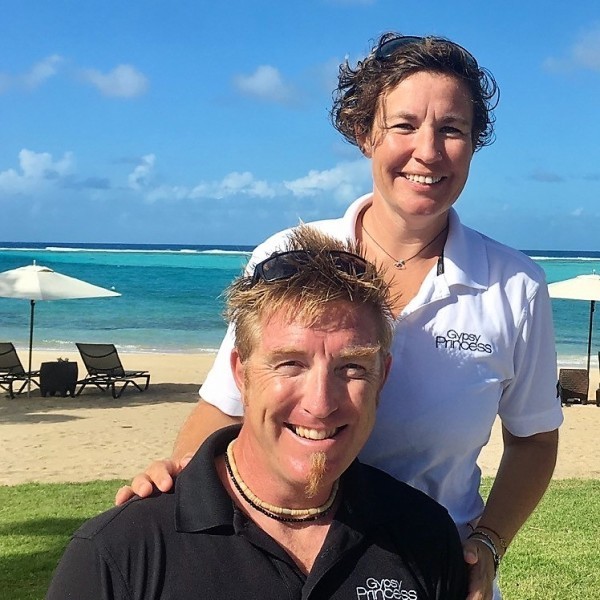 Amy & Biff have been sailing together since 2003 when they first met on a beach in Greece. They were supposed to meet at the ferry port of sleepy Porto Heli but Biff forgot to pick Amy up and she found him instead at the bar on the beach, entertaining his guests! That was the start of something special and they have worked, lived & sailed together ever since. Having always worked in the marine tourist industry they love meeting strangers who at the end of their vacation leave as friends!
Captain Biff learned to sail at the Cub Scouts at a tender age and was hooked! As soon as he was old enough to teach sailing he packed his bags & found his way to the Mediterranean coast of France to start his first overseas instructor job. Working his way around France and Spain he finally settled down in Greece running his own sailing school on the chic Greek Riviera. Cold winters of Europe called him to work in Kenya briefly before settling in the BVI's running luxury charters in warm waters!
Chef: Amy Edmonds
Having learned to cook at the age of 9 so she could watch 'neighbours' (Aussie Soap) on TV, Amy added windsurfing & then sailing to her interests after finishing university in order to travel. First working in Turkey, Italy & France Amy finally moved to Greece & met Biff. Wherever she travels she picks up local recipes and cooking techniques, which she refined at the renowned Ashburton & River Cottage cookery schools, both in Devon, UK. Fresh, seasonal & local produce are her favourite ingredients put together in a fusion of worldwide flavours for all to enjoy!
Between them, Amy & Biff have the experience & knowledge to steer you a course to a truly memorable vacation. With their water sports background they are able to teach even the most reluctant swimmers, sailors, paddle boarders to confidently make the most of their time on the water regardless of age. Their years working in family orientated resorts in Europe also lend them to be dab hands at arranging fun and relaxing family charters. Known for their flexibility & competence, your wish is their command.
June 2019
Amy & Biff,
What a great team you make! Amy your gentle personality, amazing food & quick, subtle sense of humor made us feel comfortable and cared for. Biff your enthusiasm for everything brought our best. We enjoyed every minute of this trip and are thankful for both of you and your thoughtful, professional and spot on planning and attention to detail. The boat and the BVI are amazing. It was a trip of a lifetime. Our family was lucky to experience it with you. 
Thank you, thank you, Thank you! Ann & Kirby

Thank you for an amazing trip with great laughs and great food! It was a blast and I hope to see you again, Peter

Biff & Amy,
Thank you for being excellent hosts during our time in the BVI. The clear blue water, pristine beaches, Caribs, lobster, bars, rum tasting, bone fishing and snorkelling were all amazing to experience. Getting a taste of the nautical navigation and what it's like to be a skipper of a boat like GP was awesome as well. I hope you both enjoyed our trip too. Unfortunately, I made sure we did our fair share of damage with the flag (ha ha). It can be added to the list of ridiculous things. I know Biff enjoyed knocking me off the paddle boards – all in the name of banter ;-)
In the future, I hope to return and spend some time here with you two again, whether it be with family, friends or a lady.
I hope the repetition with the music didn't drive you crazy (It was starting to bother me to be honest). I wish you safe travels and all the best.
Sincerely, Freddy

May 2019

Amy & Biff,
You two are such a delight to be with. There are not enough words to explain how thankful we are for your hospitality, generosity & kindness. This trip has been a trip of a lifetime for each & every one of us. I don't think we could even top this!
Amy your kind-heartedness, a sweet soul has touched all of our hearts. Your amazing culinary skill has touched my bowels in ways like no other. 
Biff your love of the sea is like no other. You have taught us all how to be more kind to our sea. Your sarcasm & fun loving ways are so entertaining. We will miss you both & the GP!
Jamie

Amy & Biff, The first and only word that comes to mind is Magical! You both have and always will have a special place in my heart. The love you've shown us all is beyond lovely. The memories you created are so vivid and amazing. The biggest one was very shiny!!! I'm still in shock that he put a ring on it. And that scavenger hunt was so cool. I just love it all, every single bit of it!
You both are so thoughtful. All the little things are truly the big things that make this trip one of the most memorable weeks of this lifetime. I hope we cross paths again. Love always, Trent & Emily.

Amy & Biff,
This trip was amazing. We did so much. We ache from the burnt scalps to our feet. We were able to drink all day because you guys gave us sobering up activities.   We experienced so much yet still relaxed. Your humour kept us laughing and the wonderful food kept our bellies full. Thank you for taking us into your home and making us feel at home!
Captain Christie & Topshelf (Derrick who doesn't follow directions!)



April 2019
Dear Biff & Amy,
Thank you so much for this amazing trip. I've never been sailing before , but you guys have made it such a special experience for me. It was so fun going to new places and being able to do cool things like swimming with sea turtles! Amy I will never forget your delicious meals, and Biff, I will never forget your sense of humour. Thank you for making my vacation as great as possible! This has been my favourite spring break trip by far, thanks to you guys for making it 10 times better!
Sincerely Maggie
P.S I'll try not to stand in small places like a flamingo

Biff & Amy,

Thank you for an absolutely wonderful week of sailing and adventure! You two are the a power couple, going above & beyond for your clients. It was so great getting to know. I was very nervous about bringing an infant onboard but you helped make it so easy. Your ability to connect with our children will never be forgotten. Thank you for keeping our family safe! Amy we will miss your amazing cooking! And Biff always cleaning! Hope to see you again sometime!!!
Lots of love
Kristine, Louis, Maggie, Hudson & Lucie

March 2019

Biff & Amy,
Thank you so much for an incredible week! You make everything look so effortless, yet it's easy to see how much hard work goes into everything you've planned for us. It has been so fun to watch the kids experiencing new things – from jumping off the roof of the boat to chasing fish & turtles undersea to mastering their conch blowing skills, to scrambling around The Baths.You asked what our highlight was of the trip and I couldn't come up with one, but the more I thought of it I think the highlight has been hanging out with you guys while sailing, going over charts in the morning and most definitely cocktails & nibbles! Hope to see you again soon! Alyce.
Biff & Amy:The team has had an unbelievable week of the best & tastiest of the BVI. With just enough context to bother our hosts, we were able to enjoy spots that stoked wonderful memories and also experience brand new adventures. All in a setting that's unmatched, completely detached from our day to day, and thoroughly inspiring for the Ory Family in many different ways. The variety of experiences, attention to Ory tastes (both noted on the forms and observed real time), something for everybody, the ability to take my 'expected' and multiply it by 2 daily…….. all made for a week that will enhance our lives. Hats off for your skills as hosts, chefs, pilots, technicians, cleaners, event coordinators, instructors, motivators and wonderful leaders. Every motion this week has had a purpose, that was most remarkable. So many memories and experiences for Mom, Dad, Louise, Henry & James to take with us the rest of our lives. 
Cheers, Michael & Alyce.

New Year 2019/20
Biff & Amy, 
This is the first time for me to write "2019". It was the best choice I've made all year, to be on GP with the two of you!Having never sailed on a crewed boat, this was a leap of faith for me. Thank you for catching us and making my dream a reality. We will be back!Beyond the superior professionalism, there is a true spirit of love for this place. I appreciate your passion for the sea (or ocean?!)Our amazing meals were the perfect setting for our family pondering. The sailing lessons were very appreciated by all..... We now realize what good hands we've been lucky enough to have guide us.I hope 2019 brings you both all you've dreamed of. I hope you continue to live this beautiful life together.I think you from the bottom of my heart, the top & all around!Please keep us in mind as you move around the world, we would love to know where you are and what adventures you are having.Be well, be happy and most of all be secure in the knowledge that you both have touched my family and have given us some of the best moments we will ever have together. HAPPY NEW YEAR! Melissa.
Dear Amy & Biff,Wow! What an incredible week this has been! I cannot compliment you both enough for your amazing service. You've set a high bar to follow. I appreciated hearing tales of the pirates and plantations as well as hurricane recovery. You are both fine people and I feel honoured to have met you.Thanks for the wonderful meals, sailing lessons, creative cocktails & nibbles etc! Anegada was an amazing place to celebrate the New Year. Snorkelling, sea turtles, rays and all of the beautiful fish that we saw were just some of the highlights. And thanks for making sure that all of us could participate and enjoy. Vicki.
Amy & Biff,You two are a breath of fresh air! Thanks for making a once in a lifetime experience even better. Your history lessons, stories and sailing made the trip even more special. I hope we one day meet again! Good Luck, Happy New Year and smooth sailing, Doug.
Amy & Biff,This has been AMAZING. What you do is AMAZING. How you do it is beyond AMAZING. Happy 2019! Take care, hope to sail with you again, John.



Christmas 2018
Dear Amy & Biff, Thanks for being so fun, knowledgeable and making this a wonderful vacation. I haven't felt this relaxed in a long time. Cocktails & Nibbles for life! Love Annie.
Amy & Biff, What a wonderful adventure! This vacation has far exceeded our expectations! You two are truly 'can do'. You are both professional, knowledgeable and incredibly fun. I do appreciate your patience with me being a little unsteady. Biff – you were adventurous and made everyone try harder. Amy – your food was fabulous, then boat was clean and well maintained. We loved that you found us sea turtles, which you know are near to our hearts. Lastly, the best part of the vacation was meeting the two of you!
Thank you for making this Christmas special and one we will never forget. We WILL See you again! Love Nancy
Amy & Biff, thank you so much for making this a unique  and special experience. As a family we had so much fun and will look back on this trip for years to come. You guys went to every length to make sure we were comfortable, happy and we greatly appreciate it. Also thank  you for the new wealth of  pirate knowledge!
Thank you again and enjoy your time on the high seas. Griffin
Amy & Biff, Thank you both so much for the best Christmas ever! I had so much fun learning to ski, tubing, tanning and going to the pirate show! I also loved learning about the boat and hearing your stories! Also the food was so delicious, I don't know how I'll go back and eat regular food! Again, thank you so much and I hope we get to come back soon! – Maggie.
December 2018
Amy & Biff, Our time on this earth is short and time passes more quickly with age. Each of you embrace life and work with an inspiring passion and energy. Thanks to you both for sharing your life experiences for boating, cooking, sailing and history with me & my family. No matter what challenges you face during life's journey, always keep moving forward – downwind with the spinnaker full. God bless you both until we see you again and forever.
Best Always, Jackie, Pete, Kayla & Nick. The Stark Family, Memphis, TN, USA
P.S when the shit goes down, both of you have a spot in my militia. But if I can only choose one, Amy's Gourmet cooking trumps sailing and knot tying, Sorry Biff! I think the guys in  speedos on JVD were looking for a third!
Amy & Biff, Thank you once again for the trip of a lifetime! (Or hopefully every other year trip!) The food was always amazing! You guys are so awesome and patient with me, always giving me the extra pair of hands or stability so I wouldn't hurt myself or woman overboard. We all enjoyed sailing, snorkelling and most of all just relaxing on the GP! Best wishes to you in the future and we hope to see you in New Orleans sometime! You are both an inspiration to all of us! Jackie.
Biff & Amy, Your talent, dedication to your craft, are second to none. As someone to whom this whole enterprise – sailing, luxury, week long vacations – is quite foreign, your ceaseless warmth and personality made we feel completely at home from the moment I stepped aboard GP. I hope that you continue to share your knowledge and passion with those around you (guests & everyone else) for many more years to come. Please do come see us in New Orleans and do us the honour of returning your hospitality. I promise it won't disappoint, Cheers, George.
Biff & Amy, Thank you! Thank you! Thank you! This was the most wonderful vacation I've ever had! You both are wonderful and I'm so grateful to have been able to get to know you and learn from you. I hope you'll come to see us in New Orleans soon, Kayla.
November 2018
Dear Amy & Biff, 
What an amazing adventure you have given us! Thank you for our first memories of the BVI. From working with Xenia to ensure our group stayed together, to stepping aboard the immaculate GP, to our 'storytimes' while learning to sail, to the incredible food, to Biff's watersports instructions, snorkelling in Pirate caves and so much more…… you two made us feel so at home, welcomed and safe. I don't think we've ever felt so relaxed and pampered. Everything was truly magical and we owe it to you. I can't wait to bring the kids back to meet you and you MUST come to stay with us in Southern California!Thanks again for making Cal's 50th Birthday celebration so special. We will never forget that double rainbow sunset with 'erotic nipples' Good Luck on the rest of your season. We know it will be hard to beat The Shulmers & PRick!!!Love Cal & Jackie 

Dear Biff & Amy, 
Thank you both so much for the most amazing week. We have truly enjoyed spending our days with you! We will miss hearing the bell ring to start our day, having erotic nipples together & talking about the adventures Biff took us on, hearing pirate stories while being spoiled with gourmet food. We so appreciate how clean the boat is kept, how safe we have felt and how much fun we have had! Our cheeks are sore from smiling!Can't wait to share this experience with our kids by bringing them to meet you! Loved our worry free week of Vitamin Sea! 
Love Chad & Jen 

Thanks Biff & Amy for making our trip so amazing. They way you guys invited us into your home and catered to our every whim is fantastic & indulgent & I can't thank you enough. You make the difference between a great holiday and an amazing life experience. Keep up the amazing work. Take care of each other & the GP. 
Cheers Mates! Rick 

Amy & Biff,You're the best! Had a great time aboard. 
All the best, Patrick 

April 2018
Biff & Amy, 
Thank you so much for our amazing vacation. There were so many firsts for us that we will remember forever. Your hospitality was like nothing we have experienced. The BVI is my new favourite place on earth thanks to you guys! Amy you are an amazing chef from fish taco's to Dave's B'day cake, it was all superb! Biff, snorkelling at Oil Nut Bay was unforgettable……. Swimming with all the turtles and a shark was AWESOME!Thanks again for the fabulous week. Good Luck with the rest of your season and boat upgrades, take care
Biff & Amy,Thank you both for an amazing and exciting vacation. And a special thank you for making Davids Birthday so special, I'm sure he will always remember! You've welcomed us and made us feel at home. The food has been wonderful! Thank you again for everything and wishing the very best! 
GP Rocks!!
Biff & Amy,Thank you both for making our vacation amazing! You made every effort to make us feel at home and it is greatly appreciated. Amy, thank you for the great food you prepared all week. Biff thank you for the fantastic snorkelling and for "letting me drive your dinghy" !!!Best wishes to you.




Ammenities
CD library, Cell phone, DVD library, DVD player saloon, Indoor audio system, iPod dock, MP3 music server, 11ft/3.5m RIB 20hp, Assorted water toys, Banana boat - towable, Beach games, Board games, Floating mats, Inflatable floating island, Kayaks multiple, Kneeboard, Paddleboards multiple, Tube - towable, BBQ, Book library, Deck shower, Fishing gear - light, Hammocks, Ice maker, Special diets, Swim platform, Water maker
Diving
Not Insured, Diving by arrangement, Snorkelling gear