Yacht for Charter
KINGS RANSOM
4250
75ft / 23M
| Builder: Matrix Yachts
| Year: 2008
---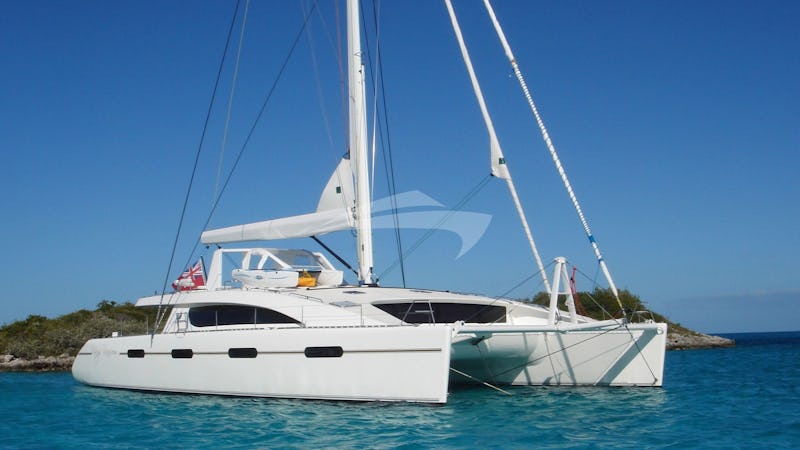 ---
Yacht Charter KINGS RANSOM By Matrix Yachts
Cruising Speed
10kts (18kph)
Flag
British Virgin Islands
Locations
West Mediterranean
From:
$40,932
plus expenses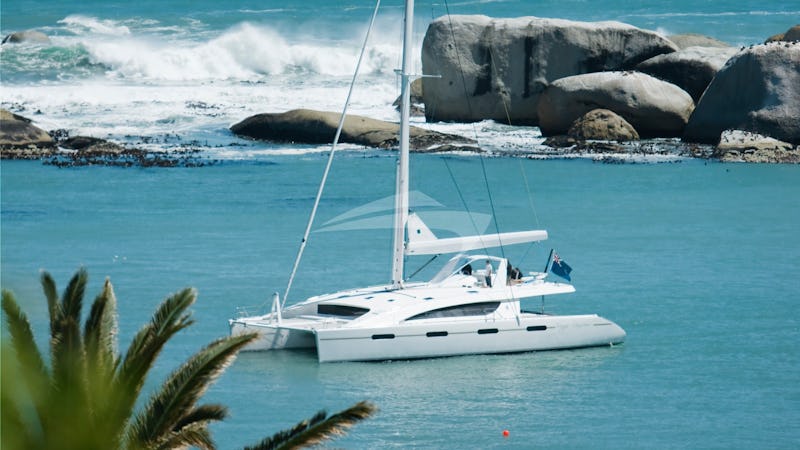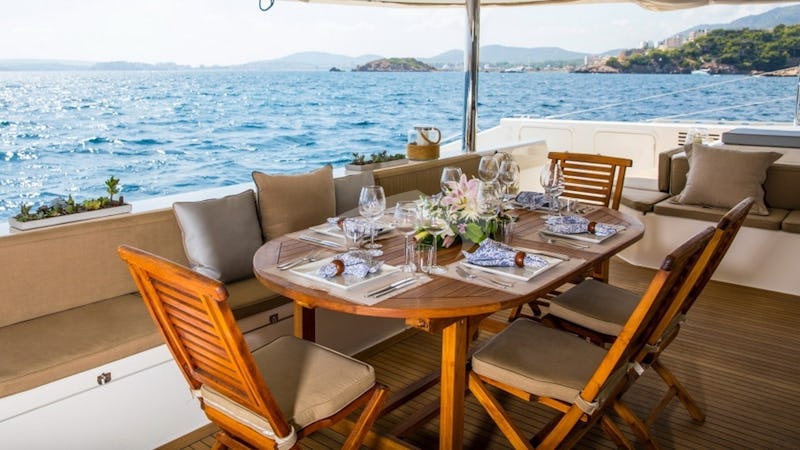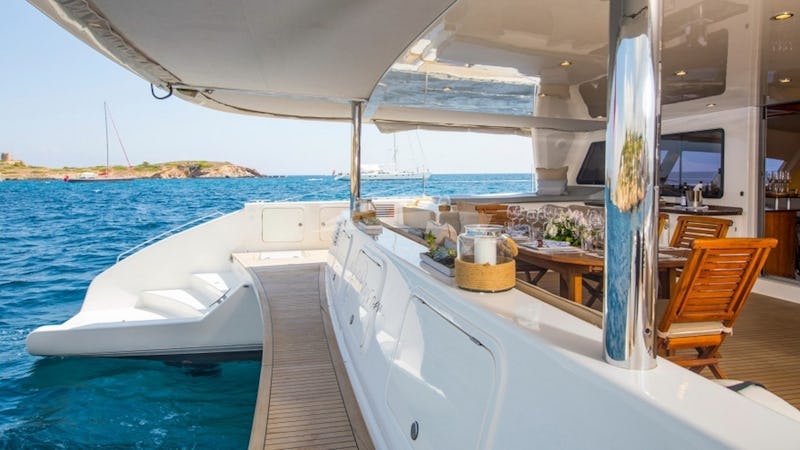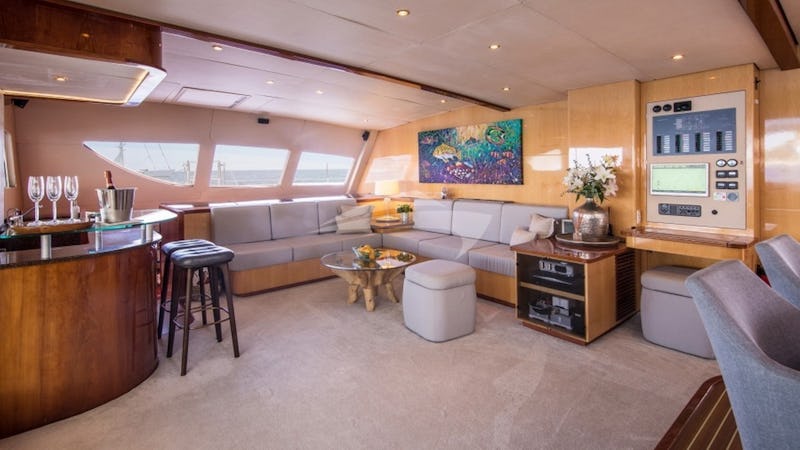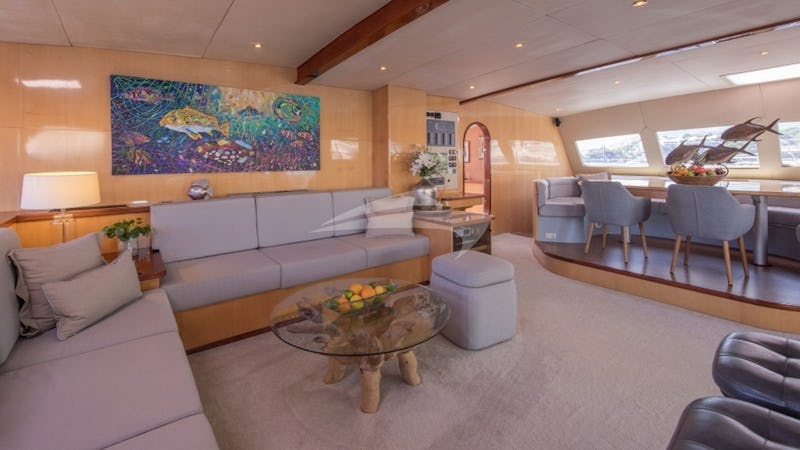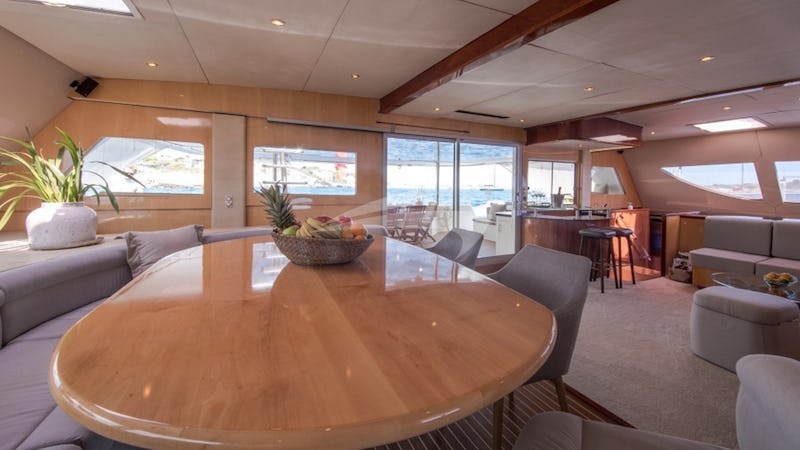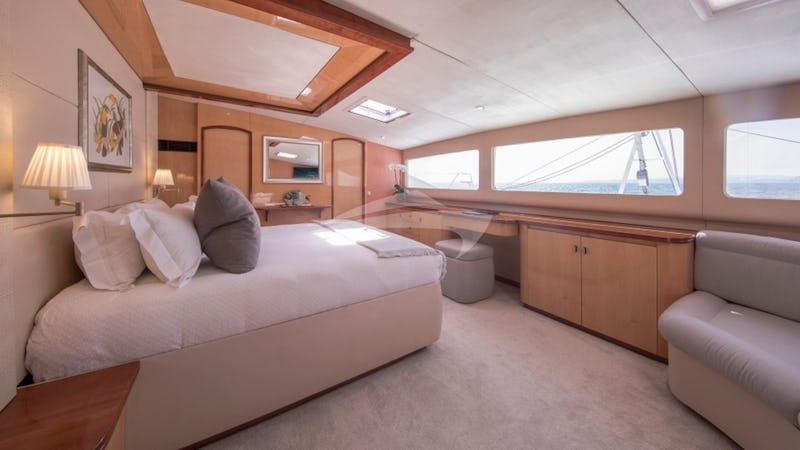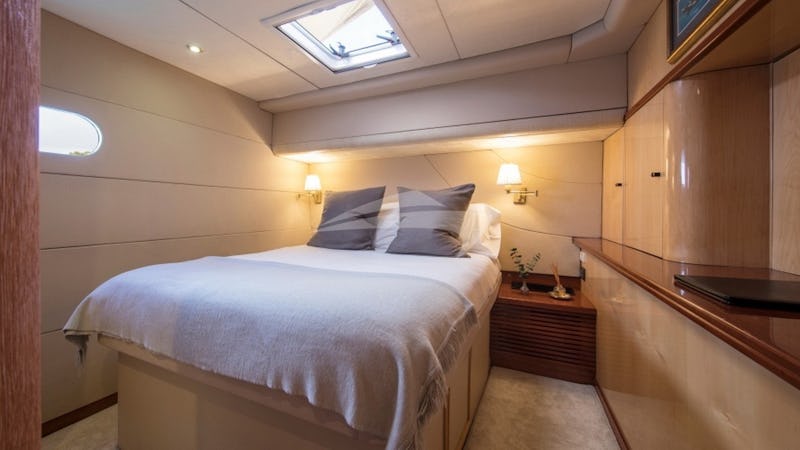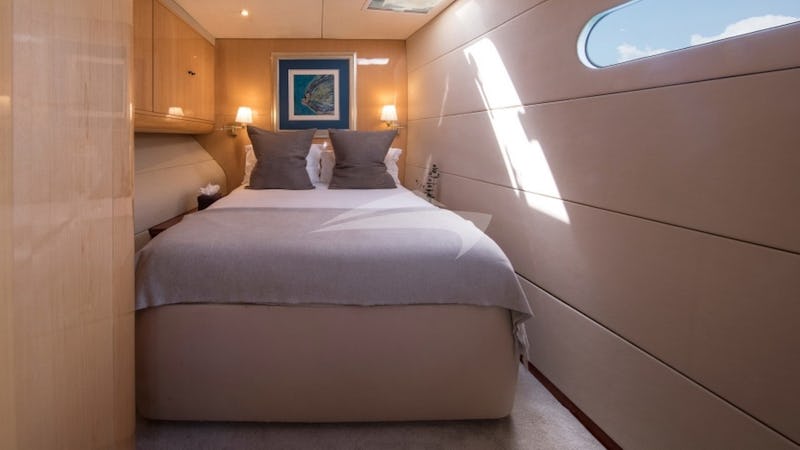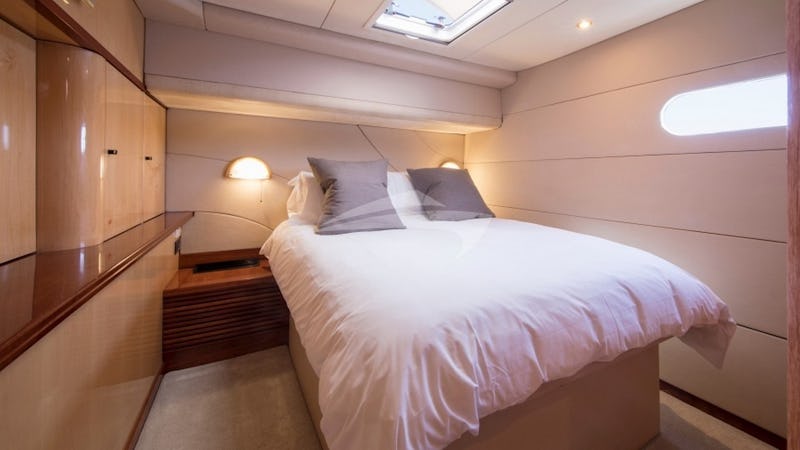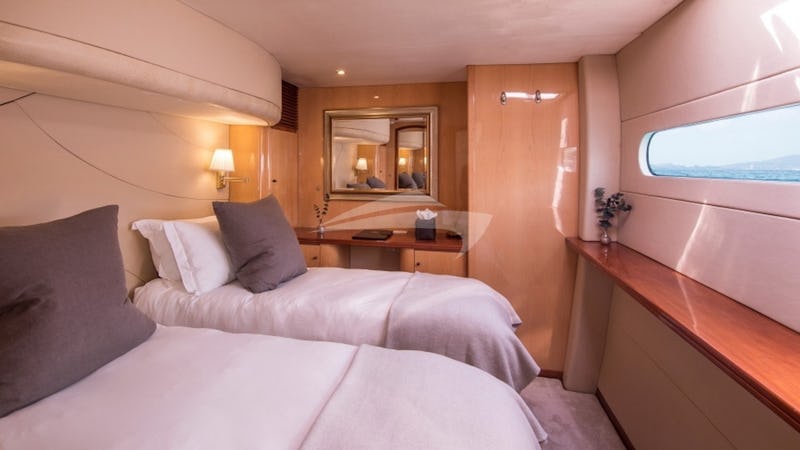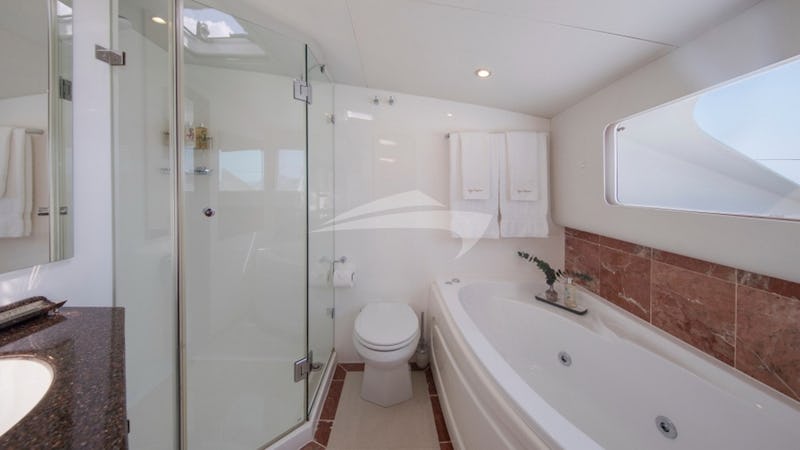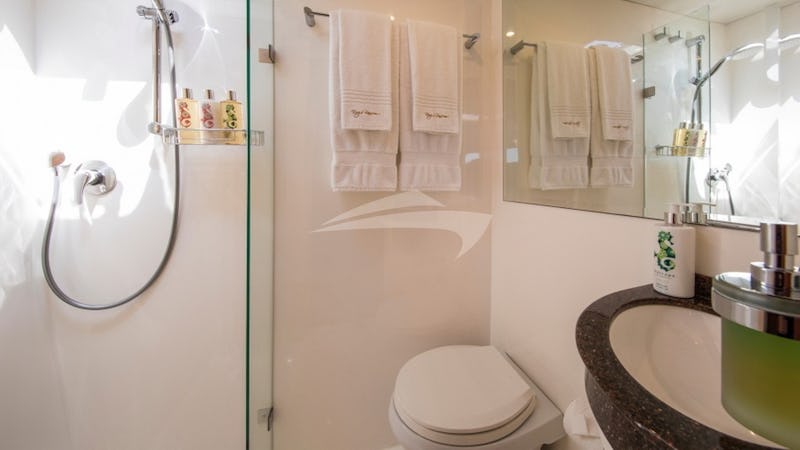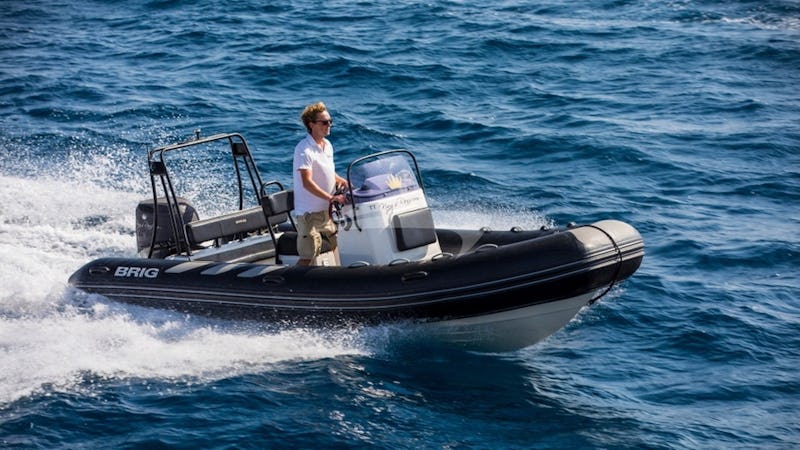 Contact Us For More Information
Kings Ransom Sleeps 10 in 5 cabins
All cabins have:
En-suite bathrooms with separate frameless shower doors, wash hand basin and electronically operated toilets.
The beds are at knee level with walk around access
Luxuriously appointed wood and leather
Hanging and storage cupboards
Individually controlled air conditioning
Opening hatch
The Master cabin has a king size bed, spa bath, walk in closer and remote controlled blinds
The 4 Guest cabins have queen size beds (one converts into twin beds)
Day visitors bathroom
Crew/Captains cabin have separate companionway, heads and shower

Captain: Ryan Spence
Captain Ryan was born in Johannesburg and spent his holidays as a child on the South African coast admiring the infinite ocean. After finishing his studies and working three years as sales representative, he bravely decided to change his career path and undertake the Yachtmaster training course.
Since then, he has been sailing and chartering as a captain on yachts in the Mediterranean, BVI, St Maarten, Antigua, Belize and many more Caribbean islands. The sea is his true passion, which is why along with being the captain of KINGS RANSOM he is also a PADI certified dive instructor. He loves any outdoor activities and will happily take guests diving, snorkelling, wakeboarding and trying anything else they might be interested in.
Proficient and safety-oriented, Captain Ryan and his crew are committed to provide the best possible service and ensure truly memorable sailing vacations to their guests.
Chef: Ewa Lubienski
Ewa is a fully qualified chef with an extensive experience in international cuisine, possessing a wide range of culinary skills from provisioning to presentation. Her greatest assets are professionalism and ability to adapt to any situation.
She is constantly mastering her culinary techniques and strives to exceed every guest's expectations. Her rich culinary repertoire includes dishes from Thai, Vietnamese, Japanese and vegan cuisines. Ewa loves to impress her guests with a homemade artisan bread, fragrant pastry, irresistible desserts, delicious sushi and amazing creations from molecular gastronomy. She always works with passion because she loves what she does.
Friendly, gentle and attentive, Ewa makes guests feel at home, ensuring a holiday of a lifetime.
1st Mate: Daniel Shaw
Is a charismatic first mate sure to win over guests aboard. Daniel grew up along the beautiful east coast of South Africa. Surfing and sailing with this family from the age of 11 he grew a strong passion for the ocean. Daniel is a water enthusiast and continues enjoys a plethora of water sports including windsurfing, wakeboarding, kite surfing and diving.
In his youth he worked as a lifeguard and sea rescue boat skipper and is following his father's footsteps skippering boats across oceans.
He has a caring nature and a great sense of humor. Daniel is full of energy and ready to assist you in having a fun experience. He is always excited to share his love of the sea with guests aboard. He enjoys taking guests out in the new on our spacious tender, help develop their water sports ability, experience sailing the hobie cat aboard and assist in taking advantage of the countless water activities. As experience sailor he naturally creates a relaxed atmosphere and a safe environment for everyone to enjoy.
Daniel is an outgoing crew member and his well natured and enthusiastic personality will make your charter with Kings Ransom unforgettable.
Stewardess: Jenna - Lee Lochor
Jenna-Lee was born and raised in South Africa in the coastal city of CapeTown.
Her love for the ocean began at a young age while surfing the beautiful beaches with her family. After graduating as a therapist Jenna managed her own beauty salon performing aromatherapy massages.
Her sailing experience began when she met her partner Daniel in her youth and spent her spare time sailing with him and his parents. She decided to combine her two loves and travel the world as professional massage therapist and stewardess.
Hospitality, service and attention to detail are Jenna's strengths. Her charismatic personality and friendly nature always make sure her guests have an unforgettable experience aboard.
As a qualified physiotherapist she is able to offer guests massage therapy aboard.
Sit back relax and enjoy the service and the scenery aboard with Jenna as your gracious hostess.
Fan mail for the crew of KING'S RANSOM, from guests aboard in mid March, 2015 -
Pete, Niki, Martina and Daniel,
We want you to know that our cruise was the BEST EVER trip we have ever taken. It was a blast!
I can't believe I was worried about the children running out of things to do and our family being too close for a week to ever speak to each other again. Quite the opposite!
You kept us moving discovering,playing, sightseeing,shopping, doing card tricks and eating (Oh yes, we did enjoy eating at breakfast, lunch, snacks and dinner).
You kept our itinerary running smoothly for the whole family - all ages, all interests and all already formed ideas. A time for everybody and that's not easy! You never disappointed, only impressed. 
We hope to catch up with you one day and continue our new friendship. Best of luck on the Med and on your new boat. Keep in touch.
Sincerely, 
Bobby, Mary, Bonnie, Tom, Thomas, Connor, Mary Louise, Reese and Gracie.
---

I can't say enough how amazing of a trip this was…like I said "the trip of a lifetime I want to take again next year!!!" Thank you for sharing your skills with us, from cooking, setting tables, sailing and the general ways of the BVI seas, it was absolutely phenomenal. There were so many great moments along our 9 night journey it is hard to pick only a few. New experiences for the kids and us, seeing the kids learn without being instructed was great…there was such a natural element to their understanding in this part of the world. Thank you for being so patient with the kids and for making everything so special.
We ate at 5 star restaurants every night (thanks Niki), slept in the lap of luxury (thanks Martina), had the best tour guide by our side every moment of the day (thanks Pete) and access to all we could ever ask for (thanks Dan)…all while having the kids with us!!!
A truly special vacation! I am already looking forward to the next time!
 
Sincerely Joe
31st July 2014

The Fully Combined Holiday Experience-take 2
 
This has been an absolutely fantastic holiday. It has fulfilled our wildest dreams (and believe us, we have some pretty wild dreams!). As we leave you and set off for our return journeys we thought we would leave you with some parting thoughts as a homage to the various wonderful crew members…
 
Martina…your cocktails are second to none, the beds appeared to be made by magic in the morning, and your massage was as good as they come…a wonderful hostess!!!
Dan…thanks from the three divers for some amazing under water experiences, also your patience on the water skiing and ability to get us up in the end, and for the endless supply of water toys put out for our pleasure.
Niki…it has been amazing to visit so many beautiful bays, each remote but with our own a la carte restaurant on every one. A special thank you for the spectacular cake to celebrate  26 years since the honeymoon in St Lucia.
Pete…from leading dives to sailing instructor, you really do it all. We enjoyed sailing the boat under your watchful eye, thank you for being a wonderful captain and looking after us so well.
 
To all the crew, thank you for sharing some wonderful, funny and touching moments. We were particularly impressed with your willingness to join in our silly games and you have left us with some very special memories.
 
27th June 2014
 
Dear Pete, Niki, Martina & Daniel,
 
What an amazing week! Thank you so much for making every moment of this trip fantastic. I really could not have dreamed of having such a great crew.
From our early morning runs (great company Pete) to the dives with Dan, hot dogging, tubing, water skiing, wake boarding, sailing the hobie. It was all just excellent. Something for everyone!
The great massages, facials and even mani-pedis-thanks Martina!
And what awesome food! Niki, every meal was just great.
How well you managed to keep everyone happy and entertained! It was a vacation we will all remember…
We will see you next summer in the Med!
 
Christy
4th June 2014

Dear Captain Pete, Niki, Daniel & Martina,
 
I knew that this was going to be an amazing trip but I honestly couldn't have foreseen how wonderful it really was.
The Kings Ransom is a beautiful catamaran-so luxurious and comfortable with all the lovely amenities, but I couldn't  have anticipated the fun, adventure, comfort and warmth your personalities and efforts provided. You made this absolutely spectacular for all of us. The children had the best times of their lives and so did the adults.
 
It takes very special people to be able to do that and I can't tell you how much I am grateful to you all.
 
18th April 2014

April 2013

 We had a wonderful time!!!!
 Love love the crew!  They were fantastic.  Harley had two ear infections and the crew was so wonderful with her.  Just can't say enough. Niki is a wonderful chef.  Food was fantastic.  We enjoy every morsel.
 The BVI'S were just breathtaking. The perfect recommendation in both....Kings Ransom and BVI'S.
 The boat was not only perfect but so much fun.   Thank you for that!!!!
 We are not home yet,  we are all travelling American Airlines and the entire airlines shut down.  We are stuck in San Juan for the night.
 The trip was one we will never forget and will have many wonderful memories.
 Thank you again.
 Best Regards,
 Rhonda



From guests aboard King's Ransom in mid-February, 2013:

I can say without hesitation that last week was the best vacation that my family has ever been on.  The boat was georgeous but the vacation was made by the crew.  Pete and Niki were amazing, the food was delicious and we were fortunate to have Ron and Anya Paxton (the crew on the Marmot) on our boat as additional crew.  They all made us feel at home  and there was not a desire that wasn't taken care of.  I highly recommend them to other families.
 You may be hearing from us for next year!
Patty
---
January, 2013 flotilla charter
''I am happy to report that the 2013 charter was extremely successful and, after fourteen consecutive programs involving yacht charters, this one was possibly the best yet according to many of the repeat guests. A great deal of coordination, cooperation and willingness to help on all fronts was shown by all the crews and Pete and Niki did an excellent job both before and during the charter. Their thorough attention to the details of the charter and the needs of all the guests plus their helpful communication was much appreciated. Their enthusiasm and often humourous attempts to engage the other yachts in friendly competition helped foster a fun spirit throughout the catamaran fleet.
It is well known that this charter places a great emphasis on dining and, with guests switching yachts for dinners, stimulates a good natured and unstated competition amongst the yachts. Niki and everyone on King's Ransom did an outstanding job and received great comments from both their "home guests" and those that visited for dinner on the dine-around nights. This feat is not to be taken lightly considering the "competition" throughout the fleet.
We have received emails and letters from the King's Ransom guests saying how wonderful the crew were and how happy they were with the yacht, the meals and the service.
King's Ransom and her crew did a great job throughout the program and I will be pleased to provide positive references and recommendations for the yacht and the crew. We will be pleased to have King's Ransom, Pete, Niki and the crew on future charters for these and any other clients.
Thank you again to everyone in the  King's Ransom  family for such excellent service.''
 
---

''The King's Ransom Magnificent! BVI magical! The food-delicious and beautifully presented BUT the crew 'tops the lot'. Thanks a million for a fantastic time'', Liz & Mike - January 2013
---
''I could not imagine a better place, better people or a better boat on which to unite as a family. You have helped us enjoy each other and our precious family time together-a rare gift. For the rest of our lives we will remember each of you and how easy it was to be with you and the wonderful care you took of us. Thank you so much for your expert sailing, your great sense of humor and your excellent taste in music! We had a wonderful vacation thanks to your efforts.'' The Fisher family, Christmas 2012.
---
''The crew of this ship has shown our family love, respect, patience, and generosity. We will be forever grateful for your endless ours of hard work in order to give us the trip of a lifetime''  Thanksgiving 2012
---

Name: Patricia 
Yacht: S/V King's Ransom
Date:  August 4-11, 2012
Comment on the comfort onboard King's Ransom:
- If we were to rate a from 1-10 it would be a 10, it was excellent

Comment on the condition of King's Ransom:
- The boat has excellent conditions

Comment on the cleanliness of King's Ransom:
- No problem at all spotless

Comment on the congeniality of the Captain and crew:
- Very attentive
 
Comment on the service of the Captain and crew:
- Excellent

Comment on the fun aspect of the Captain and crew:
- Very fun and accommodating

Comment on the expertise of the Captain and crew:
- Excellent

Comment on the quality of your meals:
- Top Notch

Comment on the presentation of your meals:
- The presentation where just excellent



Would you charter this yacht again? (Circle one)     (YES)     NO
---


Guests aboard KING'S RANSOM in July, 2012
Thank you both very much for creating a very enjoyable atmosphere, your services were very professionally carried out and we cannot think of anything that Yourselves and/or Andy along with Sara could have done to improve the enjoyment of our treasured vacation.
Niki: the food "Quality" "Taste" "Services" and "Presentations" were excellent, you provided what we asked for and gave us many options to choose from, perfect choices from a perfect Chef
With some Children as Guests, "Banter" was more or less a perquisite of the package, but the banter that you both gave to the Children was clever and thoughtful, and it came across as, you both genuinely enjoying your success at making some Children's eyes and mouths wide open.
We as "Well Travelled Grand Parents" are fully aware that we should have left all "Table Clearing" away to you and your Crew, many times you all reminded us that it was part of your service, however, irrespective of how much we paid for the charter neither Hazel nor I, wanted the Children to lack the courtesy of a "Helping-Hand"
Pete: based upon our day to day dealings, you are definitely a "Class Act" you made us feel very much at ease, and secure in the knowledge that we were in very safe hands.
Your Parents must be very proud of you; we have never regretted not having a Son; however one in your mold would have been a blessing ("Yes Yes" Niki, roughly speaking you would have made a great fourth Daughter). 
I have not mentioned Andy or Sara much above, as a separate letter is going to them, it goes without saying that they both served you well, With regards to the Children, Andy's entertainment efforts were well over and above the line of duty. His interaction with us was excellent.
Sara provided the "On Board Services" that as Guests we could not have asked for a more thoughtful, mindful person to look after our needs
Thank You once again for giving all our Family memories that will be treasured for the rest of our lives
Safe Sailing, have a well-earned holiday back in England, Niagara Falls is only sixty miles from our home so if next July/August you would like to visit us please do not hesitate to email us, only cost to you- your airfares, VIP upon landing & leaving our nearby Toronto International Airport.
Best Wishes
Hazel & Chris
Ontario, Canada
Guests aboard KING'S RANSOM in June, 2012

We hope your charter lived up to your expectations.  We would love to know some of your impressions about your yachting vacation.  Please answer the following questions and add any comments you may have.

1.  Was the crew friendly and accommodating?
We were never told "no".  

2.  Was the yacht comfortable and clean?
The yacht was beautiful, spacious, and very clean.

3.  Was the yacht well ventilated?
We had AC on all the time.  Never felt hot.

4.  Was the food good and well presented?
A gourmet meal every time!

5.  Did you like the area you sailed?
Yes, we told the Capt. where we wanted to go and even though we did not have a lot of time he made it happen.

6.  Could we have helped you further in any way?
There were some questions that VI Sailing did not know the answers to.  

7.  May we post this review on our website?
Yes

8.  Additional comments on your charter?
The crew made the trip.  This is definately a "Can Do" vacation.  They were extremely accomodating and friendly.  We had 3 small boys and they were VERY upset when the trip came to an end.  We will definately be coming back!  

 
Ammenities
CD library, Cell phone, DVD library, DVD player saloon, Games console, Indoor audio system, iPod dock, Outdoor audio system, Satellite TV, TV all cabins, TV saloon, Wi-Fi, 19ft/5.7m RIB 100hp, 14ft/4.2m Hobie sailing dinghy, Beach games, Kayaks multiple, Kneeboard, Tube - towable, Wakeboard, Water skis - adult, Water skis - child, BBQ, Deck shower, Fishing gear - light, Jacuzzi in master cabin, Jacuzzi on deck, Spa, Swim platform
Diving
Not Insured, Compressors, Diving if certified, 1 Compressor, 10 Tanks, 10 BCs, 10 Regulators, PADI Dive Master,
Diving included for certified divers.
Resort Course $250.
Open Water Referral Certification Courses are by rendezvous please