Yacht for Charter
SAIL AWAY
5856
62ft / 18.9M
| Builder: Lagoon
| Year: 2014
---
---
Yacht Charter SAIL AWAY By Lagoon
Designer
VPLP and Nauta Yachts
Cruising Speed
10kts (18kph)
Flag
British Virgin Islands
From:
$31,000
plus expenses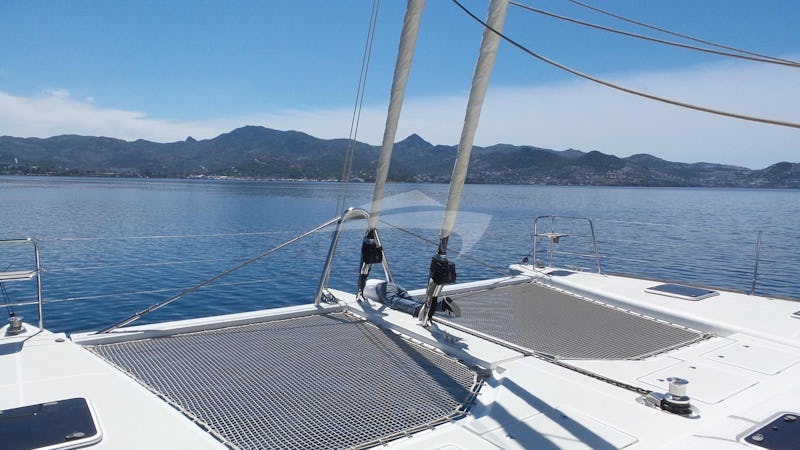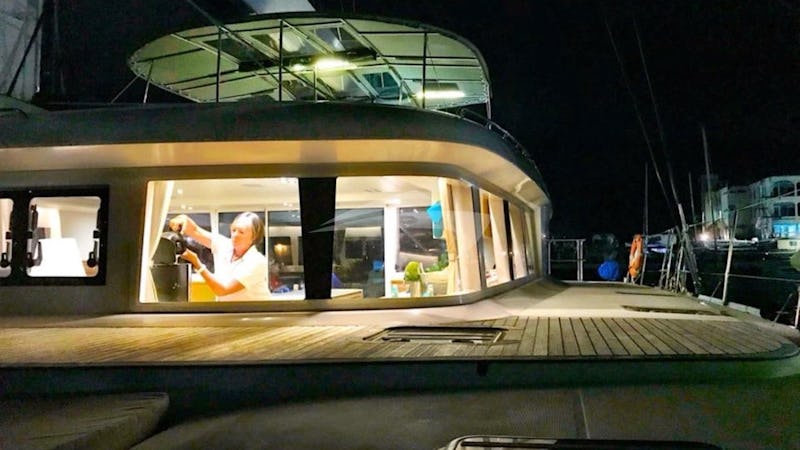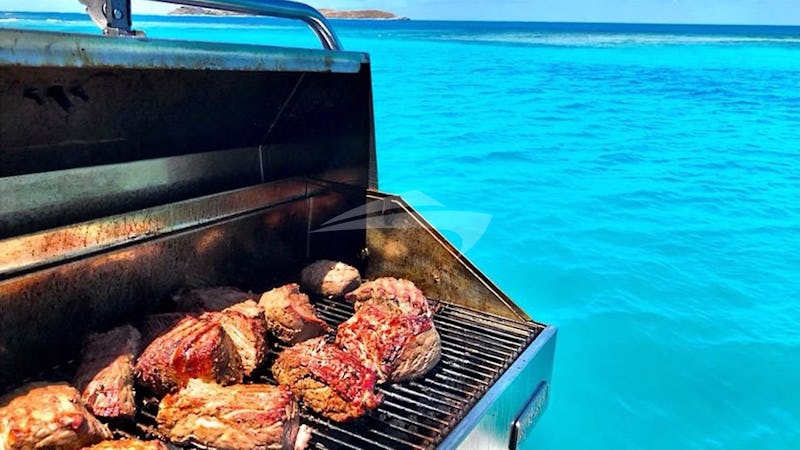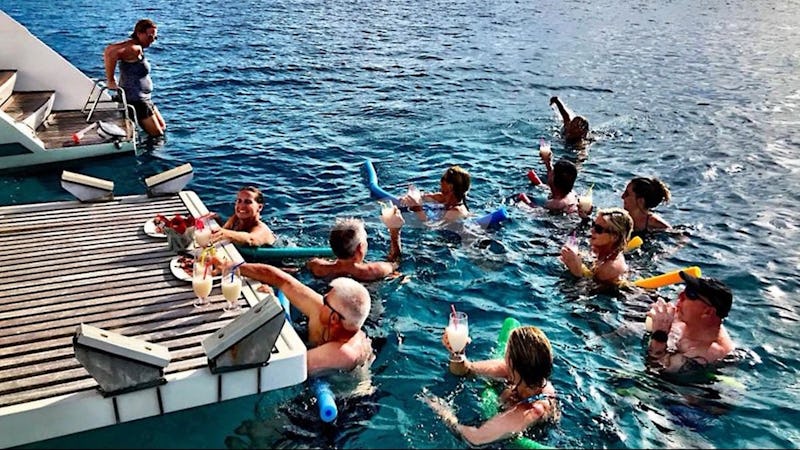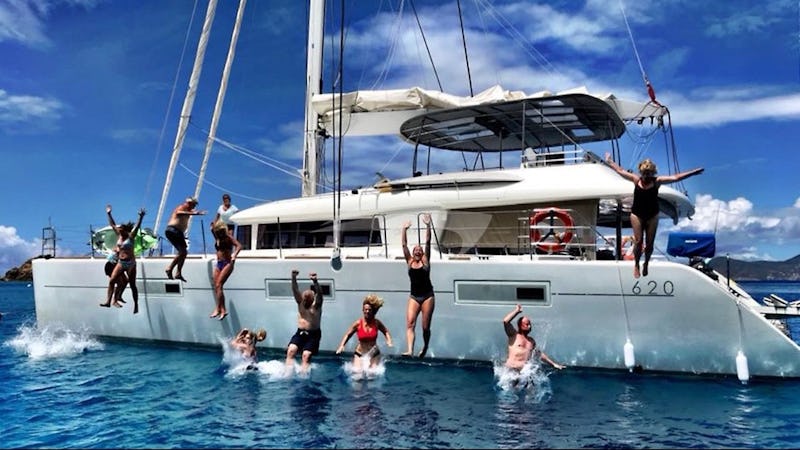 Contact Us For More Information
Captain: Sheldon & Vanessa Lindsay
Summer Season crew aboard SAIL AWAY
now through October, 2021 and Spring Summer 2022
Captain Sheldon Lindsay
Sheldon is a qualified RYA Ocean Yacht Master Commercial endorsed with over 400,000 nautical miles under his belt. He has sailed in all the oceans of the world. Started sailing at the age of 8 on dinghy competing at various regatta's. In his late teens, Sheldon began sailing at Royal Cape Yacht club for many years racing on various keel boats. He is a qualified diesel mechanic. He also judged World Cup wind surfing for a couple of years and is good all-around water sportsman. Sheldon is a good teacher and will get you up on the wake board or ski's with his coaching. He has lots of stories to tell of his many ocean crossings of the world including scrapes with pirates and Cape Horne. Anything on the water comes naturally to him having grown up in Cape Town, South Africa were surfing and sailing is a year round experience. Being involved with the ocean, diving, surfing and sailing is his life.
Chef Vanessa Bush
Nessie, as everyone calls her, started chartering in the Caribbean in the 1980's and then went on to circumnavigate the world on a 40 foot steel boat. She is a chef with years of experience in boat catering and in villas in Europe specializing in Italian/French and Caribbean cuisine. She has over 100,000 nautical miles under her belt, ran the galley at the well known Atlantic Boat Club in Cape Town. Also spent her time raising children, running the local pony club and eventing on her horse whenever she had the time while running her late husband's fishing business. After that started chartering in various parts of the world with Sheldon experiencing different cultures and cooking experiences.
Both Sheldon and Vanessa have open water dive and advanced first aid certificates. They enjoy entertaining and meeting new people from all parts of the world, having chartered in the Caribbean the Med and Thailand and sailed the Pacific.
Captain & Purser Nov. 21 Through March 22: Mike And Lesley Blamey
Warm and friendly, Captain Mike and Chef Lesley Blamey will spoil you with true South African hospitality. From the moment you step aboard, you will feel at home in the comfortable and beautifully appointed Sail Away. They grew up together, in the Sub Tropical coast of KwaZulu Natal, and the ocean and watersports have always been a big part of their life. They traveled extensively meeting new people and making friends around the world, and enjoying the cultures and cuisines of the world, and decided that once they sold their National Transport Company, and the children had graduated and left home they would pursue a more relaxed lifestyle sharing their love of the ocean, water sports, traveling, meeting new people, enjoying their cultures and cuisines and making new friends.
Mike is a qualified RYA Yachtmaster with over 50,000 sea miles under his belt. Together they have sailed and explored the Indian, Atlantic and Pacific Oceans. It gives him great pleasure to assist a total novice in getting up and sailing with a little guidance and encouragement. He is also a qualified Padi Dive Master, and will happily assist certified divers on planning their dives and accompany them as their guide. As an accomplished water-skier, and surfer he will soon have you up and riding on your water sports of choice. He is very competent in maintaining and running all aspects of his yacht. His warm and giving personality, love of life, sense of humor and honesty make him a great captain to sail with. His "generous" barman's skills and great tales will have guests laughing into the night. He's also a great DJ.
Lesley is a certified diver, and with 45000 sea miles logged is also proficient at the helm and in all crew aspects.
A great cook - who's skills in the galley will delight you. Her wonderful cuisine, reflects favored dishes from around world, varied and beautifully presented. A true Piscies, you'll find her in the water as as much as on it. She will happily take you on guided snorkeling safaris, pointing out all the varied corals and fish found in the beautiful Caribbean waters. She is a natural earth mother, who enjoys children, is fun, easy going, helpful and resourceful. She will happily play surrogate "granny" to the kids, keeping them entertained and happy while you enjoy a scuba dive or a visit to one of the fabulous beach bars or restaurants on the islands. From the moment you board Sail Away she will make you feel relaxed and at home, while making sure your every need is attended to. Mike and Lesley have been happily married for 40 years. Their friendship, respect and happiness together makes them a great team, and they look forward to giving you a holiday of a lifetime.
Chef: Lisa Mead (47)
Originally from Queensland, Australia, chef Lisa Mead has spent the past 25 years cooking between Australia, the Mediterranean and the Caribbean. She has created epicurean delights for all walks of life including royalty, heads of state and celebrities on board luxury yachts, in 5 star villas and restaurants. In addition to her time spent living in South East Asia, where she gained valuable experience with the local cuisine, if asked Lisa would describe her cooking as global, pulling from different cultures, using only the freshest of ingredients.
Currently Lisa is being filmed in her own cooking show as chef and host of a series titled: "Galley Gourmet With Chef Lisa".
Summer season chef: Marie Perez
Marie was born in the Dominican Republic. In her teenage years she moved to Italy where she studied languages. She worked as interpreter/translator along with Web Marketing. Marie also loved cooking part time in restaurants, where she found herself in tune with her soul and real nature.
In 2010 she totally revolutionized her life by changing profession and started cooking on yachts in the US and British Virgin Islands. Now she is a professional Chef, graduated with Merit from the Ashburton Chefs Academy in Devon, England.
Marie is a superstar in the galley specializing in tasty Italian, European, North America, and Spanish Caribbean cuisine with a flair for unique presentation and gracious service. She gives her best when inspiration launches her at new "Marie's Creations", which are very original, tasty dishes, result of a passionate research into new ways to satisfy the most refine palates.
Marie has a passion for client service detail and loves to deliver those special touches that bring smiles to all her guests. You will be asking for her amazing recipes when you reluctantly leave Marie's kitchen. She speaks English, Italian, Spanish and French but is best versed in the language of excellent service and tasty fun.
Fan Mail from guests aboard catamaran SAIL AWAY in late January, 2022 -
Early December, 2021 SAIL AWAY guests in the BVI wrote:
Thank you, thank you, thank you to Captain Speedy, Ms. Speedy and Chef Kim! What a spectacular week we have had. I can honestly say we have never been so cared for and catered to!
We have LOVED our time with you – You are special people and now lifetime friends!
Love Alison and Martha
Mike, Lesley and Kim,
Thank you doesn't seem to be enough to express my gratitude for all you did to make this week so special. Muffy is the most loving hostess that took such great care of us. Kim, master chef, meal after meal. Simply incredible!! Mike, Mike, Michael, Big Mac. For a guy you have very sweet energy, ha ha! We all appreciated your thoughtfulness in getting us to just the right spots. But remember to slow down 😊 I don't think your dancing improved over the week! Kim, I can still make room in my bag for you! ❤️
Thank you again, you all truly are extraordinary in so many ways. I think I'm in love with you all. Happiest of holidays.
Sharon and Nickel
Thank you Mike, Lesley and Kim for making our dream trip come true in every way. Your kindness, enthusiasm, and humor made this trip a very personal experience. Also you each have exceptional knowledge and skills that made us very safe and cared for.
Every day was special for us. Thank you for taking us to all those special spots so we could immerse ourselves in the beaty of the BVI.
Kim, your meals were incredible.
Lesley, you cared for us as though we were your family.
Speedy Mike, you are captain extraordinaire!
Than you thank you thank you. A special thanks for Carolyn's birthday party. We hope to see you again.
With love and gratitude,
Fabia and Carolyn
Guests aboard SAIL AWAY in the BVI in early March, 2021, wrote:

We recently spent 10 days aboard Sail Away with Colleen and Peter Lauber. The experience from beginning to end was seamless and transporting. First, our charter broker arranged the charter and facilitated travel plans and navigating the BVI Covid restrictions/requirements. That was a great help! The BVI are VERY Covid safe by the way. Once you do the required paperwork and testing it is fabulous to be here. So don't let that stop you from coming!!

We met Colleen and Peter at the Cay, a short ride from the airport, and off we went. We had 4 days of on-boat quarantine and, really, who could complain about beautiful bays, snorkeling, swimming, kayaking etc?! After a day 4 test and subsequent test result we hit land for our first on shore activities.

Colleen and Peter, our hosts on Sail Away, were EXCELLENT in every way. They are both highly experienced sailors and know every corner of (and almost everyone in) the BVI. They took incredible care of us from charting our trip, arranging activities, and preparing delicious meals. Colleen clearly did a ton of preparation to be able to prepare gourmet dishes with ease for a group that also included gluten free vegans. And they were funny, fun, and overall great to get to know.

Oh and Sail Away is gorgeous. No need for me to say more - JUST GET HERE.

Carla - New York, USA

_____________________
The Dunnings, a mid-March charter aboard catamaran SAIL AWAY, wrote:
Mike and Lizzy, Thank you for a perfect week! You are both so much fun. We loved getting to know you. We hope to see you again X Angela
Mike and Lizzy, Thank you for the most wonderful trip we could imagine. Your hospitality and friendly attitude were most appreciated. We feel we have made friends for a lifetime. Mark
Mike, Lizzy & Lisa – Thank you for such a fun week in paradise! I truly enjoyed your company and you delicious food. I don't think this trip can be topped! Sally
Mike, Lizzy & Lisa, What a way to spend my last ever Spring Break! I couldn't have imagined a better week. You guys made everything perfect! I'm so happy to have met ya'll. I wish you guys all the best! Syd
Mike, Lizzy & Lisa, This trip was truly the most wonderful time I have ever had! The food was spectacular and the company of ya'll being here even better! I do hope I get to see you all again one day and I wish you all the best! Dooley
Mike & Lizzy, Thank you for an amazing week full of fun and wonderful memories. You were both so sweet! Nicole
Mike & Lizzy, Fun with the state the world is in, you guys made sure that paradise stayed as is. I can't put into words how much I've enjoyed myself so I will just leave you guys with a thanks and a 😊 Ward
Late January, 2020 guests on SAIL AWAY wrote:


Mike, Lizzy and Lisa, We can't thank you enough for your hospitality and willingness to go along with all the family pranks! Thank you for not just doing your job but making us feel so welcomed. Remember to always live the life you love and love the life you live! 
Hugs and kisses
Steve and Monica
THANK YOU! Heaven on earth, treated as royalty, fed like a queen & king, most delicious food and crew who made us experience honestly the trip of a lifetime. 
Lisa and Bill
You know you're an exceptional captain, first mate and chef when your passengers feel like you were part of their family…and I feel like I've known you for a long time! You guys are the BOMB! I've never felt so pampered. Miss you already! 
Cheers. Jan

New Years week 2019-2020 guests aboard SAIL AWAY said:
Such an amazing trip! Mostly because of Mike, Lizzy & Lisa. Thank you so much. Can't wait to do it again! Mike Head Charterer.
I can't express how amazing this week has been – the sailing, the food, the fun, the laughter. Thank you, thank you!! See you next time! Kristie Head Charterer
Coolest trip ever!!! Y'all ROCK – thx for the food and the sailing 😊 XX Isabelle

Best Trip Ever!!  What would it take for me to stay?! The food was soooo good! Thank you so much. Henry
The most amazing trip EVER!! I had the greatest time of my life! Thank you so much. Eloise
This was by far the best trip ever! I've enjoyed getting to know the crew. George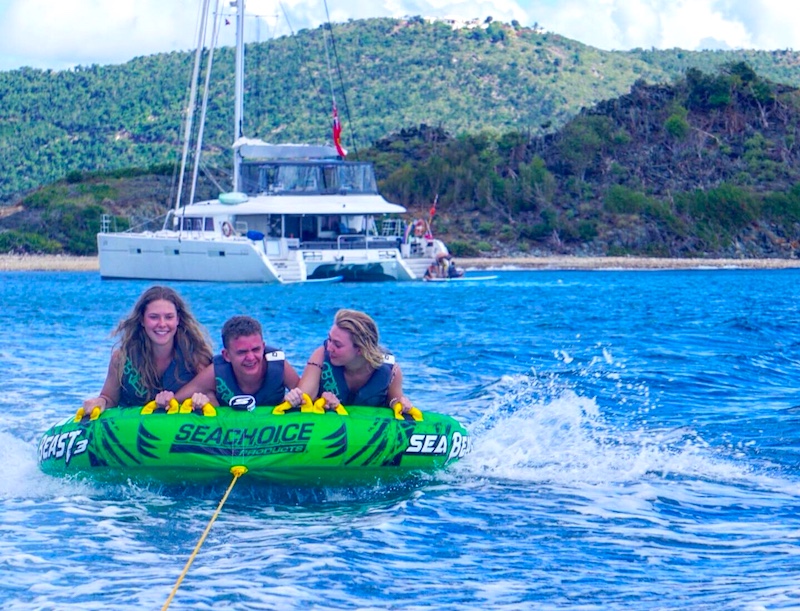 Thanksgiving week, late November, 2019 4-time repeat guests aboard Sail Away wrote:
Like Jerry said – one of the best out of 15 or 20 trips. Thanks. - Karl
Fabulous week! I believe in salt water soaks and sunshine! Thank you for the beautiful memories. - Dan & Sharon
There's no words to describe how very wonderful this trip was – as the Captain said "Randy grew younger this week!" We are family now! - Melissa & Randy
Great time! So beautiful! Thanks for the great party – best party ever! Don't want to go home! - Val & Jerry
I had a blast! Thanks for everything. - Frank
Awesome time! Don't want to leave. - Brandon
Mid November, 2019 charter guests wrote:
Incredible experience. Crew was exceptional!  - Tomas
Best trip ever – you all are wonderful. - Elizabeth
So much fun! Love you guys. Thank you for the great memories. - Janice
Dear Sail Away and Crew, 
Thank you for a remarkable and amazing experience! 
Lots of love - Jenny
Thank you so much for the wonderful vacation! - Luisi
Thank you so much for all the attention and amazing places you took us. Best vacation! Love - Gigi
I didn't realise the impact this experience had on me until departure where the emotions were overwhelming. Trip of a lifetime! - Renee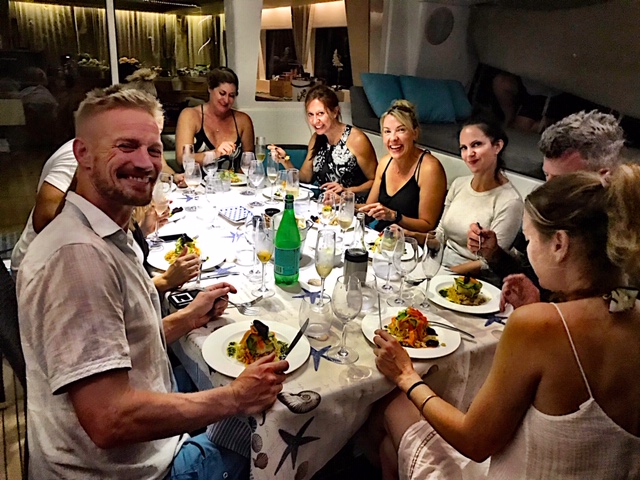 Late June, 2019, guests aboard SAIL AWAY wrote:

Everyone was so nice – I would not change a thing!!!  Really enjoyed our trip and HOPE to do it again.  Best crew and chef!!!  Our friends were so happy with the trip!!!

What the guests said... Charter guests aboard catamaran SAIL AWAY wrote of their Easter week charter: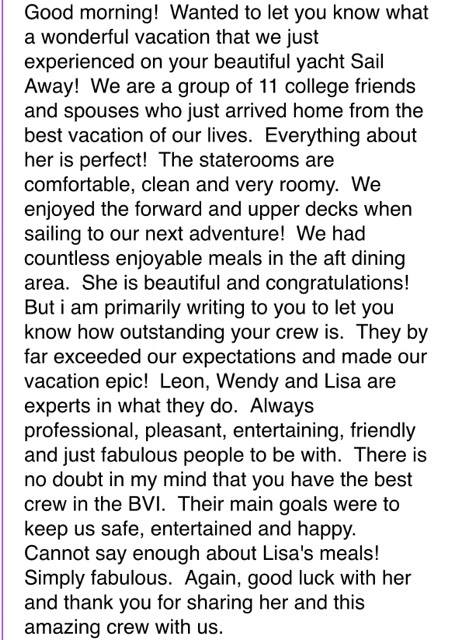 Early July, 2017, guests on catamaran SAIL AWAY said:
Just returned home from a fabulous family 7 day vacation aboard Vacoa. Our family consisted of 9 people ages 13, 14, 17, 18, 25, 27, 50, 59.  Fun for everyone from the water activities, destinations, cocktails and the food, we could not have been happier! Captain Jason, Steward Lucy and Chef Louis, treated all of us with professionalism and enthusiasm. Every request was greeted with a smile.  We can't wait to book our next trip aboard Vacoa!  Thanks again for an incredible time!
Jennifer A. - Atlanta
Had a great time on board Sail Away. The crew was wonderful and the boat was a dream.  From the great food and music to the beautiful waters and water sports, my trip with Sail Away was incredible.  I would highly recommend this boat to anyone looking to enjoy sailing the beautiful waters of the Virgin Islands.
Charles S. - San Francisco
Just got back from being on this boat for a week! It was so much fun. The staff is extremely professional and courteous. If you've never been to the BVI's I highly recommend chartering this catamaran. 
Meredith A. - Jacksonville Beach
Mid-June reviews for catamaran SAIL AWAY -
It was our first cruise with friends at the BVI, April 2017. We had an excellent holiday at Sail Away. His crew was fantastic, Jason the captain always open to give us destination suggestions and access our requirements, we did many fun activities with the dinghy, Angie, the best, an exceptional chef delights us day by day with exquisite preparations and the best ever always with a big smile, Lucy was a wonderful hostess kept us at all times solving any issue we requested, with the best encouragement and always cheerful. We had an amazing time at Sail Away and would love to go back.
Rosario B. - Santiago, Chile
Sail Away with our Chilean Flag. What an honor!

May / June guests on Sail Away said:
This is the second time that we vacationed on Sail Away with friends and we had another fabulous week with great weather in the BVI!   The crew kept us busy with multiple destinations and activities daily; we loved Oil Nut Bay, Scrub Island, Bitter End and the remote bays where everyone had a blast with multiple water activities!   Captain Jason did an unbelievable job keeping us very active while Chef Will was back in the kitchen preparing fantastic breakfasts, lunches, snacks and dinners!  Lucy, the second mate, was a joy to be with, she made delicious tropical drinks, cleaned up after us and kept us entertained! A great time was had by all!

Wendy M. - Marco Island
Charter 02th to 09th of July, 2016, Tortola-Tortola:
Message for the broker : I have no words (which everyone will tell youis unusual for me J)!  The guests had a fabulous time on SAIL AWAY.  The comments keep coming. 
"The crew was amazing and Christine was just incredible.  We ate likekings all week.  Claire and Xavier were so nice and wonderful.  Thevacation was amazing!  We loved every minute of it....the best vacation ever".
 "It was incredible!  I'm readyto look for next year.  Call me!"
January, 2017 guests aboard catamaran SAIL AWAY said
We chartered Sail Away in the BVI in January of 2017 and enjoyed every minute of it. The boat is a 620 Lagoon (our second trip on the same model) and I would not charter in the BVI on any other model of boat. The fact that the top deck can accommodate all 10 guests beats any other boat in its class. 

The boat is in great condition and the salon and state rooms are well appointed. 

Jason and Team did a wonderful job and the food blew away our expectations (which were high from our previous trip on another boat). I'd recommend getting off the boat for cocktails here and there but eating on board as none of the island restaurants can match the quality and presentation of the food. 

They had plenty of sports equipment on board -- everything from water skis to wakeboard, to kayaks, to paddle boards, etc.... Full service boat with fantastic crew -- perfect match.
Charles G. - Dallas
Charter 15th to 22th of June, 2016, Tortola-Tortola: 
Comment from the broker: 
I just wanted to send you an email and tell you how proud I am of Xavier and his crew on SAIL AWAY! He is such a pleasure to work with. My clients had the best trip ever on board with them. 
Thank you for all your assistance!

Charter 17th to 24th of April, 2016, Tortola-Tortola:
This charter was by far the best I have been on to date...maybe it was the yacht? Maybe it was the crew? Both were amazing and better than expected. The yacht's condition was impeccable, the accommodations definitely met with our expectations, perhaps even better. We did not fully appreciate the upper deck of the yacht; I think we hung out there most of the time. We also did not realize we had a fourth crew member which was terrific! The crew was phenomenal. Xavier and Claire were so professional and accommodating to all of your wishes. Christine our chef was 5 star!! Every meal was delicious and special - what she was able to accomplish with such limited provisions was truly amazing. The final dinner our last night was a special treat - surprise Pirate Party!! Maxim was our 4th crew member and such a delight. He really took care of all of us...day or night!! The week went by so fast even though it was 7 days on a boat...we went to every location we wanted plus some. Xavier knew exactly when the best times would be for snorkeling, seeing turtles, exploring the Baths (when all of the people had left); he even knew how to keep us out of the stormy weather! We enjoyed hiking on the islands, tennis at two resorts, sailing at Bitter End and spa treatments on shore. They really did an amazing job keeping all of us happy.

Charter 19th to 26th of March 2016, Saint-Martin - Saint-Martin: 
I just want to thank you for your advice and organization of my charter on board SAIL AWAY during our Easter break.We had a fantastic tour on board a great boat, run by a very professional, knowledgeable and service minded crew. My family and I enjoyed every minute and we will certainly come back in not too distant future. I can easily recommend this boat with existing crew to anyone that want to have a time of their life experience. Thank you

Charter 24th to 31h of January 2016, Tortola-Tortola: 
Just a quick check in after a most delightful week on the water with great friends and a fantastic crew! The chef Christine was also 'over the top' on professional skills and food quality/presentation, and always pleasant and open to teaching us about her dishes and how they were prepared. As a business owner myself, I know it is important to get prompt and direct feedback and consider this a '100+' score, simply blew us away! It goes without saying that the captain and crew had our comfort and hospitality in mind 24/7; and clearly a 'crack' sailing team.

Charter 08th to 18th of December 2015, St Vincent-Grenada:
Well done! SAIL AWAY and crew were perfect for our team of six non-adventurers. I have already recommended them to other friends. I know we will be in touch again next year.

Charter 25th November -02nd of December 2015: Tortola-Tortola:
Feed back from broker:
"My clients had a wonderful time aboard SAIL AWAY. Thank you very much to you and your excellent crew for an excellent charter!"


Charter 9th-16th May 2015 - St Marteen-St Barth:


Estimado Xavier,
Te envío como recuerdo dos fotos del grupo de navegantes argentinos, de la semana del 9-5 al 16-5-15. Hemos pasado una semana muy linda y nos hemos sentido muy satisfechos por las atenciones de toda la tripulación.
Un cordial saludo para los tres y espero nos podamos volver a re-encontrar.
Cordialmente.


Charter 19th-26th April 2015 - St Marteen:


Feedback from the broker :
« I finally got ahold of M. XXX to get a report on their sailing vacation in St Martin with Xavier and Clare and Christine on SAIL AWAY and he has only superlatives for the boat, crew and experience. He was ecstatic about the food, the service, Xavier's energy and flexibility with doing water sports with the kids, playing DJ and helping guide the itinerary choices.
They said they wouldcharter that boat again with that crew. »


Charter 05th -13th April 2015 - Tortola
« Our charter has been sensational! Xavier is very skilled and knowledgeable, first mate Claire has been wonderful, and chef Manuela extraordinary, fabulous cuisine.
All of the crew work well together. Susan and I speak French with them, some Italian with Manuela, but they are all fluent in English. They have been particularly patient and helpful with the grandchildren.
The boat itself is super, but the setup of the bathrooms could be better, which has nothing to do with the crew, of course.
I am glad that we held out for SAIL AWAY ».
Ammenities
CD library, Cell phone, Indoor audio system, iPod dock, Streaming online media, TV all cabins, Wi-Fi, 14ft/4.5m Tender 70hp, Kayaks multiple, Kneeboard, Paddleboards multiple, Tube - towable, Wakeboard, Water skis - adult, Water skis - child, Deck shower, Light fishing gear, Special diets, Sun cushions, Swim platform
Diving
Not Insured, Diving by arrangement, Diving lights, Snorkelling gear