Yacht for Charter
TRANQUILITY
5875
76ft / 23.2M
| Builder: Matrix Yachts
| Year: 2014
---
---
Yacht Charter TRANQUILITY By Matrix Yachts
Cruising Speed
10kts (18kph)
Flag
British Virgin Islands
From:
$56,950
plus expenses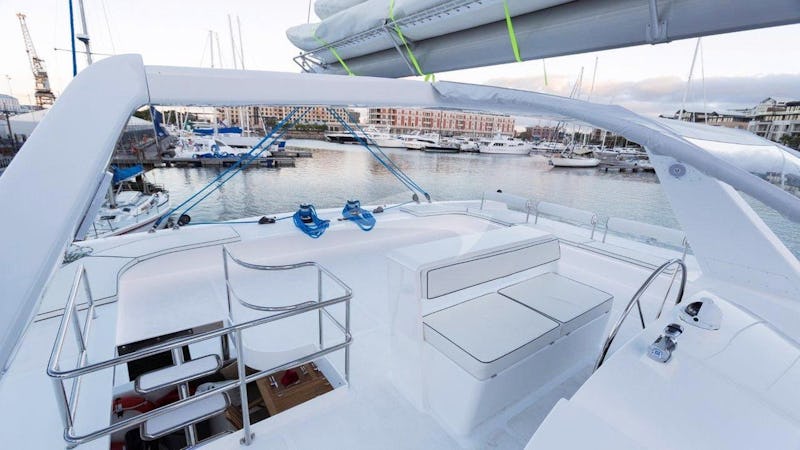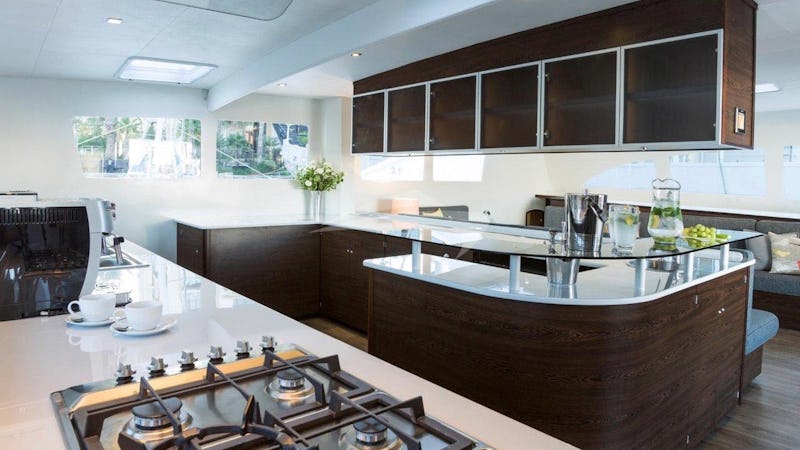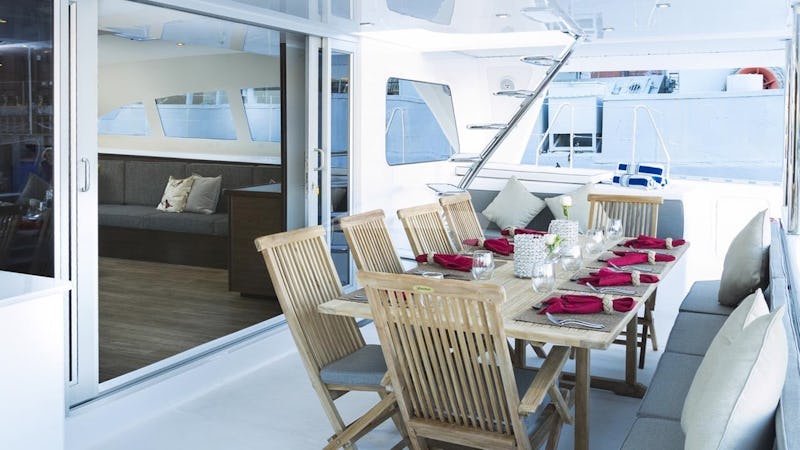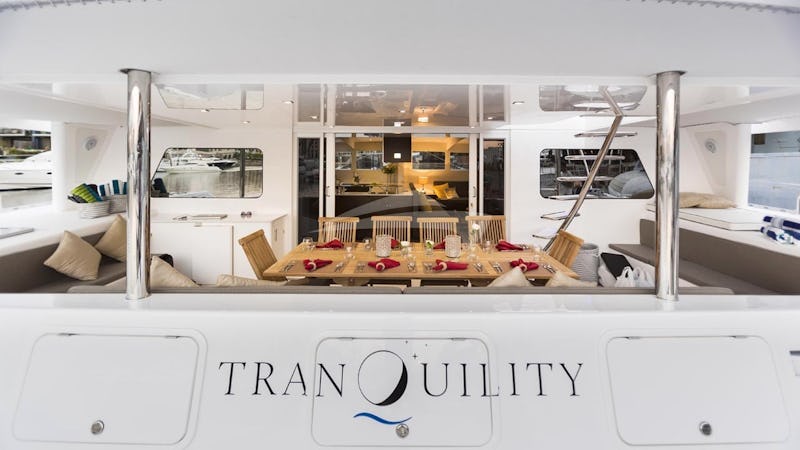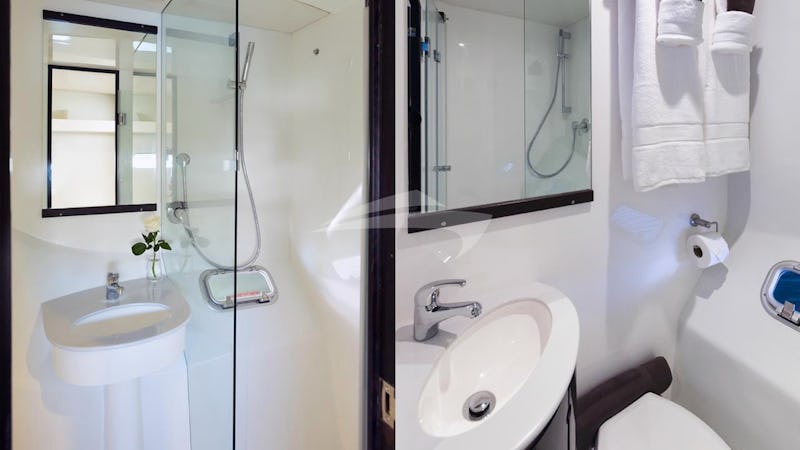 Contact Us For More Information
TRANQUILITY, and Exploper 760 catamaran built by Matrix Yachts in Cape Town, can accommodate 12 guests in 6 cabins. The amidships starboard Master Suite has a king size bed, shower and toilet. 3 Guest Suites each have a queen size beds, shower and toilet. 2 port side Guest Suites each have2  twin beds, a shower and toilet. TRANQUILITY is fully air conditioned through out. Crew has a separate companionway, heads and shower.
(TRANQUILITY maintains a full guest and crew safety locker, including an automated external defibrillator (AED), supplemental oxygen, and an EMS-level first aid kit.)
Captain: Patric Guyaz
Born in Switzerland Patric has travelled extensively following his love of sailing and diving.
As RYA Yacht Master he has sailed in many of our seas. In Europe, the Caribbean and also Australia where he was able to fulfil his love of off shore racing.
As a Dive Instructor Patric has taught and dived in some of the best locations in the world, including the Great Barrier Reef, the Red Sea, Maldives and also South Africa where he met Mary up by the Mozambique boarder.
In the BVI he spent 3 years teaching Sailing and Diving to youngsters within a summer camp program before moving on to Crewed Yacht Charters with Mary 10 years ago.
A great sense of humour, coupled with a professional and open and relaxed manner will make you feel special, safe and at home the moment you, your family and friends step aboard Tranquility.
There is no request to big – except the one regarding the elephant – and no cocktail too bizarre that Patric cannot cater to.
Chef & Hostess: Mary Haddow
Mary was born in the UK and worked in the film business before giving up the camera for a cooker.
Having had the opportunity to travel the world, from Europe to Australia, Africa to India and the USA to the Caribbean she has had the chance to sample many of the world's cuisines.
She takes great delight in sharing these flavors with you. Quality of produce remains the mainstay of her cooking and she will tailor any menus to suit you and your family's requirements.
Also a qualified Dive Master she is happy to paddle about with you in the water, lunches permitting. Flexible with a lively sense of humor and a kind heart, her aim is to make your stay as seamless and comfortable as possible.
Patric and Mary are joined by t a stewardess and mate.
Stewardess: Jesse Shipley
jesse's passion for hospitality and serving industry has grown from the start of her career having worked in a small cafe to assisting highly professional chefs on luxurious charter yachts. The love of being on the sea is the best job motivator for her. Her friendly and attentive approach towards the needs of charter guests creates a warm and welcoming atmosphere on board.
Mate: Georgiana Stoica (42)
Georgiana has been sailing the waters of the Caribbean for five years, both as chef/mate and deckhand on a variety of charter catamarans. She had previously been a chef and caterer in Romania, where she also owned a B&B.
Chef Mate: Kate Purdy
KATE PURDY - Chef
Kate was born in Malta and spent her childhood in Northern Ireland, the UK and Hong Kong. As soon as she could, she left home and carried on travelling, spending several years working in the summers and travelling in the winters. Eventually after buying a house, she settled in London and took up sailing. Deciding that a boat would be much more interesting than a house, she bought a Dutch barge instead and lived on it in a marina in the centre of London.
Kate has been in the food preparation industry since 1984 and for several years was the manager of a small food retail chain throughout the railway stations of London. She has worked as a chef on yachts and in villas since 1999 and has loved pretty much every moment. She has attended a culinary course in France and has a food certificate from her early days in the food industry in London. Kate's close involvement in life in France has enabled her to learn firsthand the delights and rewards of delicious French cuisine. She has expanded her culinary skill and knowledge throughout her life. Kate has recently contributed to a recipe book with other top chefs from the island and appeared on the local TV show "Gourmet Galley with Chef Lisa". In addition to her chef and management duties at Golden Pavilion, Kate has also provided chef services for other prestigious villas and establishments, notably the Governor of the British Virgin Islands and the owners of Amway at Peter Island Resort.
Captain: Tony Trappe
ANTHONY TRAPPE - Captain
Born in Cheshire in the UK, Tony enjoyed an idyllic childhood, and took up sailing as a young boy when his father built a sailing dinghy in their garage. He went on to captain his first yacht at 16, delivering a boat along the south coast of England. Tony is now RYA Ocean Yacht master and BVI Boat Master 100 Ton License Grade 1 with over 40,000 sea miles.
In 1981 he was awarded a BSc (Safety and Hygiene) from the Engineering Department of Aston University which started a career as a Sales Engineer. This took him onto oil rigs, down coal mines, into sweet factories and every kind of industry in the UK. A career change led him into a rewarding time as a teacher where within three years he had a Masters Degree in Primary Education and employment as an Advisory Teacher. He went on to run a project for Greenwich Education Authority in London providing services to the 300 schools throughout Greenwich.
Tony continued his interest in sailing and when his thoughts turned to travelling he sought out and purchased his yacht Roxane in Spain. He lived on her whilst teaching in London where he met Kate (the lucky chap!).
Guests aboard TRANQUILITy with Patric & Mary in mid-June, 2021 wrote:
Tranquility is amazing.  Has everything you would want on it and more.  The bedroom layout with 2 rooms having twin beds helped us with our teenagers having a little more of their own space.  The inside was beautiful, great for doing a movie night.  We loved having every meal outside on the back of the boat, it was perfect.  We loved all the areas of the boat that were there to relax and for amazing views while we sailed.  The chairs on the very top were a favorite.  The kids loved the hammock and the bean bag chairs that could be moved down to the trampolines or anywhere we wanted.  The boat was absolutely perfect for our group of 11!

The itinerary could not have been more perfect.  We have been to the BVI many times before, so we had a few things that we really wanted to do. Patric incorporated those requests and we got to do everything on our list and the places he picked for us were absolutely amazing.  It is so nice to be on a boat with a captain and crew that has sailed the BVI so often and is confident about the best places to go!

Patric was outstanding! Everyday we discussed our plans and what we wanted to do, where we wanted to go, He helped cater this trip 100% to where and what we wanted to do.  He spent endless time working with our certified divers to have the best experience, as well as getting our new divers into the water. And then finding a place for our non-divers to snorkel and have an amazing experience, too!  He was so great with our group of 5 teenagers and keeping them busy on the tube and wakeboard.

Mary, our chef, was AMAZING! She had her work cut out for her with our group of 11 that ranged from people who would eat anything to the teenagers that were super picky. Everyday she worked with us to make sure everyone had something amazing to eat.  The food was overall incredible, every single meal.  Gigi was always on top of everything, constantly doing something to make our trip fantastic, especially the cocktails! She learned one of our group drinks a specific iced latte every morning and literally had it waiting for him everyday when he got up.  Gabby did a great job of taking care of our teens on the tube, scuba diving with us, basically any recreation we wanted to do.  This crew worked so hard to make sure our vacation was perfect, and it was!

The food and drink were incredible.  Every meal, Mary went out of her way to make sure we were all completely satisfied, she really paid attention to our preference list. Every meal was outstanding! We thoroughly enjoyed the selection of wine at dinner, as well as the after dinner cocktails.  Gigi kept us all happy with any happy hour drink we requested.

Trip of a lifetime! Tranquility is the best of the best when it comes to chartering a catamaran with a full crew.  I've never seen a group work so hard to make sure our trip was perfect and everything we had hoped it would be!

Early June, 2019, guests aboard catamaran TRANQUILITY wrote this great note to their charter broker...

New Years week, 2018-2019 , guests aboard TRANQUILITY wrote:
Our trip was absolutely amazing and exceeded our expectations in every way possible.   We rank it our top family trip, and we've taken quite a few of them.  
First of all, THANK YOU for guiding us toward Tranquility and it's crew.  I am not sure how you read us so accurately but Patric, Mary, Josh and Emily were a perfect match for our group.  They absolutely took our experience to the next level with their knowledge, professionalism, willingness to accommodate our requests, and their overall attitude and demeanor. Their work ethic was totally impressive and they kept everything running smoothly all week. When they had a few down moments we had a great time hanging out with them, playing games and enjoying all the water sports.  It could not have been a better match for us.  
Mary is a gourmet chef (even though Patric said she's a "cook")  The quality of the food, the preparation, the presentation - all superb, and comparable to anything offered at a top-rated restaurant. This was the case with every meal! We were blown away and each meal we said 'it can't get better,' but it did.  We thought we'd dine on shore one or two nights but soon realized there would be no way to get even close to the quality of the cuisine on board. 
Tranquility is a beautiful Catamaran and accommodated our group well. It's very comfortable, all systems were in top working order, the crew kept it pristine and sparkling,  and we felt we were in a floating resort.   The availability of water toys was fantastic and we loved  parking in the beautiful coves on our route. We snorkeled, kayaked, SUPed, used the Subwing, tubed,  and during our last stop we did the sling shot. So much fun!  Patric took the divers on 3 great dives. 
We have lots of photos.  I have attached a few.  If you need more comments or more photos let me know. 
Thank you.  It was an over the top, epic trip.  
Christmas week, 2016, charter guests aboard catamaran TRANQUILITY said:
The trip was superb! Patric and the team killed themselves to entertain the kids with diving and the water sports. All of their personalities/attitudes/service was great. The food, Mary, was excellent. Dave and Fran were both dive instructors (and great young couple) so with Patric there was three on board. We would go in groups of 5 guests and 1 instructor. We did our last 2 open water with them and managed 4 other dives including Xmas morning at 8 am on the RMS Rhone. Not sure when we will do it again but I would go back to them.

____________
Once again you provided an awesome vacation! This was an absolute phenomenal week. Thankyou all so much. 
Nashelsky  Feb. 2016
All I cansay is it was simply amazing.. It has been the trip of our life!  
Payne, Family Reunion. November2015
This is oneof the best trips I've ever been on. I'm glad to say I won't forget you guys.
Joneses, December 2015
Thank you,will never be enough! You have put a song in our hearts that we will sing ourwhole lives.. constantly….. over and over...
Alison, November 2015
I will beg my Mom and Dad to come back!    
Joey Bianchini, 8 years, Feb 2016
______________________________________________________
Thanksgiving week guests aboard TRANQUILITY said:
CHARTER REVIEW OF TEAM AND VESSEL
Name: Gordon & Lynley - Date:   November 23-30, 2015
In a nutshell our experience onTranquility was a 10 out of 10.  Patricand crew did an amazing job.  Our comments below are somewhat in our comparison to our experience on  a Lagoon 44  with 2 crew. To have a family reunion on a yacht in the BVI's was a once in a lifetime experience beyond anything our family could have dreamed of.
Comment on the comfort onboard Tranquility:
First class… rooms, amenities, etc. were all great.  Lots of space with 12 of us plus 4 crew.

Comment on the condition of Tranquility:
We specifically chose Tranquility as it is relatively new.  Everything was working and when there were eany mechanical issues, Patric was a capable mechanic taking everything instride.

Comment on the cleanliness of Tranquility:
Spotless!   And we appreciated the crew letting us help swab the decks to feel useful.

Comment on the congeniality of the Captain and crew:
They should win the BVI Congeniality award!  They all engaged with our family from the young twin girls to the grandparents. 

Comment on the service ofthe Captain and crew:
Stellar…  from 5:59AM to whenever we called it a night.  Amazing to be able to keep this up fromdaybreak to end of day over an extended period of time.

Comment on the fun aspect of the Captain and crew:
Let's see…  snorkeling, scuba, paddleboarding, hiking, hammock, sailing, motoring, wakeboarding, tubing, Willy T'ing, finding the best spot in each and every harbor, 11.5knots in a reasonable wind, dealing with left behind passports, slingshot!  Nightly summary…

Comment on the expertise of the Captain and crew:
Extremely experienced and willing to share insights with everyone.

Comment on the quality of your meals:
Each meal was better than the last. Quality was perfect.  Mary's first US Thanksgiving spread was beyond all expectations -> research and execution was amazing.

Comment on the presentation of your meals:
So good that we had to take photos every time… J

Would you charter this yacht again? (Circle one)     YES    
Can you please let the owners of Tranquility know that theyhave a special yacht and an amazing crew. Patric & Mary ran a tight ship and made this a special week for us.  Will and Serena were on top of their game.  For our family, while we were the customers felt like we were with friends on Tranquility.  I think they could see how much our extended family enjoyed themselves
Having departed from Tortola airport vs. St Thomas, if we are to do this again, I would always depart from Tortola.  It's a unique experience to land at an airport and pretty much head straight onto the boat.  While it makes it a bit more difficult to fly from Miami, it makes the arrival/departure easier and less work with passports, etc.  It was interesting to see some of St Thomas, but arriving in Tortola feels like it buys you one more day on the water.
______________________
Awesome! Awesome! Awesome! Awesome! We didn't think we could top our experience of 5 years ago. But boy did you guys do that and more. Thank you for making this such a memorable time for everyone involved – both young and old.                                                                                                                          Patric you are the host with the most you are unbelievably accommodating, witty and so upbeat all the time. I don't know how you do it.                                                                                                                                Mary – you are incredible!!! Magnificent meals that were healthy, tasty and beautiful presented. A very hard act to follow.                                                                                                                                                       Serena and Will thank you for your friendly service.. You are the sweetest.         Payne, Family Reunion, November 2016
Thank you so much. I loved everything! Most of all spending time with you guys. It was so much fun.. P.S. I loved the food it was the best..  Nathan,6 years old..
What can Isay it was a fantastic time we had on Tranquility and none of this would have been so special if it wasn't for you guys.. Thank you for all your hard work. Excellent Crew.  Jason, December 2015
WoW! Amazing this week was the best trip I've ever been on. So very thankful for all of the wonderful experiences that you have allowed us to have..                      Dreifuss,December, 2016
I have never been so taken care of. All of you do a tremendous job.  Anticipating our every need and desire. You work so hard, provide entertainment and take such great care of everyone on the ship and the ship itself. I love the standup comedy, the incredible cooking, the 200 cups of coffee that Serena made for me and Will's never ending work.  Thank you for giving me unforgettable days of bliss.  Russel, December 2016
I can't imagine having experienced this wonderful vacation without the four of you.. Don, December 2015
Thank you so much for the trip of a lifetime. Patric the diving was a thrill. You made every moment a blast. Mary your cooking was a delight. Will, thank you for all the waterskiing. Serena you were there at every moment when something was needed. The Tranquility crew is absolutely incredible.
This has been a trip of a lifetime and you made it special with your care.. The meals were out of this world and the care you took to make us feel comfortable was also. We consider you part of the clan now.  Wood, January 2016
I can't think of any words that could do this holiday justice. It has been fantastic form the moment we walked down that dock in the rain, to the boat.. All of you have made this the best holiday ever. You all are family now, and we will think ofyou, Tranquility and the BVI's often.. We hope we have given you some memories of a lifetime also. "Pole dancing", long hair everywhere, our electrical expertise, endless wine tasting, yacht shopping via google and of course our own Dinghy captain with crew..      Jon, Jaci, Ashofrd,  January 2016

We had the most amazing time of our lives! We hope you enjoyed us as much as we enjoyed you. This past week was full of adventures delicious meals, pampering. We felt like king and Queens, but most of all; we felt like family from the first day on board until the last. Thank you for all the memories that we will never forget..   Val& Craig Jan 2016
Thank youfrom the bottom of my heart for making my first trip to the BVI's beyondmemorable – "Real perfection"- the humor, the kindness, the help, the fantastic meals & service were the icing of the cake of looking at the beautiful waters and Islands. Meeting and seeing Lemurs for the first time, and me diving for the first time. You as a team are seamless and make for a magical vacation. Hope to find myself back with you one day.  Benay, New York 2016
The Tranquility Crew created a magical "parade" for all of us, filled with great joy andhappiness.. Elstrott, Jan. 2016
You guys rock, seriously! Thank you each and everyone of you for your diligence and long hours, and mostly for your patience. We had such an incredible week and its noteasy to coordinate such a fantastic trip with so many individuals with so ahuge range of likes and dislikes. You guys are really awesome in making it all work. Hope to see you guys next January again. William Feb, 2016
Thank you for an amazing time, this was a trip of a lifetime and we enjoyed every second! We will always remember our first trip to the BVI's Thank you again and again for making it so special… Hope we cross paths again. Bianchini, Feb, 2016
Words cannot describe how appreciative our group is to you all.  Mary, you are thetrue admiral of the boat. Galley Genius!!!                             Serena, silentAssassin.. Keep up the great work.   
Will, Team award for good sport wish you nothing but brilliance.   
Captain, keep doingwhat your doing. You and everyone around you is nothing but perfection..
Seriously Thank you.. This was the trip of the lifetime and we always be gratefulfor you and our Tranquility family.. 
Hecht,March 2016
Ammenities
Camcorder, CD library, Defibrillator, DVD library, DVD player saloon, Indoor audio system, iPod dock, Karaoke, Media movie server, Outdoor audio system, Satellite phone, Satellite TV, Streaming online media, TV master cabin, TV saloon, Wi-Fi, 17ft/5.2m RIB 90hp, Assorted water toys, Beach games, Board games, Boogie board, Inflatable floating island, Kayaks multiple, Kneeboard, Paddleboards multiple, Swimming noodles, Tube - towable, Wakeboard, Water skis - adult, Water skis - child, BBQ, Book library, Coffee machine, Deck shower, Fishing gear - light, Hammocks, Ice maker, Kosher, Swim platform, Water maker
Diving
Insured, Compressors, Crew can instruct, Diving lights, Snorkelling gear, Underwater lighting, Wetsuits, 1 Compressor, 12 Tanks, 12 BCs, 12 Regulators, PADI Instructors,
Diving is included for certified divers
Resort courses: Included
Open Water Referral certifications: $350