Yacht for Charter
TWIN FLAME
6043
62ft / 18.9M
| Builder: Lagoon
| Year: 2014
---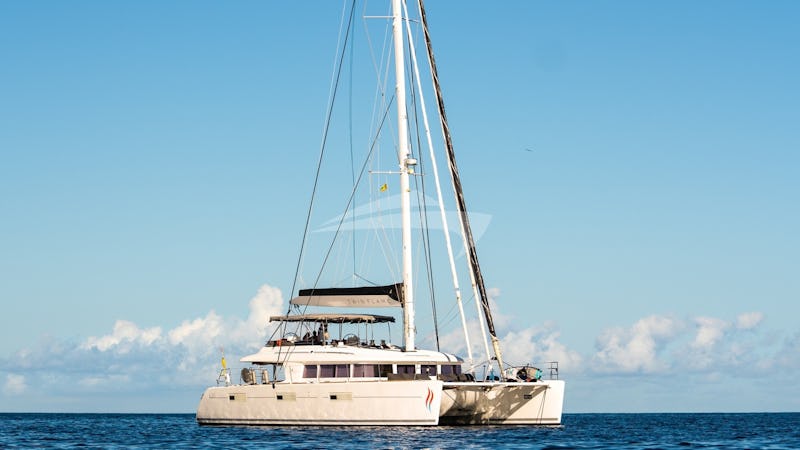 ---
Yacht Charter TWIN FLAME By Lagoon
Cruising Speed
8kts (15kph)
Engines
2x VOLVO diesels at 150 HP
From:
$39,000
plus expenses
Contact Us For More Information
Captain: Kieran Bown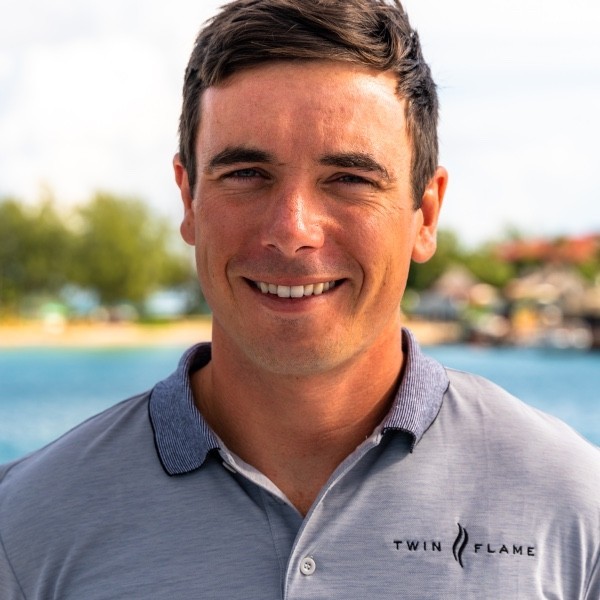 Kieran & Michelle met back in 2012 in Mexico whilst working in the dive industry as instructors and photographers. Since then they have been on an unstoppable adventure that has taken them across the Caribbean, Americas, Europe & SE Asia.
They have now been in the charter industry for 5 years and are definitely enjoying their home in the British Virgin Islands. A country full of history and secrets that has allowed them to slowly discover more and more as their adventure continues.
Both Kieran & Michelle were led to the ocean by a passion for scuba diving and adventure, it is was this passion that formed the foundation for a life destined on the ocean. Being on boats has been an integral part of their lives since they were young and it was a natural progression to move on to running sailing yachts in the Caribbean.
Michelle is a trained chef, completing the Ashburton Chefs academy in 2017 to add to her extensive personal experience of working under an array of incredible Yacht & Restaurant Chefs. She also has dive instructor rating and is a qualified captain that thrives on deck.
Kieran is an accomplished diver as well as Captain. He enjoys most water sports and has a keen interest in marine life.
Following Irma & Maria in 2017, Kieran & Michelle spent 15 months living on Tortola rebuilding a hurricane damaged catamaran and returned it to the charter fleet. This was an invaluable experience for any charter crew rebuilding a yacht from the ground up and learning every aspect of the rebuild, repairs and upgrades along the way. Here they collectively developed a strong knowledge of Boat Building, Project Management and general Marine Engineering.
In addition to working on charter yachts, Kieran & Michelle's other passion is adventure and photography. It is this combination that led to the birth of Panga Expedtions. For the past 6 years they have been travelling the world, capturing incredible footage from both above and below the surface and have been featured on countless National TV Channels/Online Media Oulets including Nat Geo, Discovery, Shark Week, GoPro & Google. Whilst enjoying brief sponsorships from GoPro, Light & Motion and other adventure sport companies to help capture incredible footage.
They're now working on developing a worldwide itinerary that will include guided trips to participate in; Humpback Whales in water interactions, Tiger Shark Dives, Wakeboarding, Whitewater Kayaking, Mountain Biking whilst being filmed in 4K. This will be operated during the hurricane season and will allow them the opportunity to both charter and pursue their dream of running expeditions.
Twin Flame will be accompanied with a third crew member
First Mate: Michelle Preciado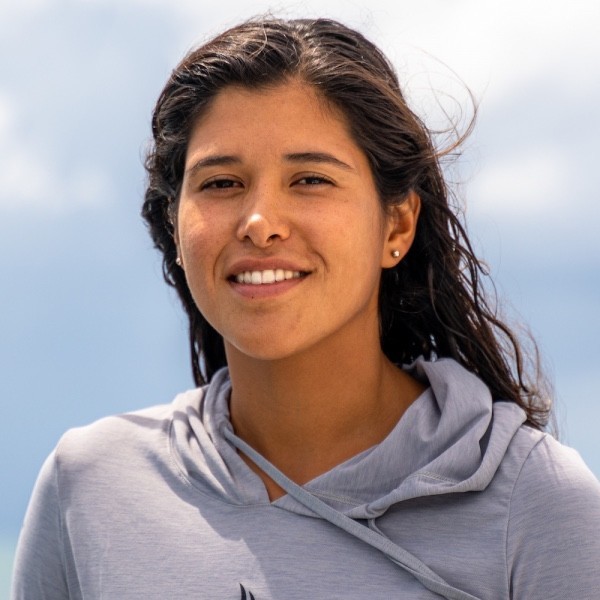 Certificate in Professional Cookery
Level 2 Award in Food Safety in Catering
PADI Open Water Instructor
STCW-95
RYA Competent Crew
RYA Day Skipper
ENG-1
RYA VHF Certified
DAN Insured
AIDA Level 2 (Freediving)
EFR Instructor
Chef: Elizabeth Castelan
Chef Elizabeth started her culinary journey and education at Hidalgo Culinary Arts University in Mexico City. It was here where she first discovered her passion for cooking and creating dishes inspired from the variety of great ingredients and flavors available in her homeland.
Soon Elizabeth was traveling in search of more knowledge and experience with new cuisines, she settled in Monaco, France. First visiting the prestigious Lyzee Tecnique et Hotielere, a renowned school for culinary arts, where she developed her menu and skills and secured a position at the Monte Carlo Bay Hotel in Monaco.
It was here working surrounded by the ocean and yachts that a new interest sparked. After 3 years of working in Monaco, Elizabeth decided to complete her yacht training and make the transition to a life at sea.
Elizabeth is your chef onboard Twin Flame. She can meet your every desire no matter the preference. She particularly enjoys cooking French, Mexican, Mediterranean Style cuisines.
When Elizabeth is not cooking you can find her at the gym, she enjoys keeping fit and taking care of herself. She enjoys hiking in nature and reading a variety of books.
February 2022 BVI Charter
Kieran the Captain is a true professional - very knowledgeable along with being easy going, fun to be with. His suggestions for where to go and what to do was so helpful, he is very accommodating making sure everyone gets to do/see what they like. Michelle is truly an amazing Chef, each meal so very thought out and amazing preparation along with a very knowledgeable crew member. She could truly have her own cooking show. Taylor was a great 3rd Crew Member she also was super accommodating always making sure we had what we needed/wanted an also an excellent crew member. It was a true joy being with Kieran, Michelle and Taylor – we couldn't have asked for a better crew.
-The Stumpfs
December  2021 BVI Charter
Michelle, Kieran & Bubba,
Where do we start to tell you how much this week meant tour two families. Twin Flame gave us the opportunity to bring it back to basics. "Family, Fun, Love and Adventure". Everything from the first night at Willy T (for future guests "The drinks are strong and don't be surprised at the occasional naked guy cannonball: snorkeling, hiking, cliff jumping, Moms lounging on the flybridge, surfing, foiling, wakeboarding, etc. There was something for everyone.
Michelle your quiet grace and strength made everyone feel welcome and your meals were totally awesome. Kieran your sense of adventure, curiosity and a little bit of mischievousness made our trip. Bubba, thank you for the gift of fishing, friendship and wonder. You made the kids fishing adventures the best. 
We couldn't imagine this trip without you. You will have a place in our hearts forever. Please come visit us.
December 2021
Kieran, Michelle and Bubba, 
What a delightful week! You took the very best care of us, the sights, the food and the service were exceptional! Thanks so much for helping us make more great memories. How will we ever forget the "Bag Ladies". If you ever need a place to stay in Florida call us!
July 2021
Thank you for a wonderful escape into paradise. All of you are so kind and thoughtful. Michelle your meals are an inspiration. If I can only do your lunch meals I'll be happy! Kieran we felt secure in your mastery of this boat and you are a very well read young man. Bubba with your kind Texas hospitality you were ready to meet our every need (or want). I liked the enthusiasm that all of you have for sailing and adventure! God Bless all of you in your lives going forward.
July 2021
WOW! Is there a word for "Five Star" the entire crew was professional, competent, courteous and just plain great! Thanks Kieran, Michelle & Bubba. The Boat, The Activities, The Activities. All the Best!
July 2021
Kieran, Michelle & Bubba
Wow. What an amazing week! We fit in so much activities it felt like a month. Thank you so much for all your hard work and dedication! You all went out of your way to make sure we were all happy. Kieran, thank you for your patience in teaching us how to foil, teaching the kids how to scuba and of course teaching Micky how to player power. Michelle, thank you for all your hard work in the galley preparing our wonderful meals. I know it wasn't easy to make separate meals for our kids. Bubba, thank you for anticipating our needs, for beverages, ferrying us to the beaches, taking care of our cabins and of course the wake foiling and fishing! Much Love
July 2021
The universe makes Sense! It makes all the sense in the world that we got to experience this trip together. Our deepest gratitude for the way you shared your gifts with us. Kieran, thank you for your adventurous, patient, knowledgeable and fun leadership. Michelle, thank you for your grounded, nourishing, intuitive and kind companionship (your meals were incredible). Bubba, thank you for your enthusiastic, open, explorative, honesty and loving care for us. We loved our time exploring these deep and beautiful seas with such incredible souls. Heres to sailing and soulful connections. We love you guys.
June 2021
Kieran & Michelle,
It was another great trip! We appreciate your friendship and look forward to making many more memories together. Michelle you have a great spirit about you and Kieran I love our laughs together and our common love for Watersports. Come visit us in the US soon and we will host you, keep in touch until we hang again.
June 2021
Our first trip was amazing but this was a trip filled with so many unforgettable memories. Thanks for the hospitality and having us on your boat again. You are definitely both lifetime friends. Can't wait to come back again. Love you guys.
May 2021
Kieran & Michelle
Originally Twin Flame was presented as the Watersports activity boat. Being a bit older and carrying our Wisconsin COVID weight we were a bit tentative. As soon as hit the deck the no shame zone encapsulated us. With Michelle and Kieran's gentle love and encouragement we were able to experience the job of flying and the wonders of the sea below. All the time safe,  secure and with confidence. Thank you so very much, all our love.
Ammenities
CD library, Cell phone, DVD library, DVD player saloon, Games console, Indoor audio system, iPod dock, Satellite phone, TV saloon, Wi-Fi, 15ft/4.6m Center Console 60hp, Assorted water toys, Beach games, Floating mats, Kayak, Mono ski, Paddleboards multiple, Swimming noodles, Tube - towable, Wakeboard, Water skis - adult, Water skis - child, Water trampoline, BBQ, Deck shower, Hammocks, Ice maker, Kosher, Special diets, Sun cushions, Sun loungers, Swim platform, Water maker
Diving
Not Insured, Diving by arrangement, Diving lights, Snorkelling gear, Underwater lighting,
3 Dives per certified diver included. Additional dives are $50 per person per dive
Open Water Certification Dives. $350
Discover Scuba Diving: $150