Yacht With Helicopter For Sale : A Practical Indulgence
---
There's no more striking sight in the superyacht world than a helicopter perched on deck anchored in a beautiful setting, and it's always a thrill to descend on your yacht from the skies, watching the blades churn up the turquoise sea below.
A yacht with a helicopter gives the yacht owner or charterer ultimate freedom to explore, whether you want to go summer skiing via helicopter from your yacht in Alaska, take scenic flights across volcanoes and jungle in the Caribbean, or simply have the convenience of being able to fly to a nearby city for work or pleasure at a moment's notice.
When you're holidaying on board a yacht with helicopter, you can begin your charter in superb style by landing on the yacht's helipad, where the crew will be waiting to greet you. The next morning you might take a breathtaking helicopter ride to a distant island for a glamorous dining and spa experience, or indulge yourself with a helicopter shopping trip along the French Riviera from Monaco to Saint Tropez.
Effortless Cruising, Always in Reach
A yacht with a helicopter means that everything is in easy reach. If business calls from the Hamptons or you fancy a night out in New York, you just step onto your helicopter and fly away, rather than having to organise tender transfers ashore to a nearby airport, or spending the time relocating the yacht to the closest marina.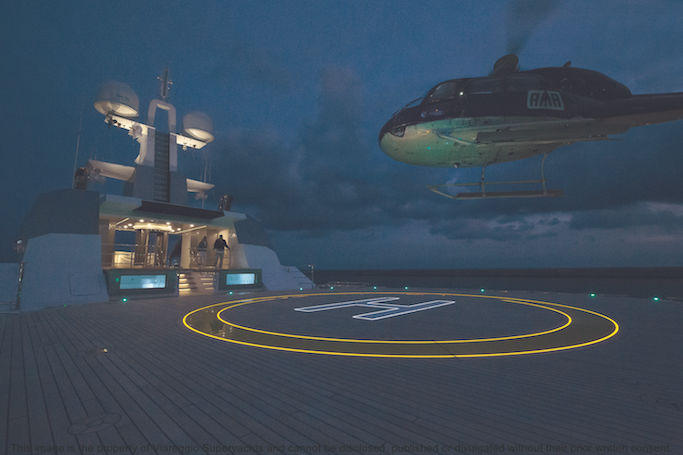 A luxury yacht vacation is already considered the most opulent and relaxing way to travel, but by including a helicopter you can vastly increase the area you can travel in a week, and the experiences of the cruising destination. If you're in Antigua, for instance, but are really craving lunch back at that French restaurant in St Barths you ate at last week, you simply request the helicopter.
The Logistics of a Yacht with Helicopter
Some yachts with helicopters have touch and go helipads located on either the sundeck, boat deck or the foredeck, while larger superyachts and support vessels have designated helicopter hangars to permanently store the helicopter, as well as reserve fuel tanks. Yacht helicopters are crewed by a professional pilot, who may be part of the yacht's permanent crew, or only come on board when required.
Yachts with helicopters are particularly popular for remote or long range cruising, as well as with businesspeople who need to remain within reach of major centers and airports for urgent trips.
A yacht with a helicopter not only adds an extra dynamic of adventure and opulence to your charter, but is also extremely practical, allowing you to explore more of the cruising ground while still remaining in easy reach of land. Worth Avenue Yachts has a wide range of yachts with helicopter for sale and charter.