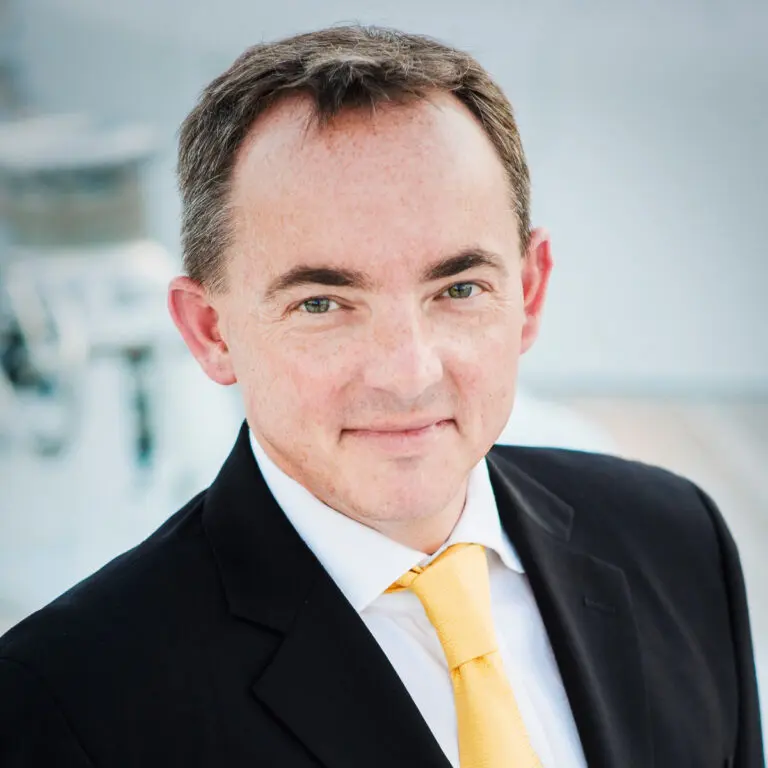 ---
Sean P. Meagher
Broker
---
Born and raised on Cape Cod, Massachusetts Sean was given his first sail boat, a Laser, at 8 years old. By 12 he graduated to a 13-foot Boston Whaler. By 18 he earned his first Captains ticket and became the youngest Captain ever at Hyline Cruises (a local ferry company providing service from Cape Cod to Nantucket and Martha's Vineyard).
From the ice fields of Northwest Passage and North pole to the volcanoes and jungles of the South Pacific and South East Asia, Captain Meagher has piloted some of the world's finest sail and power vessels in the most remote areas on the planet. On the M/Y Latitude, he undertook 3 historic journeys. In 2014 He led Latitude, a robust though non ice-classed design by Vripack, through the Northwest passage (east to west) and was the 216 the boat in history to do so. Norwegian explorer Roald Amundsen was the first in 1906. In 2015 Captain Meagher led a second expedition through the passage this time west to east was the 9 the boat in history to ever do so and was awarded Boat Internationals Voyager Award.
A glutton for punishment in 2016 Latitude ventured North once again. This time circumnavigating Svalbard, an archipelago north of Norway, and punching within 400 miles of the North pole. Latitude is the only private vessel ever to do this and was nominated for second Boat International Voyager Award.  In 2017 Latitude headed to New Zealand where she underwent an extensive refit. Captain Meagher was the lead designer and Latitude was nominated along with Vripack for a third Boat International award, this time in the "Best Refit" category.
After New Zealand Captain Meagher returned to his old stomping grounds of the South Pacific and South East Asia. Here he sadly said good bye to Latitude completing a five-year mission to go on adventures and photograph wildlife.
Never to rest on his laurels in 2019 he was the delivery Captain for Oceanco's 109m Bravo Eugenia, lead the 60m expedition yacht Asteria on a summer voyage from Mexico to Alaska and Captained MY Seanna while being the listing broker and charter broker.
A life-long conservationist Captain Meagher has noticed a disturbing trend in the amount of plastics in the Oceans. Ever proactive he has allied himself with organizations such as The Ocean Voyages Institute and has spoken internationally on the subject of plastics in the Ocean and what to do with them.
Since leaving Latitude Sean has been an active broker with over 28 million dollars in listings and sales.
Exploration Interests
My exploration interests are many and varied.
I would like to lead another exploration via ship to Svalbard and to "ice in" for the winter using the opportunity to study and photograph polar bears while charting some of the more remote areas of the archipelago.
I am currently involved with Ocean Voyages and their quest for a plastic free ocean. I have spoken all over the world on the topic and have photographed plastic in some of the world's most remote areas.
In addition to exploring the physical world first hand, I have been involved with developing and exploring new technologies and the new application of technologies. Everything from non-toxic coatings for hulls and pipe works to the harnessing of Hydrogen for fuel.
Science and Technology
Sean is the Marine and Military advisor for Engineered Fluids. www.engineeredfluids.com This groundbreaking company has developed immersion cooling and pressure compensating technology that is non-toxic biodegradable and food grade.
In conjunction with Vripack Sean is working on project Zero. At 70m This will be the world's largest zero emissions sail yacht.
Honors and Awards
•           Boat International Voyager Award Winner 2016 Captain.
•           Boat International Voyager Award Nominee 2017 Captain.
•           Boat International Best Refit Award Nominee 2018 Designer
Presentations and Seminars
•           The Northwest Passage
•           Svalbard and the North Pole
•           Plastics in the Ocean and Solutions for Cleanup
•           Vri-Packs night out in Amsterdam and Dubai
•           Any vessel can be an exploration vessel
•           The Perfect Customer Journey
•           The South Pacific, New Zealand to the Solomon's
•           Southeast Asia, Thailand
•           Opening speaker at the first annual Explorer Summit in Monaco
•           A modern look at the polar voyages of Admiral McMillan and Schooner Bowdoin
•           The Franklin Expedition
•           Smart Yachts
•           New Technologies
•           The Explorer in all of us
Venues
•           Harvard Business School
•           Harvard Travelers Club
•           Saint Francis Yacht Club
•           Boston Sailing Club
•           Mystic Seaport
•           University of Massachusetts Boston
•           Massachusetts Maritime
•           Cape Cod Maritime Museum
•           Monaco Yacht Club
Memberships and Certifications
•           USCG Master Unlimited All Oceans Sail and Power
•           St. Francis Yacht Club – Member
•           Monaco Yacht Club- Member
•           The Explorer Club New York – Member
•           Rebreather Diver
•           Nitrox Diver
•           Rescue Diver
Publications
•           The South East Asia Sea Pilot. 2020 edition
•           Vanuatu and Solomons; Using observations and charts from my years in the South Pacific, I have authored two chapters
•           Northwest Passage and Svalbard Pilot Books. 2022
•           Film: The Highest Latitude https://www.youtube.com/watch?v=Ko3dU3JE8iE