FOR SALE! Motor Yacht MADCAP 114′ Newcastle Shipyards 2010
---
With her build completed in 2010, Super yacht MADCAP (Name Reserved) is a custom Tri-Deck built by a very knowledgeable yachtsman who has built a number of quality yachts throughout his yachting experience. Motor Yacht MADCAP features customized quality throughout with a luxurious and comfortable interior that can accommodate up to eight guests in four spacious staterooms. Her volume, both interior and exterior, rivals any 130'/140′ on the market today.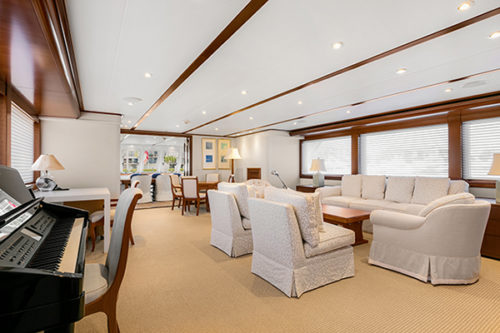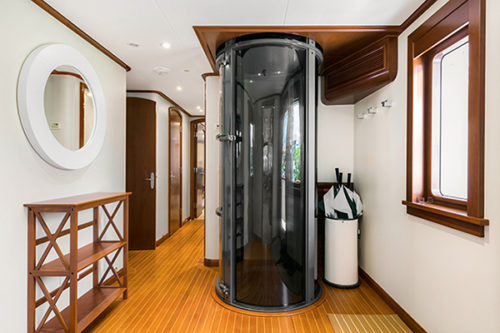 The salon was designed to be elegant casual with free standing furniture and comfortable seating for up to ten. The room is soothing and relaxed with the use of neutral tone carpeting, off-white wall-coverings and smooth off-white headliner material and cherry wood battens. This Newcastle Shipyards yacht for sale boasts a GRT of 299 and features a clear round pneumatic elevator with access to three levels.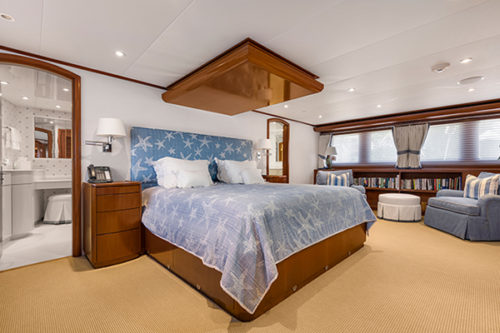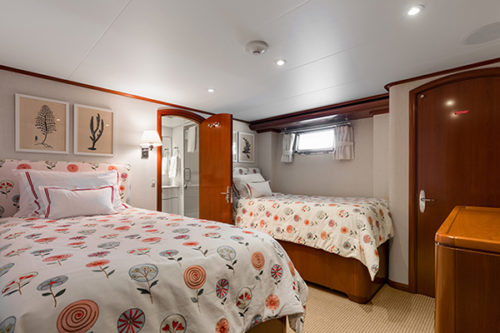 Super yacht MADCAP's on ­deck full beam Master Stateroom is located forward on the main deck and utilizes the entire 25′ beam of the vessel. M/Y MADCAP's Master Stateroom contains beautiful built-­ins to provide as much space as possible. The Master Stateroom has an open and bright feel with three windows to port side and four on the starboard with cherry cabinetry underneath both sides.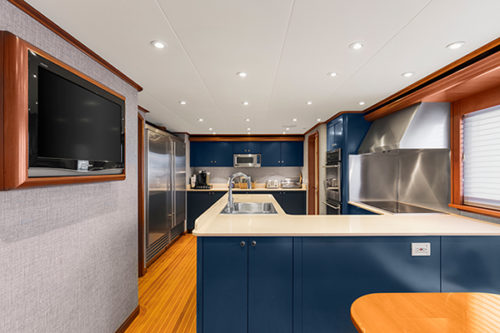 The Galley area is large for a vessel this size and was designed to be versatile for the individual owners' needs. The area can be closed off and used exclusively by the crew or can be used as a breakfast nook for guests. Another unique feature of MADCAP not found on most other yachts is the amount of natural lighting.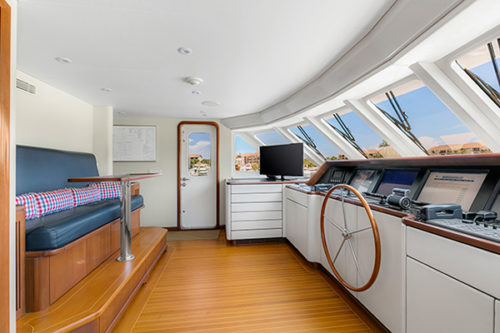 This beautiful Newcastle Shipyards yacht for sale MADCAP has a gorgeous bright wheelhouse with an abundance of glass including nine windows which make for excellent visibility.
M/Y MADCAP's aft deck is a wonderfully designed space, comfortable and useful. The multi-purpose room on the aft deck, with the folding salon doors closed, both side wing doors open and the aft side doors and all windows open, converts to a breezy shaded area. If the weather turns, it closes back up into a controlled environment without insects and moisture. This area is fully enclosed with air conditioning and heat and is for all intentions a part of the interior of the boat.
The Skylounge for motor yacht MADCAP is a light and airy room with great comfort. Aft of the Skylounge one will find a large door to the boat deck, al fresco dining table and seating covered by the hangover of the Sundeck.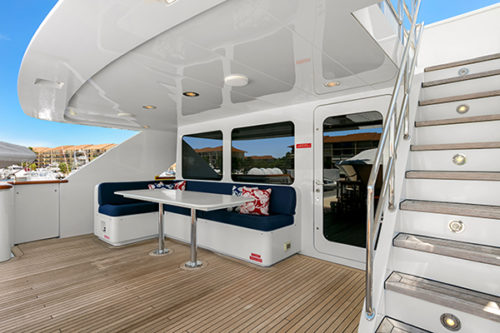 This seating area is covered by the sundeck overhang and is also accessed by two stairwells on either side, making it very service friendly. This area can be entered via the stairwell from the Skylounge foyer by pushing an access button at the base of the step. A large, glass watertight sliding door opens to the Sundeck. One can also get to the Sundeck on the stairway from the boat deck.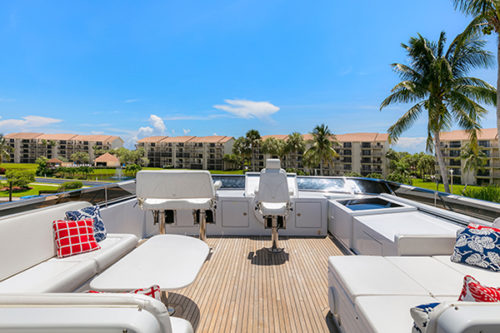 Super yacht MADCAP's ample outdoor areas that include a wide range of amenities and sumptuous sun lounging areas, makes for the ideal vessel cruising the ocean in style and luxury. Her hull configuration, stability and walk around decks on both main and upper make her a superior sea boat that is comfortable and safe.
Our skilled Yacht Brokers are on hand to discuss M/Y MADCAP and can arrange a private viewing at your convenience. To get in touch please fill in our yacht purchase inquiry form or contact us at one of our yacht brokerage offices.