Worth Avenue Yachts is pleased to announce the sale of the 165′ Feadship DEJA VU. Special thanks to all of the professionals that made this sale possible.
Graeme Lord of Fairport Yacht Support : Fairport provides assistance to the owners, crew and other yachting industry professionals by guiding all parties through any technical, administrative and safety requirements in yachting.
Bill Pratley of Global Vessel Services: Global Vessel Services provides leadership on all project aspects ensuring all necessary factors are defined, monitored and delivered.
Warren Hayes of Alley, Maass, Rogers & Lindsay, P.A.: Maritime Law Expert.
Andre Bouse: Professional Maritime Captain
Michael Mahan of Worth Avenue Yachts: Managing Partner
Brian Tansey of Worth Avenue Yachts: Managing Partner
Warren Hayes, Jr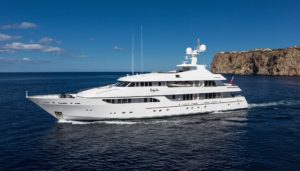 Worth Avenue Yachts takes pride in partnering with top professionals in the maritime field to ensure that all aspects of the sale of a vessel are completed responsibly, promptly and meticulously. Better serving the buyer and the seller is what sets Worth Avenue Yachts Team apart from the competitors. For more information on listing your yacht for sale with Worth or purchasing a yacht, please contact us at +1 (561) 833-4462 or contact our European offices at +377 97 77 67 57.