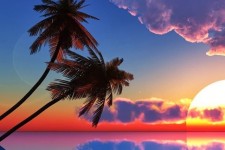 Step aboard and let your journey begin as you set course for one of the world's most beautiful, break-taking and exclusive destinations. Explore the uninhabited islands, enjoy crystal clear turquoise waters and savor the taste of culinary delights prepared by your personal chef while enjoying the personalized service of a professionally crewed yacht.
The Turks and Caicos consist of 40 different islands and cays, only 8 of which are inhabited.  Each island offers a different experience and a unique character, but all offer year round great climate, beaches and underwater activities.  Situated on the world's third largest coral reef system just south of the Bahamas, it's no wonder these beautiful islands are frequently rated among the world's top yachting destinations.
These two island groups offer stretches of uncrowded pristine white sand beaches with no development in sight.  They boast a stunning array of gloriously colored tropical fish, fascinating marine life and breathtaking turquoise water.  The islands have justifiably earned a reputation as being among the most magnificent scuba and snorkeling destinations in the world.  You will love the unique natural serenity and beauty of this magical destination.
Click Here to view a 7-Day Itinerary or contact us at Charters@WorthAvenueYachts.com