Yacht Charter Tahiti and the Society Islands – HEAVEN ON EARTH
---
Taking a Private Yacht Vacation is absolutely one of the best vacations that you will ever have. There are so many great destinations in the world, but Tahiti and French Polynesia is pure Heaven on Earth.
Arriving to the Yacht
Last April, my clients decided to charter the beautiful 185 foot Delta yacht, MY SEANNA in Tahiti.  Being based in South Florida, the yachting capital of the world, it was a simple (but long) flight to LA then on to Faa'a airport in Papeete (PPT) Tahiti.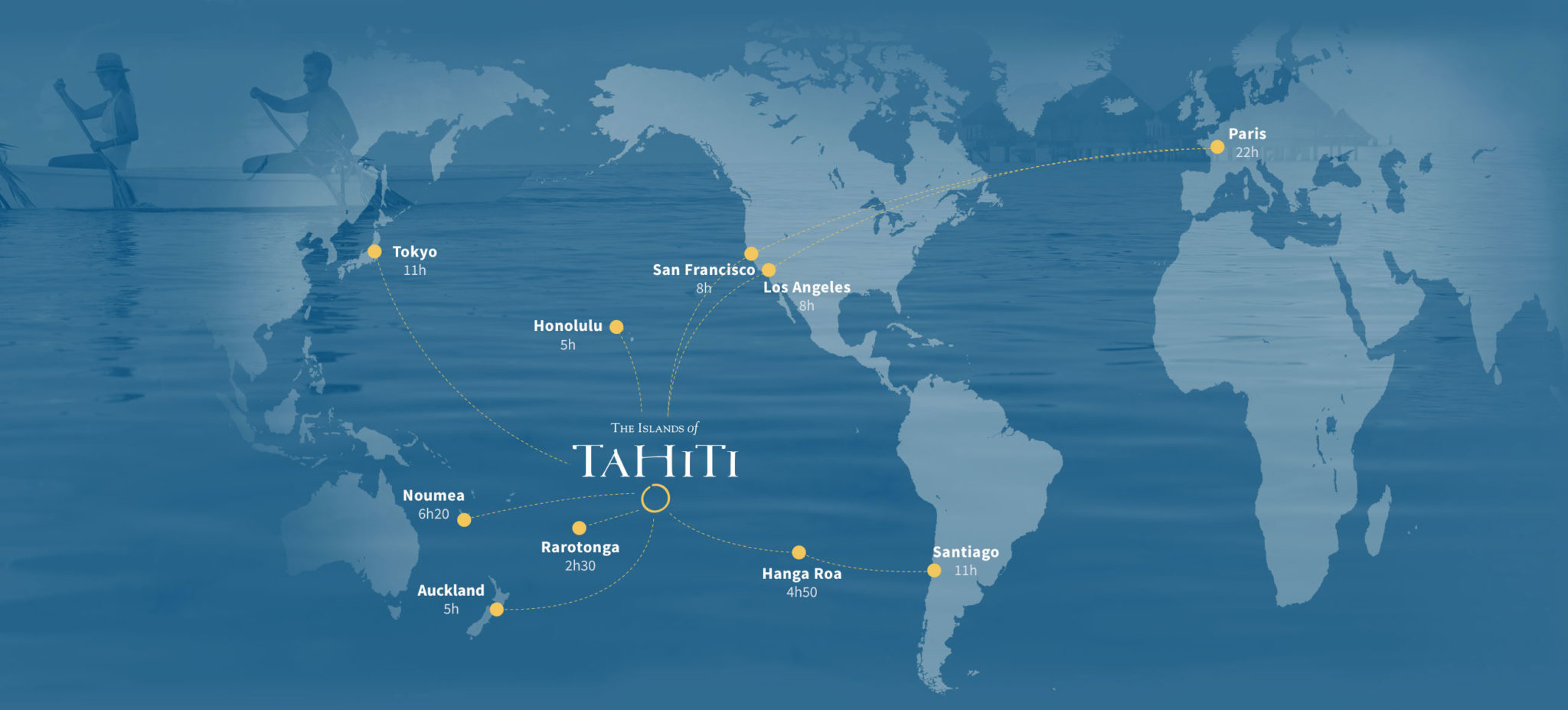 Getting our bags and clearing customs was a breeze and before long we were in route to the marina.  At the marina we were welcomed by the wonderful crew onboard motoryacht MY SEANNA.
The Crew
One of my favorite things while on charter is meeting the crew and getting to know each crew member's personality and what makes them tick.  Where did they come from? What do they love to do? How do they engage with the clients? And who is going to be the most fun to spend time with in and around the water?  A crew can make or break the charter trip, so I was pleasantly happy to meet this young and energetic crew! The team was fueled and ready for a fun and active few days in and around the waters of Tahiti and the Society Islands.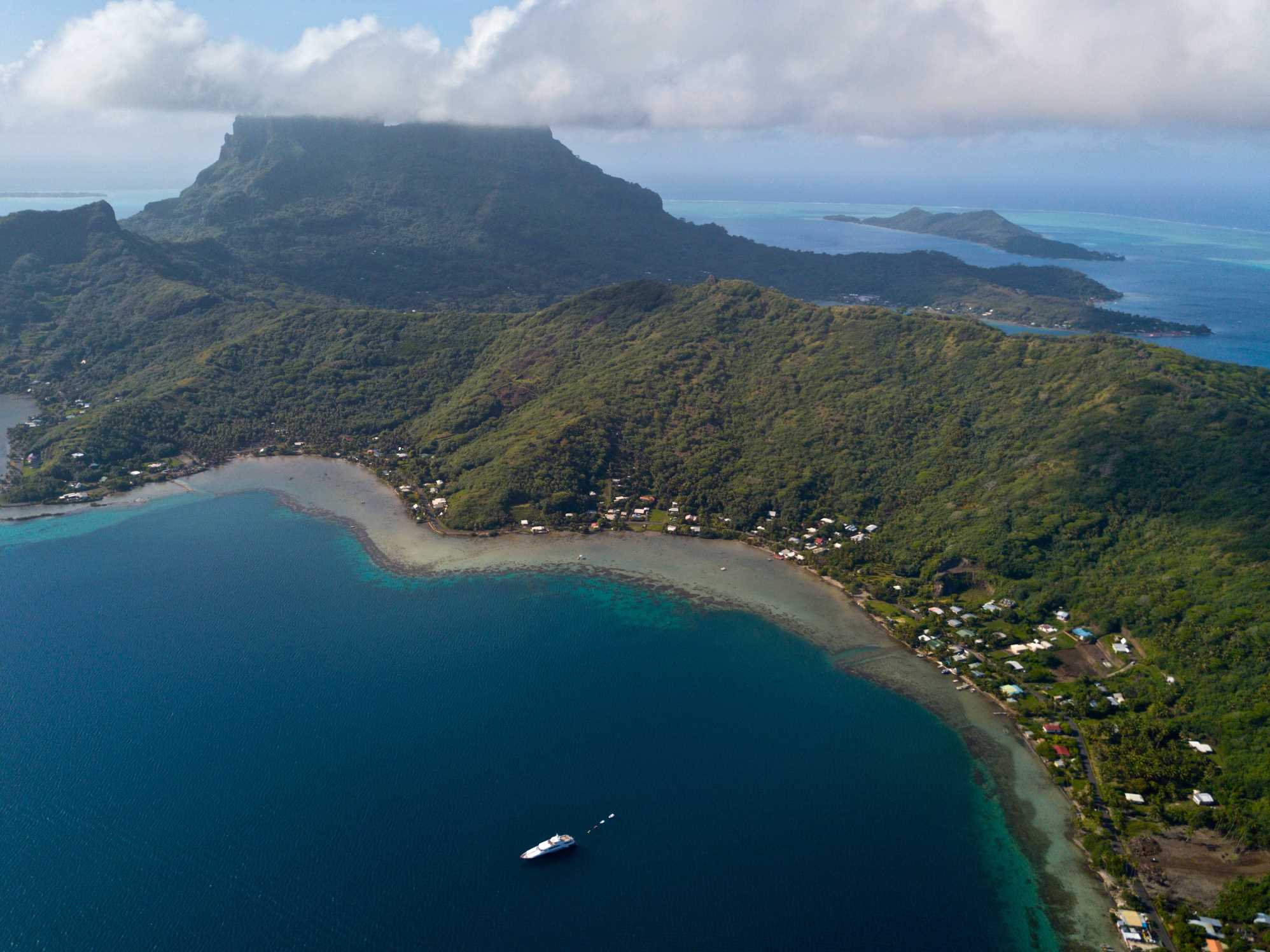 Things To Do
Some of our adventures included visiting Atols, volcanos, waterfalls, enjoying the beautiful flora and fauna, and enjoying all the activities available on the water.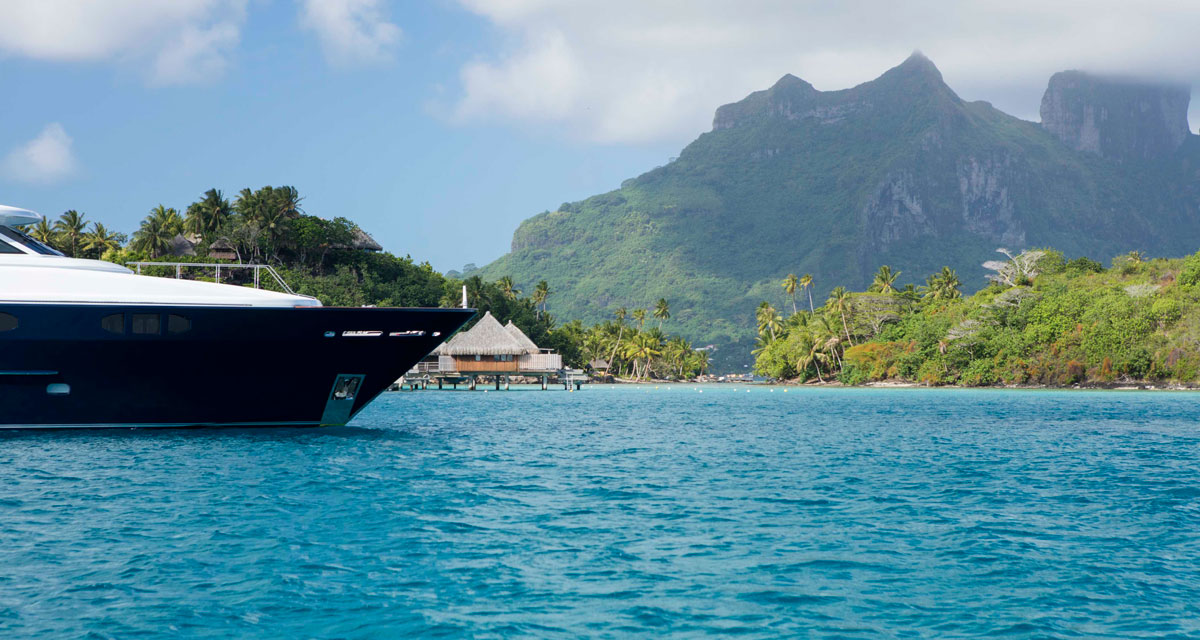 The pineapples, bananas, and starfruit trees were bountiful – where you can just pick it right off of the trees. Besides the food and wonderful meals that you experience onboard, exploring the islands, beaches and fascinating areas coupled with the water sports and toys are my personal favorite things to enjoy.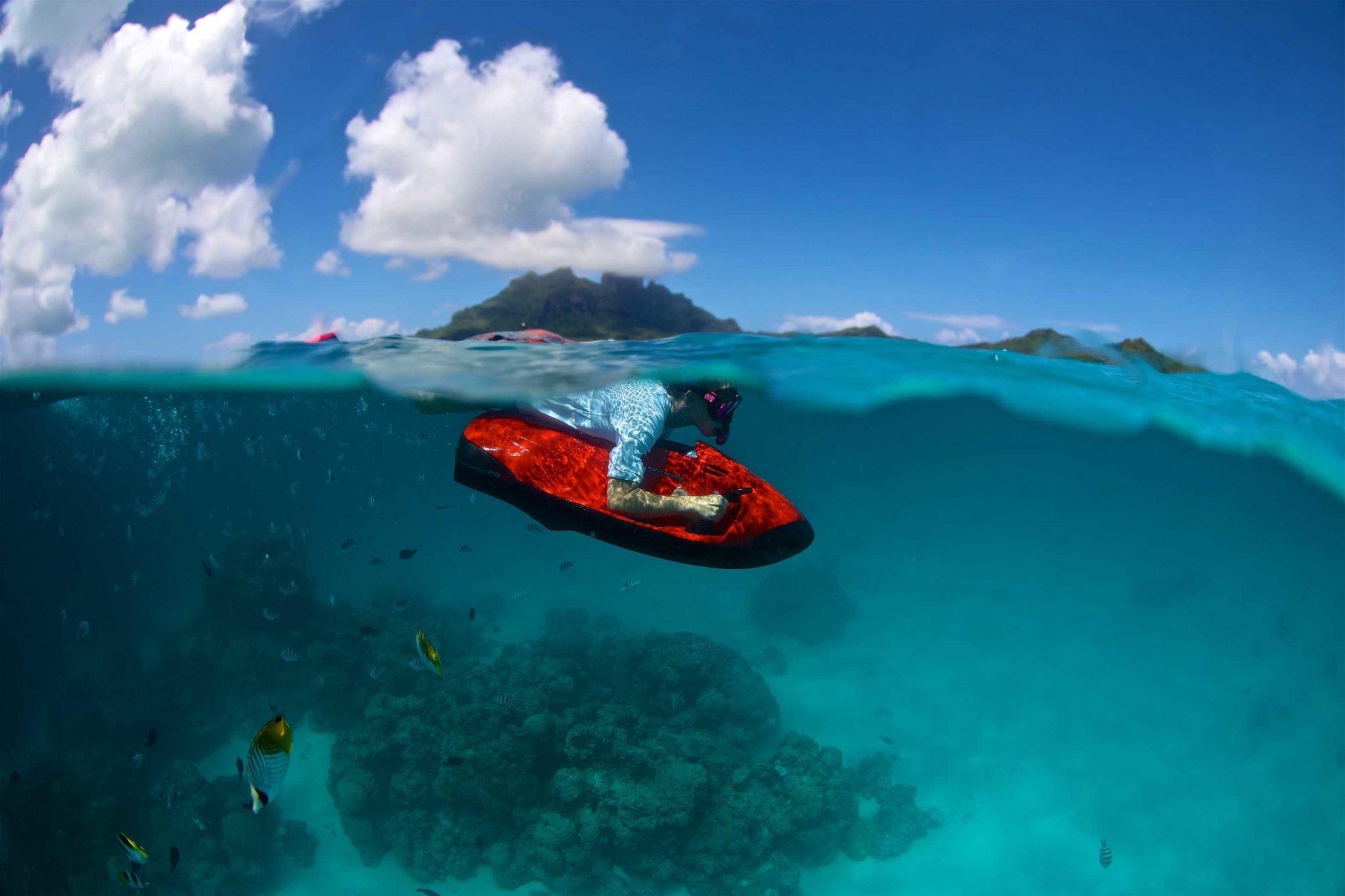 I can never get enough of the slide, the jet skis, sea bobs, or just floating above the crystal-clear water; watching the rays and other sea life frolic beneath. One of the notable yacht toys for 2018 has to be the Pink Flamingo; and boy did the guests enjoy this floating toy. The luxury charter yacht MY SEANNA had two onboard. On more than one occasion, the guests would jump in and race around the yacht on top these pink, floating birds.  #FlamingoFriday.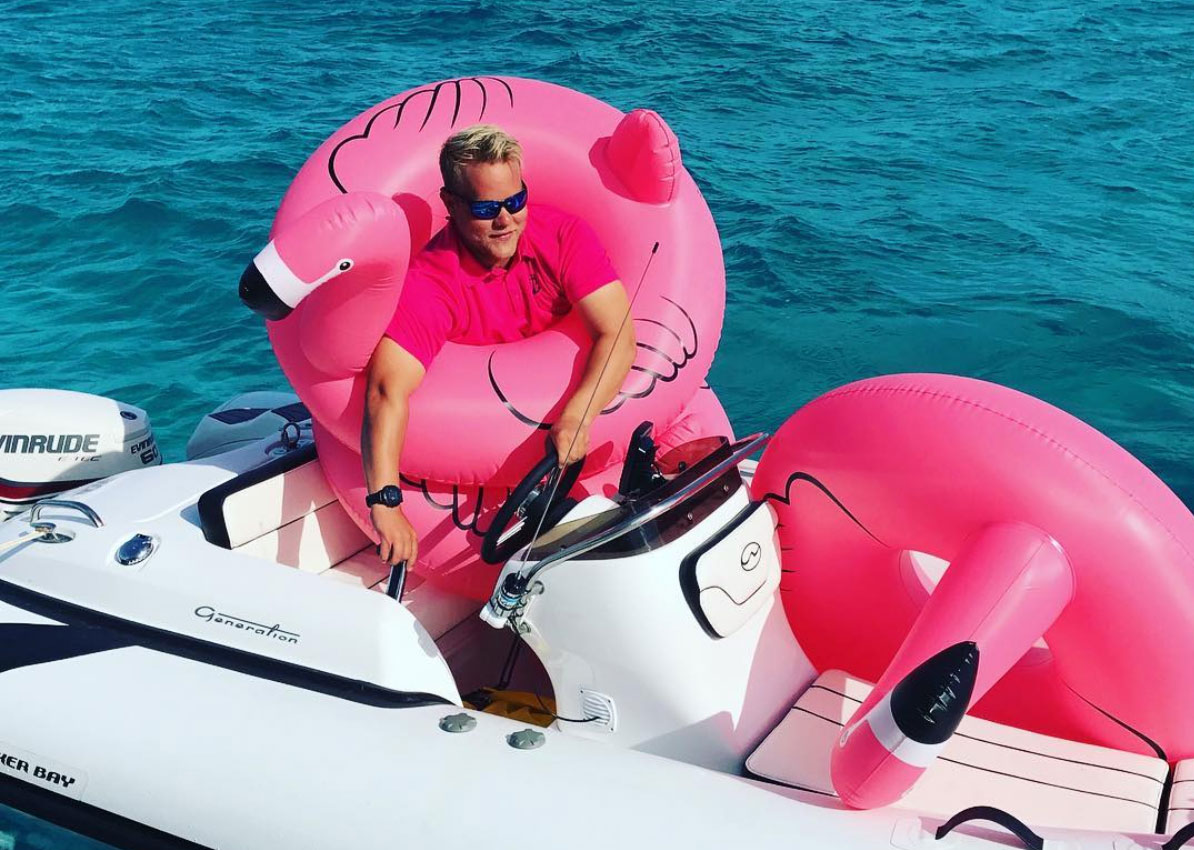 A few of my clients are into fitness, so each day, first mate, Ashton Pienaar put his personal training skills to work onboard.  Early morning workouts on the sundeck were customized for the guests and Chef Adrian Martin prepared healthier options for my health-conscious clients/friends. View a sample itinerary for your next Tahiti yacht charter here.

Moorea
After exploring the islands of Tahiti, it was off to Moorea.  We had the blessing of spending the day with Christel and Rodolphe from TAHITI PRIVATE EXPEDITIONS.  They picked us up in their orange tender (my favorite color) and we headed out for another day of exploration.
Coconut Nui from Superyacht Private Expeditions on Vimeo.
It was great to connect with friends that I've been telling for years that I'm going to come visit – I finally made it happen; and what better way to see the Society Islands other than being onboard a luxury yacht and then to also have the local knowledge and expertise of Christel & Rodolphe.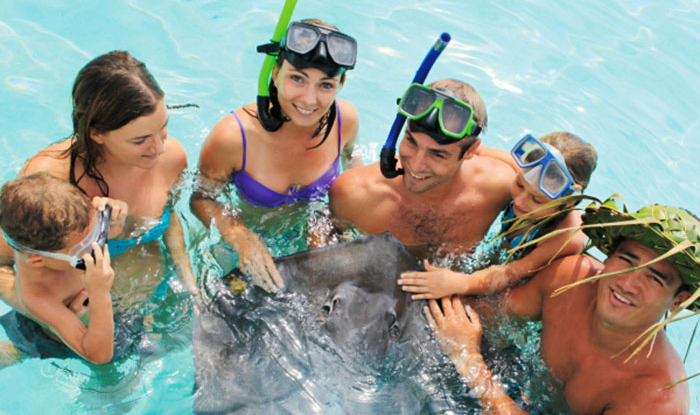 Our first stop that morning, we anchored in a shallow area that was filled with other boats and yacht tenders.  The turquoise water was so crystal-clear that it didn't seem real.  The minute we stopped, the rays and black-tipped sharks seemed to know the orange tender.  It was like Rodolphe had a secret magic that called to all of the seas creatures to come say hello.
We all jumped in the warm waters and were immediately surrounded by the rays.  I felt like a child again and would scream with delight every time a ray would brush by my leg or swim under my feet. Once comfortable with them, Rodolphe would hold food and we would have 3 to 5 at a time swarm around us.  The texture of their bodies is so soft and they are loveable. Some of them seem to have their own personalities.  In addition to the plethora of Rays, there were several black tipped sharks that wanted in on the action.
Superyachts In Tahiti from Superyacht Private Expeditions on Vimeo.
Our next stop while cruising on the yacht tender was into a private little cove.  We stopped and took in the beauty that Moorea has to offer and celebrated life, friendship, nature and the beautiful waters of Moorea with a champagne toast.  Back in the water we all went and the abundance of fish was incredible; it was like we were swimming in our own private aquarium.
One of our guests met a Ray that we are all convinced fell in love with him.  She was so friendly and inquisitive and would not leave.  It was love at first sight, but unfortunately, we had to bid the romance goodbye and continue our journey around the island of Moorea.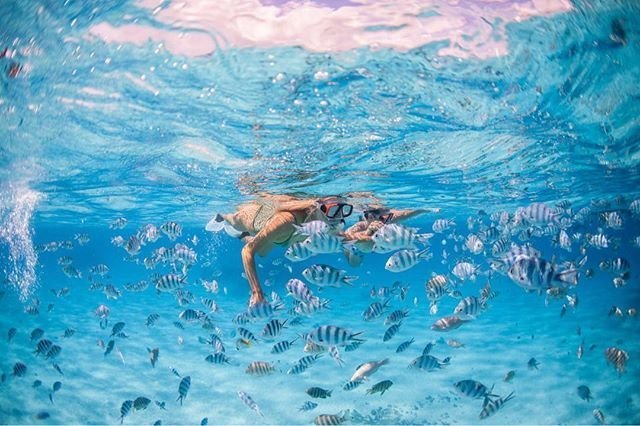 Just when I thought it could not get any better, there was a pod of dolphin that appeared behind us. Jumping, swirling, frolicking in the waves; it was pure magic.  They followed us for a while and we all decided to swim with the dolphins.  We all dove in and followed.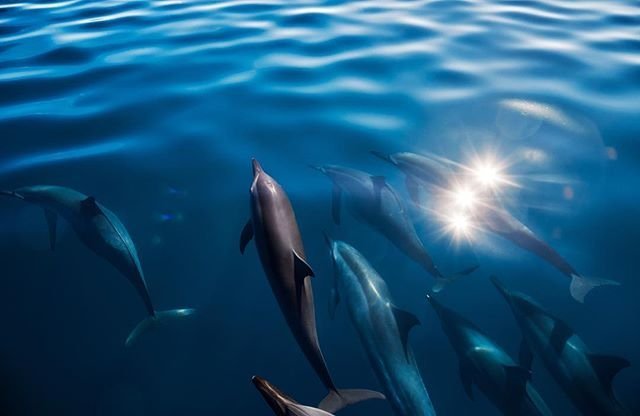 To be free in the oceans surrounded by these beautiful mammals was pure magic.  A day and experience soon not to be forgotten.

Bora Bora
After Moorea, it was off to Bora Bora where we decided to stay a few extra nights on land.  Some of us chose The St. Regis, Bora Bora while one couple opted for The Four Seasons, Bora Bora.  Both resorts are considered some of the top luxury travel resorts in the world.  The St. Regis was located on its own private island and for years this destination has been on my bucket list.  The photos that they advertise look beyond perfect and the reality was every bit as good as what I have imagined for all these years.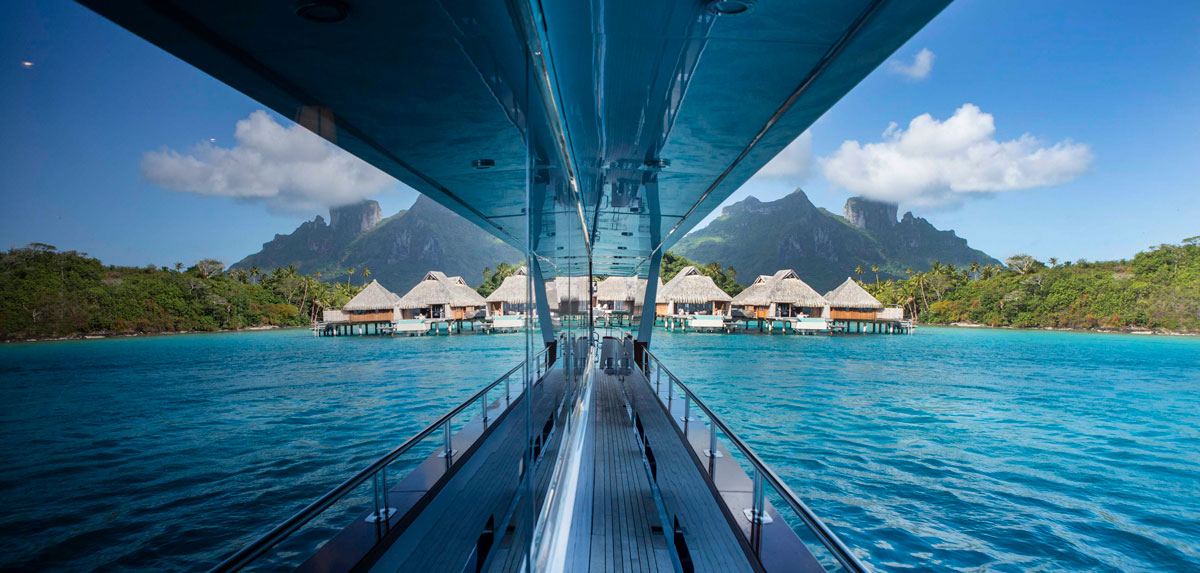 Our over-the-water bungalow was just perfect featuring a living area, sea thru floor and a large patio with outdoor cabana that hovered over the clearest waters in the world.  Picture-perfect for sure.
For more information on chartering in Tahiti and The Society Islands contact Shannon@WorthAvenueYachts.com

My Favorite Yachts Available For Charter in Tahiti