BAYOU Yacht For Sale with Worth Avenue Yachts
---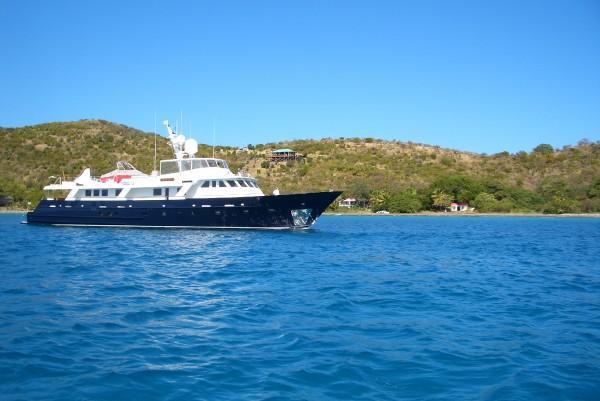 UPDATE:
Worth Avenue Yachts announced the sale of BAYOU on March 20, 2017. 
The 122 foot (37m) Breaux Baycraft luxury motor yacht BAYOU is for sale with Worth Avenue Yachts.
"BAYOU is the perfect blend of a masculine bluewater cruiser with the comforts of a classic gentlemen's yacht of yesteryear. Rich gloss raised panel wood interior, brass hardware throughout and nautical colors of blue, crème and whites provide the ambiance. The exterior is highlighted by her flag blue hull, varnished cap rails and natural teak decks.
She has been thoroughly modernized with updated WiFi communication, A/V systems, Navigation electronics and newer 4­ cycle engine power. She can also travel abroad taking power through her Atlas power converter. Bayou' replacement cost would easily exceed 15MM so as offered she noted to be a "Best Buy" for any prospective purchaser considering larger or newer vessels."
BAYOU was built in 1979 with an Aluminium hull by American yacht builder Breaux Baycraft. She has 4 staterooms, including a beautifully styled cherry wood and cream master suite, a king, a queen and a captain's cabin and a den/library, which are able to accommodate up to 8 guests in the pure luxury. She also has accommodation for 2 crew. She has a cruising speed of 14 knots and a maximum top speed of 17 knots.
BAYOU has covered walk­around decks with teak cap rails and a semi flush deck with pilothouse all the way forward. The foredeck has bench lounge seating, ships bell and access to the dual anchor windlasses and anchor lockers. The flybridge helm station and boat deck is accessed from the pilothouse and or aft deck. The aft deck has bench seating, split dining tables and a wet bar. She has beautifully maintained teak decks; the aft deck and sun deck have a selection of lounging and dining areas and a propane grill.
BAYOU has benefited from a full time crew and a nine year owner who spares no expense, having updated almost every system on board and doing several refits, the last of which was done in 2013 whereby four new engines were installed.
View full detailed specifications on this fine Breaux Baycraft yacht for sale BAYOU. To discuss this yacht with her Worth Avenue Yachts broker send us an email, fill in our short contact form or call us direct.
The Team,
Worth Avenue Yachts
WORTH AVENUE YACHTS | SALES | CHARTER | NEW CONSTRUCTION
PALM BEACH | 150 Worth Avenue, Suite 136, Palm Beach, Florida | +1 561 833 4462
FORT LAUDERDALE | 1318 SE 2nd Avenue, Fort Lauderdale, Florida | +1 954 703 5737
MONACO | Le Panorama, 57 Rue Grimaldi, Monaco | +377 977 767 57