Yacht for Charter
CHRISTINA TOO
9137
67ft / 20.7M
| Builder: Sunreef Yachts
| Year: 2017
---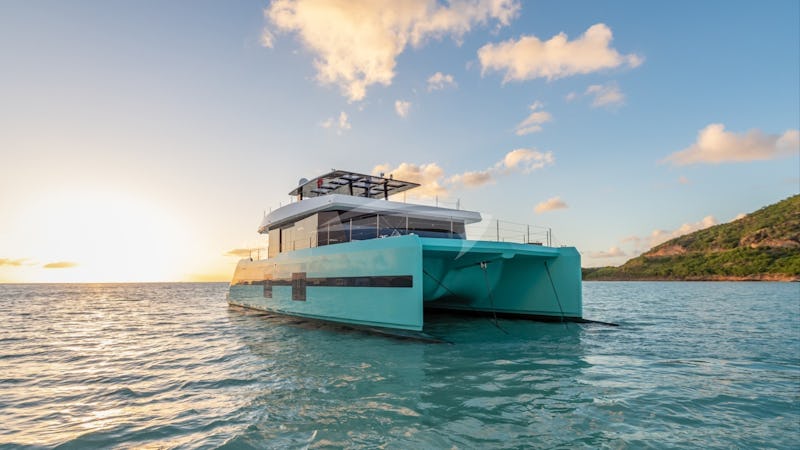 ---
Yacht Charter CHRISTINA TOO By Sunreef Yachts
Cruising Speed
10kts (18kph)
Engines
2 x 588kW - Generators 2 x 19kW
From:
$38,000
plus expenses
Contact Us For More Information
Alexander Hailwax
Captain: Ruud Blanc
CAPTAIN: Ruud BLANC
STCW95
Languages: English, German
Ruud is from the central lakes area of the Netherlands.
Like many in Holland, he has been afloat since he was 5 years old, During the 20 years he has sailed professionally, Ruud has run various motor and sailing yachts to 140ft in length, including iconic yachts such as Feadship's Iduna, Bruce Farr's Hetairos, Tempest and Nimrod.
He also owned and operated his own Caribbean charter yacht for 2 years.
When Ruud is not at sea he enjoys teaching his 7yr old son and 9yr old daughter how to sail, surfing, water-skiing and travelling in the family camper van. Ruud is energetic, flexible, positive and always ready to rise to a challenge.
DECKHAND: Carina LEONE (28)
DECKHAND: Carina LEONE
American
STCW 95
MCA AEC
Small Powerboat & RIB Master
USCG CPR
Languages: English
Born and raised in Indiana, Carina spent her formative years bouncing between Fort Wayne, Indiana and Chicago, Illinois. It was the latter that really sparked her love for the water; every summer, the mystical pull of Lake Michigan drew her to the Indiana Dunes where she soon realized that a life on the water would be her new home.
Unfortunately, the extreme seasons of the Midwest did not lend for a life on the water and Carina decided to pursue a path geared towards law. She attended Huntington University where she acquired her Bachelor of the Arts degree, majoring in History, Political Science, and PreLaw with minors of Spanish, Psychology, and Non-Western and European History.
While the education and critical thinking skills were appreciated, life behind a desk wasn't meant to be; Carina soon found herself missing the adventure, mystery and wonder of the ocean life.
After six months, Carina packed up her things and headed to Fort Lauderdale, Florida, to begin her new journey. After nearly three years of working on private yachts ranging from 21m to 118m, she sought out a more active, spontaneous and water sports focused, charter experience.
You will now find her whizzing around on Seabobs and tenders with a huge smile on her face. She can be described as a friendly, charter-minded, water-sports loving, American.
STEWARDESS: Lela STUBBS (33)
STEWARDESS: Léla STUBBS
STCW 95
Food Hygiene Level 2
Tourist Guide in History & Culture
Léla was born into a family of water lovers, so naturally she has developed a deep love for the ocean and water sports from an early age.
A large influence on her growing up was living on a Game Reserve her mother managed for many years. Being surrounded by a hospitality environment from so early on was the beginning of shaping her natural affinity for hosting unforgettable guest experiences.
After completing school, a temporary job in the wine industry changed the trajectory of Léla's life and she ended up working in various capacities within the industry for a further 9 years. It was during this time that she not only developed knowledge of wine (she even produced a few vintages), but also of hospitality.
Léla decided to spent the next four years guiding and cooking on tours throughout
Southern Africa, earning herself a tourist guiding qualification specialising in History and Culture. She then decided to explore further afield and find a career that would allow her to do so, while utilising her skills. She has since worked on board a luxury motor yacht in the Mediterranean, where it became apparent that all her life's experience had perfectly groomed her to be a creative, meticulous and well rounded stewardess.
Léla is able to anticipate her guests' every need and want with ease, and takes great pleasure in ensuring they have the time of their lives!
CHEF: Gregor Grzegorz
CHEF: Gregor Grzegorz
STCW95
Professional Chef Diploma
Languages: English, French, Polish
Gregor is a professional Chef, with 3 years, yacht experience and 15 years as a restaurant and private chef in Ireland and France.
He is passionate about what he does and love being inventive in the kitchen.
He used to preparing and serving meals to high standards and being flexible to meet every guests requirements.
He specializes in French and fresh Mediterranean cuisine also exploring Asian and South American specialties.
He works with a positive attitude and has good contact with crew and guests.
Charter January 8-15, 2021 in St Martin / party of 8 from UK
Captain Ruud - Great pilot of the ship, we "lucky" winner, patient and caring individual
Carina, best deckhand ever! always smiling , conscientious and always willing to lend a helping hand
Jess - a knock for being attentive to evryone's needs and transporting us to a different country each evening as we sit down to dinner. And those napkin folding skills?! my oh my!
Gregor - no other chef like him in all the countries and cruise ship that I have been on. No words can accurately describe the food prepared for us this week! Savory, delicious, decadent etc... Our mouths water with the mention of  his name.
THANK YOU! for a week of relaxation and being able to leave all of our cares and troubles behind .
The L gang!
Charter on December 24 - Janunary 3, 2021 in St martin - St Barth area / Group of 6 from America
Ruud, Lela, Carina and Greg,
​We had a terrific time cruising with you over Christmas 2020 into the new year! Even with Covid making life difficult, you made our experience onboard unforgettable.
Greg, your ability to know exactly what our favortie meals were before we asked, Lela your positivity and great energy, Ruud and Carina, your skills in keeping Christina Too humming along... Awesome!
The younger generation wants me to describe the cruise as "dark" and it was :).
All the best,
D, S, S, B, M & A

Charter on February 26th – March 1st, 2020 in the Virgin Islands / American group of 8
Dear Christina Too,
To say we had an AMAZING EXPERIENCE would be the understatement of the century !
Alex, Marcelle, Hannah and Brent were awesome ! The secenery was incredible and the food was beyond spectacular !
We only wish stayed a few days longer.
We will definitely be back.
Xoxo
Sincerely
H. group
Charter December 28 to January 4, 2020 in the Virgin Islands / American group of 6
All was well thanks M.
The Christina Too is a lovely cat.  Very comfortable. Pluses include great living area, nice flybridge eating area, Nice lounging areas on the main deck and the flybridge, a nice tender, and good water toys including sea bobs, excellent outward visibility from the main deck which helped prevent motion sickness.  
There are two master cabins which while not particularly spacious were perfectly acceptable and had nice bathrooms. The other two cabins were similar in size but with limited storage and smaller bathrooms, still fine!. 
Also nice for groups in that range from best to worst cabin wasn't that substantial so no one felt cheated.  
The crew were very attentive.. 
I feel everyone on board worked very hard to help put this together last minute. 
I'd recommend her.
Charter on July 29 – August 5, 2019 / Bonifacio – Olbia / Family of 8
Thank you Alex, Marcelle & Chad we had a lovely stay with your great hospitality. The boat was amazing and the places we have been too are incerdible. It was a trip & a lifetime. The beaches Alex took us to are always breathtaking and the food was always delicious. Thank you for the great holiday ! And finally many thanks for always taking care of our baby. Thank you Christina Too team !
Family A.
Charter on July 19-26, 2019 / Bonifacio - Olbia / Peruvian family 
It has truly been the most amazing trip !!!
There a few words to thank you all for your amazing hospitality, you have made us feel at home and have truly spoiled spoiled us. You had all sorted out at all times and continually amazed us thinking of absolutely every small detail.
The food was superb, the places wa visited the best spots, all the water toys my kids couldn't be happier, the BBQ night was simply th bast and you warmly helped host our guests felt so welcome by you.
Thank you Chad for your warm smiles at all times, thank you Marcelle for making us feel at home and your contagious positive energy, thank you Alex for simply being the best captain and organizing everything to perfection.
We will truly miss you all. Hope to cruise with you again !! With love.
Family D.​
Charter on June 13-20, 2019 / Corsica - Sardinia / American group of 5
OMG ! Sky high expectations was blown away by the most shining holyday of our lives. The attention details on this incredible yacht is simply stunning : the confort out of their world. It explains why everywhere we went breaks came receving up to take photographs. And that attention to details was marked by Alex, Marcelle and Tchad. We have never been better looked after. Nothing was too difficult for them and their professionalism absolutely superb. No Michelin Stars restaurant serves up food like this. 
When I die and go to heaven ... I'm going to end up on Christina Too !
Thank you ! Thank you !
P., K., H., P., L.
Ammenities
DVD player saloon, Indoor audio system, MP3 music server, Outdoor audio system, Streaming online media, TV saloon, 15ft/4.6m Tender 110hp, Kayaks multiple, Kneeboard, Paddleboard, Tube - towable, Wakeboard, Water skis - adult, BBQ, Coffee machine, Deck shower, Fishing gear - light, Ice maker, Special diets, Sun cushions, Sun loungers, Swim platform, Water maker
Diving
Not Insured, Diving by arrangement, Seabob, Snorkelling gear