Yacht for Charter
ISLAND HOPPIN'
8729
51ft / 15.8M
| Builder: Lagoon
| Year: 2018
---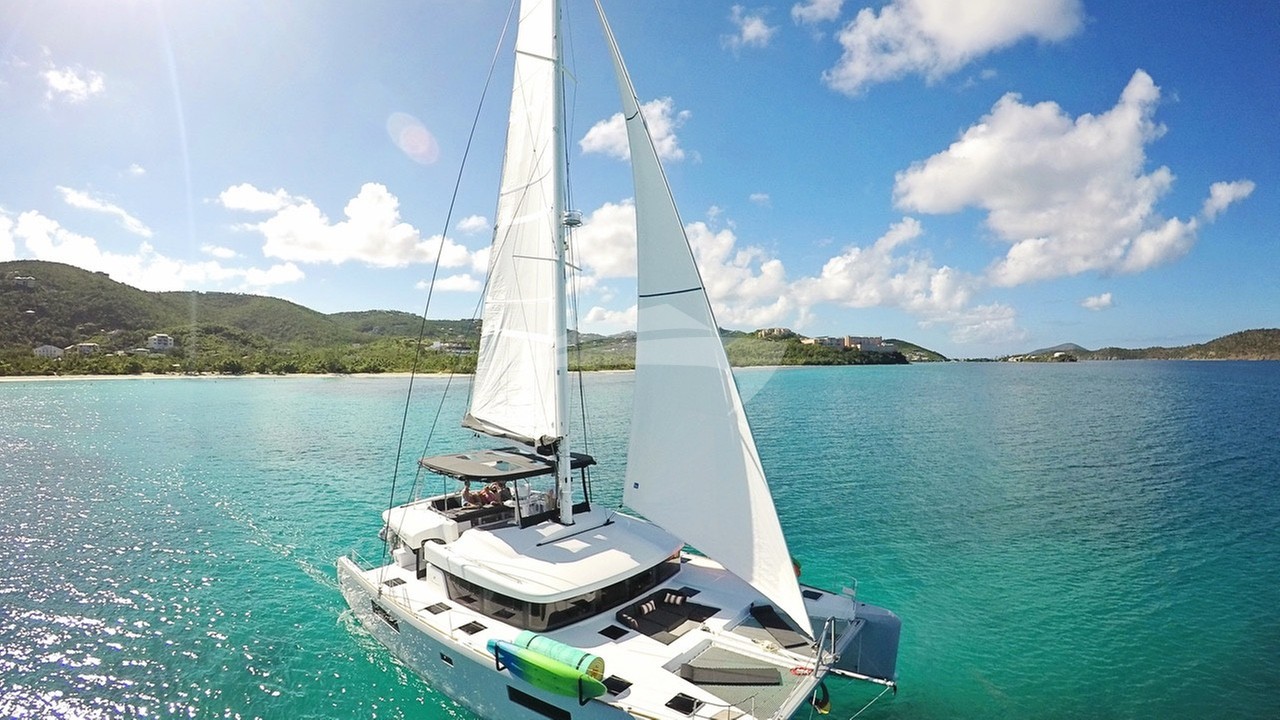 ---
Yacht Charter ISLAND HOPPIN' By Lagoon
Cruising Speed
8kts (15kph)
From:
$29,000
plus expenses
Contact Us For More Information
Captain: Jack Steenbergen (30)
QUALIFICATIONS
• USCG Master 50 GRT
• PADI OWSI - MSDT
• EFR / O2 Instructor
• STCW Basic Training
• Marine Radio Operator Permit
• ENG 1 Medical
• Dive instructor
Born and raised in Clearwater, Florida, he grew up on the water fishing and sailing with his family every chance he had. He always had a passion for the water and wanted to explore its beauty.He began working on tour boats in Clearwater and since then discovered the path towards his career. A few years ago, he moved to bigger yachts and traveled around the world through the Mediterranean. One of his most recent trips being from Seattle to Florida through the Panama Canal. Later Jack began his journey to become a dive instructor to be able to show just how much beauty the ocean had, above and below.
Chef & Mate: Kaycee Wassmer (29)
Chef Kaycee Wassmer
QUALIFICATIONS
• STCW Basic Training
• ENG 1 Medical
• Florida Boaters License
• Rescue Diver
Born and raised in Seminole, Florida, Kaycee always felt close to the water as a kid. Spending many days with her family boating out to spoil islands in Clearwater to camp. She frequently remembers long nights around a fire and stargazing on the beach.
Once in high school, she started participating in local beach clean ups to help bring awareness to the constant pollution. After graduating, she spent most of her days working in a small marina discovering just how big her passion for the water was and decided to start learning all she could about the boating industry.
Jack and Kaycee met while working in the Clearwater Beach Marina. Having just returned from his first season of yachting, he introduced her to the industry and they quickly started working to gain experience. They were joined together on a 50ft boat as Captain and Mate and began their journey towards enjoying and sharing their passions as a team. Because of their history of working well together, Jack and Kaycee create a fun and playful environment while remaining professional. Having spent years in the customer service industry they love to take care of each guests needs in their own exciting way. Recently Kaycee has taken up a love for cooking and is always looking for new ways to spice up her meals. She often picks up a recipe and makes it her own by adding her own personal touch. Together they share the same passion for scuba diving, boating, and adventuring. They look forward to being able to share their experiences with guests. Jack and Kaycee are excited to continue their journey in the charter industry and explore what the beautiful Caribbean has in store.
June 2022 USVI Charter
Kaycee and Jack,
Thank you for such a memorable week. Words can not describe what a fabulous trip this has been for us. We have wanted to take this trip for 10 years . You have both and the trip exceeded our wildest dreams.The food, the scenery, and the company were top notch! We appreciate you both for making it a trip of a lifetime for our families!
- The Uhls + Copes
April 2022 USVI Charter
Jack and Kaycee

W O W
enough said

- Martin and Deanna

Jack and Kaycee
thank you for being as warm and welcoming and as beautiful as the seas you sail. Forever grateful. And a special thanks for being such an inspiring and confidence building dive master!
- Deanna

April 2022 USVI Charter
Jack and Kaycee and Island Hoppin!
Way to work hard, but make it look easy. You cant be this successful unless you do really care for other people. The vibe of the trip was so chill yet very professional chef, boat captain, divemaster, smiles, and laughter every day. Cant really think of anything to improve.
Thanks for the trip of a lifetime!
- Chris
January 2022 USVI Charter
Thank you Jack and Kaycee for introducing us to the beauty and fun of the USVI. Each day brought a new adventure - snorkeling in uninhabited coves, hiking into the petroglyphs, or sailing past so much natural beauty. Jack is an expert captain who managed the boat exceptionally well. Kaycee kept us well fed with an incredible menu of gourmet foods. We felt so well taken care of. Island Hoppin' is an incredible charter experience and we are leaving with amazing memories!

 

The Adams!
January 2022 USVI Charter 
We cannot thank Captain Jack and Kaycee enough for making our week of sailing in the USVI the most memorable vacation of our lives! Each day was filled with a new destination and the gourmet food was unbelievably delicious! Island Hoppin' is a beautiful boat and the hospitality that Jack and Kaycee provided went above and beyond what we ever expected. It was a dream vacation that these 4 couples had been planning for over 2 years. When we postponed a year ago because of COVID, we were so disappointed, But.... it was definitely worth the wait!!! Thanks again for everything! We have so many memories of this great week!
2021 USV Christmas Charter
Our family gifted ourselves a Virgin Islands trip for Christmas, but we also got a surprise Christmas gift; and outrageous week of memorable first time experience on Island Hoppin with Captain Jack and Chef Kaycee. The meals were gourmet quality preparations of fresh fish, prime quality meats, sauces, and accompaniments that easily equalled any fine dining restaurant. Captain Jack's knowledge of desirable Virgin Island destinations made each day a new adventure! Best of all Jack and Kaycee's hospitality mentally made us feel welcome and simultaneously well served. A great trip on a great boat with fantastic people!!! 
The Berfelds!
My wife and I have never taken a vacation like this before.  We booked this trip with our friends several years ago, and it was originally 
scheduled to take place in March 2020.  A day before we were flying into St. Thomas, the world shut down due to COIVD and our trip was postponed.  Needless to say, we were extremely disappointed.
They say things happen for a reason.  And while we didn't know it then, this delay turned out to be a true blessing!  I honestly do not believe there is a better, more perfectly matched team to "handle" our group than Captain Jack and Kaycee.  And I say "handle" because we can be a handful.
Jack and Kaycee were extremely personable and made us comfortable and relaxed from the very beginning of our journey.  They both were knowledgable and professional, and it was evident from the start they wanted us to have an amazing vacation specifically tailored to our wants/desires.  They had complete command of their responsibilities and ensured all safety procedures were followed - seamlessly taking great care of the catamaran and us.  Their knowledge of the Virgin Islands helped us pick destinations that made our trip memorable.
Island Hoppin' is a wonderful catamaran.  It is well maintained and the decor and amenities made it feel functional, yet homey at the same time.  
Now at the end of the trip, I truly feel as though we connected with Jack and Kaycee in a way I never would have expected.  While our time here on the catamaran is done, I'm excited (and a bit jealous) for future guests who get to experience the Virgin Islands on Island Hoppin' with Jack and Kaycee - they are in for the best trip of their lives.
In closing, I will say this vacation completely exceeded our expectations.  We are already making plans to book our next trip!
T&M
DECEMBER  2021
------------------------------------------------------------------
We had an amazing time! It goes without saying that the scenery was outstanding and the catamaran superb.
Captain Jack and Kaycee were fantastic hosts. They went above and beyond to make sure every day was a great day! They were extremely flexible and gave us options each day. They both have a great sense of humor and put up with our cheesy jokes. Kaycee did a wonderful job making sure our food preferences were met and every meal was delicious. They were gracious, kind and so very accommodating. Best of all, they made us feel like family and we will forever remember our time with them.
In short, we had an outstanding time on an amazing boat with fantastic people!
A&S
DECEMBER 2021
Ammenities
iPod dock, TV saloon, Wi-Fi, 14ft/4.3m RIB 40hp, Beach games, Floating mats, Kayaks multiple, Kneeboard, Paddleboards multiple, Tube - towable, Wakeboard, Water skis - adult, Water skis - child, BBQ, Deck shower, Light fishing gear, Kosher, Special diets
Diving
Not Insured, Snorkelling gear, Underwater still camera, Underwater video, 8 Tanks, 6 BCs, 6 Regulators,
$150.00 per Resort Course.
Referral Course if $300.00.
Captain Ryan is a dive instructor.
3 dives per week per person included.
Additional dives $50.00 per dive per person.
Online course required before charter commences.  Rate for the course during charter is $150.00.