Yacht for Charter
JUSTIFIED HORIZONS
10441
65ft / 19.8M
| Builder: Lagoon
| Year: 2021
---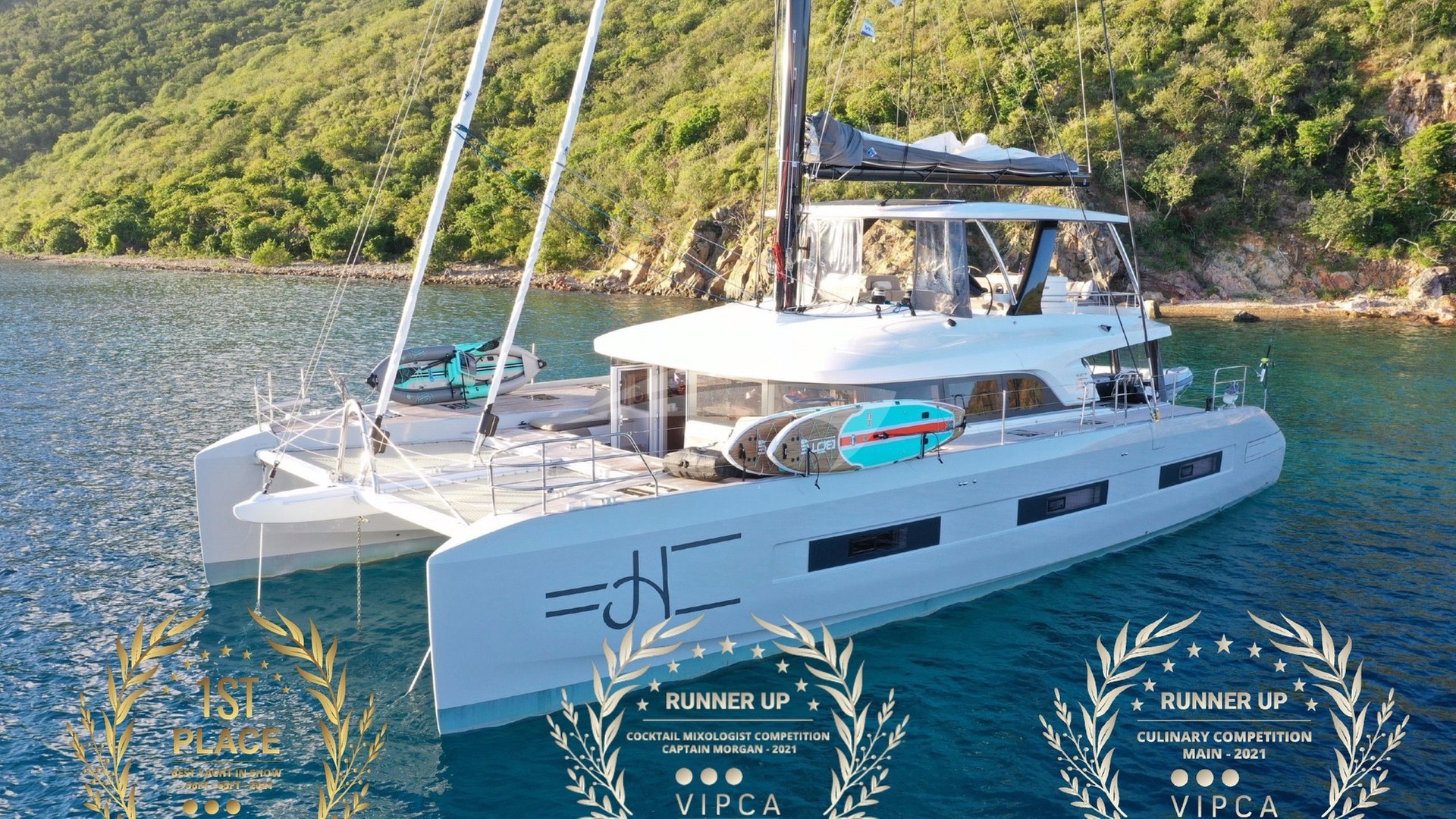 ---
Yacht Charter JUSTIFIED HORIZONS By Lagoon
Cruising Speed
8kts (15kph)
Engines
15% Split Commission with Travel Agents
From:
$56,000 - $64,000
plus expenses
Contact Us For More Information
Captain: Ryan Querry (38)
Ryan and Dani are an award winning duo, amassing a lifetime of experience and knowledge throughout their chartering career to date. These two possess a genuine ability to seamlessly mix fun with professionalism, leaving guests feeling welcome and well-accommodated. In their 3rd season aboard Stop Work Order, Dani and Ryan continue to bring the culmination of their vast career experience to their guests.
Captain Ryan took to the great outdoors from the very start, growing up in the countryside of Ohio. Whether he was playing football or baseball, boating on the many nearby lakes, or taking family fishing trips to the lakes of Canada, he could be found enjoying what nature had to offer. Ryan brings that same appreciation for the outdoors to his career as a professional charter captain. He holds a 100-ton Coast Guard Credential with a sailing endorsement and gained a wealth of critical knowledge over the past 4 years, captaining a sailing catamaran all throughout the Caribbean. Diving is such an extreme passion for Captain Ryan that he is a PADI certified dive instructor with over 400 recorded dives. Ryan is also known to whip up award-winning cocktails, having won Best Cocktail at the Fall VICL Yacht Show 2 years in a row!
Ryan and Dani are excited to deliver high-end vacations to their guests, offering friendly, personable service and professionalism that matches the luxury, comfort and accommodation of Stop Work Order. Over the course of the last 5 years they have sailed over 7,000 nautical miles spanning all the way to Grenada. Their passion for people, food, love of the water and sailing creates both an adventurous and a welcoming environment felt by all.
Ryan and Dani will be accompanied by a third crew member.
Chef: Dani Querry (36)
Chef Dani brings along an adventurous spirit that is bound to rub off on those around her. Also growing up in Ohio, she spent her time being very active whether it was playing softball, golfing, fishing or, most of all, being in or near the water. Her first trip to the Virgin Islands at age 17 made her realize that one day she would trade the ponds and lakes for the ocean. She made that trade in 2012 and has been immersing herself in the Caribbean culture ever since. For the last 4 years she has been the chef aboard her charter catamaran, honing her culinary skills and delighting her guests' taste buds with a wide range of cuisines. She has been professionally trained and holds a Certificate in Culinary Arts from Ashburton Chefs Academy, a CTH Level 2 Award in Culinary Skills, and an HABC Level 2 Award in Food Safety. She has also taken classes at the Culinary Institute of America. The passion that she has found in food continues to inspire new and creative dishes which led to her winning 2nd place in the dessert category at the annual VIPCA Yacht Show. Her attention to detail and great sense of humor leaves her guests well-fed and entertained! She is up for any challenges to create new and exciting meals that fit her guests' preferences and desires.
Dani has been professionally trained and has received the following awards:
Certificate in Culinary Arts from Ashburton Chefs Academy
CTH Level 2 Award in Culinary Skills
HABC Level 2 Award in Food Safety
First Mate: Jodi Jabas
Hailing from the great state of duck duck grey duck and hotdishes, Jodi was born and raised in Minnesota. Growing up, she could always be found adventuring outside and participating in sports. She played ice hockey in the winters throughout high school and could be found camping and hiking throughout the summers in the Boundary Waters.
Jodi has a degree in Environmental Studies and GIS. After a few years of working a desk job, she decided to move to the USVI and work on the water. She has spent the last 8 years working day charter work in the USVI and BVI.
Jodi gained her 50-ton Coast Guard Credential with a sailing endorsement in 2018. Whether Jodi is expanding her skills at the helm or helping guests, her energy is upbeat and infectious. She is looking forward to days filled with laughter and full sails!
Jodi loves swimming with sea turtles and exploring her Caribbean home. She is Padi Open Water Scuba certified and is excited about expanding her scuba skills and sharing her knowledge of the local reefs.
In her spare time, you can find Jodi hiking trails, swimming, gardening, working on house projects, sailing in local regattas and finding new craft beers to enjoy.
April 2022 Charter
Ryan, Dani, and Christian,
Therapy comes in many forms. You all provided the best type for us. You gave us the freedom to rest our weary hearts after a rough season for us.
Thank you for thinking of things before we could and meeting every need we might have had.
You are all inspiring making the choice live out your dreams and sharing your gifts with others.
Much Love, 
Michelle and Michael 
Ryan, Dani, and Christian,
This week has been amazing- fun- delicious- relaxing!
Your teamwork is second to none and we are so very glad that our paths have crossed. You've made this week of vacation so awesome!
Thank you for being an amazing team. We love you all and can't wait to do this again!
Thanks for the late nights,
Mark and Angela 
January 2022 Charter 
Dear Captain Ryan, Chef Dani
We accept the fact that we had to sacrifice a whole week aboard Justified Horizons for turning 50! But we think you're crazy to make us write an essay telling you who we think we are. What we found is that each one of us, in our moment, is a Pirate Daphne, a turtle, a failed Baywatch run, a Pirate Bluey, and that collectively our days are far better spent together. We are incredibly blessed and so grateful to have spent this 50th celebration week with you, surrounded by your TLC, this gorgeous boat, absolutely beautifully presented fantastic meals, an off the charts beach lunch set up, never ending RBV's, multiple daily sparkies, awesome theme night décor and each of your great individual wit. Thank you for absolutely everything. You guys truly rocked it!!
When I wrote our descriptions before the trip, I told you that you were going to love us. I hope as we disembark that you actually do, and that from here forward sparkies, Carl Wockner, and late night upper deck Seventh Heaven disco parties will always hold a special place in your hearts.
Love,
Martha and Scott 
Christine and Simon 
Heather and Mike 
Robyn and Kevin
January BVI 2022
You fit right in with the crowd and hopefully you had as much fun as we did! Wishing you health, love, laughter, and safe travels for the remainder of the season!
Love,
Joenne and Donnie
Thank you, thank you, thank you! Chef Dani rocks and who doesn't love a fellow softball player?! Diver Ryan, great dives and I loved all of the toys (especially the sea bobs)! We had a wonderful time…BEST VACATION EVER!
Love,
Kim and Kingsley
Ryan, Dani, and Christian,
I cannot express what a great week we have had…in large part to our AMAZING crew! To name a few top moments - our "living room" aka the truth pad, the game of the night, snorkeling, Shawn and Donnie "surfing", night swimming, sea bobbing, drink of the day, and dancing to Kimmers wedding song. Thank you for so many memories and for becoming part of our family!
OMG and for the BEST food in all of the USVI and beyond!
Love,
Shawn and Debbie
Ryan, Dani, and Christian,
WOW. What a perfect week! The food was delicious and the variety amazing. We could not pick a favorite because every day it got better. The first night pizza was over the top! Ryan, you aim to please everyone all of the time. Your patience and cool professional demeanor is exactly what every crew needs. Thank you for the best drinks every day! We love the fact that you became one of us. We are grateful that you put out the truth pad, the sea bobs, the e-foil, and boards daily. We feel blessed to have found the BEST OF THE BEST in the BVI's to the USVI's. We will be friends for life. Lastly, thank you for the first perfect dive!
Love,
Joan and Jared
November USVI 2021

Dear Ryan, Dani, and Christian,
Everything was wonderful – a first rate experience! An amazing charter!
All the best,
Ellen and Rog Acosta
To the best crew EVER! We have enjoyed our first time on a catamaran trip immensely. The boat is beautiful and very roomy. Food was spectacular. The three of you have made this the most comfortable, relaxing experience. We will definitely look forward to our next time on Justified Horizons!
Love, Jeff and Donna 
To the crew,
Thank you for the most memorable trip! Spectacular on all levels! BEST food of our lives! We can't wait for our next trip on this beautiful boat with all of you!
Love, Dave and Julie 
Dear Dani, Christian, and Ryan,
We can't thank you all enough for the most amazing trip! The food was off the charts! Best salmon, sea bass, shrimp, pork!! The snorkeling, sailing, swimming, and beaches were spectacular. Christians table settings were beautiful. It was a trip of a lifetime with great friends and crew.
Love, Donna and Kevin 
November USVI 2021
We were treated to a week long St. Thomas and St. John vacation that concludes tomorrow. Wonderful food, fabulous drinks and a plethora of memories after one of the craziest years any of us have experienced. We are, all of us, humbled and honored to have sailed with Captain Ryan, Chef Dani and First Mate Christian on this unforgettable trip.Reconnecting, being able to travel again as our big "found along the way" family has meant the world to us, and we've had an absolute blast here in one of the most beautiful places on earth.
Thank you guys,
Connie's Clan
November BVI 2021
Five nights in paradise aboard Justified Horizons just isn't enough! There are four of us - Nathan(14), Grace (11), plus mom and dad. Toyota brought us here as a group of individuaboats travelling together. Grace's favorite part was visiting The Baths. Nathan lived for riding the efoil and jumping from the Willy T. Mom and Dad enjoyed Jost Van Dyke fun in the sun. Weather was perfect, views were gorgeous, Chef Dani's food was 100% on point, and the crew made this a family favorite adventure. Thank you Captain Ryan, Chef Dani and First Mate Christian for welcoming us into your home. 
Wishing you health and happiness,
Lori, Shawn, Nathan and Grace D
November USVI 2021 
To say we are thankful for the crew is an understatement. Our Thanksgiving aboard Justified Horizons was amazing and beyond our expectations. Our family of 5 (Shane, Kim, Carter, Alyssa and Maya) enjoyed everything this yacht has to offer. Our days spent in the water with the sea scooters were definitely a highlight and the kids spent hours on the floating dock! Those are the memories that will last a lifetime. Chef Dani's cooking will be missed as we head back home. She went so far beyond to make sure all of us enjoyed everything and the kiddos loved the dishes. We could not be more thankful for our family time together and the laughs we had with all the crew.... Especially Christians games before dinner!!!

Love,
The Sizemore Family
Ammenities
Indoor audio system, iPod dock, TV saloon, Wi-Fi, Beach games, Floating mats, Kayaks multiple, Paddleboards multiple, Tube - towable, Wakeboard, Water skis - adult, Deck shower, Light fishing gear, Swim platform
Diving
Not Insured, Seabobs multiple, Snorkelling gear, Underwater still camera, Underwater video