Yacht for Charter
MARCATO
7822
141ft / 43M
| Builder: Hike Metal Works
| Year: 2006
---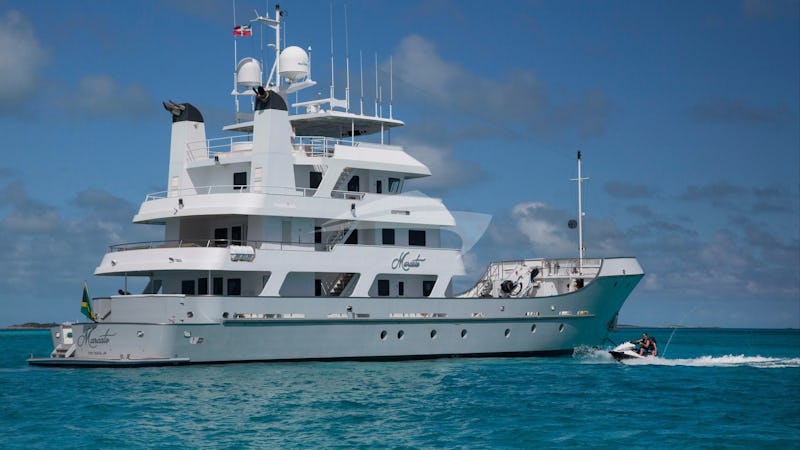 ---
Yacht Charter MARCATO By Hike Metal Works
MARCATO is an expedition yacht that offers a fantastic platform for having fun in the sun. Perfect for the active family she is now available in the Bahamas for exciting adventures both on and under the water. We can arrange for a world-renowned shark expert* to take you and your guests to experience shark tagging first hand in Bimini. Or perhaps you would like to add a Triton Submarine or two** to the toy list and experience the beauty of the Bahamas from another angle. As well as amazing deck space MARCATO features a stunning interior, with five large staterooms, a full bar, large dining table and a gym that can be converted into a massage/beauty room. Captain Jason and crew are excited to show you the ultimate vacation. Adventure awaits on MARCATO.
* Donation to Shark tagging charity – Inquire for more details


Cruising Speed
12kts (22kph)
Stabilisers
At anchor (0 speed)
Engines
2 x 3508B Caterpillar at 1000hp each
From:
$145,000
plus expenses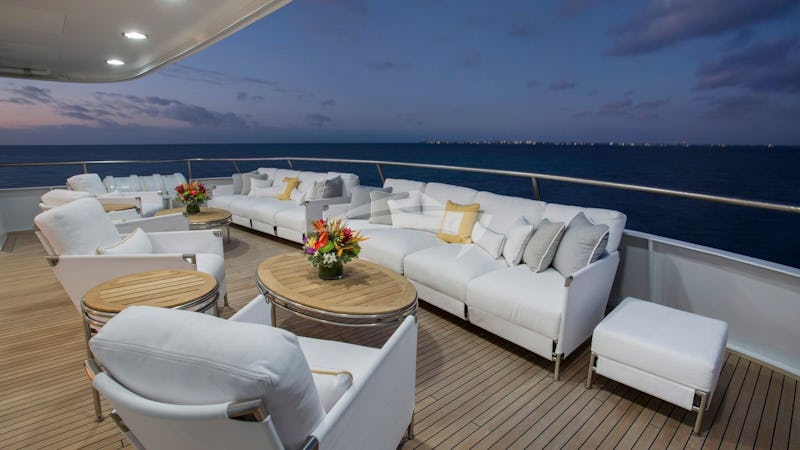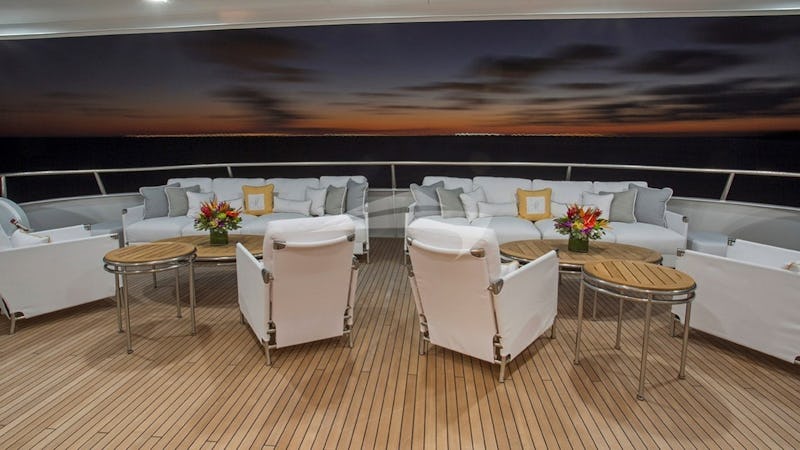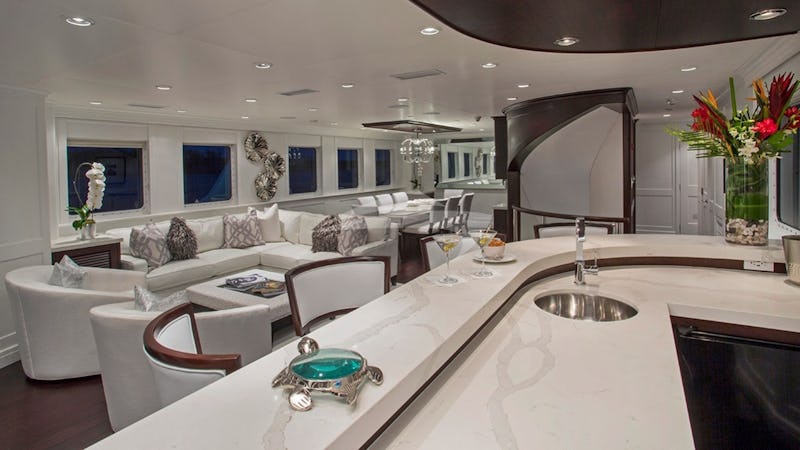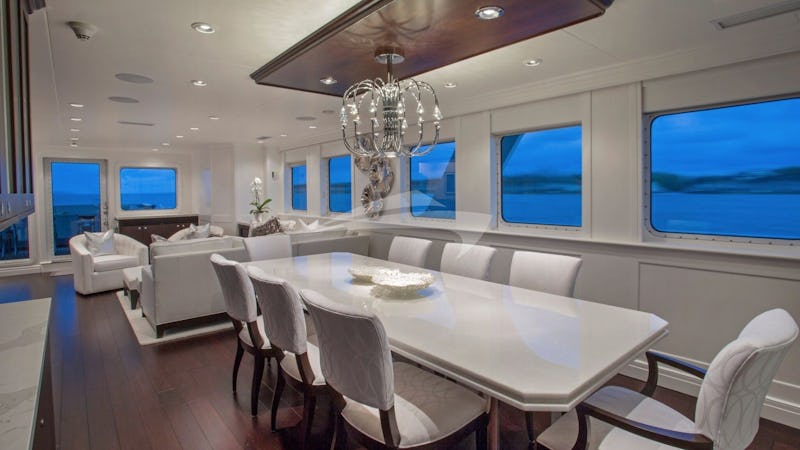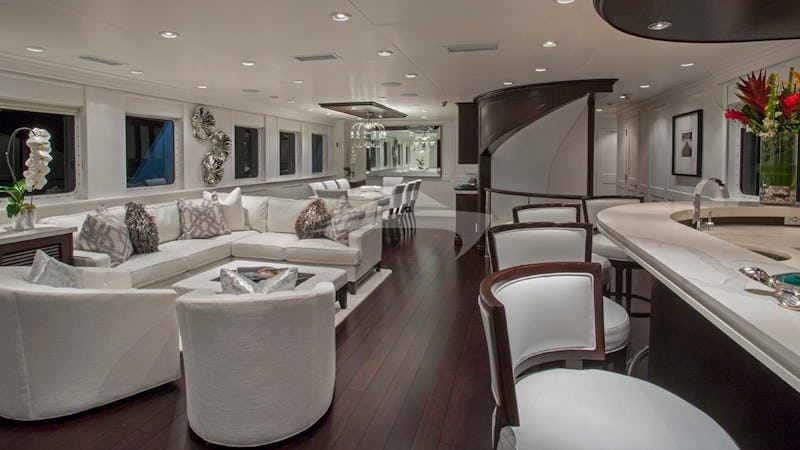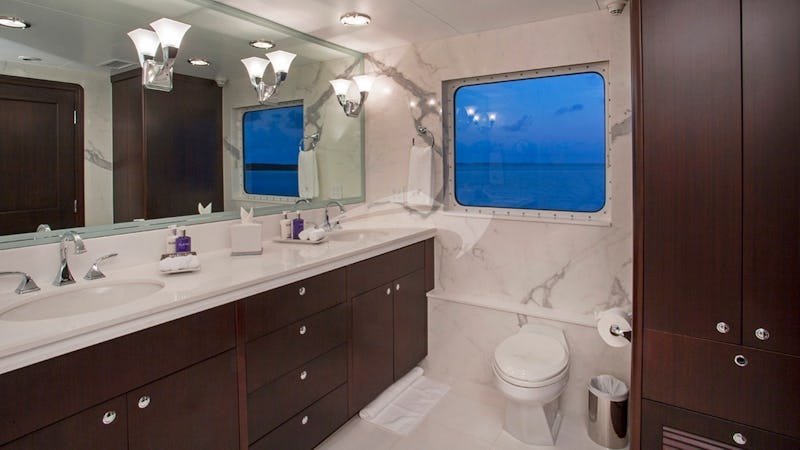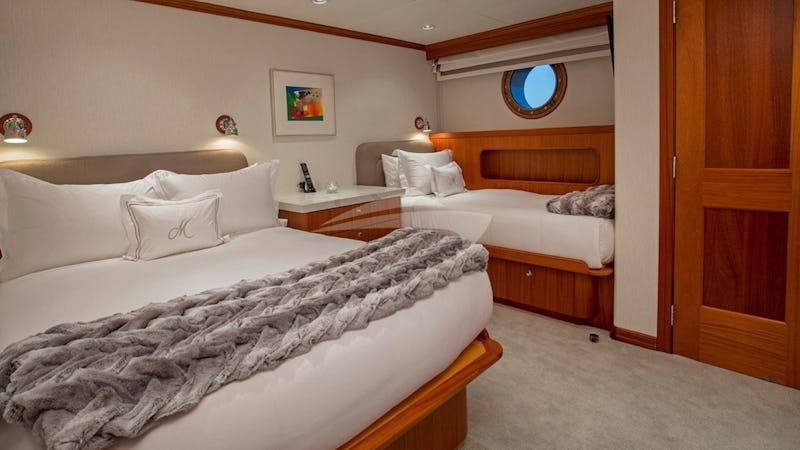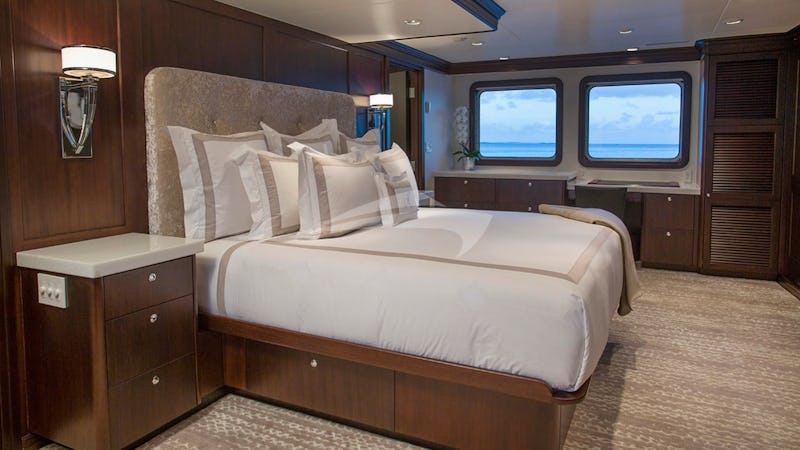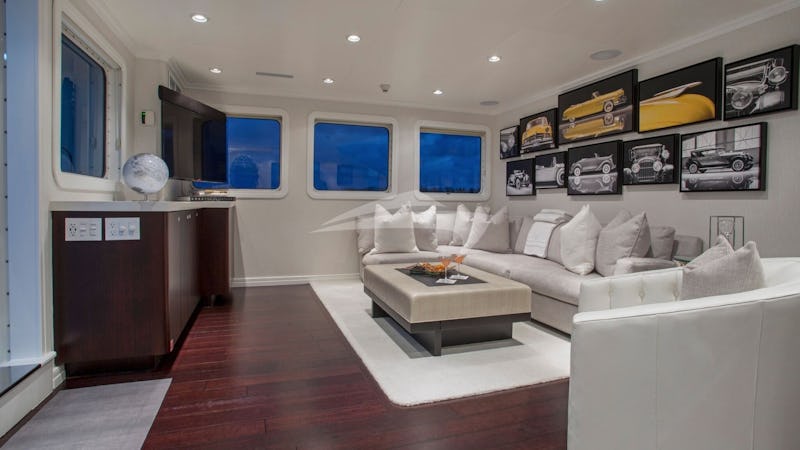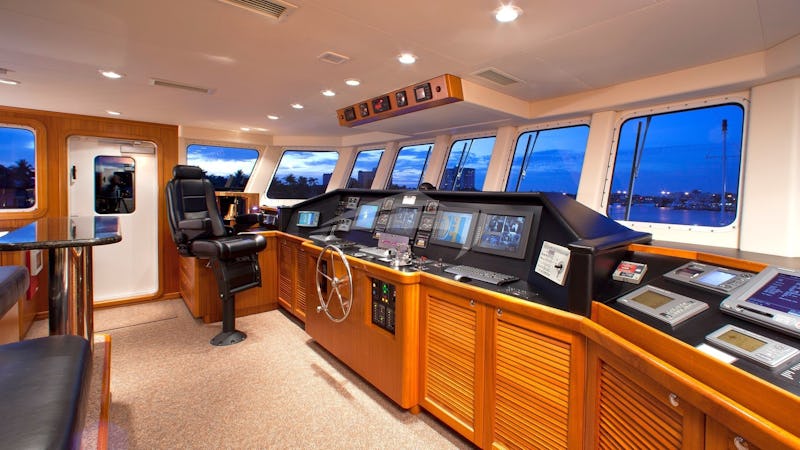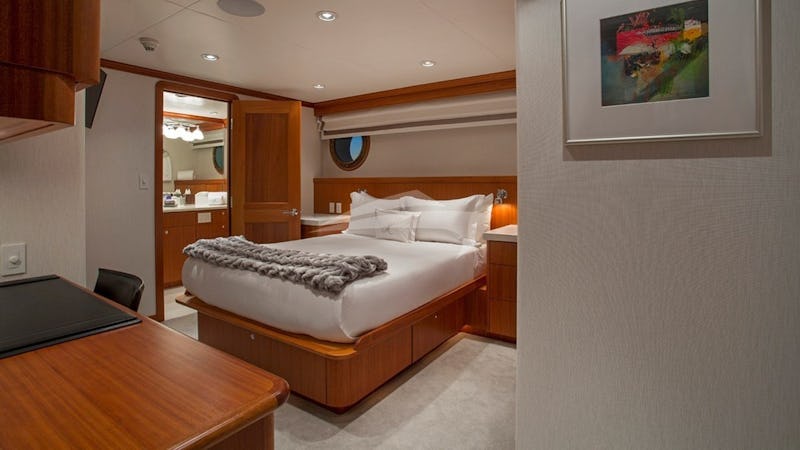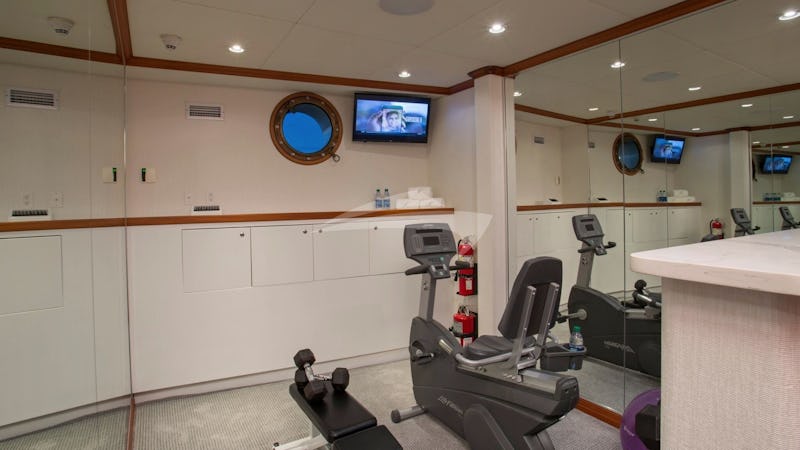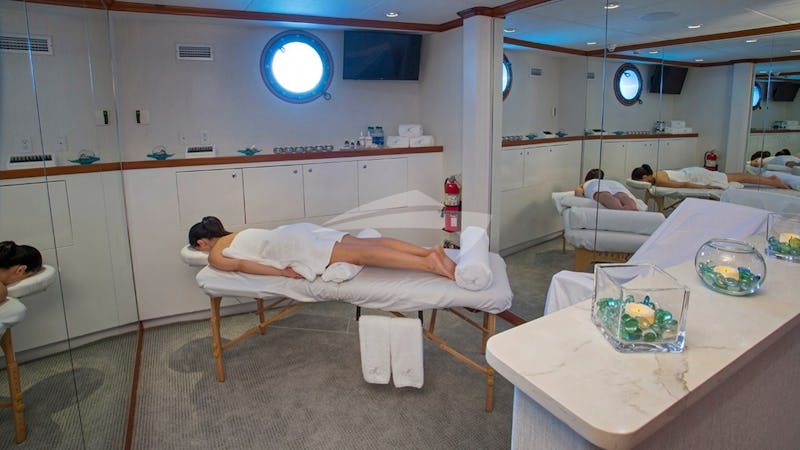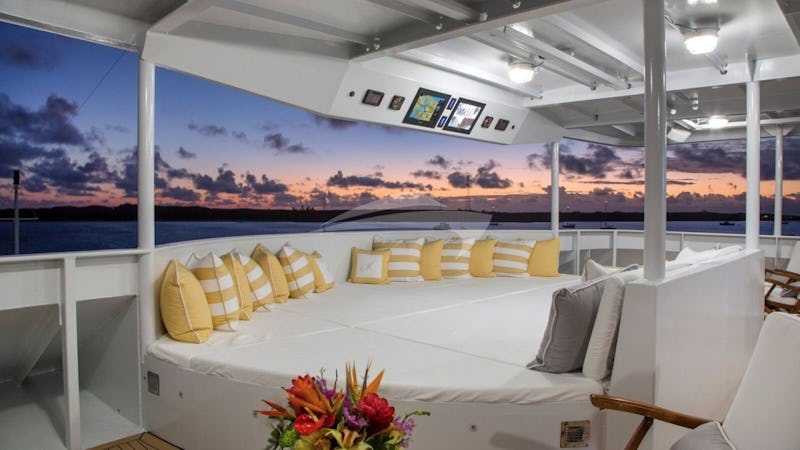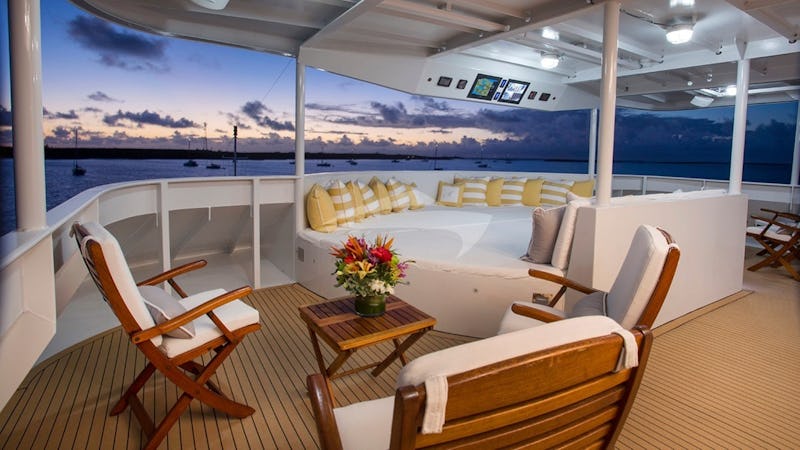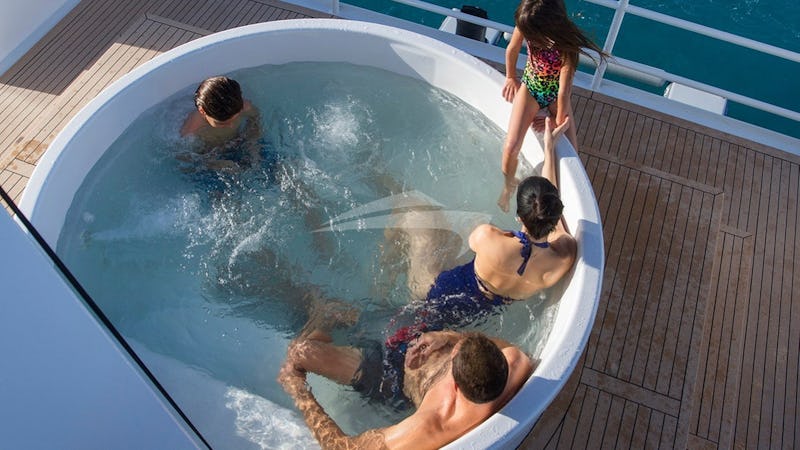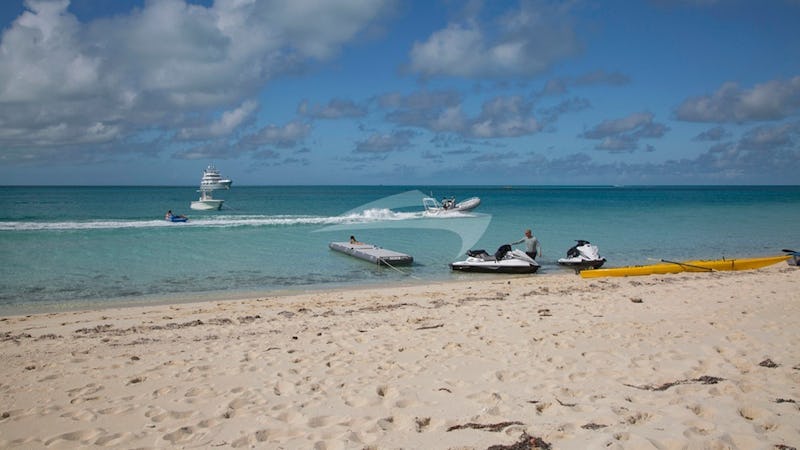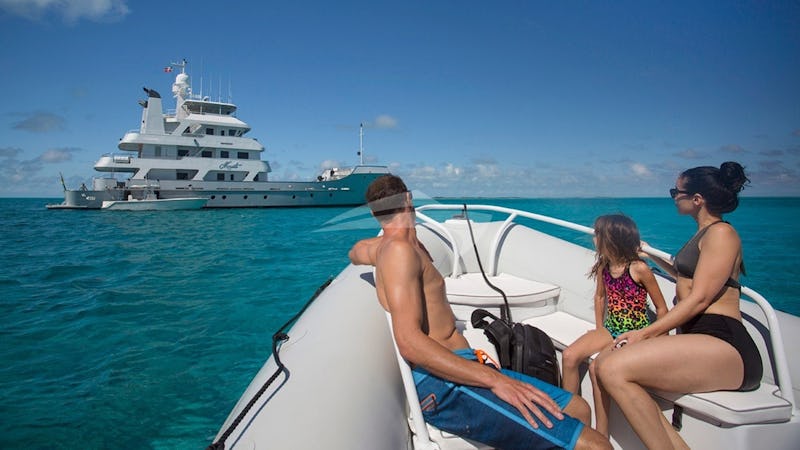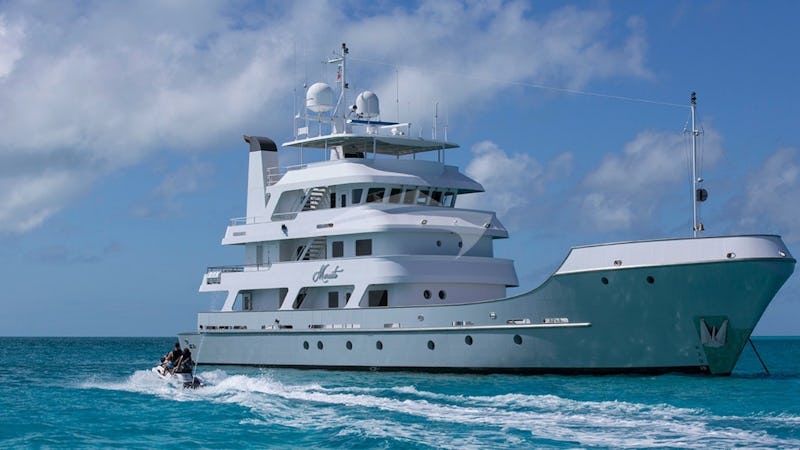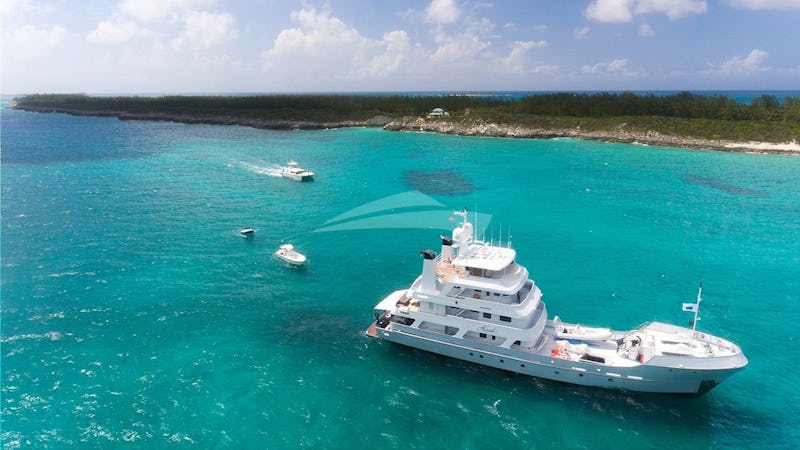 Contact Us For More Information
Captain: Jason Halvorsen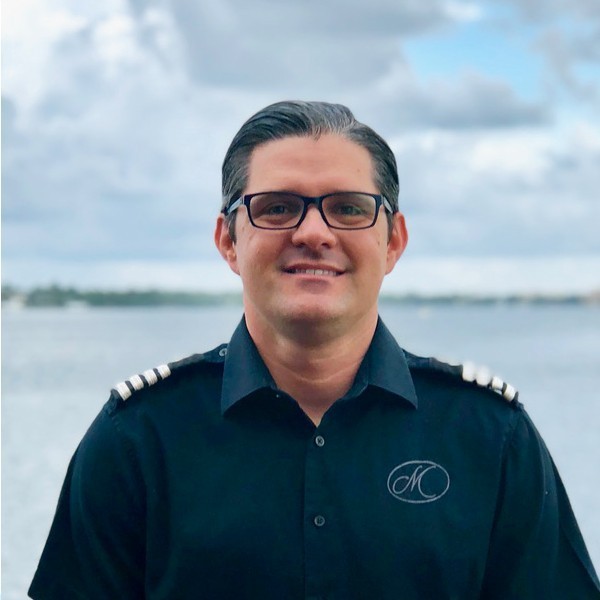 Captain Jason's passion for travel began at a very young age. Before he started kindergarten Jason had visited over 30 of the US
states with his parents. The family settled in Fort Lauderdale when he turned 5 which is where another passion began, one for
the ocean within the maritime community. Through Jason's high school education he attended Marine Tech School studies and
managed to complete a Marine Mechanics Degree whilst juggling his regular studies. Jason was working on yachts by 16, and
earned his first Captains license at 19. Jason started his career on commercial charter and sight seeing boats, and by 21 was the 1st
Mate/ 2nd Captain of a 500 passenger commercial boat in New York City. During his young and busy career Jason owned a yacht
management company, has been captain on private and charter yachts, commercially towed, and has also been a salvage master
(where he narrowly avoided the local alligators while spending 45 days as master salvage diver in Louisiana after Hurricane Katrina!).
In his time off the water, Jason enjoys traveling with his wife and young daughter, and continues traveling throughout the US and
Europe as often as his busy schedule allows. At home in the US, Jason enjoys customizing and restoring old cars and motor cycles
(he has built 2 custom Harleys and restored a 1976 Ford F100) but his biggest passion of all is food: cooking it, eating it and traveling
to restaurants to eat and learn new techniques. After a resent Shark Tagging Expedition onboard M/Y Marcato, Jason has taken on
a roll as Maritime Advisor for a Non-profit Marine Scientific Organization.
Jason's diverse experiences and interests inside and out of the yachting industry makes him a friendly, versatile, and dynamic
member of the crew aboard M/Y Marcato. Captain Jason aspires to give all guests on board an exceptional experience, so please
feel free to let him know any other way we can make your vacation with us truly unforgettable or just to have a good old chat..
another of Captain Jason's hobbies and one he's rather good at!
Chief Officer: Adam Paul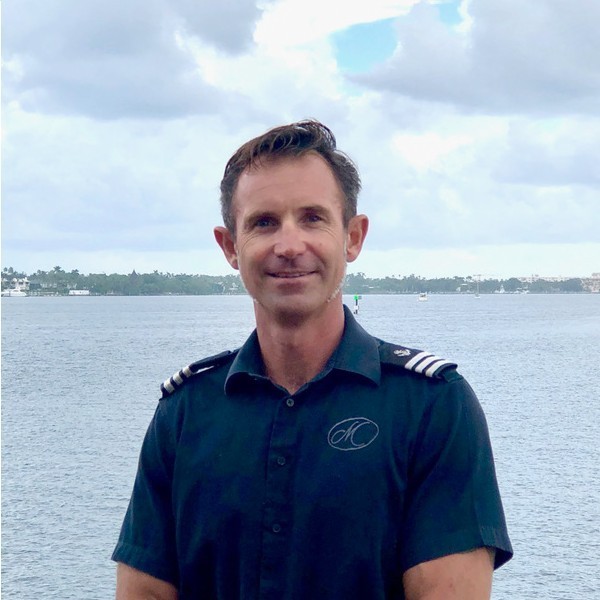 Adam is originally from Australia and since he joined the yachting industry in 1999 he has logged up some considerable sea miles,
working himself up the career ladder from deckhand to Chief Officer and gaining valuable experience on yachts such as MY Just
Enough (140' Broward) and MY Relentless (110' Kingship). Adam has the qualifications of 200 ton Yachtmaster Offshore he is also a
Naui Open Water Diver. Sportive and dynamic Adam loves fitness, diving, wakeboarding and of course travel!
Deck Hand: Reilly Strand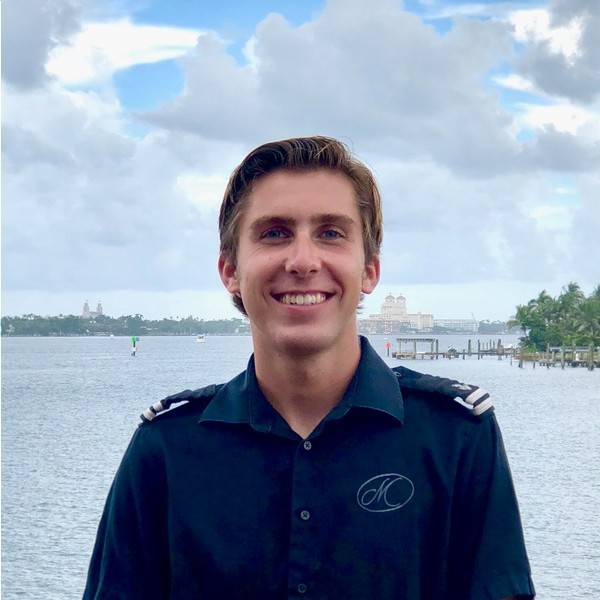 Reilly was introduced to the yachting industry in the Summer of 2015 and is proud of the experience he has gained so far working
on-board yachts such as MY Party Girl (146' Christensen) and MY Grand Marina (144' Benetti). A keen team player, Reilly loves sport
and in particular diving, also swimming and paddle boarding, hiking and cycling. Joining the MY Marcato in 2017 he is thriving on
all that the yacht has to offer.
Engineer: Anthony Lamb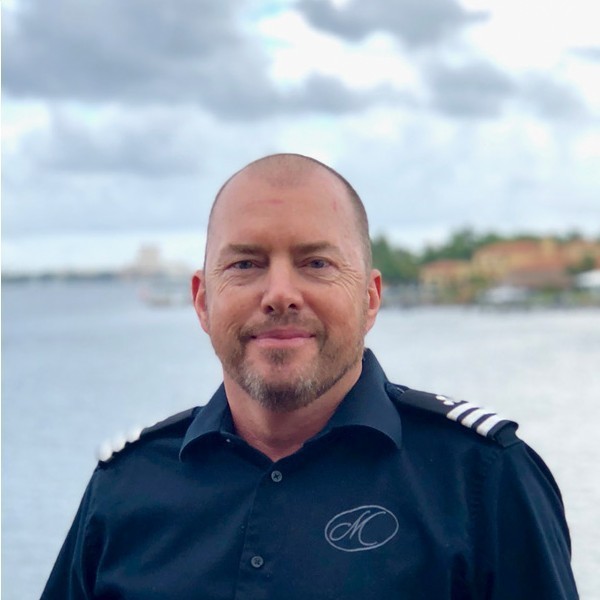 Originally from Auckland, the present home of the America's Cup, Anthony is not only an experienced Chief Engineer, but he is also
a well-rounded crew member, having both a sailing and motor yacht back ground. Since 1999, Anthony has gained many years of
experience at sea and has worked on various private and charter vessels. Away from the ocean, Anthony interests include aviation
and architecture.
Chef: Craig Kovalsky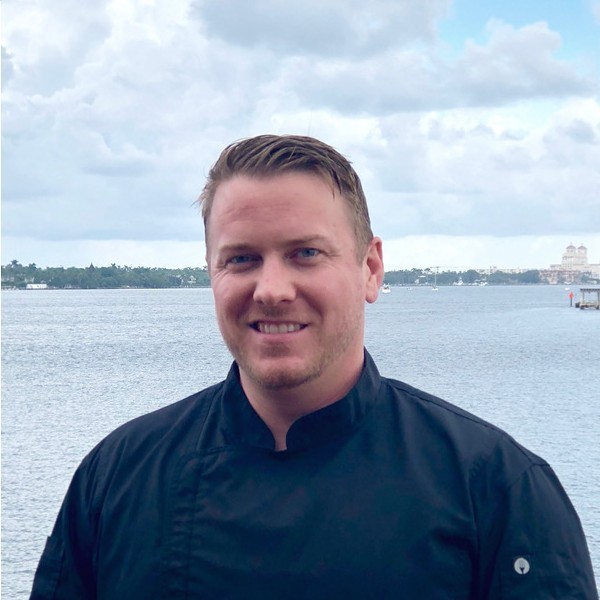 Craig was born and raised in New York where he attended the French Culinary Institute and worked in Restaurants for 10 years.
A love for Sailing and passion for Cooking bought Craig to the industry. As he says "If you find a job you are passionate about,
you'll never work a day in your life." An accomplished culinary trained Professional with over 10 years experience working in highend
Restaurants and specializing in farm-to-table Cuisine. Craig is a firm believer in 'clean eating' and loves to incorporate local
ingredients and flavors into all his creations. He loves to work with guests who challenge his creativity and allow him to show the full
spectrum of his abilities. In the time Craig has spent in yachting he has gone as far south as St. Lucia travelling all over Caribbean
including a stop in Cuba before heading North up to Greenland to find Icebergs and Humpback Whales before heading to the
Mediterranean sea. In Craig's spare time, he likes to keep busy by Wake-Boarding, Cycling, and working on Automotive. Craig is a
well-travelled Sailor with a love for the sea and a thirst for more.
Chief Stew: Kate-Lynne Shaw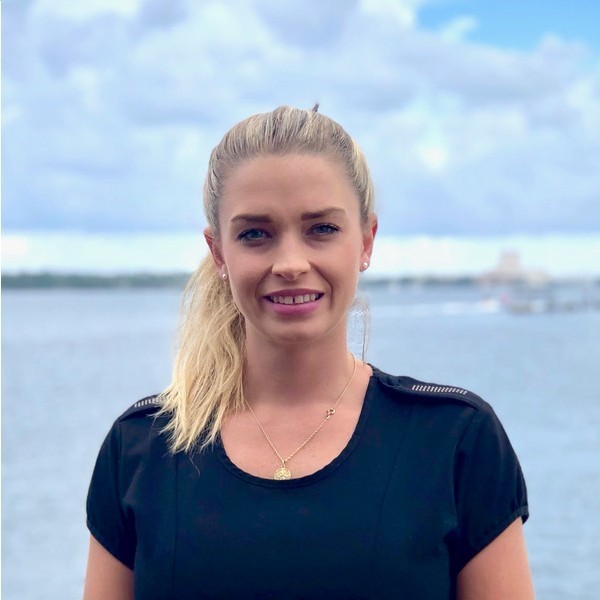 Kate-lynne grew up in a small town called Pietermaritzburg, South Africa. After finishing High School - she completed a degree in
Financial Management and worked as a Para-planner for 3 years before growing tired of the daily Office grind and pursued her
passion for traveling which lead her to the Yachting Industry. The last 4 years has allowed her to explore Bahamas, Caribbean,
Central America and the North Coast of the States extensively. She worked on M/Y Carpe Diem II, M/Y Kiss The Sky, M/Y Amarula
Sun, M/Y Lady J. Kate-lynne is exceptionally proud to be a part of M/Y Marcato and she thoroughly hopes that you have nothing
but endless happy memories onboard.
2nd Stewardess: Rikki Michan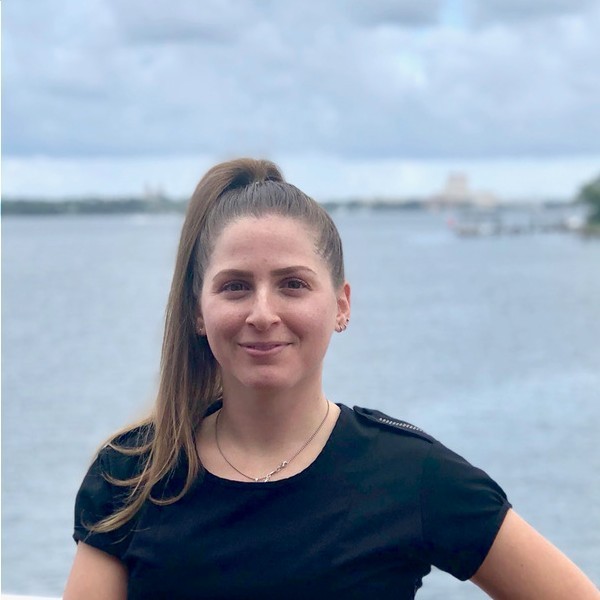 Rikki was born and raised in Fort Lauderdale, Florida. Yachting seemed to naturally fall into place after Rikki struggled to fit the
confines of a 'typical' career path. A strong background in Hospitality, Sales and Administration combined with her restless desire to
see the unknown led her to exactly where she was meant to be – Yachting! In her free time, Rikki enjoys Rock Climbing, Backcountry
Camping, Hiking, Yoga, Paddle boarding and Photography. Rikki looks forward to contributing to the guests memorable
experiences, with tailored service specific to their wants and needs. She wishes your stay on Marcato to be a happy one!
We had a great trip from Key West to Havana in June. Onboard were Newporters Karen Kelly Shea, Ann Souder, Halsey Fulton, Pearl Macek and the owners. At 141' we were a snug fit in Marina Hemingway where we showed a 17' depth all the way in. Customs and Immigration were courteous and efficient and the marina staff was welcoming, as always.  The view from the sundeck is extraordinary - 5 decks above the waterline! Onboard we received some of our business partners for meetings and this vessel was the perfect venue. The high ceilings and extra large cabins on MARCATO give it a unique feeling of spaciousness. Can't wait to join the vessel on its expeditions to the more remote areas of the Cuban coast.
Paul Madden
Ammenities
Wi-Fi, 32ft/9.8m Sea Vee, 23ft/7m Nautica, Assorted water toys, Inflatable floating island, Kayaks multiple, Paddleboard, Tube - towable, Wakeboard, Water skis - adult, Wave runners multiple (sitdown), BBQ, Exercise equipment, Fishing gear - light, Jacuzzi in master cabin, Jacuzzi on deck, Scooters, Sun cushions, Sun loungers, Swim platform, Water maker
Diving
Not Insured, Diving if certified, Snorkelling gear