Yacht for Charter
MATAU
4144
75ft / 22.9M
| Builder: Privilege Yard
| Year: 2006
---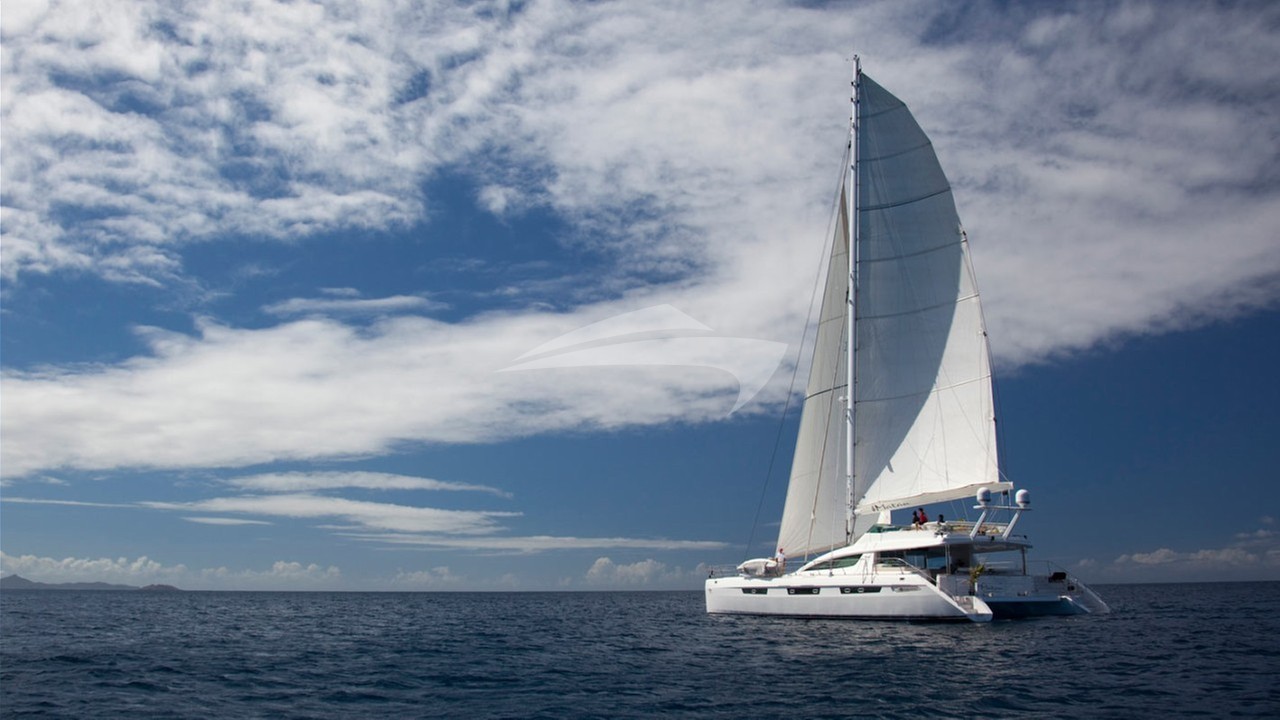 ---
Yacht Charter MATAU By Privilege Yard
Cruising Speed
8.6kts (16kph)
Engines
2 x Diesel 315 HP
Locations
West Coast United States
From:
$39,000
plus expenses
Contact Us For More Information
MATAU accommodates 6 guests in 1 king master and 2 queen en suite cabins. 8 guests con be accommodated only with crew consultation.
The master cabin features a king size bed with a large en suite head w/ jacuzzi tub & separate shower.
Three guest cabins each have one queen bed and en suite head w/separate stall showers.
MATAU is fully air conditioned through out.

Captain: Howard Langton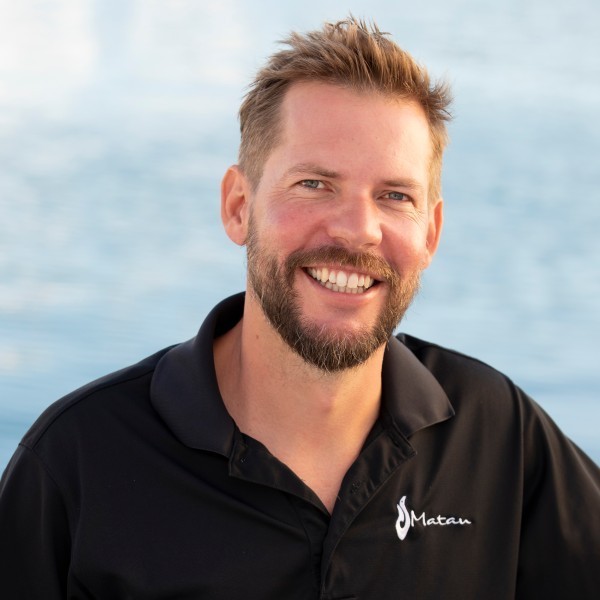 A highly skilled and competent yacht captain and engineer with an extensive maritime career sailing throughout the Mediterranean, Caribbean, Pacific, Atlantic, Indian ocean, Tasman and the Great Southern Ocean. Very versatile and good humoured, Howard is adept at handling a variety of situations, from the simple to the most challenging ones. He is also very eager and committed to a high standard of excellence, putting in every effort to ensure that each moment spent on board is flawless and exceeds his guests' greatest expectations. Passionate about the history of sailing, Howard has sailed on Square Rig Tall Ships, as well as racing modern sloops, cats and ketches. He has a Law degree, climbed Kota Kinabalu and won a Mia Tai boxing match. Proud to be at the helm, Captain Howard is a jack of all trades and the Master of Matau
Stewardess: Sasha Kadun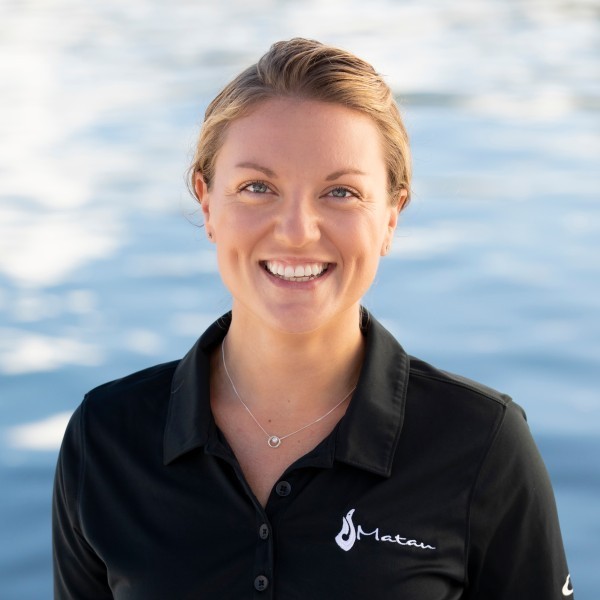 Sasha grew up in Canada on the West Coast and discovered from an early age that exploring and being near the water is what makes her happy. She finds the ocean to be a place where calm and chaos work so perfectly in unison. Having always traveled with her family - whether camping local or visiting Mexico, she realized she wanted to explore the world. Therefore, the decision to move abroad 8 years ago wasn't a hard one. With a solid background in high end hospitality and working as an executive assistant, she moved to Belgium with her best friend and managed a cafe that allowed her to explore other parts of Europe in her time off. She then moved on to live in the Cayman Islands, as well as spending a year backpacking in South America. She has a passion for health and fitness and is a certified Yoga Instructor. She began her yachting career on large Luxury motor yachts before she joined the life of the sailing boats and has not looked back. Always radiant and cheerful, she will delight you with her laughter and her incredible service. Sasha looks forward to welcoming guests with a tasty cocktail on arrival and an unforgettable sailing experience.
Christmas-New Years 2021-2022 - St. Martin / St. St. Barths
"We had an absolutely wonderful trip. Howard, Sasha and crew were outstanding and the boat was wonderful. Could not have asked for more.  Thank you! Thank you! And Thank you!"

- Private Canadian Family charter
2017
The trip was fantastic.  Marques, Teal and the crew were outstanding and we would recommend them and the Matau to others.  We are pleased that we did the full week on the boat after all the hassles.  Itinerary was just right with lots of activity and beautiful scenery.  
Warm Regards,
Tim
August 14-19, 2017
We were struck by how warm, hardworking and kind Marcus and Teal are. We loved all the water activities with the surfing lessons and shark dives being the highlights. Our two daughters and Missy learned to surf! They did realize they could have used more time to experience more culture. Food, cabins and service were all outstanding.

Jon and Missy Doyle
December 20 – 27, 2014.  Virgin Islands, 6 guests 
 
I'd like to say that not only is Matau a gorgeous boat, but the crew was truly extraordinary. I honestly cannot imagine a better crew...
My additional feedback would be: Debbie was an exceptional cook - the food was fantastic, and quite original, and even pretty healthy! Marques was an excellent captain - a great guy who clearly knows what he's doing and takes the responsibilities of being captain seriously... Ben was a great first mate, and a good guy...and Teal was, how can I say this, beyond exceptional. She made every aspect of the trip better, from her "cocktail of the day" to her amazing way of setting the table to her genuine friendliness - she's better at her job than anyone could be expected to be! And such a lovely young woman....
We didn't think last year's crew could be topped, but I have to say this crew was amazing...
All best,
David
 

Mar 17 - 28, 2014   St. Lucia to St George's, Grenada  6 guests

To the broker - - -
 
I just wanted to share my thoughts with you, on this past charter we just finished on Matau!  It was beyond my wildest expectation!  As you know, we are not always the easiest clients to make happy because we have sailed so much in our lives!  With this said, this crew surpassed my expectations and has raised the bar very high for any future crews we may encounter. 
 
The only way for me to describe this past crew/trip is to really go down the line of crew members and tell you what impressed me the most! 
 
1. Captain Marques, 
 
The only place I know where to begin listing all of his attributes is to start with his very easy going and genuine personality.  He loves people, sailing & the job of playing host to all aboard.  I can't even begin to tell you what a natural fit he is for this job of captain on Matau!  We all felt comfortable asking for anything or just questions we had every day as they came up. He has a charm about him that makes you want to hear his stories and adventures in sailing.  We all loved that he would sit and be one of the group during coffee hour and cocktail hour!  During the week we had some strange stuff arise and he handled it like a perfect gentleman and did exactly what I hoped he would do with everything that was thrown at him!  He handled it all with grace and style, along with some laughs which I appreciated greatly!
 
We also loved that he took pictures of our group throughout the week and gave us a slide show of some of the super funny ones at the end.  It was a great way to end our vacation.
 
2. Brian Manning, 1st Mate
 
Brian is amazing.   He is everything you see or have heard of in regards to personal service on giant motor yachts.   He pays so much attention to everyone and literally he is always looking or thinking what you're going to do or need next!!  Where ever he is on the boat, he is always watching anyone that is close proximity to him and looking for ways to make them more comfortable.  If you dive into the water he is always keeping an eye on your safety and setting your towel out for when you get out.  If it is cocktail hour he is helping Teal pour drinks and move chairs to sit on the back watching the sun set.  He swims right beside the weaker swimmers and just makes everyone feel pampered, safe and comfortable.  He even had to get up in the middle of the night for something and he did it with a smile.  He is such an asset to this crew and to guests. I am praying he never leaves Matau ever!!!! 
 
3. Teal, Stewardess
 
Many days I often thought that Teal has the hardest job on Matau.  She gets up the earliest and is the last to bed!  She takes so much pride in her job.  She wants everything to be perfect.  From table settings to your cabin and its cleanliness.  Her job is physically endless and on many days thankless, I made sure she knew how much we appreciated everything she did because she works so unbelievably hard!  She is your server, table decorator, cabin steward, butler, and basically Mom to everyone.  She and Marques make an incredible team together!!!  I admire her stamina, hard work and attention to every detail and guest on board!
 
4. Ashley, Chef
 
Ashley is not a permanent crew member on Matau but she worked very hard on each and every single meal during our trip.  She made everything healthy, unique and aesthetically appetizing!   Nothing was ever boring or routine.  She could make eggs in a way that you had never seen them or thought you would ever like them.  She could make boring oatmeal creative and fun!!!  She is a great chef and I hope more Matau guests get to enjoy her cooking style.  The type of meals was just as I asked, "healthy," and even our friends who aren't the healthiest eaters loved her food!  That is a hard challenge to accomplish! 
 
This crew is so wonderful and amazing that it has made me want to sail a new area with them at a time when we usually do not do sailing trips.  This is how much I hold this crew in high regard!
 
 
Posted on CI and CYA,  3/31/2014  
 
Catamaran MATAU, 75' Privilege – More rave reviews! 
Capt. Marques, Teal, Brian and Ashley surpassed my expectations and raised the bar very high for any future crews we may encounter.  MATAU's crew is so wonderful and amazing that it has made me want to sail a new area with them at a time when we usually do not do sailing trips.  
 
 

Feb 23 – Mar 2, 2014, 7 guests, BVI

Broker:  Thank you all very much......I have never seen better comments!  

From the guests:
Yacht Matau-
From the moment the four crew met us off the taxi I thought, 'This is looking good'.
What followed from that point was a holiday of a lifetime.  Matau was perfect in every way with a perfect crew. The food was outstanding and well above the standards expected in a five star hotel. 
I have been travelling internationally for thirty years now and have stayed in many of the world's top hotels both on vacation and business.  I cannot recall anything as good as this!


Dec 13 - 16, 2013. Antigua to St. Martin
We just returned to FLL after a fantastic weekend onboard Matau.
The crew were great and we loved the ride. Certainly got our sailing catamaran fix. Jim and Marcy loved it.
Thank you for putting it all together for us

New Year's 2013

Our family just returned home from our cruise on Matau. We had a perfect week over New Year's and could not have asked for more. The crew was so delightful and accommodating. Capt. Drew made us feel so welcome and was so knowledgeable. He always had bits of island information for us. Nothing was too much to ask of Drew and the crew. They were always willing to do one more wake board run, or one more snorkel trip. Drew was great with our granddaughters ages 10 and 8.

Brian was such a hard worker - always there to help us. He works so well with the others. The one thing I noticed about the crew was they were always there when we needed them but never in our way. Nothing was too much to ask of Brian -- our granddaughters loved him and he was always making them laugh.

Susannah - what a delight. So pleasant, so knowledgeable about the BVI's. She kept the boat spotless, always coming up with wonderful table settings but best of all she planned great activities for our granddaughters from doing a message in a bottle to arts and crafts. She was always there to get us anything we needed.

And last but not least Rob -- what a fabulous chef and all around great guy. He was so good with the children always making them laugh over something funny he would do. We dined like Kings for 7 days. Our son-in-law is a vegetarian and Rob fixed him a separate meal at every meal and always came up with fabulous recipes.

One day we had Pirate Day and the crew came running out with swords flying and pirate costumes to frighten us. Then our granddaughters dressed up in the costumes and it was hysterical and made for great picture taking. We always had beautiful spots to anchor with great snorkeling.

I hope you can forward this email on to the owners so they too will know what a fabulous crew they have. If anyone ever wants a recommendation for Matau, please don't hesitate to have them contact us.

Kate and Jim, Jenny and Michael, Emily and Erin
Here is a poem that the guests wrote this week. 

"An Ode to the crew"

We didn't know what was in store

Until we left Tortola's shore

Then gleaming in the warm sunlight
We saw MATAU pristine and white

The crew met us with open arms
And showed us all of MATAU's charms

Captain Virginia, an expert true
Shared the rules from doors to loo

Her expertise stretches wide and far
From sailing, hiking, around the bar

Jamie's here to man the sails
Work the motors, pirate and tell tall tales

Merrin starts well before seven
To keep all ship shape and the kids in heaven

Robin's brogue describes each bite
Breads, desserts, it's all just right

From snorkeling, the parade of hats
Pirate treasures, geo-cache

This trip of a lifetime has been perfect and true
Thanks to the care of our devoted crew

We'll remember this all with photos galore
And bring home a love for the BVI, sea to shore.

February 2011  Caribbean

We enjoyed a truly once in a lifetime experience aboard the Matau … the incredible experience that was provided to us by Virginia and her amazing crew.  Their attention to detail both in terms of the care and operation of the yacht, and for our total experience was truly over the top. 

We formed lasting friendships and have permanent memories that are truly indescribable.  Should we ever choose to relive this wonderful time, it would have to be aboard the Matau and without a doubt, with Virginia and her incredible team.  I'll be recommending the Matau and Virginia to a few select friends of mine who can fully appreciate what we experienced. 

- November 2010 charter


Hello Joanne and Virginia,

I wanted to share the lovely feedback letter I received from the Wesson group who just got home from Grenadines onboard MATAU.

Thanks to ALL for assisting in making this a wonderfully successful charter.  Special thanks to the owner for making it easy for me to sell them the week of the Tortola Boat Show! 

Good Morning Sharon,

We returned from our trip aboard the Matua Saturday evening.  I cannot express the experience our group of eight had on this yacht.  From the catamara to the crew.....we were met with the utmost in hospitality, quality of service, beauty of the ship, etc .  Our expectations were far exceeded in every aspect.  The grace in which the Matua sailed the Caribbean waters, the professionalism and courteous nature of the crew I do not believe could be matched anywhere.  The pride the crew showed for the Matau, the pride in which executed their jobs each and every day was evident throughout our trip.  The food and the presentation of the meals three times a day far surpassed any five star restaurant I have ever had the pleasure of dining in.  Each meal was carefully planned with all of us in mind and the tables were decorated differently each meal with elegance.  Again, words cannot describe adequately the experience we had.  Attention was paid to every detail and many details were added that we would have never thought of that only added to our experience.

St. Vincent and the Grenadines is now my favorite place in the Caribbean.  I have travelled the Caribbean extensively and have seen almost every island and group of islands.  I cannot wait to return and have more time to explore this beautiful and untouched part of the world.  The of this area are rich and vivid.  The people of St. Vincent are gracious, accommodating, and very kind.

Captain Virginia asked me how I found you.  I told her that I had searched the internet extensively and was working with three different charter companies looking for the perfect boat.  I also told her that you were the only person who took a special and personal interest in trying to help me secure the Matua for this charter as she was scheduled to be a part of the Tortola Yacht Charter Boat Show.  It was with your determination and persistence that the owner of the Matua agreed to pull out of the show and accommodate us.  I know it was meant to be for us to experience the trip of a lifetime aboard this beautiful boat.  Any other boat would have left us with a lesser than feeling.  We are already looking at when we can charter this beauty again.  Captain Virginia also passed along to me how impressed she was with you, constant communication and it was a joy working with you from her end as she had never worked with you before.  Job well done! 

Thank you for your assistance and your part in helping us charter the perfect trip and memories of a lifetime!  I will forward pictures in a separate email...we took over 2400 pictures.  

Patsy 

I hope that we can all work together again very soon.

Best Regards,


CLIENT COMMENT ON MATAU CHARTER, 2010

In regard to MATAU and the crew we couldn't have asked for a better combination. The Catamaran was very spacious with great outdoor space and well appointed indoor spaces. Everyone had the opportunity to either find their own place to read and relax or be part of the group singing and having fun. There were also several spots for dining and that was nice to be able to change the venue. We are an active family and MATAU had all the water sports equipment we could ever need and more.

The real point of differentiation was the crew. All I can say is Wow! They were unbelievable and so much fun to be with. The service was five star from the time we stepped on the boat until we left. Virginia and her crew always had options for us each day depending how we felt. She organized hikes, amazing snorkeling trips, water skiing, tubing and always found beautiful spots to anchor and spend the night. Chris, the Chef was simply amazing. Each meal was a much anticipated treat that we all looked forward to and appreciated greatly. Alice was so attentive to all of our needs and our kids really enjoyed her. Jamie made the trip so special as he took us on some great adventures and educated us on the islands, fish, history etc. He was always there to take us where we wanted to go and had fun doing it. I can't say enough about the experience but when I asked each of our family members if they would like to charter MATAU again or try another yacht, each person said, "MATAU with the same crew." I think that says it all.

Caribbean March 2010


"Words cannot express how much we enjoyed this trip. All future vacations will pale in comparison. The crew was beyond polite, cordial and capable. They were professional and courteous… Virginia is a consummate master: never have I felt safer than in her capable hands. Jamie is such a pro… he kept everything running smoothly! … went out of his way to make our snorkeling / kayaking experience truly special. Very attentive and looked after us nicely. Chris is such a talent … food was innovative, fresh, almost all from scratch, never the same thing twice… I found myself writing down every meal so I could remember. I was and remain incredibly impressed. Alice … was 100% attentive even when her attentions were invisible … leave your cabin for five minutes … return and your bed is made and bathroom clean! Her charm and personality were such a complement to every other aspect of this dream vacation. (MATAU was) clean, attractive, comfortable. I only wish we could have extended our trip."

March 2010 charter:


Follow-up broker emai: Obviously they had a fabulous time thanks to Captain Virginia and her crew. I always know that when I put my clients in her capable hands, I am confident they will be well taken care of and they always are.
Please thank Virginia and her crew for another superb charter!!!

February 2010

We had a marvelous time! The crew was fantastic and Andrea's cooking was superb! We had so much fun. Weather was perfect till the last day but that was OK not much of a problem. We would travel with that crew anywhere! Thank You so much for hooking us up and working it out.

February 2009 charter guests


 "Bottom line - we had a great time on the boat and would be interested in another sail in the future."

"We were extremely fortunate to land the crew of the MATAU. They were incredibly hard-working, fed us superb food (and we've been eating at some posh places in Paris the last 6 months) and they were just plain fun to be around."

"The boat is of course in excellent shape and the only hassle was the lack of Internet access (in Croatia). Other than that, the trip truly exceeded our expectations."

Three couples, July 12-19, 2008. Kotor, Montenegro to Dubrovnik, Croatia.
.
.
.
Ammenities
CD library, Cell phone, Cinema, DVD library, DVD player saloon, Games console, Indoor audio system, iPod dock, Satellite phone, Wi-Fi, 15ft/4.8m Highfield 70hp, Kayak, Paddleboards multiple, Tube - towable, Wakeboard, Water skis - adult, Water skis - child, BBQ, Deck shower, Light fishing gear, Jacuzzi in master cabin, Swim platform
Diving
Not Insured, Diving by arrangement, Diving lights, Snorkelling gear