Yacht for Charter
MOBY DICK
5371
65ft / 19.8M
| Builder: Fountaine Pajot
| Year: 2009
---
---
Yacht Charter MOBY DICK By Fountaine Pajot
Designer
BERRET-RACOUPEAU
Cruising Speed
10kts (18kph)
Engines
2 x 180 HP VOLVO ENGINES
Locations
West Mediterranean
From:
$28,303
plus expenses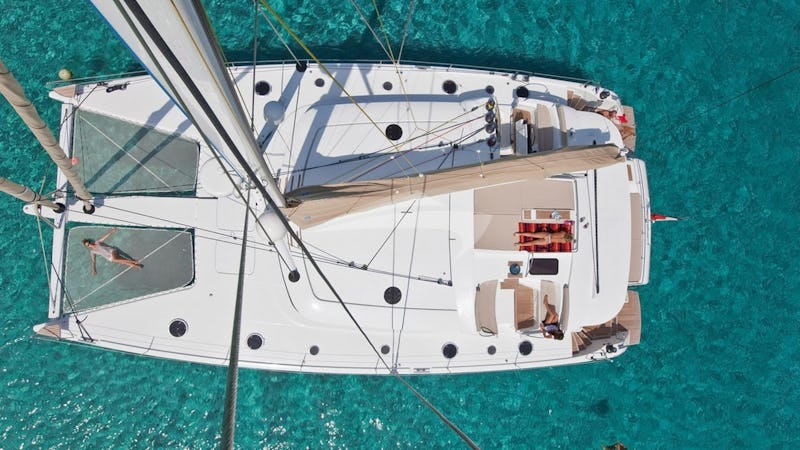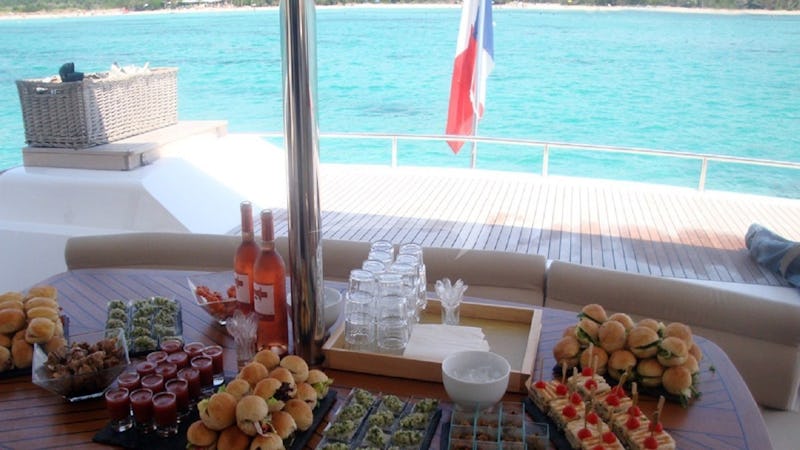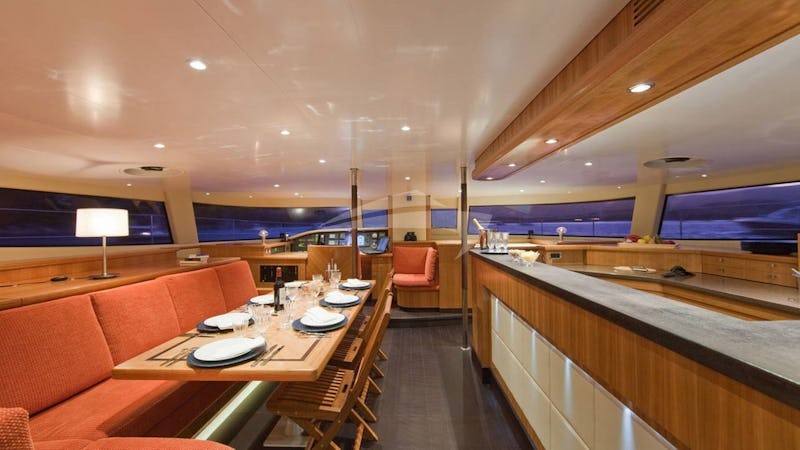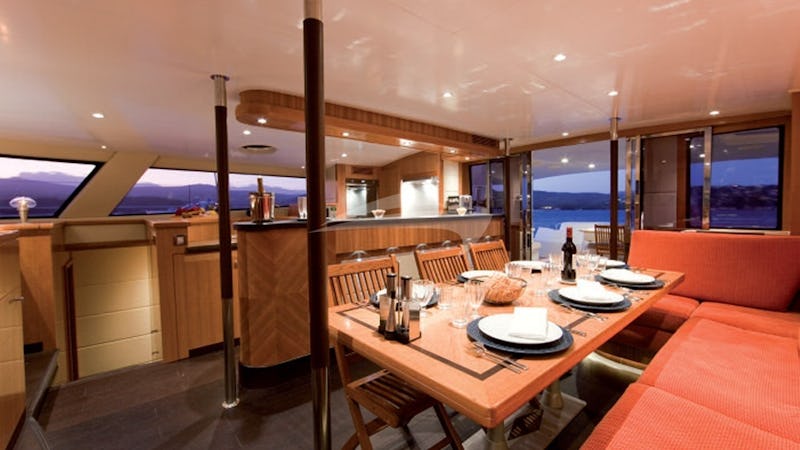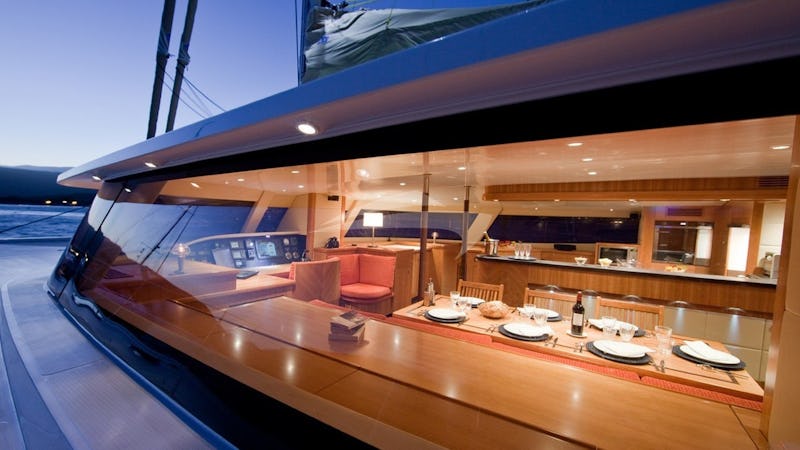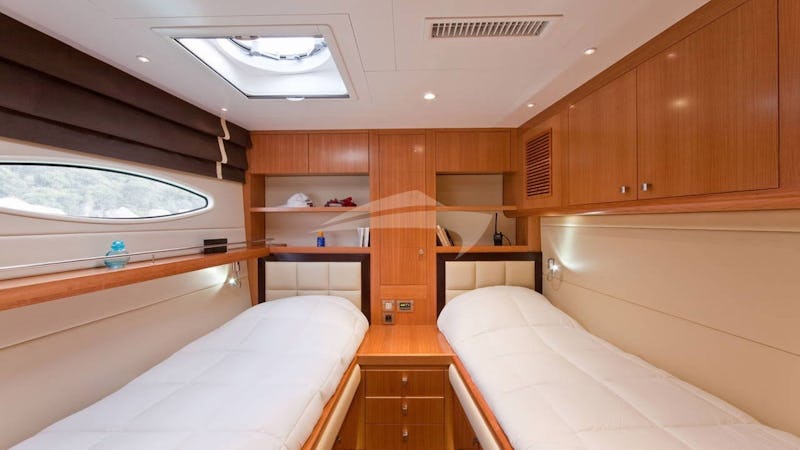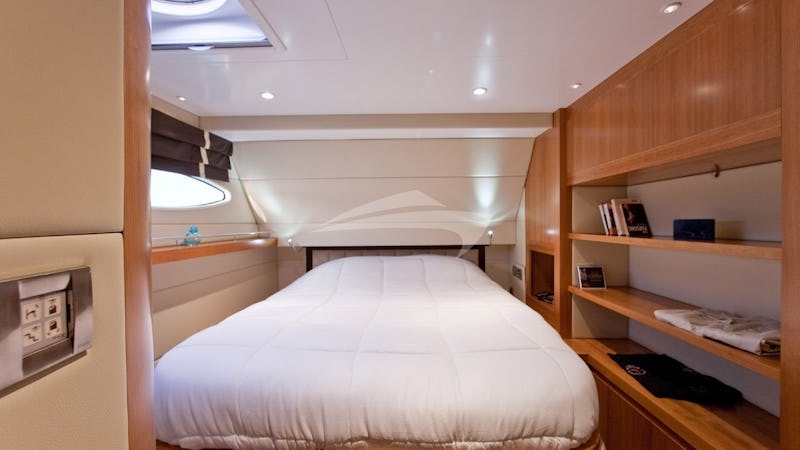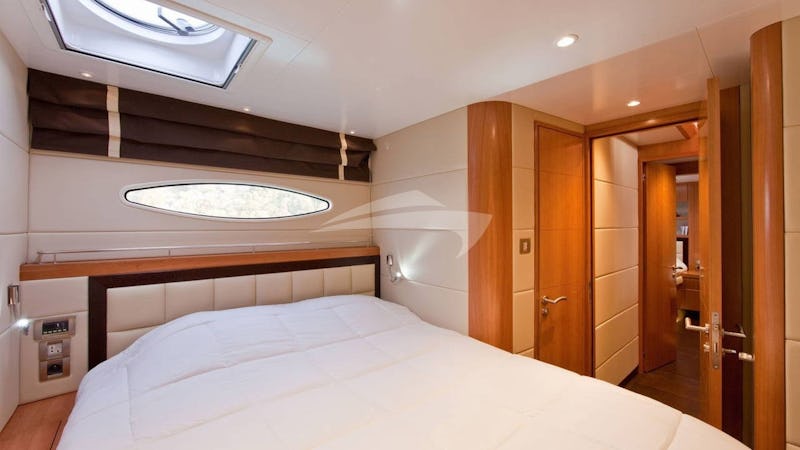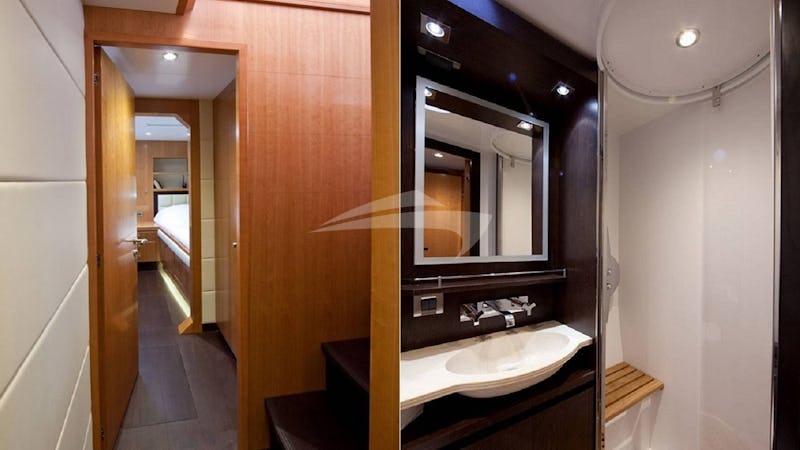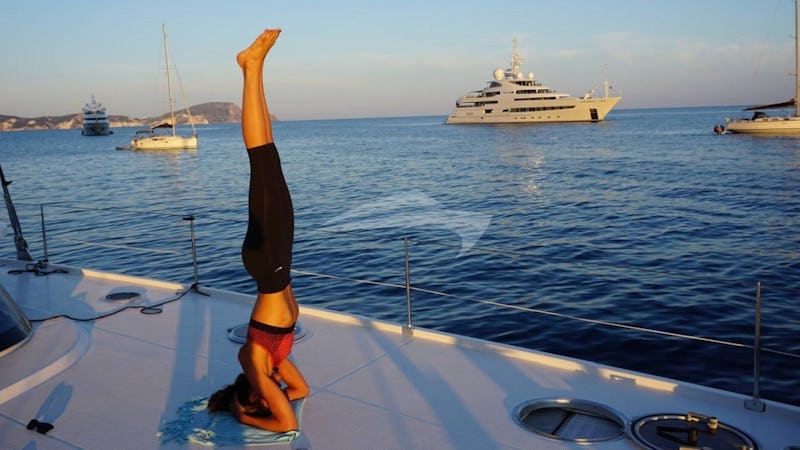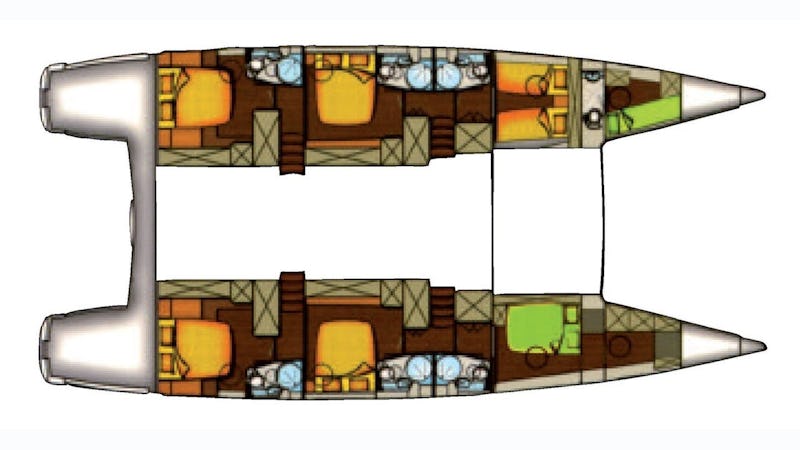 Contact Us For More Information
Alain Semidei
SECOND: Georges MOLLAT SYLVESTRE
SECOND: Georges MOLLAT SYLVESTRE
Captain 200 Motor
54 years old
Basic English
Georges is the Second captain. Lover of the sea with 10 years of experience in yachting. If you like fishing, he will be happy to assist and guide you.
Dynamic and joyful, he will be pleased to welcome and accompany you on your cruise.
CAPTAIN: Christophe RIGHEZZA
Christophe has nearly 35 years experience in the yachting.
He has worked as Captain for 20 years and have covered more than 250,000 nautical miles including 20 Transatlantic and 8 Indian Ocean Crossings
From 1984 to 2005, he created and managed a nautical club at la Citoat
First he has also worked as DOCK MASTER in Mediterranean and in the Caribbean.
He did attend also the mondial Fun Board Cup from 1979 à 1990.
Christophe is patient and calm in all circumstances, making guests satisfaction her priority.
With his perfect knowledge of the Med and the Caribbean he is enjoying showing the best spots to his guests.
STEW/COOK: Elysabeth SOUBIES
STEW / COOK: Elysabeth SOUBIES
French
Captain 500 (STCW) Navigation High School - Anvers (Belgium).
CFBS STCW 2010 standard,
Fluent English, basic Spanish
With her 20,000 NM sailed across the Atlantic, sailing throughout the Mediterranean, the French Atlantic coasts and the Caribbean Elysabeth has allowed her to acquire the necessary knowledge and qualities in yachting.
For two years, she taught sailing-cruise for the Ministry of Agriculture, then for one year she was a crew member on the SNSM canoe of Lifeguards at Sea in La Ciotat.
The last 3 years, she has worked as Deck/ stew aboard sailing yachts like: SEAZEN II, 70 ft Sunreef ; JUNGLE FEVER, 64 ft Hanns ; ARAOK, 58 ft Fontaine P.
Elisabeth is enthusiastic, very organized with a sense of detail. Always smiling she is offering to the guests fantastic time aboard. !
Charter on September 5-12,2020 in Sardinia-Corsica / Family of 8 from UK
Dear Johanna, Marie & Alain,
For our fist crewed charter, would like to thank the 3 al you for making it the most special experience.
The food was exceptional, the service was outstanding and the skipper was superb.
We hope to be back soon and we wish you all the best with your futures travels.
B Family

Charter on July 25 - August 1st, 2020 / Bonifacio - Sta Teresa di Gallura / British famiy of 8
Dear Alain, Johanna and Marie,
This was our first holiday o a boat and the experience could not have beeb any beter. Your choice of the route and places were fabulous.
Thank you for realising so sporty and colour mornings to us.
Merci de nous gater!
G familly


Charter on August 10 - 17, 2020 / Bonifacio - Bonifacio / Group of 10 from Belgium
Merci pour mon plus beau voyage. Une équipe du tonnerre. Tout ce qu'on a pu voir au long de ce voyage était magnifique, tout comme vous. 
La navigation, la plongée pour observer les poissons, c'était trop bien.

Merci pour tout!
Alain, Marie et Johanna,
Un tout grand merci pour ce merveilleux séjour qui nous a transporté très loin de tout nos soucis.
7 jours de pur bonheur!
Capitaine, un grand merci pour nous avoir fait découvrir le sud de la Corse. Ton calme et ta gentillesse vont nous manquer.
Marie, merci au nom des enfants et des adultes pour ces délicieux repas et desserts qui ont réglé nos papilles.
Johanna, merci pour toutes ces petites attentions tout au long du séjour pour su'on ne manque de rien.
Vous faites une merveilleuse équipe tous les 3.
Mille merci !
Charter on July 10-19, 2020 / SOF - CORSICA / 10 guests from Belgium
Dignity, hospitality, service at top level, what an experience, great unexpected sailing.
Going for "Cote d'Azur to maybe the most beautiful island of the Mediterranean.
Top food, to drinks, top pleasure...
We needed this holidays and you fulfill this 100%.
Thanks! P.
Comment mettre en mots l'expérience de notre semaine.
Tout était plus que parfait. Un capitaine toujours prêt à nous faire découvrir des lieux magiques, une hôtesse souriante du matin jusqu'au soir et une cuisinière 3 étoiles.
Toute la brigade étant présente pour nous faire vivre une croisière avec souvenirs éternels.
Mille mercis!
M.
Charter on July 13-20, 2019 / Cala di Vole - Olbia / Norvegian group of 8


We just finished a fantastic trip with MOBY DICK in Sardinia and Corsica!
7 lovely days with good friends, lovely scenery, great food and wine.
Thanks to the captain Alain for a safe travel, to Mathilde and Silvia for great help during the journey. Lucky us for being able to speak Norvegian with Silvia!
The last sail, Friday night, just outside La Tavolara, we saw 3 dolphins playing in the sunset.
Do we need to say more!
Warm regards to you all from

S family, fom Oslo, Norway

Charter on June 29 - July 6, 2019 / Family of 7 from Germany
The B family from Hambourg & Munich
GRAZZIE MILLE - MERCI !
à Alain, Anna, Chloé et Mathilde
So inspired by your cooking !

Charter on June 16-23, 2019 / Olbia - Olbia / International Family of 10
"Comme Vous Voulez !"
Ça, c'est ce que nous avons entendu chaque jour, toujours, n'importe où !
Merci beaucoup à tous pour ce voyage, ces vacances inoubliables. Le Moby Dick, c'est magnifique. Capitaine Alain connaît beaucoup d'endroits magnifiques. Incroyable ! 
From our 3 generation family from Canada, Mexico and Hungary, a very special thank you to Captain Alain ans the totally marvellous crew of Anna, Chloe, Mathilde. Whatever we wanted, you responded-active ports, quiet bays, peaceful sunrises and beautiful beach dinners. You made the boat feel like our home for a week.
Merci encore. A la prochaine !
B. Family

Charter on July 21-28, 2018 / Bonifacio - Olbia / Party of 9 Canadians and Italians
Capt Alain, Estelle & Laetitia,
Merci beaucoup pour une expérience incroyable!!! I'll never forget it. Thank you for showing us all the amazing spots in Corsica & Sardinia and all the work you did to make the trip so amazing!
Merci encore!
M.
On behalf of both families we would like to thank you for making our first sailing trip an amazing and memorable one. We visited the greatest beaches and dinned on your wonderful cooking!
We hope to be back soon and wish you all the best to your future travels.
 Thank you for teaching us how to kayak! 
We loved every bit of it!!
xoxo, R, H, H, K, J, N, Y & K

Charter on July 31 - August 6, 2018 / Bastia - Bonifacio / French family of 8
Santa Manza, dernier arrêt d'un merveilleux séjour!
Une semaine de pur bonheur, tout a été oublié, ne laissant que le soleil dans nos coeurs.
Magnifique! Sublime! Ces 7 jours ne s'oublieront pas!
Merci Alain!
L; G, J, F
Charter on September 17-24, 2017 / Bonifacio - Calvi / Australian party of 10

We come from North Western Australian, the most isolated city in the world, to Corsica –about which we knew a bit but not a lot.
We have been  spoilt with wonderful food from Laetitia, outstanding navigation (including through storms) from Alain and wonderful all crewed service (especially of wine ) and particularly Deborah.
A fabulous week of swimming, visiting and reading
Wherever we reflect on Napoleon, Nelson and "La tête de Maure" we will think of you all fondly.
C, T - with thanks !
J + T - Wonderfultrip
T + V – a fantastic week, merci to all
P + V – an exceptional experience !
J + G – Bravo Laetitia !
Charter on August 19 - 28, 2017 / Bonifacio - Porto cervo / Brazilian family of 10
Thank you all so much for an unforgettable experience! You all are an uncredible crew who made our time on the boat so special.
Don't make us leave!!
E, A & G

Nos remerciements... au capitaine Alain!
Capitaine,
Ce soir c'est votre soir de notre part.
Ca signifie que nous allons faire un diner pour vous et pour votre équipage.
Nous avons passé une très bonne semaine avec vous et nous voudrions vous remercier pour le séjour à bord en vous invitant à vous habiller en tenues civiles parce que ce soir sera "LA NUIT DU CAPITAINE".
Merci beaucoup pour tout !!!
Des amis... A&F, L&W, R&M, E&S, M&N
Charter September 4 - 11, 2016 / Bonifacio - Bonifacio / American family of 7
To all the wonderfull crew. What can I say? It was a week called with the best sun, water, sun resets, sunsets, the best food ever and the company of a professional, + skilled crew who we have come to love + cherish.
Thank you for the best time ever. MF

Fantastic, merci pour tout ! P.

Un grand merci à Alain et à son équipage qui, à force de plats délicieux, de parties de jeux inoubliables et de baignades inattendues ont su transformer ce voyage en rêve que nous avons hâte de revivre. Y.
Thank you all so mcuh for an unforgettable experience! You all are an uncredible crew who made our time on the boat so special. Don't make is leave!! E, A, G, C
Charter June 17 - 24, 2016 / Peruvian Family of 10 / Olbia - Olbia
The vessel dreams are made of .... a French Cook, a French Sailor and a Corsican Captain...
I could have not scripted a finer trip;
THANKS FOR ALL !
MAGNIFIQUE ! The best over! J.M.
GRACIAS, GRACIAS, GRACIAS !
Merci à tous pour un merveilleux voyage!
Nous étions très confortables et très bien accueillis.
A bientôt mes amis du Moby Dick
A; R & children
Charter August 23-30, 2015 / Italian family of 10 / Bonifacio - Olbia
Thank you so much it was amazing ! L.
I didn't like it I loved it. It was too good to be true. Thanks! T.
Dreams do come true. Thanks a million for this unforgettable week. W.
Grazzie mille, memorabile ! L.
Merci beaucoup!!! c'était super! L.
Merci pour cette semaine incroyabel. C'était super! S.
The best yacht of the world el Moby Dick ! D; P; C.
Thank you very much ! J.
Charter July 3-10, 2015 / Napoli - Napoli / US family of 6
Alain, Emmanuelle and Laetitia, MERCI BEAUCOUP !! We had a wonderfull week with you - Thank for making our first trip to the Amalfi Coast (and our first private cruise!) a vacation to remember. Emmanuelle - the food ! Marc had to move his belt out two notches! Thank you for a fantastic trip.
S & M.


Alain, Emmanuelle and Laetitia,  Thank you so much for such amazing week of sailing the Amalfi Coast. We appreciate all of your assistance and the most delicious food! It has been an experience we will never forget.
Merci beaucoup ! S & K
Alain, Emmnauelle and Laetitia, Thank you for a fabulous trip cruising the Amalfi Coast. What a great experience and we appreciate your help in making it special.
C & B.
-------------------------------------------------------------------------------------------------------------------------------------


Charter June 20-30, 2015 / Nice - Bonifacio / Family of 10

If hapiness is not in the field, it is on water, at anchor in a Corsican bay, with friends and with a professional, smiling and dedicated crew. Thanks to the sailor and his 2 naiads, to the "Lion de Rocapina"  and to our sailing whale.
A - M - O - C - P - S & L
First I would like to tell  you MERCI for the warm welcome we had. Then tell you that this cruise was hapiness only. We have discovered such amazing palces thanks to Alain, laetitia and Emmanuelle, great cook. Thanks a lot !
A - T - A  & N
Thanks to Alain, Emmanuelle and Laetitia. Very professional, motivated and devoted. Very nice too. 
Restfull holidays, delicious feeding meals, lot of fantastic, paradisiac sceneries. Beautifull memories thanks to you. Once again Thanks and see you next year in Sicily !
S - B - S - E
Thanks to all of you for this very nice welcome. Fair winds and see you very soon!
R. 
We have 2 lives... the second one starts when we realize we have only one.
These 10 days with you made my life more beautifull. 
N.
-------------------------------------------------------------------------------------------------------------------------------------


Charter August 17 - 22, 2014 / South of Corsica / Family of 8

Dear Josh,
We had a really fantastic time! Boat was perfect - big fan of Cats now! Crew were really top - v experienced capt, great number 2 and great cook. We prob should have done a different itinerary, but that was my fault. We'd like to repeat in 2014!
John

-------------------------------------------------------------------------------------------------------------------------------------

Charter July 20-27, 2014 / Amalfitan Coast / 10 guests

Hello Ladies,
 
We want you to know MOBY DICK was stunning !!! We just loved her and we will be back onboard for sure very soon.
L spent great time with the captain. All was fantastic (except the weather... even in Corsica!).

Thanks again ! C C

-------------------------------------------------------------------------------------------------------------------------------------

Charter August 9 -16, 2014 / Porto Vecchio - Bonifaccio - Family of 10

A big thanks to Alain and his fabulous team. Thanks to Priscillia for her delicious meals. Thanks to Letizia for her outstanding service. How wonderfull week we spent onboard !!!

Sincerely G. A.
Ammenities
CD library, Cell phone, DVD library, DVD player saloon, Indoor audio system, iPod dock, Local TV, Satellite phone, Satellite TV, Lomac 40hp, Beach games, Kayaks multiple, Paddleboard, Tube - towable, Wakeboard, Water skis - adult, Coffee machine, Deck shower, Fishing gear - light, Ice maker, Sun cushions, Sun loungers, Swim platform, Water maker
Diving
Not Insured, Diving by arrangement, Underwater still camera