Yacht for Charter
NAMASTE
8078
78ft / 23.8M
| Builder: Privilege Yard
| Year: 2016
---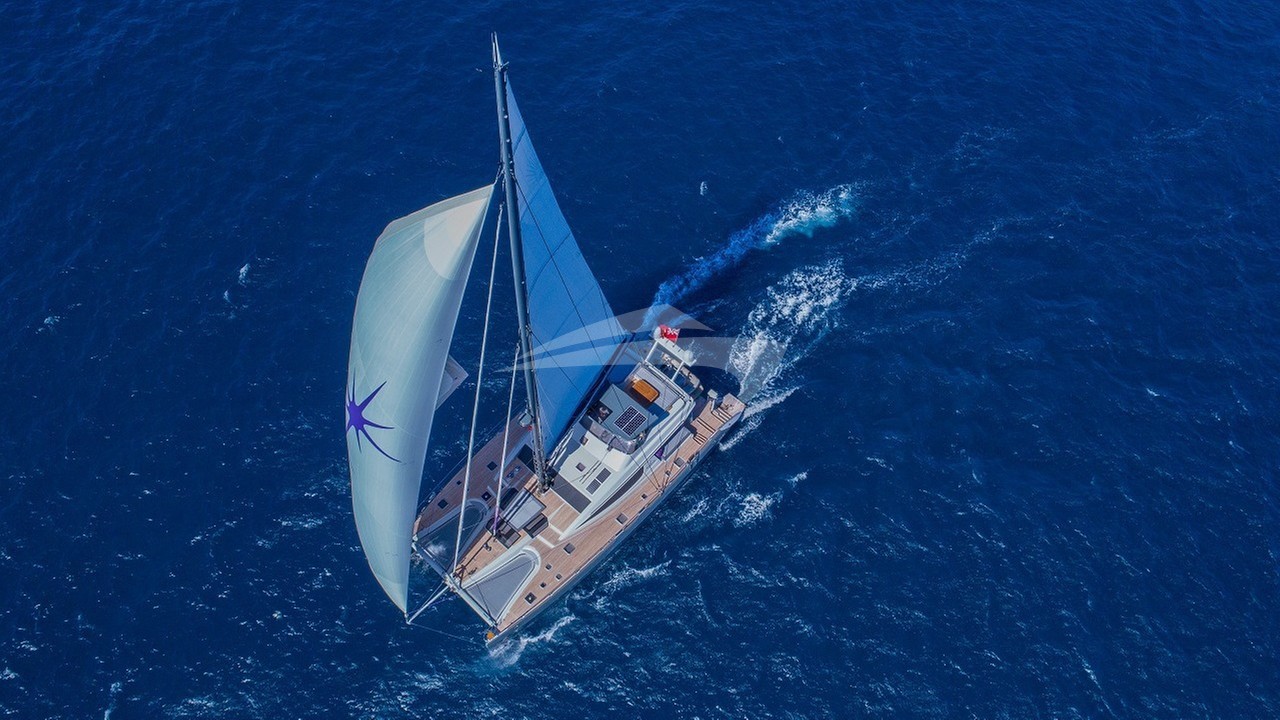 ---
Yacht Charter NAMASTE By Privilege Yard
Cruising Speed
10kts (18kph)
Flag
British Virgin Islands
Engines
2 x Yanmar 260HP 6BY3 Generators : 2 X Northern Lights 26KW Water tank : 2 X 17
From:
$56,000 - $75,000
plus expenses
Contact Us For More Information
Namaste is offering 3 double cabins including a Master as below :
On the forward portside, the MASTER CABIN with one bed: 1820 mm (beam) x 2000 mm (length) & leather sofa, Separated heads & steamshower
Aft portside, the first DOUBLE CABIN with bed 1635 mm (beam) x 2000 mm (length) and separated heads & shower
Aft starboard, the second DOUBLE CABIN with bed: 1635 mm (beam) x 2000 mm (length) and separated heads & shower
All of them equipped with hair dryer, plugs 1 for the shaver + 1 for the vanity (110v & 220), Rj45 & 4 X USB
Also with private A/C control, TV sets, DVD readers, BOSE minisoundlink,Wi-fi and blue tooth
Crew quarters: 1 cabin located on the forward starboard with hull and the cabin mid-portside

Captain: Willem J.M. NIEUWELINK
CAPTAIN: Willem J.M. NIEUWELINK
Nationality: Dutch
Language spoken: Dutch & English
Age: 39
Diploma: RYA Yachtmaster Offshore, MCA Commercially endorsed. PADI Dive Master.
Captain Willem hails from a small canal town in Holland where his family kept their sailboat tied to the dock at their home and has lived for sailing since he was a young boy. Later as a teenager Willem taught sailing in Greece, Mallorca and England as well as competed in dinghy racing on an international level where he collected multiple awards. As a fully qualified RYA Yacht Master Offshore, Captain Willem has an extensive list of credentials as a skipper with his well-rounded career in both the Charter & Private yacht industry.
Willem joins us from his last position which he held with the same owner & yacht for ten years. He oversaw the build of the vessel and eventually completed a circumnavigation while maintaining the owners request for the yacht to be kept up to 5-star standards. He has cultivated an extensive list of global networks which ensure exclusive connectivity no matter where Namaste ventures.
Willem is at his happiest when guests are perched happily in one of the many comfortable areas on deck while the boat sails effortlessly into the sunset. His calm nature and giddy knowledge of almost all types of yachts will elicit a true sense of happiness while onboard.
An outstanding sportsman on the water Willem looks forward to taking you waterskiing and wakeboarding or exploring the treasures under the sea as he is a certified PADI Dive Master.
Captain Willem is looking forward to this new adventure and with his natural humor and easy-going nature you are assured an unforgettable time. Willem creates specialized itineraries for each guest and will make you feel at ease afloat as he safely steers you to unique & exciting destinations on Yacht Namaste.
FIRST MATE: Borja INFANTE
FIRST MATE: Borja INFANTE
Nationality: Spanish
OOW Unlimited
Languages: English, Spanish, French & Catalan
Born and raised in a coastal town near Barcelona, Namaste's First Mate Borja began sailing small dinghies at the age of nine. Since starting his professional sailing career more than seventeen years ago, Borja has navigated the Panama Canal over ten times and has completed five Atlantic crossings and two Pacific crossings.
Borja holds an OOW Unlimited and several other yachting certificates, and he has an advanced degree in nautical science and maritime navigation. He is also a PADI Advanced Open Water certified diver, and he enjoys sharing his love of wakeboarding, kitesurfing, hiking, and exploring new destinations with guests.
Whether he is ensuring the engine room is running smoothly or planning a fun and safe water sport excursion for guests, Borja is always paying attention to the details behind the scenes. With a huge smile for everyone he meets, Borja enjoys being a hands-on first mate who does whatever he can to make Namaste's guests happy.
CHEF: Lola VUILLEMENOT
CHEF - Lola VUILLEMENOT
French
STCW 95 – Medical eng1
Cooking Certificate – Mt St Aignan, France
Languages: French, English
Chef Lola welcomes guests aboard with luxurious menus and adventurous flavors.
She especially enjoys incorporating fresh local ingredients into the dishes she creates.
Lola began her career in fine restaurants and five-star luxury hotels in France and French Polynesia like Intercontinental Thalasso Resort & SPA 5* hotel in Bora Bora and the Intercontinental Tahiti Resort & SPA 4* hotel.
Delighting guests with exquisite cuisine aboard Namaste allows Lola to combine her passions for food and travel.
Lola brings her sense of adventure and discovery to each guest's culinary experience.
STEWARDESS: Rachael JOHNSON
Rachael JOHNSON
STC 95 – ENG1 - US B1/B2
Rachael grew up sailing with her family and participating in water sports in Auckland, New Zealand's "City of Sails."
She has been in the yachting industry for over ten years, during which time she has cruised through the Caribbean, the South Pacific, and New England.
In 2020, she provided support to the race crew at the Antigua Superyacht Cup.
Rachael has also spent time gaining bar, barista, chef, and event-planning experience in high-end hospitality establishments.
Her attention to detail and high standards for organization perfectly complement her laid-back Kiwi mentality as she ensures you have the full, relaxing Namaste experience.
When she is not sailing the world aboard Namaste, Rachael enjoys traveling, cooking, listening to music, hiking, playing tennis, and practicing yoga.
Charter on April, 10 - 17, 2022 in St Martin – American gorup of 6
What a dream vacation
Loved working with Danielle to plan our amazing vacation in the Caribbean.
She was super patient and helpful during these trying times of COVID
- but once we were able to get our trip booked — we had a FABULOUS time.
Namaste was the perfect catamaran for us - the crew went above and beyond to take care of our every need.
We all felt so pampered not only by the service but the fabulous food prepared for us each day by Lola and served with a super smile by Rachel.
Will and Brett helped us plan our fun days of adventures whether on land or playing with all the toys in the water.
This was definitely one of the most relaxing vacations I have ever had and look forward to planning the next trip.
Charter on January 7-14, 2022 in the Grenadines – 6 guests
Dear Namaste crew !!!
What a wonderful and unforgettable experience we had onboard of your beautiful yacht !
High service, incredible dining, thanks to all of you !
Biggest complaint – constantly disapearing beach toarls
Biggest problem – to choose next spot from never ending natural beautyBiggest challenge – to finish breakfast, then lunch, then dinner…
Best from S, E families
Thank you so much for being the loviest and funnest crew. We could not have asked for better people to « babysit » us in our drunker adventures.
We will remember your food, your drinks, your hospitality and you in general for ever.
Thank you for giving us the best trip ever, it couldn't have been any better !! See you again !
Charter on December 28 - January 10, 2021 in Antigua area / party of 4 from UK​
Dear Willo, Georgia, Joey & Jo,
The most wonderful crew!
We had a fantastic time with you on Namaste.
Especially in this crazy times it was great to escape for 2 weeks!
Thank you very much for showing us lomely beaches, lovely bays quiet waters. It was fun sailing with you!
Thanks a lot for escating very special moments and making us feel special at any time.
Due to this special pandemic situation there were some unforseen situations, but nothing you, Willo would not deal with a smile.
We has a wonderful vacation from the first day to the last minute, which all the 4 of us will always remember.
Thank you Georgia for carry so hardly for any of us and thanks Jo for providing us with this fantastic and healthy food!
Thanks Georgia, Willo for the wonderful dives and thanks joey for making all the fun water sports with the boys.
Hope to come back and find you well happy!
P, D, C & L

Dear Georgia, Willo, Jo and Joey,
Thank you very much for this wonderfull time on board of NAMASTE. All of us had a wonderful time and we enjoyed every minute!
It was great to get to know you! Thanks a lot for caring and making this time special for us!
We are back in winter wonderland. Quite cold and some snow! It is lovely, but we will need some time to adjust!
We hope you will have a good time!
We wish you all the best, stay safe and healthy!!
Hope to see you again!!
Reports to the Broker:
'' Dear R.,
I hope you are well in this unusual times. For us it was hard to get back to Covid normality after 2 weeks of fantastic, pandemic free vacation.
We had a wonderful time. The Namaste Crew is really outstanding.
Willo is a great captain, one of the best! Georgia is really great, she cared in such an easy way and new so quick the preferences of every single of us and Jo is an amazing cook.
Even if she is no professional, she provided us with such healthy and delicious meals 3 to 4 times a day, and did not miss to amaze us at some occasions.
All together we had an amazing holiday, thank you very much R., for making this possible, especially in this crazy times.
There had been some problems to start this, thanks for helping us to go, we are so glad that this worked out!
Now we are back to lockdown and homeschooling. So it is fantastic to have something so nice to remember''
Charter on December 5 – 15, 2020 in Antigua / 2 American guests
To the greatest crew of all time
How do we even begin to express what this vacation, our honeymoon has meant to us – or how it changed us !
Captain, Joeys, Jo and Georgia, we love you ! You have made this past week surpass are wildest dreams.
The service was beyond 5 stars. The food was like changing 2020 was a hard year. For everyone – we feel beyond blessed that not only has this year come to anormal.
We got to get married ans spend our honeymoon in paradise !
Thank you for treating us with such care and kindness.
We've had some amazing vacations in our life – and this is far exceed it. You've converted us to sailors !
We truly love you all.
Thank you for making this once in a life time trip…. our honeymoon remarkable on everything.
(AND WE WILL BE BACK !)
Charter on November 12 – 17, 2019 in Saint Martin area / American couple
Dear Willo, Sean, Georgia and Adrienne
What a truly magical si days ! We arrived tired, hungry and in a desperate need of true break and boy did you deliver !
It was true magic being a part of Namaste for these 6 days. The sailing, sun, care you all took for us magic potions that Georgia created and divine desserts (and everything else) that Adrienne whipped up for us were what the doctor ordered. We can't wait to return !
All our best, C & T
2 days charter on November in Bermuda / 4 guests
Dear Willo, Sean, Georgia and Adrian,
Thank you for making this a dream vacation for us ! Each of you put so much care into everything. You did to make this such a special family trip. You planned so much for us and yet every day felt so relaxed. Four days felt like two weeks away !
Thank you for somehows anticipating every vacation wish what we had. From seabob adventures to snorkeling and seing tortles, tender rides to see ship wrecks, kayacking, exploring, afternoon cocktails in the jacuzzi and ever a movie right on the fly bridge complete with popcorn ! How we had room for popcorn. I don't know because Adrian's insanely good food had us all but licking our plates at every meal. It was though she knows the exact fantasy meals to put in front of us. And all the super special treats from homemade pastries, bread to out of this world desserts.
We honestly have never tasted such delicious food clearly prepared with love.
Georgia your way of taking care of our every need without us ever seing you do itw as magical. We would turn around and where would be a tray of beautiful and delicious afternoon drinks or we would go back to our room to change and poof beds were made. I don't know how youd id think so quickly.
Sean your expert tender driving made what anyone lese would have turned back from onto an adventure what ended with amazing snorekling in turquoise waters. What you do always pulling out all the toys and taking the girls for the tube ride of their lives. Not to mention seabobs adventures we will talk about forever.
Willo, you make Namaste a family and a fantasy world wrapped into one ! Surprising us with pumpkins and acarving contest was one of the weetest memories we will have from the trip. With Georgia's Halloween decoration and delicious desserts the last night was the best halloween party any of us will ever have been to.
Thank you all for making such a special trip.
And thanks so much to just be able to spend time with all of you but you  did everything possible to make this a trip of a life for us all.
Love you guys ! Thank you !!!
Ammenities
Indoor audio system, iPod dock, Outdoor audio system, Satellite TV, TV all cabins, TV saloon, Wi-Fi, 16ft/5m Tender 150hp, Assorted water toys, Beach games, Board games, Kneeboard, Mono ski, Paddleboard, Swimming noodles, Tube - towable, Wakeboard, Water skis - adult, Water skis - child, BBQ, Book library, Coffee machine, Deck shower, Hammocks, Ice maker, Jacuzzi on deck, Special diets, Sun cushions, Swim platform, Water maker
Diving
Not Insured,
Rendez-vous diving on request