Yacht for Charter
ORION
5906
89ft / 27.4M
| Builder: Catana
| Year: 2008
---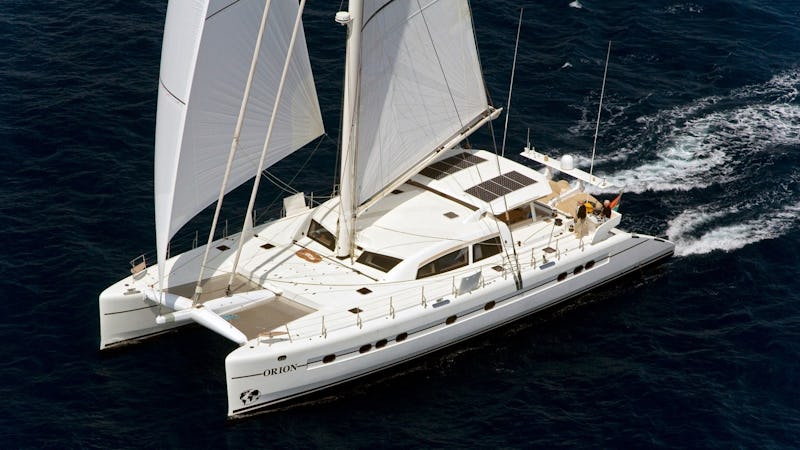 ---
Yacht Charter ORION By Catana
Designer
Christophe Barreau
Cruising Speed
12kts (22kph)
Engines
2 X Perkins Sabre 210 hp
Locations
Caribbean, East Mediterranean
From:
$46,000
plus expenses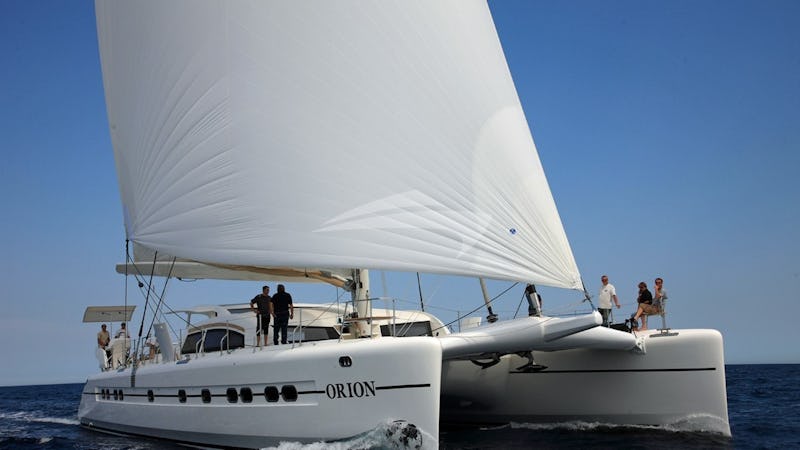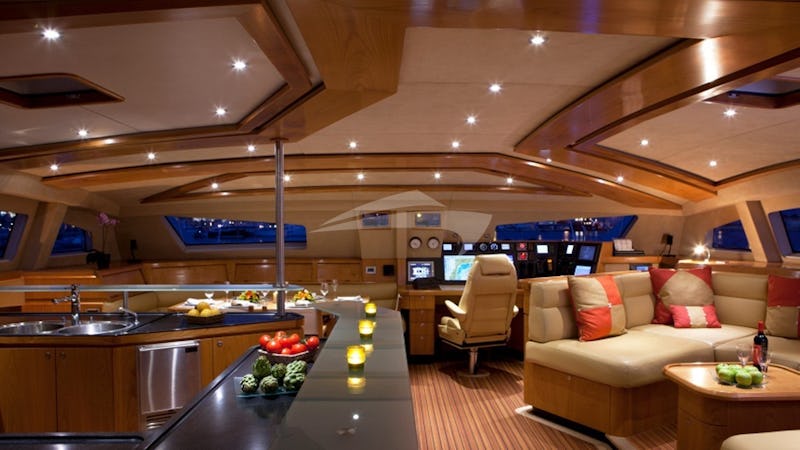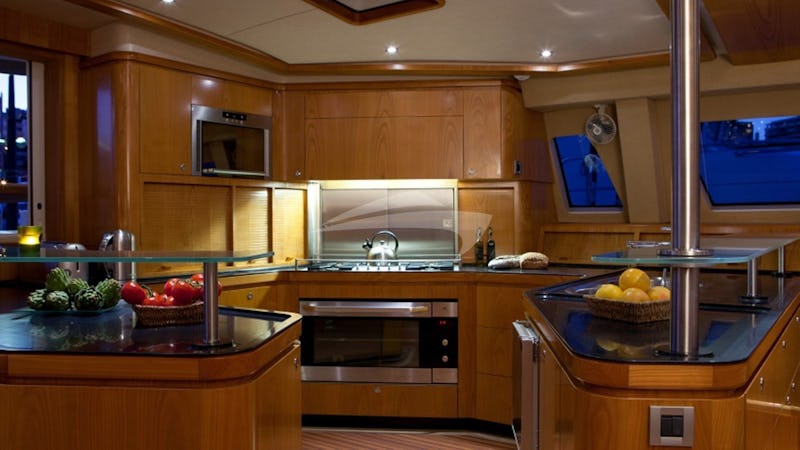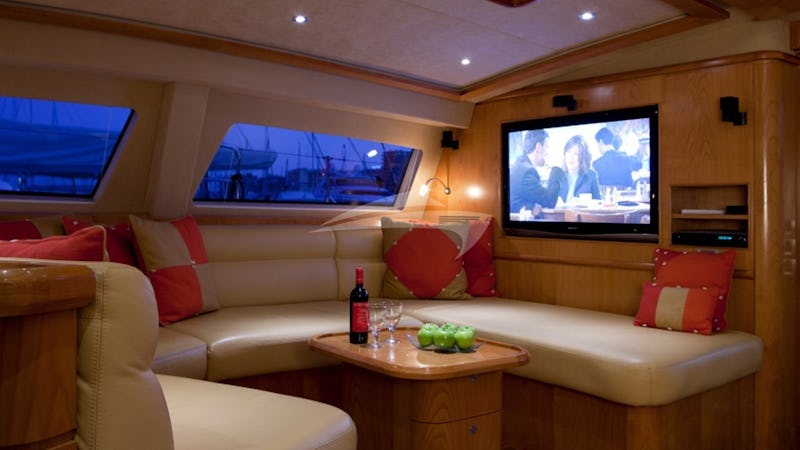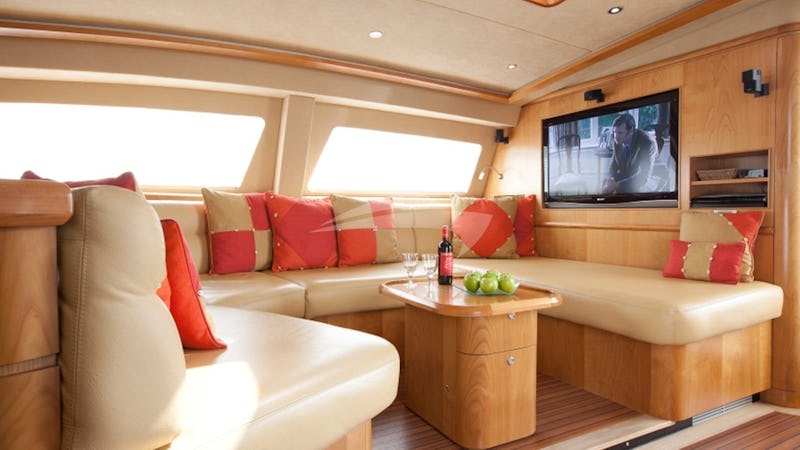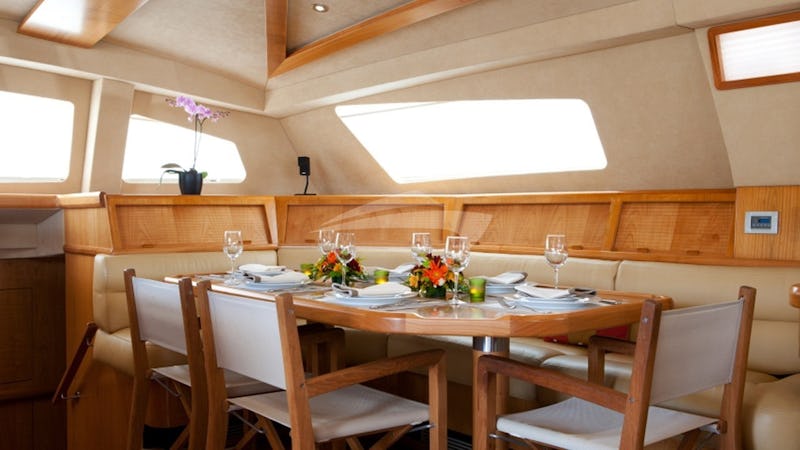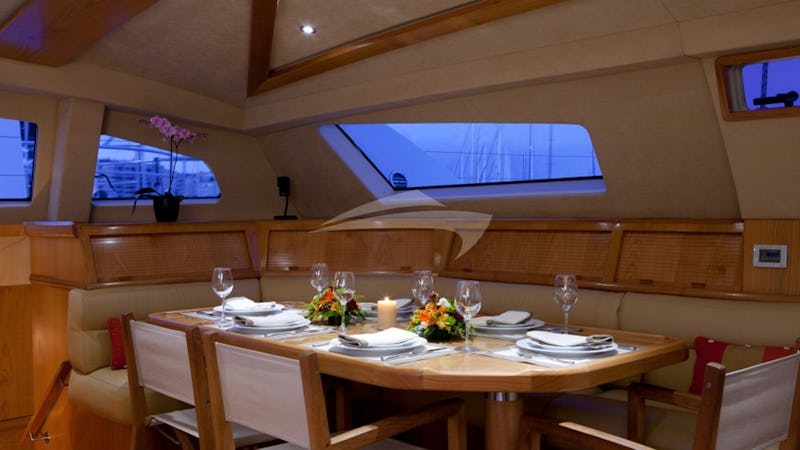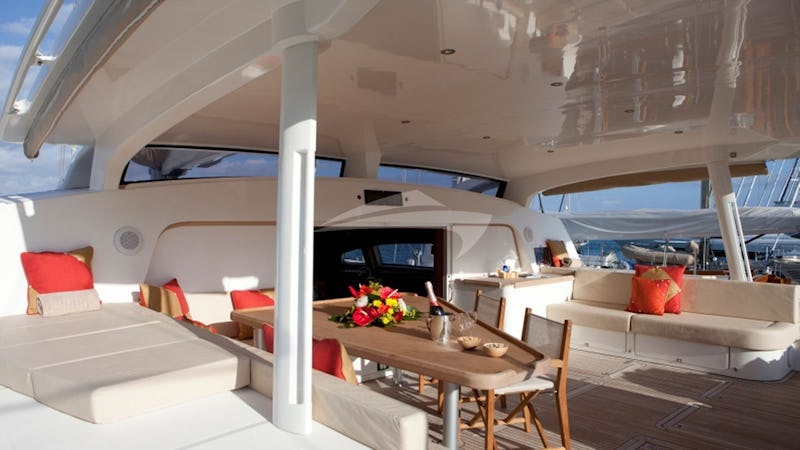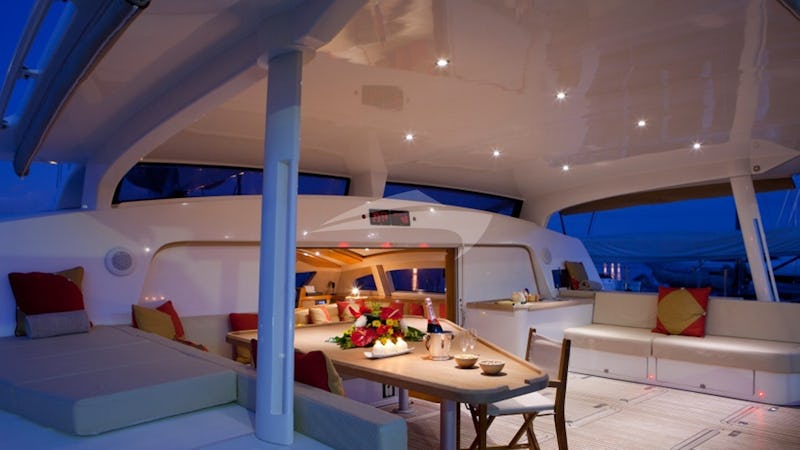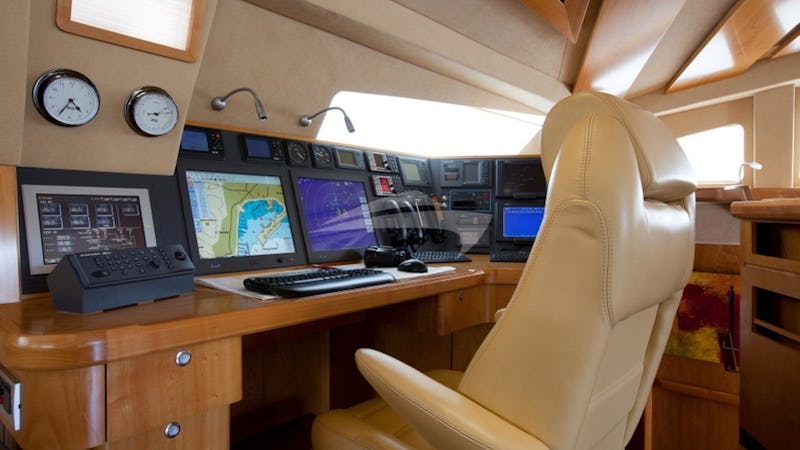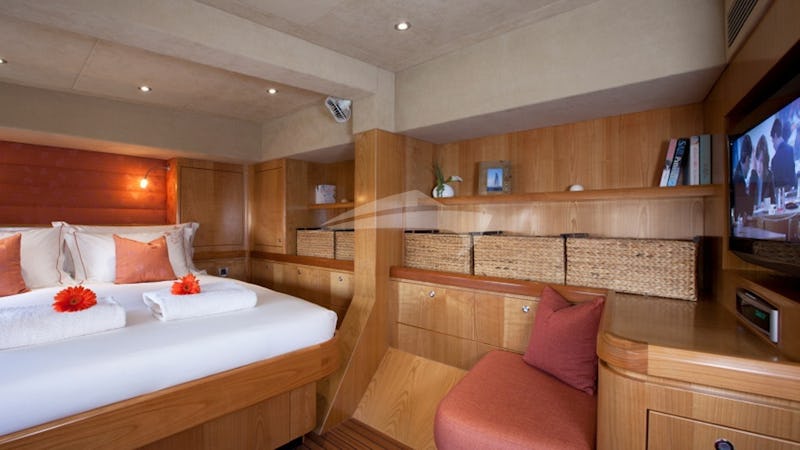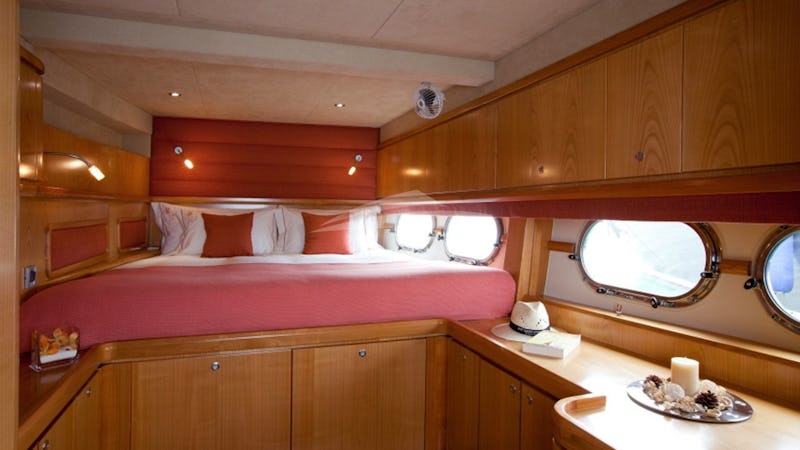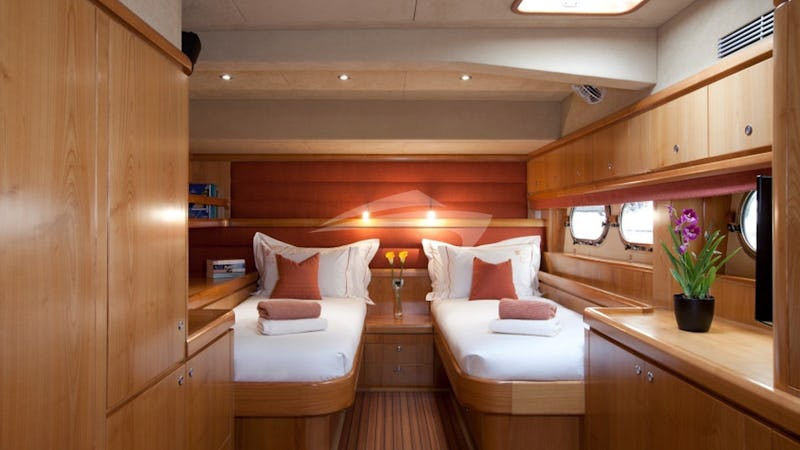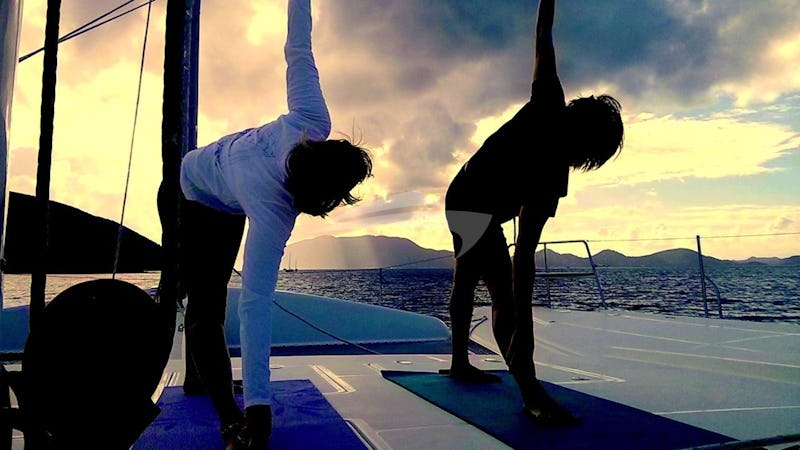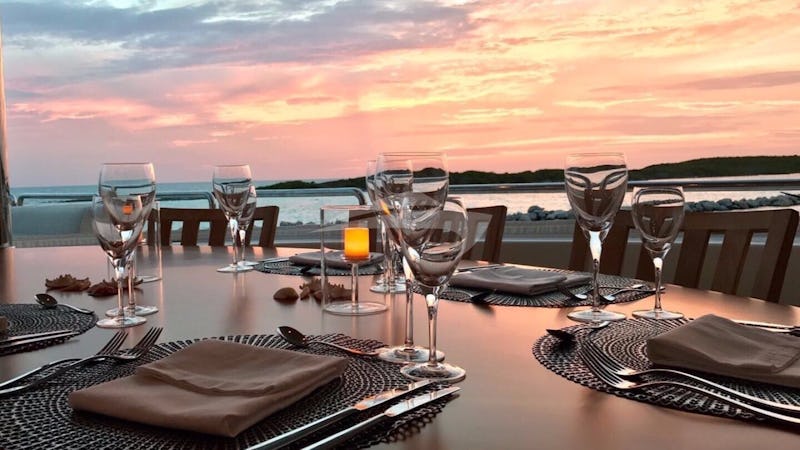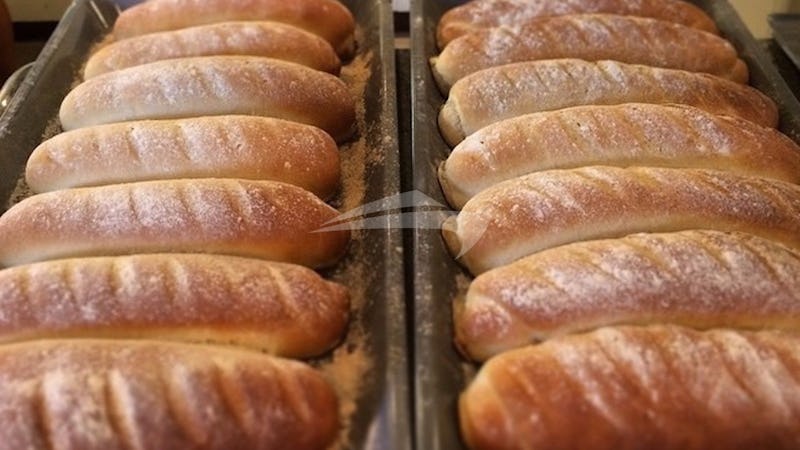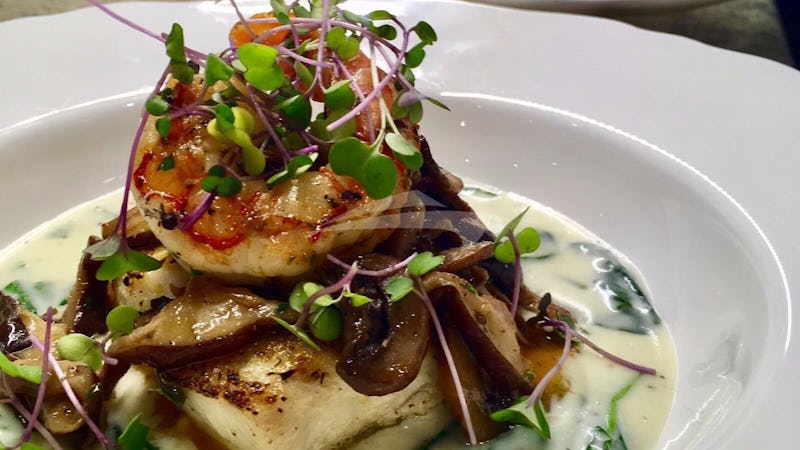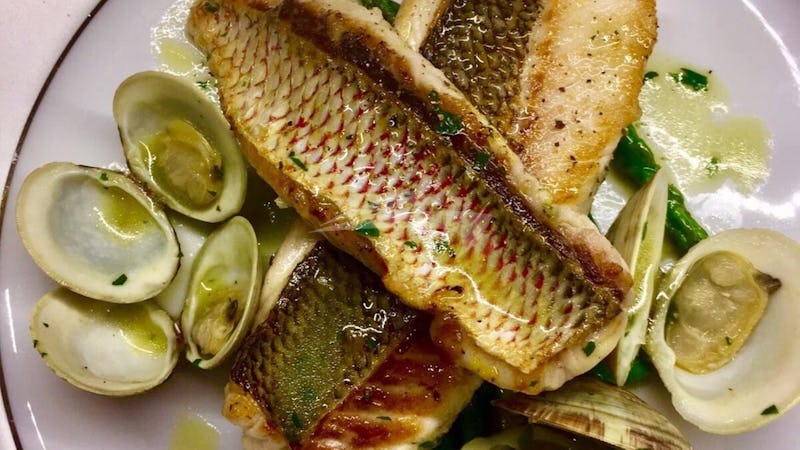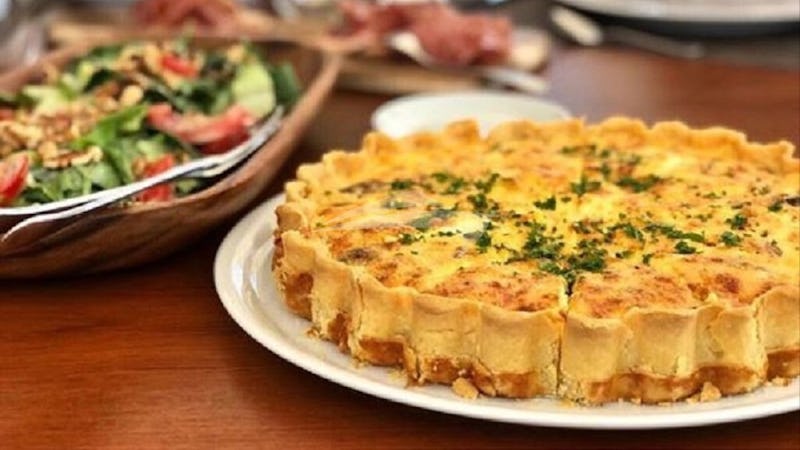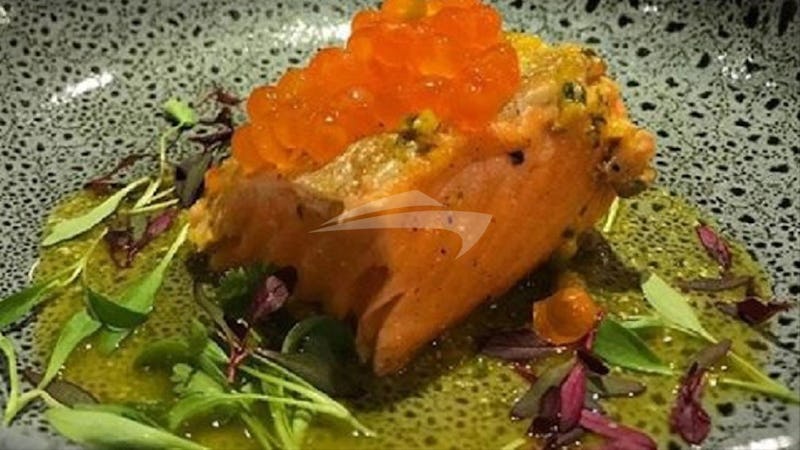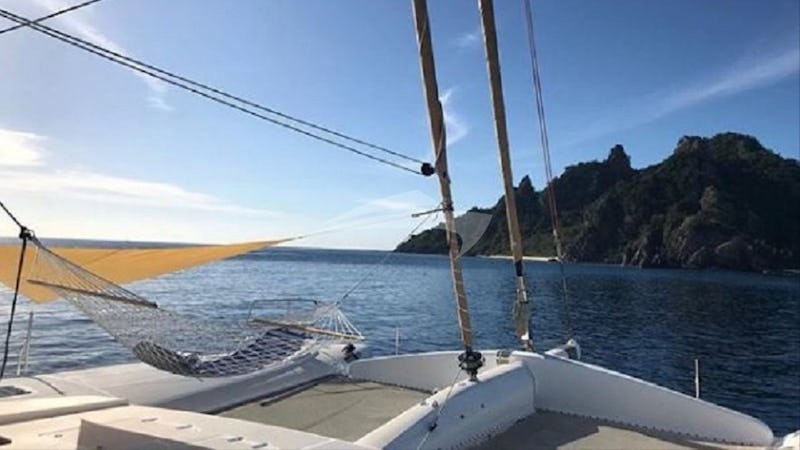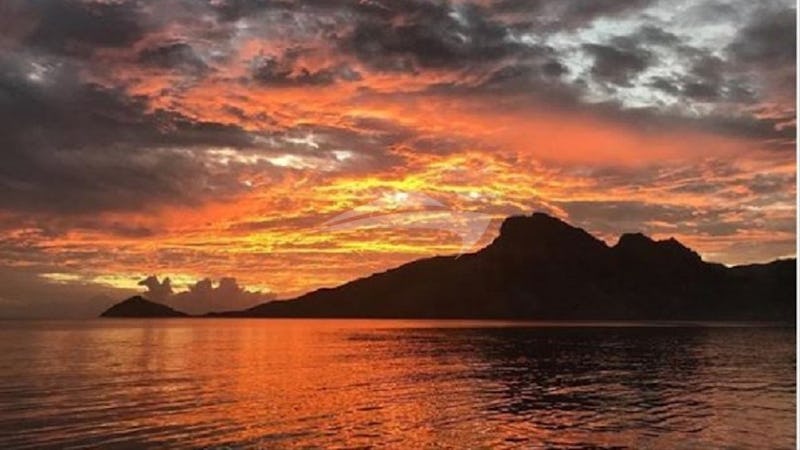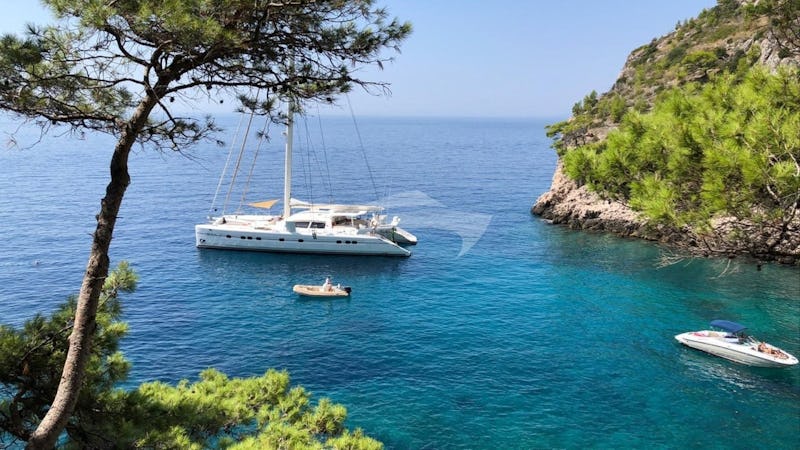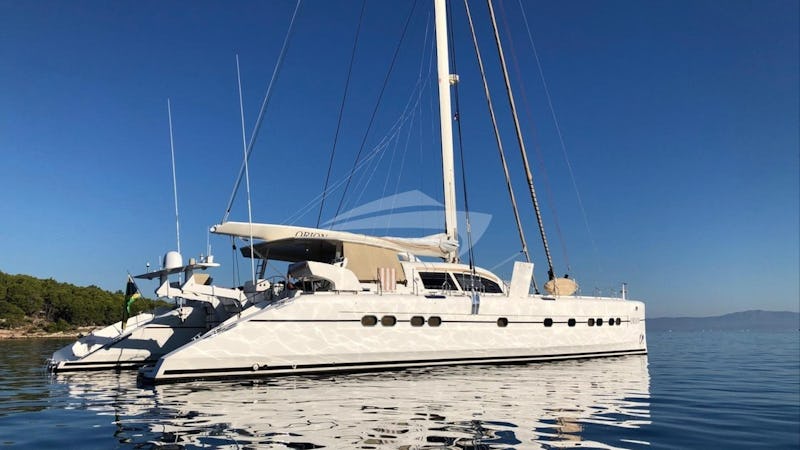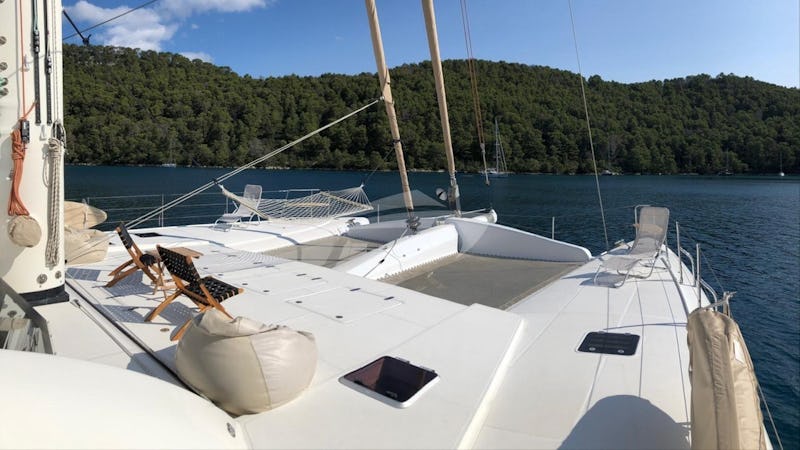 Contact Us For More Information
ORION accommodates 8 guests (plus one small child) in 4 cabins.
The Master has a king size bed and large en suite bath with shower and toilet. 
The VIP's king-size bed converts to twin lower singles. The ensuite bath has a vanity, shower and toilet. The family apartment is 2 connecting cabins sharing one bath with a shower and toilet.
One cabin has a king-size bed.  The second, dubbed the "Pirate's Den", has two beds and a smaller child's bed - 2  1/2 feet wide by 4 1/2  feet long.  This cabin is ideal for older kids or younger ones with a nanny. Crew shares companionway. Crew quarters have a separate head and shower.
Captain: Marcelo Curci F. Vicente.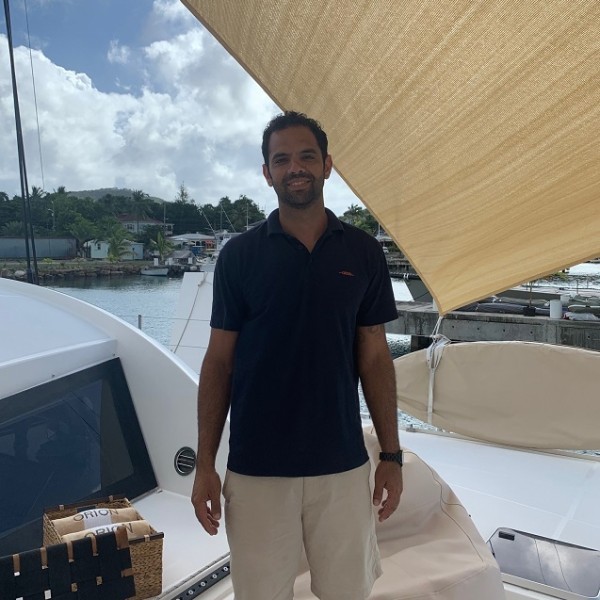 Marcelo Curci F. Vicente.
Captain of ORION
Marcelo was introduced to sailing at the age of 8 in his native country of Brazil. He began with the Opti and quickly transitioned into International 420s. Marcelo went on to win several races, including the Brazilian Championship in 2001. At the age of 16, he joined his family on board a Bruce Farr 38' and spent the next three years cruising along Central and South America, well as the Caribbean. Marcelo began his professional career in 2005 as a deckhand aboard a 100' motor yacht. At the age of 22, Marcelo started as captain on board a 75' catamaran. Throughout his career, Marcelo has sailed over 70,000 nautical miles. He is highly skilled in cruising navigation, races, and charter. With over 14 years in the industry and with 7 Atlantic crossings,, Marcelo has extensive knowledge in the cruising areas of the Mediterranean, Caribbean, and South Pacific. Marcelo's extensive knowledge combined with a calm and positive attitude make him the ideal captain for your charter aboard ORION!
Marcelo holds a Master of Yachts Ocean Unlimited Commercially endorsed and will be finishing his Master 500gt commercial May 2020.
Dive master DSD leader, emergency reponder EFR (adult and child infant). Marcelo is fluent in Portuguese and also speaks English, Spanish, Italian and French. Dual citizenship, Brazil/Italy.
Stewardess: Maura Curci Ferreira Vicente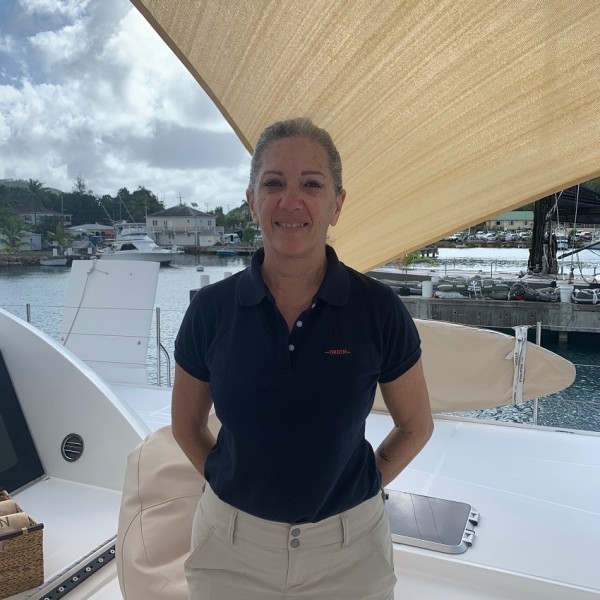 Maura Curci Ferreira Vicente is the chief stewardess aboard Orion. As an experienced liveaboard sailor for over a year, she's kept ORION in immaculate condition while crossing oceans and bays. Her lengthy bluewater resume includes service aboard luxury power and sailing yachts. Her deliveries have taken her from Brazil to the South Pacific and the Mediterranean.
Relief Captain: Marcelo Ferreira Vicente
Marcelo Ferreira Vicente, 57 (father of Marcelo Curci F. Vicente) is the relief captain of ORION. Having logged nearly 100,000 miles as an offshore skipper and engineer delivering multiple high-end sailing catamarans and large power yachts, he's well suited for his role on the 90-foot Catana. His professional and academic credits include a 200-ton unlimited yacht master's license, a university degree in physics, and technical school credits in electronics from institutions in his native Brazil. Areas of interest in yacht systems include rigging, engineering, plumbing, and electrical. He's also a sailboat racer.A legal resident of Italy, Marcelo speaks Portuguese, Spanish, and English. In his wake are miles spent aboard in the South Pacific; off North and South America, including the coast of Brazil; the Caribbean islands, and the Mediterranean. In his spare time he enjoys surfing, windsurfing, and stand up paddle boarding.
Chef: Mateus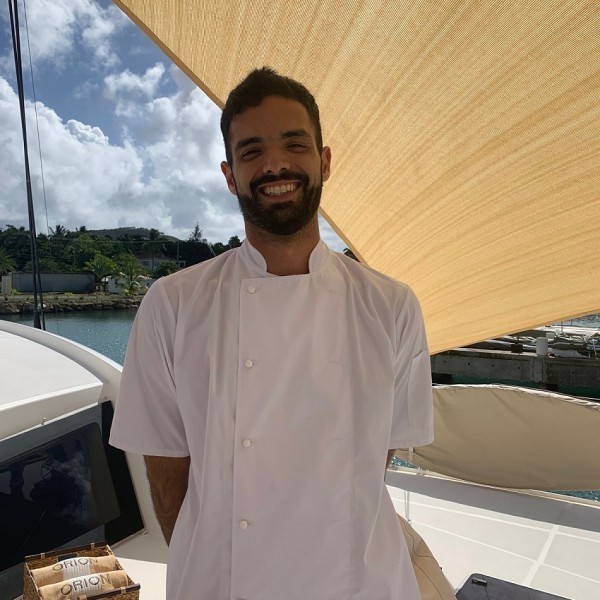 Mateus Curci Ferreira Vicente, is Brazilian / Italian and brother of ORION'S skipper Marcelo Vicente. Mateus is an exceptionally well-trained and experienced chef for his 28 years. He is a graduate of Le Cordon Bleu Paris & London, has an advanced certificate in Artisanal Bread & Viennoiserie from the San Francisco Baking Institute, a Restaurant Management Certificate from Senac Sao Paulo, Culinary Arts Certificant from San Fernan Castle Foundation in Spain, and an Advanced Certificate in Wine & Spirits from the WSET International – the Wine & Spirit Education Trust in London.
Mateus has worked along-side world class chefs in Europe and Brazil Michelin-rated restaurants, as well as at private estates, on board custom-built sailboats and some of the world's most elite super yachts – both private and charter. His experience includes service as head chef, special project manager, and menu planner – adding to his culinary organizational & creative skillset. Mateus truly delights in sharing his talents by preparing delicious and artfully presented meals for guests on board ORION.
Deck Stewardess: Sanne Klippel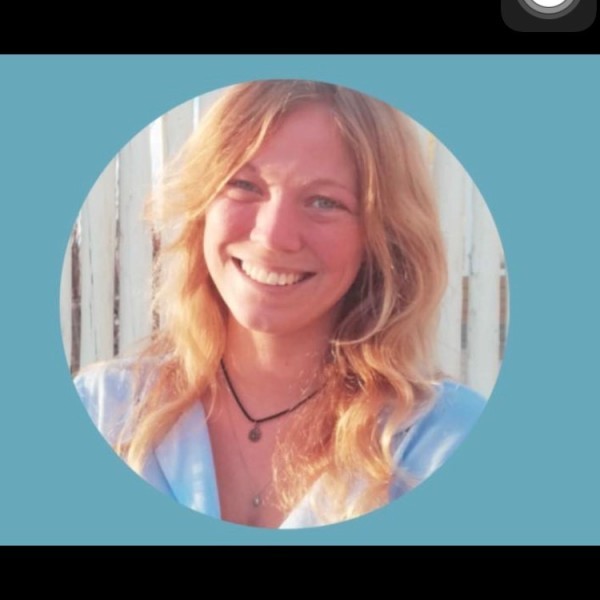 Sanne Klippel, the second stew on Orion was born and raised in Holland. She has travelled the world for the last 10 years, working with marine life, learning languages and cultures and growing as an individual. She has lived in Spain, Hungary, Australia, South Africa and the USA and traveled many more places as a volunteer or as traveler.
Over time being on a boat has become her second nature and she still learns every day. In the year 2020 she sailed over 7000 nautical miles. During all these amazing adventures, she tries to develop herself as a skillful seafarer and is happy to be on the water every day - sailing, surfing, swimming or simply enjoying the ripples of the water.
With years and years of hospitality experience in her back-pocket and a great love for our oceans and it's life, it is certain she just started this ocean story and hopes for years of yet unchartered waterways to explore!
When you are her guest, she strives to make sure you will have the best experience! Get ready to come aboard and live an unforgettable experience.
"We had a great time aboard ORION. Marcelo and crew were all amazing!! Nothing to complain about at all! Our family will be back next season."
-New Years Eve 2019 charter guest, Dejoux
"Marcelo was extremely competent, proactive in laying out options and conscientious about keeping in the background during family and friends time. An excellent captain. Always on top of the expenses"
"Words can't describe Mateus' cooking. Cordon Bleu trained. The meals were beautifully presented,  delicious and healthy. Captain Marcelo and stewardess Maura kept the boat shipshape. All the crew treated us like family. We will definitely Charter with them again!"
-Morrow charter guest, Croatia charter summer 2019

Fiji, March 2018

"The crew of ORION has been the absolute best. You all have made our experience seamless, comfortable, and what can I say about the fabulous food? Not enough! These many special moments make up the joy that family is to me."
-  Jeanene, New Zealand

"It's been an absolute dream. The whole experience has been spectacular thanks to this amazing crew. I am so sad this trip came to an end, but I am grateful for the memories that I will cherish for the rest of my life. Thank you so very much!"

-  Cristina

New Zealand, January 2018

" Wow… Just wow! This has been a trip of a lifetime. I am genuinely taken back by the beauty of the sea and our time onboard ORION. This has probably been the best time our family has ever spent together. Thank you for everything!"

-    Chris


Fiji, July 2018

"Thank you so much for making this trip epic! We have done many trips before coming to ORION, and I can say with no doubt you made this one the best ever! You really made us feel like family, thank you so much for being such great hosts.
Looking forward to the next adventure with ORION… Maybe Tahiti?"

-    J


New Zealand, January 2018

"Dear crew of ORION, we want to thank you for making our stay on ORION safe, comfortable, delicious, relaxing, and enjoyable! We wish you continued success, enjoyment, and good health ahead."

- Joanna


3 – 10 March 2014, 4 guests.   St. Lucia – St. Lucia

 
Report to the broker –
 
We had a blast . . .
 
First off, the boat fit us very well. I think if we had another couple along for the ride, it would have been a little cramped. The boat is steady which is great for those among us who tend to get a little sea sick. The quarters below were very comfortable and I certainly didn't have a problem sleeping, once I got used to the generator hum. Hot water and water pressure were abundant.
 
The crew was excellent and always had a smile on their faces. They did their best to make our trip enjoyable and exciting. Allison and Lisa's cooking was excellent and they were aware of our dietary quirks and made sure we got the correct plate with the right food on it. We ate fresh food all the time and Allison's attention to eating healthy was spot on. Even though we ate like kings and queens, I don't think I gained an excessive amount of weight. Yoga in the morning with Allison was a great feature and addition to the trip. Stretching like that is a great way to start the morning and I learned I should do it more often.
 
Scott is an excellent captain. Always making sure we were comfortable and constantly worked on the boat to make sure we weren't inconvenienced by a downed piece of equipment or system. His knowledge of the seas was educational and endless. He was always open to showing us where we were going and let us "play" with his navigation system. He always made sure we were safe and happy. Scott also let us get on the helm during some transits and told us he was glad to have people on board that knew how to steer a boat.
 
Elliot was certainly eye candy for the women and a lot of fun to be with . . . . his knowledge of fish and the ocean was an addition to our overall experience. He snorkeled with us and pointed out fish and aquatic life we might have missed. He did his best to catch fish all the time as Anne loves to fish. We eventually caught some, towards the end, and it was fun and exciting. The call "fish on" would get us all up and heading towards the stern to see what we had on the hook!
 
Lisa certainly added to the mix of the crew and she made sure all the cabins were made up promptly in the morning and that the "heads" were spotless. She was a good addition to the crew and her cooking and help to Allison was excellent.
 
We all traded contact information so we can all get together in Antigua or Newport when they show up there sometime this summer.
 
We will all have many fond memories of the places we visited and the days we spent on Orion.
 
Thanks for your help with putting everything together and linking us up with a great boat and crew!
 
Cheers, Matt"
 

28 Dec 2013 to 4 Jan 2014, 7 guests.    Tortola - Tortola
  
I'm told I have been spoiled on this trip. Having never been on any boat in the ocean I somehow started at the top. This trip has been the best trip of my life. You think you have an idea of how beautiful sailing is from the movies, but it doesn't even come close. My highlights are:  Riding at the very front for hours trying to guess what the waves would do to the boat, snorkeling for the first time and having what felt like an out of body experience, yoga on the front deck with Allison, watching Elliot prance around trying to catch all types of sea creatures, Scott's amazing stories and watching "Erray Potta" with Molly.
 
You are all wonderful.  Thank you for making my first experience inevitably my best.
Lindsey

After numerous sailing trips to the BVI's on mono hulls this is my FAVORITE boat tour! Wow, love the shower, my room, great food, yoga (Yay!) shark wrestling with Elliot and such nice people. Thanks for making our trip so perfect and memorable.
Jenny
 
Maybe 30 sails around the Caribbean, Med, Atlantic and this was by far the best ever. Best boat, best crew, and best boat mates - my family!  And so many unexpected extras:  Yoga, shark catching and tagging!  Thank you Allison, Molly, Elliot and Scott for an unforgettable holiday.
Randy

Totally relaxing trip. The ship was great. The crew awesome and the food could not be beat.
Tom

I don't believe I've ever been so well taken care of on any trip. Love the spirit energy of each of the (crew).  Allison - it would be fun to hang with her for months so I could learn more yoga, raw food and health and well-being in general.  Scott, your attention to our safety was greatly appreciated.  Elliot, your love of fishing & nature in general was fun to watch.  Good luck with your lion fish project. Molly, holy cow girl!  You've learned your passion well.  Wonder how much I gained this week!  Thanks to each of you for your special gifts and for sharing them.
Peace and love to all,
Sandi
 
Also from Sandi in a later email:
 
I don't feel like I properly thanked you for being such wonderful hosts on the most exquisite boat experience we've ever had. Your thoughtfulness and attention to detail really made for an exceptional experience.
 
I wasn't expecting such nutritious and delicious food on board and was thrilled with your recipes. Thank you so much for making gluten-free options for me.  What a vacation!!!
 
Thank you also for the yoga sessions. I plan to get on line and order the books and yoga tapes that you recommended.
 
Thank you so much for EVERYTHING! I hope we can join you again one day.
 
Best wishes,
Sandi

2013 Annapolis Boat Show - Host Boat for the Publisher of Cruising World/Sailing World

Scott and Allison- So many thanks for being our host boat during the Annapolis Sailboat Show. What a great time was had by the Cruising World and Sailing World staff and our marine industry guests and friends.
From all of us at Harken, thanks for the hospitality and using our gear! 
CEO of Harken
Great boat for me and 20 of my friends!  Peter Harken
Good sailing! Olef Harken
Thanks a lot! Jimmy Spithill

Dear Scott, Allison and crew,
Thank you very much for your hospitality, boat drinks and good food that you served up to Claudette & I this week. I appreciate all that you did to make this boat show week so enjoyable  including hosting Claudette's retirement party.
Guest of Cruising World magazine
2013 Annapolis Boat Show
Dear Scott, Allison and crew,
I just want to pass along my sincere thank you to you and your great crew for a lovely evening and dinner on Orion.
Beautifully done, impeccably presented. A real treat.
And to deal with my last minute request for a vegetarian entree....wow!
Kudos all around, a deep bow and tip of my hat to you all.
With Very Best Regards,
Guest of Cruising World magazine
2013 Annapolis Boat Show

Dear Scott, Allison, Felix, Molly and Elliot,
I cannot thank you all enough for all the fab help you gave me and my team, bringing food on and off ORION at the Annapolis Sailboat Show.  You all went above & beyond each and every trip, boarding and departing to and from ORION.  All of your smiles and super positive attitudes were wonderful, warm and fun!  I really do miss each and every one of you (and) feel lucky to have met you all. I know that your charter clients aboard "ORION" will feel welcomed, pampered, well-fed, and very special to have time aboard a luxurious yacht with an outstanding, attentive crew .
 
If you are coming to Annapolis or passing by, please contact me. I would love to see you.

Cheers to all of you !!

Cathy Anton- Event Coordinator
The Well Stocked Galley
Annapolis, Maryland
Ammenities
Cell phone, DVD library, DVD player saloon, Indoor audio system, Local TV, Satellite phone, 16ft/5.1m RIB 90hp, 9ft/3m Avon 3hp, Banana boat - towable, Kayaks multiple, Paddleboards multiple, Wakeboard, Water skis - adult, Water skis - child, BBQ, Deck shower, Fishing gear - heavy, Special diets, Swim platform
Diving
Not Insured, Diving by arrangement, Snorkelling gear, Underwater scooter multiple, Underwater still camera, Underwater video, 1 Compressor, 5 Tanks