Yacht for Charter
SANSSOUCI STAR
6945
155ft / 47.5M
| Builder: Kruger Werft
| Year: 1982
---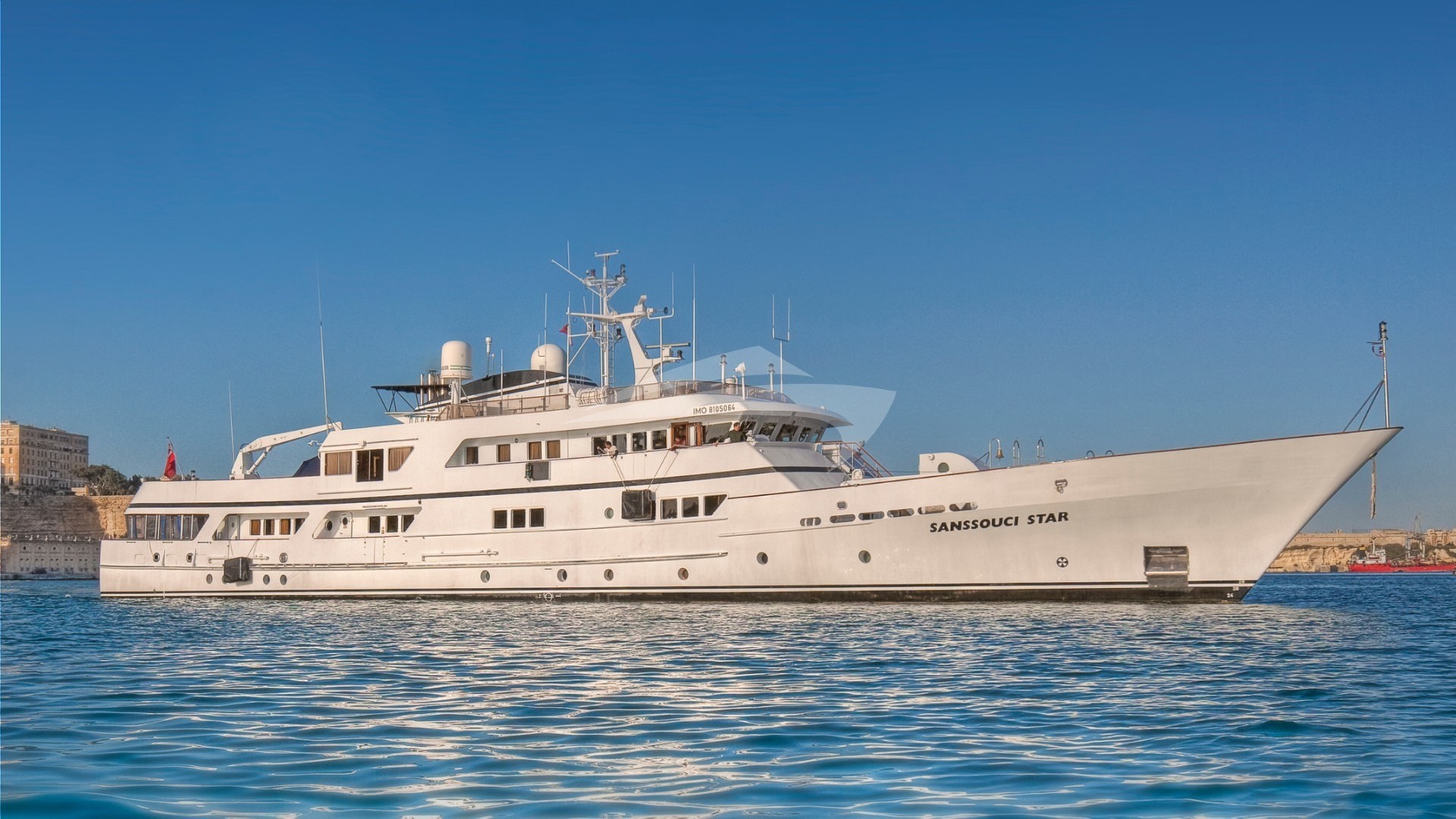 ---
Yacht Charter SANSSOUCI STAR By Kruger Werft
Cruising Speed
12kts (22kph)
Locations
Northern Europe
From:
$100,541
plus expenses
Contact Us For More Information
Capitain: Heinz-Uwe Fries
SAIL AND WORK EXPERIENCE
Heinz-Uwe is an experienced captain having worked on several vessels throughout his career in various roles from an engineer to chief mate and then master. As SANSSOUCI STAR's operations manager, his objective is to continue to exceed expectations in charters as he creates an environment where owners, guest and crew feel content, safe and relaxed.
JOB DESCRIPTION
Heinz-Uwe is responsible for navigation, safety, the overall running and financial management of the vessel, crew and guests. He ensures the safe and efficient operation of the yacht at all times, including compliance with all safety procedures and regulations. He takes care of adhering to flag regulations, port state and local laws and regulations, and manages the crew to ensure adherence to, and a full understanding of, the vessel's policies. He provides daily leadership for the crew and encourages teamwork, individual growth and personal attention by delegating duties and supervising all crew tasks.
LICENCES AND CERTIFICATES
Master and Chief Officer License from the Maritime College of Hamburg
Deckhand: Harold Verra Lonzaga
SAIL AND WORK EXPERIENCE
Harold is an enthusiastic and proactive crew member who is committed to his role of deckhand and tender driver. His goal is to progress his way up through the yachting industry to a senior position, hence to make his captain and guests happy.
JOB DESCRIPTION
Harold has the expertise required to stand in for Captain in his absence, acting as second in command. He assists the captain during navigation and participates in all on-deck operations, respecting guest's activities. He has extensive knowledge of sailing yachts maintenance and is responsible for the running of deck equipment and machinery.
LICENCES AND CERTIFICATES
Small Power Boat and RIB Master
Deck Watchkeeping
MARPOL Consolidated
Motorman: Norlie Lood Denore
SAIL AND WORK EXPERIENCE
Raised in the Philippines near the coast line, it is no surprise how Norlie became fascinated with joining the yachting industry. He has worked as a motorman and oiler aboard ships in the Philippines, such as the CV Navios Verano container and the MV Oceanic. Keen to expand his horizons, he is now aboard SANSSOUCI STAR to ensure the yacht is in pristine, working condition.
JOB DESCRIPTION
Norlie is primarily responsible for maintenance and fault finding of all machinery and systems onboard. He also plays a critical part in the sailing and navigation of SANSSOUCI STAR. Norlie further takes part in supporting his crew mates in their daily tasks in order to provide an exquisite service to charterers on board.
LICENCES AND CERTIFICATES
BSc in Marine Engineering
Medical First Aid Training
Advanced Fire Fighting
Stewardess: Sanja Grujic
SAIL AND WORK EXPERIENCE
Sanja describes herself as an open-minded team player with a high degree of self-motivation. Having had a taster of what life as a stewardess could offer whilst being a waitress aboard Princess Cruise one summer, Sanja decided to commit to being a Stewardess landing a long-term contract aboard a 160m superyacht in the Al Seer Marine Company. She now joins SANSSOUCI STAR with a wealth of experience under her belt.
JOB DESCRIPTION
Sanja oversees the galley and the interior, always maintaining very high standards of cleanliness and order on board with a meticulous eye for detail. She sometimes also helps with all deck operations including sailing, navigation, mooring and anchoring as well as preparing meals alongside the chef before service.
LICENCES AND CERTIFICATES
Level 2 Food Safety and Hygiene for Catering
Proficiency in Designated Security Duties
STCW Basic Training
STCW Security Measures on a Passenger Ship
STCW Security Awareness
Stewardess: Doru Chirta
SAIL AND WORK EXPERIENCE
As a previous dynamic restaurant manager with over 20 years of achieving outstanding results in leading profitable high-end hospitality operations, Doru is an exceptional stewardess. She has a diverse range of leadership experience spanning from high end restaurants, 5* hotel chains, ocean cruise ships and river cruising with a proven record of achieving excellent results in creating and delivering memorable experiences for guests.
JOB DESCRIPTION
Doru joins Sanja overseeing the galley and the interior, always maintaining very high standards of cleanliness and order on board with a meticulous eye for detail. Due to her extensive experience in fine dining catering, she is the chef's right hand in plating and delivering meals at service.
AREAS OF EXPERTISE
Hotel Operations
Fine Dining Service Management
VIP Customer Service
Event Planning and Orchestration
Budget and Financial Management
Chef: Paolo Bellamio
SAIL AND WORK EXPERIENCE
An ward-winning, innovative culinary expert with 15+ years of success contributing to exceptional well-known restaurants, Paola is a proficient chef possessing a wealth of technical skill. He is also adept at restaurant management, team management and mentoring. He is excited to bring aboard this experience to SANSSOUCI STAR.
JOB DESCRIPTION
Paolo is responsible for all guest and crew meals, providing a wide variety of nutritional food. He plans all the meals and reviews stocks on board to ensure that adequate supplies of fresh food are always available. He manages all the food preparation in order to have meals prepared for particular times, often packaging and freezing samples of all the served food in compliance with health regulations
LICENSE AND CERTIFICATES
STCW95 Basic Safety Training
Ships Cook Certificate
Person in Charge of Food Safety Levels 2-4
Pastry and Bakery Certificate
BA in Culinary Art
Ammenities
Kayak, Water skis - adult
Diving
Not Insured, Underwater scooter